There are so many things to do and attractions at Kota Kinabalu! Let's find out what are the things to do right here in Kota Kinabalu! We thoroughly enjoyed the weekend stay there! Attractions range from Island hopping, getting close to nature or even really really good shopping!
Kate and I managed to accumulate enough Krisflyer points in exchange for 2 tickets to Kota Kinabalu. Quite worth it to join the programme. For this particular trip, we flew on Silkair…
After a 2hrs 20 mins flight, we arrived at the Kota Kinabalu International Airport which looked quite new. From the airport, we took a taxi to Novotel. The taxi was $50RM and it is a fixed price. You will have to purchase a ticket from a shop within the terminal. The good thing is that it is a standard price and you save all the haggling that may be needed for "rogue" taxis.
Click here for the best hotel deals in Melaka!
Again, Kate was the one who arranged the entire trip. It is important to anchor a good location of your hotel so that will be the base where all your activities start. Kate found a relatively good deal on agoda.com where we stayed at the Novotel @ 1 Borneo Kota Kinabalu for only $70SGD per night.
The good thing about staying at the Novotel is that
1. 4 Star Hotel. It is smelly smelly (hokkien for at least) a 4-star hotel at an attractive rate, offering full hotel service and even a swimming pool for you to chillax under the sun.
2. Close to attractions. It is located away from the city but in the middle of the route to Mount Kinabalu, something that must NOT be missed when you visit Kota Kinabalu. Hence, it is a good location as a base for the attractions, yet still within a 20 mins travel time from the city.
3. Shopping. Located beside One Borneo (nowadays there are alot of One something something sprouting after the One Malaysia concept was introduced), it is currently the largest shopping mall/centre in East Malaysia. Though in a couple of years, it will be overtaken by One Sulaman (yet another One)
4. Free Shuttle Service. This is one of the most important aspect to why Kate chose this location. With the free shuttle service to the city, we could get to and fro for free. The only catch is that you will have to register early for your bus ticket. Priority is also given to guests of hotels in and around One Borneo shopping mall.
Novotel
The hotel itself also exceeded our expectation.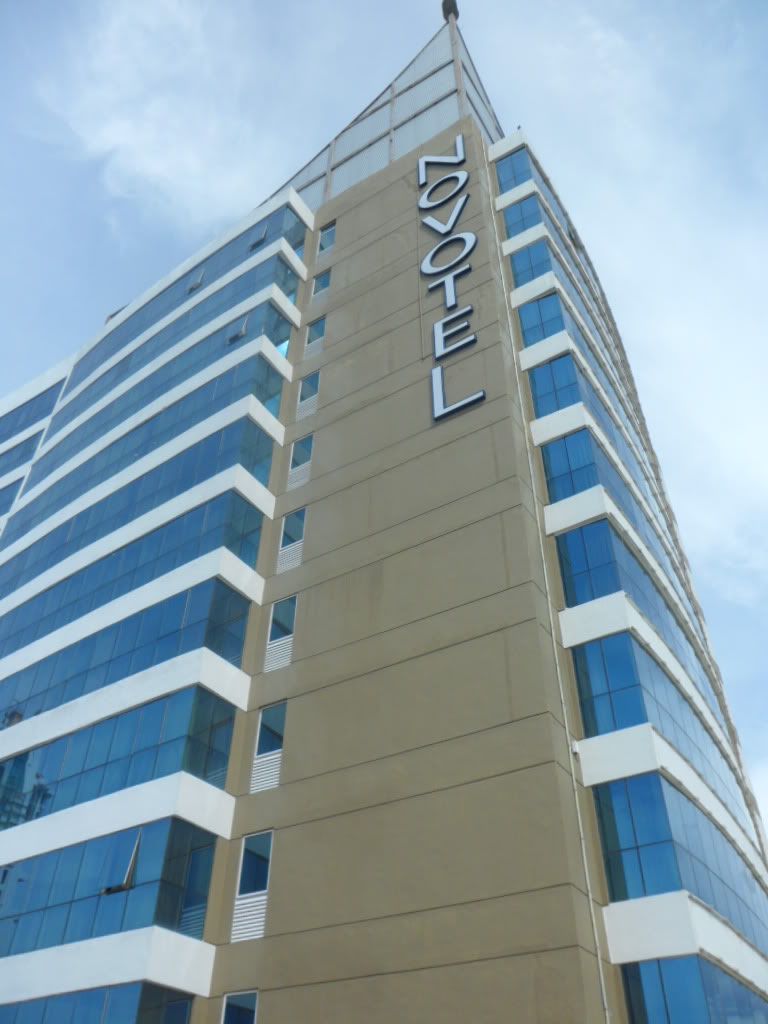 External view of Novotel Kota Kinabalu
The room was spacious and even had a transparent glass that allowed guests to enjoy a bath and watch TV at the same time. For couples, this would be pretty romantic as well.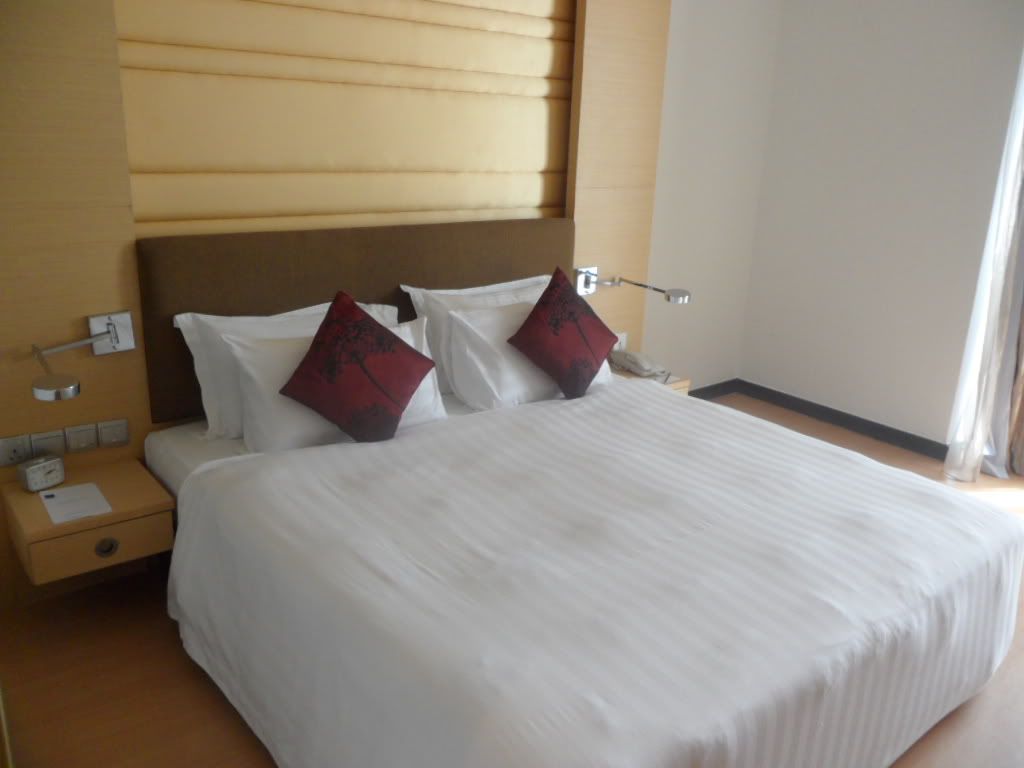 The King Size Bed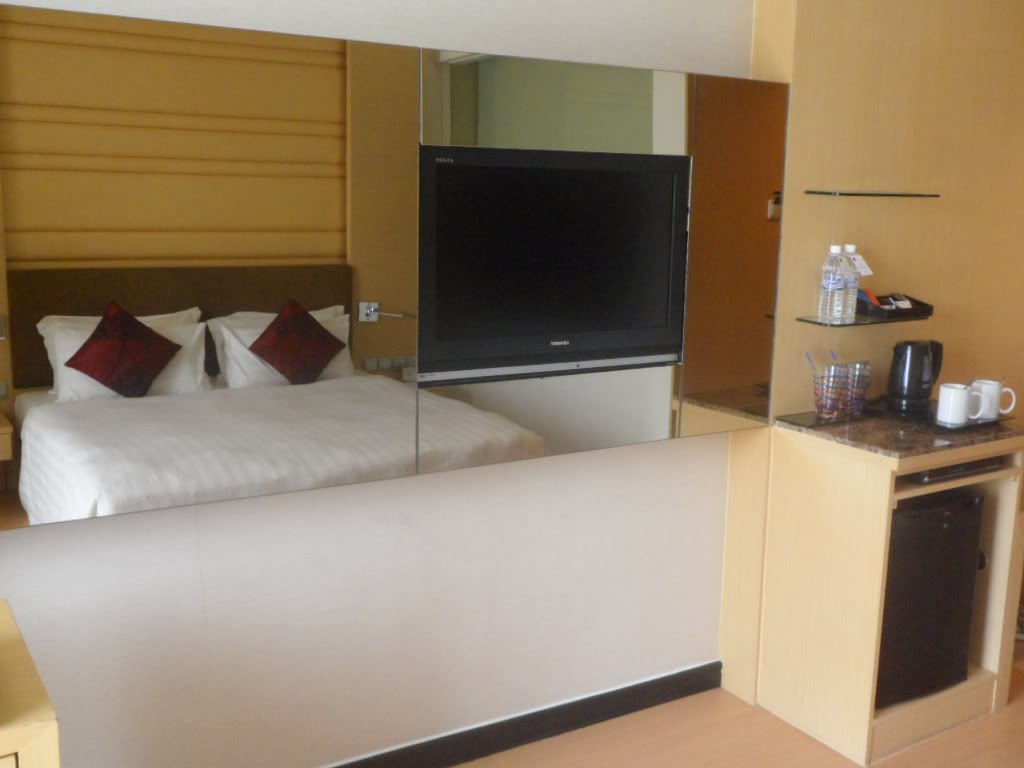 The TV console and Fridge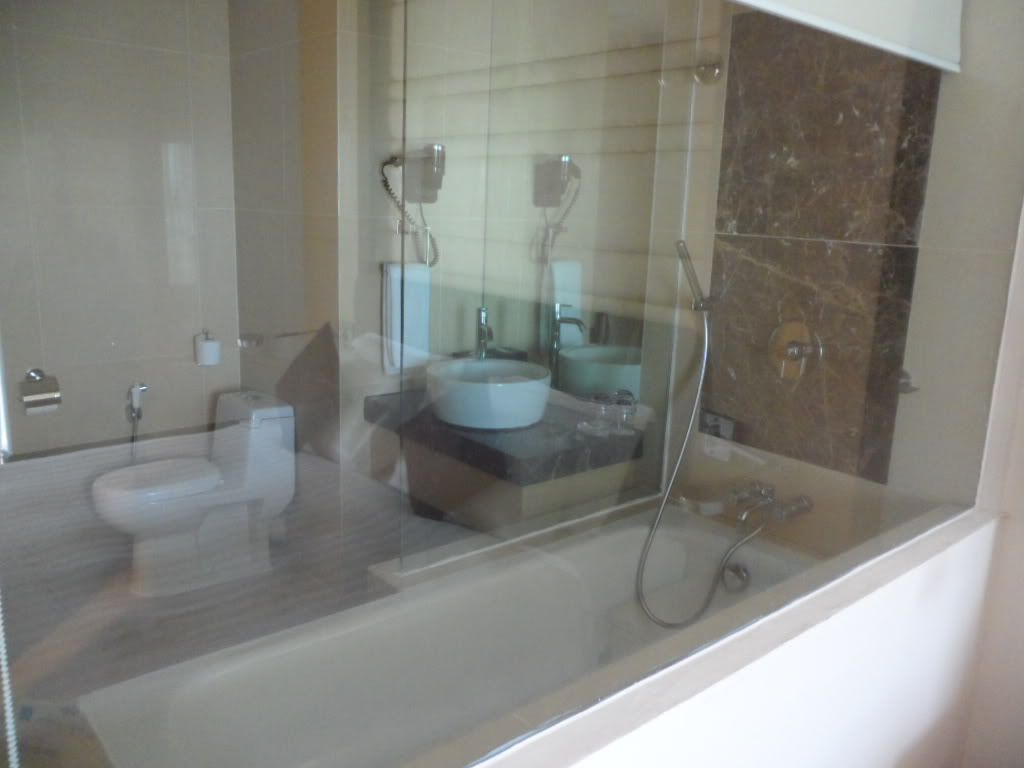 The Bathroom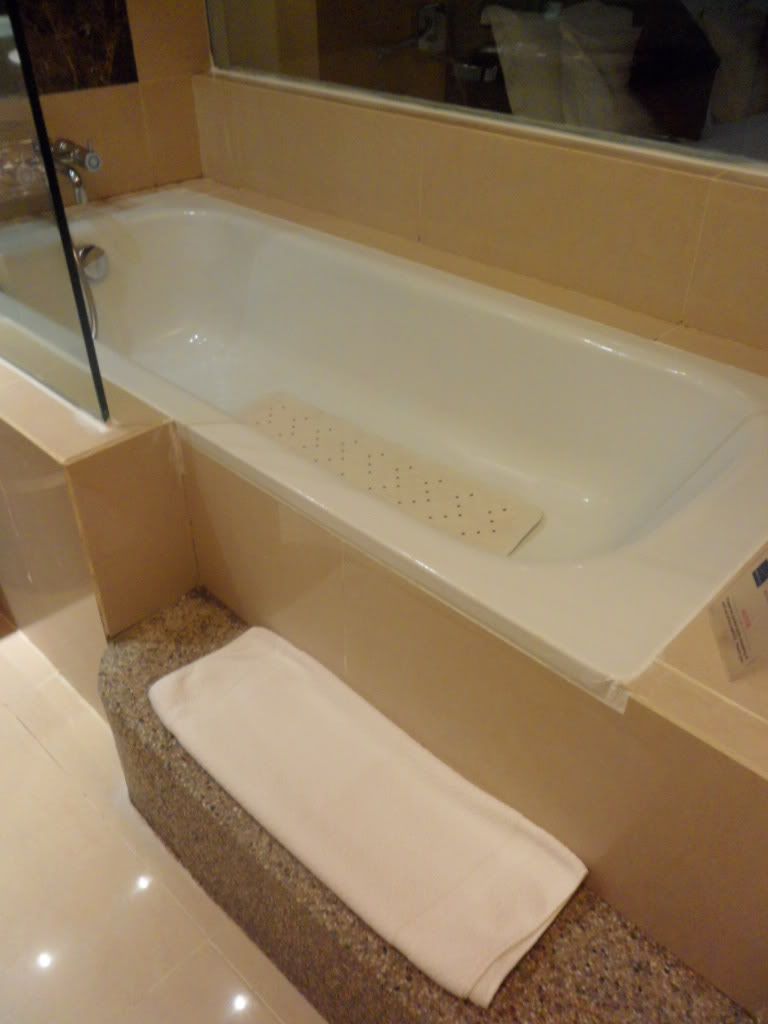 The Bathtub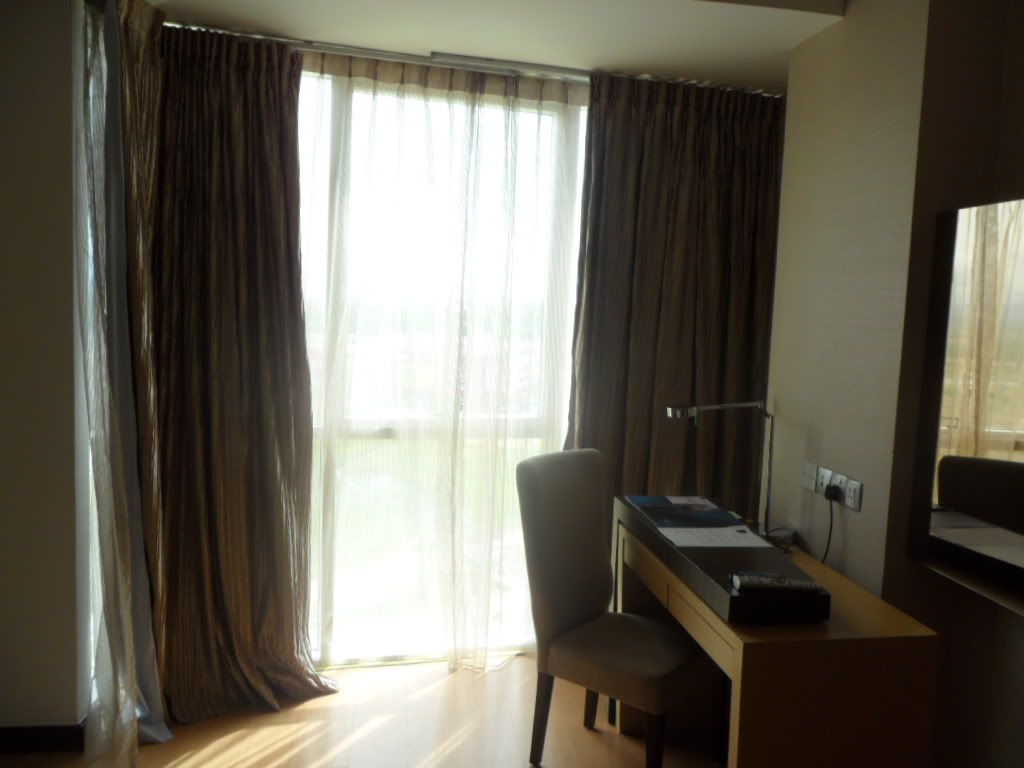 Business Table
The swimming pool was also very welcoming, with views of the Crocker Range. Crocker Range is essentially a series of hills. Though they may look tall, locals still regard them as hills.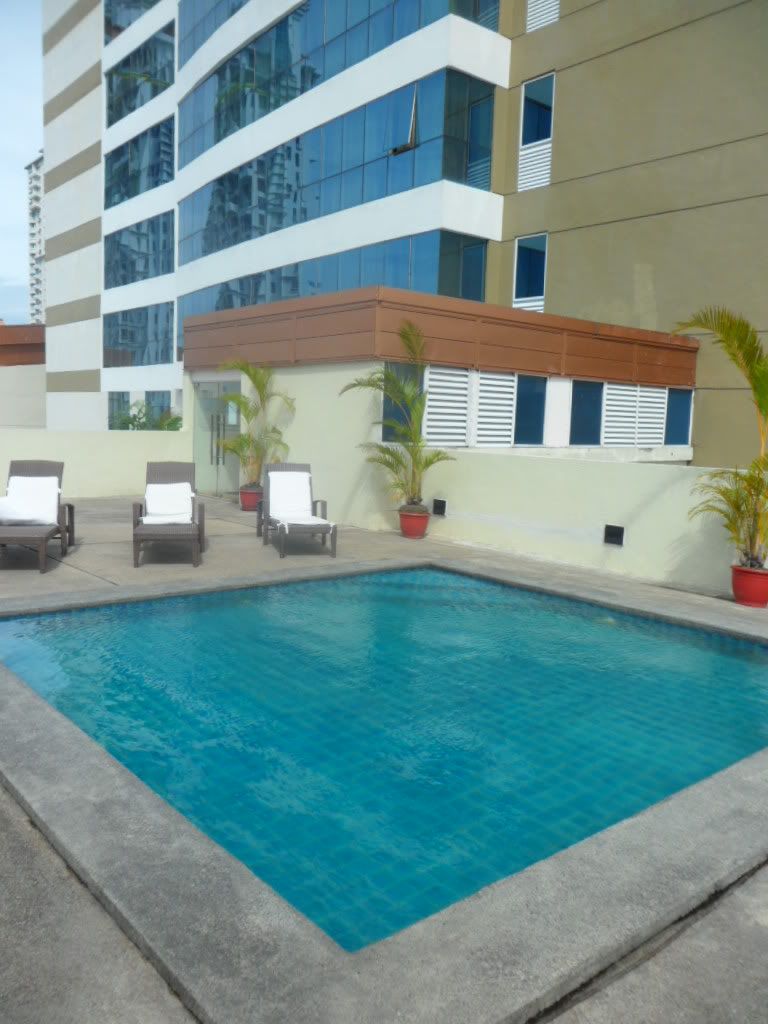 Baby Pool

Swimming pool with water feature that can do shoulder massages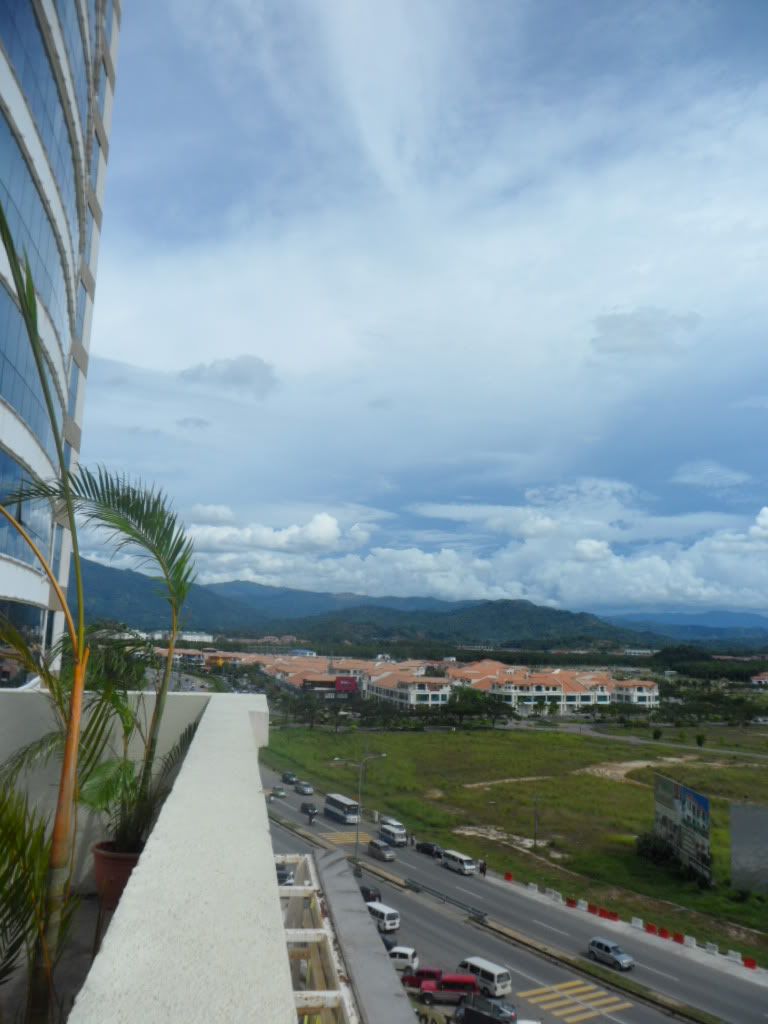 View of Crocker Range from the Pool
The next most important thing after checking out the room is to check out the bus timings!
The area to wait for the shuttle bus is at the other end of the One Borneo shopping mall. You can ask for directions at the information counter. It is important to note that this timing is merely a gauge and should be confirmed with the personnel issuing the tickets as timings varies over weekends and weekdays.
Night Market
Known as Pasar Malam (Market Night) in malay, the night market offers locals an avenue to shop for their daily necessities and also to solve their hunger pangs as there are many stalls offering fried noodles, rice, simple malay hawker fare.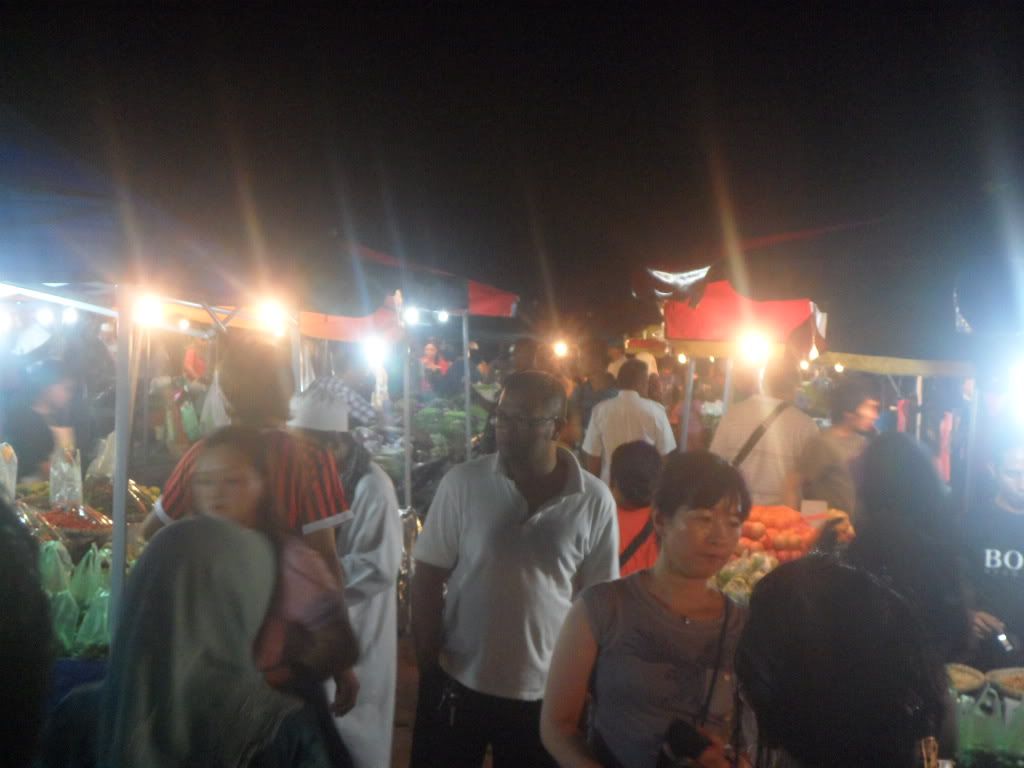 Night Market Kota Kinabalu
Our initial plan on the first night was to catch the sunset at the city. However, we were slightly late as there was a traffic jam on the way (remember to buffer time if you are catching the sunset). The sunset timing is more like 6pm than 7pm in Singapore. So bear that in mind.
We also enjoyed some chicken murtabak (indian fried dough with meat , or for those of you who knows prata, it is like prata with meat $2RM) and a refreshing chilled coconut ($4RM)…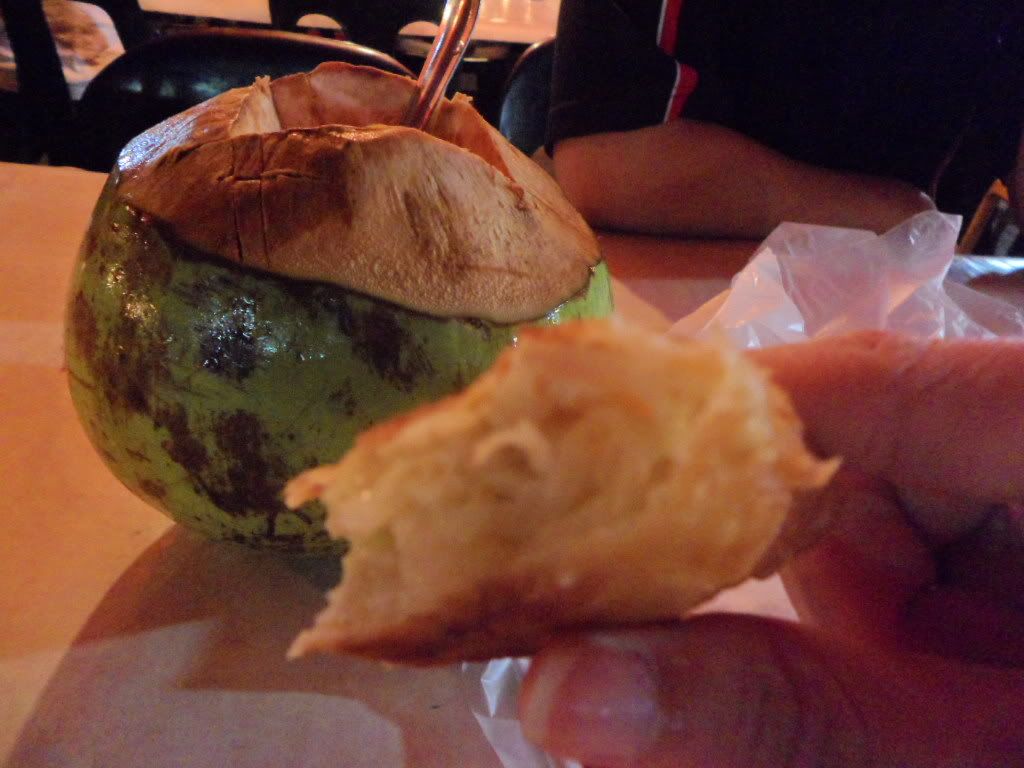 Special Murtabak and Coconut
Back at the place where we dropped off (Warisan Square, opposite Waterfront) we caught the 9pm bus back to the hotel…
Breakfast @ Novotel
Daily buffet breakfast is included at Novotel. The spread is more or less the same each day. However, they do cater to different tastes so most palates would be satisfied here.

Morning View of Crocker Range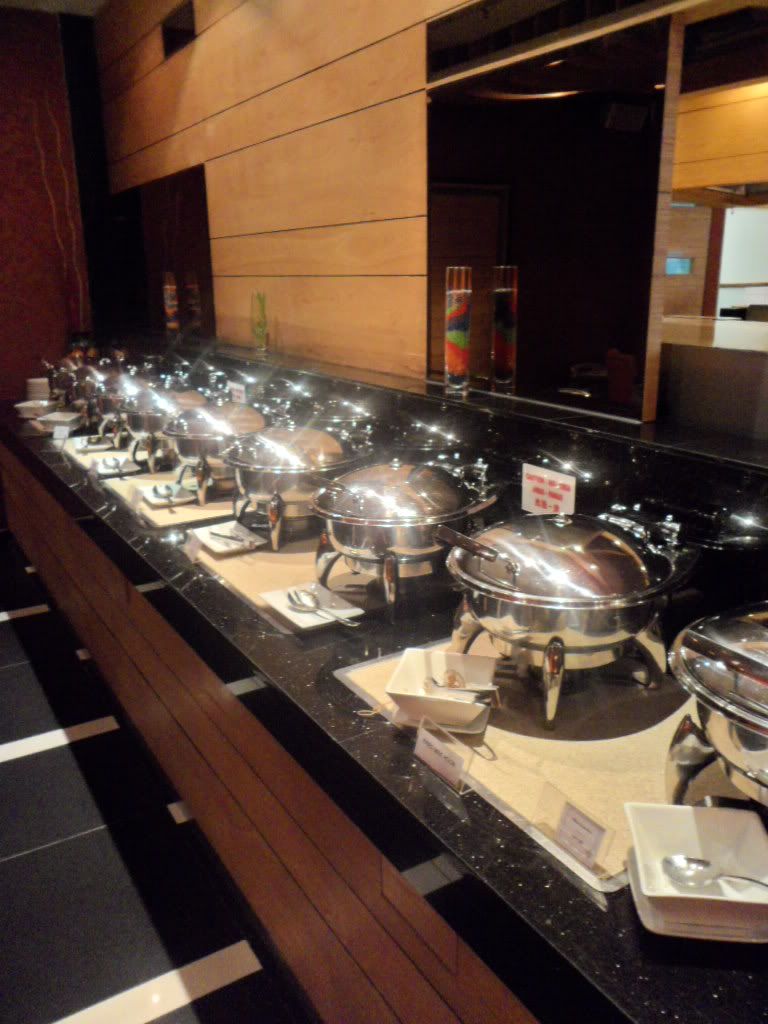 The buffet spread
The spread includes noodles or rice, sausages, eggs, grilled tomatoes, baked beans, vegetables, nasi lemak and curry chicken. There are also pastries and breads with various spreads to choose from. Waffles, pancakes, cereals,porridge were available as well.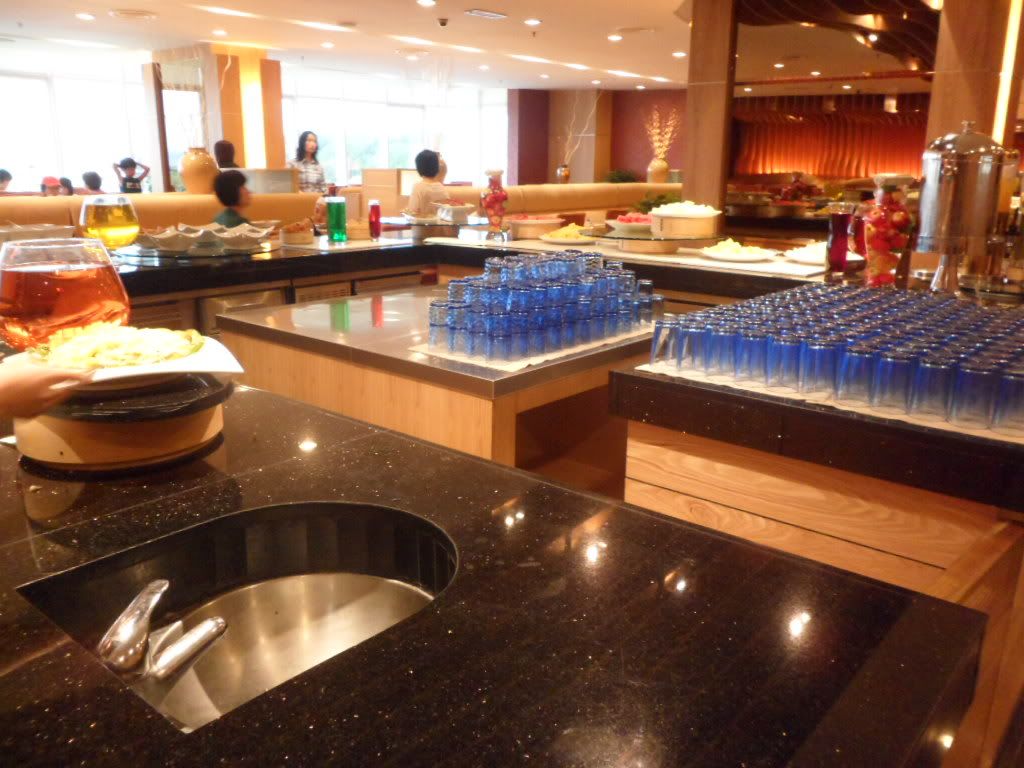 Appetisers
At the appetisers corner, there were various juices such as guava, orange and apple juice to choose from. Milk and soya bean milk were available as well. Fruits and appetisers such as pasta salad, salami, smoked salmon were available on different days.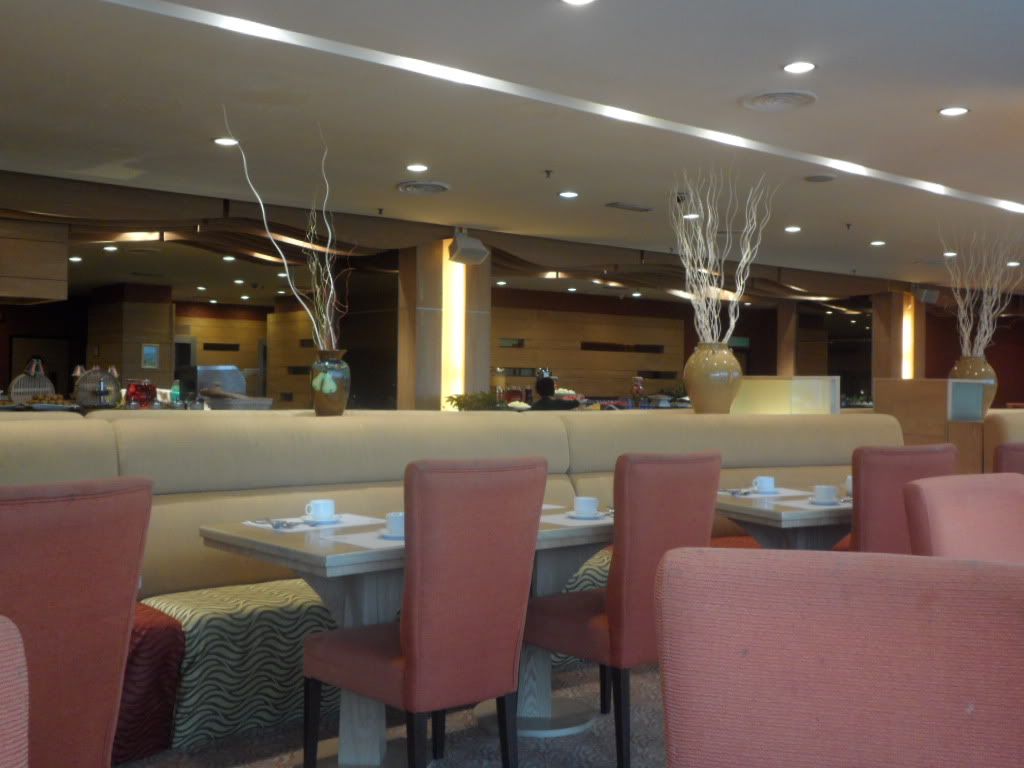 Overview of the restaurant
Mount Kinabalu Packaged Land Tour
It is strongly recommended for visitors (2 or less) to take the tours. Each person costs $180-200 RM that includes, lunch, guided tour, return trip, mount kinabalu park, pekan nabalu (small village/town where you can get the best view of the mountain),poring hot springs,tree top walk,dr fish spa and nature trekking.
The package is a day tour that starts from 8am to 6pm (depending on traffic). Really well worth it we must say. It is also important to follow an experienced agency and in our case, we chose Exotic Borneo. They arranged our time to cover Kinabalu first knowing the local weather that it may drizzle or pour in the afternoon. True enough, it did!
Our first stop was Pekan Nabalu, a small town that has really sweet pineapples, souvenirs and of course, stunning views of the majestic Mount Kinabalu.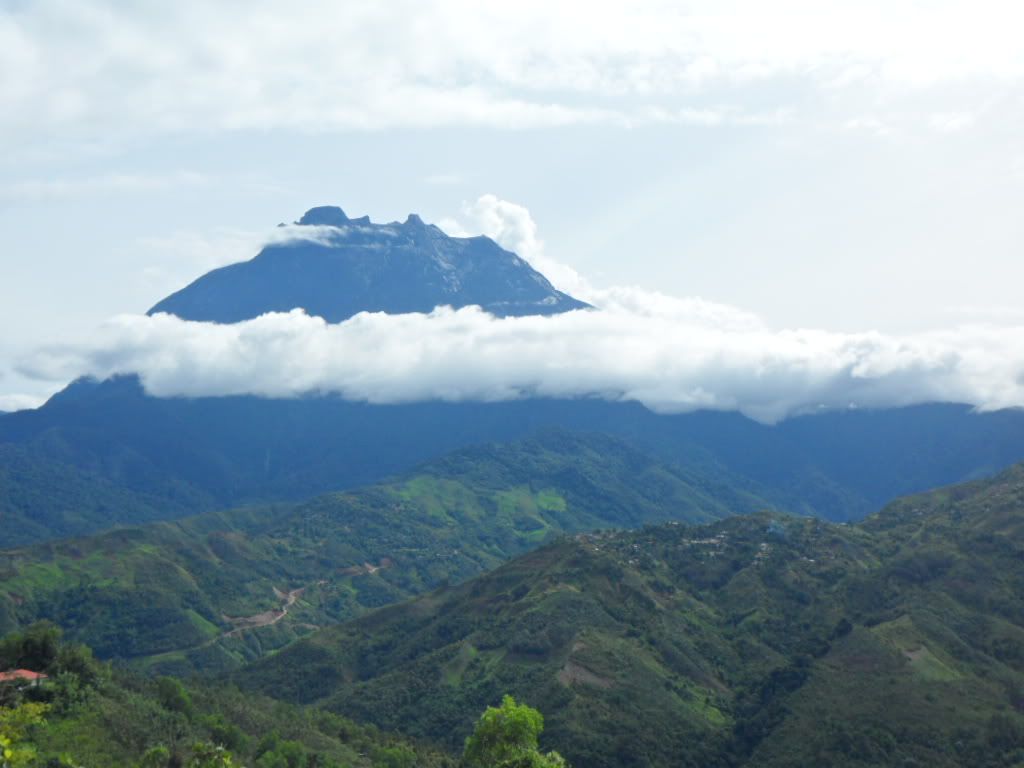 View of Mount Kinabalu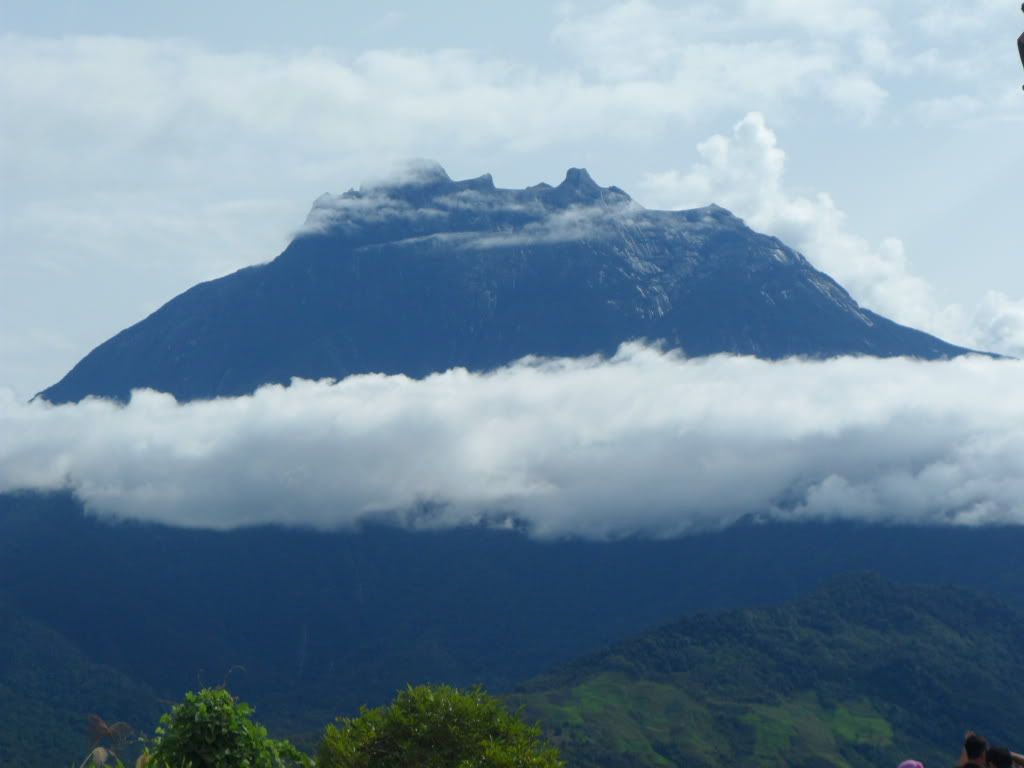 Close up view of Mount Kinabalu
Do not miss out on the pineapples. They cost $2RM a packet and is really as sweet as it gets, we thought perhaps they might have been dipped in sugar syrup! But of course not, it tasted naturally sweet. Enjoy!
The next stop we headed to was a private garden from the locals where we saw the largest flower in the world, the Rafflesia!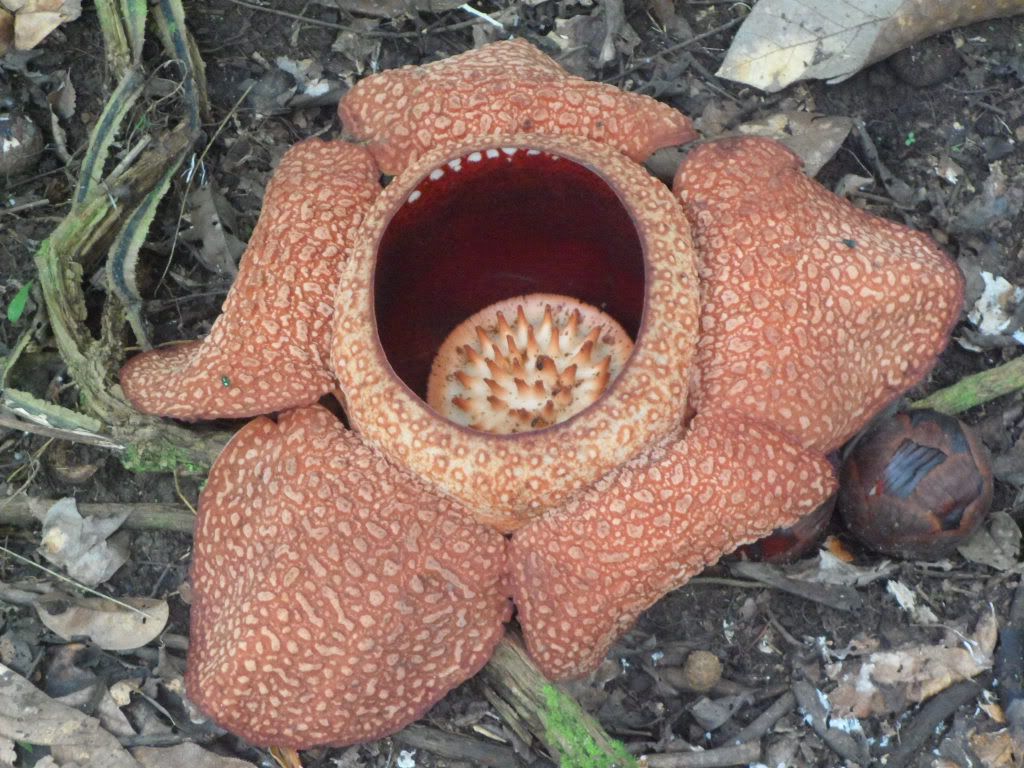 The largest flower in the World – The Rafflesia
The thing about the Rafflesia is that it occurs naturally. Even when scientists wanted to cultivate them, they were unable to. It is a parasitic plant that feeds off the vine like a tumour. It also blooms only 4 to 6 weeks a year and you really have to be at the correct time to see them.
When the flower is in bloom, banners would be placed outside these private gardens and costs $30RM per visit. For this particular garden, we travelled about 5 minutes, crossing a small river before we got there.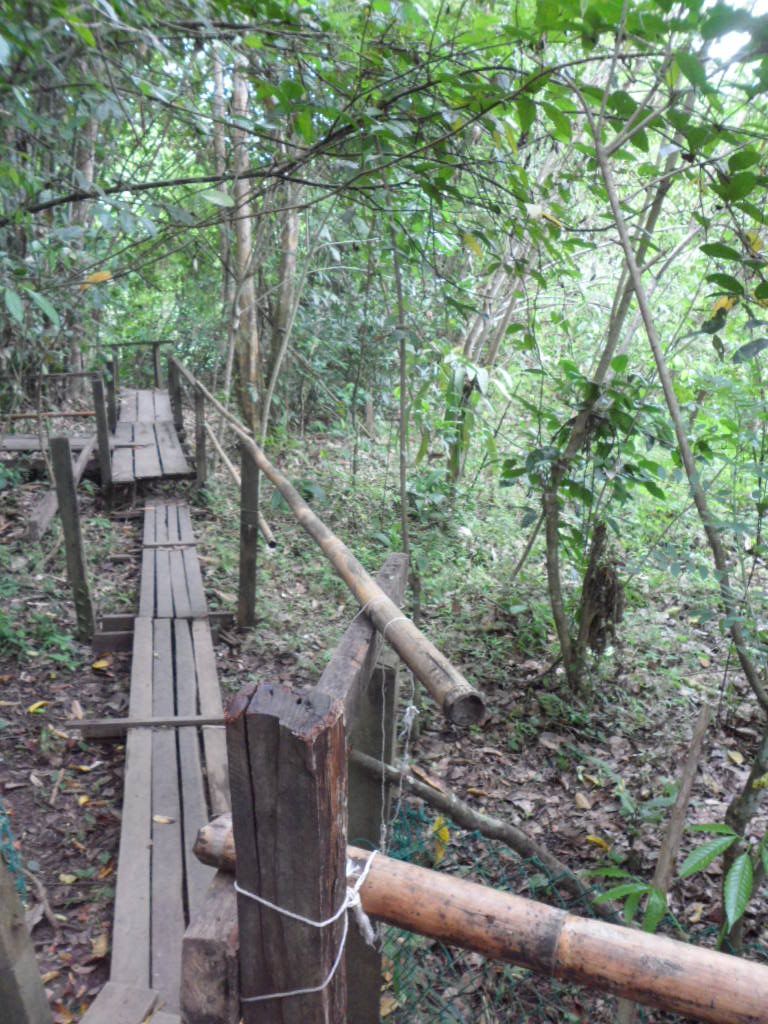 "Treacherous" Journey to see the Rafflesia

Blooming process explained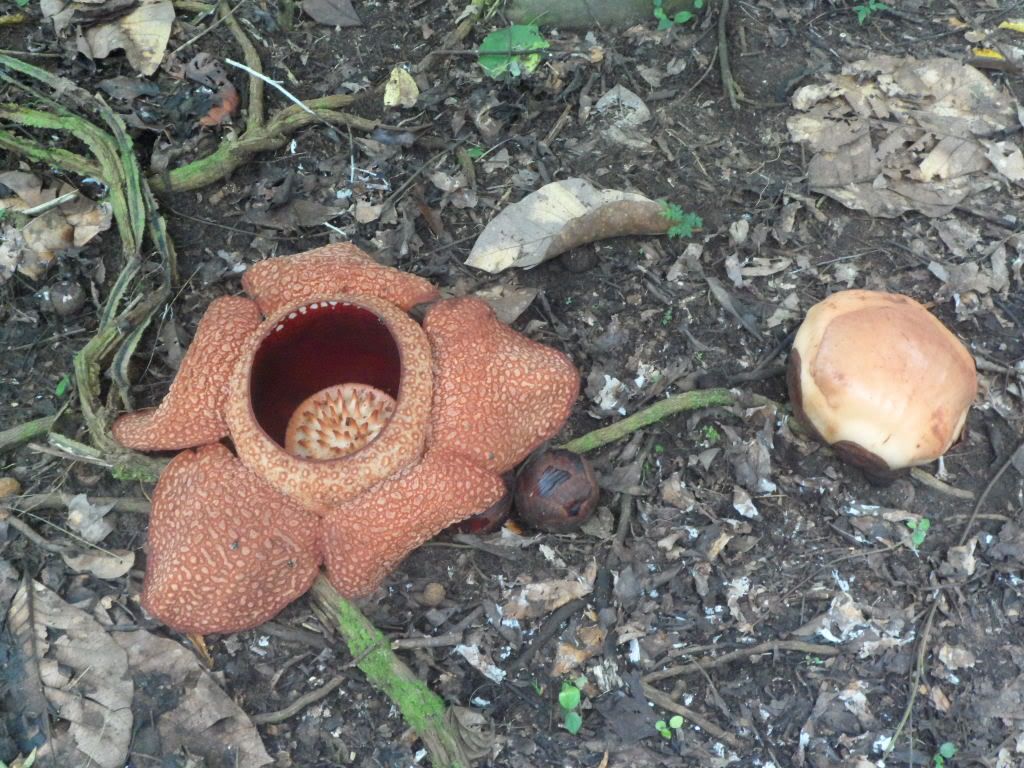 The Rafflesia in bloom and its bud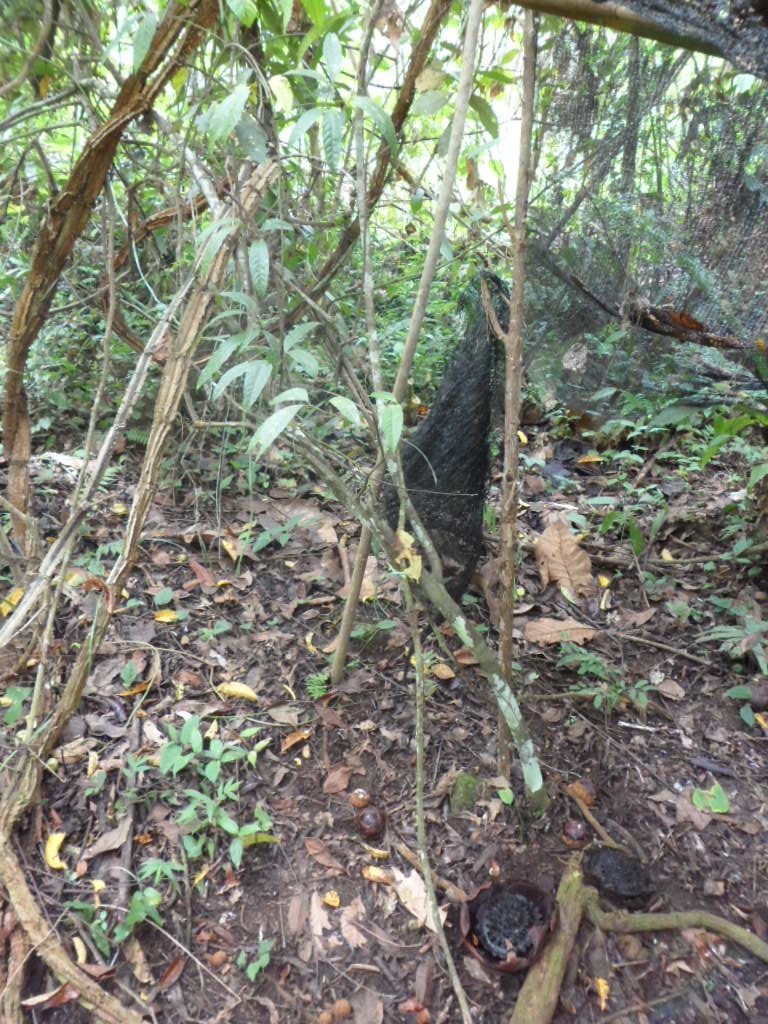 The Rafflesia disintegrates after its bloom
Because of its rarity in bloom, the locals will protect the area around the Rafflesia to prevent wild animals from feeding on them. According to our guide, Andy, the flowers occurred naturally in abundance in the past. However, locals did not understand their uniqueness and importance in research. When the flowers were in the bud stage, they would kick them about like a soccer ball!
The flower also gives off a pungent smell, much like rotten meat. But this time we did not smell it, could be due to the wind direction. Still, if the flower is in bloom, do drop by a take a look. Helps in preservation by contributing to the locals, and also gives you an experience to enjoy the largest flower in bloom!
Poring Hot Springs
Next, we headed to Poring hot springs, of course, naturally occurring, where Kate enjoyed her book while dipping in the waters of the hot spring.
Tom on the other hand was given a tour by Andy on route to the Tree Top Walk.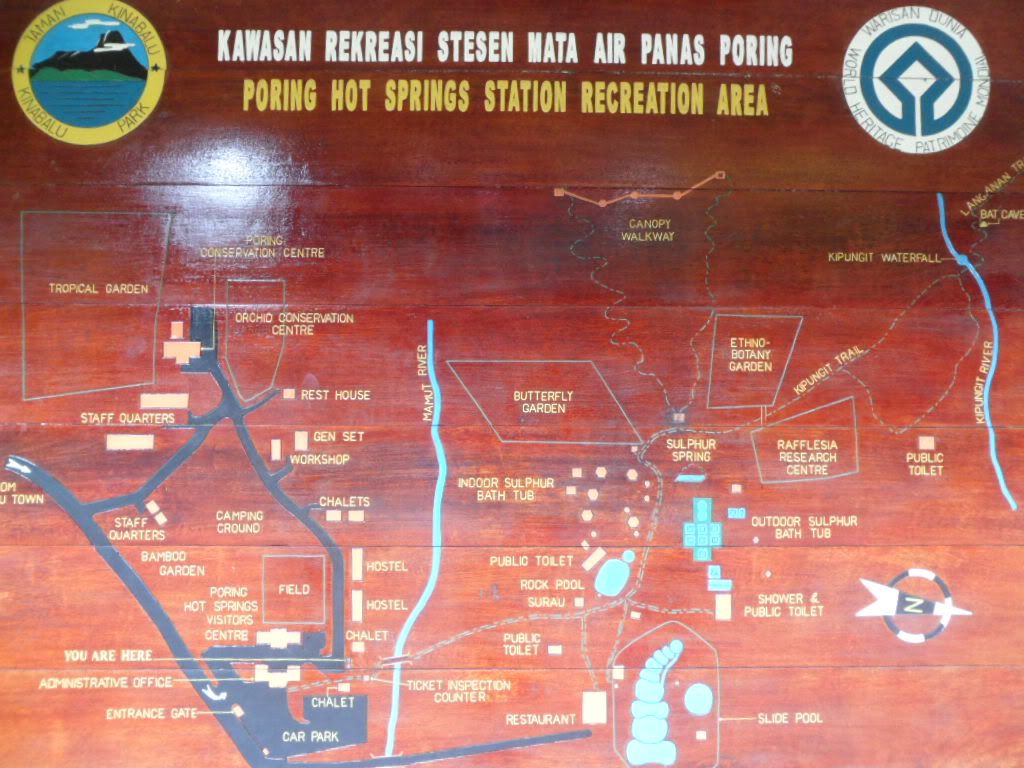 Map of Poring Hot Springs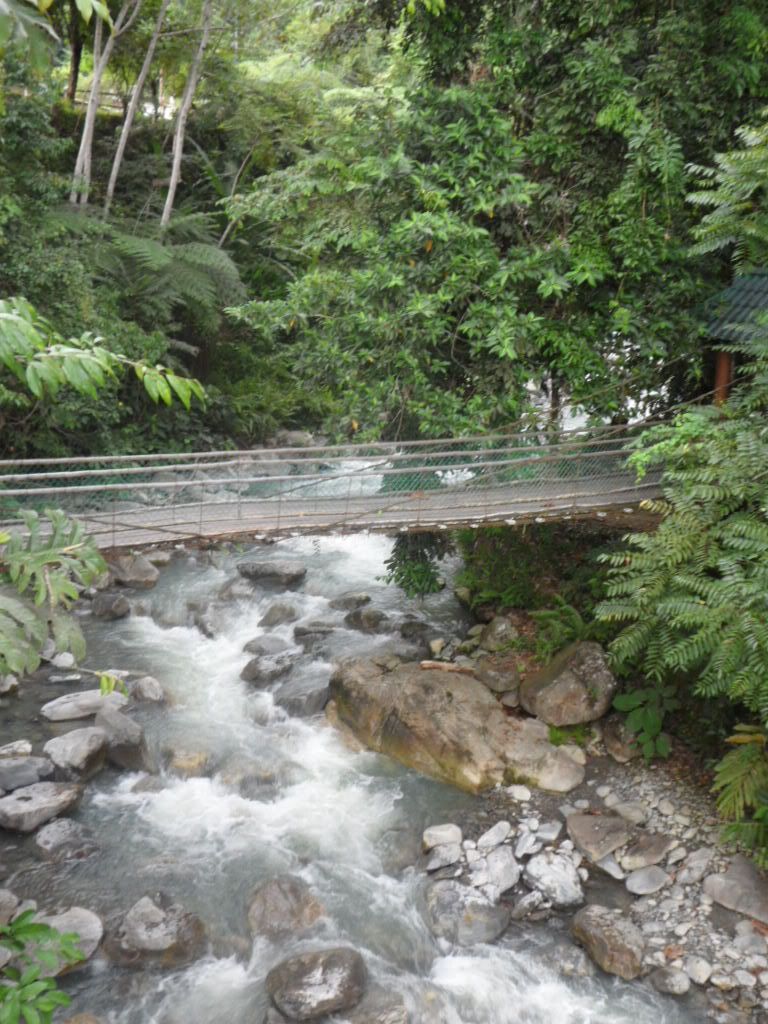 Old bridge that linked to Poring hot spring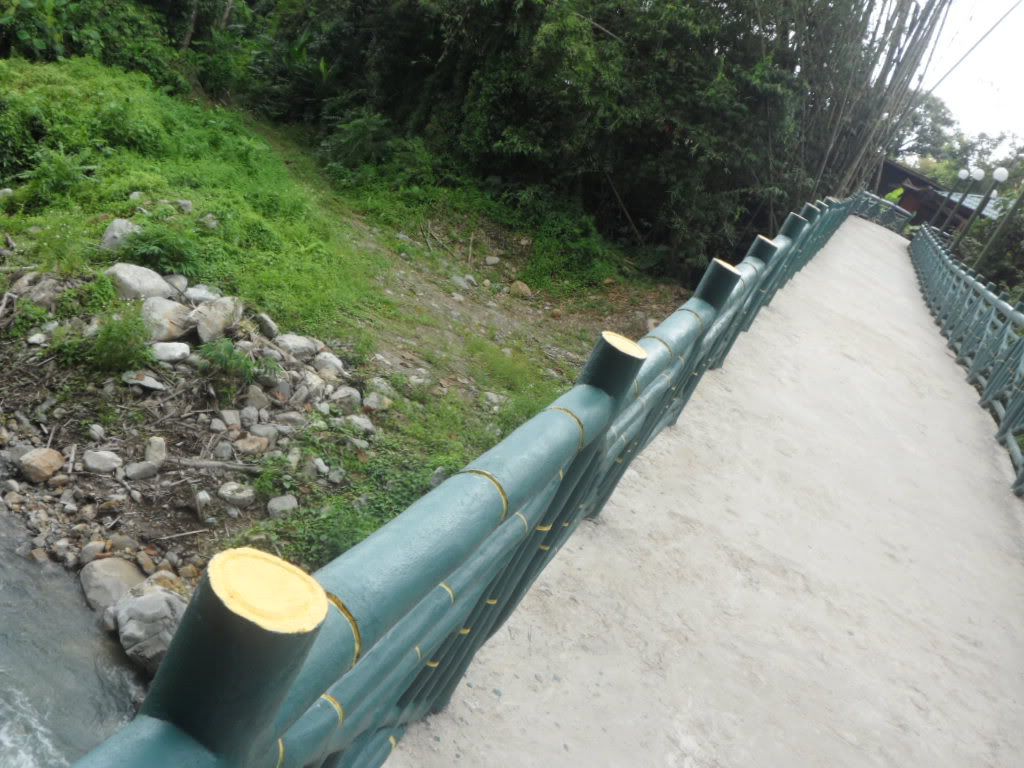 New bridge (Concrete and not swaying)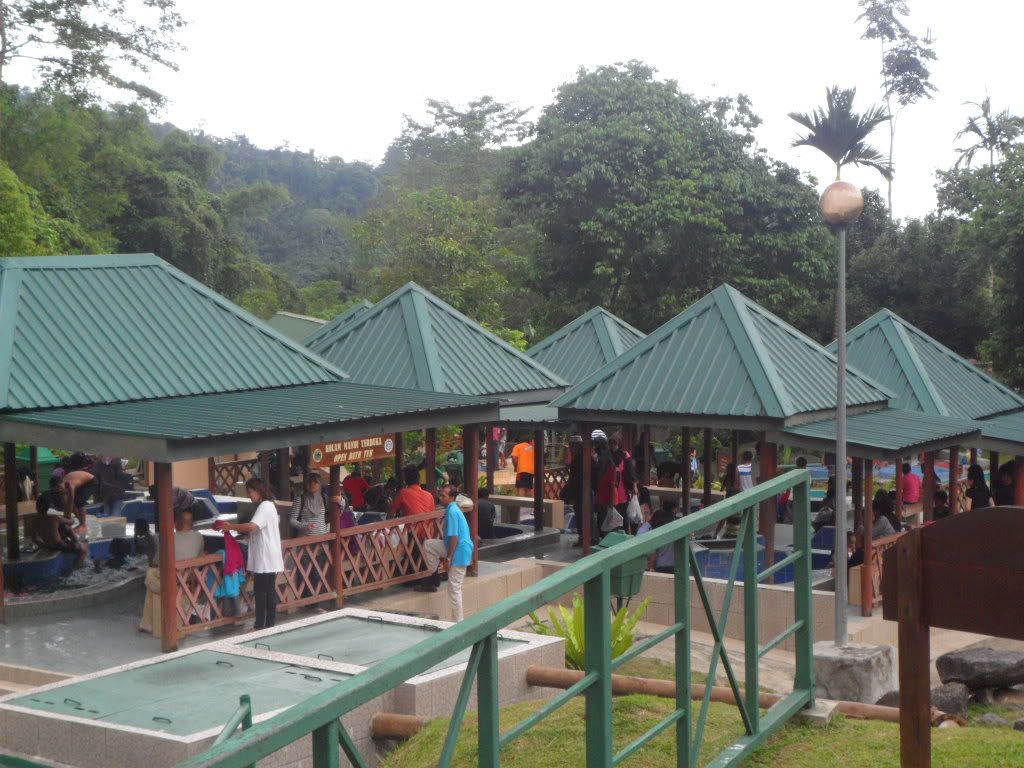 Hot springs where Kate dipped her feet and enjoyed a book
Kate complained about missing stoppers at the hot springs. So she had to "prey" on other visitors and as they left, Kate would "take over" their territory…
At the same time, Tom followed Andy on a little trek towards the tree top walk. It is quite steep at the beginning so make sure you anticipate this if you are going for the tree top walk.
Along the way, we saw these interesting parts of nature…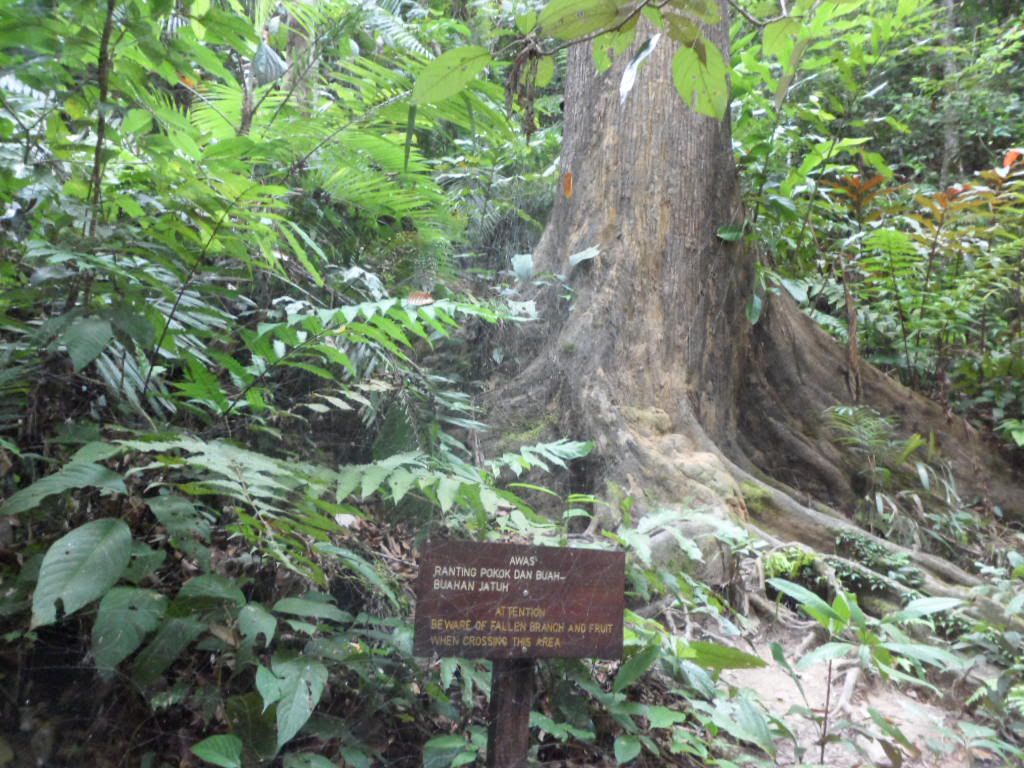 Can you see the spiderwebs galore?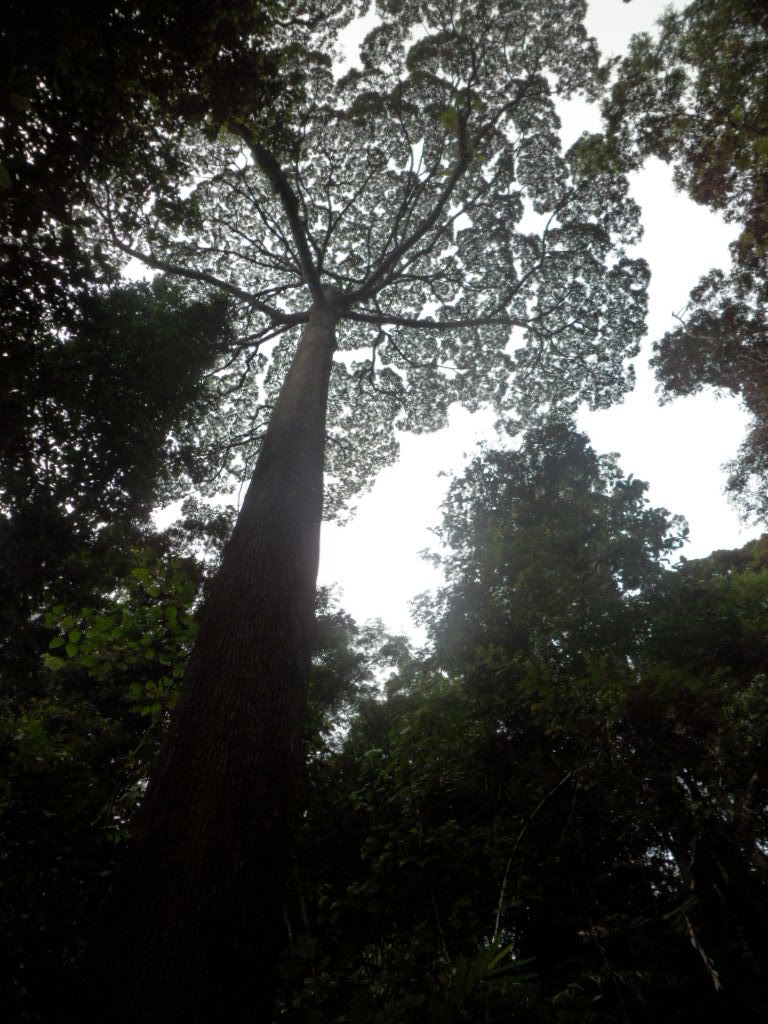 Ferns on top of a tree looking like an umbrella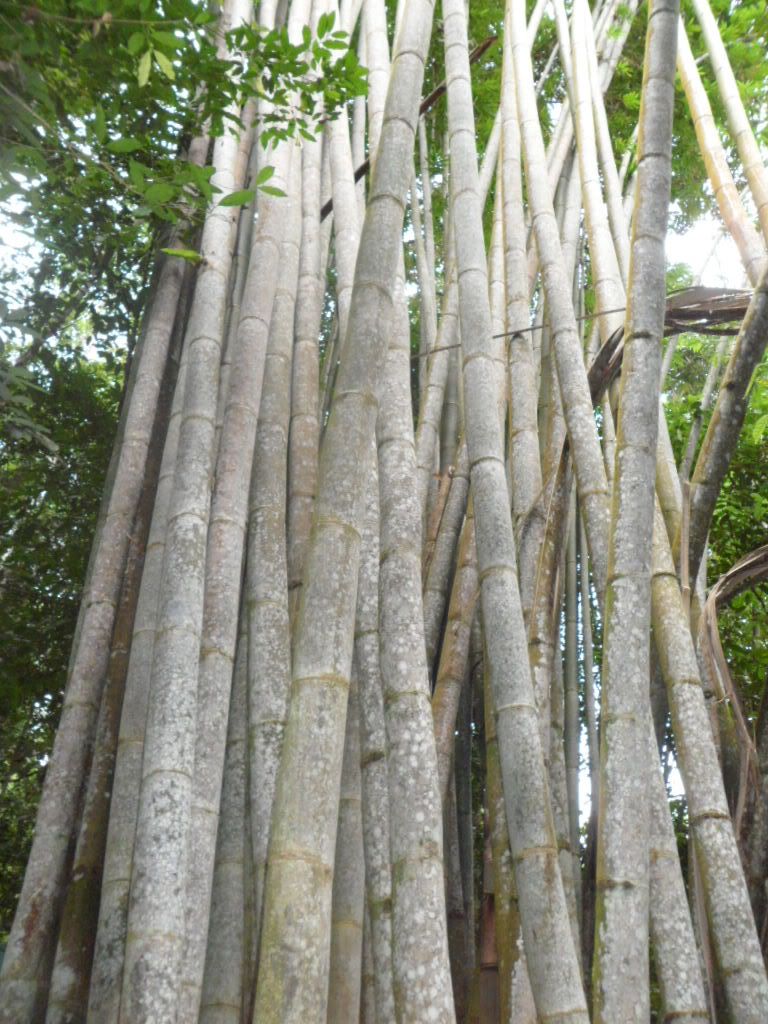 Huge Bamboos

Possibly the World's largest Ants!

Furry Caterpillars emerging from beneath the leaves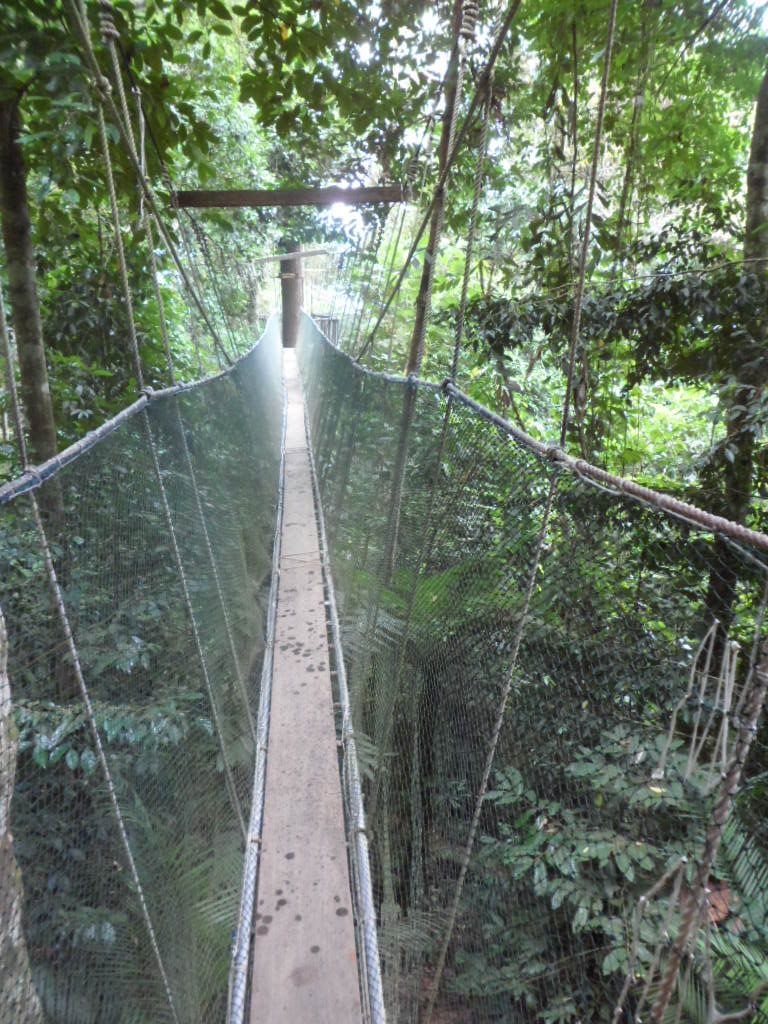 First Bridge at Tree Top Walk
We must first state upfront that the tree top walk is not for the faint of heart. Bridges are interconnected from TREE to TREE. The bridges also sway from side to side and for tall dudes like Tom, there's a real possibility of falling over the side. What Tom did was to bend his knees while walking such that the netting would still be at the shoulder level.
Of course, at each stop of the tree walk, you would be greeted with amazing views such as this…

View from Tree Top Walk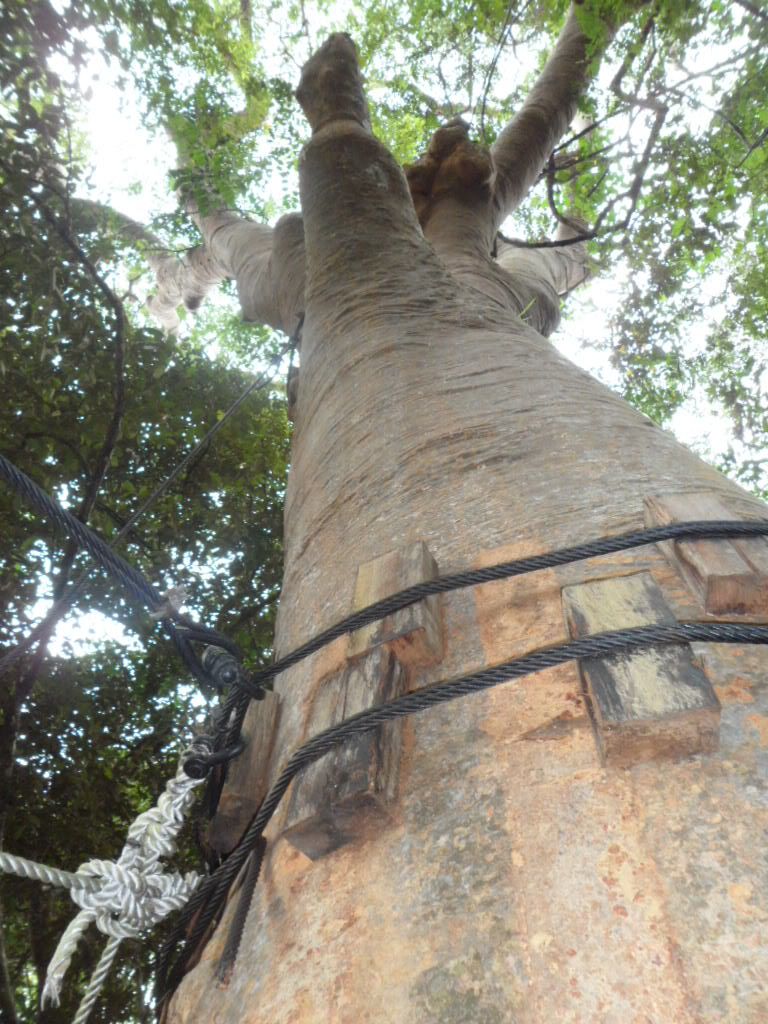 Winnie the Pooh Tree
Andy told us that bees build their hives on top such trees because bears are not able to climb the trunk of these trees. The smooth surface do not provide the grip for the bears, thus giving safety to the bees. If you observe closely, it is like the tree in Winnie the Pooh!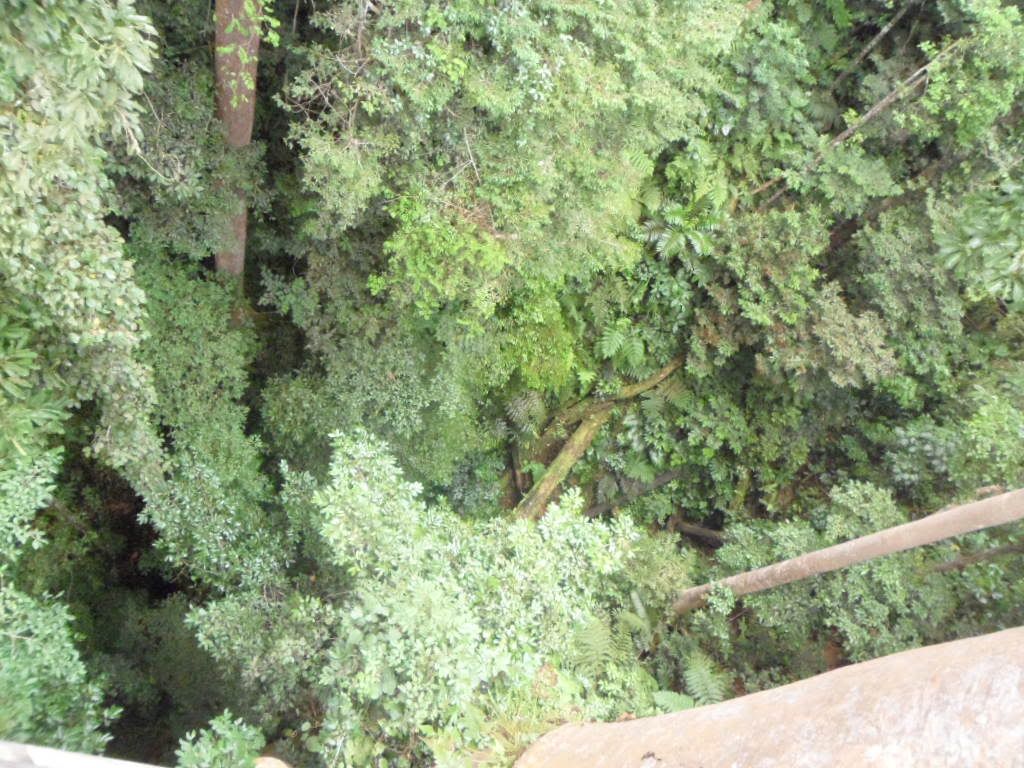 Looking down from the tree top walk
To give our visitors a feel of the tree top walk, here it is…

"Death Defying" Tree Top Walk!
We ventured back to Poring Hot Springs to pick Kate and left for Kipungit Waterfall. The waterfall was about 400m high and had Dr Fish as its inhabitants! Free foot spa!! Yay!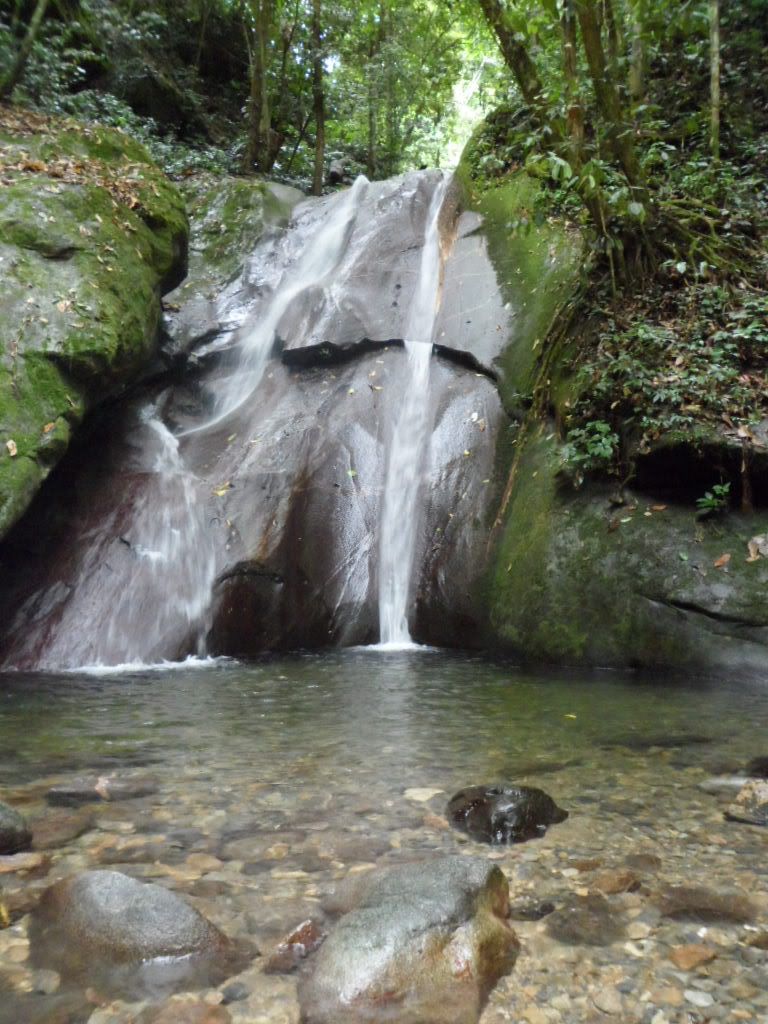 Kipungit Waterfall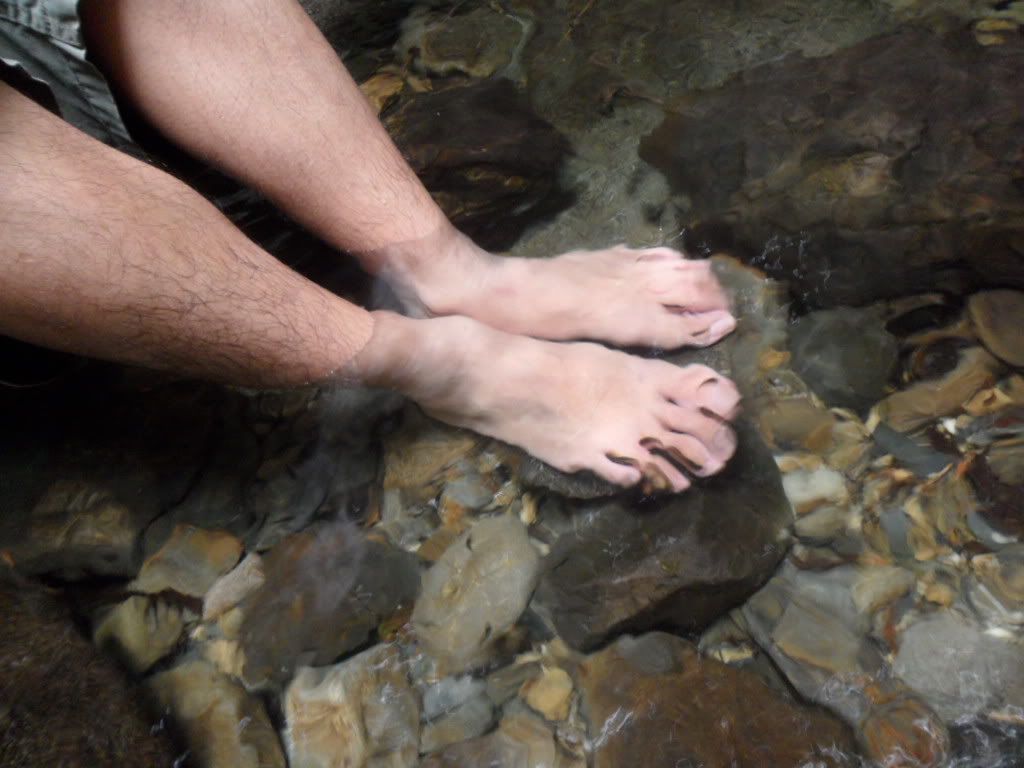 Dr Fish feeding off dead skin on Tom's feet
From there, we took a half hour ride to Fair Garden Restaurant for lunch. The food was very good and portions were great for 2 people. Best of all, it was included in the package!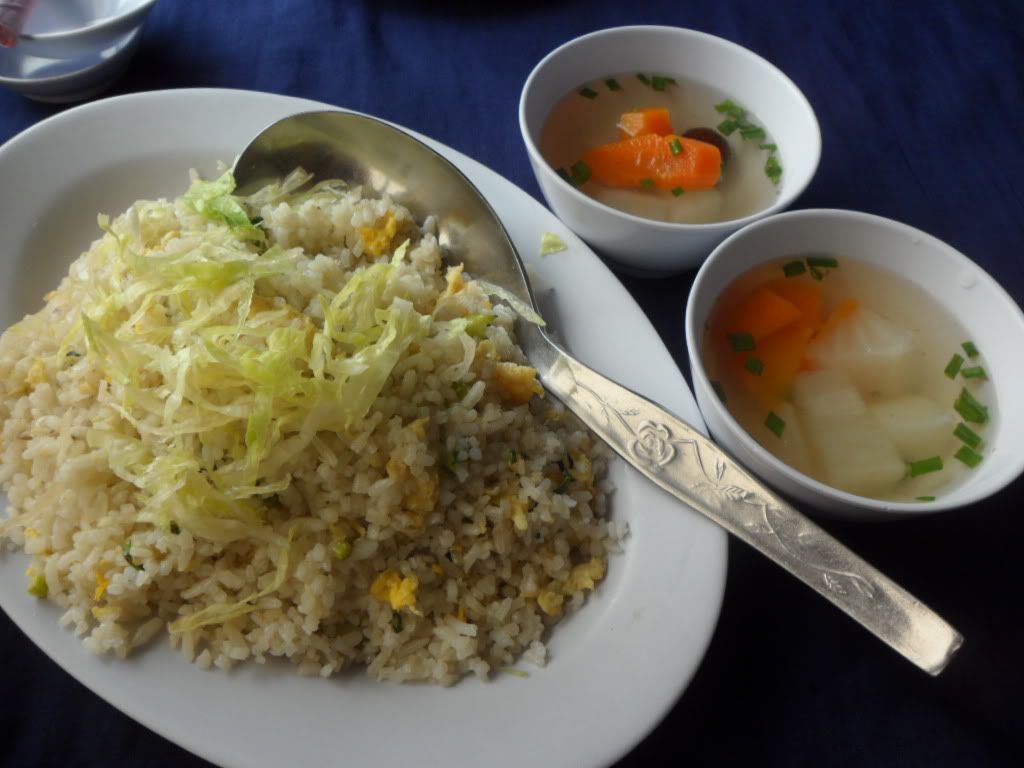 Fried Rice with Soup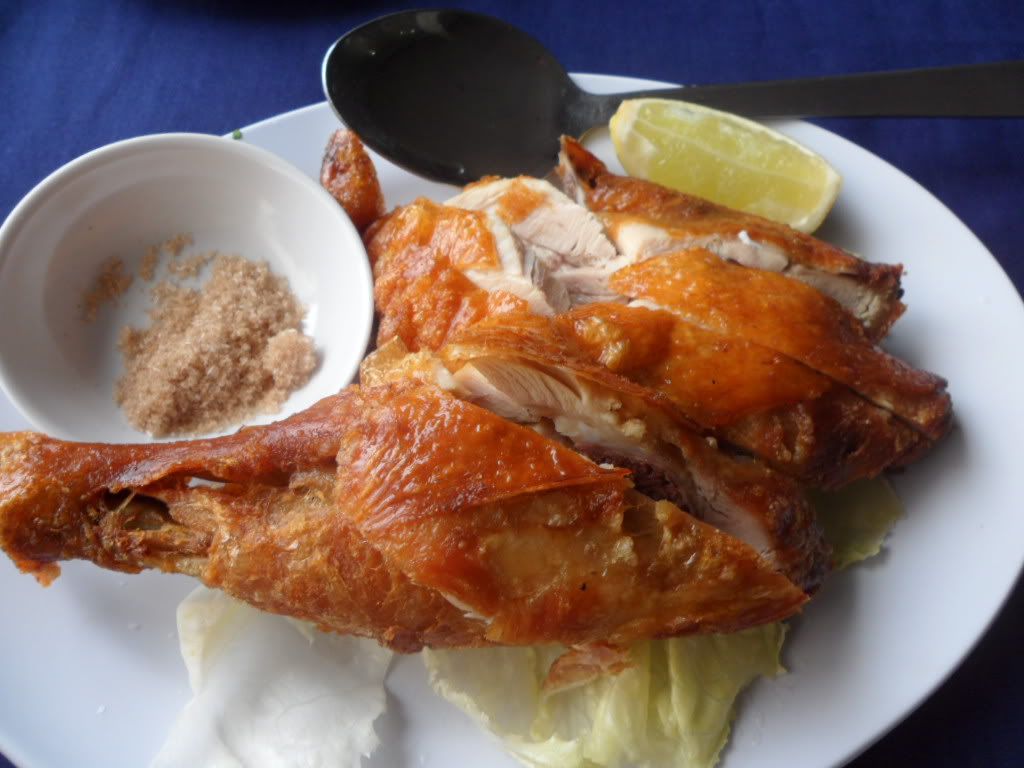 Crispy Chicken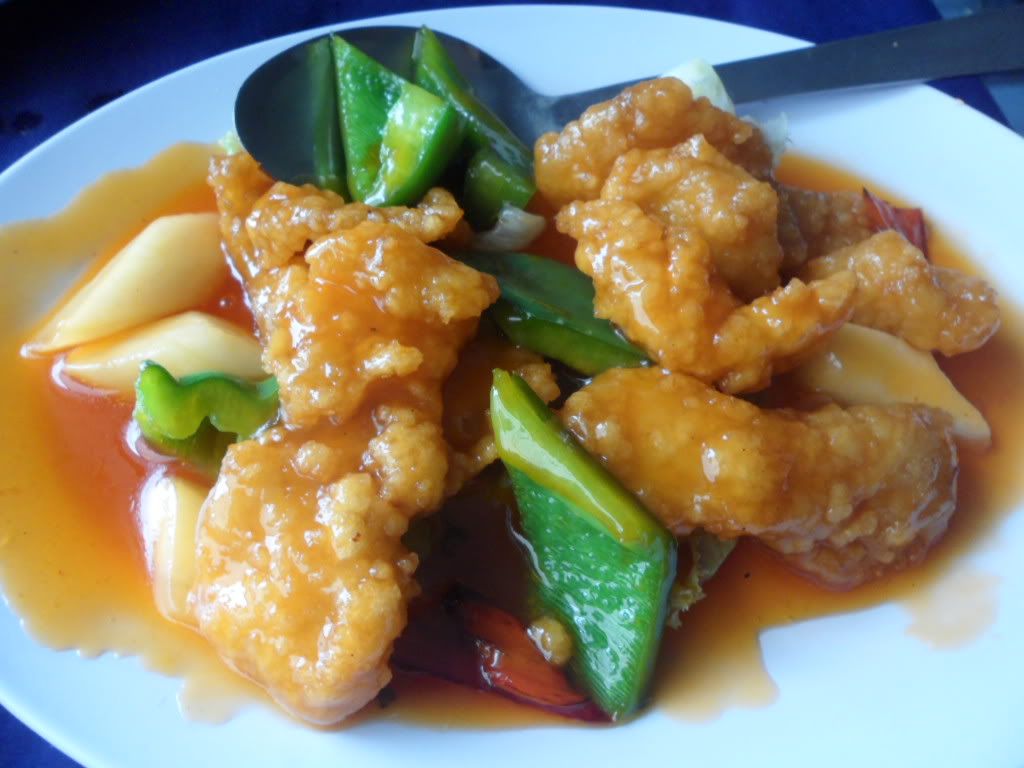 Sweet and Sour Fish
The food was definitely Chinese restaurant standard and there were also vegetables, fruits and Chinese Tea as well.
We then headed to the Botanical Gardens where we did the forest trail, the shortest one was Silau Silau Trail (to Bukit Tupai) that took us about 40 minutes. Kate and I enjoy such trails but according to Andy, most tourists dont take these trails.
Along the way, we saw what could possibly be the world's smallest fern!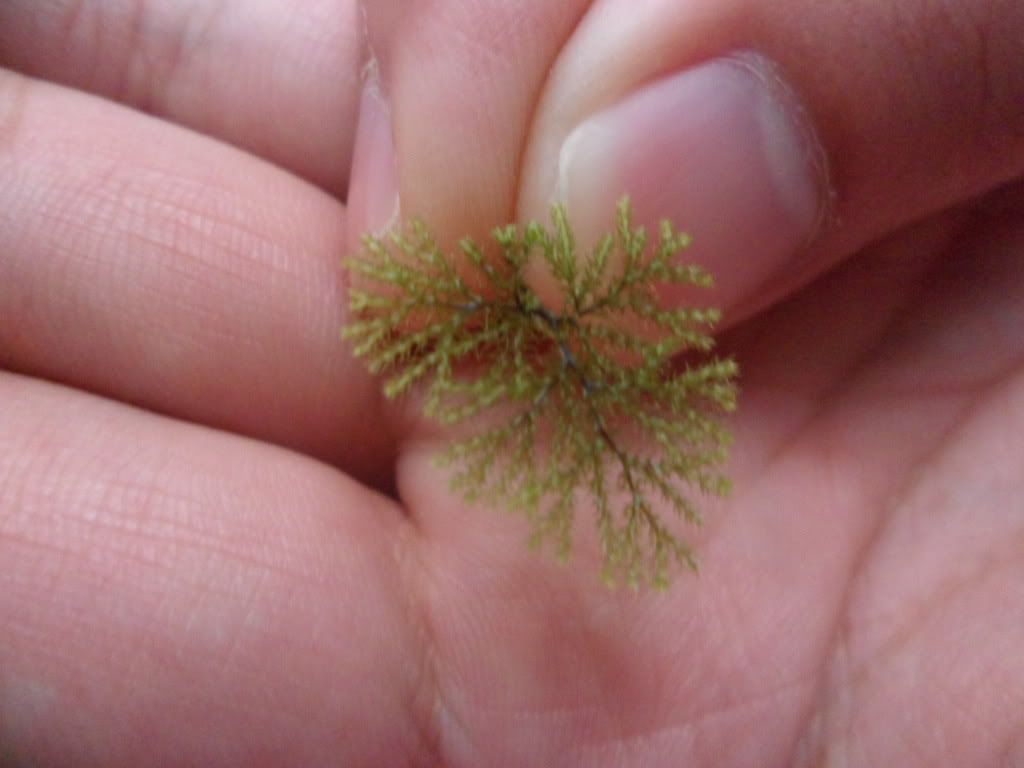 Possibly, the world's smallest fern
Andy then led us to this roadside stall that sells black pig (RM5), it was delicious especially with the home made sauce concocted by the owners…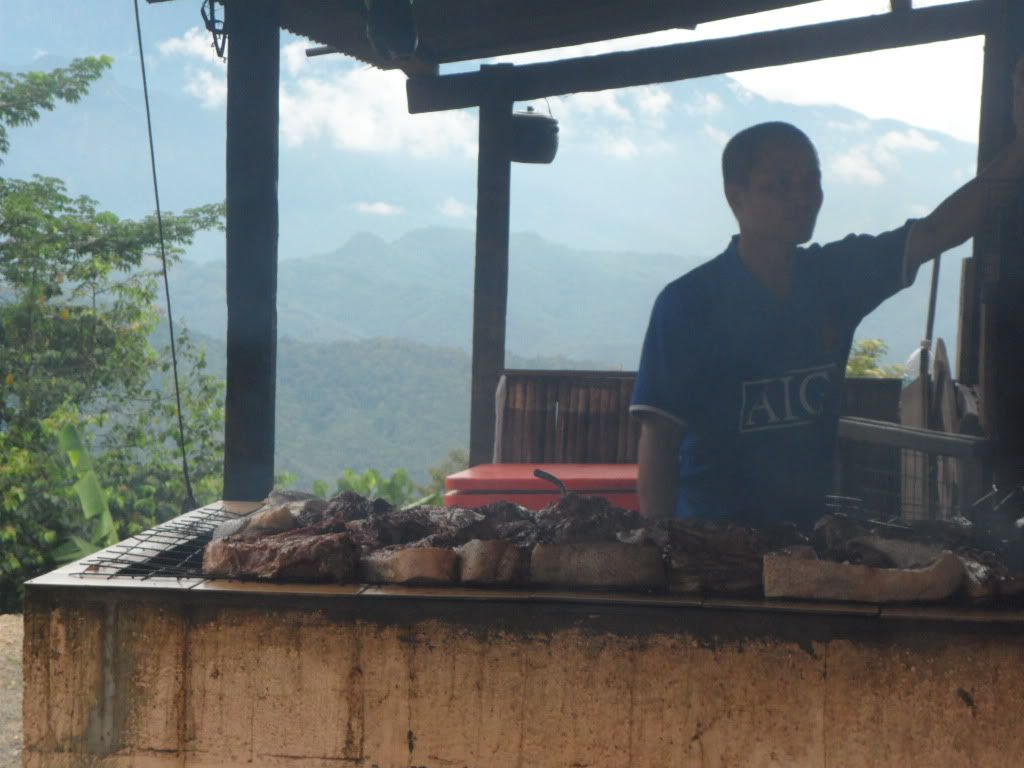 Black Pig BBQ!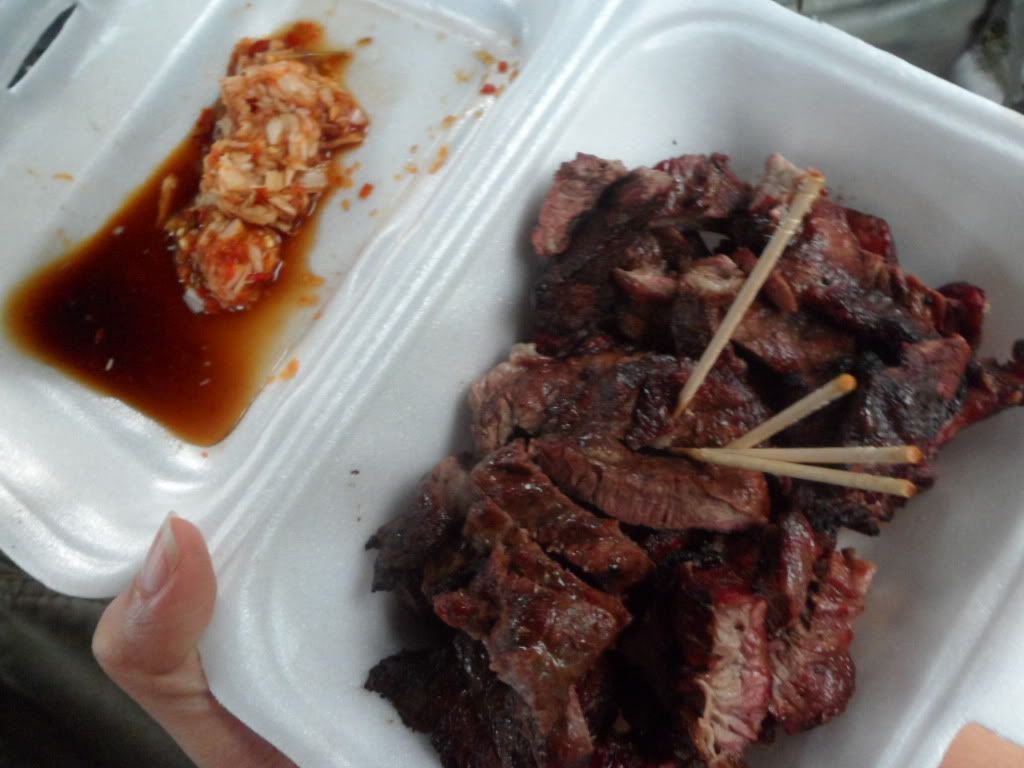 The BBQed Black Pig with Sauce – Yummy!
Thanks to Andy from Exotic Borneo, we thoroughly enjoyed ourselves!
At night, Kate and I caught Johnny English 2 for only RM9 each!
City Tour
On Sundays, there is a large market being put up by the locals in the city. Known as the Gaya Market, it offers locals and tourists alike, an avenue to shop!

Gaya Sunday Market
We took a video for our visitors to have a feel of the market itself. There was also a musician playing on the gong which we thought was interesting…

A walk through Gaya Market

Musician on Traditional Gong at Gaya Market
Nearby, we were told that Signal Hill offered a marvelous view of Kota Kinabalu City. The starting point was at the Atkinson Clock on the top right of this picture…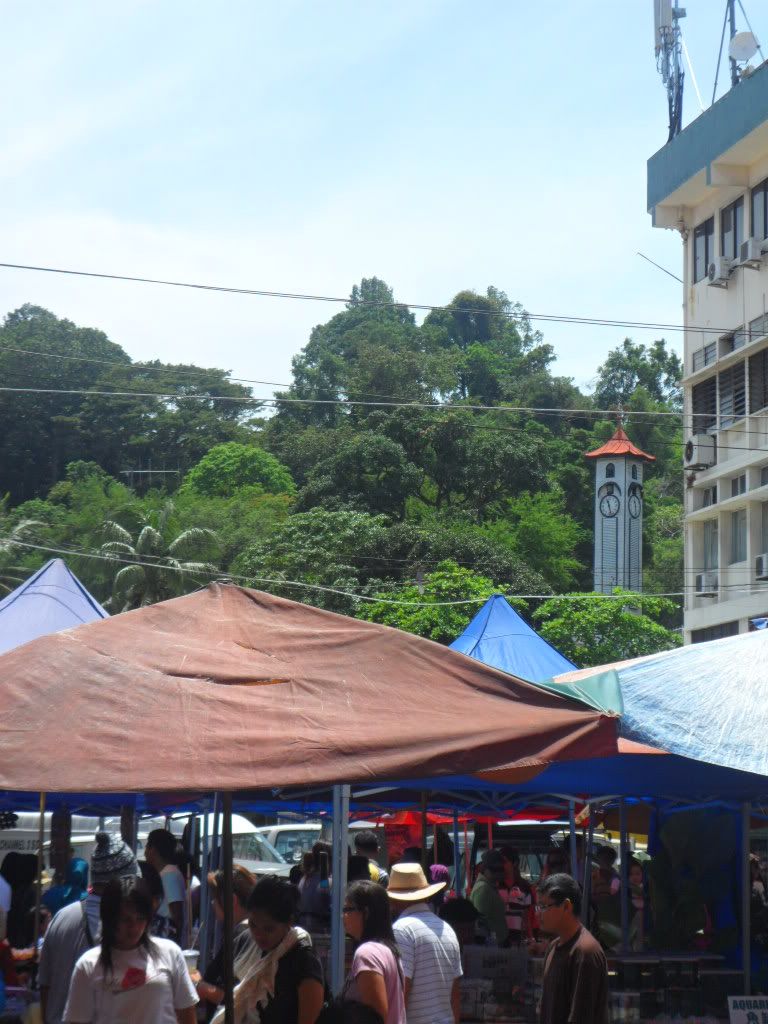 Gaya Market to Atkinson Clock
After 15 minutes, we arrived at the Atkinson Clock…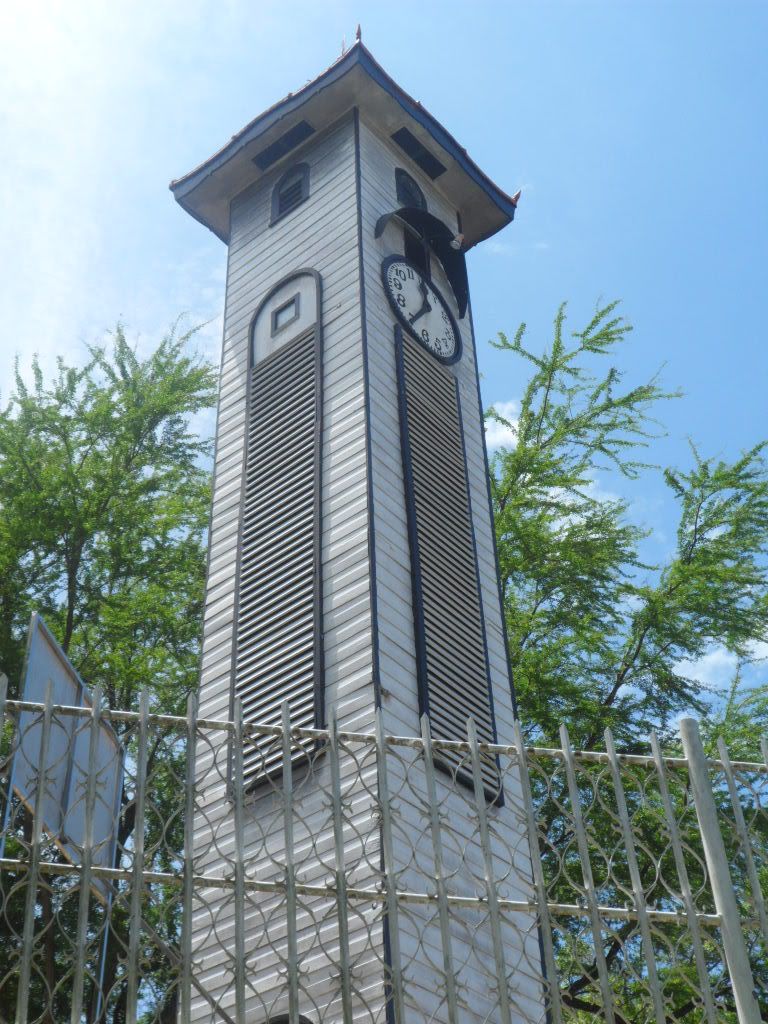 The Atkinson Clock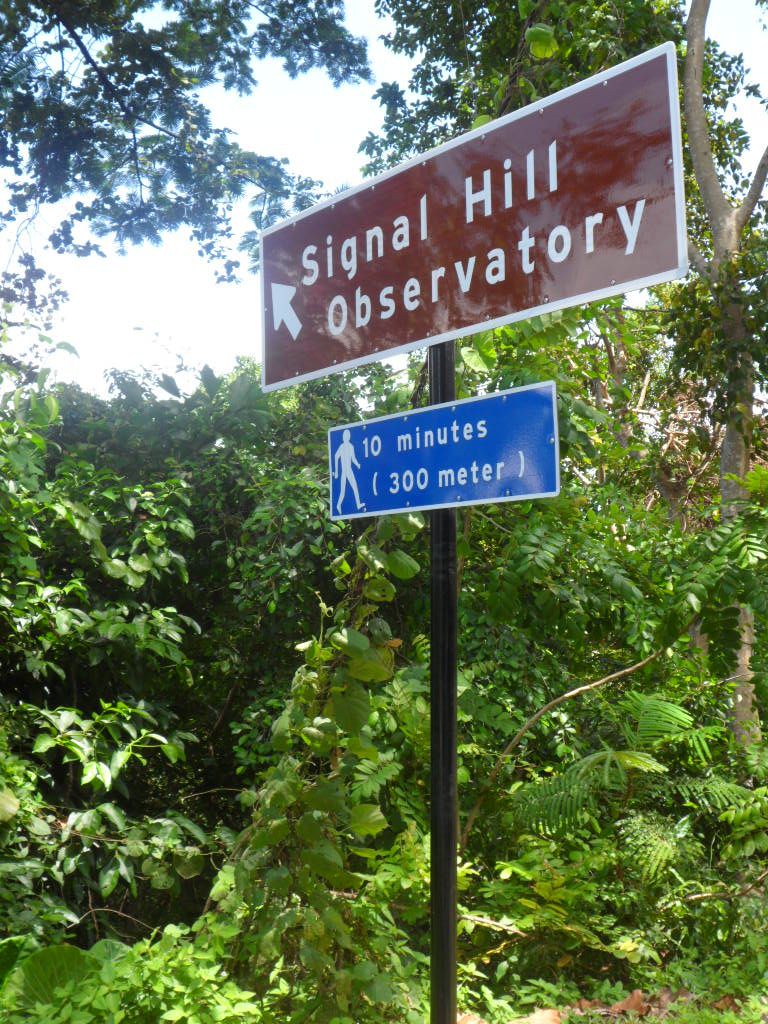 Direction to Signal Hill Observatory
Following the road for another 5 minutes or so, we were greeted by this view…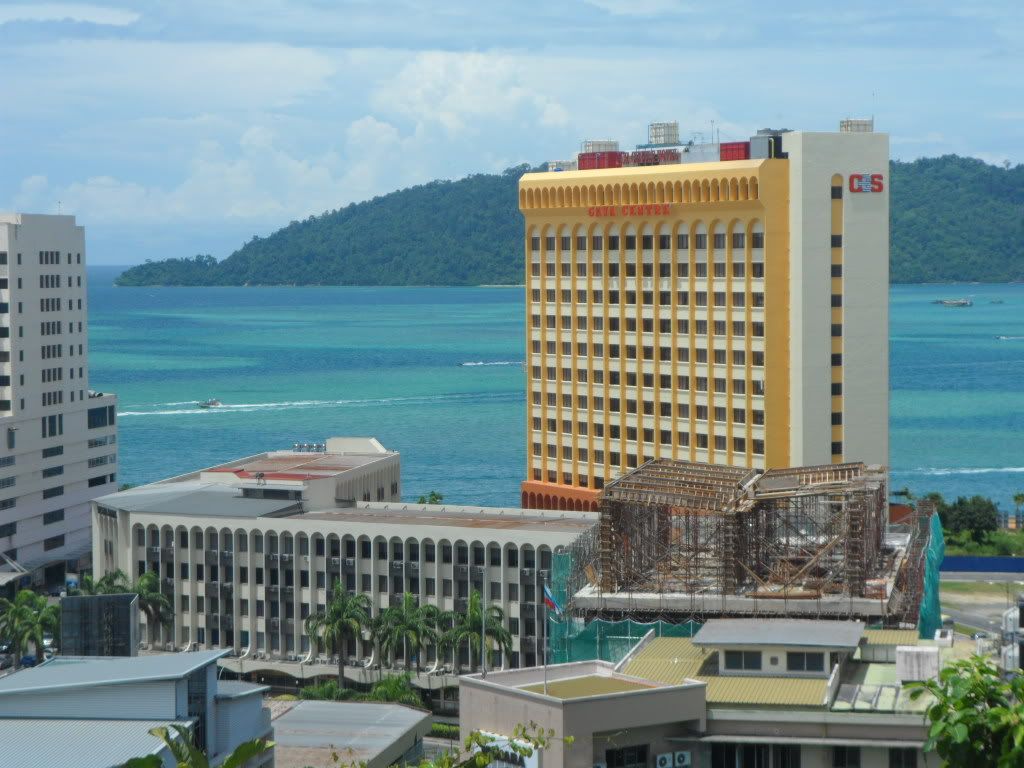 View of Gaya Island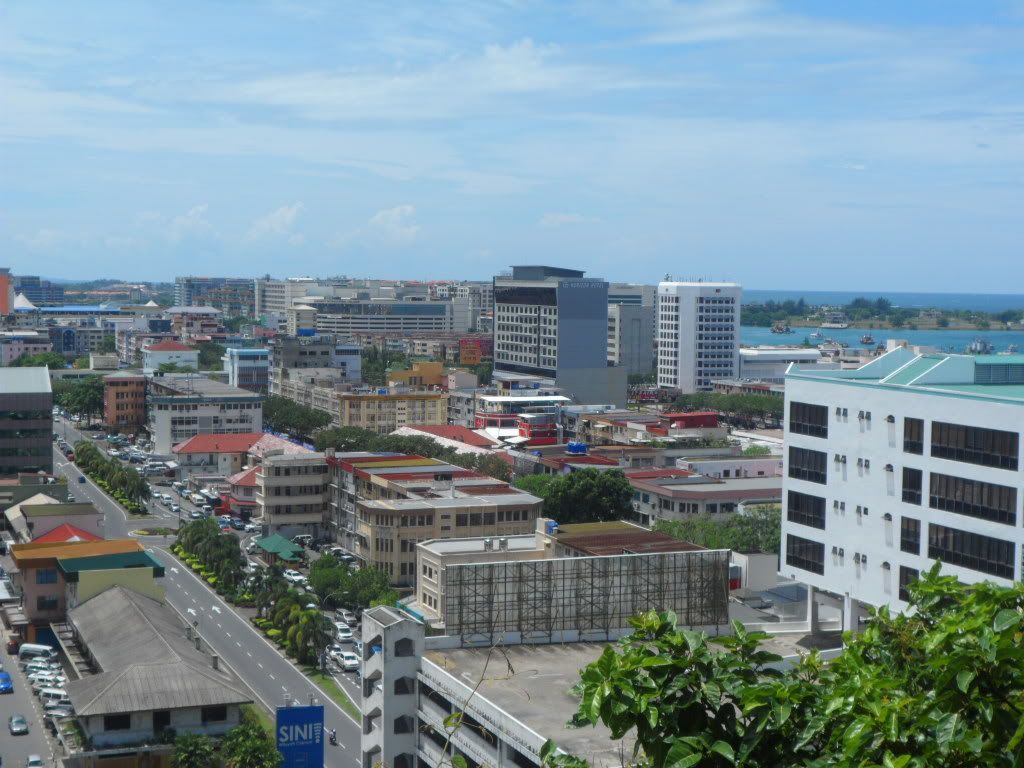 View of the City

Breathtaking View from Signal Hill Observatory
After all that walking, Kate decided to reward herself with a foot reflexology at Suria Mall. It was only RM48 for 1 hour of foot reflexology and foot bath.
We then had lunch at the famous Kuo Man restaurant of the Suria foodcourt. The beef noodles was yummy. Noodles were Q (springy) and the beef was flavourful. The view of the islands from the food court was excellent as well…

Kuo Man Restaurant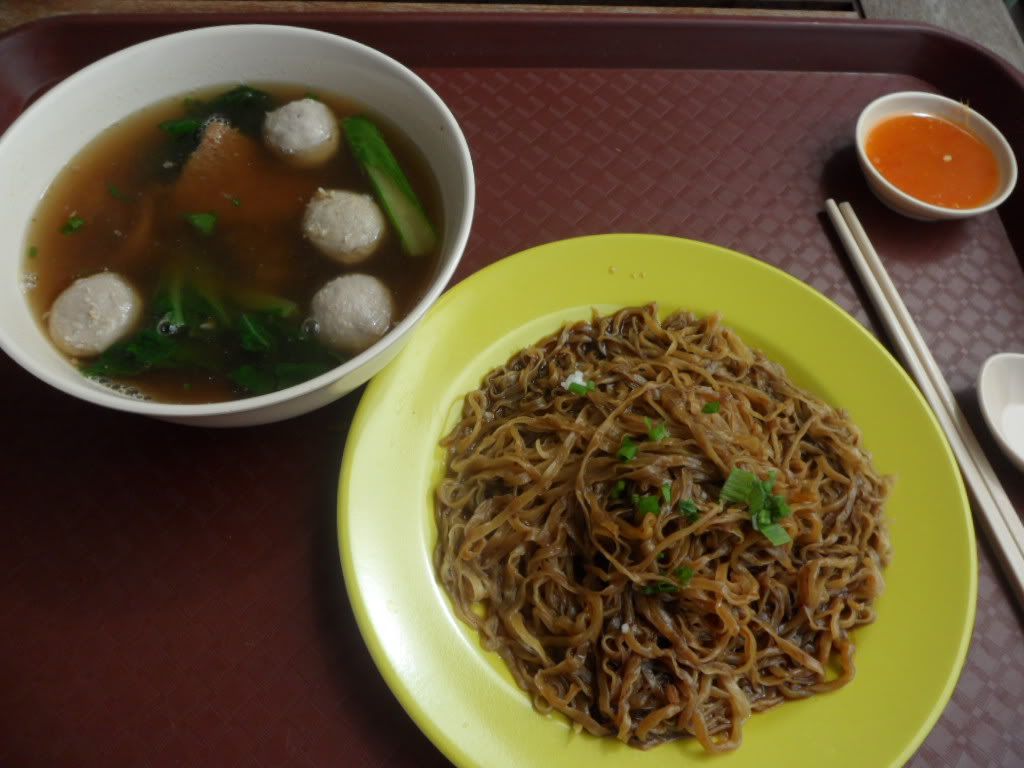 Beef Noodles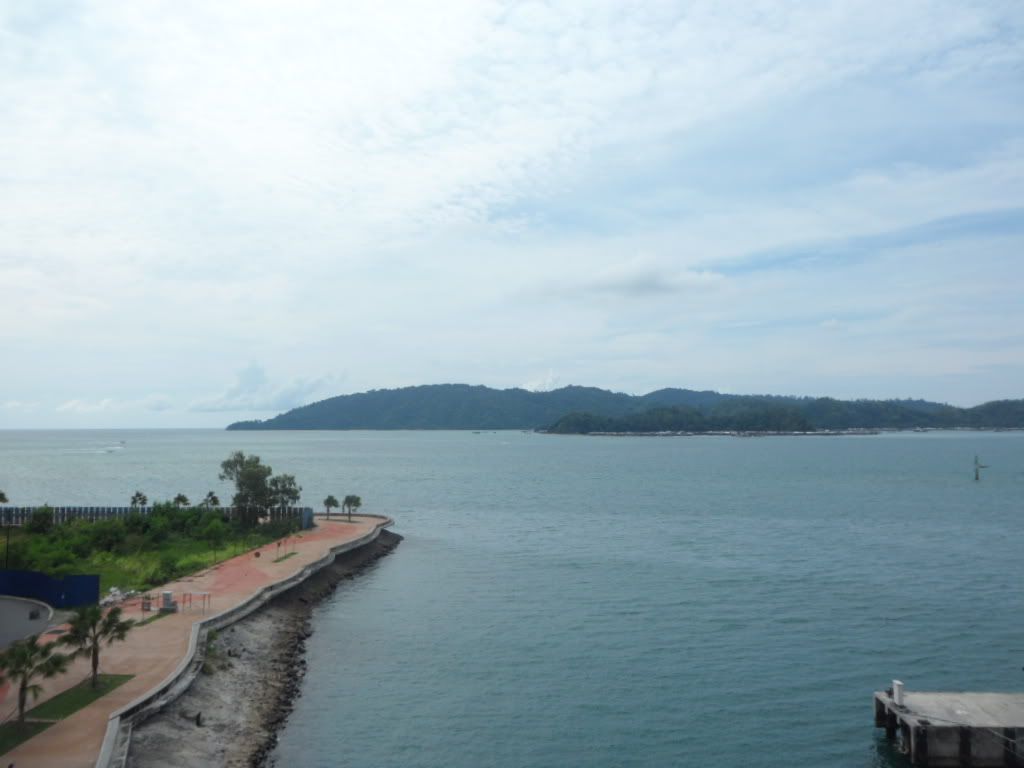 View of Gaya Island with boardwalk
Planning for the next day of island visits, we headed to the Jesselton Point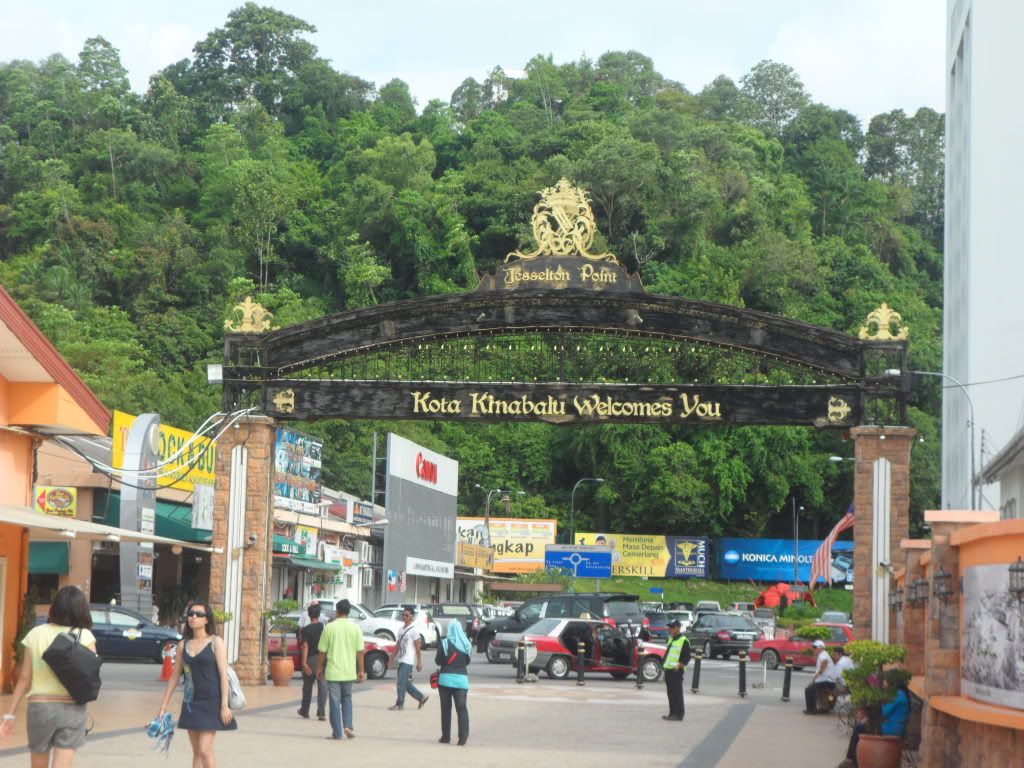 Jesselton Point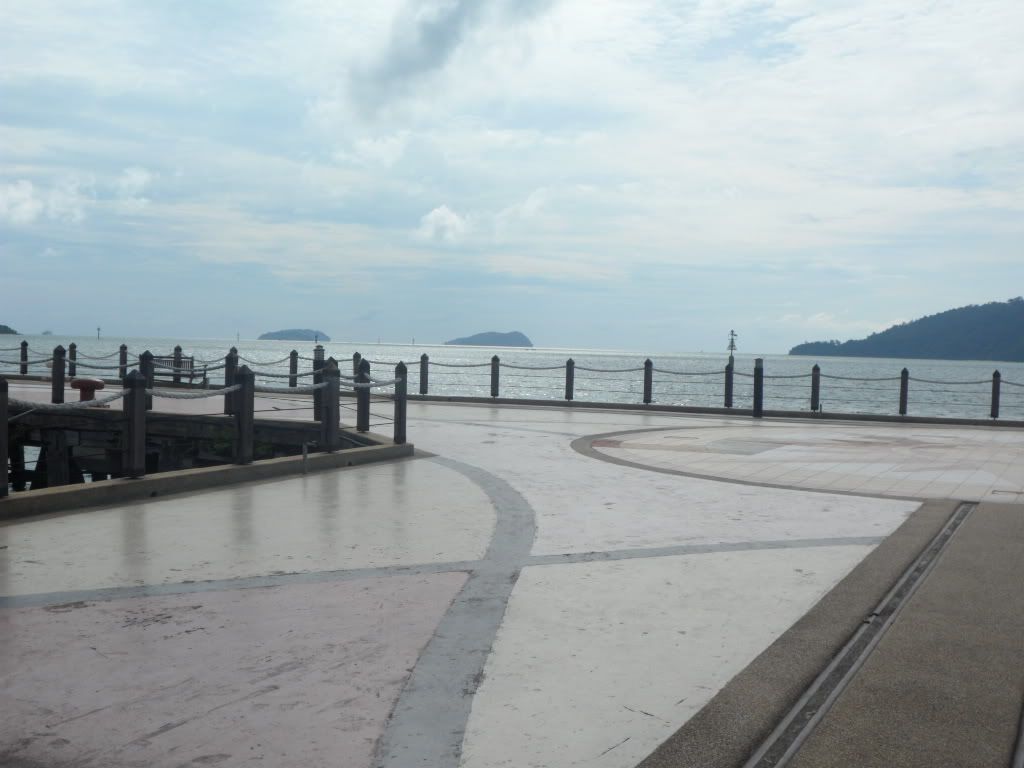 View from the Jetty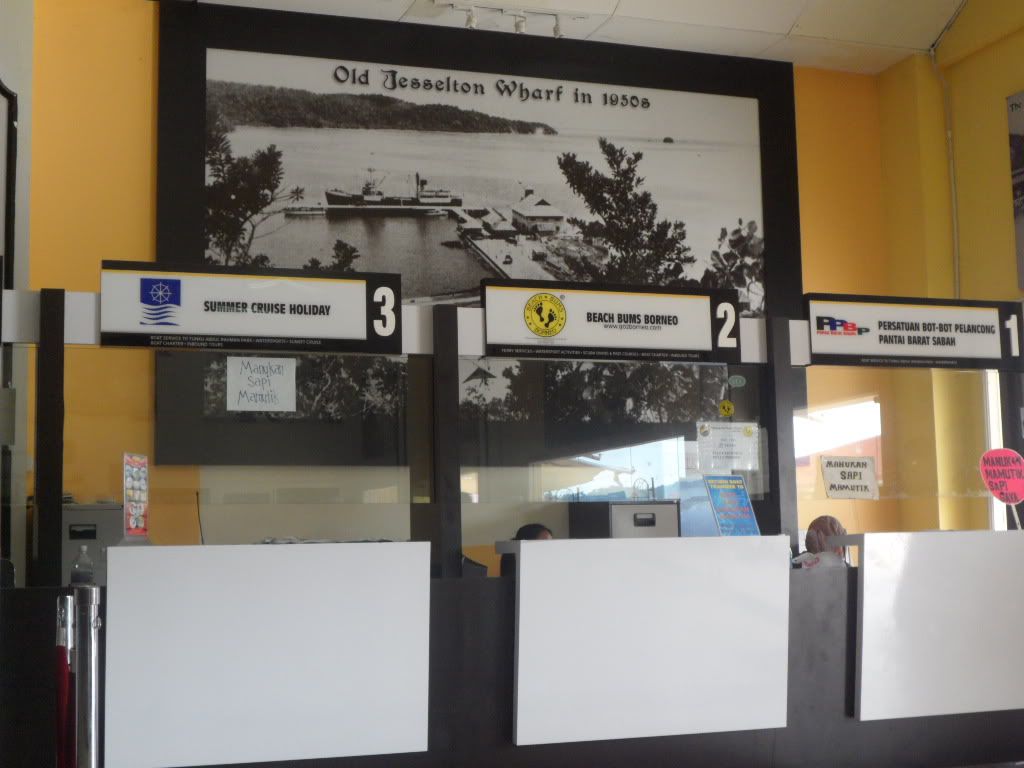 Ticketing booths at Jesselton Point
From there, we decided to go for only Manukan Island. Gaya Island being the largest is the most touristy. So it was out for us. It was then down to Mamutik, Manukan or Sapi. Manukan and Sapi was recommended for snorkelling. So Mamutik was out. Of the 2, we chose Manukan because Sapi had deeper waters (not good from the safety point of view). So by the process of elimination, we decided to go for Manukan!
An island ferry costs RM20 per pax and costs an additional RM10 for each additional island. You would also have to pay a conservation tax of RM7.20. At the island, there is also an entrance fee of RM10 for foreigners and RM3 for locals.
In the evening, we headed back to One Borneo shopping mall for more shopping! The deals were great especially because Parkson was celebrating its anniversary and giving out crazy deals!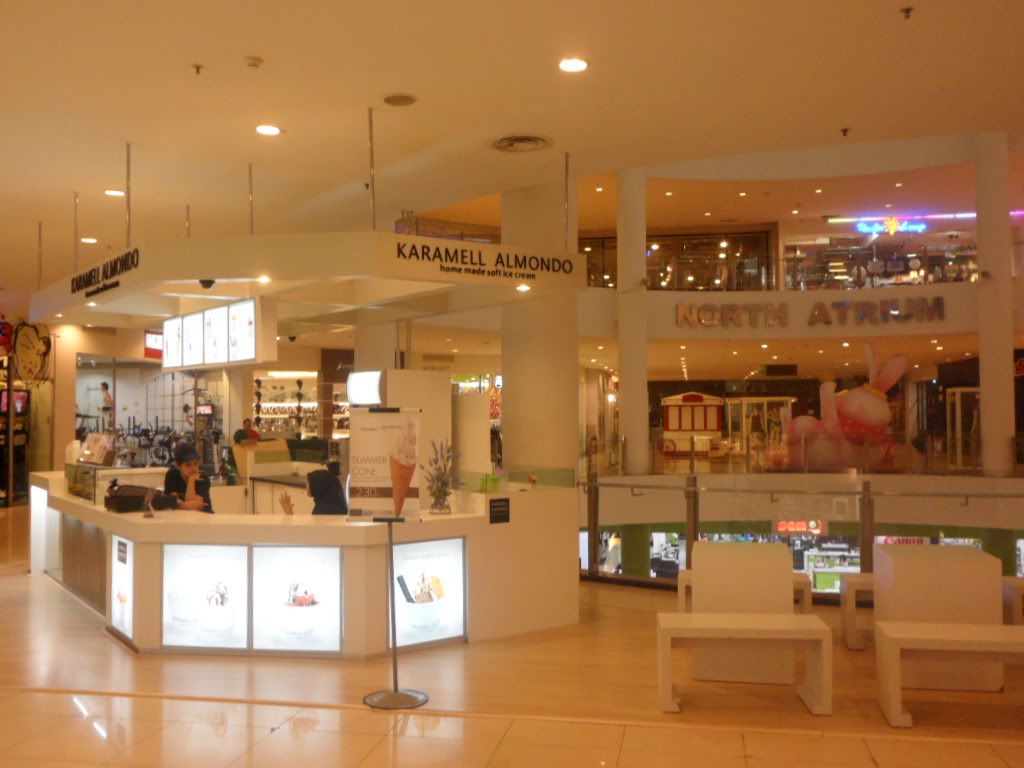 Parkson Department Store
We bought shoes, pants, shirts, dresses among other things that were 70% off! In the shopping mall, there is a Giant Hypermarket as well as many other small shops for you to explore!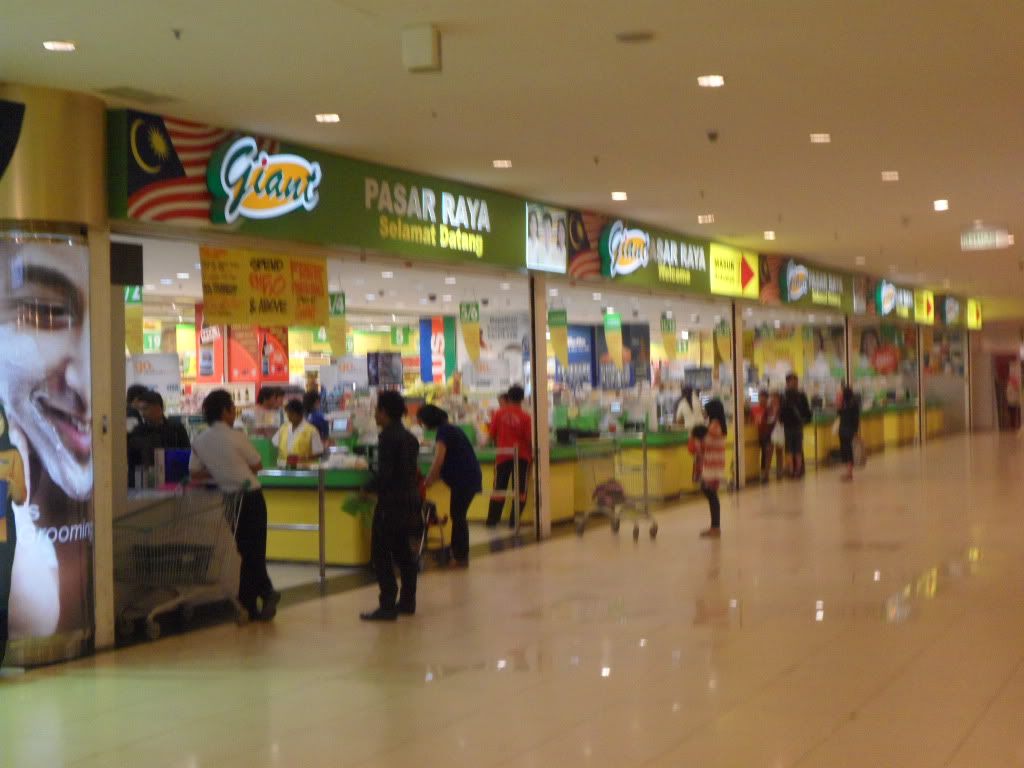 Giant Hypermarket

Central Atrium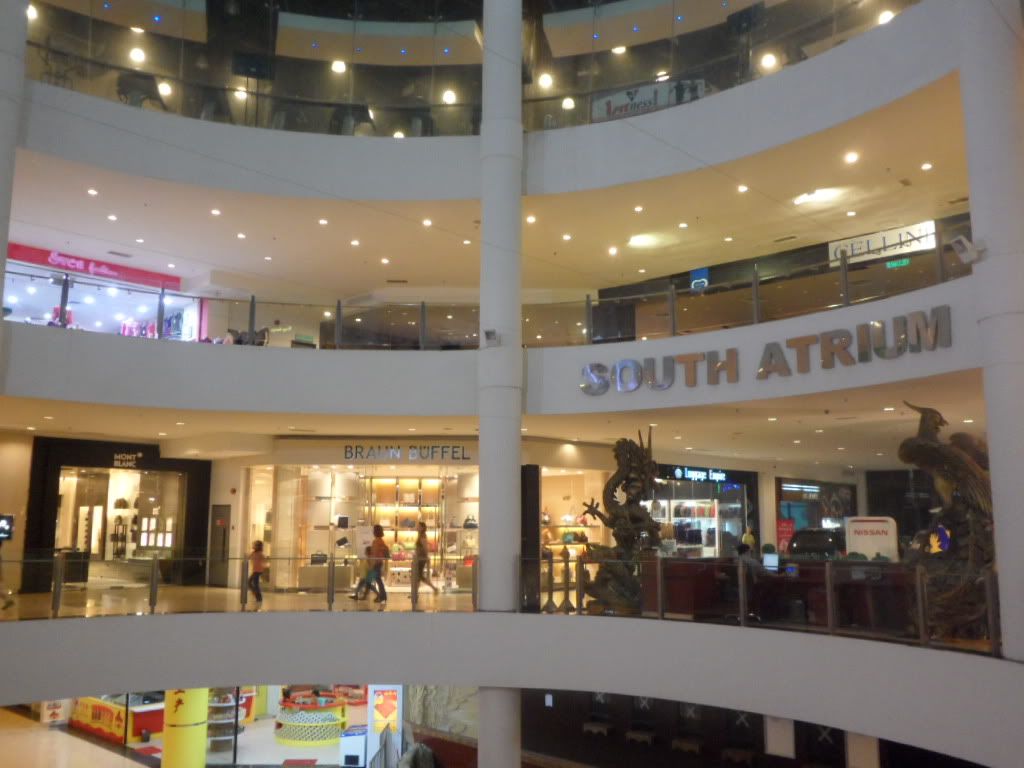 South Atrium
Island Visit – Manukan
It was pouring in the morning and we thought that our day of island visit was over. However, the "storm" cleared and we did enjoy a sunny day at Manukan!

Got our tickets from Beach Bums
When we bought the tickets from beach bums, lifejacket (RM5) and snorkelling sets (RM20) were also available for rent.
The ride out was a bumpy one and Kate kept holding on to Tom's arms leaving finger marks when we arrived at Manukan!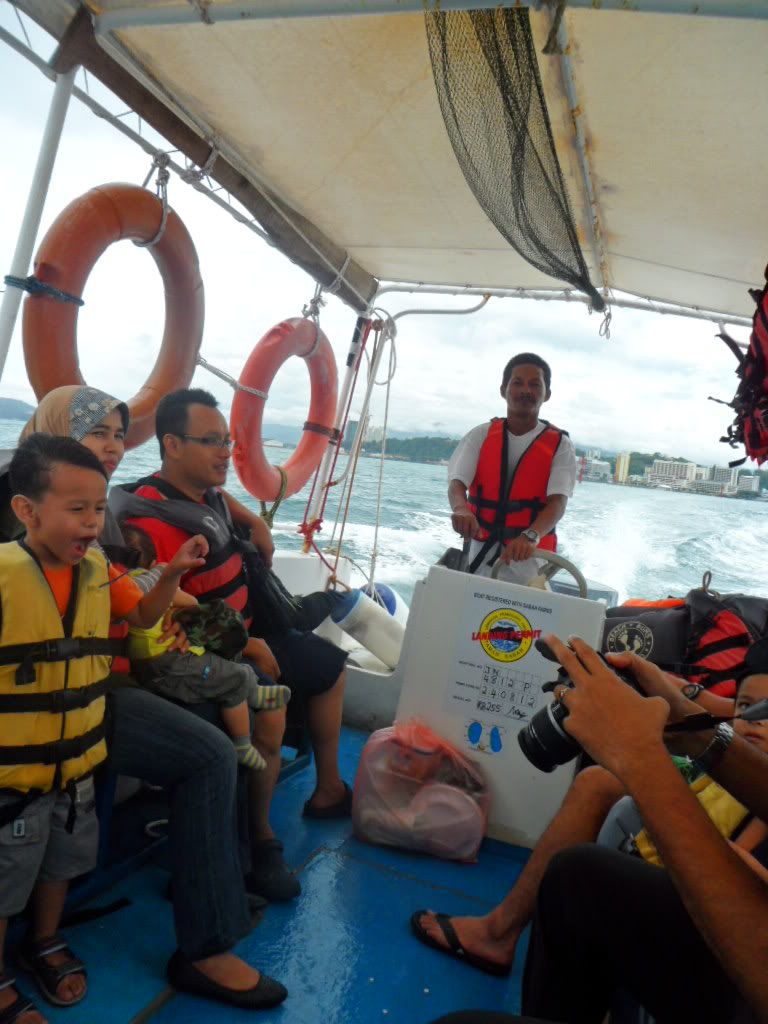 Boat Ride

Bumpy Boat Ride from Kota Kinabalu (Jesselton) to Manukan Island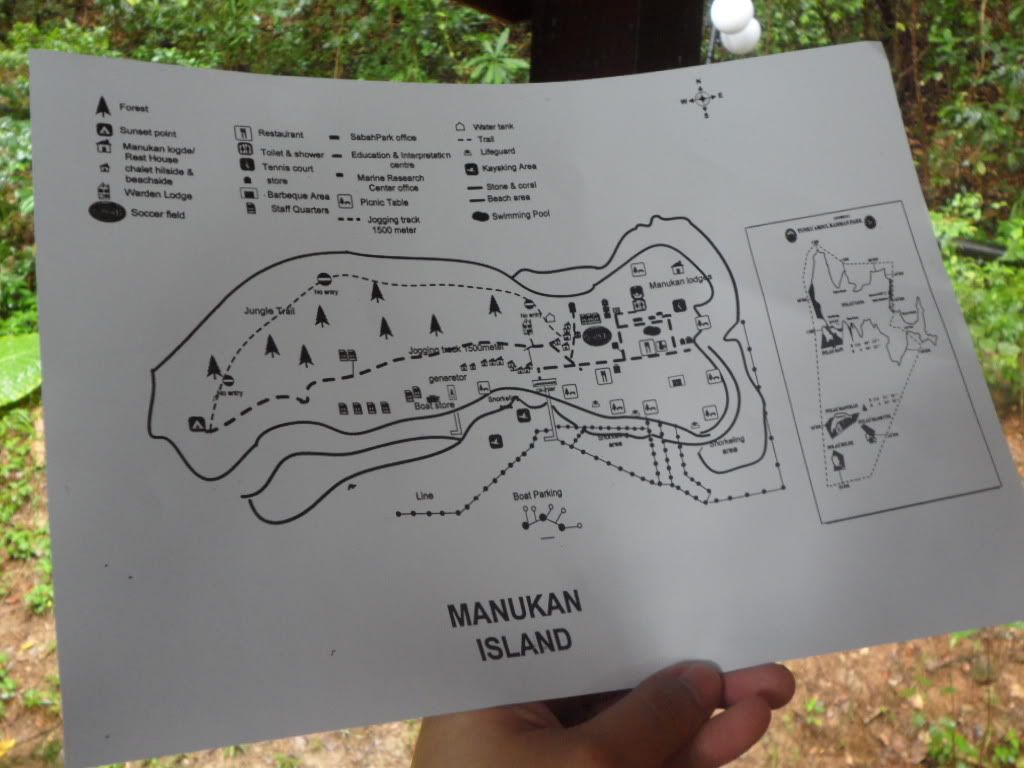 Map of Manukan Island
The island was beautiful and by the time we dipped into the water, the sun came out! The waters were clear and we were able to see the fishes and enjoy sand playing at the beach…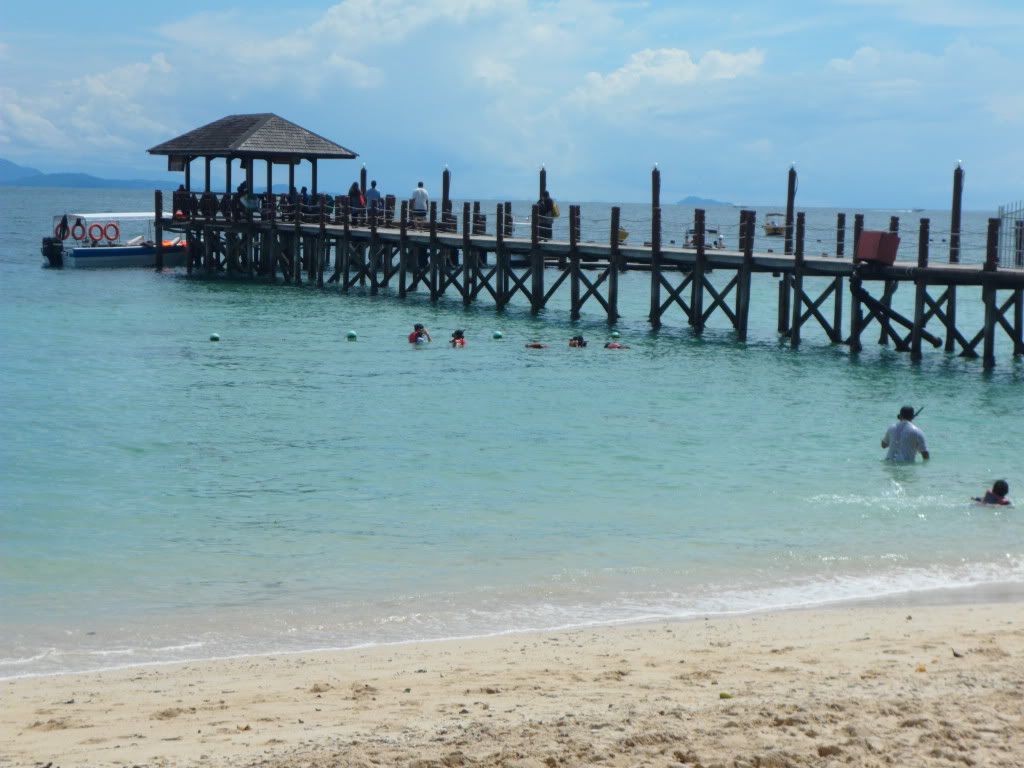 Jetty of Manukan Island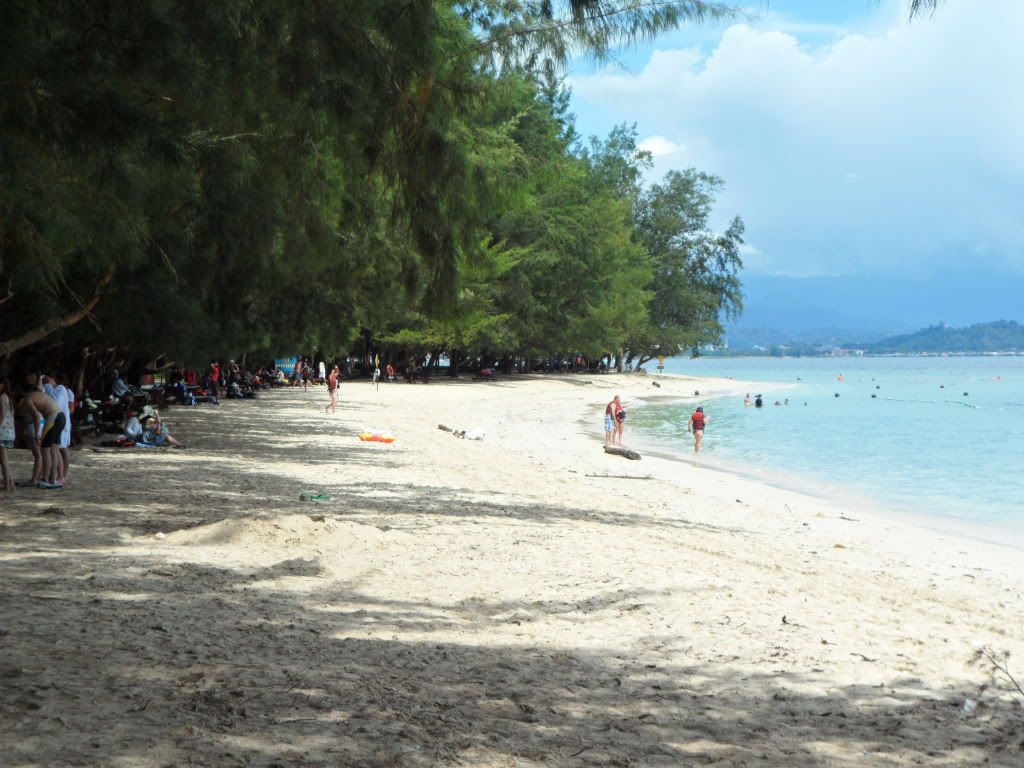 The Beach at Manukan Island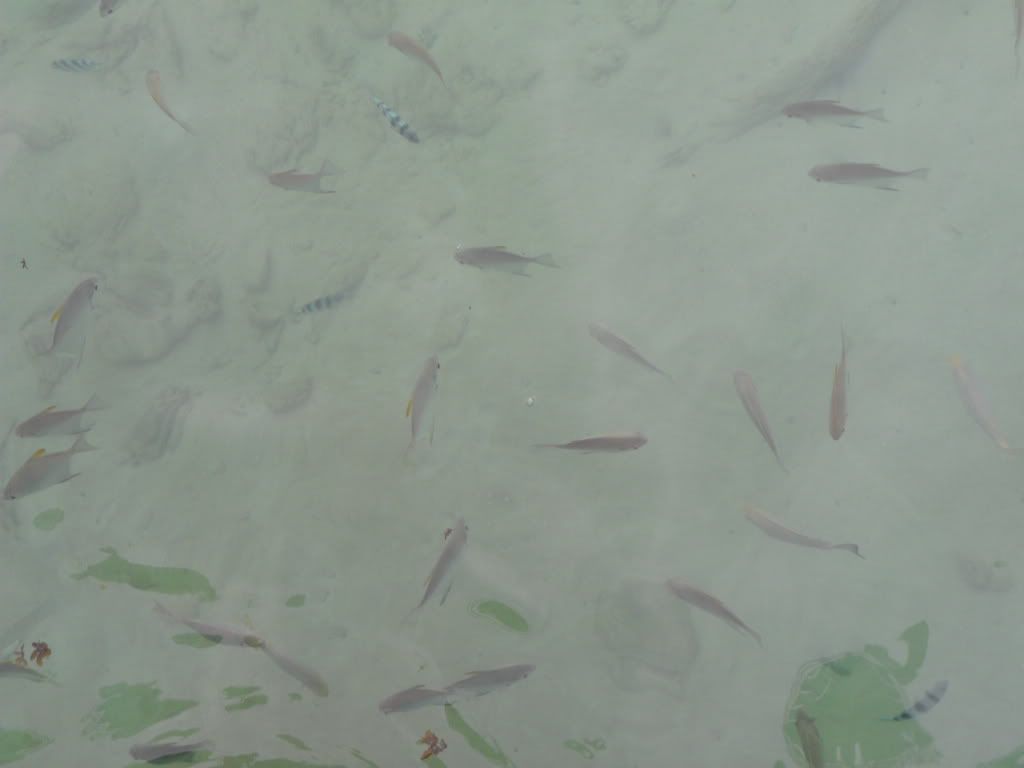 Clear waters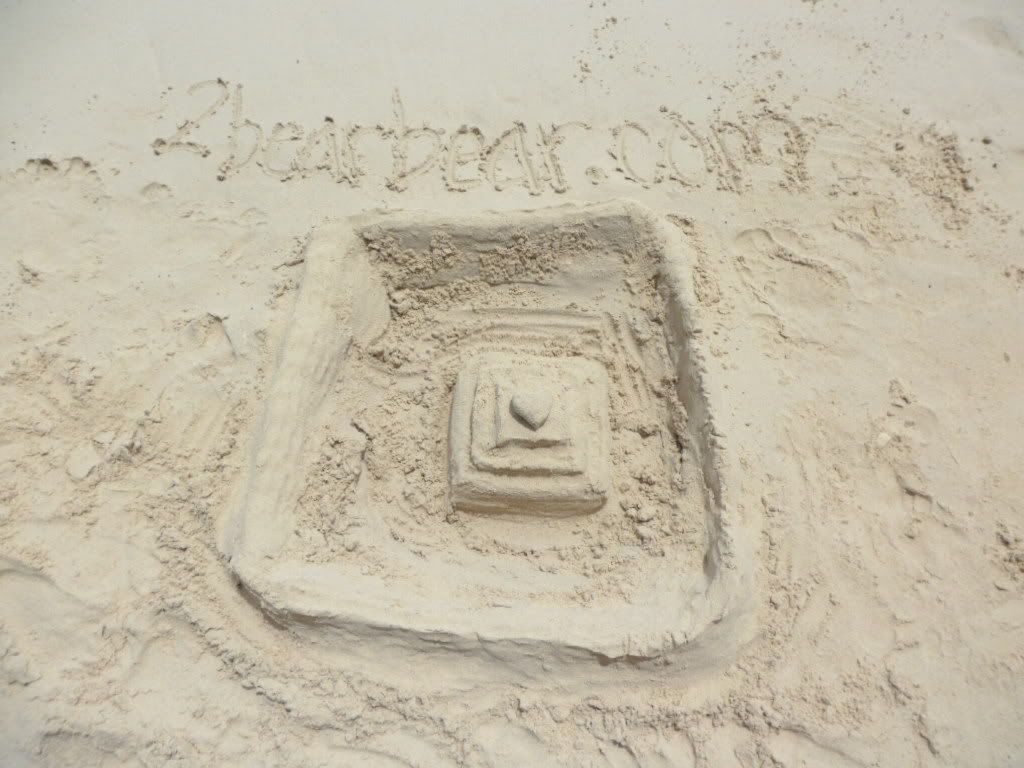 2bearbear.com Sand Castle!
On the ride back, we were also able to see Mount Kinabalu from a distance!

Mount Kinabalu on route back from Manukan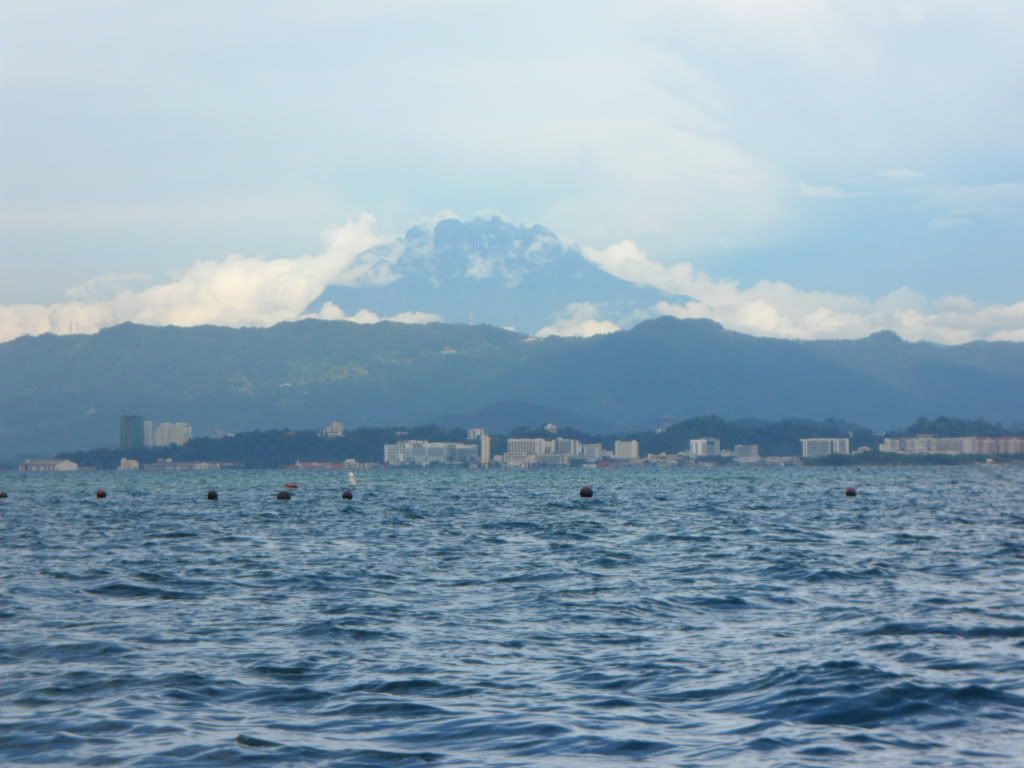 Close Up View of Mount Kinabalu
After we got back, we decided to catch the sunset again this evening. We still had about an hour to spare so Kate decided to go for the classy Rafflesia Spa @ Warisan Square (RM55 + 6% tax) while Tom waited at Shamrock Pub (Irish).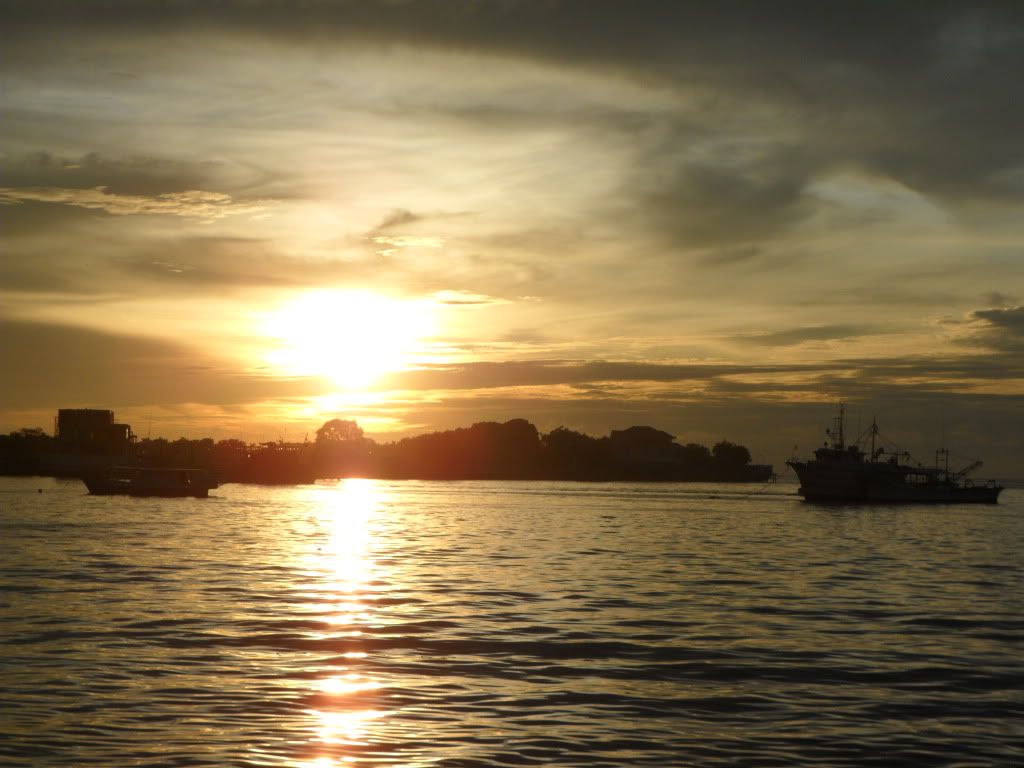 Sunset from Shamrock Pub (Waterfront)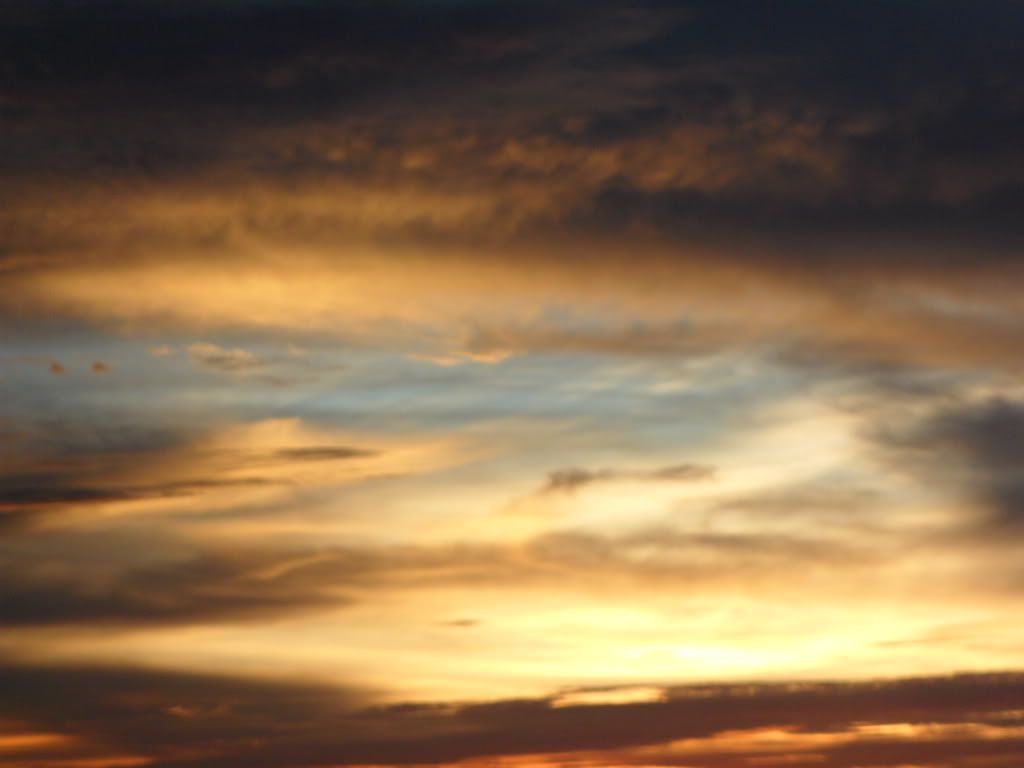 Beautiful Skies

Beautiful Sunset – See how the colours of the skies change
Dinner was at the Irish pub as well and we enjoyed the Homemade Beef Burger and Irish Stew (RM30 each).

Homemade Beef Burger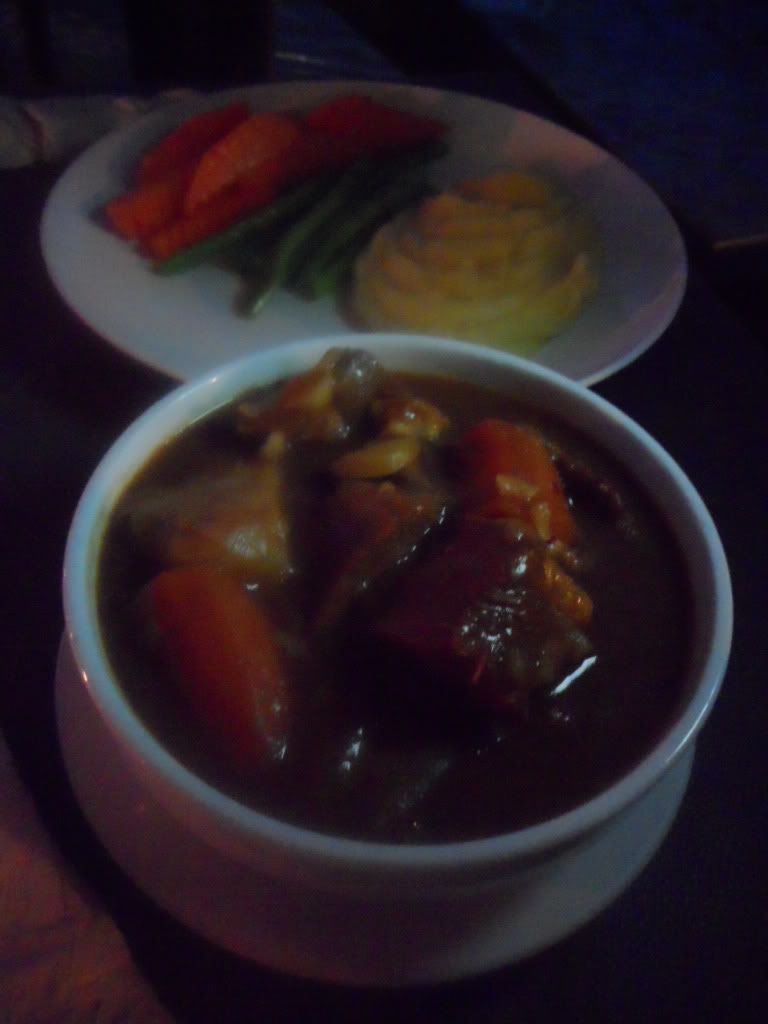 Irish Stew with sides
The next day was a chill out at the pool for us. All in all, it was a thoroughly enjoyable trip to Kota Kinabalu. Check out all these things to do and attractions in Kota Kinabalu and be sure to leave your comments back here!
We shall now leave you with a view from the our Silkair flight as we left the Kota Kinabalu International Airport…

View of the islands from the plane (Sunset Included)
Click here for the best hotel deals in Kota Kinabalu!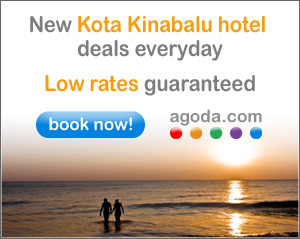 Related posts: