Yes! It is the start of our Europe trip! Our starting point was Amsterdam. After arriving at Schipol airport in Amsterdam, we transferred to the train to Amsterdam Central.
The location of the train station is right beside the airport (within walking distance) so that's very convenient. You can buy tickets for the train from the service counter or one of the ticketing machines. However, do note that tickets over the counter costs an additional 50cents. On the flip side, if you do buy from the machines, make sure that you have enough coins as some (or most in Holland) ticketing machines do not accept notes. The ticket prices from Schipol Amsterdam to Amsterdam Central costs 3.80Euro. The return should cost the same as well.
Well, enough about tickets right? Back to the trip proper!
We then took the train to Amsterdam Centraal (as they call it)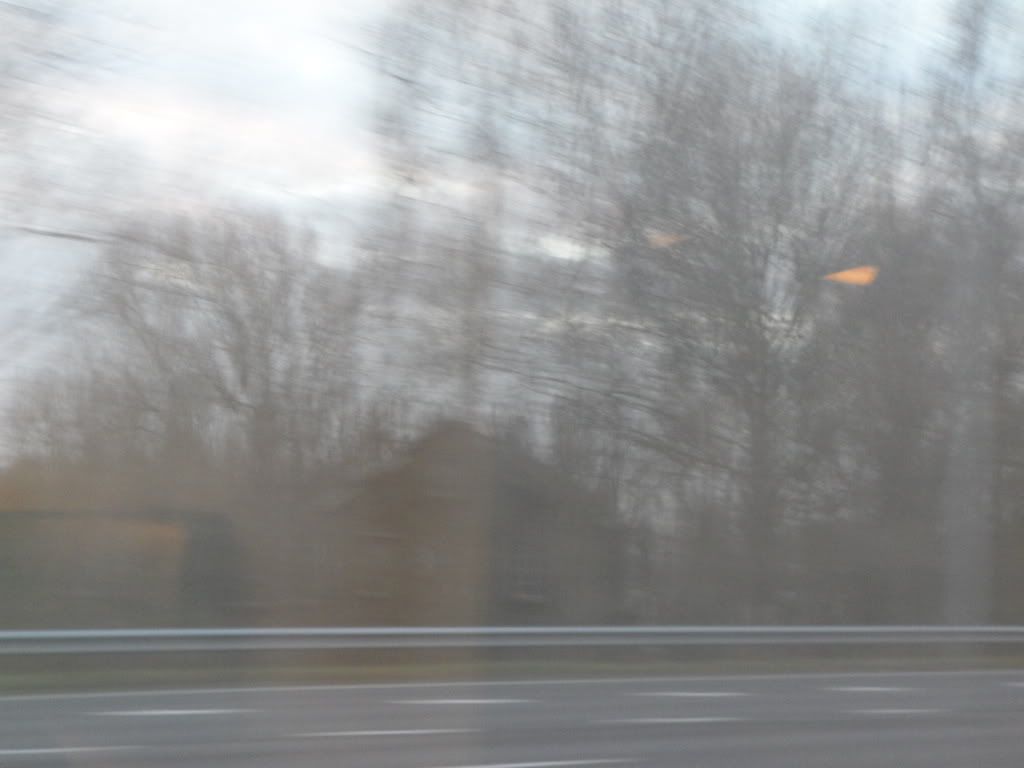 Artistic shot from the train from Schipol Amsterdam to Amsterdam Central taken by Kate
The train ride's only about 20 minutes.
As we walked out of the train station, we were greeted by the grandeur of the Amsterdam Train Station itself!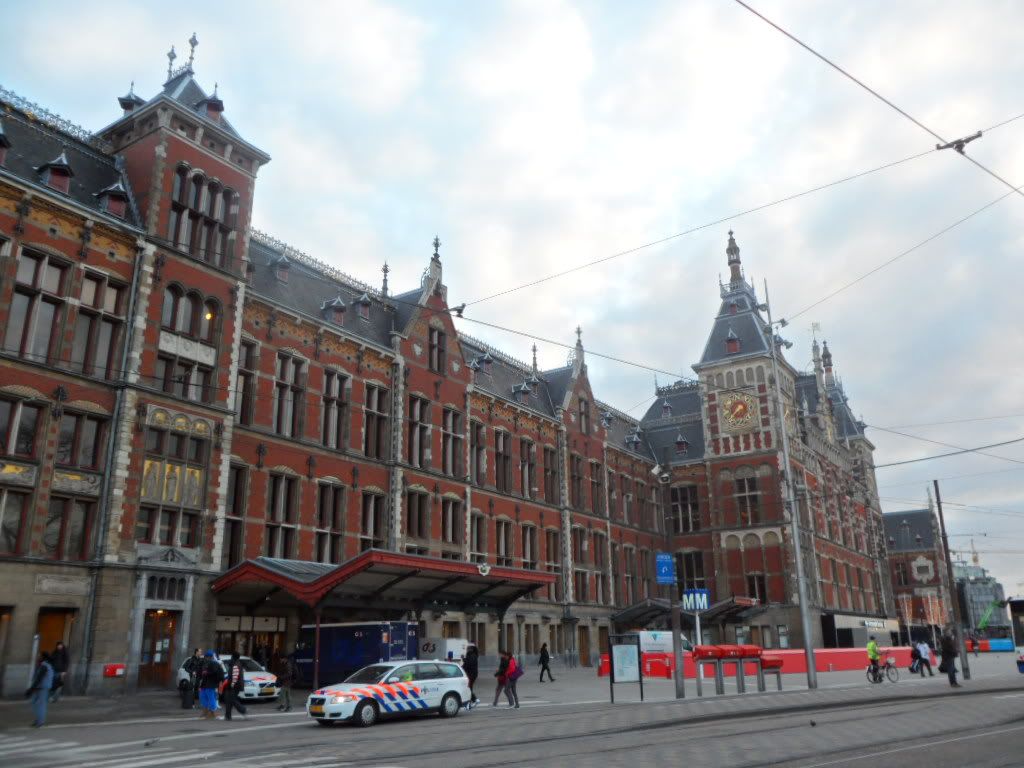 Amsterdam Central Station
The next thing we did was to locate our hostel. We chose Dam Hotel as it was within walking distance from the train station. In addition, it was cheap! A triple sharing room costs only 80euros…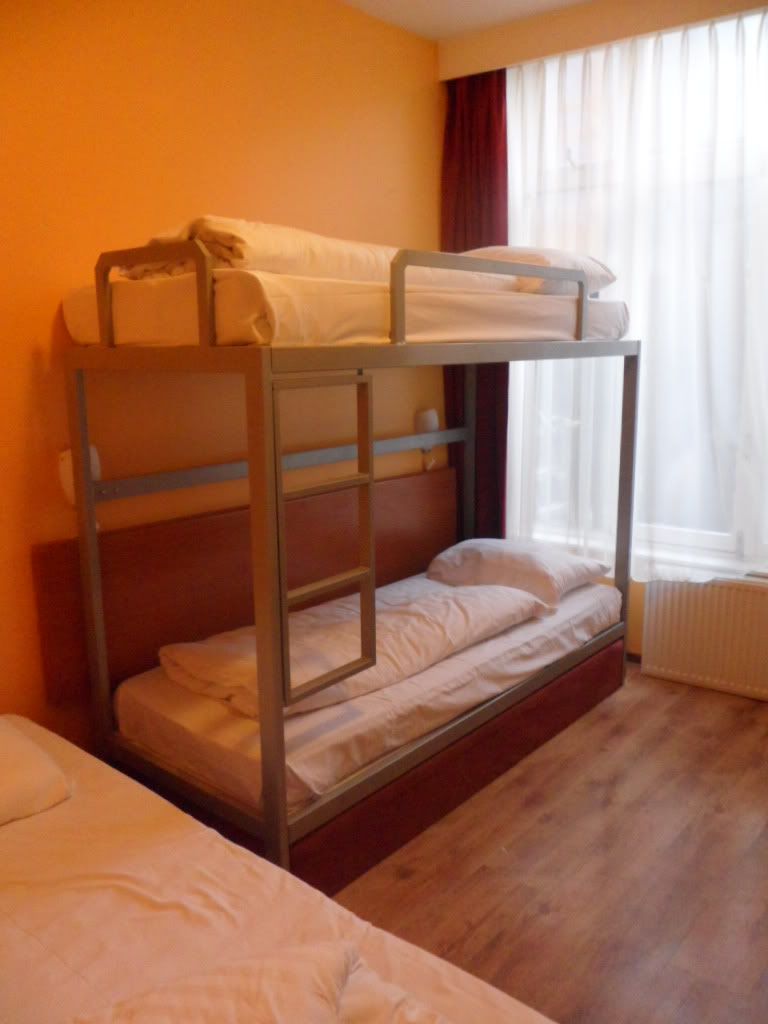 Triple Sharing in Dam Hotel Amsterdam
We did however had some trouble locating it on Dam Straat. The important thing here is to MAKE SURE YOU HAVE THE RIGHT ADDRESS and NEVER GIVE UP. After 10 minutes, we were able to locate its small entrance. 🙂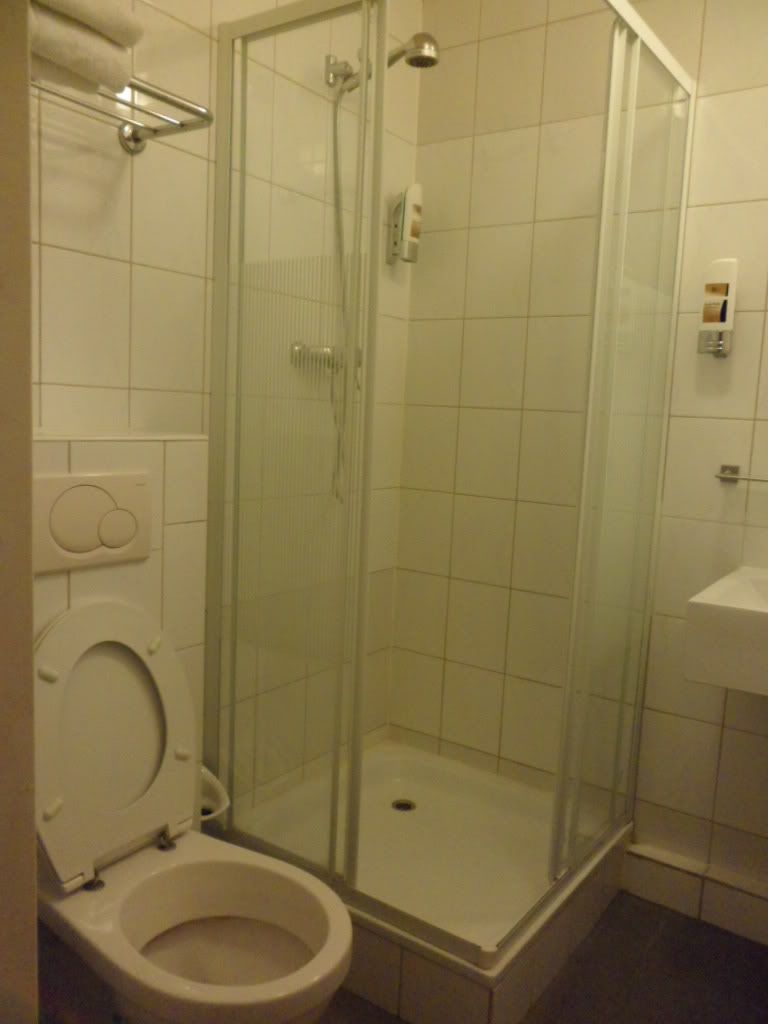 Decent Toilet and Shower in Dam Hotel Amsterdam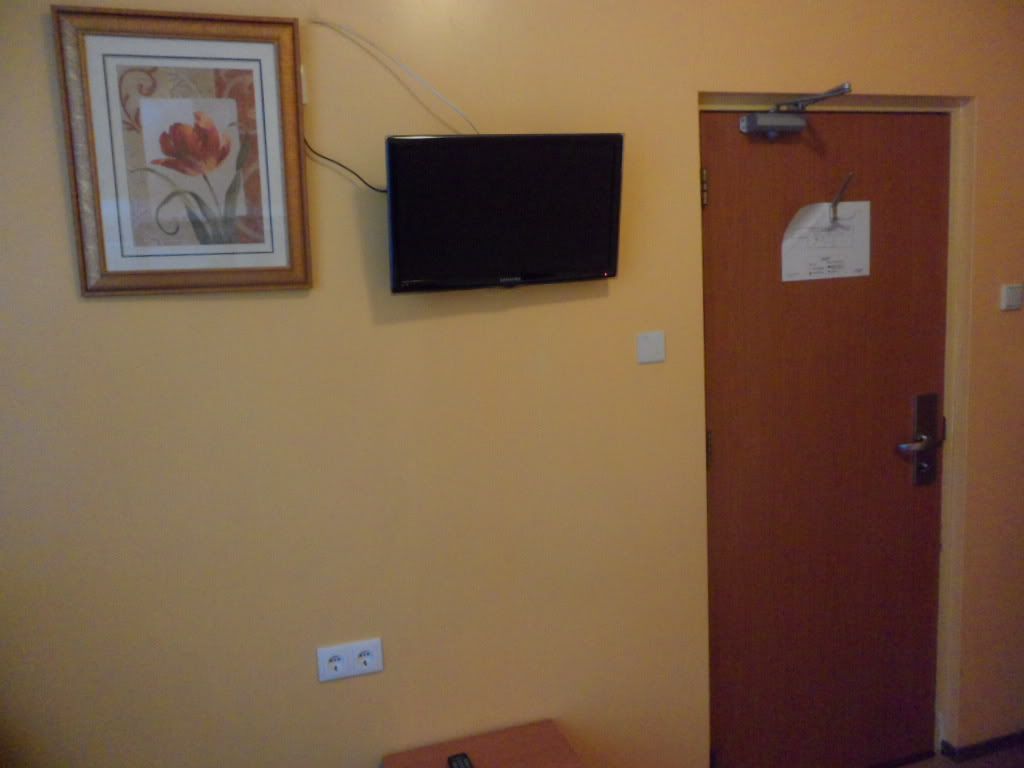 Flat screen TV with poor reception
Overall, the room was pretty decent. Although the TV didnt work well, you will find it hard to overlook the fact that it is near to the train station and very reasonably priced.
After settling in, we began roaming the streets! We continued to walk along Dam Straat towards Dam Square when we saw C&A. C&A is actually a departmental store suited for low-mid budget population. (Hey, that's us!) Hence, we took a short by-pass into C&A.
As we took the escalator up to the next level, we saw an advertisement for a green-coloured soup. It looked quite attractive (yah, we know, how can green soup be attractive right?) with the sliced sausages, so we decided to try it at the cafe of C&A…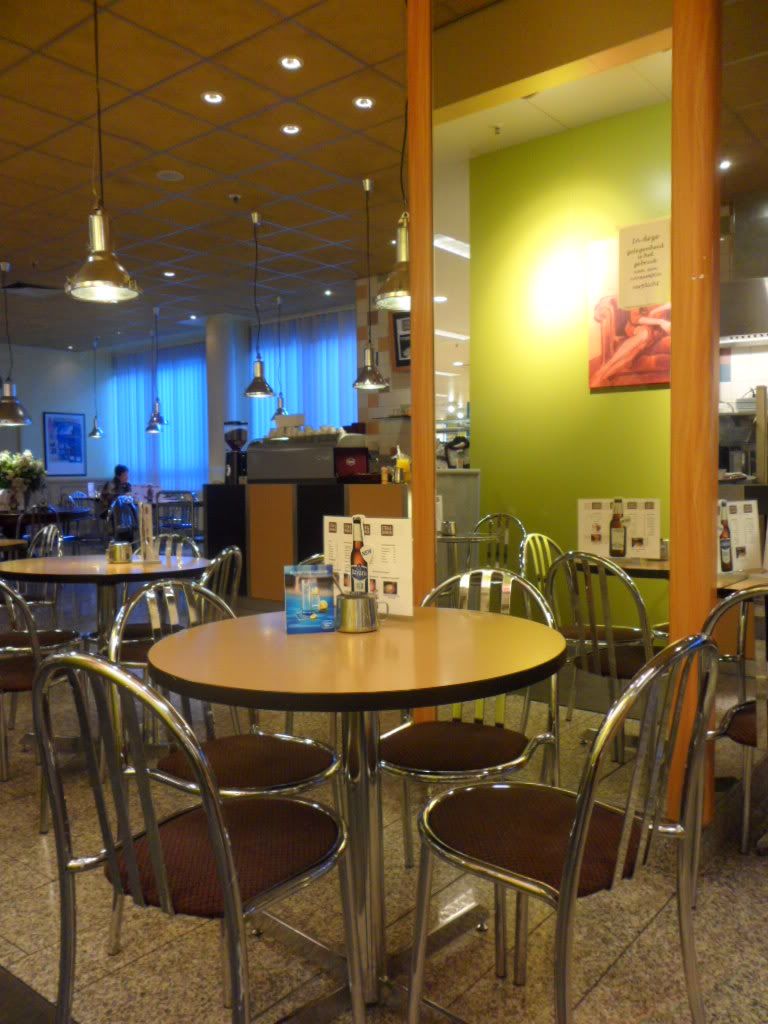 Cafe in C&A Amsterdam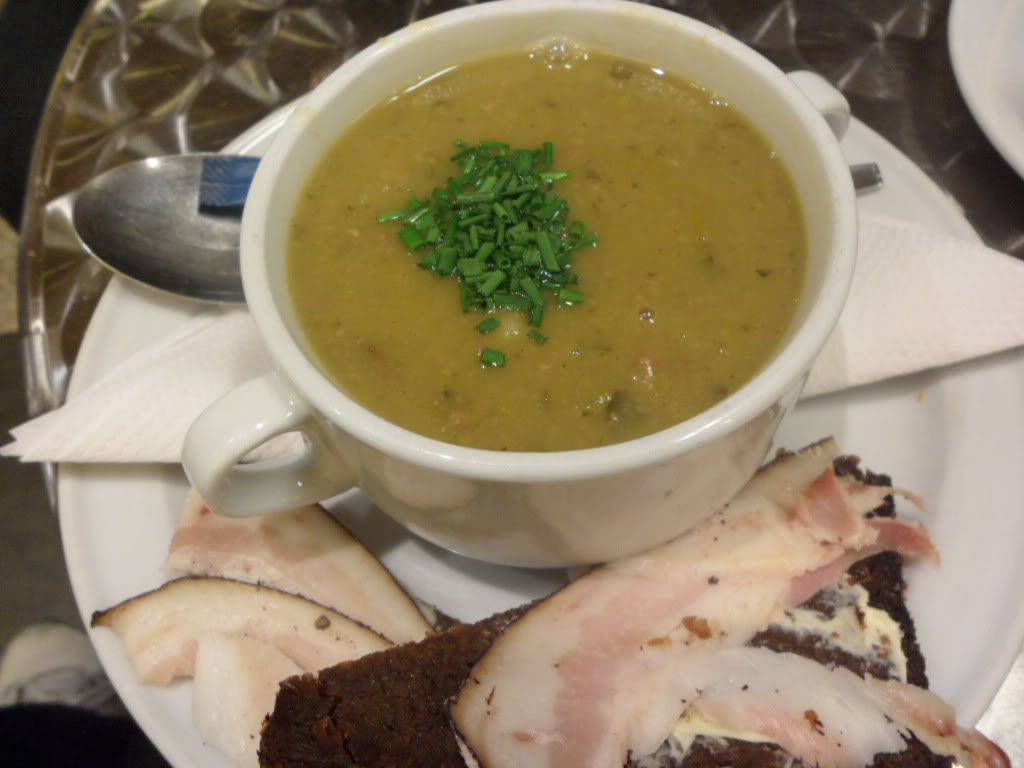 Erwtensoep – Traditional Dutch Pea Soup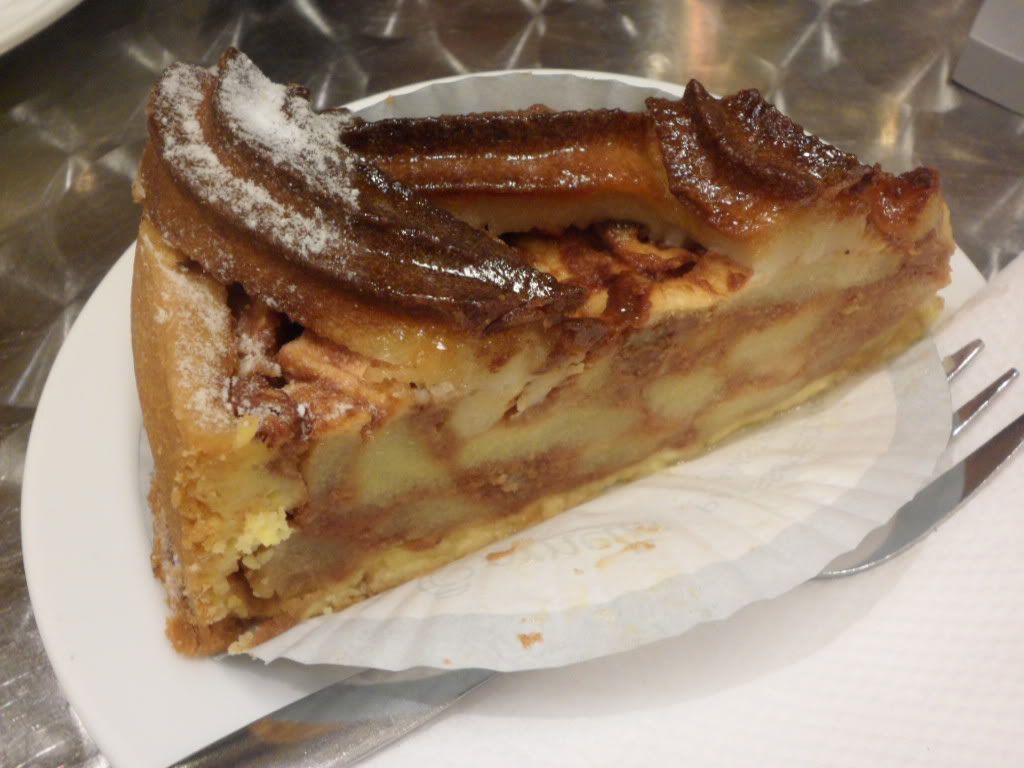 Applebrood aka Apple Bread
The soup costs 5euro and comes with a traditional bread covered with bacon and butter. The taste was actually quite good. It was rich in texture and full of food bits for you to pick on. Interesting and definitely palatable for asians. In addition, we also tried out the apple bread. The cinnamon and apple combined magically! Coupled with the chewy-ness of the bread, the apple bread was an excellent end to the snack/meal.
Moving on from C&A (after a long while due to Kate's shopping needs), we ventured on to Dam Square and we laid our eyes upon the Royal Palace of Amsterdam as well as the National Monument. These are picturesque structures so do take time to shoot a photo or 2.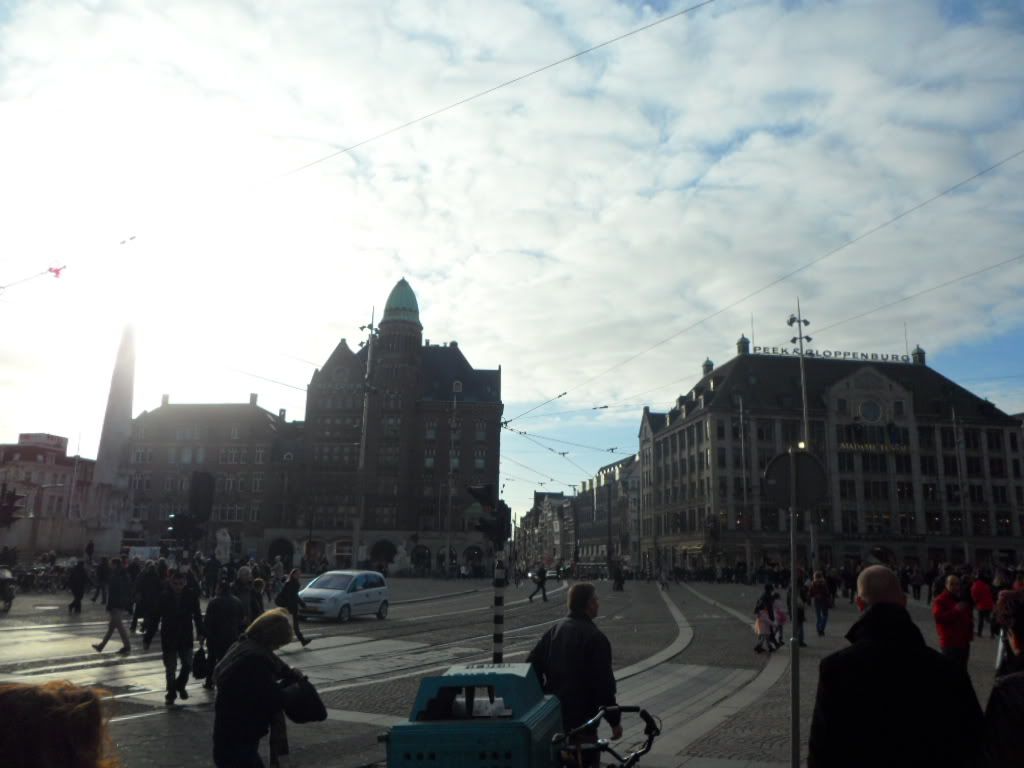 Dam Square Amsterdam
The thing about Dam Square is that it's so full of life! You can hear people of different nationalities pass by you, watch buskers entertain or just stare at the long queue at Madame Tussauds.
Continuing on the same path, we entered into the shopping streets of Amsterdam! From Nieuwendijk all the way to Kalverstraat are shops that line these streets. This shopping experience is definitely very different for us here in Singapore where there's mainly shopping malls and not so many of these shopping streets. Given the cold weather, shopping here is a whole new experience altogether as you have another motivation to shop – To keep yourself warm!!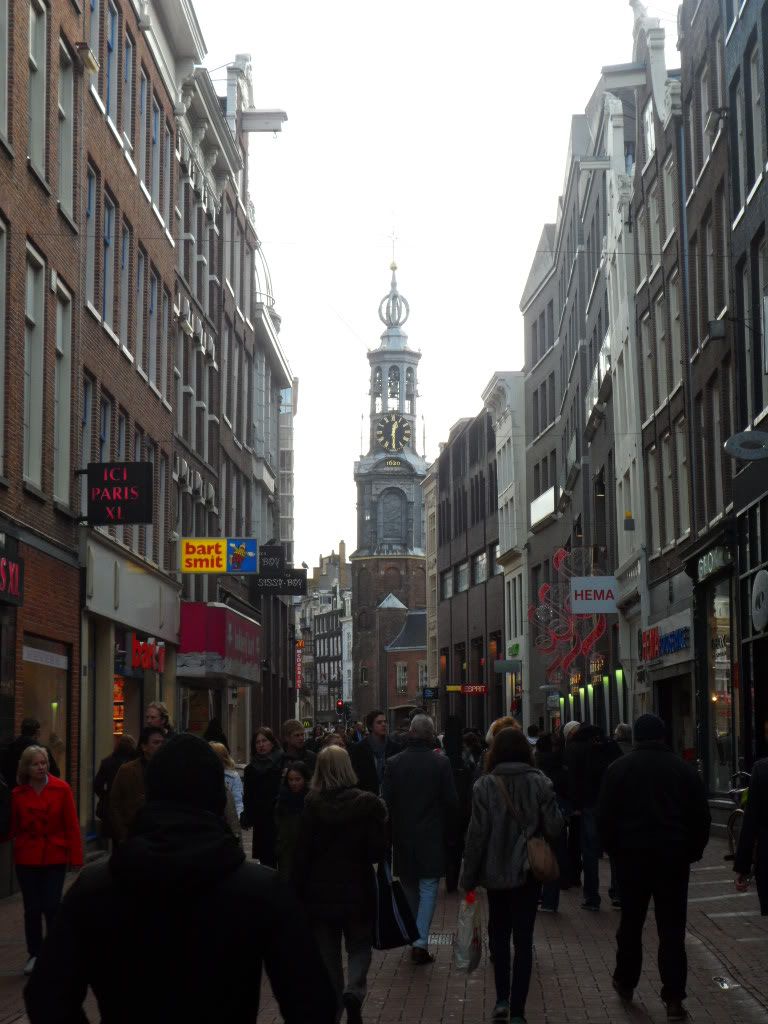 Shopping Streets Amsterdam
We then saw this interesting eatery place where ALOT of people walked in out and of…it's called La Place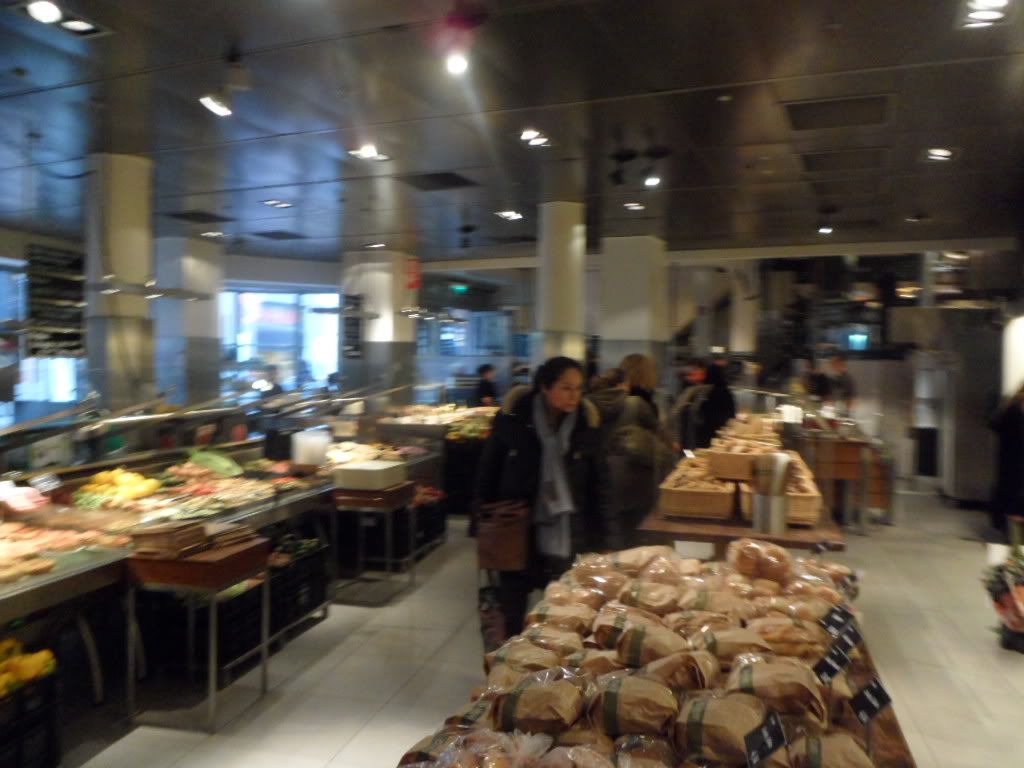 La Place Bakery Amsterdam
La Place works pretty much like Marche, in that there are many stalls in the entire place and if you like something, you just pay for it and go. In La Place, there is an entire bakery section with enticing buns and sandwiches (as seen above). Of course there are meats, pastas and seafood as well.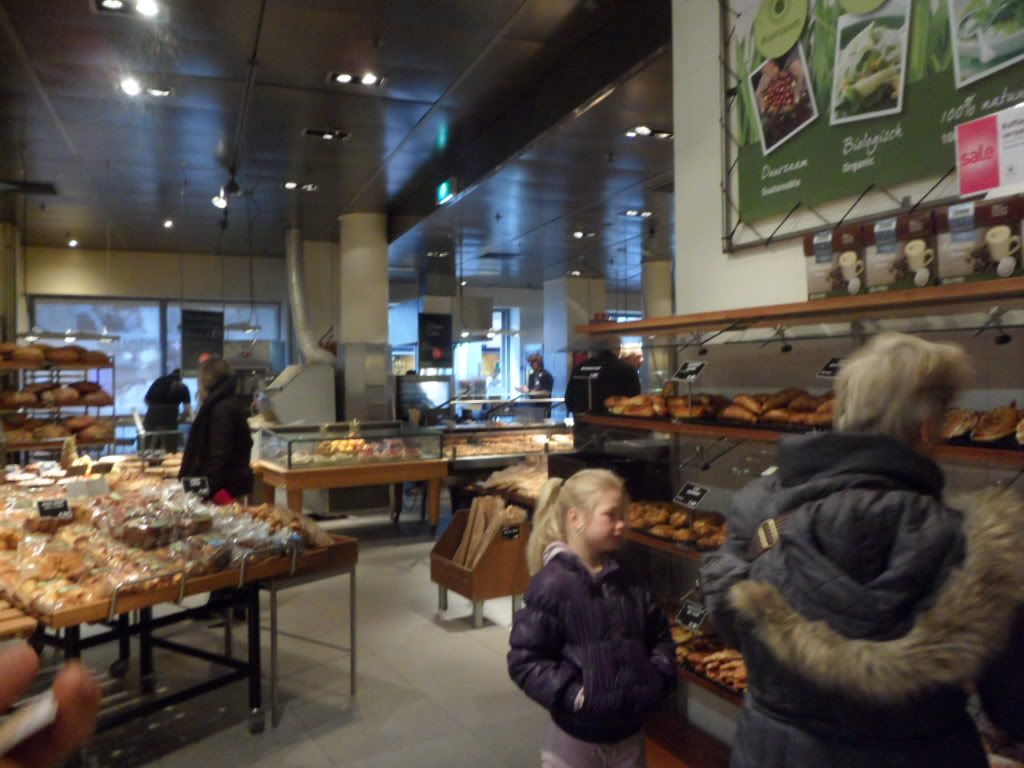 Inside La Place Amsterdam
As we carried on walking along the shopping streets, we reached the Flower Markets of Amsterdam!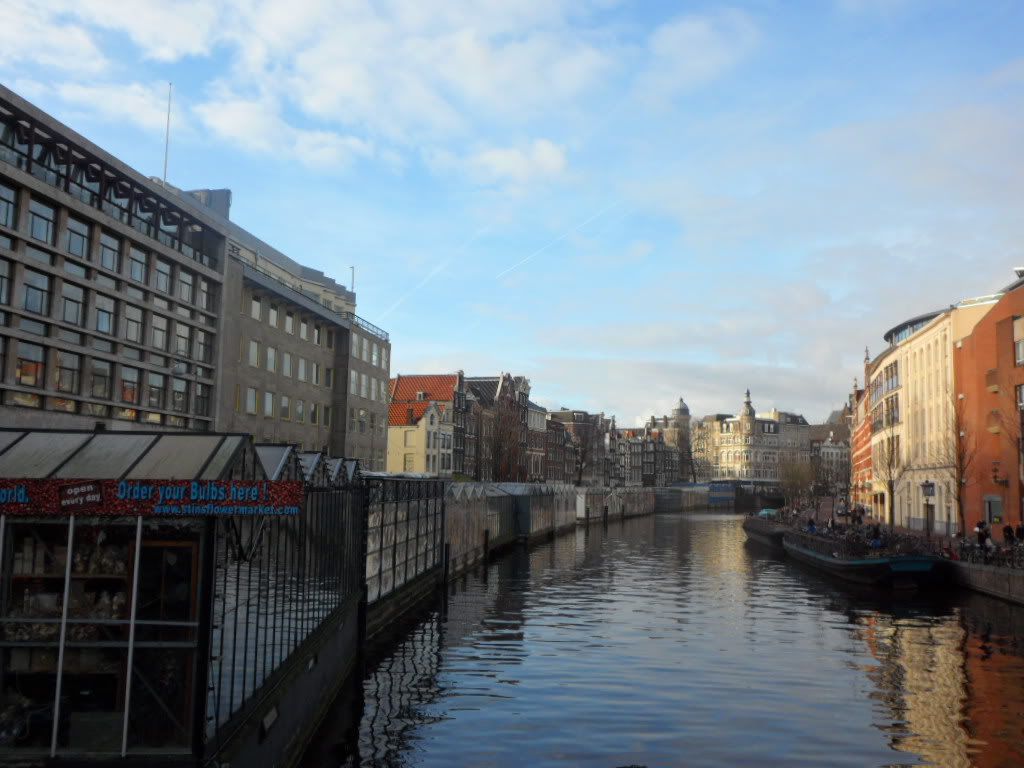 Flower Market Amsterdam along Singel
Here, you can find all sorts of tulips (that Holland is famous for) as well as many other flowers, bulbs and seeds as well…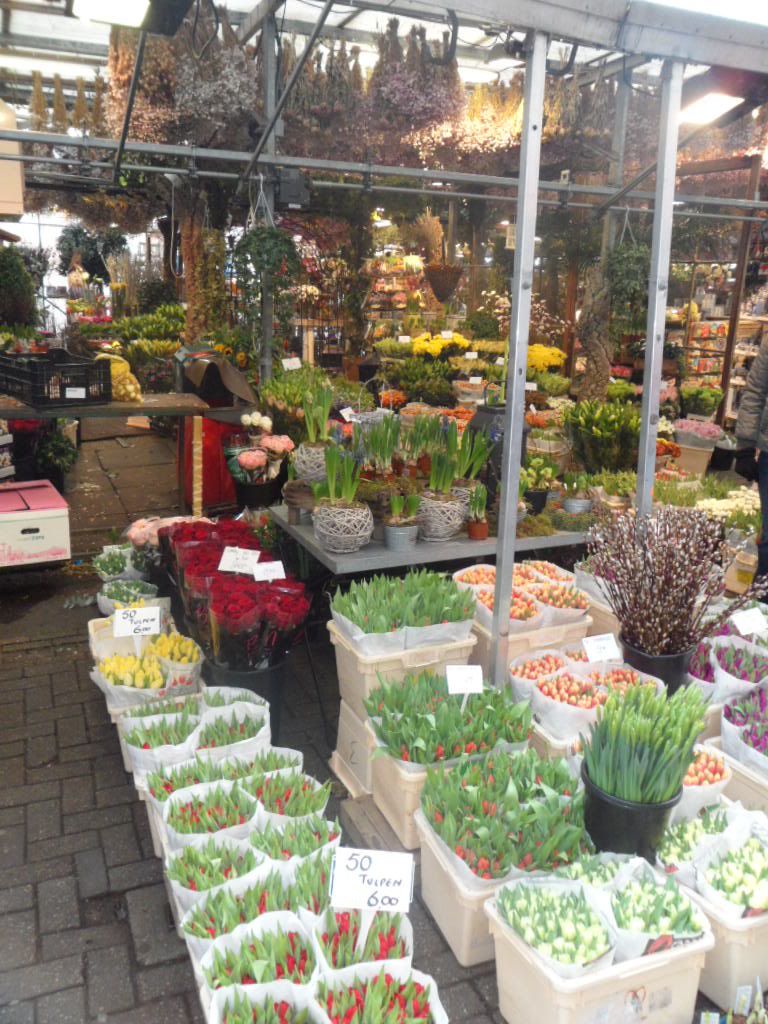 Flower Market Amsterdam
Albert Cuypmarkt was our next stop. As we ventured on, we passed by THE Heineken Brewery. The last time we were there, we enjoyed one of the best beers ever!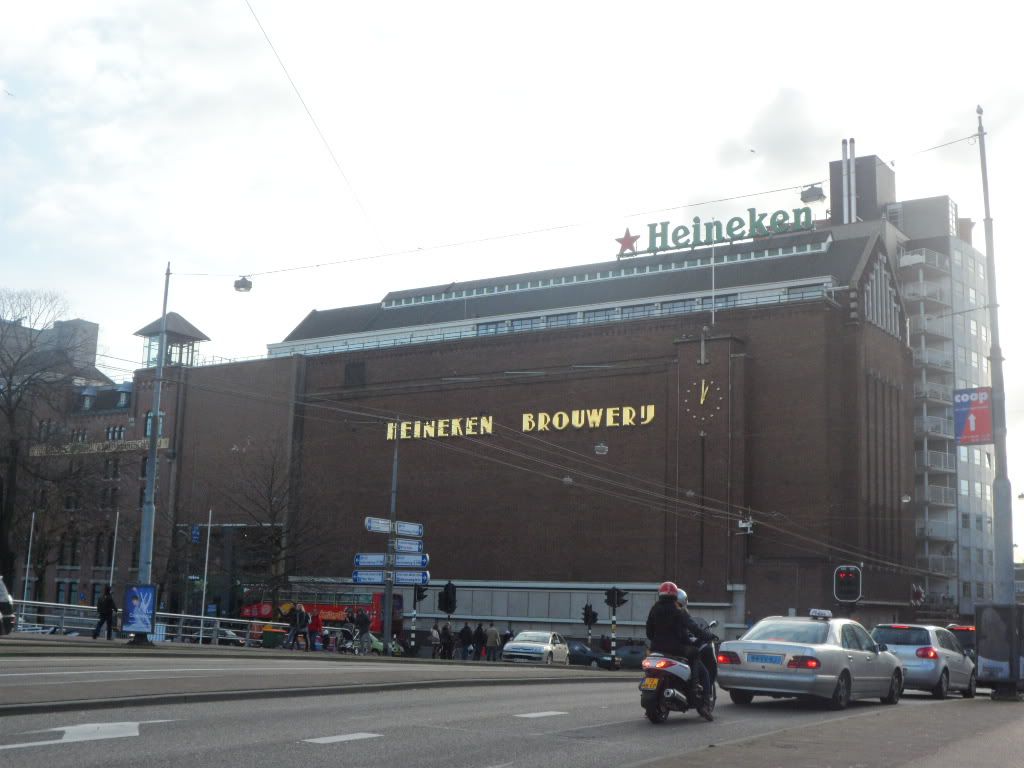 Heineken Brewery Amsterdam
The Albert Cuypmarkt is one of the most famous markets in Holland. It houses all sorts of stalls selling stuff ranging from clothes to cheese to toys to chocolates. You should be able to find all your necessities there.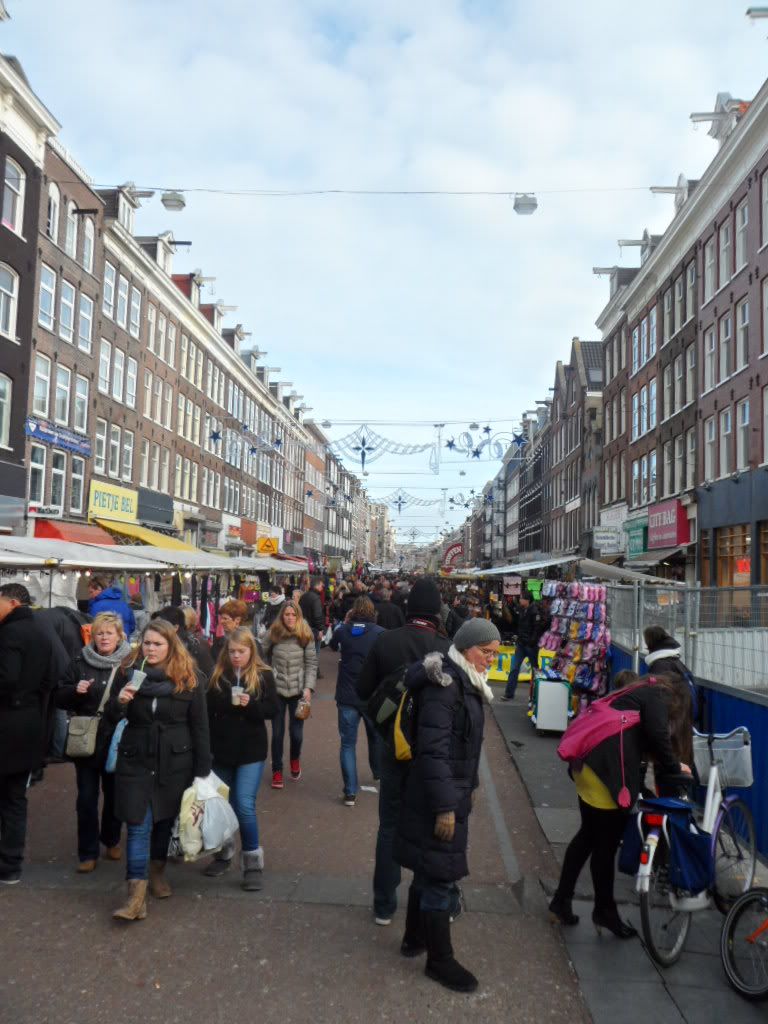 Albert Cuypmarkt Amsterdam
There we took time to enjoy what the locals ate such as this freshly made stroopwafel…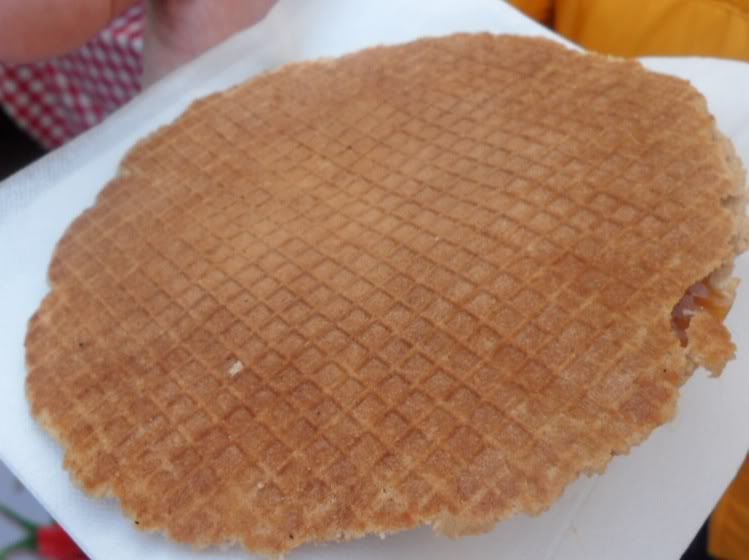 Freshly Made Stroopwafel – Thin waffel slices with honey/sugar syrup in between
and Fries!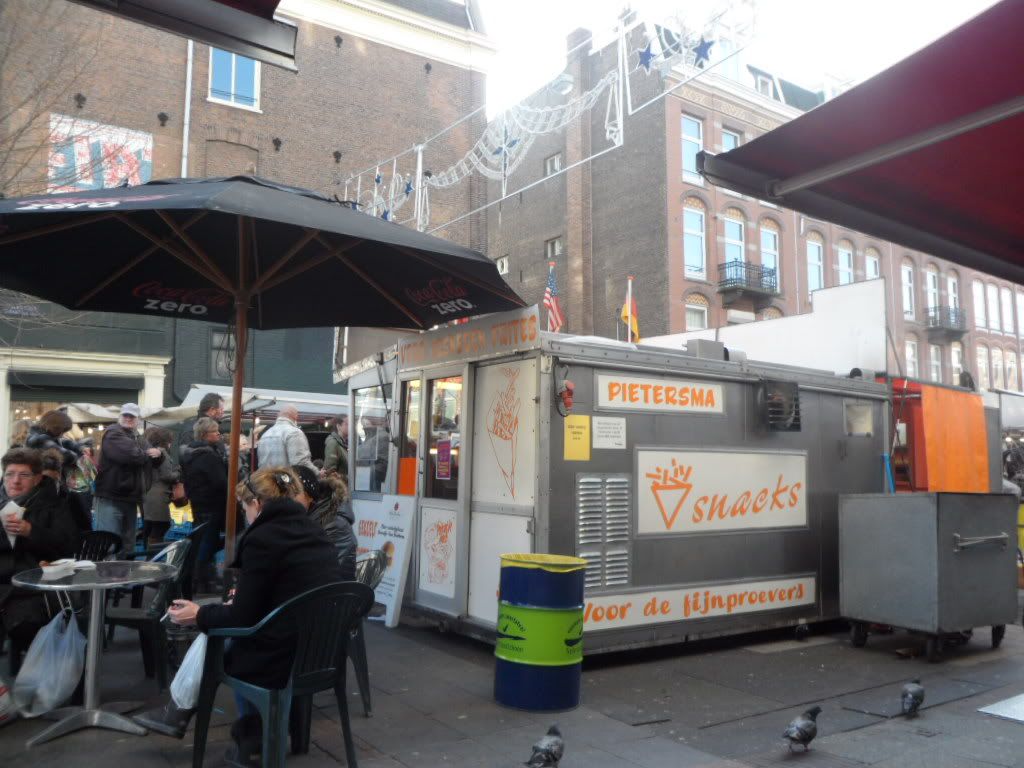 Back of a crowded Frites Stall
Till now, we still cannot explain why people enjoy eating the fries so much. A family of 3 (parents and kid in a pram) can have 3 cones of fries! Kate and I were literally FULL after finishing 1 cone of fries. But we must say that the feeling was really good, eating something piping hot in the cold weather.
Moving on, we headed to the Museum Plein Amsterdam (aka Museum Square)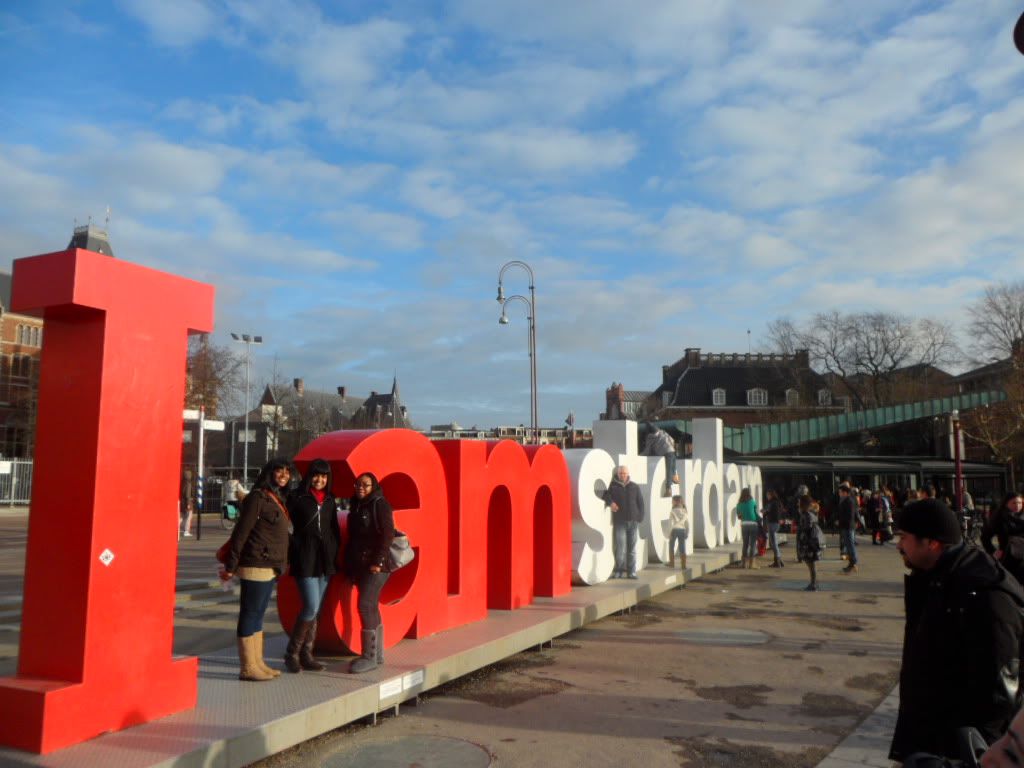 Museumplein Amsterdam
We thoroughly enjoyed our leisurely stroll in and around the museumplein, simply because of the space and sunlight that illuminated the entire square.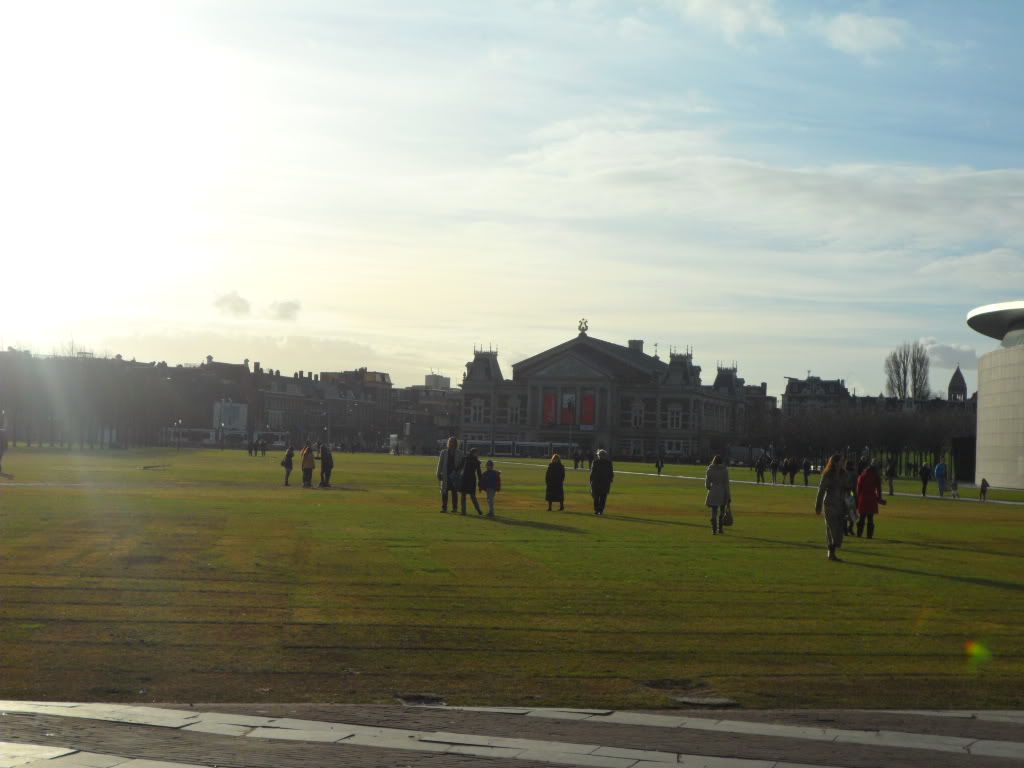 Beautiful Museumplein Amsterdam
Of course the highlight here are the museums. We did see some of the most famous paintings of Van Gogh and Rijks the last time we were here. Do spend time to visit either the Van Gogh or Rijksmuseum if you are able to!
After walking all this way (5km we reckon), we decided to reward ourselves with a movie date that evening. Tickets at Pathe Cinema costs 10Euro.

Movie Listings at Pathe Cinema Amsterdam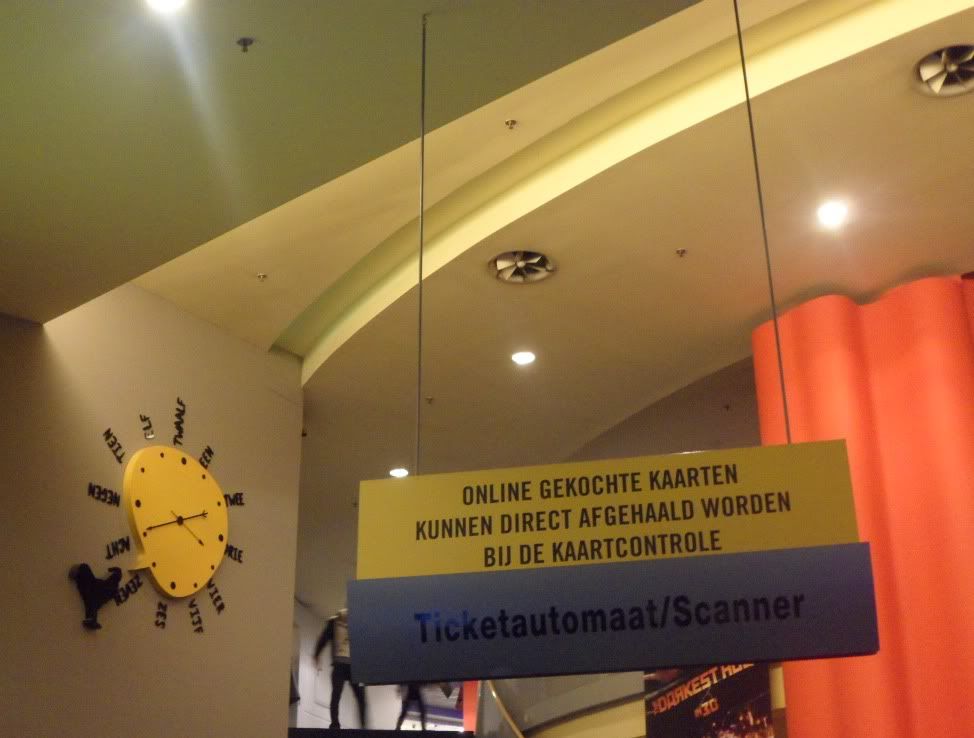 Cute Clock in Pathe Cinema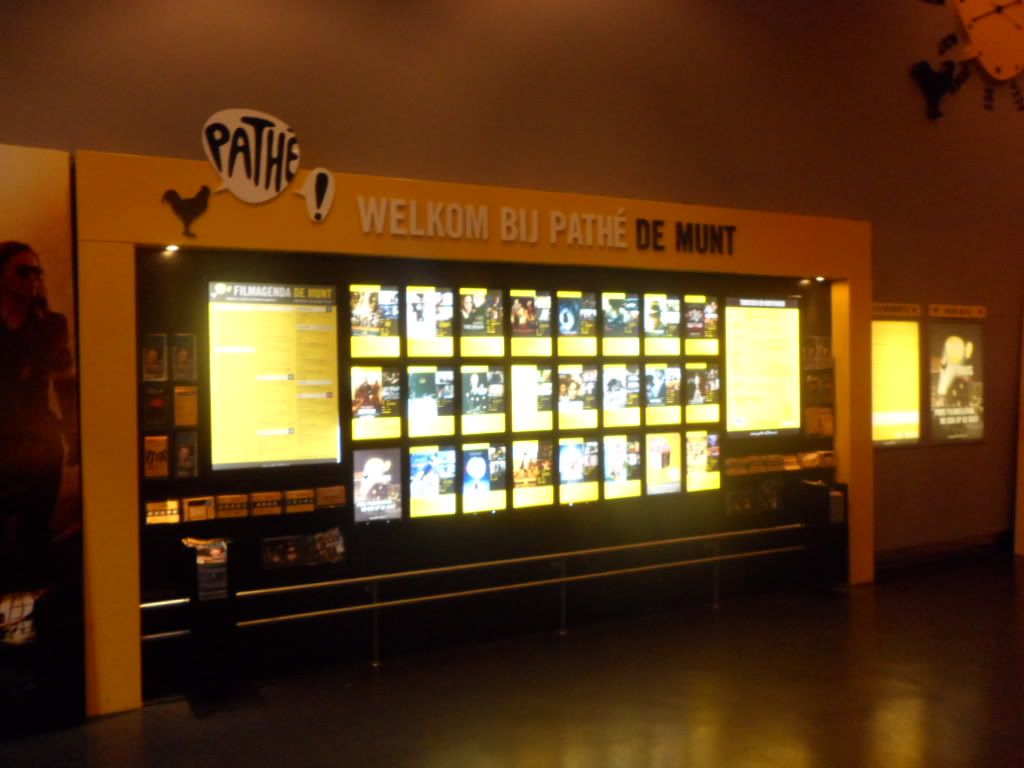 Inside Pathe Cinema Amsterdam
We bought tickets for New Year's Eve and headed for dinner…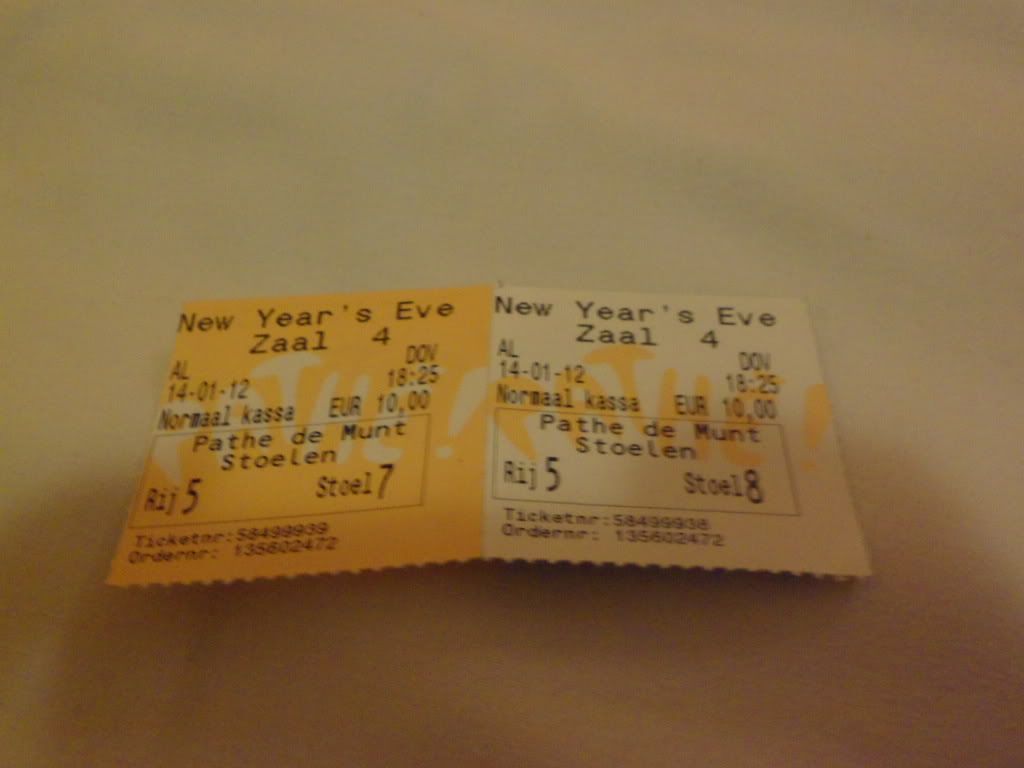 Tickets for New Year's Eve at Pathe Cinema Amsterdam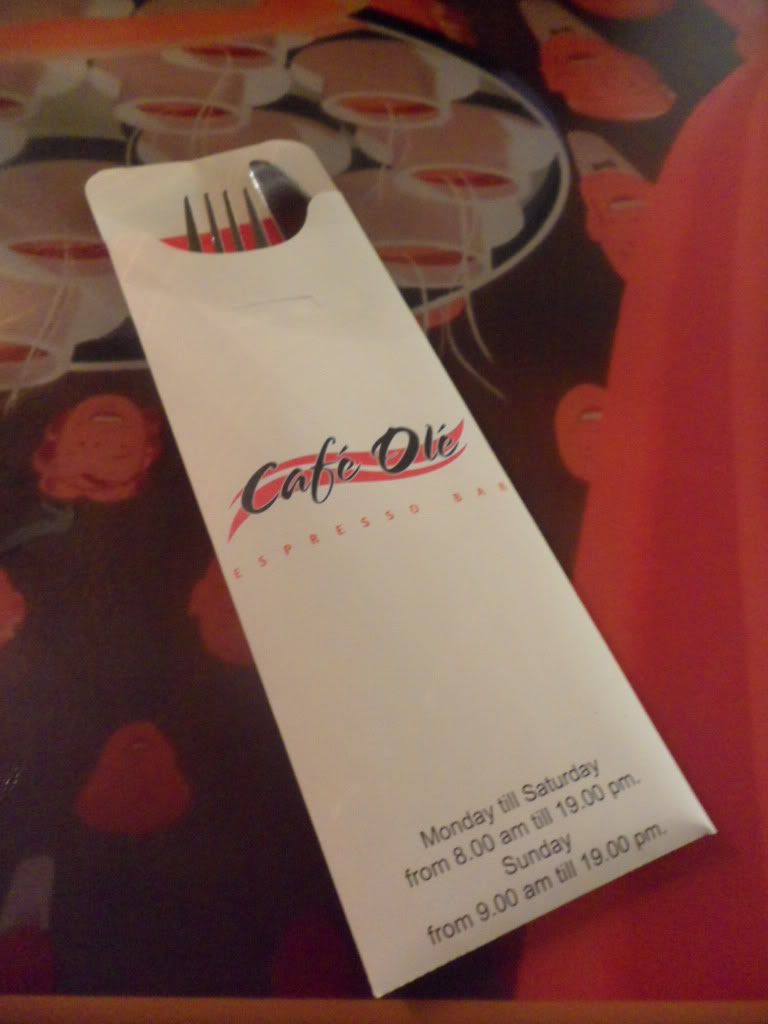 Dinner at Cafe Oli
We sat beside a cat at Cafe Oli!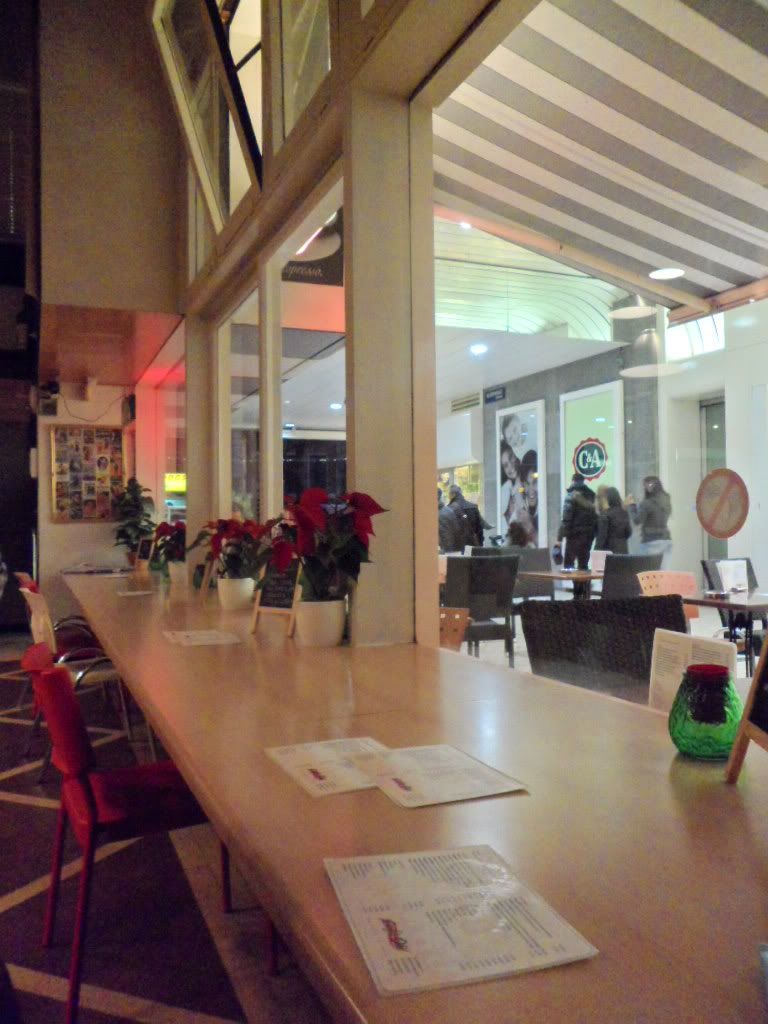 Indoor and Outdoor setting of Cafe Oli

Smart cat at Cafe Oli
The cat was really used to the presence of people. It just continued to lie there as we sat down , opened an eye to peer at us and continued to sleep. We then ordered a hot chocolate, chicken and tuna sandwich…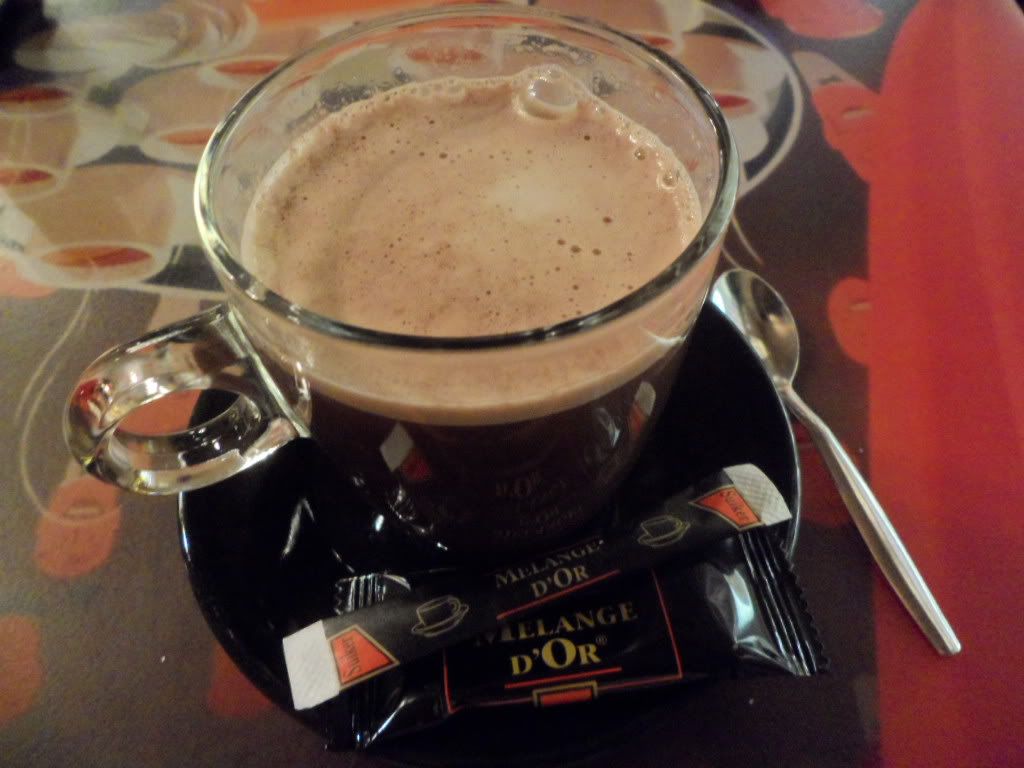 Hot Chocolate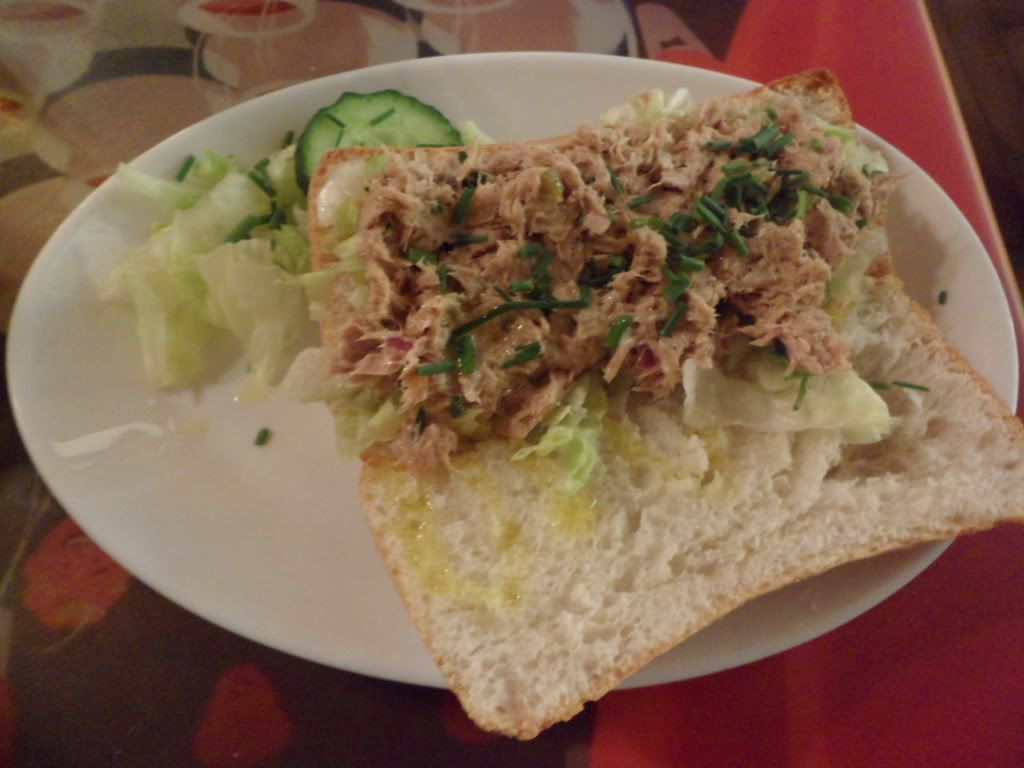 Tuna salad grilled panini sandwich @ 4.90euros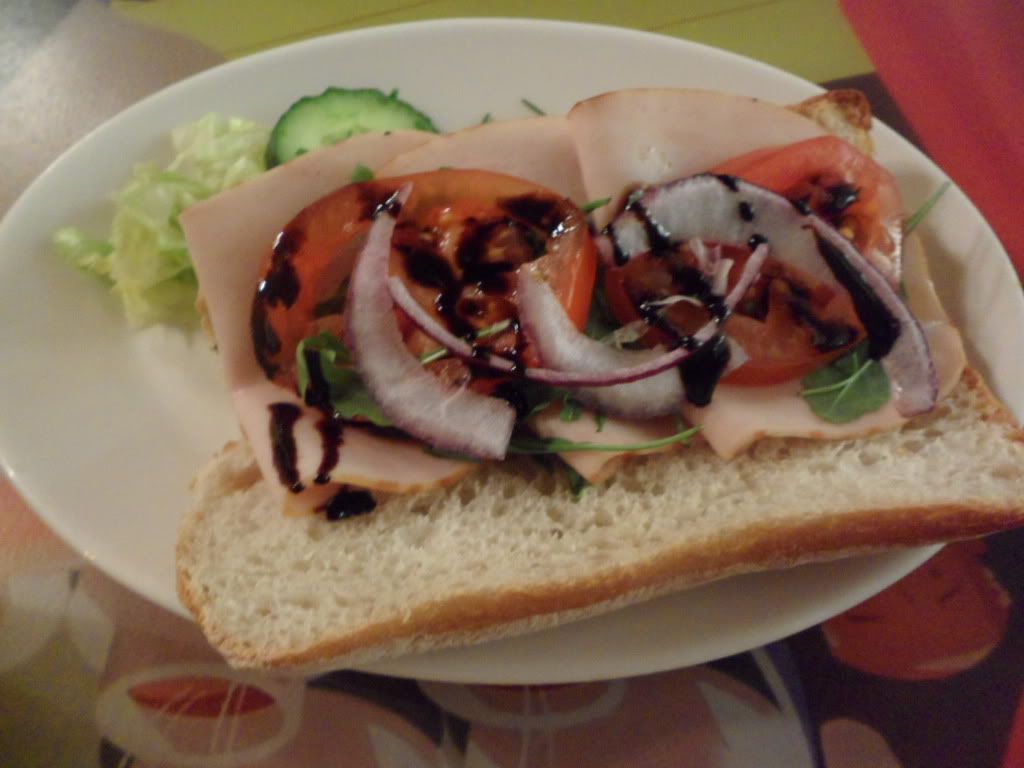 Chicken with pesto grilled panini sandwich
After dinner, we caught the movie New Year's Eve which Kate slept from beginning to the end! (Can you believe it?!) 10 Euros gone just like that…
We then enjoyed a leisurely stroll under the night skies of Amsterdam…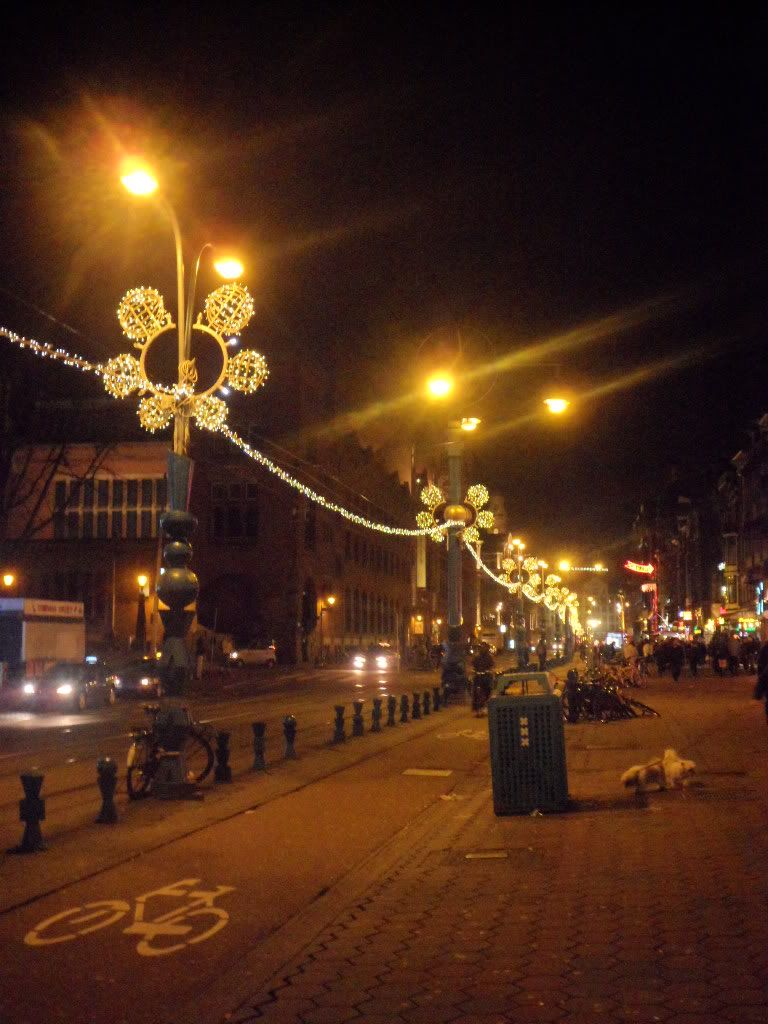 Pretty lightings along Damrak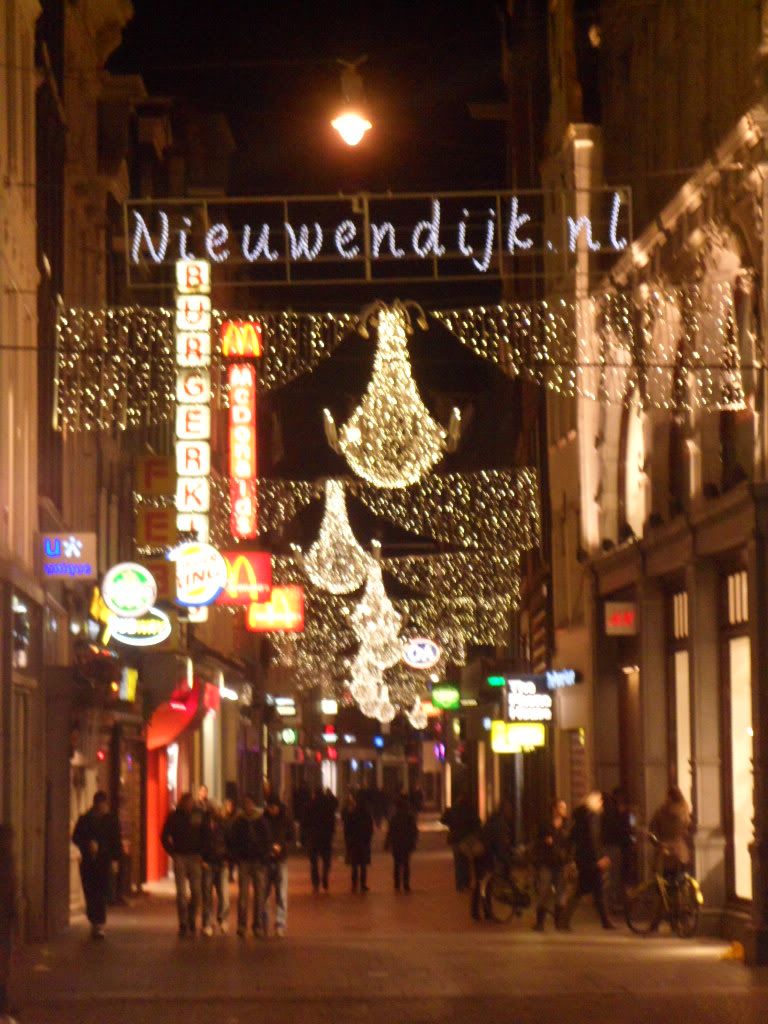 Night lights along shopping mall street near Dam Square
We really did make full use of our 1st day in Amsterdam didnt we? On day 2, we travelled to Maastricht…so stay tune!
For your convenience, we have arranged for the best hotel deals in Amsterdam right here!
If you enjoyed our content, "Like" us on Facebook Today!

Related posts: