This food list originally started off as the "Top 10 foods from 2014 Travels". But as we went through our posts in 2014, we realised that there are alot of great foods that we've tried and would like to share them with you! So here it goes…
Top 20 Foods from 2014 World Travels
Ho Chi Minh City Vietnam
20. Vietnam Coffee and Grilled Pork / Spring Roll Vermicelli (Ben Thanh Market)

Vietnam Coffee and Grilled Pork / Spring Roll Vermicelli
19. Prawn and Chicken Spring Roll (Saigon Centre Cafe Terrace)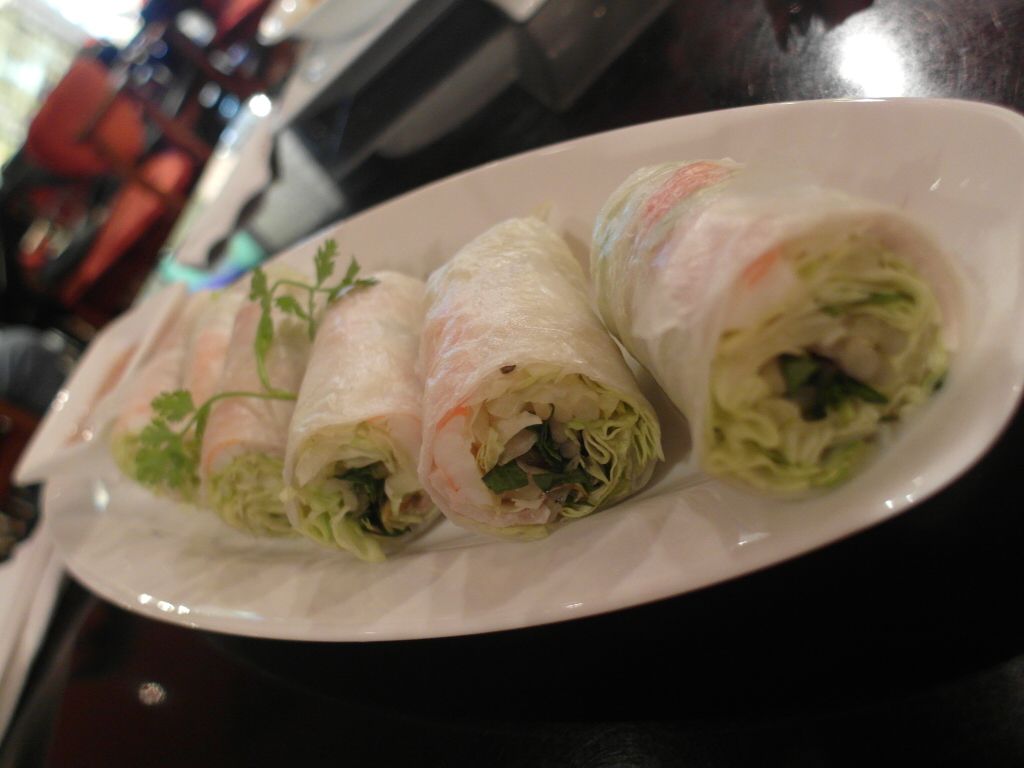 Prawn and chicken spring roll
While we were in Ho Chi Minh City (HCMC), Vietnam, we tried the foods at Ben Thanh Market as well as Saigon Centre. What impressed us was the fresh ingredients used and prepared in such a way that it brings out the natural flavours of each ingredient. Our favourite from this trip were the Grilled Pork & Spring Roll Vermicelli (Kate LOOOOOOOVES Vietnamese Vermicelli – which she says she can have all day, everyday! :P) and the fresh Vietnamese spring roll. While in Vietnam, don't forget to also try the world-renowned Vietnamese coffee!
Taichung Taiwan
18. The Original Bubble Milk Tea (Chun Shui Tang 春水堂 )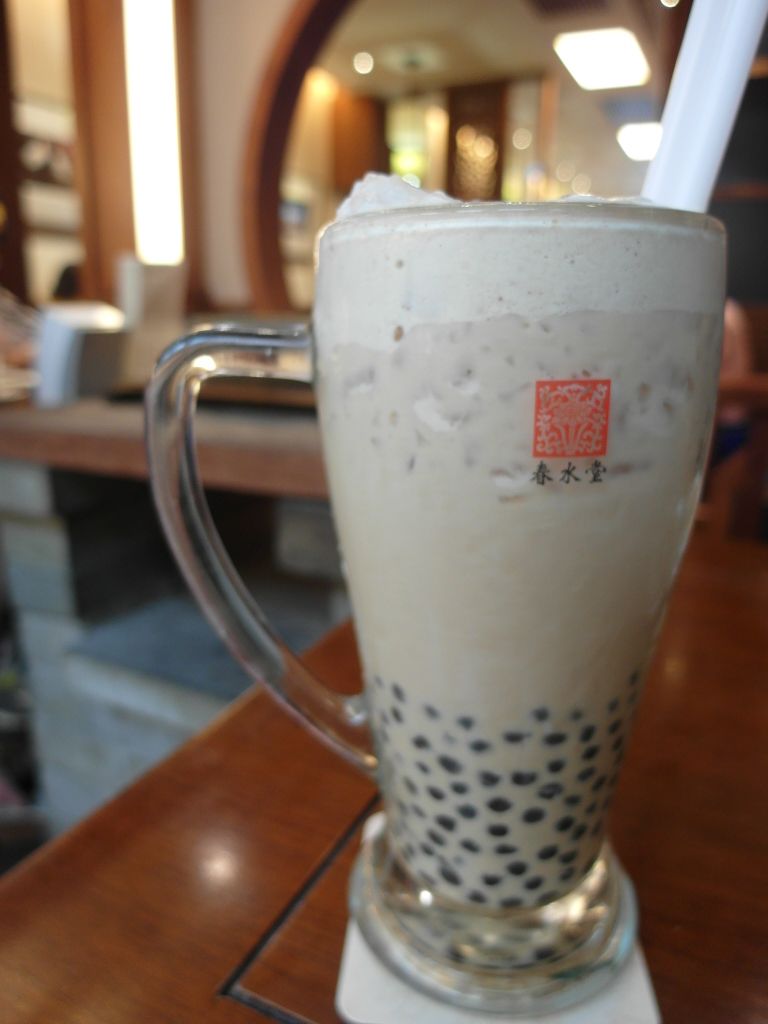 Chun Shui Tang 春水堂 The Original Bubble Milk Tea
17. 大腸包小腸 Direct translation of Big Sausage Wrap Small Sausage (Feng Jia Night Market)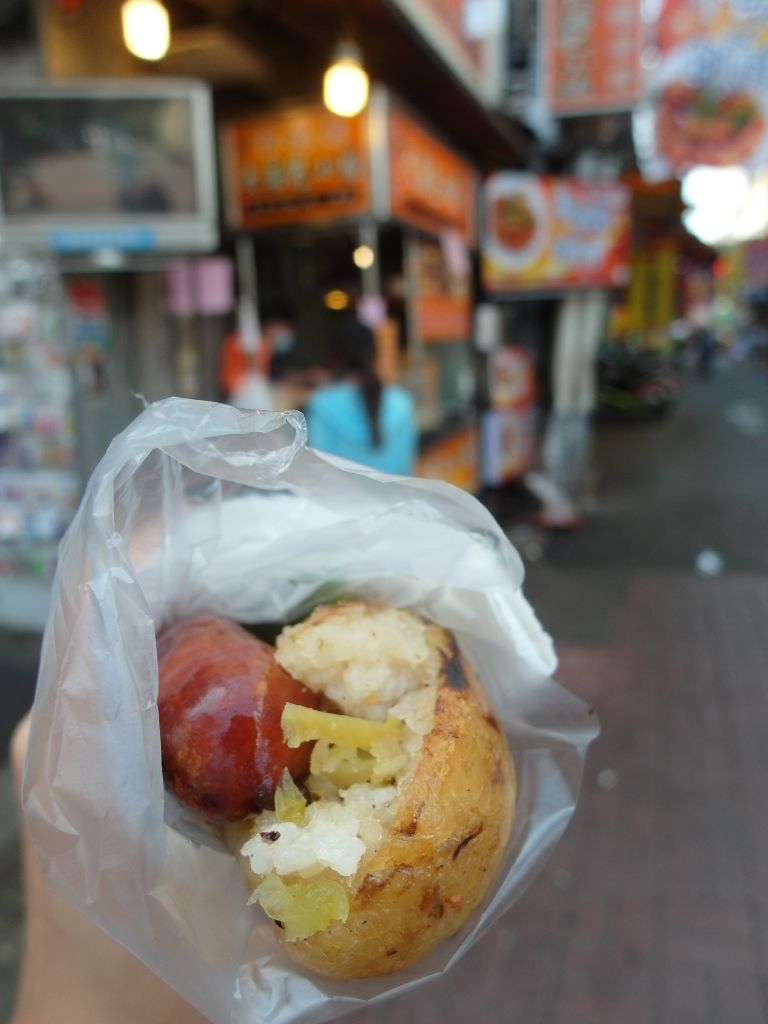 大腸包小腸 (Direct translation of Big Sausage Wrap Small Sausage)
16. Ice cream with AWESOME Toppings (Miyahara 4th Credit)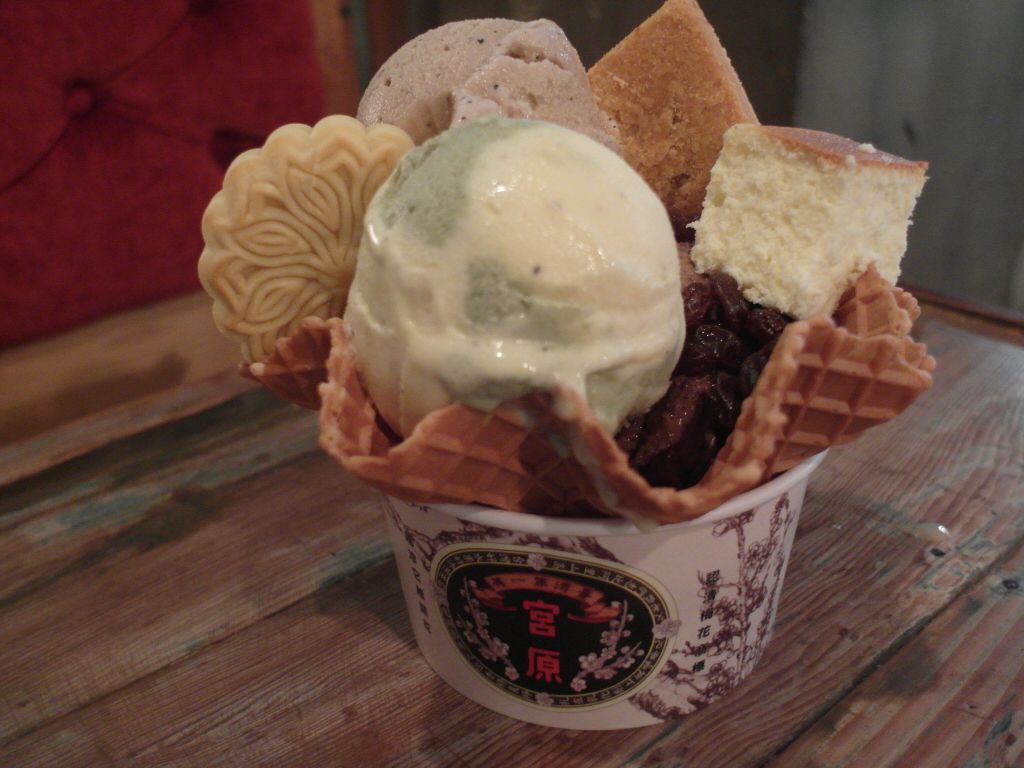 Miyahara 4th Credit Ice Cream
We start our food conquest in Taiwan (foodie's paradise!) at Taichung. There is a wide variety of food, great tasting ones at that. But we've narrowed it to the Original Bubble tea at Chun Shui Tang 春水堂 , 大腸包小腸 (Direct translation of Big Sausage Wrap Small Sausage) at Feng Jia Night Market as well as possibly Kate's favourite ice cream shop at Miyahara 4th Credit. Do check out our post on What to eat at Feng Jia Night Market for our great foods!
Changhua Taiwan
15. The Best Changhua Meatballs (北門口肉圓 Bei Men Kou Meatball)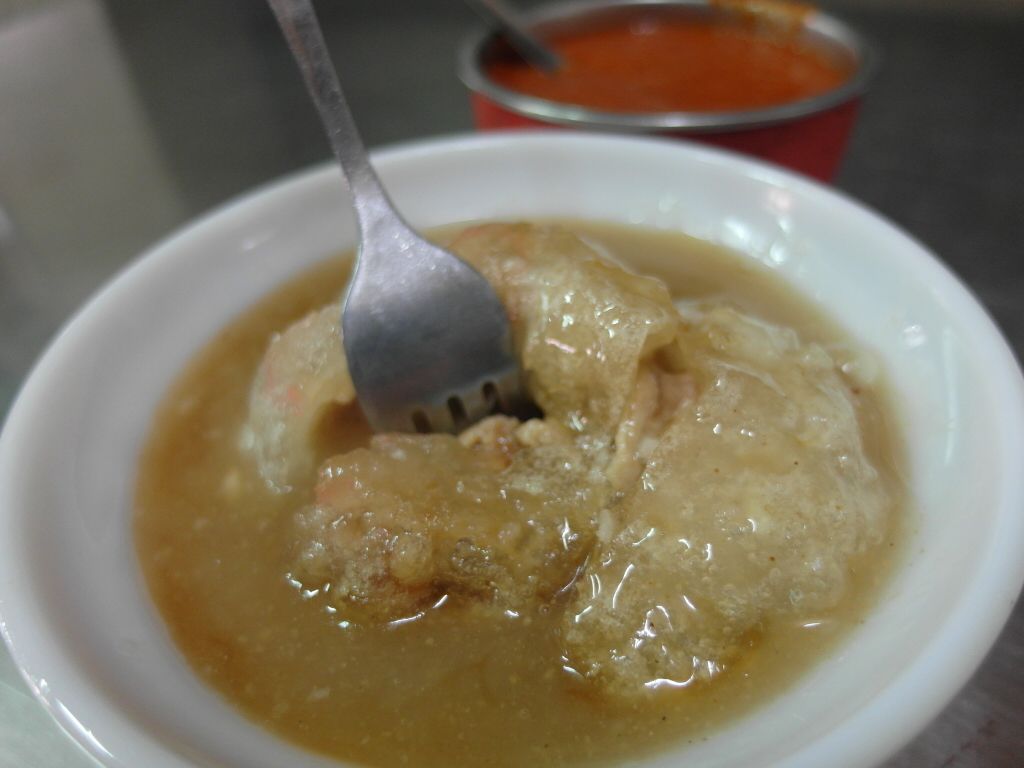 北門口肉圓 Changhua Meatball with scallop
We've scoured through the top Changhua Meatball stalls and deciphered which is the best Changhua Meatballs in Taiwan. Read our post to find out more!
Tainan Taiwan
14. Breakfast Set (鹿早茶屋)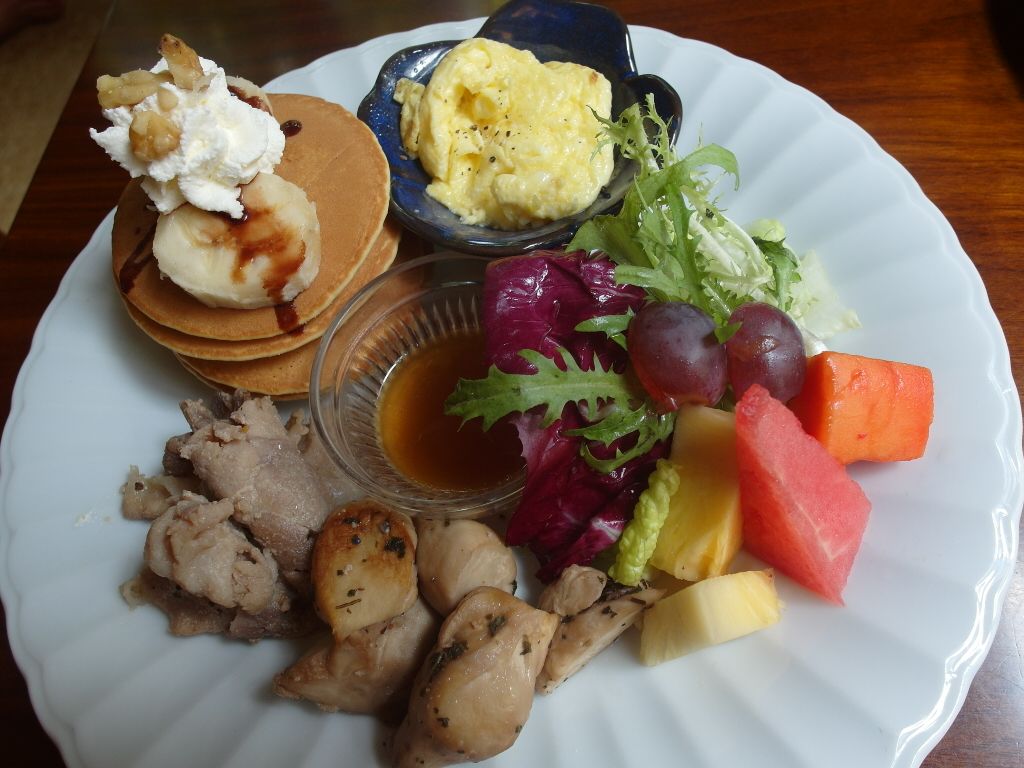 Breakfast Set at 鹿早茶屋
While staying at 1967 Hotel Tainan, we chanced upon 鹿早茶屋 – a quaint cafe with a lovely breakfast menu. We tried the breakfast set as well as the German sausage waffles. Definitely a great way to start the day!
13. Shrimp Dumpling, Coffin Bread and Oyster Mee Sua (瑞珍虾仁馄饨)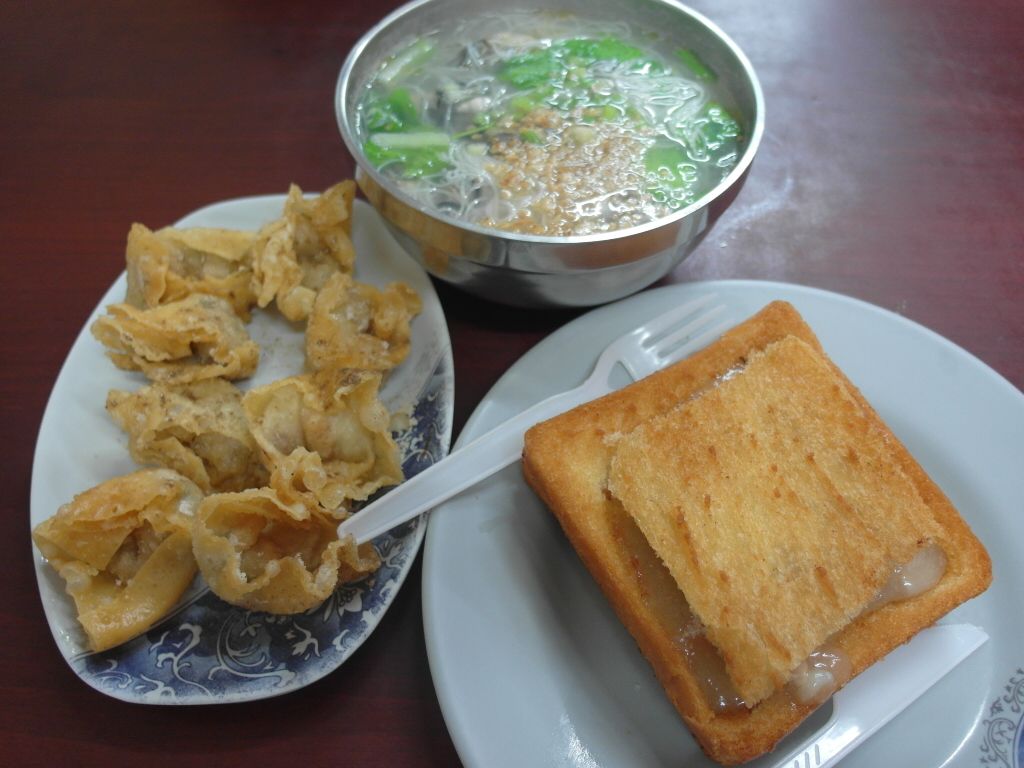 瑞珍虾仁馄饨 Shrimp Dumpling, Coffin Bread and Oyster Mee Sua
We know…there are 3 foods in this picture and we should really pick one to introduce. But if we really have to choose, we'd pick the shrimp dumpling and the oyster mee sua. The oysters were really fresh and it was the soupy version which differs from the thick broth version that is usually sold in the streets. The shrimp dumplings (what 瑞珍虾仁馄饨 is famous for) had really fresh prawns and crispy skin. Once you go at it, you really can't stop!
Bandung Indonesia
12. Tauhu Telur (Es Teler 77)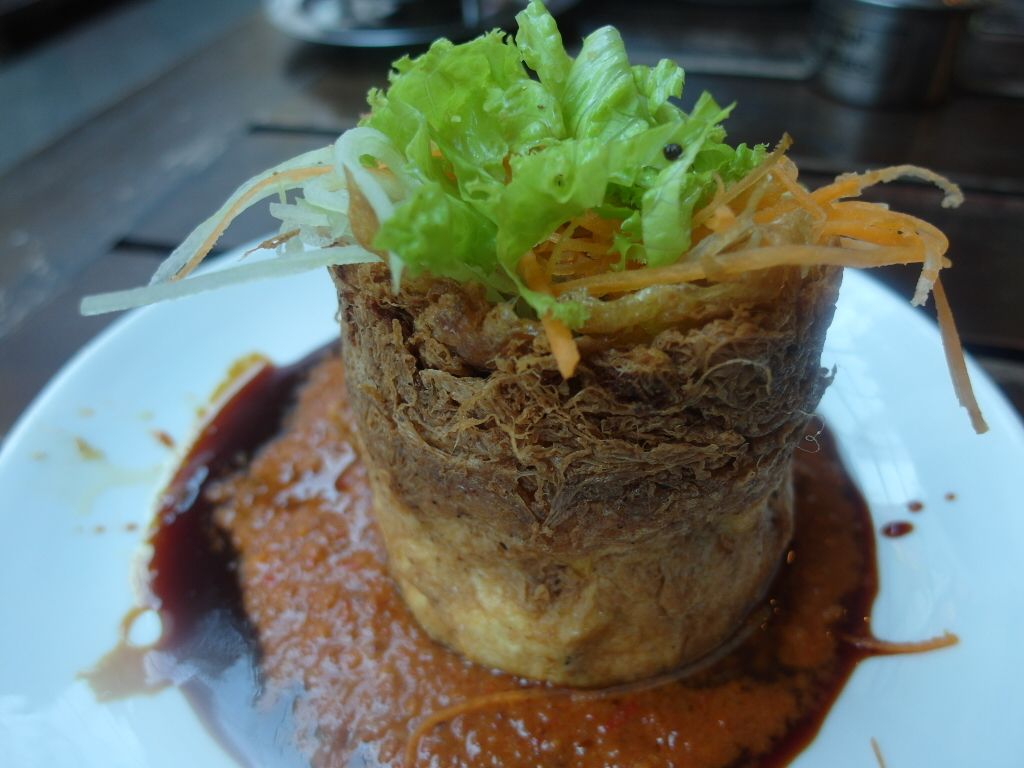 Tauhu Telur
Bandung Indonesia is a foodies paradise and there are so many yummy food that we would like to introduce here! But if we really had to choose, it would be the Tauhu Telur from Es Teler 77 (a local restaurant chain). Not only is the presentation superb (very pretty isn't it?), the taste of the tauhu was fresh and the deep fried egg at the top was not the oily sort. Coupled with the sweet and spicy sauce? AWESOME!
Shanghai China
11. Pan Fried Dumplings (Yang's Fried Dumpling 小杨生煎)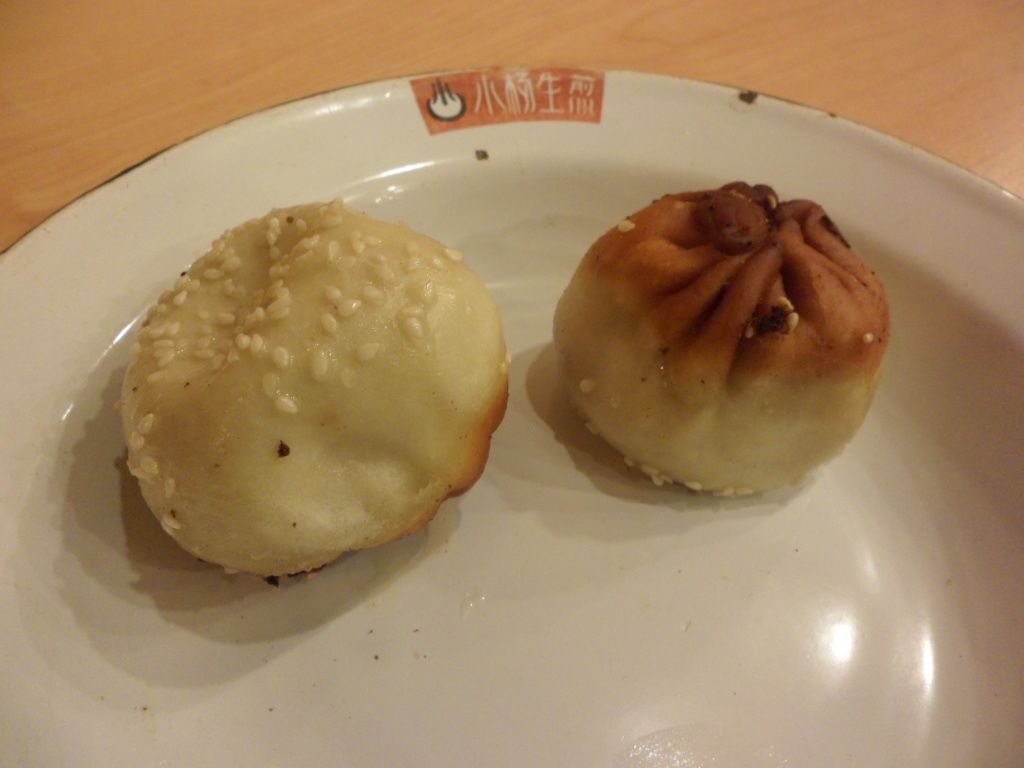 Yang's Fried Dumpling 小杨生煎 4 for 6RMB
Yang's Fried Dumpling simply wins the battle of pan fried dumplings hands down! Not only is it really economical to dine here – 4 dumplings costs 6RMB (That's about 30cents each! WHAT?!), the taste was out of this world as well! Don't be deceived by this innocent dumpling, tread (or chew) carefully…it is SOOOOOOO juicy that it leaves a trail of splatters on the mouths (or in our instance – spectacles) of the diners!
Penang Malaysia
10. Penang Char Hor Fun (Gurney Paragon's Food Court)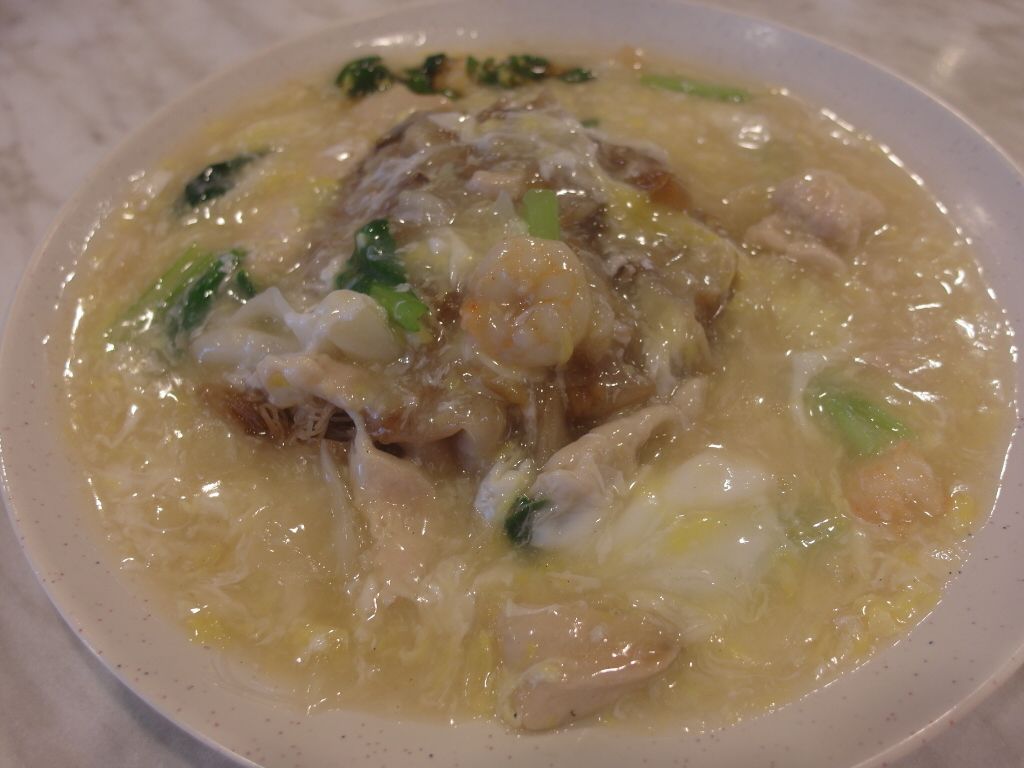 Penang Char Hor Fun
9. Nonya Food (Mama's Nonya Cuisine)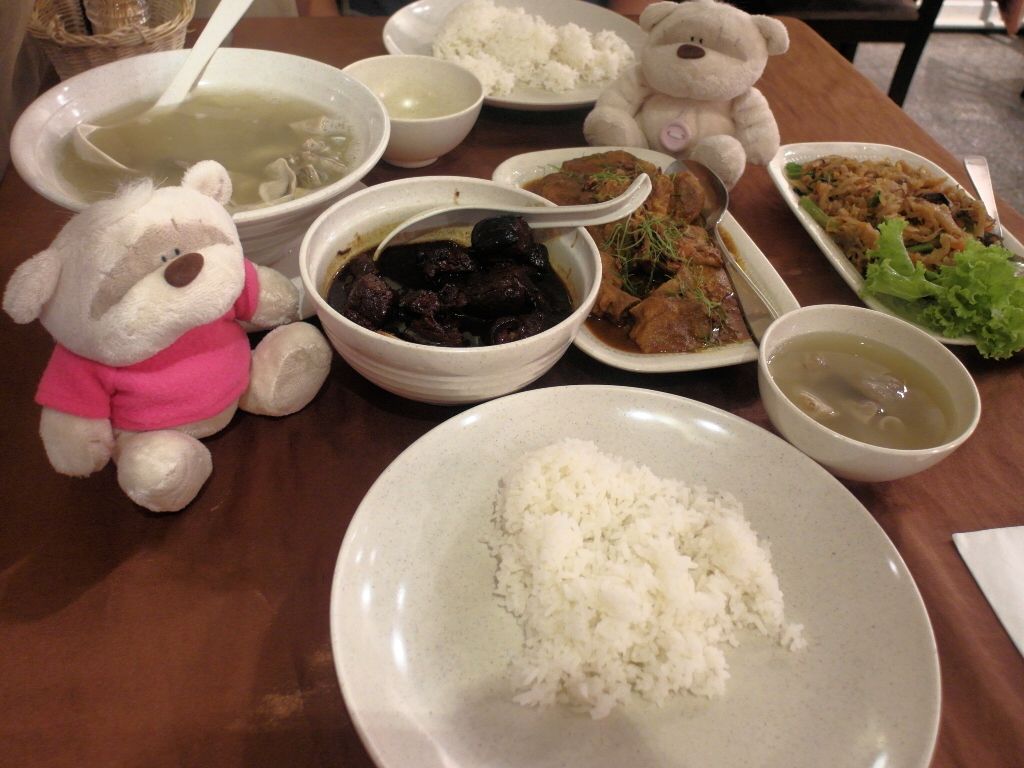 Mama's Nonya Cuisine
If you have read our post on the "13 Penang Hawker Food and Nonya Restaurants that YOU MUST TRY", you'd realise that there are so many awesome foods to be tasted in Penang!
If we really had to choose, the Penang Char Hor Fun (from Gurney Paragon's Food Court) and Tau Yew Bak (braised pork from Mama's Nonya Cuisine) are definitely not to be missed! Unlike most hor fun these days, the version from Gurney Paragon is made from scratch! The chef fries the hor fun and the sauce on the spot and marries them intricately together, topped off with the "silky egg". The result? A taste of hor fun from days past to be remembered!
If you only had time (and $$) for one dish at Mama's, go for the tau yew bak. The sauce is slightly sweetened with the fattiness of the pork belly…ah… Plain ol' white rice goes best with this dish. Enjoy!
Ipoh Malaysia
8. Snow Beer (Kafe Sun Yoon Wah)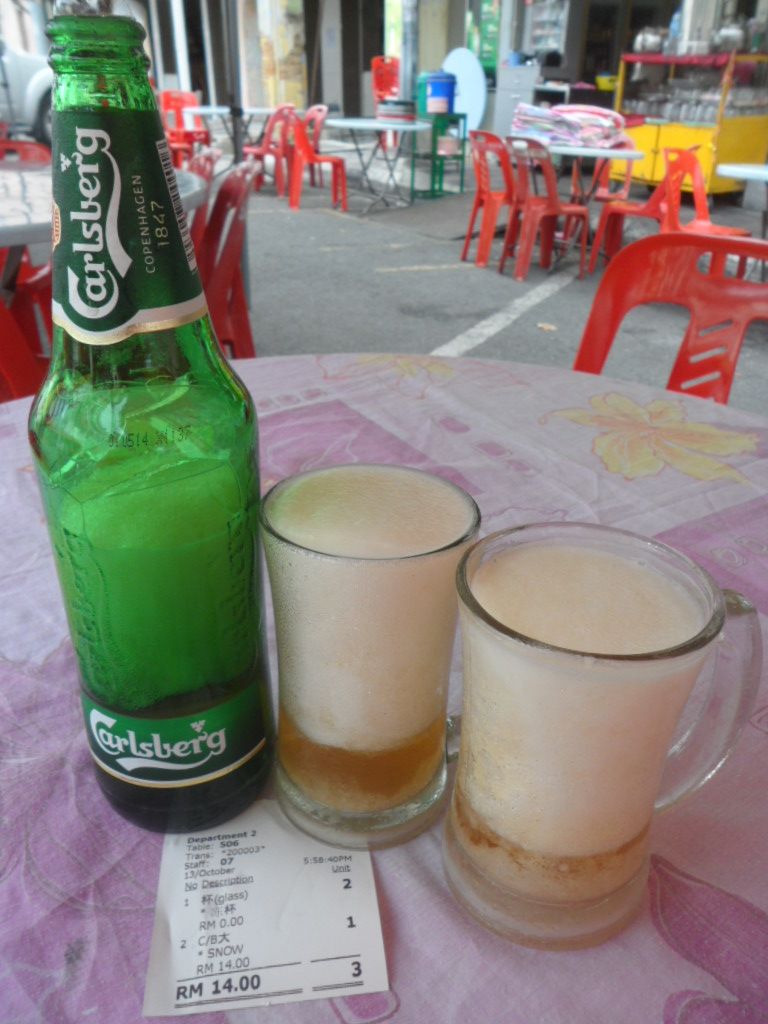 Snow Beer
7. Beansprouts with chicken and hor fun (Restoran Ong Kee Tauge Ayam)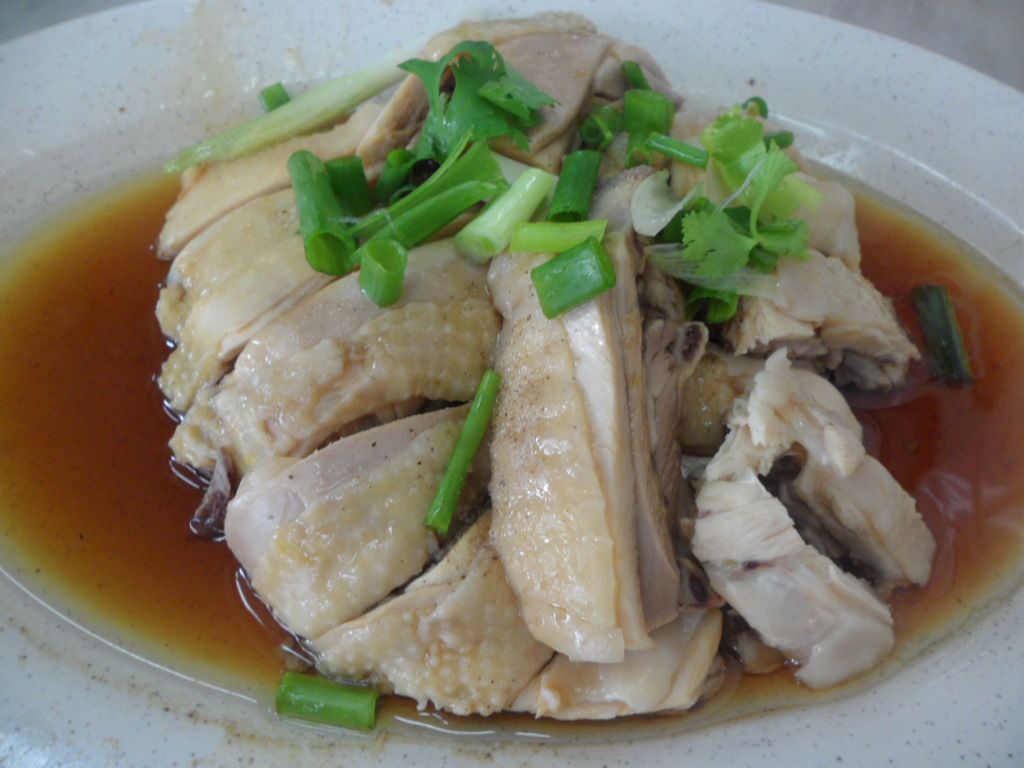 Fresh firm chicken splashed with soy sauce and sesame oil

REALLY FAT beansprouts

Ipoh Hor Fun (before mixing it all in)
Still on Malaysia and yet another foodie's paradise – Ipoh. In Ipoh, there are 2 things that you must try, Ipoh Hor Fun (so cliche!) and the snow beer…
Snow beer? What is that?
It is actually bottles of beers that have been partially frozen that when they are poured into the frost mugs, snow like froths start to form. This gives "ice cold beer" a profoundly different meaning! Tastes great too. The only catch is that you have to drink it fast. Otherwise, it will just return to its fluid form in a really short while.
We know it is cliche, but the Ipoh hor fun at Restoran Ong Kee Tauge Ayam is not to be missed. Mix the aromatic chicken and FAT crunchy beansprouts with the taong hor fun and you'll get a bowl of unmistakably great Ipoh hor fun!
Pattaya Thailand
6. Mango Sticky Rice (Supermarket of Central Festival)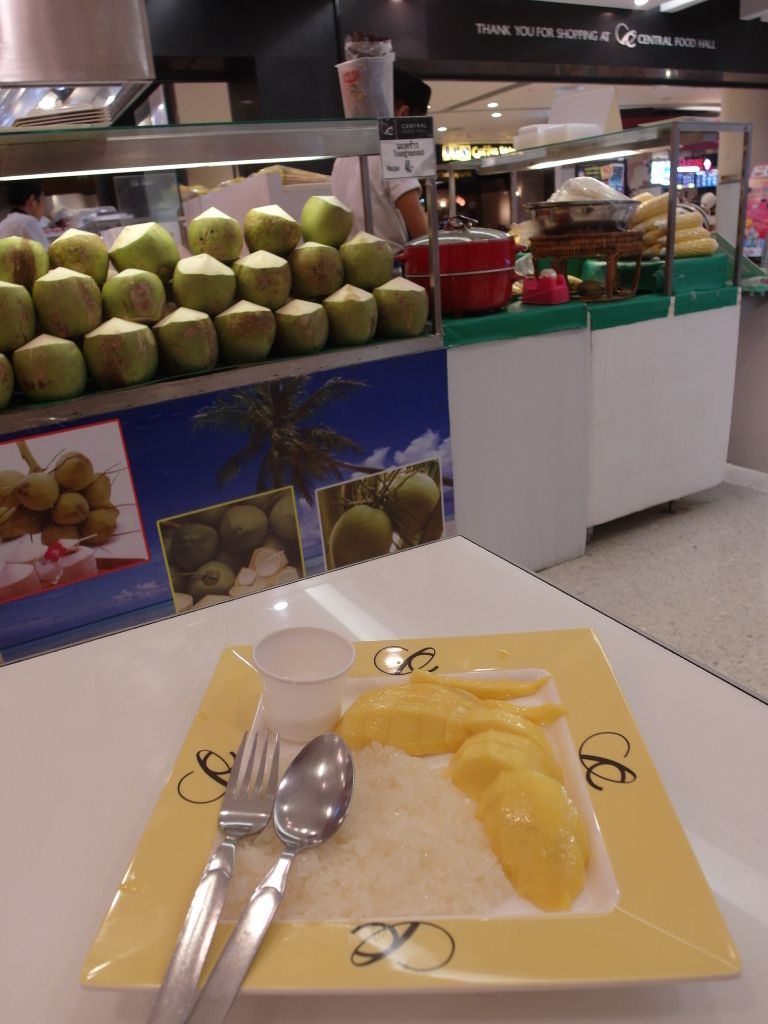 Mango Sticky Rice
The key to a great mango sticky rice is of course the mango. It has to be slightly overripe. That's where it is at its sweetest and most fragrant. The sticky rice has to be sticky yet retaining the form of the individual grains. The version at Central Festival has got all these bases covered…probably one of the best mango sticky rice we've had!
Vancouver USA
5. Baby Back Ribs (Beaches Restaurant)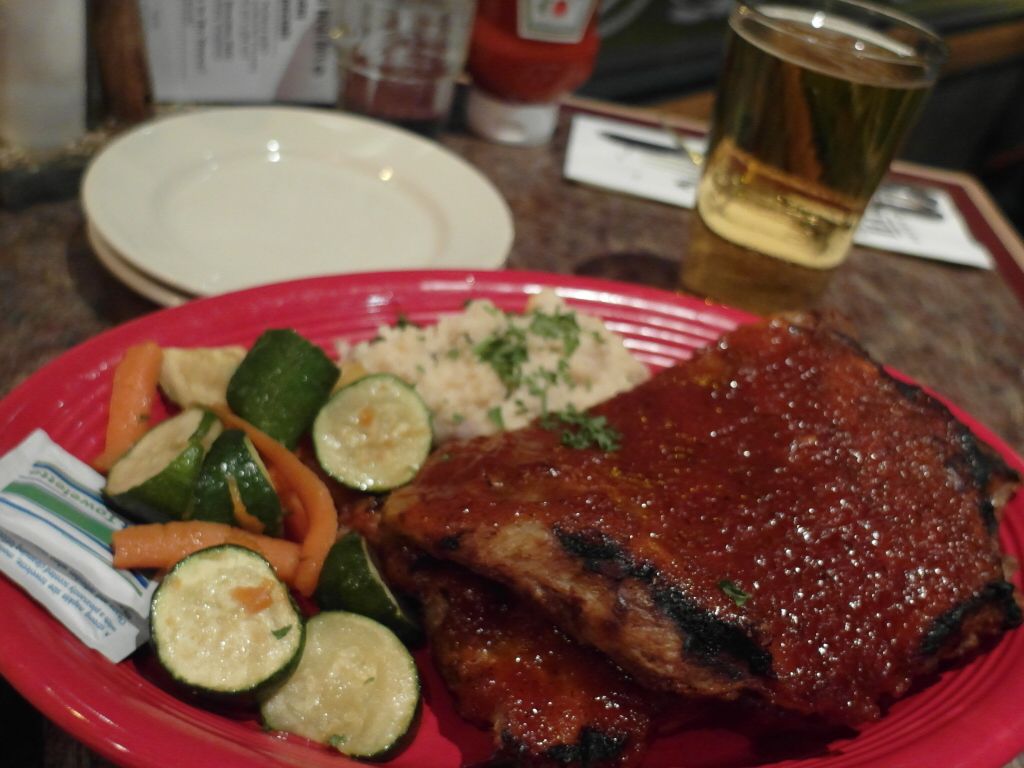 Baby Back Ribs
Having the baby back ribs at Beaches Restaurant (Vancouver USA) is a one of a kind experience. The meat is so tender that it falls right of the bones, literally! It also exudes that smoky barbecued taste with the slight charred and caramelised outer layer that makes it so irresistibly good!
Seattle USA
4. Chocolate Lava Cake (Metropolitan Grill)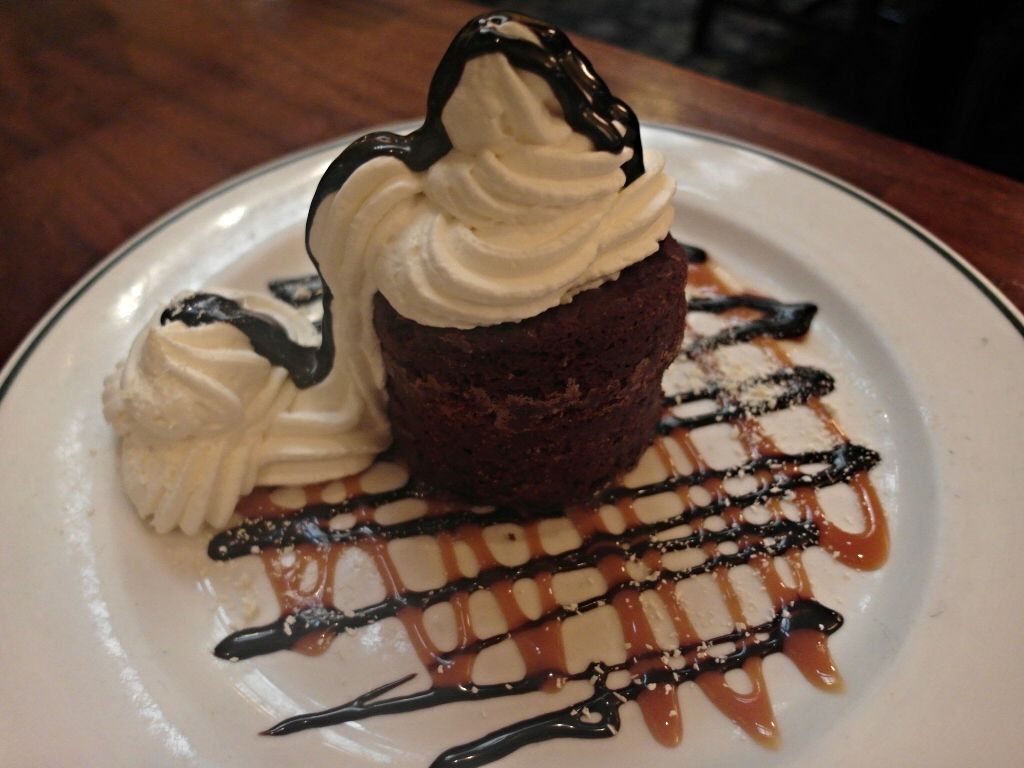 Chocolate Lava Cake
It is certainly strange to introduce a dessert from a famous steak joint such as Metropolitan Grill. But the truth is that the Chocolate Lava Cake was probably one of the best dessert we've ever tasted! There are so many textures to it…crumbly, chewy, oozy and rich. Simply divine this…
3. Sea Feast (The Crabpot)

Westport sea feast
The Crabpot is one of the originators of the sea feast (or seafood feast) and it has made this list because of its novelty factor. Armed with a wooden mallet, visitors "have a go at it" with your bare hands and have a great time feasting on the seafood pot of clams, crabs, shrimp, mussels, corn and red potatoes.
They have made dining fun again!
San Francisco USA
2. Dungeness Crab (Fisherman's Wharf)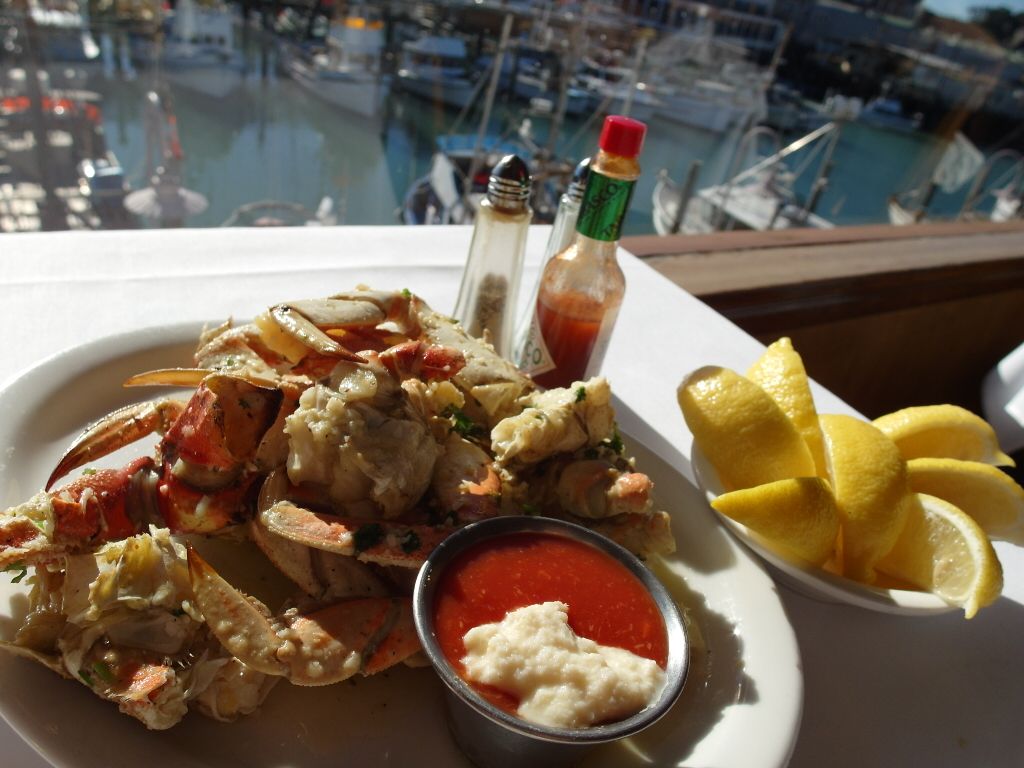 Dungeness Crab roasted in garlic and olive oil
We have actually not tried dungeness crabs until we visited the Fisherman's Wharf of San Francisco. On the outside, the dungeness crab didn't really look really appealing. Small pincers, "scrawny legs". I mean, where is the crab meat?
But when we first tasted the dungeness crab, we understood why. Firstly, as it was in-season, the catch was really fresh. But the thing that made it stood out was its sweet sweet taste. This made the crab really easy to prepare. As long as its fresh, lightly steamed (or in our case lightly tossed) crab would taste great.
Now we understand why locals enjoy their dungeness crabs eventhough it seems that the meat seems few and far in between (the legs and pincers). A small portion satisfies 😛
1. Risotto Funghi (Fior d'Italia)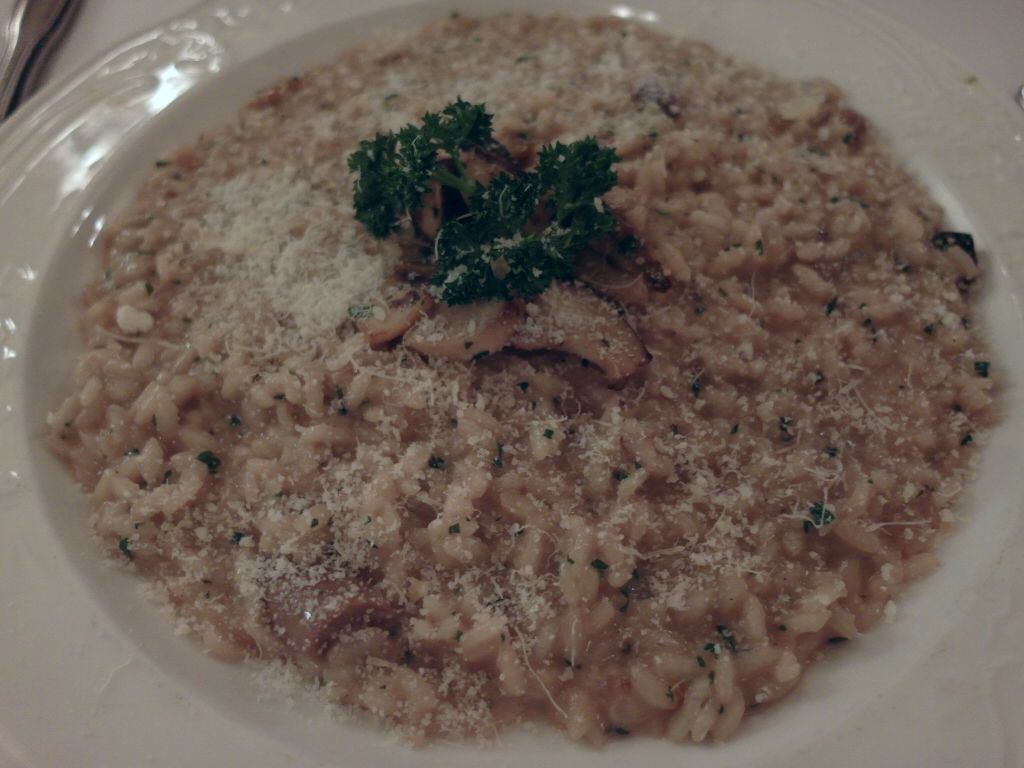 Risotto Funghi at Fior d'Italia
Fior d'Italia is America's oldest Italian restaurant, located at the ground level of San Remo Hotel. We thought to ourselves that there must be a reason why it is still around after such a long time (since 1886!).
We found out for ourselves that the taste was simple, unadulterated good food. Both the risotto and spaghetti had the authentic italian flavours. Fresh Italian pleasures at its finest.
If you're visiting San Francisco, do drop by Fior d'Italia. You'll enjoy the experience too!
If you enjoyed our content, "Like" us on Facebook Today!

We hope that you have enjoyed our coverage of the top 20 foods from our 2014 travels!
Let us know what you think in our comments section below. Bon appetit and happy travels in 2015 everyone!
Tom,
2bearbear.com
Related posts: