Again, we initially wanted share our top 10 travel experiences of 2014. But as we read through our posts, we realised that there's so much more to share and decided to extend this list to the Top 20 Travel Experiences of 2014! Without dwelling too much into the details, we'll let the pictures (and sometimes videos) do the talking!
20. Driving across Golden Gate Bridge in San Francisco

Driving through Golden Gate Bridge San Francisco!
We finally got to visit the Golden Gate Bridge in San Francisco! Not only so, we drove across it while listening to the local radio. What an unforgettable experience!
19. Watching an Ice Hockey Match – LIVE!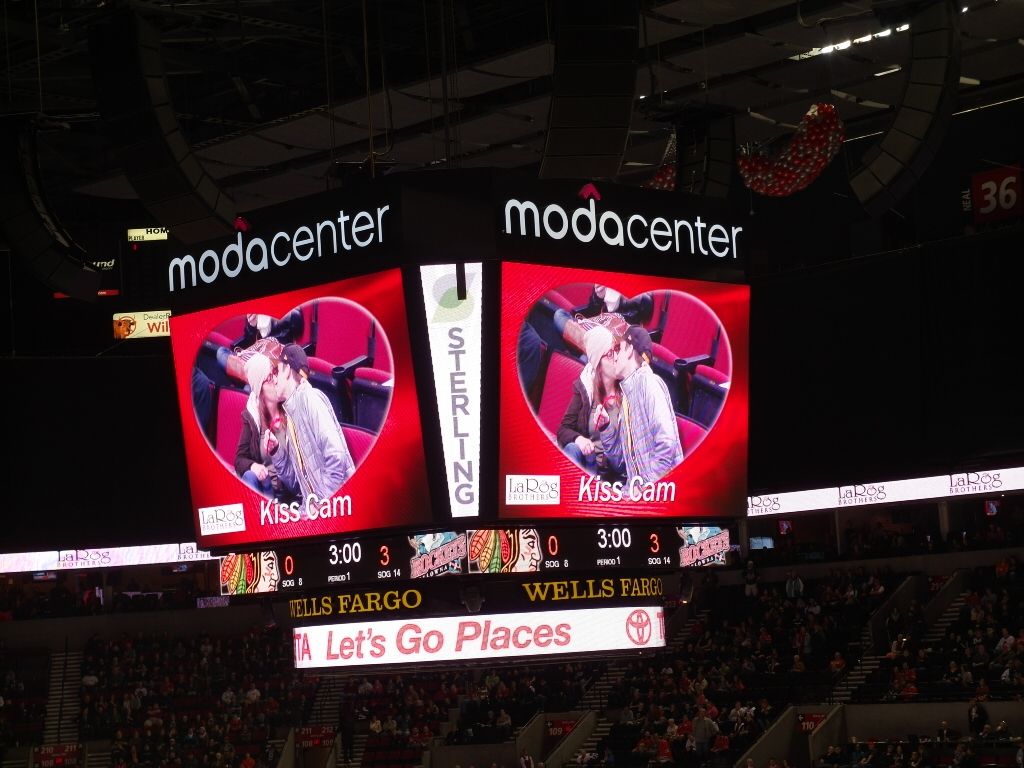 The Kiss-Cam
We caught the Portland Winterhawks (an ice hockey team based in Portland Oregon) play during the new year's eve of 2013. In fact, there were so many first experience during this match…
– It was our first time watching ice hockey LIVE!
– We bought a raffle ticket that gave us a chance to win some cash and support a local charity.
– We ate at Burgerville (for the first time) and used a touch screen drinks dispenser that dispensed cool drinks (that you could mix yourself) such as coke lime and vanilla root beer!
– Witnessing the Kiss-Cam for the first time after watching it so many times on NBA matches (on TV of course)
– Experiencing why Americans and Canadians love their ice hockey so much
18. Doing the scenic Oregon coastal drive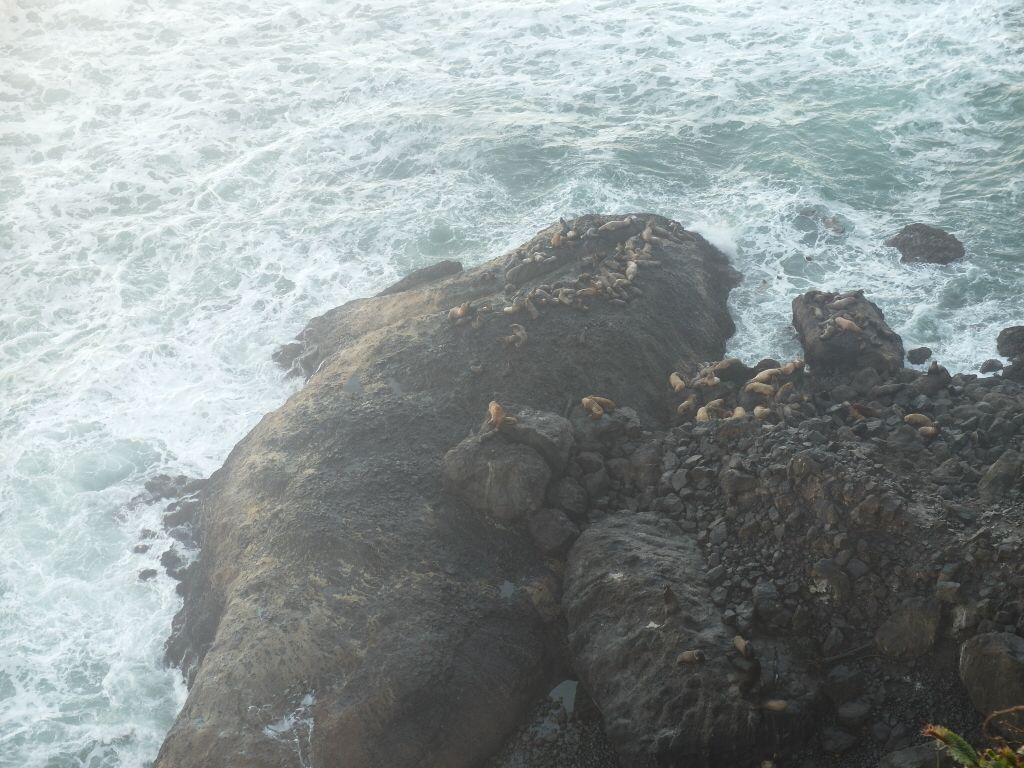 Wild sea lions!
During this scenic Oregon coastal drive, we enjoyed the spectacular ocean views and even saw wild sea lions in their natural habitat. Kate also caught a glimpse of the migrating whales as it was the migrating season as well!
17. Conquering the steep slopes of San Francisco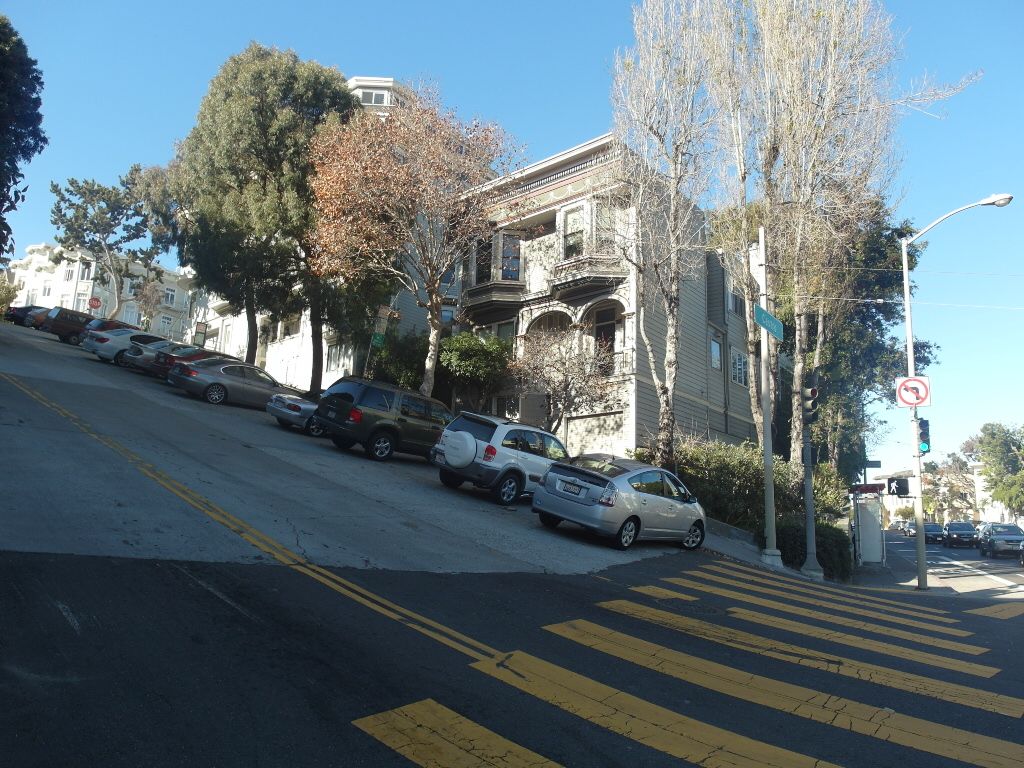 Cars are advised to park perpendicular to the slope – Haight Park San Francisco
Although we knew that San Francisco was built atop a series of hills, we finally experienced how steep it really is when we drove through it! At one point, while ascending a slope, it was so steep that we felt the bonnet of the car almost lifting up! Also, we saw Lombard Street which is touted as the crookedest street in San Francisco.
16. Hearing the Sea Lions call out – First thing in the morning!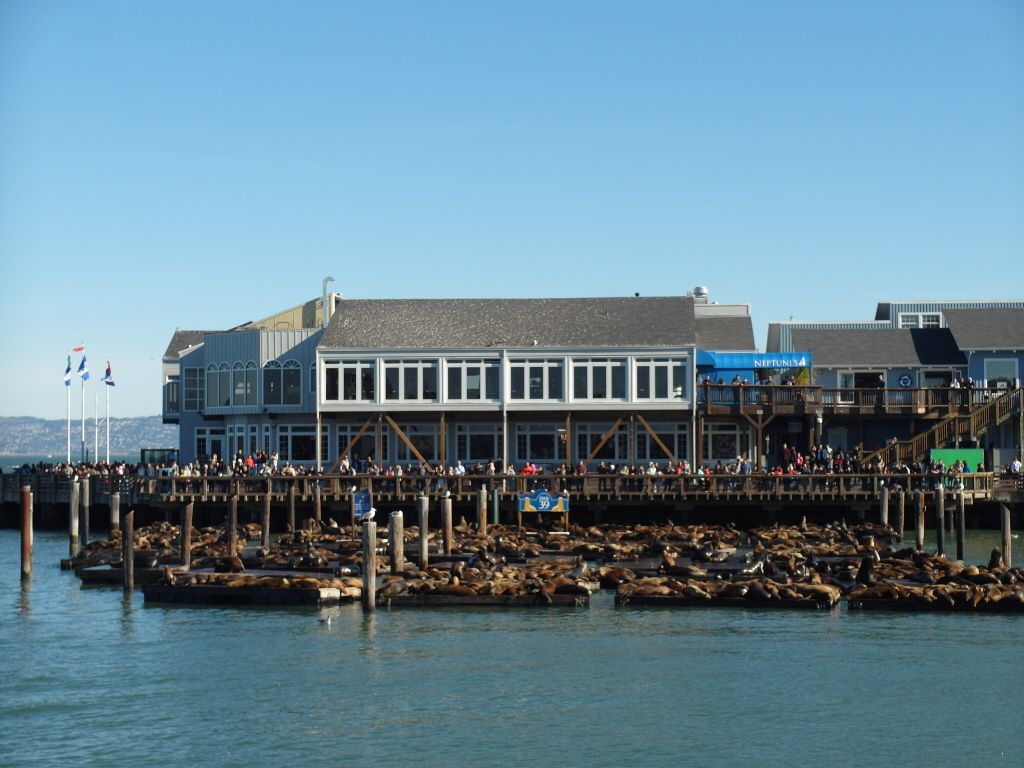 Sea Lions of Pier 39 at Fisherman's Wharf San Francisco
Although we knew we were staying near Fisherman's Wharf while we were in San Francisco, we did not know that we were also able to hear the sea lions so clearly – first thing in the morning! You can probably imagine how annoyed the local residents must be!
15. Enjoying Crabpot Sea Feast in Seattle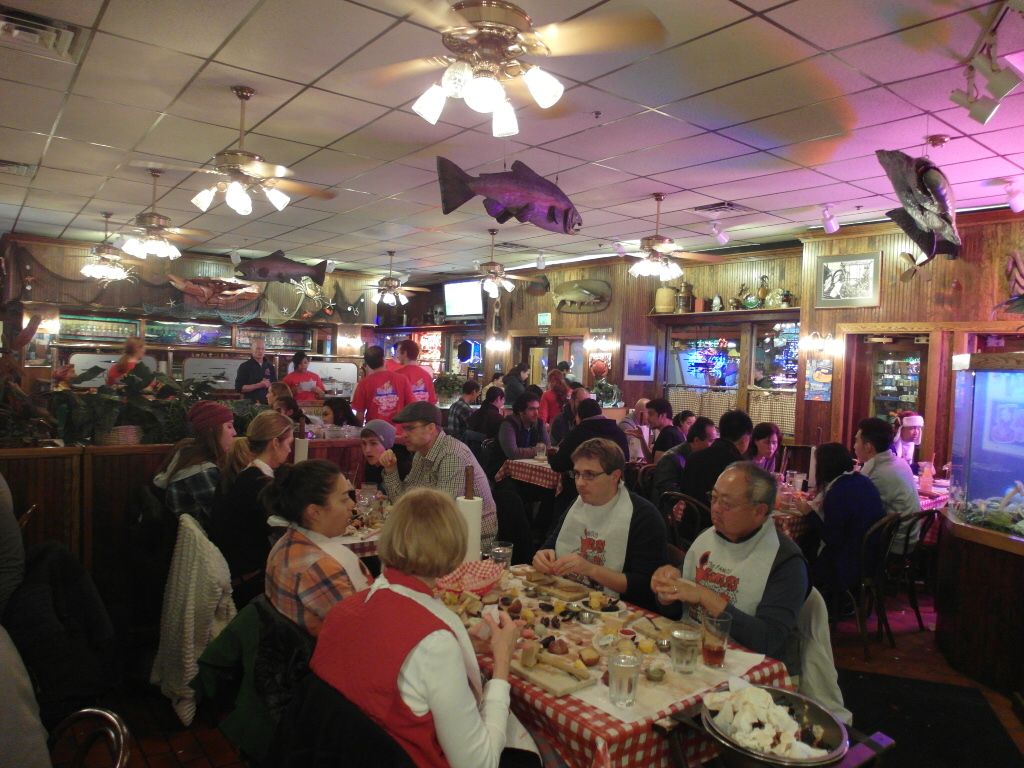 The novelty of eating seafood ONLY with your bare hands at Crab Pot Seattle
It is one thing to arrive at MVF's (Man vs Food) recommended restaurant. But it is really quite another to be at Crabpot Sea Feast in Seattle, the place where seafood feasts originated. We heartily tucked into our sea feast armed with a small wooden mallet and our bare hands! An awesome experience this! Don't forget your bib as things can get really messy!
14. Visiting (and recognising) the World's FIRST Starbucks Coffee in Seattle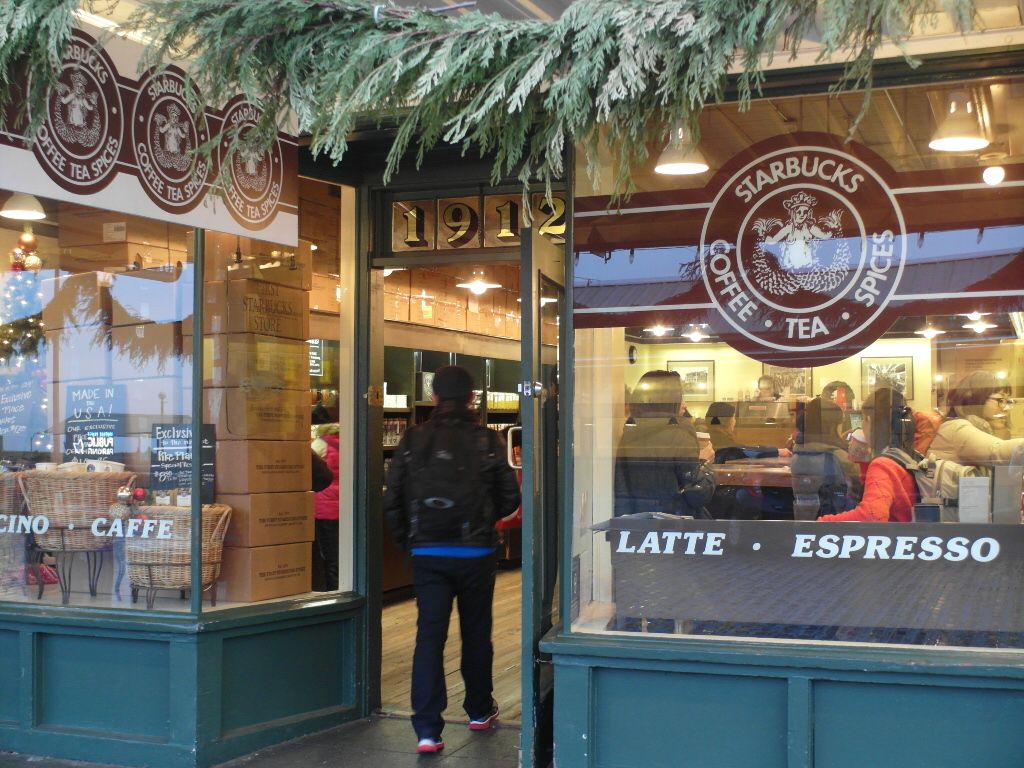 Small Starbucks with a "1912" at its entrance
You may know that the World's First Starbucks Coffee is located in Seattle near Pike Place Market. But did you know that there are 2 Starbucks Coffee near Pike Place Market? Look for the smaller, humbler looking one; Or you can simply refer to our picture above 🙂
13. Seattle Underground Tour – Find out the secret of Seattle City

Sky light seen during Seattle Underground Tour
On the first impression, you would think that this underground tunnels were dug out by Seattle pioneers for a particular reason right? WRONG! Following the Seattle Underground Tour, you'll find out the secret to how these tunnels came about. In fact, Seattle is really built upon itself…read our post to find out more! This really really surprised us!
12. Sinking our teeth into the juiciest dumpling @ Yang's Fried Dumpling Shanghai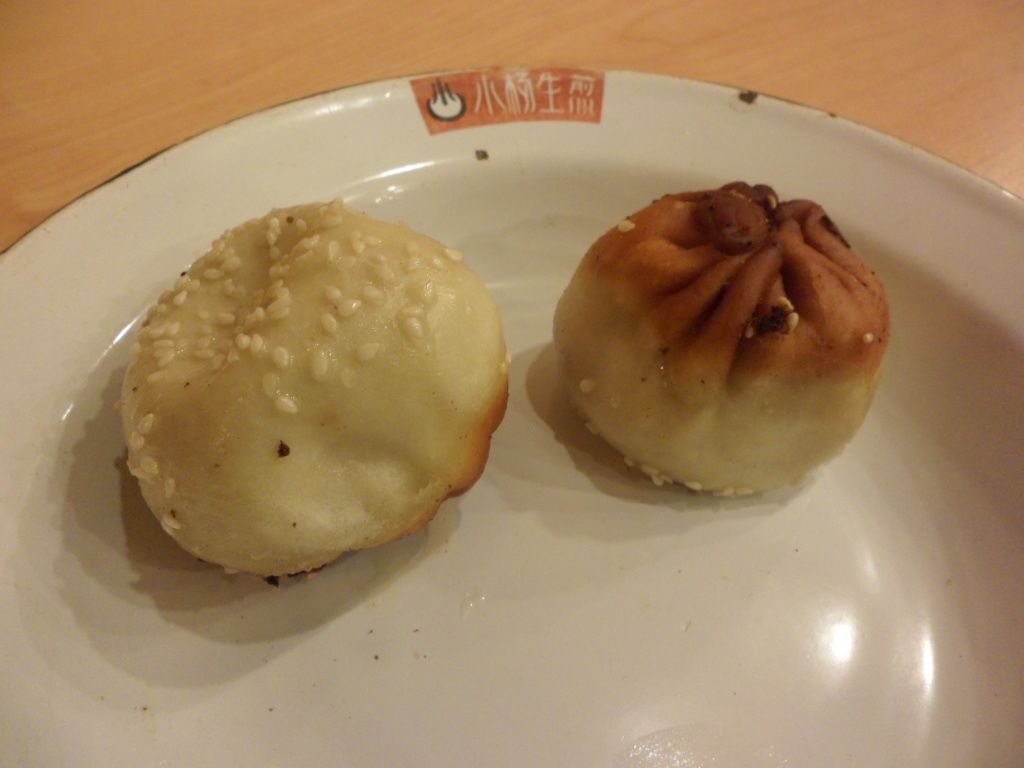 Yang's Fried Dumpling 小杨生煎 4 for 6RMB
You have not understood the meaning of JUICY DUMPLINGS until you've tried Yang's Fried Dumpling in Shanghai. Confirm plus chop, the juiciest dumpling we've ever eaten! Be careful of the splattering juices on every bite!
11. Discovering the secrets in Yu Garden Shanghai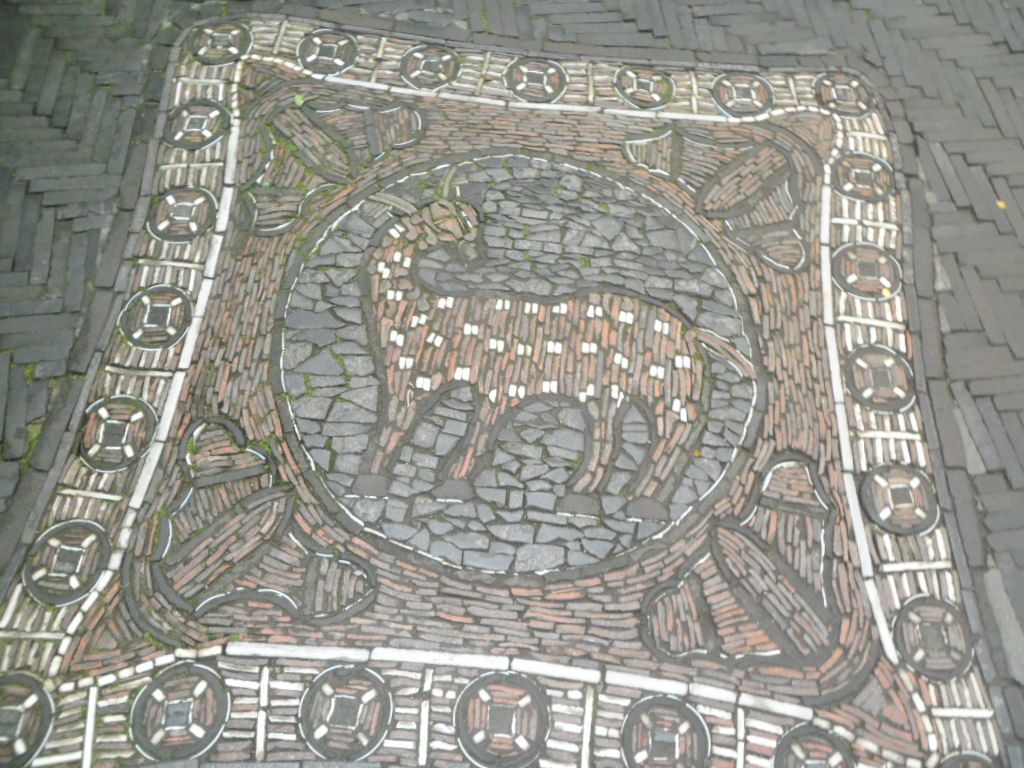 蝙蝠鹿豫园 – Mosaic at exits of Yu Garden
There are many little secrets waiting to be uncovered in Yu Garden Shanghai. For instance, did you know that this mosaic, located at the exits in Yu Garden, actually represents safety (for people passing it), blessings and wealth? Not that we believe it, but it's really interesting to know that so much thought have been placed into the design in and around Yu Garden Shanghai.
10. Best Infinity Pool @ Royal Cliff Hotel Pattaya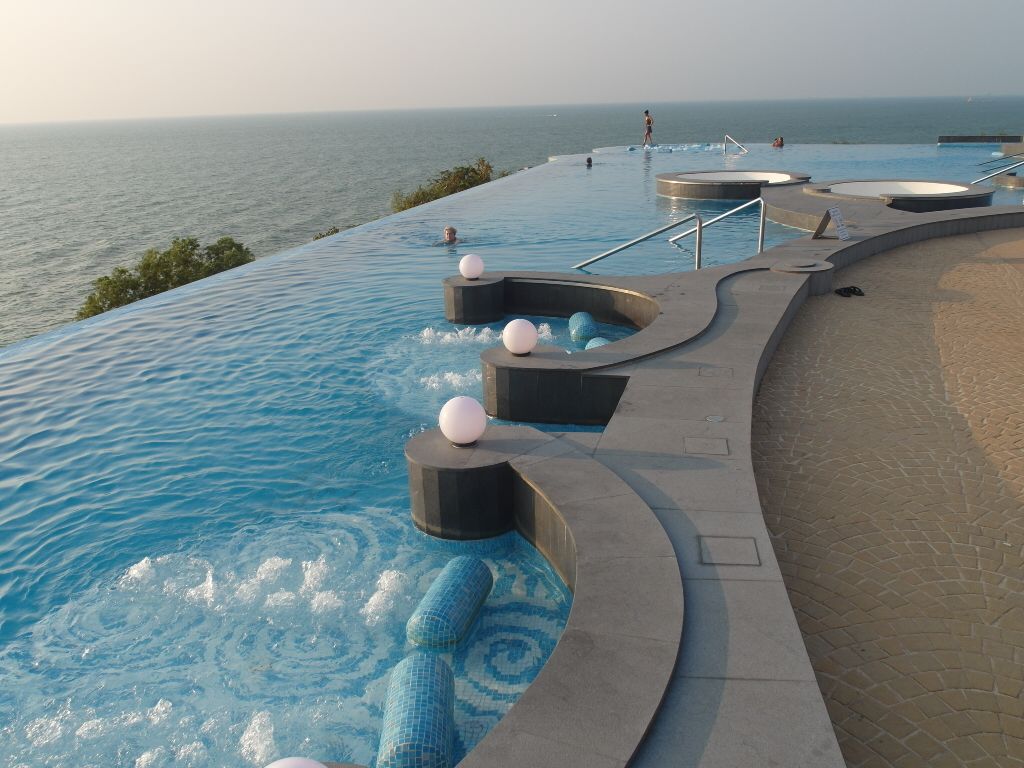 Best swimming pool EVER at Royal Cliff Hotel Pattaya!
We really LOOOOOOOOOOOVE the infinity pool at Royal Cliff Hotel Pattaya because
– It has jacuzzi jets all around the pool. Some allowing you to sleep on it even…
– Awesome sunset views over the Gulf of Thailand!
– Pool magically transforms with neon lights at night
9. Watching artists at work in Ho Chi Minh City Vietnam

Artists drawing in Ho Chi Minh City Vietnam
Ho Chi Minh City is a great place for shoppers! *winks at Singaporeans* Not only are the bags, shoes and cold wear cheap, really good art work is very affordable as well. From the video, you can see how much effort the local artists put into making each and every piece of art on sale. We bought a piece at USD$50 and frame for USD$15.
Good stuff!
8. Dining atop Taipei 101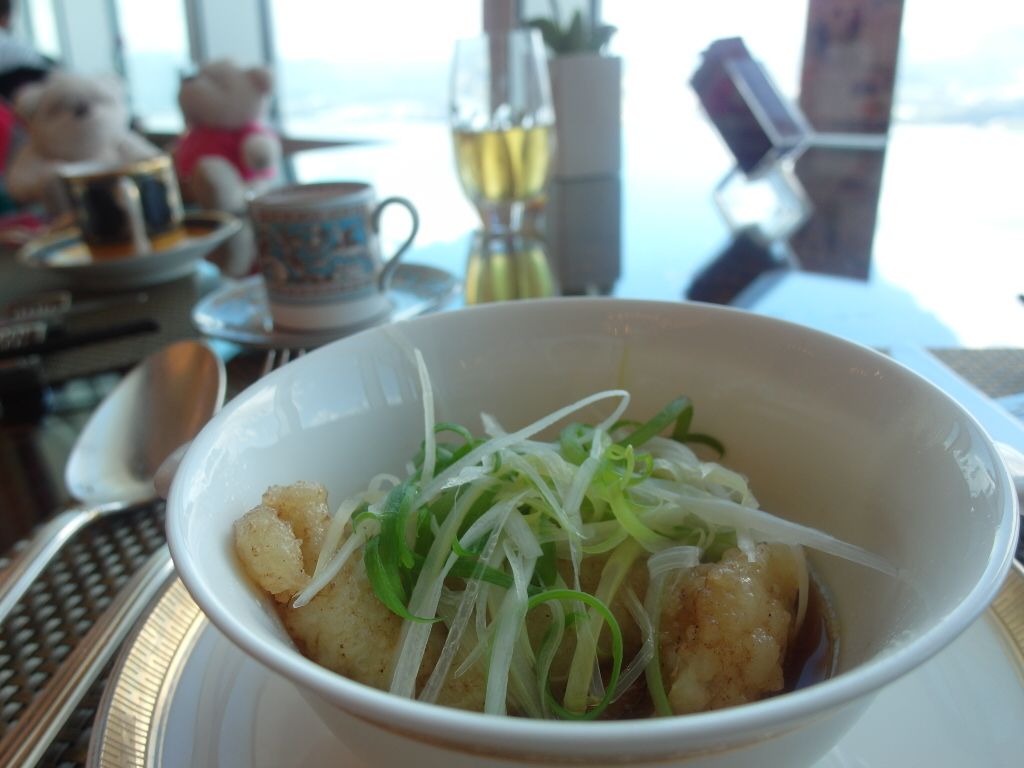 Dining at Ding Xian Restaurant atop Taipei 101
To celebrate our wedding anniversary, Kate and I enjoyed lunch at the top of Taipei 101. Not only was the food delish, views were spectacular as well! A really surreal and enjoyable feeling. Most importantly, to be able to dine with your loved one on your special day…
7. Sweetest and tastiest PEACH ever @ Taoyuan Taiwan!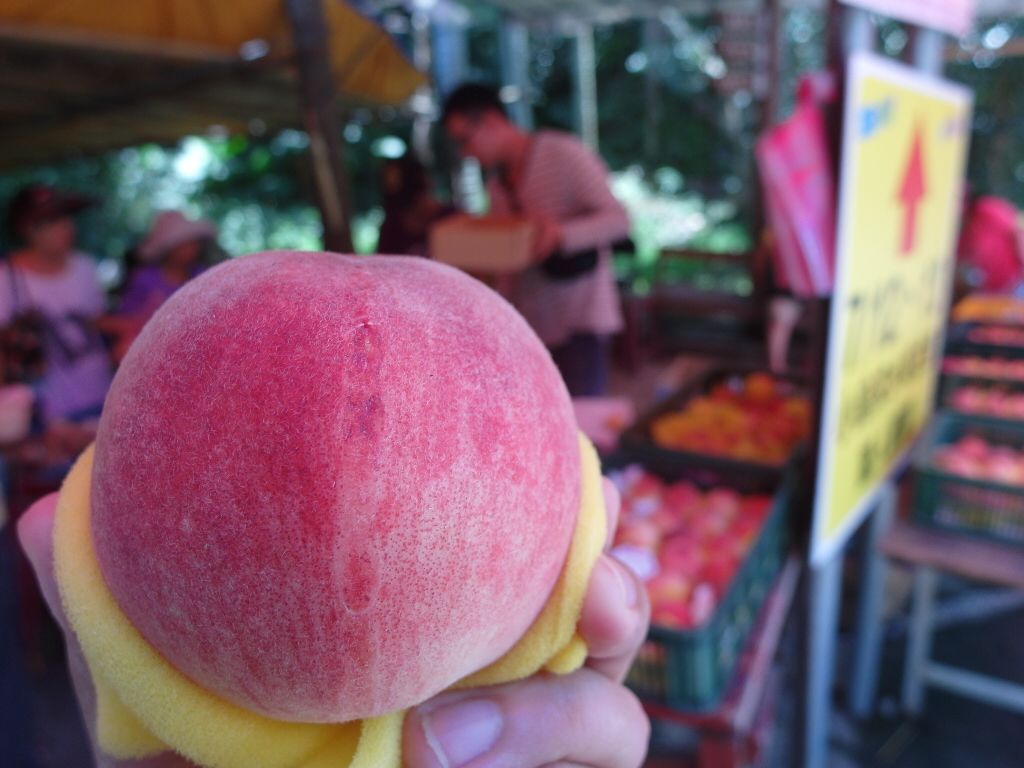 Sweet, tasty and beautiful peach in Taoyuan
After tasting the peaches in Taoyuan, we finally realised why its name is TAO (peach) YUAN (garden). They were so out-of-this-world, TASTY AND SWEET! A must-try in Taoyuan!
6. Glass blowing at Kuo Tai Glass Park Zhunan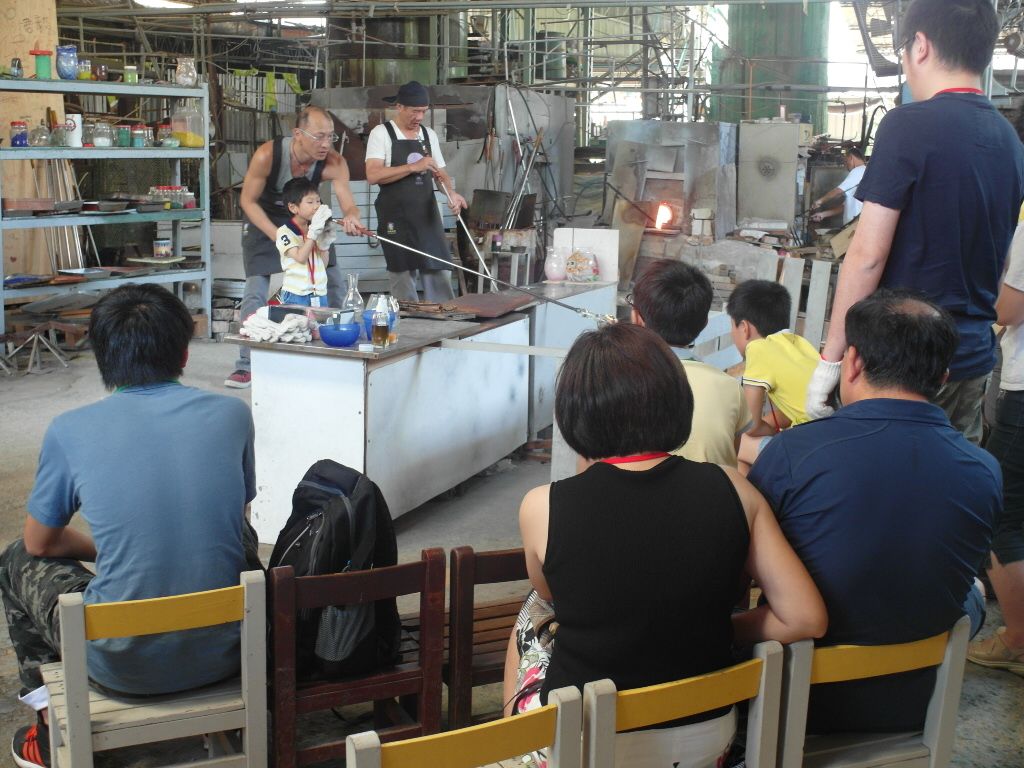 Glass blowing at Kuo Tai Glass Park
At Kuo Tai Glass Park in Zhunan, you'll be able to blow your own glass ware. Something which we did and found to be really fun as well. With master glass blowers on hand, kids are also able to create their own glass wares in a fun and safe manner.
5. One of the best ice creams we've ever had at Miyahara Taichung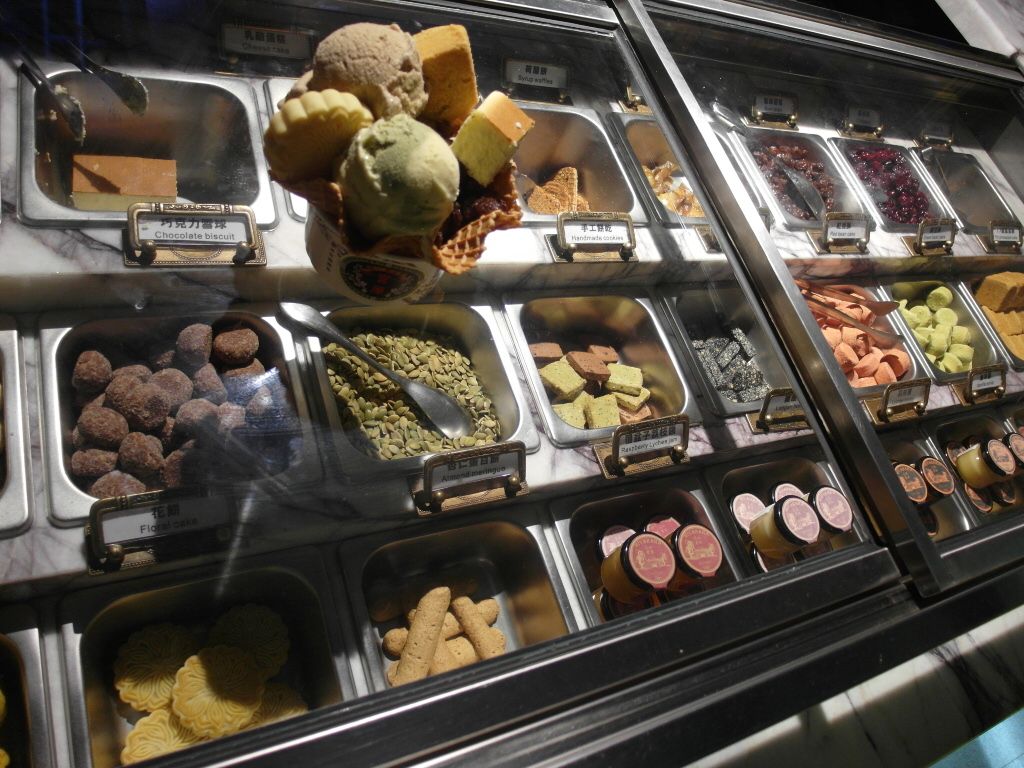 Ice cream toppings at Miyahara Ice Cream
If you take a look closely at our ice cream from Miyahara Taichung, we actually had a cheesecake, a pineapple tart and a floral cake (in addition to rum and raisin) as toppings for our ice cream! Ordering an ice cream that allowed us to also taste famous local pastries? Fantastic!
4. Wondering around Taiwan's most famous night market – Feng Jia Night Market!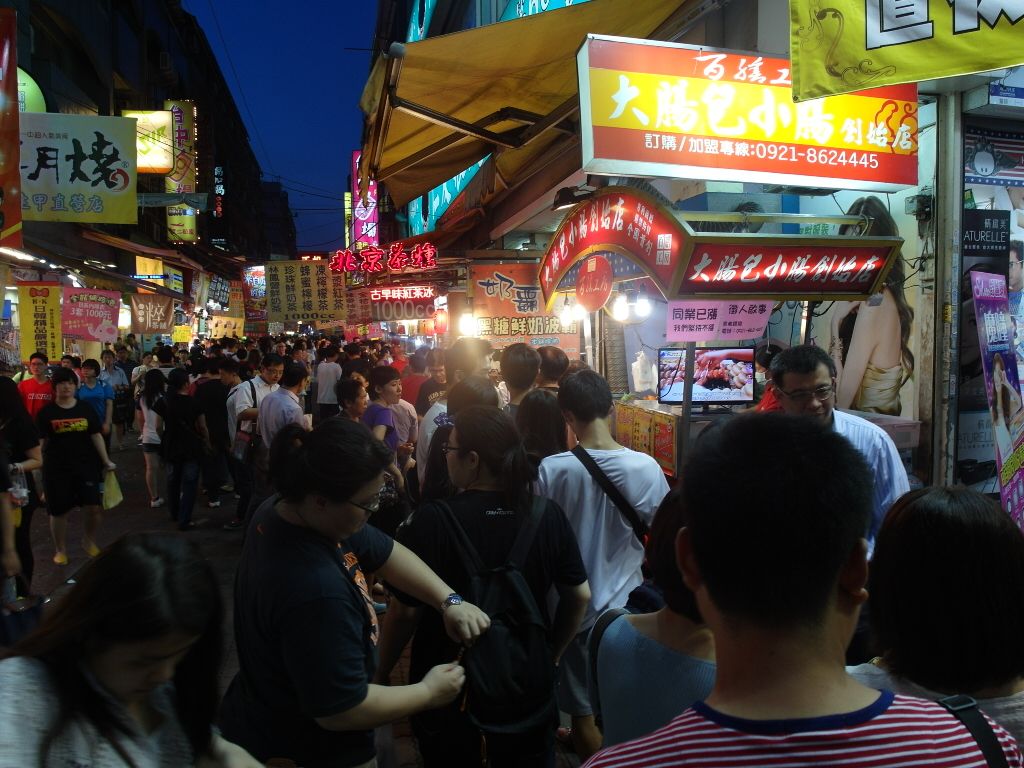 Feng Jia Night Market 大腸包小腸 – Red Stall
Finally being able to visit Feng Jia Night Market was an unforgettable experience. It is indeed the night market of night markets in Taiwan. Although it has been superceded as the largest night market in Taiwan (the largest being Jin Zuan Night Market launched in 2013), it is still undeniably the most famous with SOOOOOOO MANY amazing things to eat! Our favourites include 大腸包小腸 (big sausage wrap small sausage) as well as the cheap fresh juices here!
3. Qool Weekend Staycation @ Quincy Hotel Singapore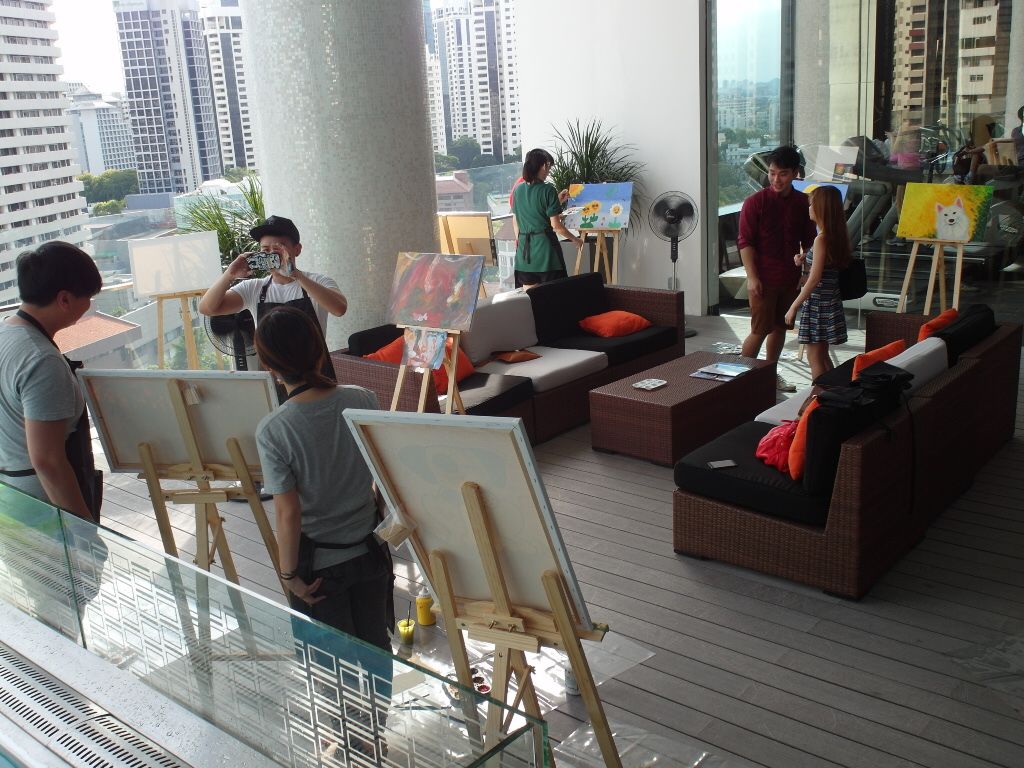 Art Jamming @ Quincy Hotel
It was a new experience for us to enjoy an all-inclusive hotel stay at Quincy. This experience included
– Art Jamming Sessions (see above)
– Cupcake Baking
– All Day Dining
– Daily Cocktail
What's more, because of its location, you're just minutes walk away from Singapore's premier shopping belt – Orchard Road. All in all, it was a wonderful experience to just chill and enjoy a relaxing staycation in Singapore.
2. Watching National Day Parade Preview LIVE from Pan Pacific Singapore's Harbour Studio Room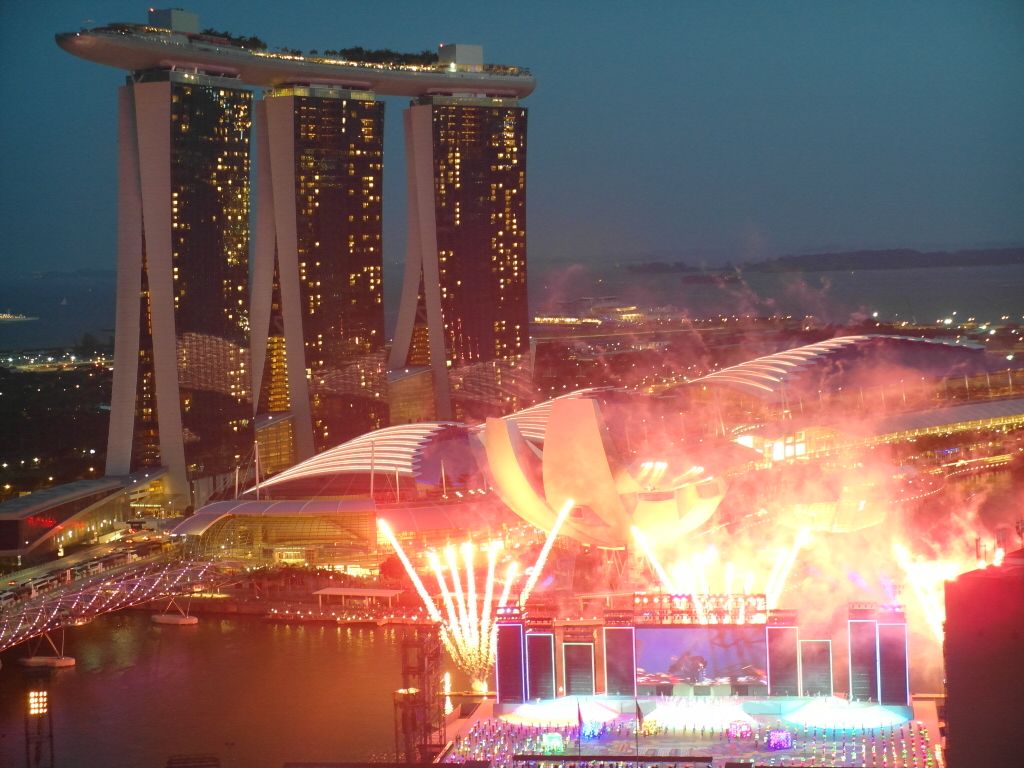 Fireworks as seen from our room from Pan Pacific Singapore
Thanks to the great folks from Pan Pacific Singapore, we were able to enjoy the National Day Parade preview from the comfort of our Harbour Studio Room. We were also able to hear our favourite local songs and sing along at the same time. But most of all, we enjoyed the amazing fireworks lighting up the Singapore skyline right in front of our eyes!
1. Sailing aboard the Mariner of the Seas by Royal Caribbean Cruise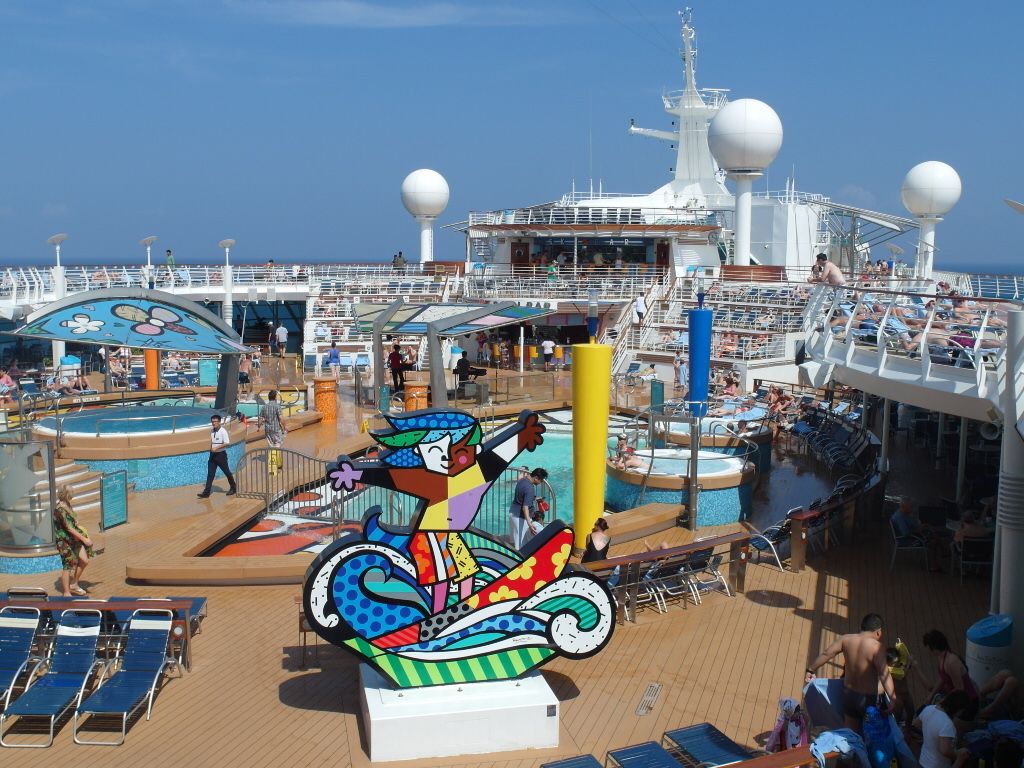 Pool Deck with Romero Britto's Surfer Boy Sculpture aboard Mariner of the Seas
Mariner of the Seas is one of the biggest cruise ship to visit Singapore and we took the opportunity to embark on its 8D7N cruise to Thailand and Vietnam. The mere act of discovering every inch of the ship was already an experience itself. The list of things to do aboard the Mariner of the Seas just goes on and on. One of the highlights has got to be the Dream Works characters at the "Move It Move It" parade. Po's awesome dance moves is still the first video on our Youtube Channel! Other firsts for us, include reaching the top of the rock climbing wall and ice skating at sea!
If you enjoyed our content, "Like" us on Facebook Today!

We hope you have enjoyed coverage of the Top 20 travel experiences of 2014. If you have had some amazing travel experiences in 2014 as well, do share it in our comments section below!
Happy 2015 Everyone!
Tom & Kate,
2bearbear.com
Related posts: