While you're in the Philippines, you'd probably be thinking about travelling from Cebu to Bohol by Ferry. In this post, we'll highlight our process of taking the ferry from Cebu to Bohol and we hope that this will make your travelling experience a much smoother one in the Philippines.
Bohol is about 1 hour 40 mins away from Cebu if you take the fast craft ferry. The tourist class ticket for Oceanjet is 1000 peso per person (return ticket). I understand that there are other ferries or boats that will cost a lot cheaper than 500 peso (one way) but if you want comfort and safety, I highly recommend Oceanjet. Different ferry companies dock at different piers, so remember to double-check so that your taxi driver can drop you off at the right pier. Also, if you choose to alight outside of the gate of the pier, you do not have to pay a fee. Can't remember how much it was…probably a very small amount but it was really not necessary to alight inside unless you have a lot of luggage.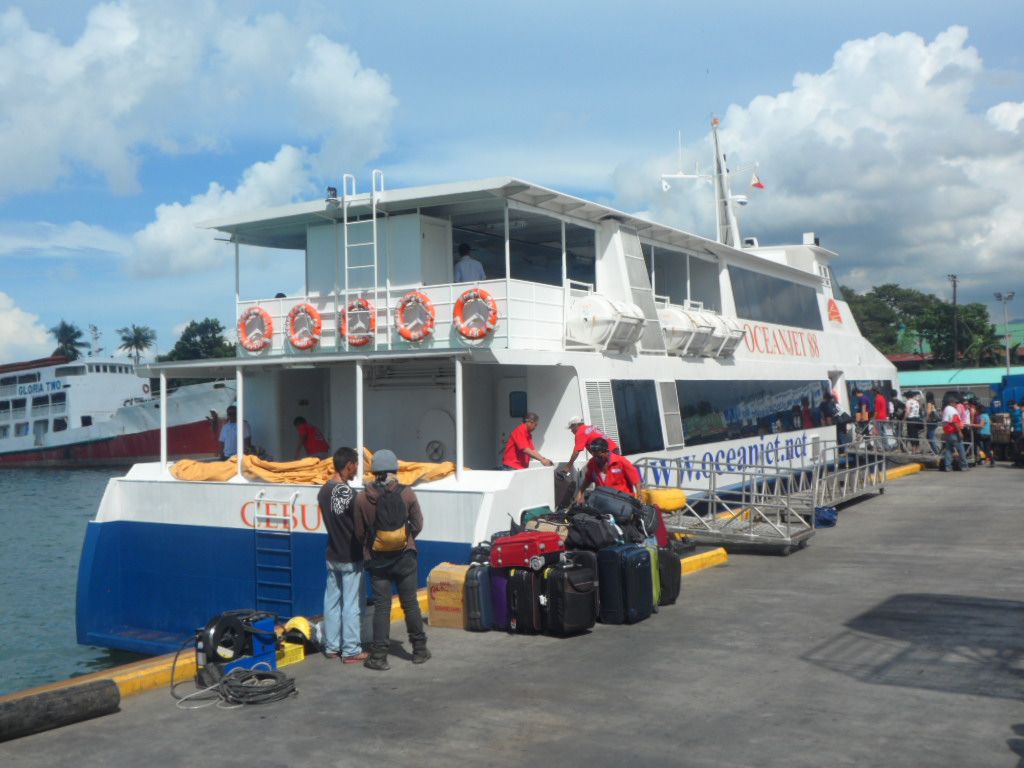 Oceanjet Ferry from Cebu to Bohol
How to Travel from Cebu to Bohol by Ferry
The check-in procedure was simple and fast. Soon we were waiting at Gate 1 for our ferry.
There are seats allocated so you do not have to rush to board. But there's something I do not understand: there are sooooooo many people who just can't sit in their designated seats! Either they can't read the alphabet and numbers on their tickets or they ignore it. The Oceanjet staff was friendly and patient to get everyone in their right seats. And soon we were off!

Pier 3 Boarding Area

People waiting to board Ocean Jet from Cebu to Bohol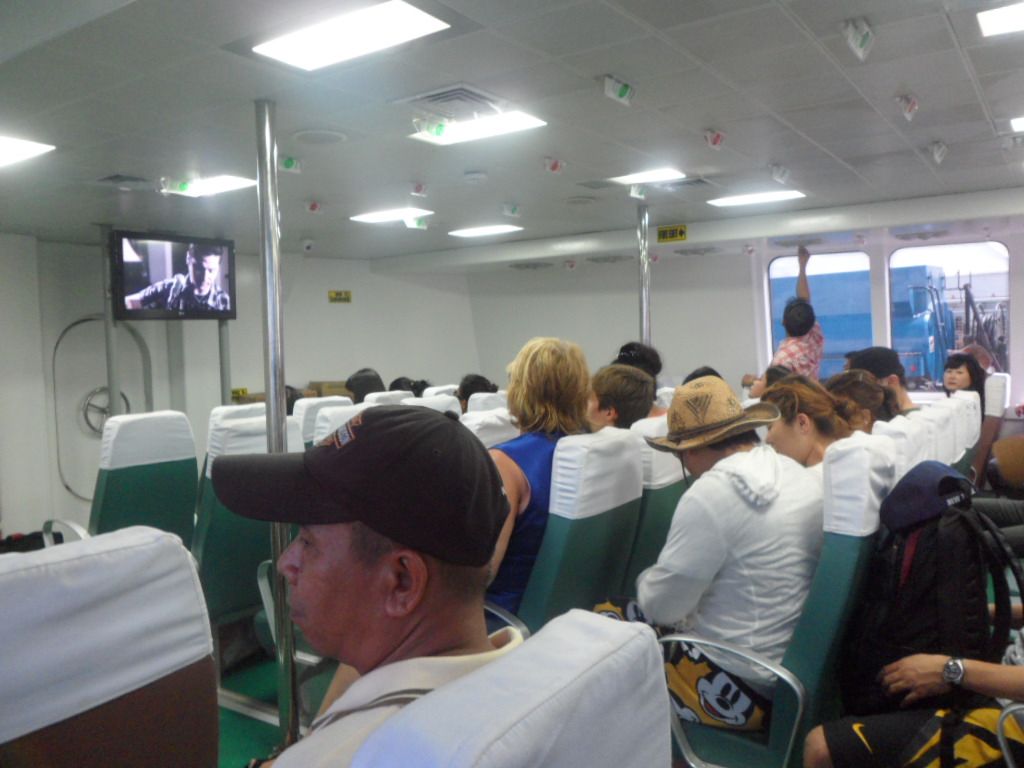 Inside Oceanjet – 2 hours ride where we watched Hell Boy
Ferry from Cebu to Bohol

Is that really University of Cebu? Next to it – A grounded vessel

Sun, sea and clear blue skies from Cebu to Bohol
Blue skies and clear waters with the hills as the back drop made the ride really relaxing and we can't wait for what was in store for us in Bohol! 🙂
If you enjoyed our content, "Like" us on Facebook Today!

For your convenience, we have arranged for the best hotel deals in Bohol right here!
As we felt the ferry reduced its speed and we could see the clear aquamarine waters, we knew we have reached Taglibaran City, Bohol!
Related Posts
Cebu
8 Things to do and Attractions in Cebu Philippines!
How to get from Singapore to Cebu?
Oceanjet ferry from Cebu to Bohol: Fast and comfortable
CnT Lechon: The Best Lechon in Cebu?
Golden Cowrie Restaurant Cebu: For Authentic Filipino Food!
Eat, shop, eat, shop, till we drop in Cebu!
Filipino Breakfast at Alberto's Pizza Cebu!
Ayala Mall Cebu : Do What The Locals Do!
City Suites Ramos Tower: Good location with Great view!
Castle Peak Hotel, Cebu, Philippines: Good location, Low price!
Breakfast at Bo's Coffee: One of Philippines' top specialty homegrown coffee shop
Bohol
4 Top Attractions and Things to do in Bohol Philippines!
Peacock Garden Bohol : Awesome Premier Infinity Pool and Seaview Room!
Bohol Countryside Tour: Chocolate Hills, Tarsiers and More!
Amorita Resort Bohol: My little love…
Dolphin and Island Hopping Tour (Pamilacan, Balicasag, Virgin sandbar): A day of chasing dolphins and turtles
Related posts: