Viktualienmarkt is a market located in the centre of Munich city. Since Kate loves pasar malam (night markets – think Singapore & Taiwan), the equivalent in Europe would be markets like the Viktualienmarkt and the Albert Cuypmarkt in Amsterdam.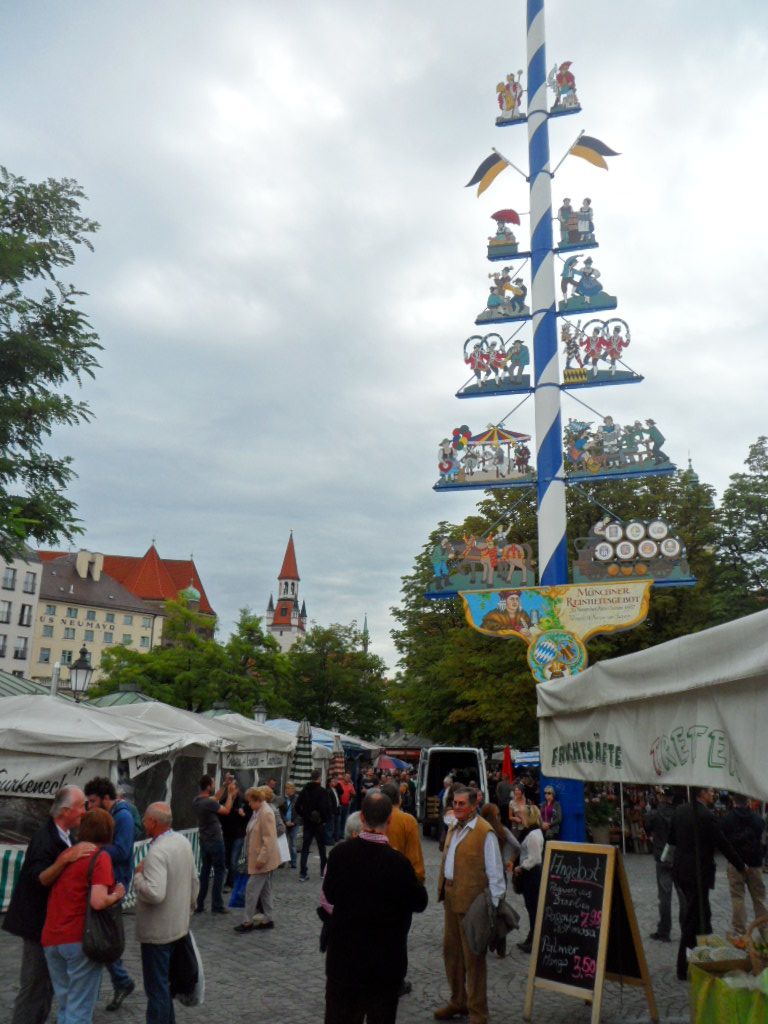 Viktualienmarkt and the Maypole
What to do at Viktualienmarkt Munich
The Viktualienmarkt was formerly known as a farmer's market. However, as it grew and the reputation of the markets grew, more and more stalls took roots here. Today, it is home to more than 140 shops that includes restaurants, beer gardens and shops that sells flowers, souvenirs, fruits and vegetables, all sorts of meats and spices!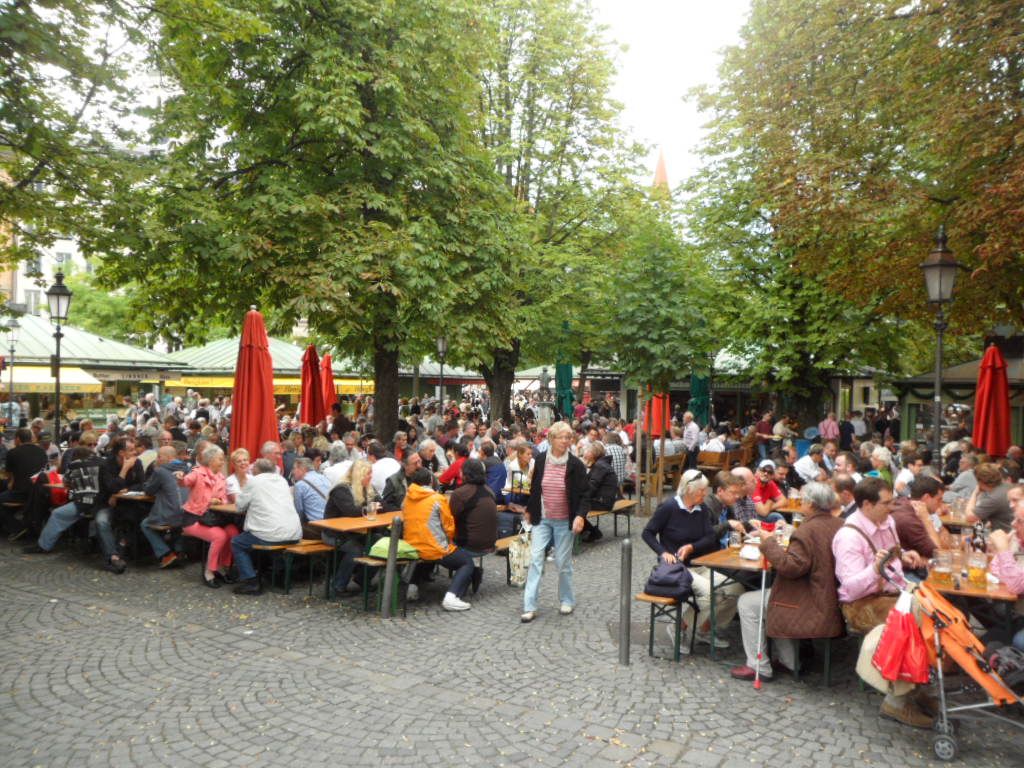 Restaurant at Viktualienmarkt where everyone hangs out on a sunny day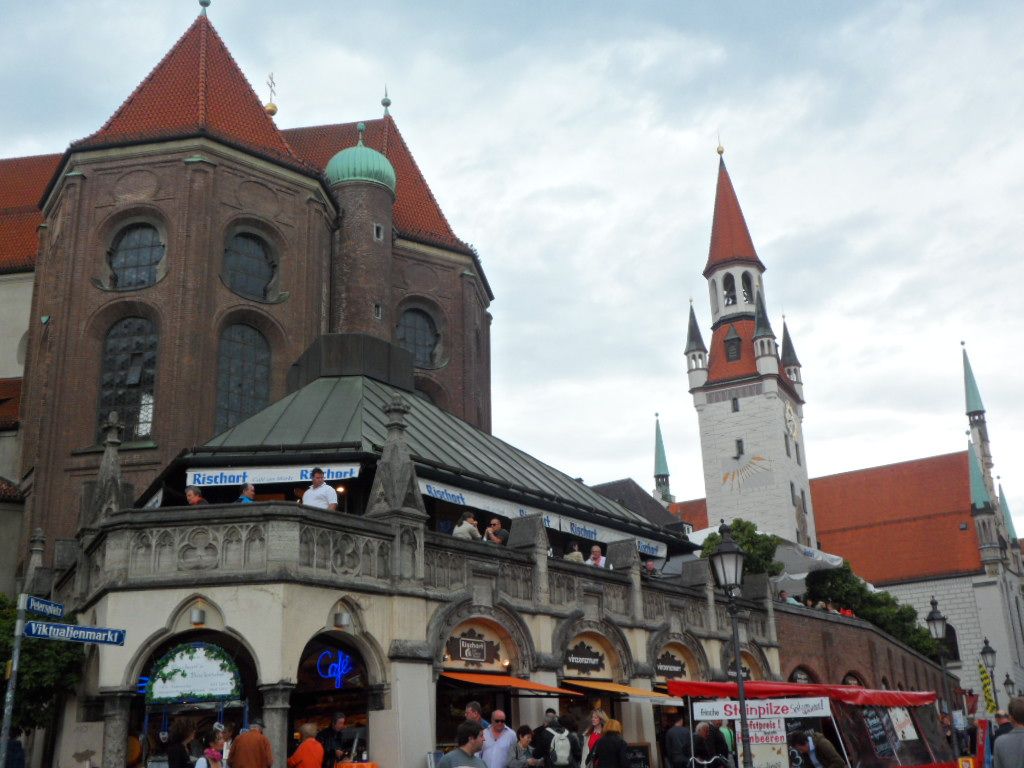 Meat shops at Viktualienmarkt Munich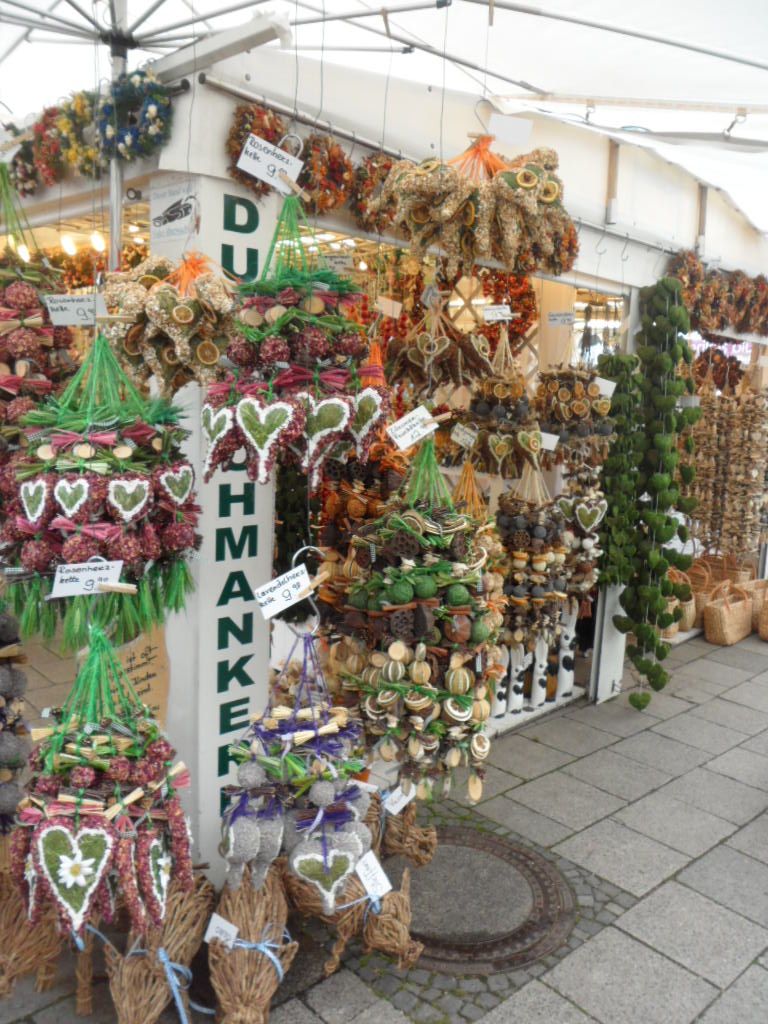 Shop selling souvenirs and potpourri
As we were browsing the potpourris at this shop, we chanced upon a very cute porcupine souvenir. So we reached out and touched it. Not a good decision…
"No no! Dont touch it!" came the shouts from the store owner. So be warned! We think that the owners did not want us to affect the display that they had so painstakingly put in place. Remember not to touch, unless you want to buy!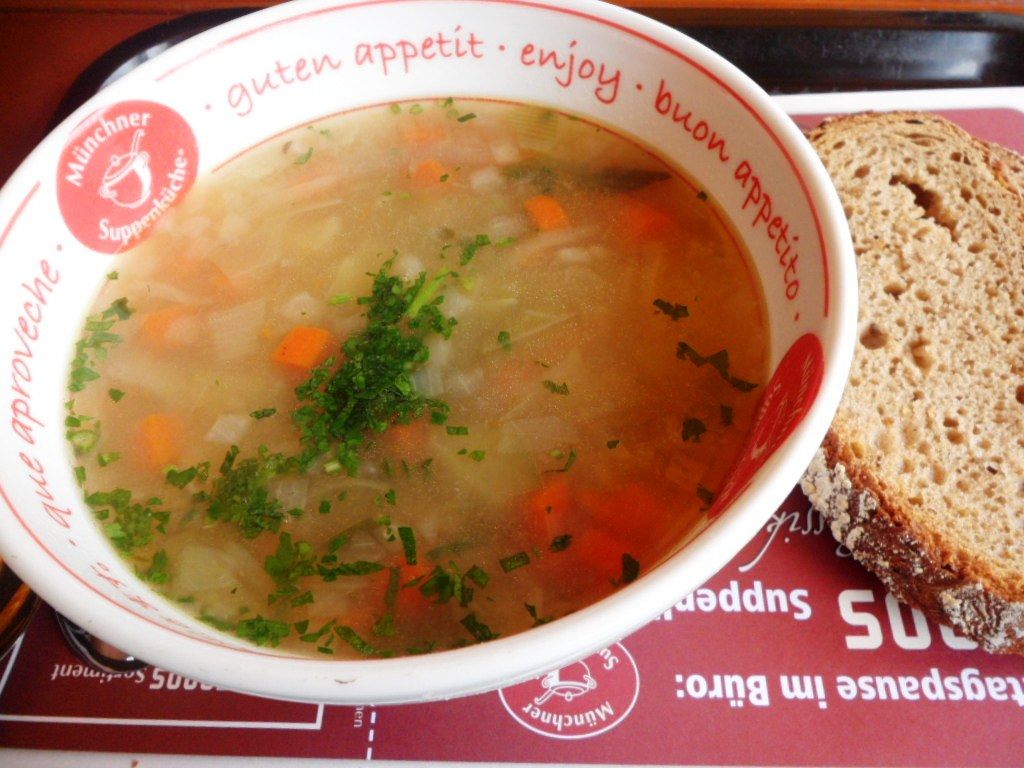 Soup of the day – Vegetable with beef 6.30Euro
We had our lunch at the Munchner Suppenkuche, basically a soup kitchen. The vegetable beef soup was quite hearty. The bread was the sour rye bread, an interesting complement with the soup. While we were having our soup, a TV production was on-going, so we watched on…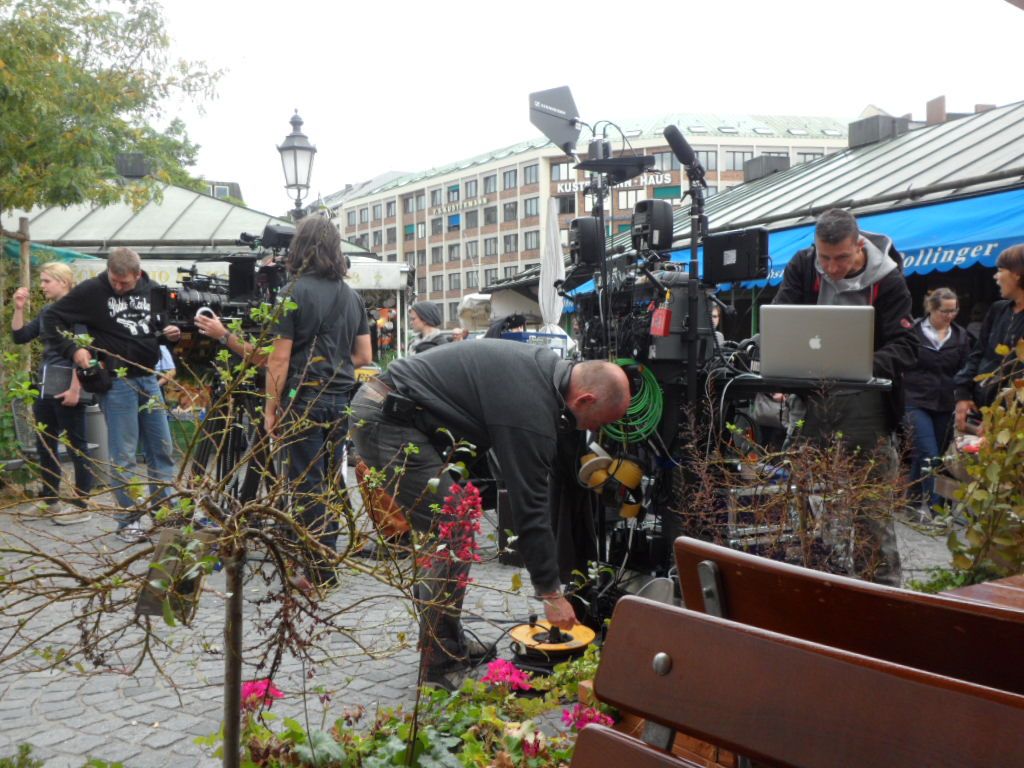 Film and production crew at Viktualienmarkt Munich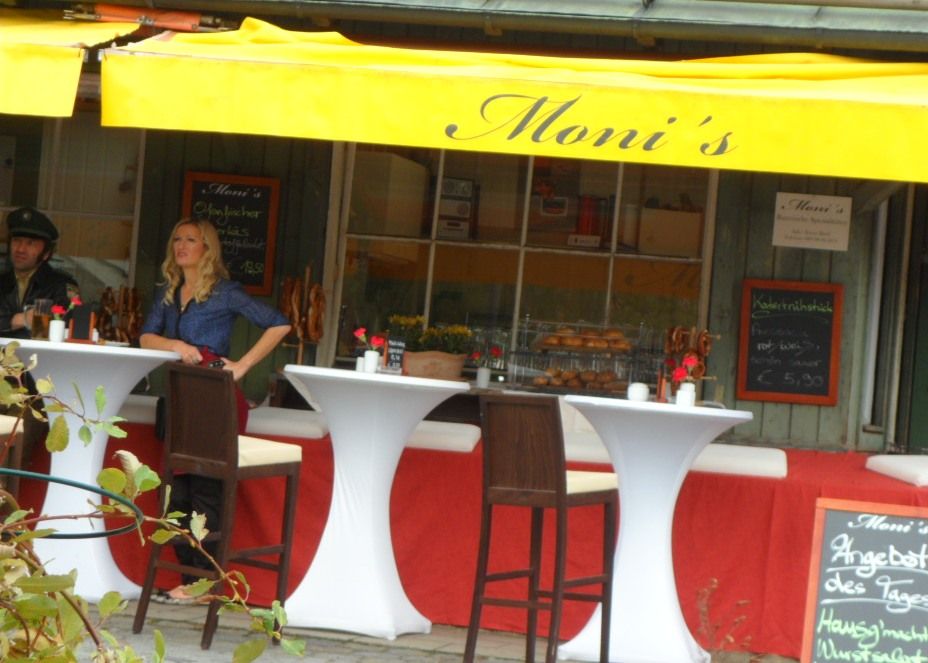 The actor and actress kept repeating this scene over and over again…
How to get to Viktualienmarkt Munich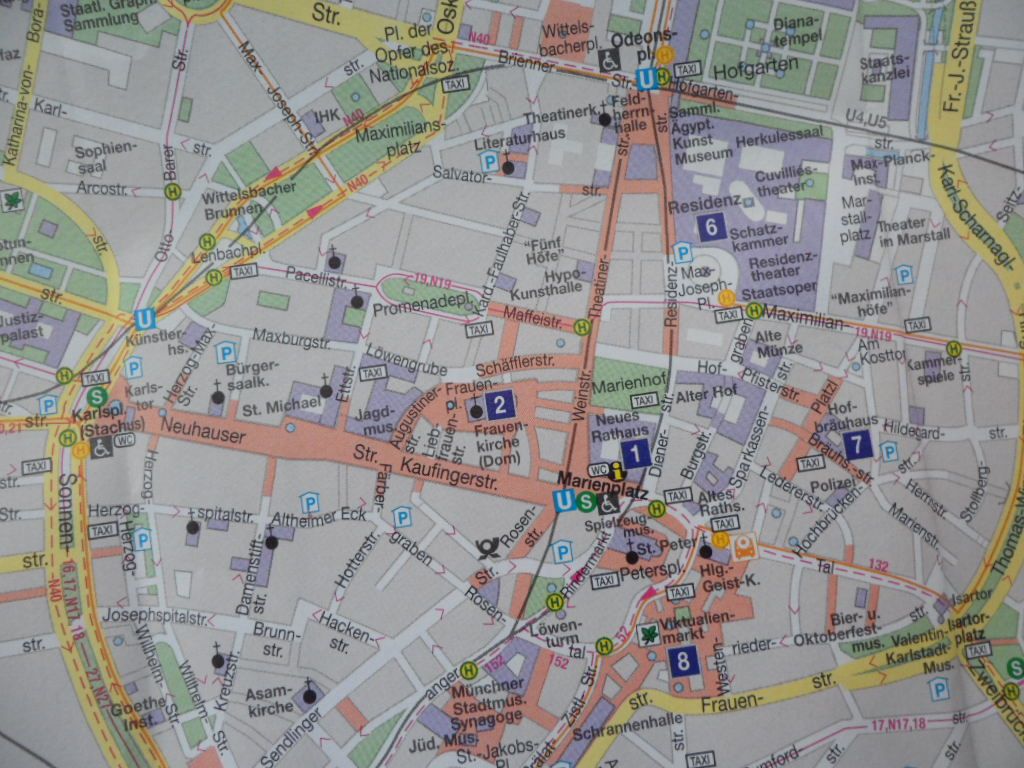 Map of Munich City Centre


Map of Viktualienmarkt in Munich
If you're coming from Marienplatz (after visiting Glockenspiel), head south, towards St. Peter's church. Make a turn at the corner and you will arrive at Viktualienmarkt!
Related Posts
You have just finished a post in this series of our travels in Munich. Find out more about Munich in these related posts!
Top 7 Things to do and Attractions in Munich Germany
Englischer Garten Munich : A surfer's paradise?
Viktualienmarkt Munich : A Market in Munich City Centre
Marienplatz Munich : Old Town Square of Munich
Glockenspiel Munich : Top 10 Clock Towers in the World
Hofbrauhaus Brewery Munich : Fresh Beers and the Best Pork Knuckle Ever!
Oktoberfest Germany Munich : The Biggest Beer Festival in the World!
Oktoberfest Munich, Germany: Things to do and Attractions (Besides Beer that is…)
If you enjoyed our content, "Like" us on Facebook Today!

For your convenience, we have arranged for the best hotel deals in Munich right here!
Visit Viktualienmarkt in Munich and take in the sights and sounds that this old market has to offer!
Related posts: