Village Hotel Changi was our base from which we did our staycation and explored the various attractions in Changi! From here you will be able to explore the rural island of Pulau Ubin and its natural marine bio-diversity at Chek Jawa. Village Hotel Changi also allows you to check out the various attractions in Changi such as Changi Village, Changi Boardwalk, the Changi Museum, Changi Beach as well as the famous Changi Village Food Centre!
Village Hotel Changi itself provided rooms (with sea views!), great facilities and excellent service as well!
Before checking in, we decided to start the day early and have breakfast at Changi Village before heading to Pulau Ubin for our day trip…
Why do a Staycation at Village Hotel Changi?
1. Breakfast at Changi Village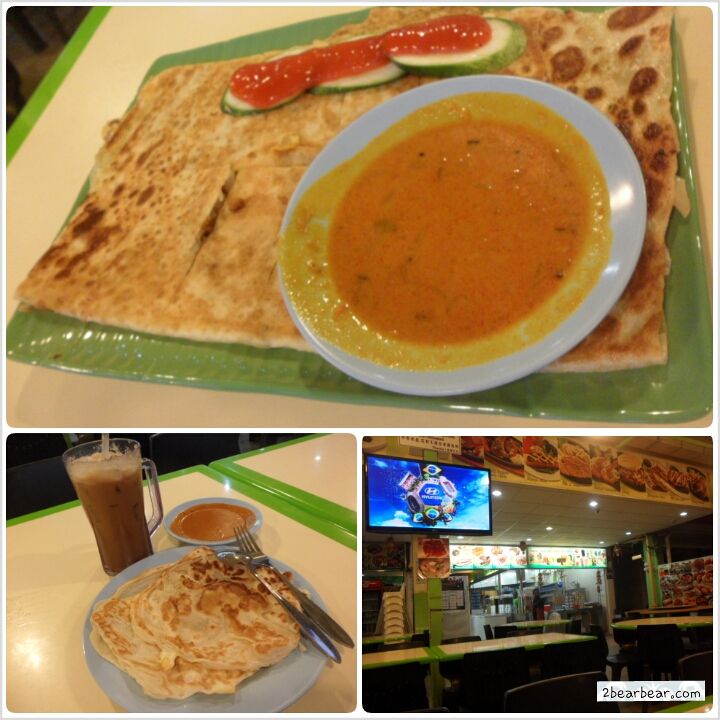 \
Prata and Murtabak Breakfast at Changi Village
There are several stalls that offer great breakfast options in Changi Village, just check out the size of that murtabak! We also caught a "live" match of the confederations cup between Nigeria and Uruguay. Goals with breakfast. Cool!
2. Day trip to Pulau Ubin and Chek Jawa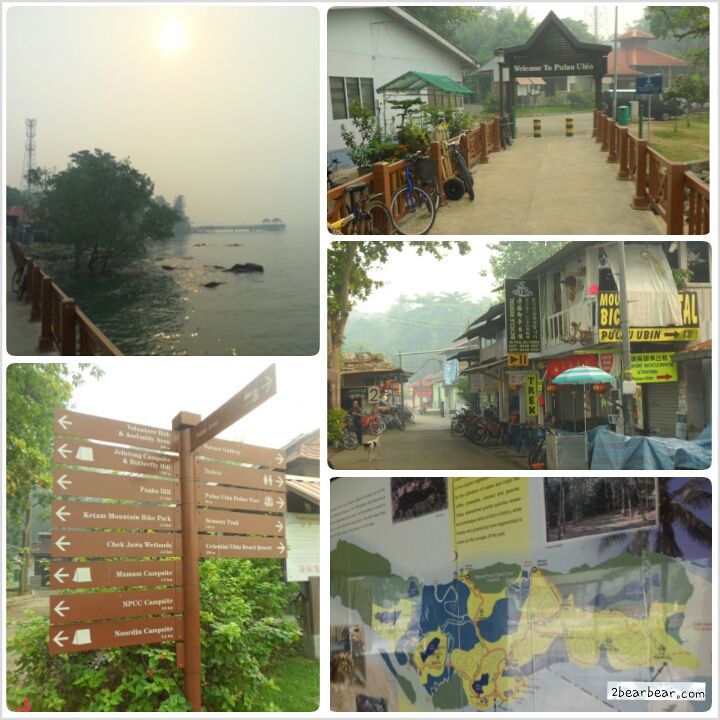 Pulau Ubin Day Trip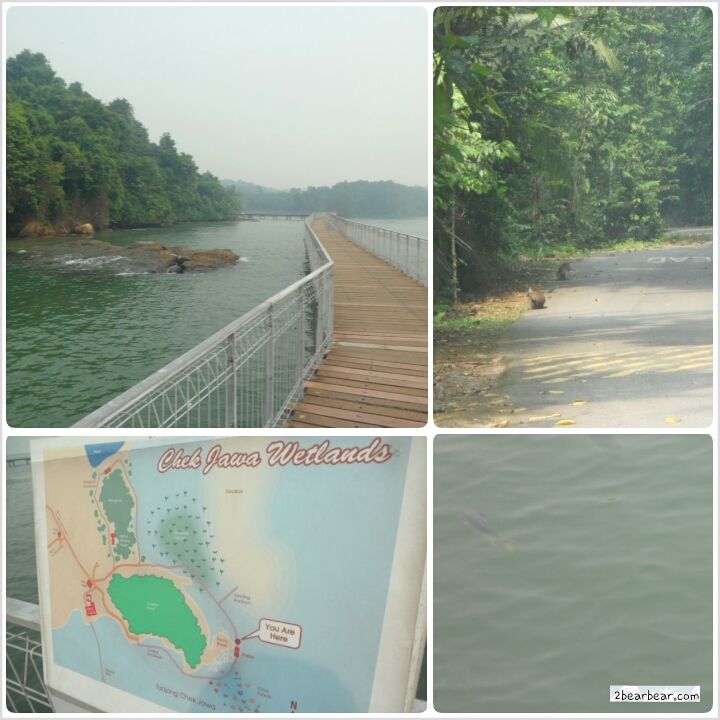 Chek Jawa Pulau Ubin
Village Hotel Changi offers a great base for a day trip to Pulau Ubin because of its close proximity to the Changi Point Ferry Terminal (just a 3 minutes walk away). From there, you can take a ferry to Pulau Ubin at a cost of $2.5 per person per trip – only 10 minutes away from mainland Singapore.
At Pulau Ubin, we checked out the kampung community, trekked, explored Chek Jawa and even saw some native inhabitants of the island – monkeys, wild boars and monitor lizards! :p
3. Amenities at Village Hotel Changi
Check in time at Village Hotel Changi was 12pm. Though we were a little early, the staff at the reception quickly made arrangements to ensure that our room was ready. All the while maintaining professional service and smiles all round. We also got the coupon for our car. At the same time, we were specially reminded to place the ticket in before the cash card upon exit of the carpark. Special thanks to Zaw and Habibah for making our check-in a smooth and effortless one 🙂 As I was checking in, Kate went about the lobby of Village Hotel Changi to take some photos…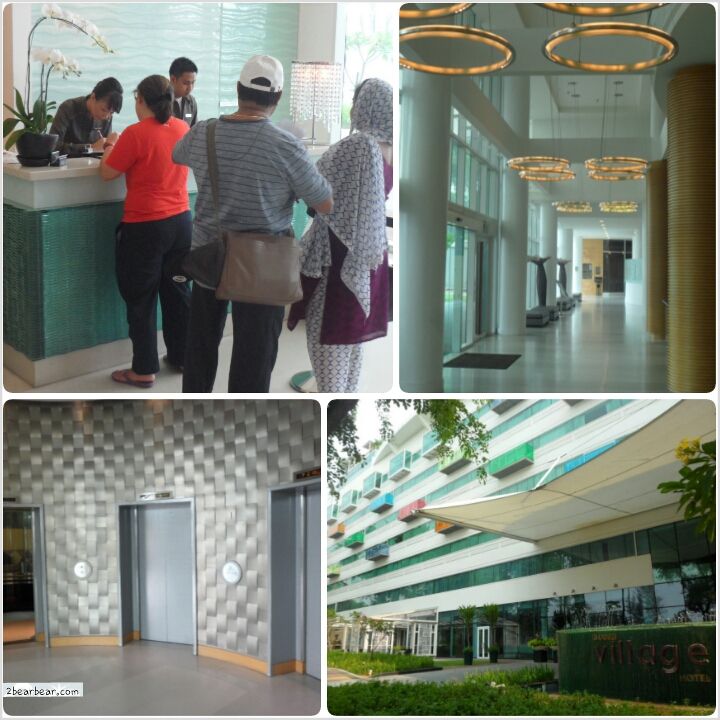 Lobby and facade of Village Hotel Changi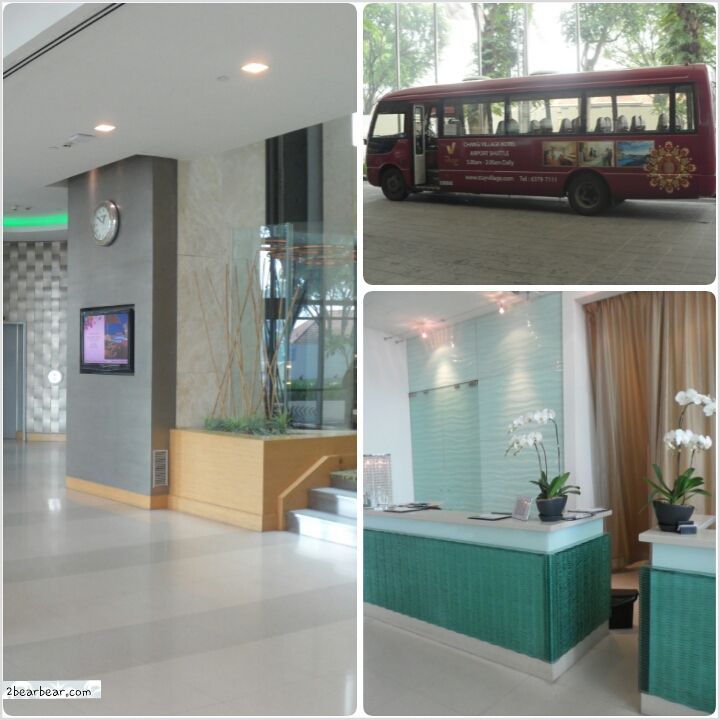 Village Hotel Changi offers daily bus transfers to Changi Airport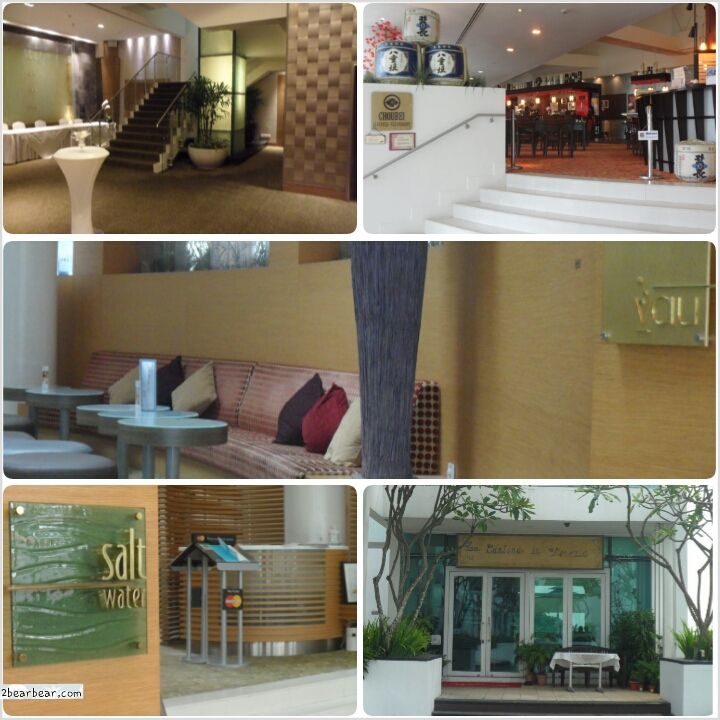 Dining options at Village Hotel Changi – Saltwater Cafe, Vau Wine Bar, Chou Bei Japanese Restaurant and La Cantina Italian Restaurant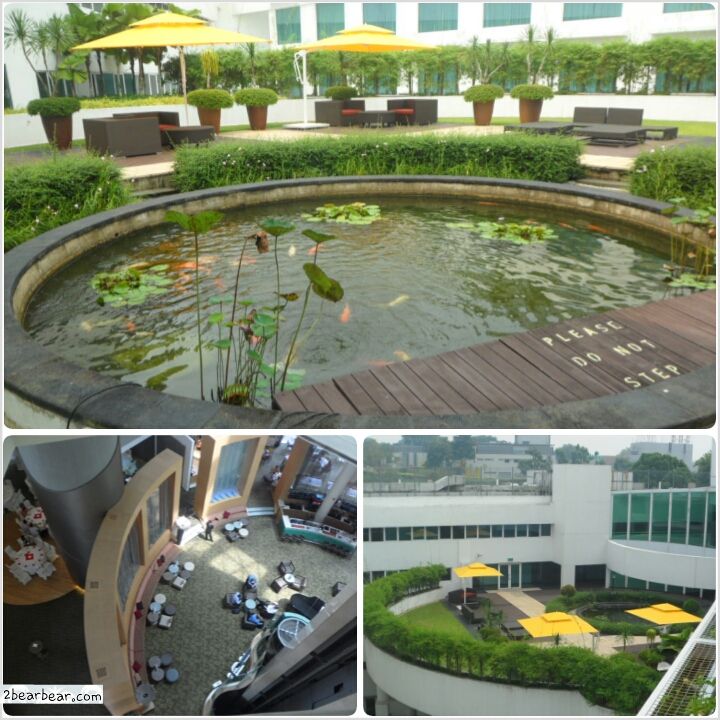 Koi Pond at level 6 of Village Hotel Changi – feeding available at $2 SGD
While you're here at the Village Hotel Changi, we would advise you to upgrade to the Executive Club Room. This is because, you will be able to stay on the executive floor, enjoy food and drinks at the executive lounge (which we'll talk about later) PLUS, rooms with an attached balcony, overlooking the sea! All day sea view!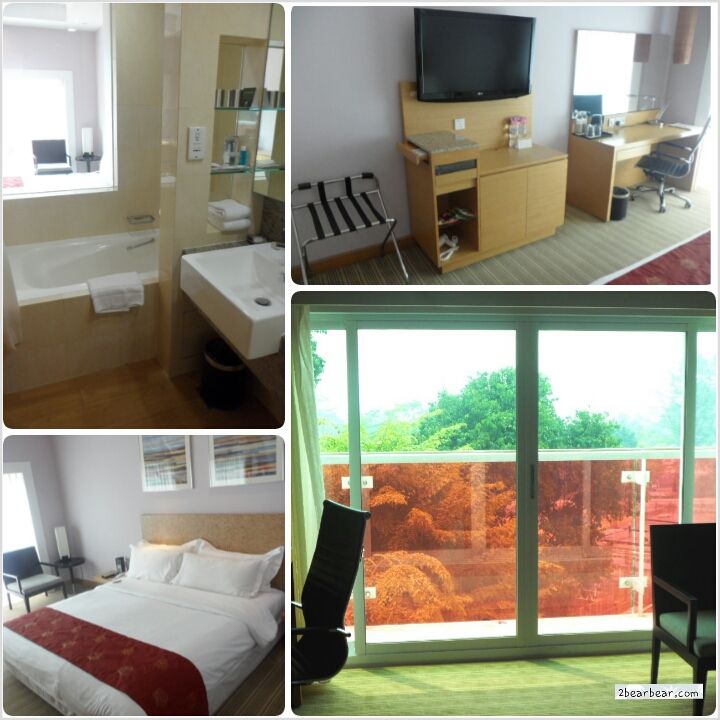 Executive Club Room with attached balcony, bathroom and sea view at Village Hotel Changi!
Kate commented that the balcony & sea view resembled our cruises. If you lie down, seeing the sea, you'd have a feel as though you're on a cruise! The other cool thing about the room is that there's a glass window from the bathroom where you can have great sea views while enjoying the bath. Great for couples 🙂
A recommendation would be to add a mirror on top of the shower point so that when you lie down in the bath tub, you can still watch TV from the bathroom!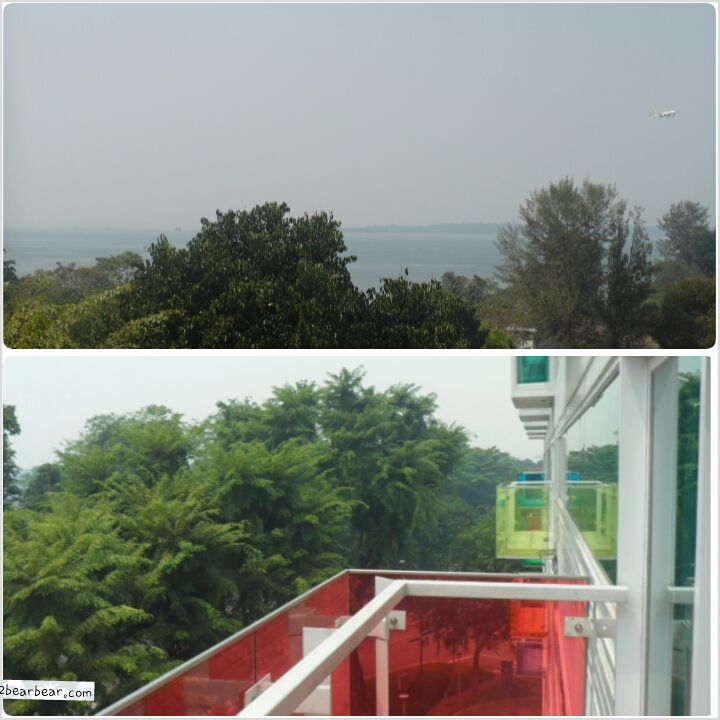 Sea views from Executive Club Room of Village Hotel Changi
As it was Tom's birthday, a cake was also specially delivered to our room after we checked out our room. A huge chocolate mousse cake. A nice gesture from the hotel! Needless to say, the bed was SUPER COMFY! After turning in, the next moment I opened my eyes, it was already morning! Greetings from the blue waters of the sea also made the rest in the room, extra special.
Privileges of the Executive Club Lounge of Village Hotel Changi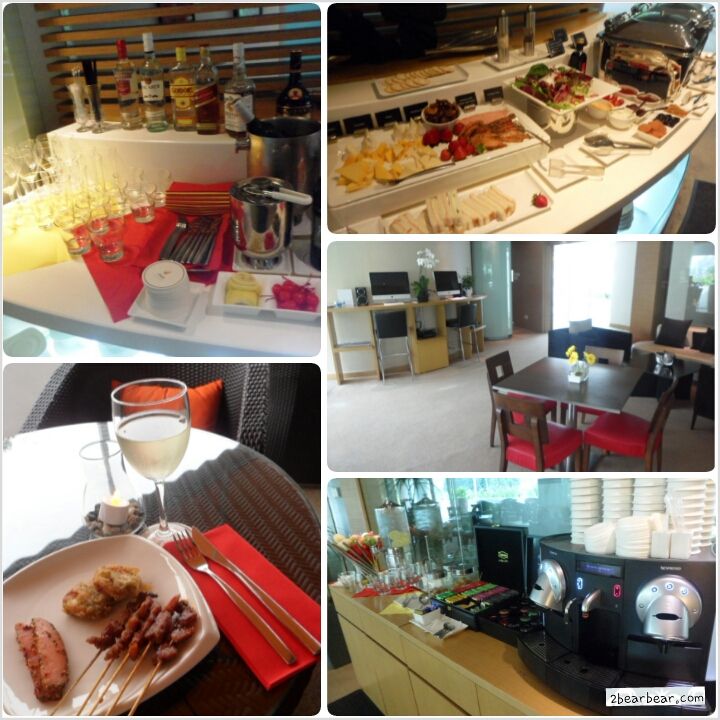 Privileges at the Executive Lounge of Village Hotel Changi
We were saying earlier that you will have to upgrade to the executive club room for a staycation at Village Hotel Changi. This is because, for most parts of the day, you will be able to enjoy drinks (orange,apple,guava,milk,soda,ginger beer,water,coffee and tea) as well as snacks (nuts,cookies,fruits). Free flow! Haha, the real Singaporean…
In addition, from 6pm to 8pm daily, there's a cocktail session at the executive lounge!
At the cocktail, you will be able to enjoy beers (Tiger,VB,Foster's), red wine, white wine and champagne. There are also classy tapas such as the seafood croquette, smoked salmon and a local delight – satay (barbecued meat on a stick). Yes, drinks are free-flow! (True Singaporean once again) So if you add the privileges, it is actually worth more than the price of upgrade ($50++). You can treat the cocktail as a meal, saving on a meal altogether. From our perspective, this is quite a good deal 🙂
For a staycation to be an excellent one, the swimming pool must come up tops! You wont believe this but THERE ARE 2 SWIMMING POOLS AT VILLAGE HOTEL CHANGI!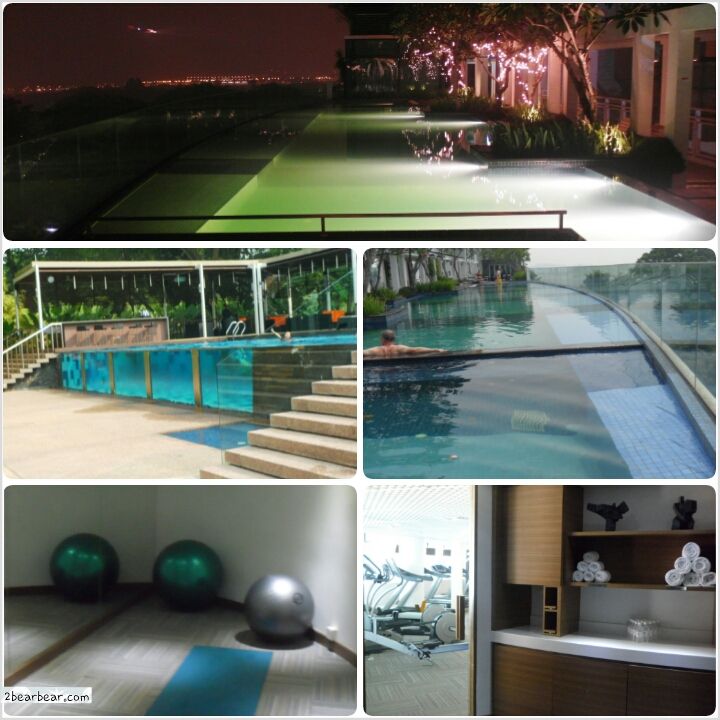 2 swimming pools at Village Hotel Changi
The first swimming pool is at level 1, beside the Saltwater Cafe. The cool thing about this pool is that it is like a fish tank! Plus, there's a bar beside the pool for you to enjoy a drink immersing in the idyllic atmosphere. We were told that the swimming pool, located at level 8 is modelled after the infinity pool of Marina Bay Sands. There's a jacuzzi at the infinity pool as well. The best part of the infinity pool is that you can lie on an elevated platform overlooking ocean views and Pulau Ubin! Kate said I looked like a beached whale…*sob sob* :p
Breakfast at Village Hotel Changi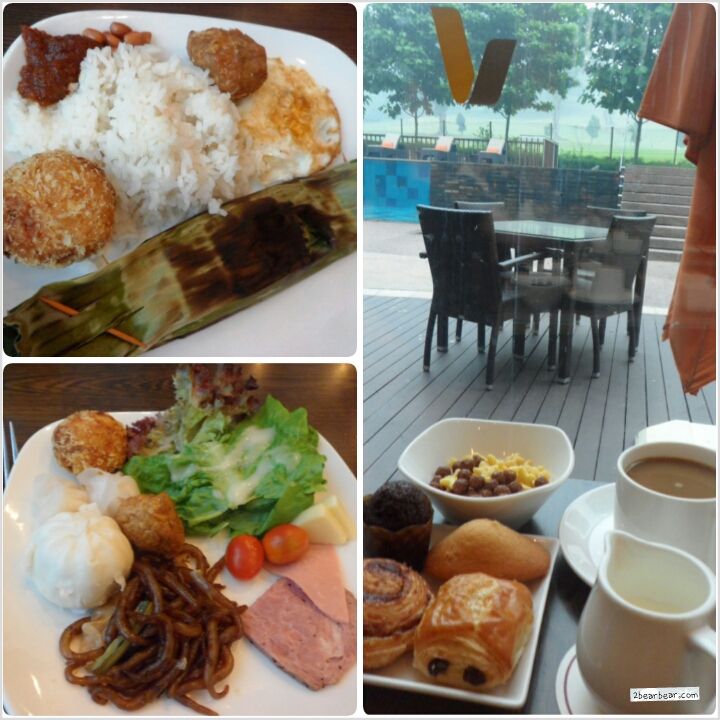 Buffet Breakfast at Village Hotel Changi
The breakfast at Village Hotel Changi serves up a typical hotel buffet, serving cereals and breads as well as local delights such as nasi lemak and buns. Food was simple but the service was great! We were promptly seated down at a seat overlooking the pool and asked if we would like coffee or tea for our breakfast. We gently declined, preferring it at the end of our meal (so that it remained hot). Along the way, plates were cleared promptly with a huge smile. At the end of our breakfast, when we finally overturned our coffee cups, we were promptly served our coffee and tea! We then proceeded up to the executive lounge to continue with more gourmet coffee, waffles and my daily dosage of the newspapers. Sometimes, its really nice just to enjoy a cuppa, take in the morning sunlight with crisp morning papers in hand. Simple and nice. 🙂
4. Changi Village Food Centre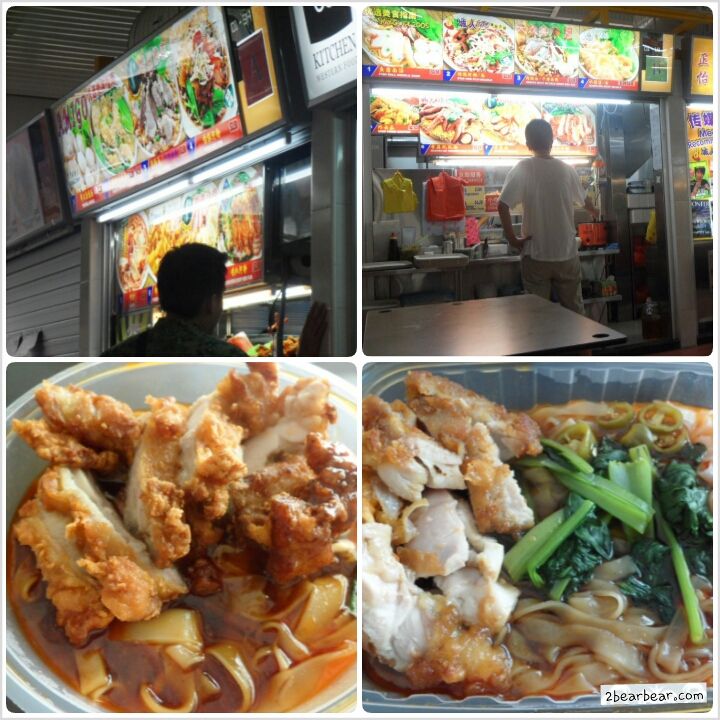 Local Hawker fare at Changi Village Food Centre
Changi Village Food Centre is just a stone's throw away (almost literally!) from Village Hotel Changi! It is a famous spot for excellent local fare in Singapore. Check out our post about the nasi lemak, longan red tea pudding as well as the crispy chicken chop ipoh hor fun! Hungry already!
Staycation at the Village Hotel Changi Singapore
For a quick summary, here's why we think you should try out a staycation at the Village Hotel Changi!
1. Enjoy Village Hotel Changi's facilities and Club Lounge facilities. 2 swimming pools! Great for the kids and couples for a staycation.
2. Changi Village. Enjoy a leisurely walk along the board walk, go bar-hopping or try out the various eateries there.
3. Changi Village Food Centre. One of the best hawker joints in Singapore
4. Pulau Ubin and Chek Jawa. Rediscover Singapore's gem and its rural beauty!
There are also other attractions such as the Changi Museum and Changi Beach that you can check out as well! Having a staycation at the Village Hotel Changi, offers you a great place to start exploring our gems of the east!
How to get to Village Hotel Changi
Take the MRT to Tampines MRT station and take bus 29. The bus ride stops outside Village Hotel Changi. Alternatively, you can drive there as parking is complimentary.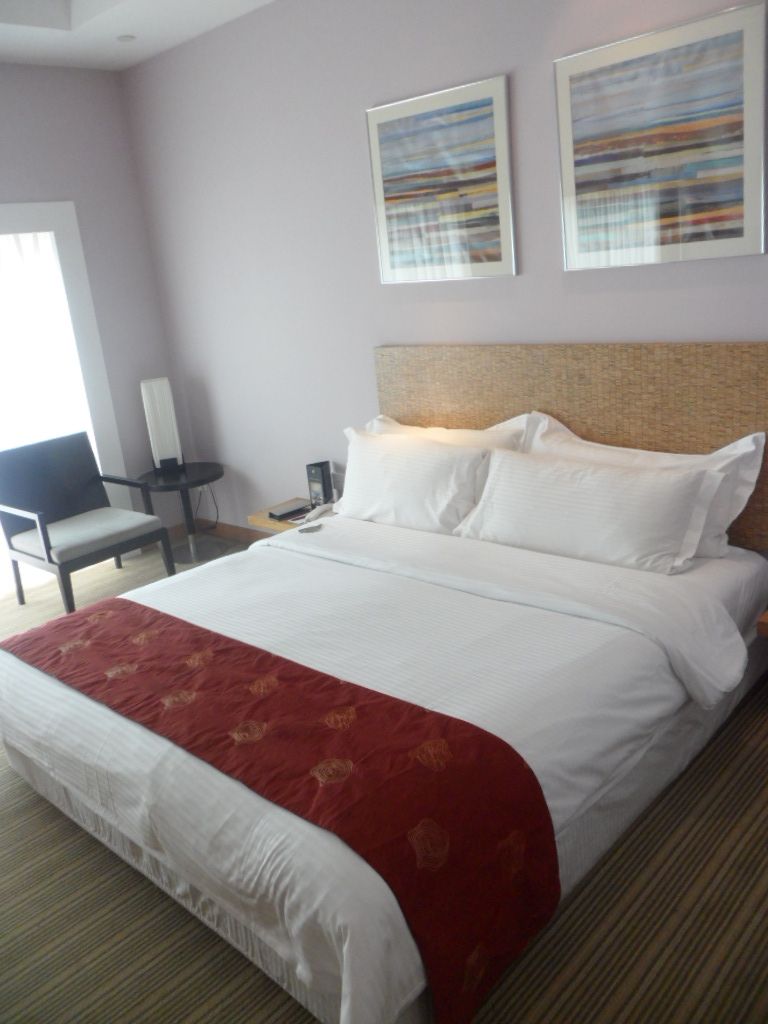 Best Hotel Deals at Village Hotel Changi!
If you enjoyed our content, "Like" us on Facebook Today!

Enjoy your staycation at Village Hotel Changi and rediscover the idyllic gems of Singapore right here!
**Special thanks to the great people @ Far East Hospitality for making this staycation possible!
Click here for the best rates at Village Hotel Changi!
Click on the following posts to see all our Singapore Staycation Reviews!
Top 10 Singapore Staycation Ideas!
Grand Mercure Roxy Singapore Staycation : The Studio Suite!
Uniquely Singapore Staycation at Village Hotel Katong!
Ritz Carlton Singapore Staycation: Simply Shiok!
5 Reasons Why You Should Do a Staycation at Hotel Jen Tanglin Singapore's Newly Refurbished Club Room!
Pan Pacific Singapore Hotel Harbour Studio Staycation!
Rendezvous Hotel Singapore : Staycation in the Heart of the Art District!
Quincy Hotel Qool Weekend Staycation : Singapore's ALL-IN Staycation!
National Day Staycation at the Regent Singapore – A Four Seasons Hotel!
Village Hotel Changi Staycation : Rediscover the gems of Singapore!
Awesome Staycation at the Grand Mercure Roxy Singapore!
Raffles Hotel Staycation Singapore : Relax & Rejuvenate!
Amara Sanctuary Resort Staycation Singapore Sentosa 2 Bedroom (BR) Villa with plunge (private) pool
D'Resort @ Downtown East : A Perfect Staycation for the Entire Family!
Swissotel Merchant Court Executive Room Staycation : Right in the heart of Clarke Quay!

A Letter to Jen (Hotel Jen Orchardgateway Staycation)…
Oasia Hotel Staycation Review!
AMOY Hotel Singapore : Why you should stay here during your next visit
The Ultimate Family Staycation at Shangri-La's Rasa Sentosa Resort & Spa!
3 Singapore Staycation Ideas for 2017!
Related posts: