Did you know that Voyage De La Vie is actually a production of Andrea Teo? She was the brains behind sitcom hits such as Under One Roof as well as Phua Chu Kang.
After watching Voyage De La Vie, we realised that it is much more than an ordinary acrobatic show. It combines a storyline, musical styled singing, elaborate costumes and of course the death-defying acts.

Entrance to Festive Grand at Resorts World Sentosa RWS
What sets it apart from acrobatic shows has got to be its storyline. It is about a working adult, trying to find out more about himself and the direction that he wants to take. The singing that is intertwined into the entire production was actually not bad as well. The goddess who guided the young adult sang as though she's from the opera. Not too bad we must say.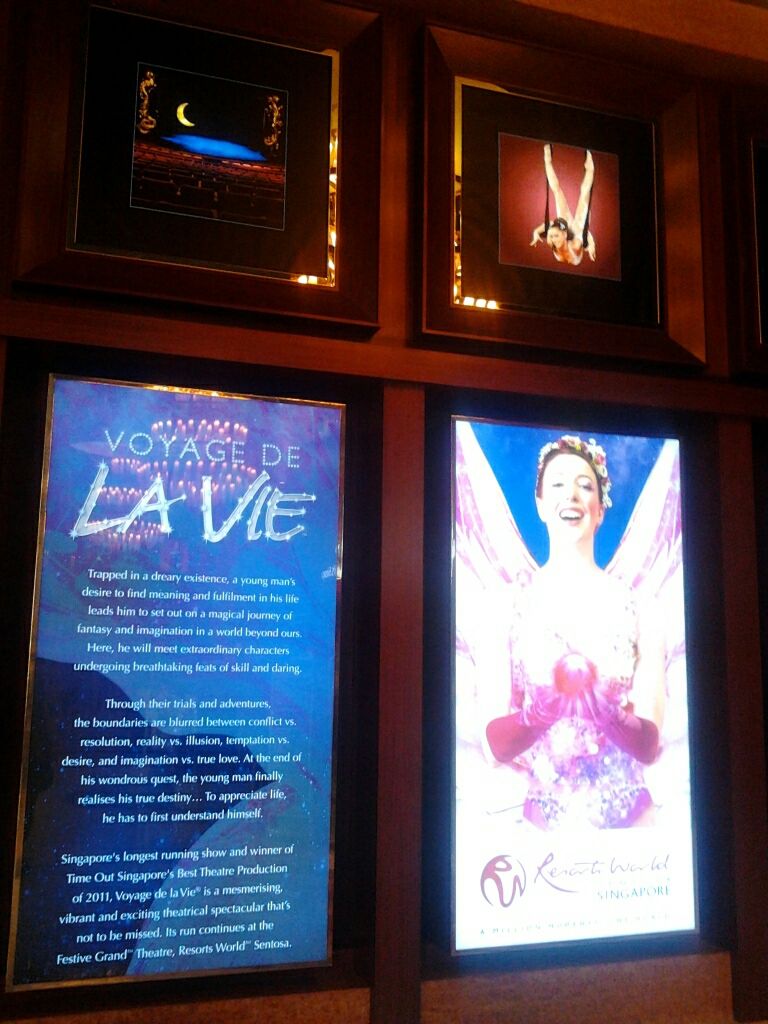 Synopsis of Voyage De La Vie Resorts World Sentosa RWS
Voyage De La Vie is a show currently running at Resorts World Sentosa (RWS) and is in its final weeks. Voyage De La Vie is shown in Festive Grand and compared to Sands Theatre in Marina Bay Sands where we watched A Chorus Line, the seats were so much more comfortable and spacious!

Dragon on the side of the stage in Festive Grand Resorts World Sentosa RWS
The tickets that we bought for category 3 costs $68 each and if you're able to, follow our tips in A Chorus Line post to get the best seat for your dollar! Eventually, we chose a seat that was just next to the Cat 2 seats ($88 per ticket) and thoroughly enjoyed the show.

Festive Grand Ticketing Center and Gift Shop Resorts World Sentosa RWS
The show was spectacular. Some of the acts were also nothing short of death-defying, LITERALLY! You could hear the audience gasp for some of the acts and we will tell you more…
Rope Swing
This was the MOST dangerous stunt of the entire show. A lady was taken high up above the theatre where she swung on a rope (much like that of a swing) at a very high speed. At the peak of her swing, she actually LET GO OF HER HANDS and we actually thought she was going to fall straight into the audience! That's when most of the gasping came. Somehow, her legs managed to secure unto the rope and she hung on!
Our hearts almost dropped for this act!
Swing with a horizontal bar
The difference between this swing and the rope swing is that there is a horizontal bar which you can sit or stand on. Again, the swing was taken high up above the theatre and she swung gently as she went into very dangerous positions! In one of these positions, she was balancing on the bar using her back! It really seemed like if there was one false move, she would fall straight unto the stage. Remember, the swing was still moving gently! *gasp*
The other dangerous pose was when she balanced upside down using only her legs (how can anyone do that?!). She must have very strong muscles all round. Another of the *gasp* moments.
There were of course other acts such as wu shu (chinese martial arts), swinging around the theatre with ropes, juggling (which we thought the Terry Parade show on Superstar Virgo – Starcruise was better), contortionist, cross-bow shooting and other smaller acts.
Speaking of the cross-bow shooting, it was REALLY DEATH-DEFYING. The artist was shooting at a lady holding a card BACK FACING HER! There was also the apple shot which was somewhat like that in robin hood. Imagine an arrow shooting at the apple above your head!
All in all, Voyage De La Vie was indeed an excellent show. However, those who have watched both Voyage De La Vie and Cirque Du Soleil, what do you guys think? You can leave your comments below.
After Thoughts
After watching the show and how the performers actually toy with death, we were thinking whether to boycott such shows in the future. The fact remains that if there is demand for such shows, there would be supply and thus young performers would pick up such acts and start training from young.
If we were to remove ourselves from the demand side of the equation, we would theoretically be reducing the need for such death-defying acts right? What do you guys think?
For your convenience, we have arranged for the best hotel deals in and around Sentosa right here!
If you enjoyed our content, "Like" us on Facebook Today!

Related posts: