Central's layout isn't the best (in my opinion). There are shops hidden around the corner and often get missed. I must say I visit Central quite frequently and there are still shops I didn't know existed!
Anyways, back to the main point of this post 😛 Tom and I were looking out for a quiet place to have dinner on a rainy evening. We decided on Japanese cuisine and we chanced upon Watami Japanese Casual Restaurant when we were looking for the toilet! (and that backs up my side point!) We were attracted by the half price dessert menu but was disappointed when we found out that we have to order the set meal in order to enjoy the special deal.
We thought about it and decided to order ala carte instead. The menu is extensive so it took some time before we placed our order.
Watami Ramen: $13.80
Tonpeiyaki: $8.80
Matcha Tiramisu: $4.80 and
Hot Choco Brownie: $6.80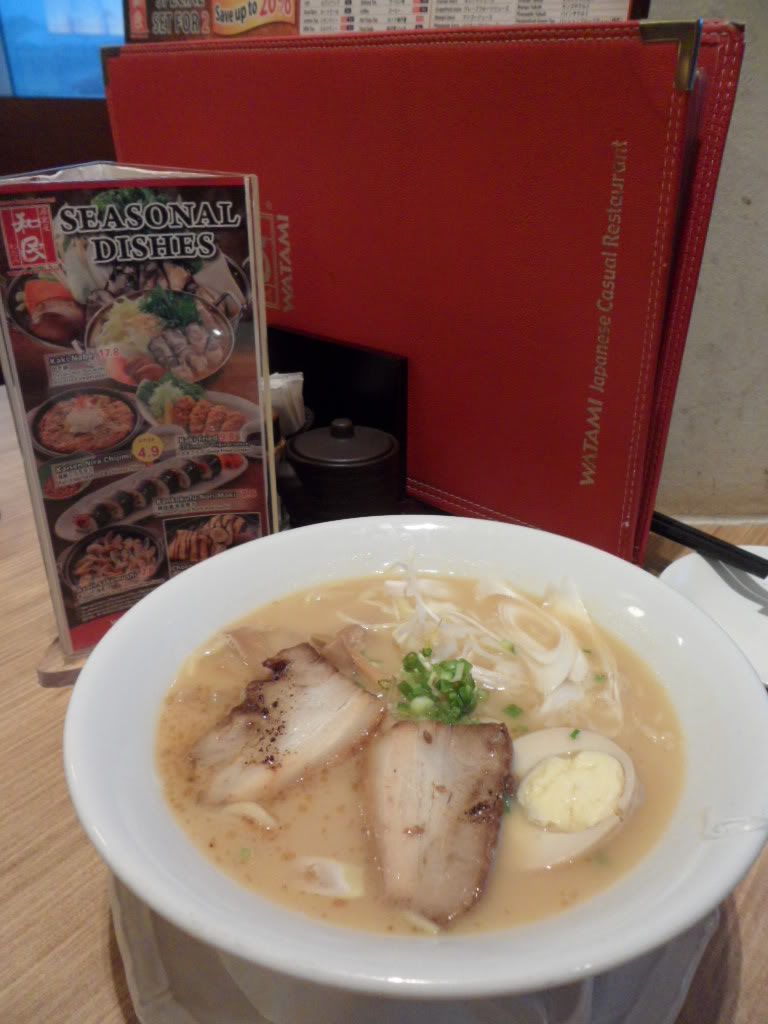 Ramen from Watami Japanese Casual Restaurant @ Central
The ramen was served first and it is my favourite kind of pork-based soup. It was flavourful and not too salty. The noodles was however a little too "doughy" for my liking, and only 2 pieces of meat was given. (compared to the ramen from RWS)

Tonpeiyaki from Watami Japanese Casual Restaurant @ Central
The tonpeiyaki is still sizzling when the waiter brought it to our table. I loved the sauce liberally drizzled over it and the melted cheese brought the ingredients together.

The Tonpeiyaki sliced to reveal the ham and cheese

Matcha Tiramisu & Hot Chocolate Brownie from Watami Japanese Casual Restaurant @ Central
We were quite full when our desserts were served. But of course, there is a separate compartment in our stomachs for desserts, at least for me! Even though Tom is not a big fan of tiramisu, he truly enjoyed the matcha tiramisu. The green tea flavour is subtle and the mascarpone cheese is creamy yet light. The hot choco brownie was however too sweet and we had to wash it down with our glass of iced water.
All in all, it was a great way to chill out on a rainy evening. The ambience is warm and cozy with a sneak view of the river. The staff are friendly and attentive (they kneel down so that they are at your eye level or lower when they take your order!). The menu is extensive and includes a huge variety of drinks (alcoholic and non-alcoholic). Just remember, don't overeat! Or overspend! Sometimes ala carte is better than a set meal 🙂
If you enjoyed our content, "Like" us on Facebook Today!

Related posts: