Beaches or McMenamins? That is the question.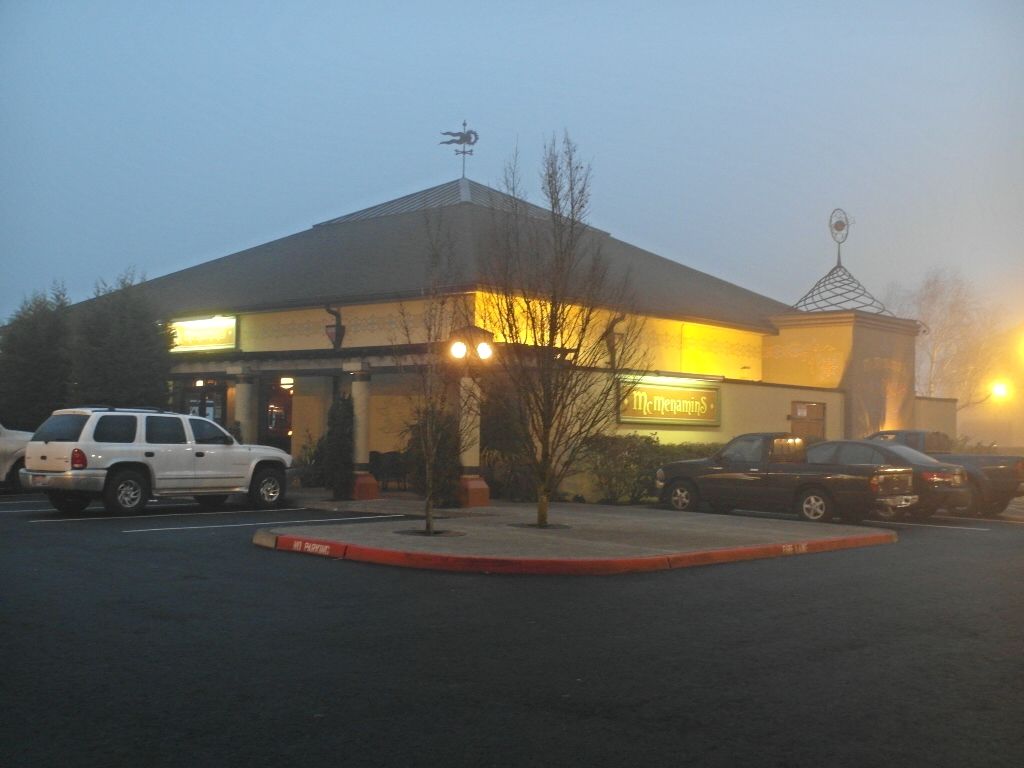 McMenamins Brewery Or…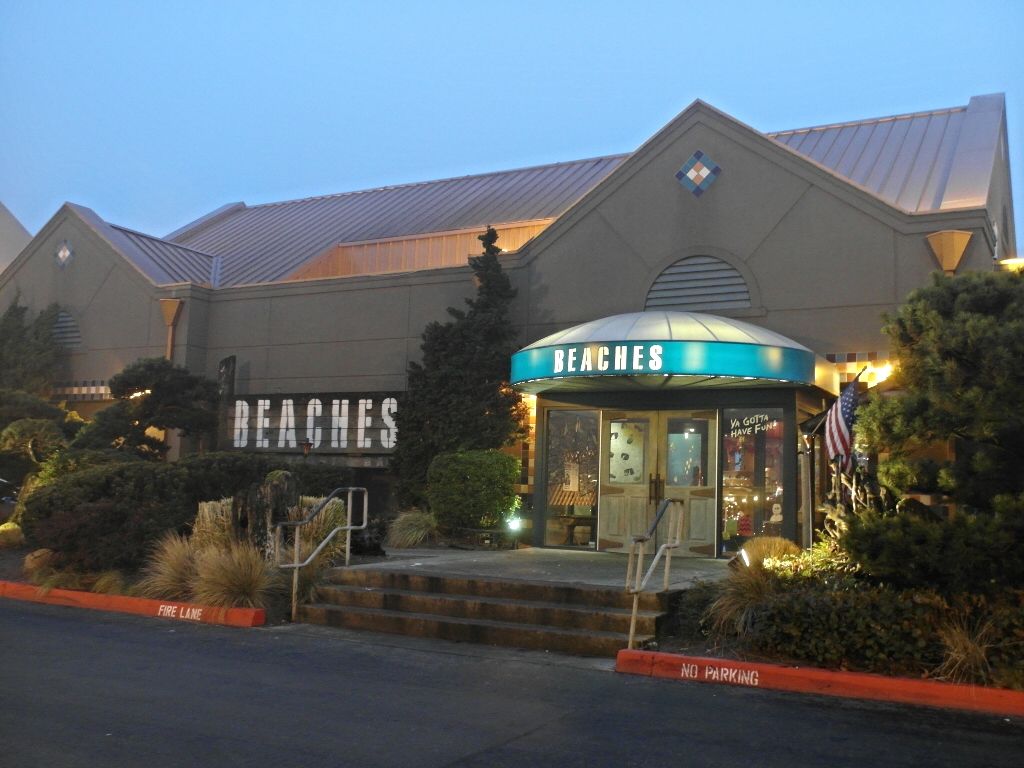 Beaches Restaurant and Bar Vancouver Washington?
On our first night in Vancouver Washington, we originally wanted to visit McMenamins because of its brews. However, when we told by our concierge at Hilton Vancouver, that the service was not so good and the food was not fantastic either. Instead, we were recommended to visit Lapellah or Beaches.
We actually visited Lapellah first but as it was Christmas Eve, it closed at about 4pm. So we headed off to Beaches which opened till 630pm that evening.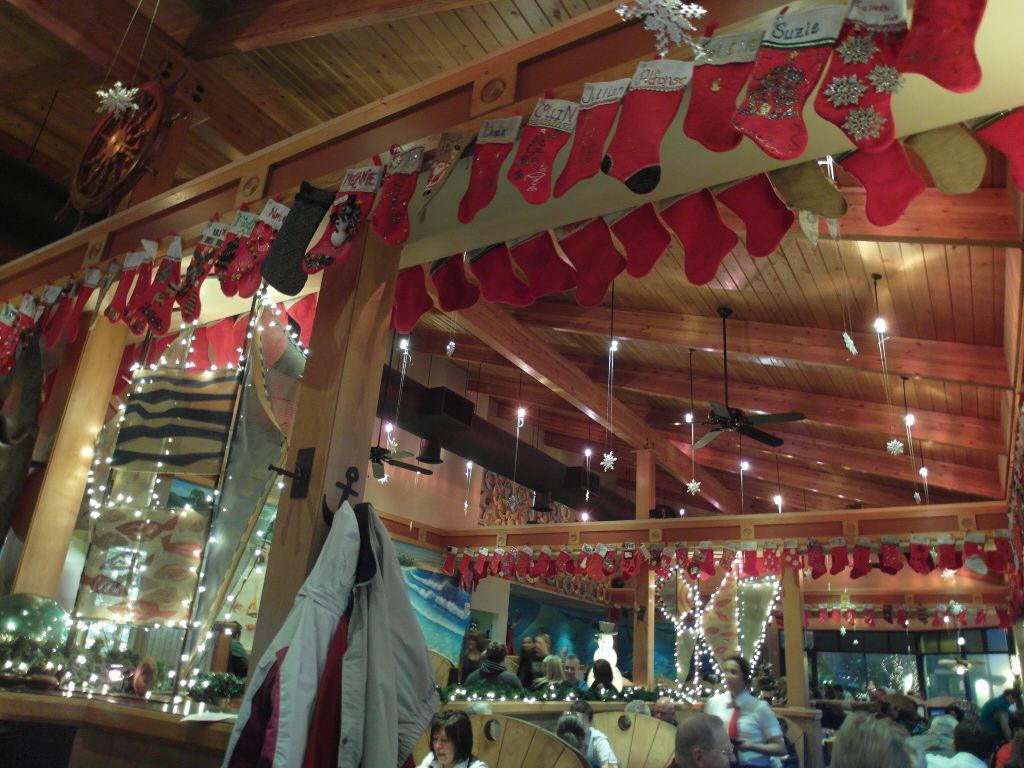 Inside Beaches Restaurant and Bar Vancouver Washington
What to eat and drink at Beaches Restaurant and Bar
Although we did not make reservations that evening, we were thankfully able to quickly have a seat eventhough the restaurant was almost full. Seemed like we took the 2nd last table (table beside us was soon taken up as well). After browsing through the menu, we decided to go for the honey crisp apple wheat cider and Coor's Light first…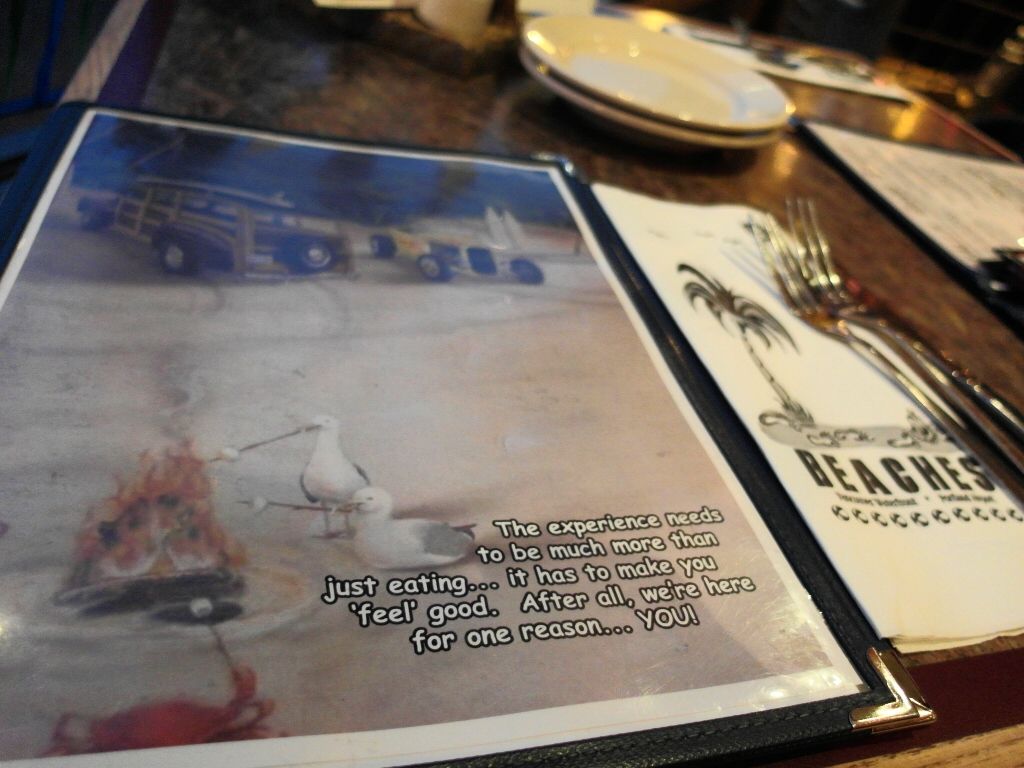 Menu at Beaches Restaurant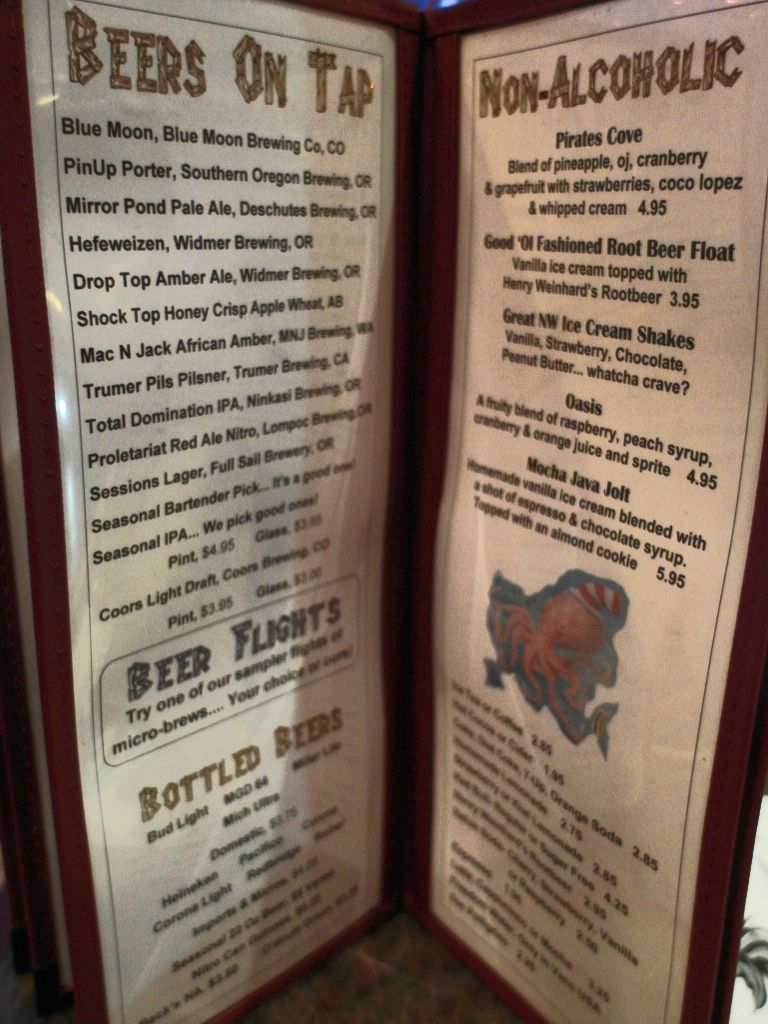 Drinks Menu Beaches Restaurant Vancouver Washington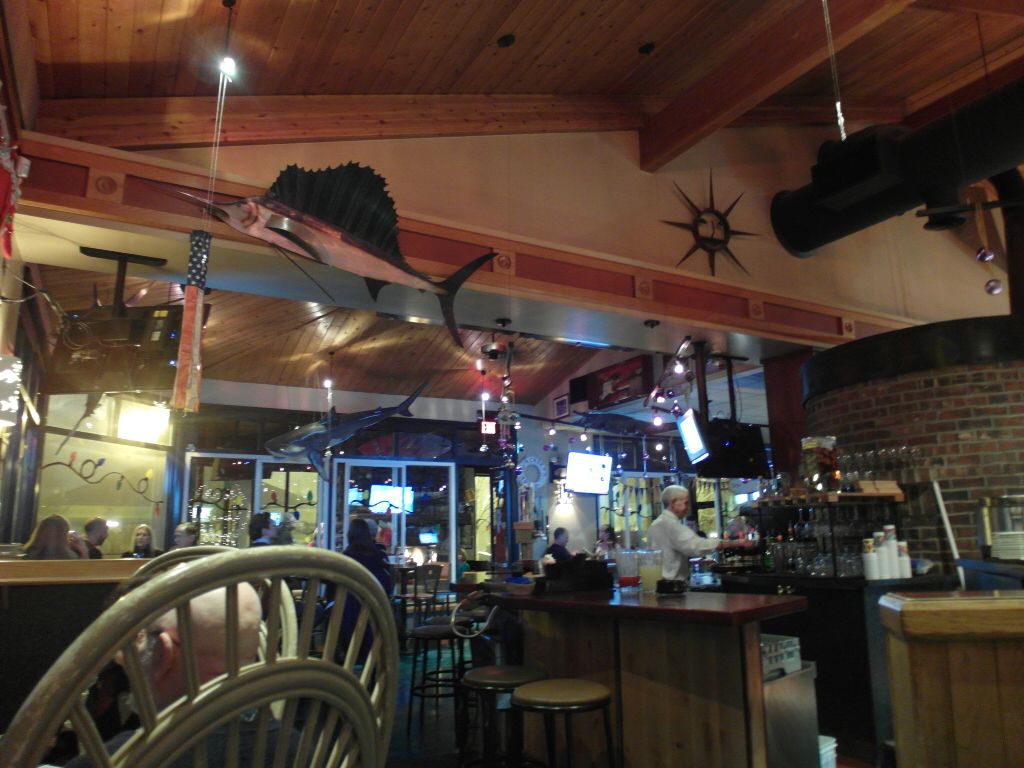 Bar area of Beaches Restaurant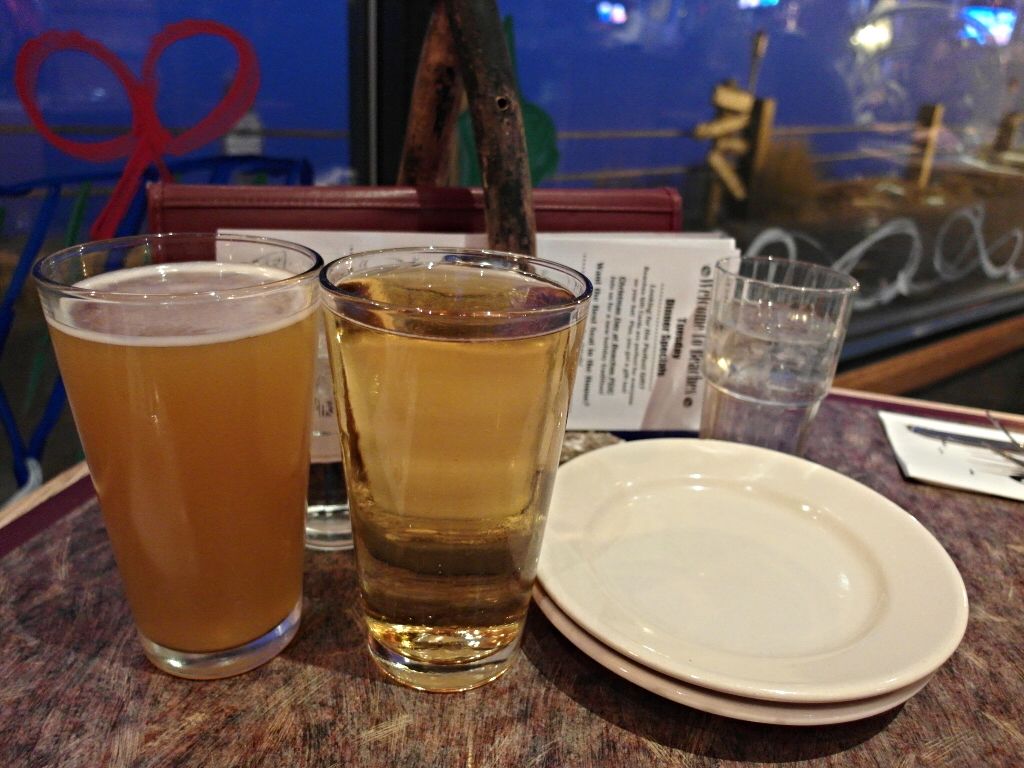 Honey Crisp Apple Wheat (4.95USD) and Coors Light (3.95USD) in Beaches Restaurant
Kate chose the Shock Top Honey Crisp Apple Wheat while I had the Coors Light (to lighten the guilt since we're having the "Guilty Burger"). Turns out that the crisp apple wheat cider was an excellent choice. Our waiter also told us that he preferred this version of the apple cider because it was not too sweet and had a soothing after taste – totally enjoyed it. For a dollar more, you should go for the cider as well 😉
Next, we decided on the food. We spared no expense as we were from thousands of miles away and we're definitely gonna get some good food this evening. So we went for the Guilty Burger and the Baby Back Rib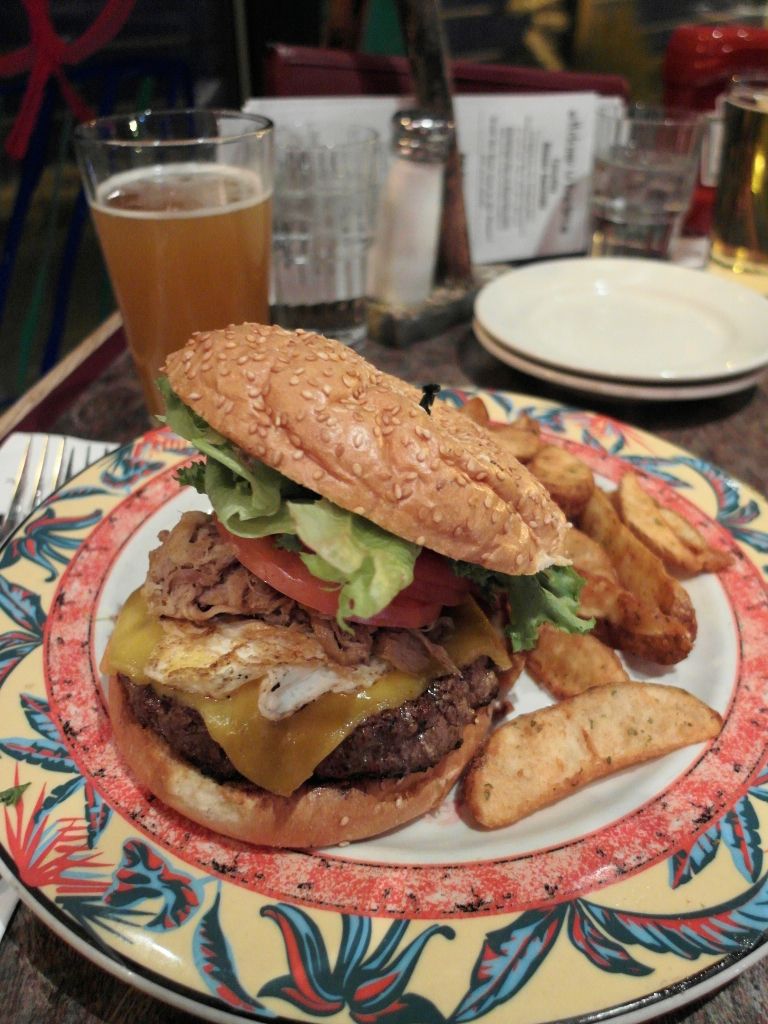 Guilty Burger at Beaches Restaurant and Bar (11.99USD)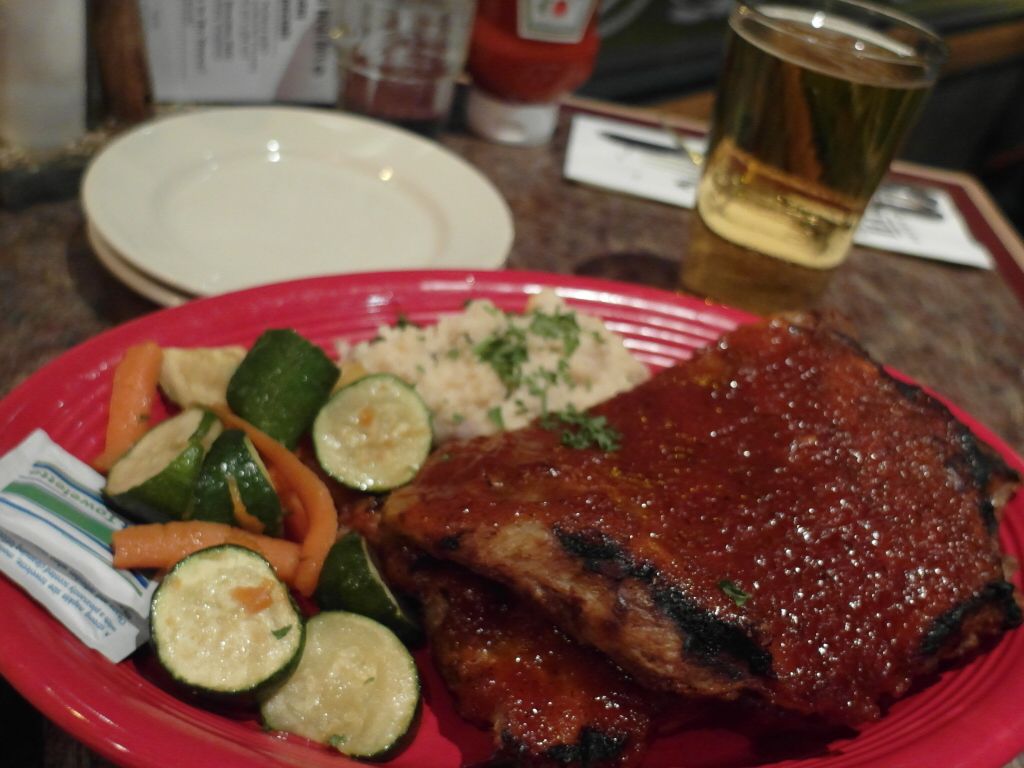 Baby Back Rib of Beaches Restaurant and Bar (20.99USD)
The Guilty Burger really makes you guilty. It is just a monster of a burger! There's pulled pork, grilled beef (seriously? 2 different heavy meats in a burger?!), loaded with cheese, eggs and veges. The part we love about the burger is its grilled beef. It was tender and had a flavourful smoky taste to it.
We noticed how the chefs do the burger patties. They would flip them and place sort of like a lid over it, allowing it to simmer with its own flavours, locking the juices in. That explains the tender, juicy bit of the grilled beef.
But the highlight has got to be the baby back rib. Probably the best ribs we've had. BETTER THAN CAFE CARTEL'S St. Louis' Pork Ribs. It's true. The meat literally FALLS OFF the bones just with a gentle flick. The smoky caramelised bits and lightly sweetened (not too sweet kind) BBQ sauce topped off this dish.
Did we mention, it's probably the best ribs we've ever had?
If you enjoyed our content, "Like" us on Facebook Today!

Related Posts
This is part of our coverage of San Francisco, Seattle and Vancouver USA. Check out these posts if you're visiting the West Coast of USA!
Top 5 Things to do and Attractions in Vancouver Washington USA!
Top 11 Things to do and Attractions in San Francisco USA
Top 8 Things to do and Attractions in Seattle USA!
Things to do and Attractions in Eureka California!
Metropolitan Grill Seattle : Are the steaks worth it?
Seattle Underground Tour by Bill Speidel : A tour not to be missed!
Seattle Space Needle , Chihuly Garden and Glass and the Monorail to Westlake Center
World's first Starbucks in Seattle – Do not be confused!
The Crab Pot Sea Feast : A Seattle MUST TRY!
Pike Place Market : (Possibly) Seattle's Top Tourist Attraction!
What's YOU MUST DO at San Francisco's Fisherman's Wharf!
Pizza and beers at Umbria San Francisco!
Great Eastern Restaurant Chinatown San Francisco : Even Obama visits it!
The steep slopes of San Francisco : A Pictorial Post
San Francisco's "Crookedest Street" at Lombard Street!
Scenic Oregon Drive from Vancouver to San Francisco!
Travel Through Time with Historic Monuments at Vancouver Washington!
Vancouver Washington's Natural Wonders!
Catching Portland Winterhawks in action after Burgerville Meal!
Why You should eat at Beaches Restaurant than McMenamins in Vancouver Washington
Red Lobster….FINALLY!
Inn at the Market Seattle : All about Location Location Location!
San Remo San Francisco : Hotel with a PRIME location!
Palace Hotel San Francisco : A great mix of History, Class and Luxury!
Heathman Lodge Vancouver Washington : One of our best hotel stays EVER!
Hilton Vancouver Washington : Classy Stay & Room with a View!
For your convenience, we have arranged for the best hotel deals at Red Lion Hotel Vancouver Washington right here! It is just a short walk along the waterfront to both Beaches and McMenamins!
Related posts: