If you're looking for 1-for-1 Sangrias, then head on down to Fandango at Chijmes! Kate and I wanted to chill at Chijmes and we chanced upon the happy hour promotions at Fandango, so off we went! (Ok lah, let's face it, Sangria is a chick's drink, so you all can guess who wanted to go hor… :p)
The happy hour at Fandango Chijmes starts from 3pm to 7pm daily and is available for Sangrias, house pours and beers. For Sangrias, it is only available by the glass, not the jug.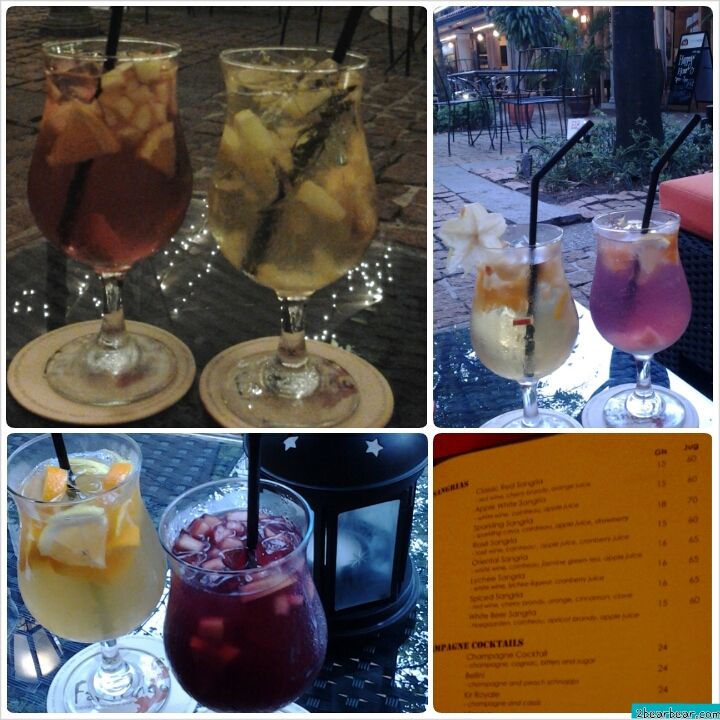 Sangrias at Fandango Tapas & Wine Restaurant
Sangrias range from $15 to $18 per glass while costing $60 to $70 per jug. Since there is 1-for-1 promotion during happy hours, it means each sangria only costs $8 per glass! Therefore to let our readers know which are the best sangrias here (who are we kidding?! It's happy hour!)…
We've tried 6 Sangrias (over a span of 3 hours – please pace yourself and remember IF YOU DRINK, DONT DRIVE!) and here they are…
Sangrias We've tried at Fandango Chijmes
1. Classic Red Sangria – Red Wine, Cherry Brandy and Orange Juice ($15)
2. Apple White Sangria – White Wine, Cointreau and Apple Juice ($15)
3. Rose Sangria – Rose Wine, Cointreau, Apple and Cranberry Juice ($15)
4. Oriental Sangria – White Wine, Cointreau, Jasmine green tea and Apple Juice ($16)
5. Lychee Sangria – White Wine, Lychee Liquour and Cranberry Juice ($16)
6. White Beer Sangria – Hoegaarden, Cointreau, Apricot Brandy and Apple Juice ($15)
Actually, we enjoyed ALL the Sangrias! But we feel that ladies will definitely dig the sweet Sangrias – Lychee, White Beer and Rose Sangrias. The cool thing is that they all come with fresh fruit bits for the real Sangria feel!
Since we're at a Spanish restaurant, we decided to try out their Paella and 1 tapas…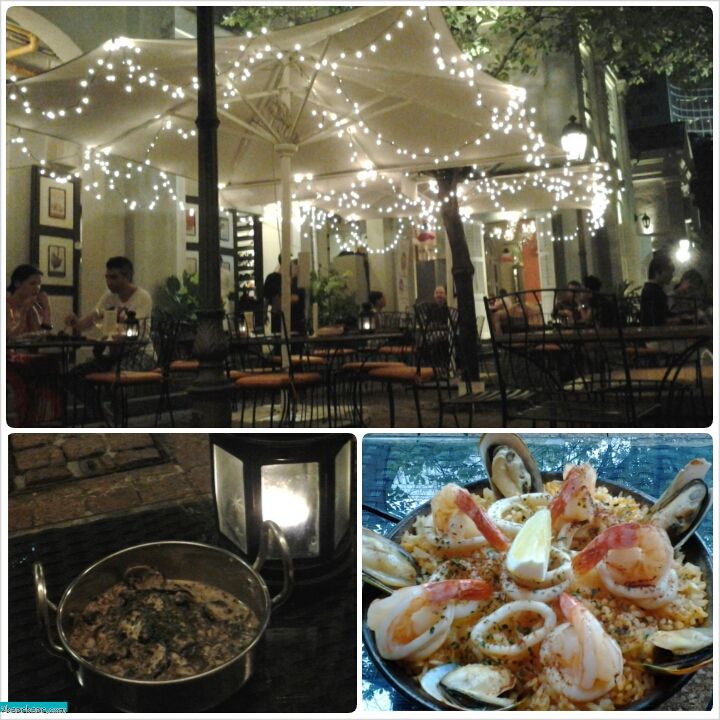 Seafood Paella and Mixed Mushrooms Tapas
Compared to the Paella we've tried at Serenity @ Vivocity, the Paella at Fandango pales in comparison. The main reason is because of the rice not being fragrant and flavourful. It does not taste as though the grains have fully absorbed the flavours of the seafood. Plus the texture was a little wet, further evidence that it should have been cooked a little longer – for the texture to be drier and for the flavours to be absorbed into the grain.
Mussels were also a little dry.
However, the saving grace was the prawns. Huge, succulent and do-ing (or "Q" as the Taiwanese would say). When the ingredients are fresh, it shows. It even shows in the pictures right?
The mixed mushrooms was sauteed in garlic, pepper and truffles. Oh so delicious! Although we had it by itself, we could have imagined a perfect match to a bun or some bread…ooh lala!
How to get to Fandango Tapas & Wine @ Chijmes for Happy Hour Sangrias
Fandango is located at Chijmes, a short walk from Raffles City. If you're taking the MRT, it is a short walk from the City Hall MRT station. However, do note that Chijmes will be undergoing a $45 million renovation / facelift, expected to be completed in the fourth quarter of 2014.
If you enjoyed our content, "Like" us on Facebook Today!

So the next time your girl wants to chill out over a glass of Sangria, do check out the Happy Hour at Fandango Chijmes and it could save you a couple of bucks!
Related posts: