Dear Jen,
Thank you for hosting us at Hotel Jen Orchardgateway, one of the many hotels that you own all over the world. We thoroughly enjoyed the staycation at Hotel Jen Orchardgateway and we're so glad that we got to experience, first hand, your hospitality over the weekend 🙂

Entrance of Hotel Jen Orchardgateway
What we enjoyed about Hotel Jen Orchardgateway
1. Relaxing in the comfort of your room

Superior Room Hotel Jen Orchardgateway
What we really love about your room is not only the view of the city (including Marina Bay Sands) but really the comfort within. Why didn't you tell us that you had such a comfortable bed and a fantastic choice of channels on TV? We actually spent hours just lazing in bed, catching up on movies and watching "live" soccer…ah…
2. Great service from your staff
Jen Jen Jen, you have kept your "secret weapon" unknown to us haven't you? We experienced great service all around the hotel! Upon arrival, we were promptly whisked away to our room by Kate and we were checked-in AT OUR ROOM! There were also all-round smiles everywhere we went. Looooved the great service from your staff at Hotel Jen Orchardgateway!
3. Breathtaking views from Rooftop Pool

Rooftop Pool of Hotel Jen Orchardgateway

Video of pool deck at Hotel Jen Orchardgateway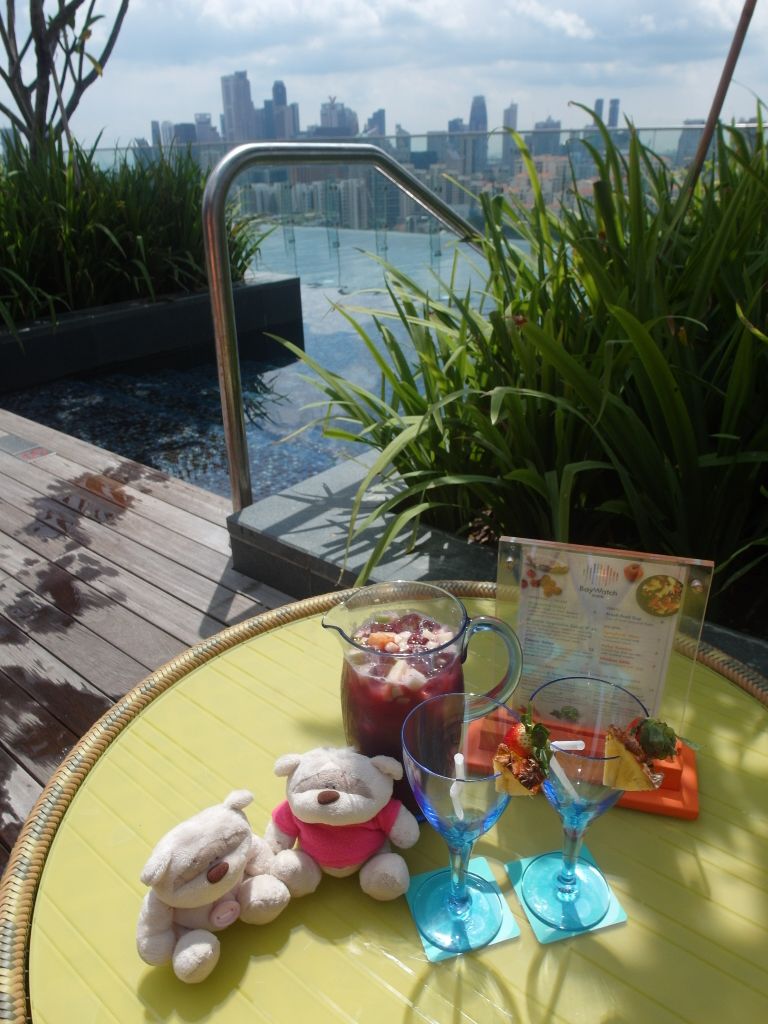 2bearbear enjoying Sangria at Rooftop Pool Hotel Jen
When you showed us the pictures taken from your rooftop pool at Hotel Jen, we thought you had them photoshopped. Never did we realise that the views were really so awesome! Coupled with tropical drinks such as Sangria and Mojito, holidays had just begun!
4. Cute little surprise

Received your note and fruits!
Thanks for the cute little surprise arranged for us while Kate and I were soaking up the sun at the rooftop pool. We enjoyed the fruits before heading back up for chilling hours at the Club Lounge. Love your handwriting by the way 😉
5. Chilling hours at your Club Lounge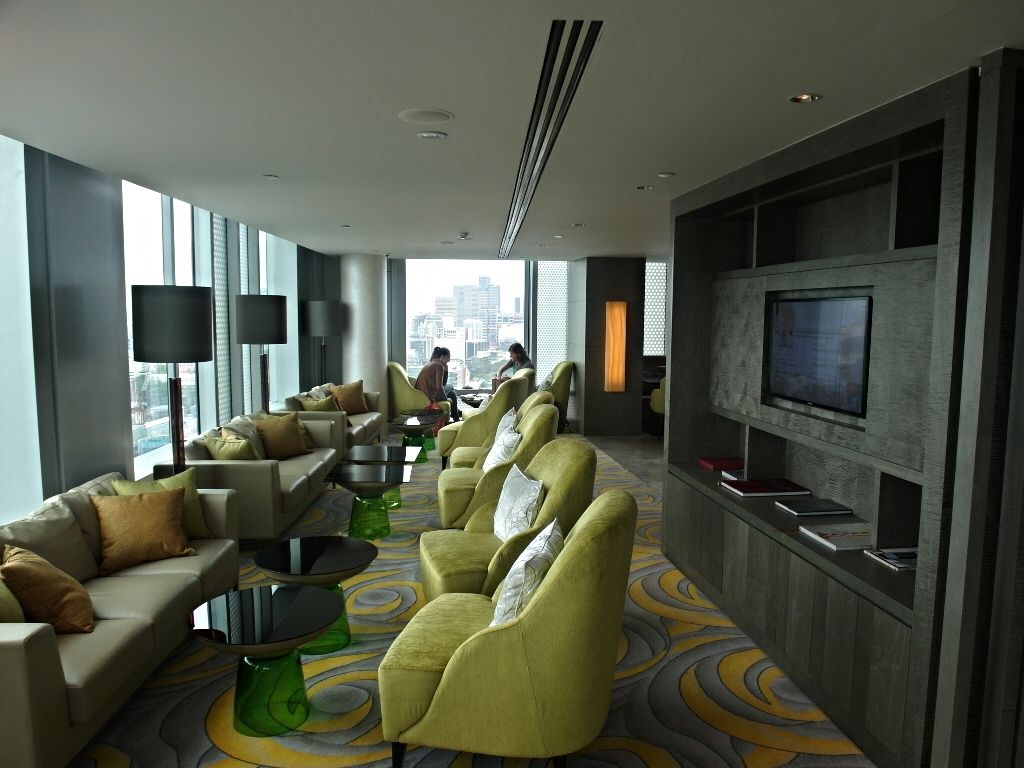 Club Lounge Hotel Jen Orchardgateway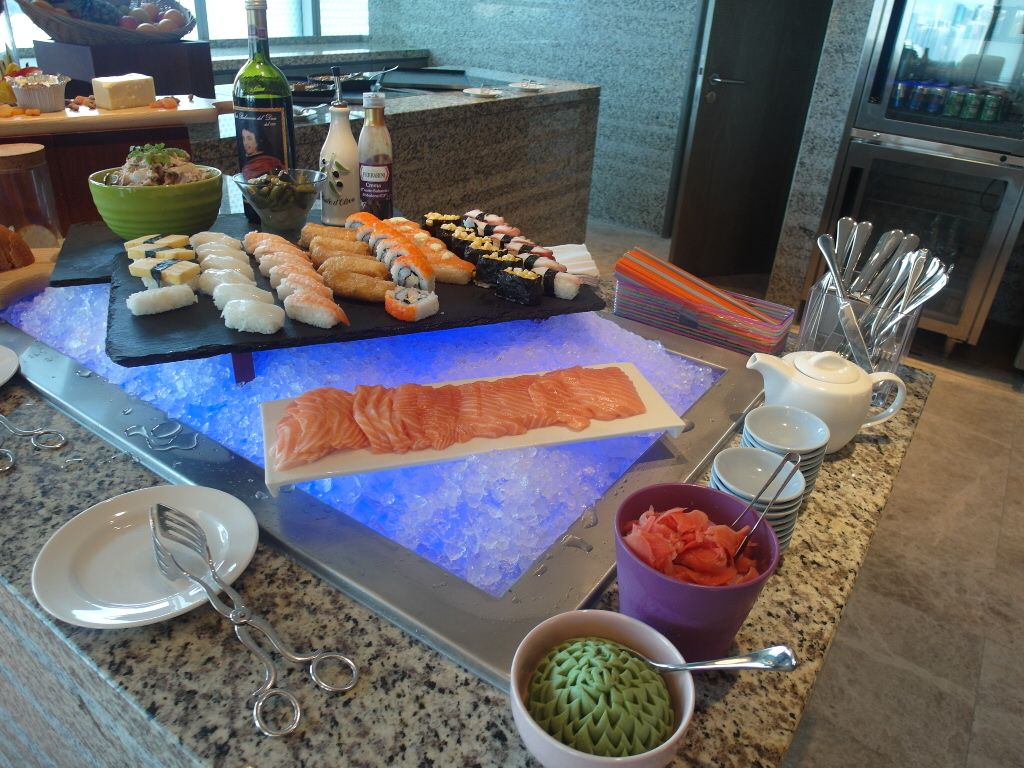 Selection of food during cocktail hours at Club Lounge (Chilling hours from 5:30 to 7pm)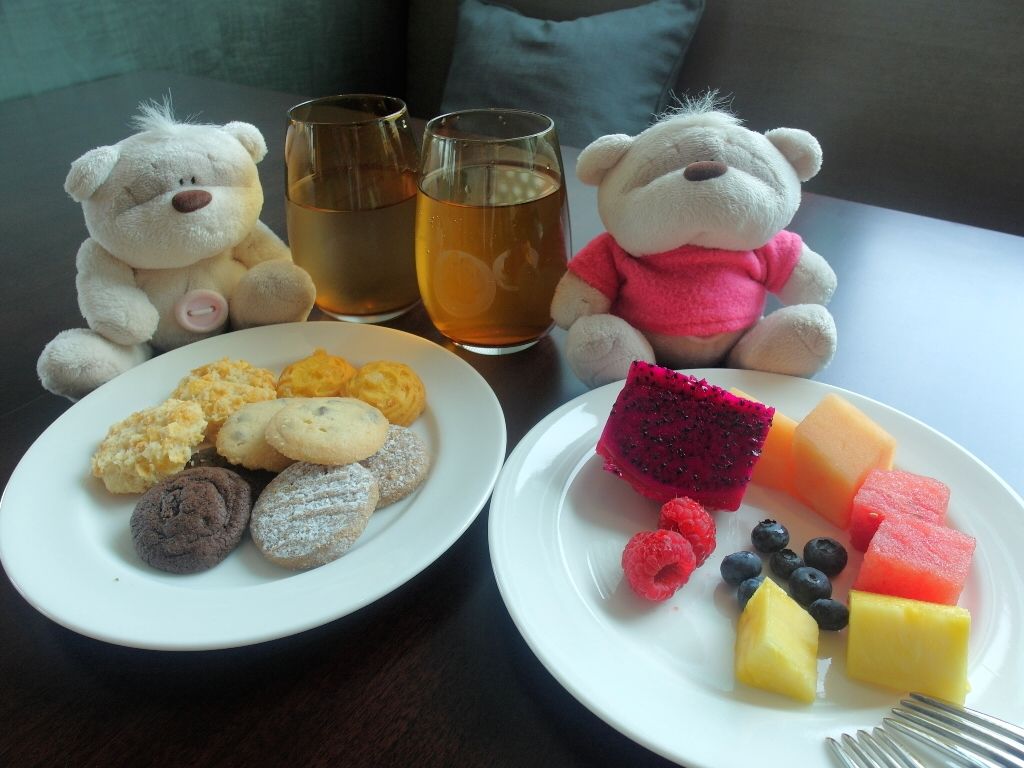 Gourmet Biscuits (aka Brewing Hours) from 12pm to 5pm

2bearbear enjoying views from Hotel Jen's Club Lounge

Wines served during chilling hours

Concocting cocktails at Club Lounge
See the two ladies seated in the first photo? That is the best seat in the Club Lounge. That was also where we enjoyed chilling hours as well. Views were great and we especially enjoyed the generous servings of sashimi. But we would have loved to try your specialty cocktail Jen1509. Remember to serve it the next time during your chilling hours k?
6. Fresh Seafood Buffet at Makan@Jen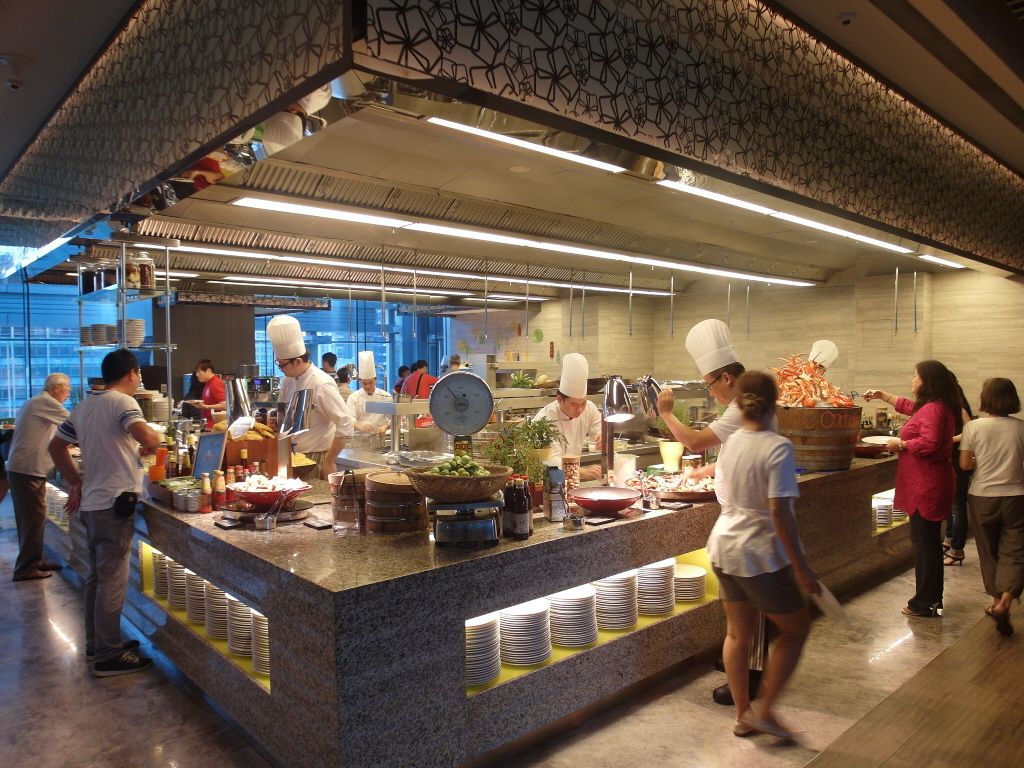 Makan@Jen Hotel Jen Orchardgateway

Seafood Buffet at Makan@Jen

Fresh seafood at Makan@Jen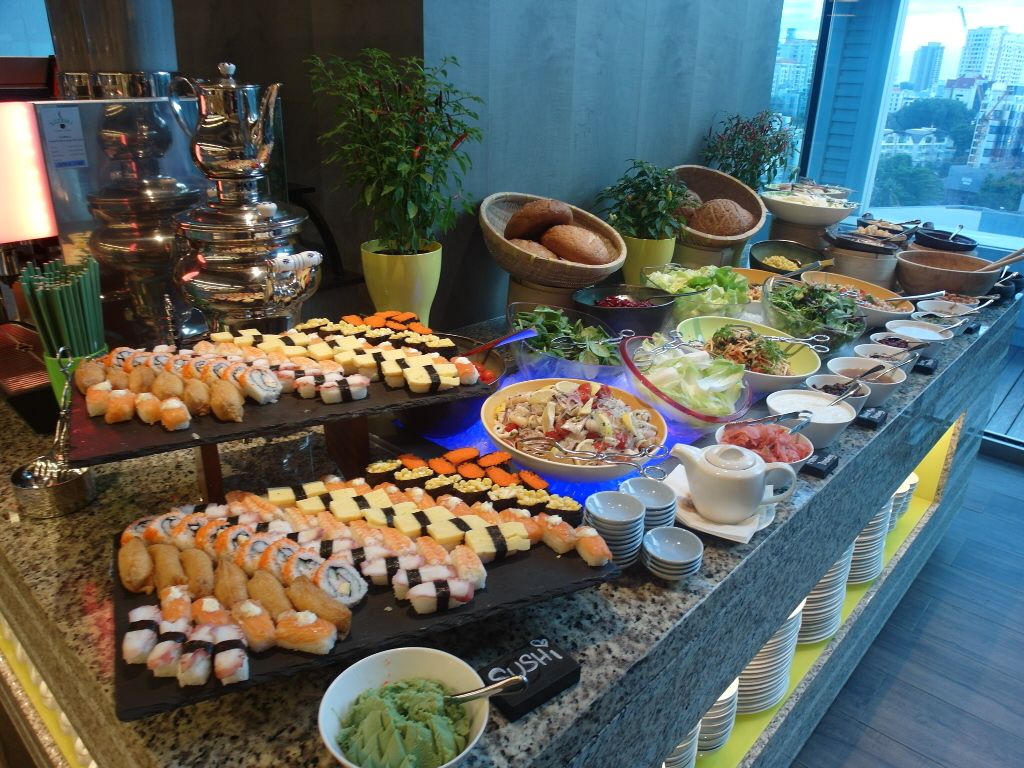 Sushi spread at Hotel Jen

Pork Knuckles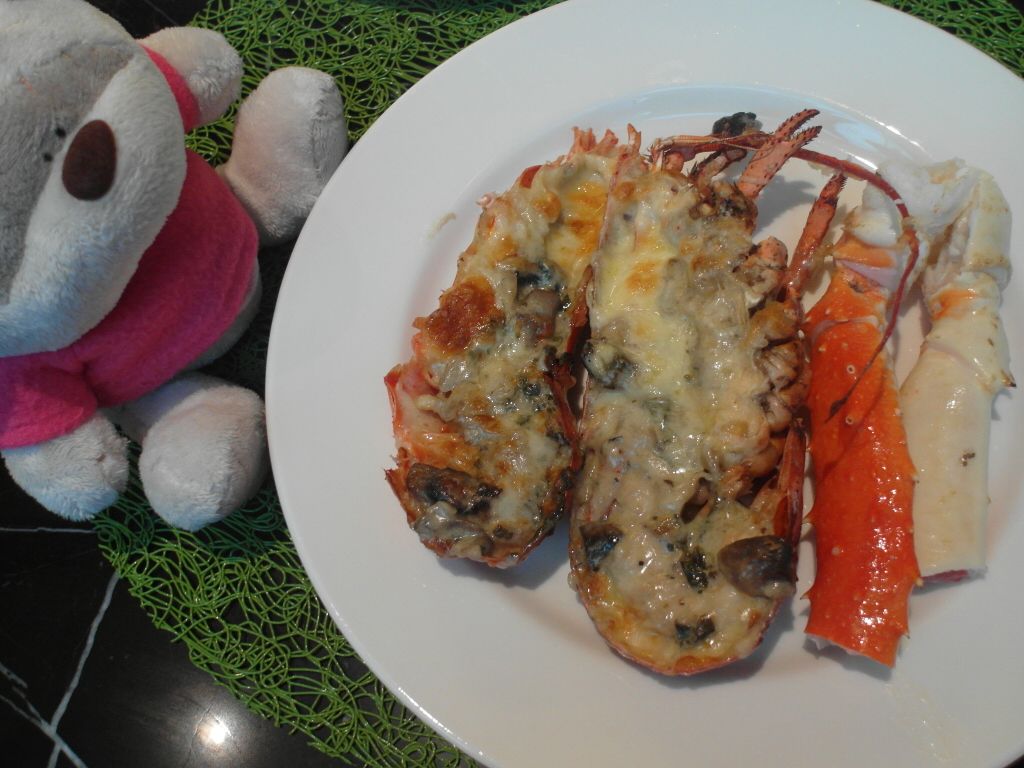 Baked Lobster and Crabs

Free flow of beer at $15++

Delectable desserts from the buffet spread
When you told us that you were taking us to a seafood buffet dinner, we thought that it would be an international buffet with some doses of seafood. WE WERE SO WRONG! Your seafood buffet was A SEAFOOD BUFFET with doses of other meats. At every turn, we saw seafood, seafood and more seafood! But what really impressed us was that they were all really fresh. When we peeled the shell off the snow crab, the meat all stayed together (unlike some famous international buffet) and revealed itself as one huge chunky piece! Moreover, the baked lobster? Mmmm….so so so succulent!
Thank you for having us seated right opposite the lobsters as well. We were always the first on scene when the batches of lobsters were served! A secret to be kept between us ;P
7. Pedestrian Night at Orchard Road

Pedestrian Night at Orchard Road

Jack and Rai performing at Pedestrian Night by Singapore Tourism Board for Tourism 50

Jack and Rai performing "With A Little Help From My Friends" by The Beatles
Did we mention that Hotel Jen Orchardgateway has an excellent location? It is right by Orchard Road, Singapore's premier shopping belt! But the highlight during our staycation was being able to watch Jack and Rai perform "live"! You didn't arrange this experience just for us did you?
8. Breakfast at Hotel Jen Orchardgateway

Breakfast spread at Hotel Jen Orchardgateway

Nasi Lemak for breakfast!

Choice of breakfast juices

Beautifully poached eggs
We love that you start your breakfast early at 6:30am. Sunrise over breakfast is just magnifique! Do help us thank your awesome chefs for those beautifully poached eggs. Will eggs benedict be on the cards the next time we visit?
9. Free rental of bamboo bicycles

Free rental of eco-friendly bamboo bikes
We love this nice little touch of extending free rental of these eco-friend bamboo bicycles for all guests. Using bicycles to navigate around the city is definitely a great touch. We love it especially that there's no time restrictions. Jen, you're so smart!
10. Hi-Tea at Lounge@Jen

Lounge@Jen Hotel Jen Orchardgateway

View of Orchard Road from Lounge@Jen

Hi-Tea at Lounge@Jen Hotel Jen Orchardgateway
Chilling at Lounge@Jen is a relaxing experience altogether. Classy yet casual. A perfect place for friends to chillax. You and I both know the secret location where the best views are…shh…let's meet there some time ok?
How to get to Hotel Jen Orchardgateway
Yes, we remember that Hotel Jen Orchardgateway is located at 277 Orchard Rd, 238858. Thanks for providing us complimentary parking and reminding us to enter the hotel via Somerset Road (not Orchard Road). Of course we parked at level 8 as you have recommended because that lift has only 3 buttons – Level 1, 8 and 10.
We wanted to just take the MRT as well because it is just as convenient by alighting at Somerset MRT. Just a short walk from 313 Somerset.
If you enjoyed our content, "Like" us on Facebook Today!

Jen,
Thanks for an awesome staycation at Hotel Jen Orchardgateway! So great to have a friend like you!
Be our BFF k?
XOXO!!
Tom and Kate,
2bearbear.com
Click on the following posts to see all our Singapore Staycation Reviews!
Top 10 Singapore Staycation Ideas!
Grand Mercure Roxy Singapore Staycation : The Studio Suite!
Uniquely Singapore Staycation at Village Hotel Katong!
Ritz Carlton Singapore Staycation: Simply Shiok!
5 Reasons Why You Should Do a Staycation at Hotel Jen Tanglin Singapore's Newly Refurbished Club Room!
Pan Pacific Singapore Hotel Harbour Studio Staycation!
Rendezvous Hotel Singapore : Staycation in the Heart of the Art District!
Quincy Hotel Qool Weekend Staycation : Singapore's ALL-IN Staycation!
National Day Staycation at the Regent Singapore – A Four Seasons Hotel!
Village Hotel Changi Staycation : Rediscover the gems of Singapore!
Awesome Staycation at the Grand Mercure Roxy Singapore!
Raffles Hotel Staycation Singapore : Relax & Rejuvenate!
Amara Sanctuary Resort Staycation Singapore Sentosa 2 Bedroom (BR) Villa with plunge (private) pool
D'Resort @ Downtown East : A Perfect Staycation for the Entire Family!
Swissotel Merchant Court Executive Room Staycation : Right in the heart of Clarke Quay!

A Letter to Jen (Hotel Jen Orchardgateway Staycation)…
Oasia Hotel Staycation Review!
AMOY Hotel Singapore : Why you should stay here during your next visit
The Ultimate Family Staycation at Shangri-La's Rasa Sentosa Resort & Spa!
3 Singapore Staycation Ideas for 2017!
Related posts: