Whenever you visit Malacca, a visit to Jonker street is a must.
Why?
There is the night market, little shops with souvenirs and unique items on the side of the streets, street food and delicacies.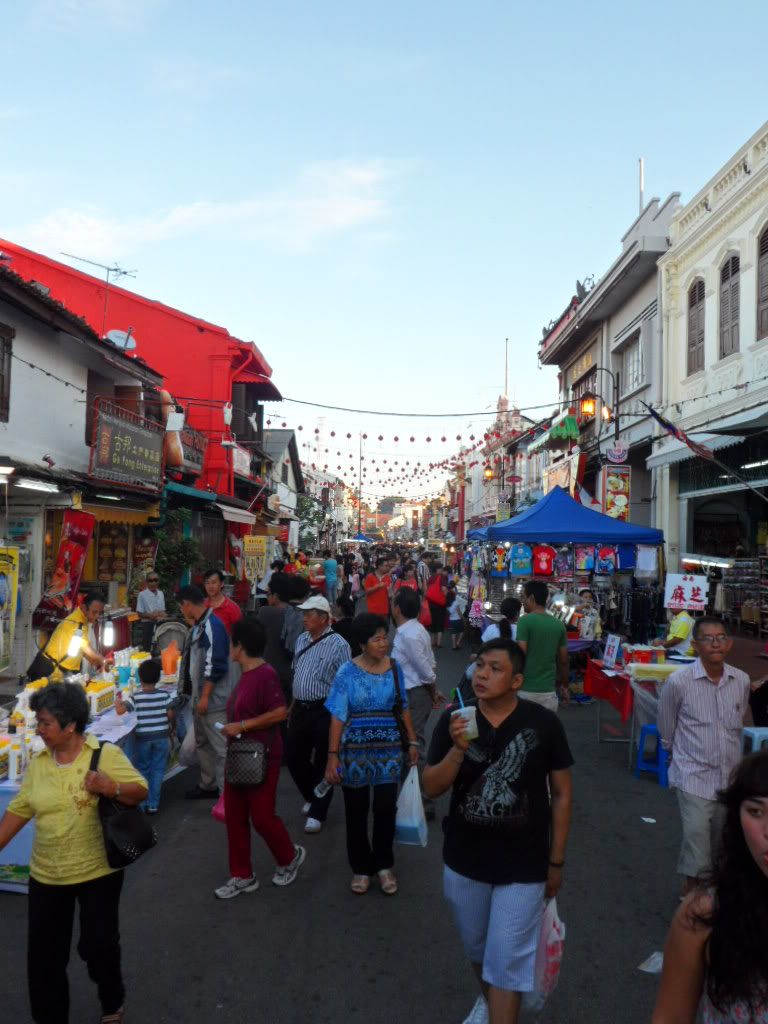 Crowds at Jonker Street Malacca
But one thing remains a mystery to most visitors to Jonker Street…
Which chicken rice ball stall is better? Chung Wah chicken rice ball at the start of Jonker street or the nicer looking Hoe Kee chicken rice ball in the middle of the street?
2bearbear.com has taken upon ourselves (and our tummies) to once and for all, clear this mystery for all our readers.
Let's have some applause please…(*clap clap clap*)
Right…but first we must warn our readers as well.
DO NOT EAT AT A FORMOSA CHICKEN RICE! NO!!!!!!!! (echoes disappearing into the abyss…)
Ok…we shall leave it at that.
Moving on. We first visited Chung Wah Chicken Rice
Chung Wah Chicken Rice Ball @ Start of Jonker Street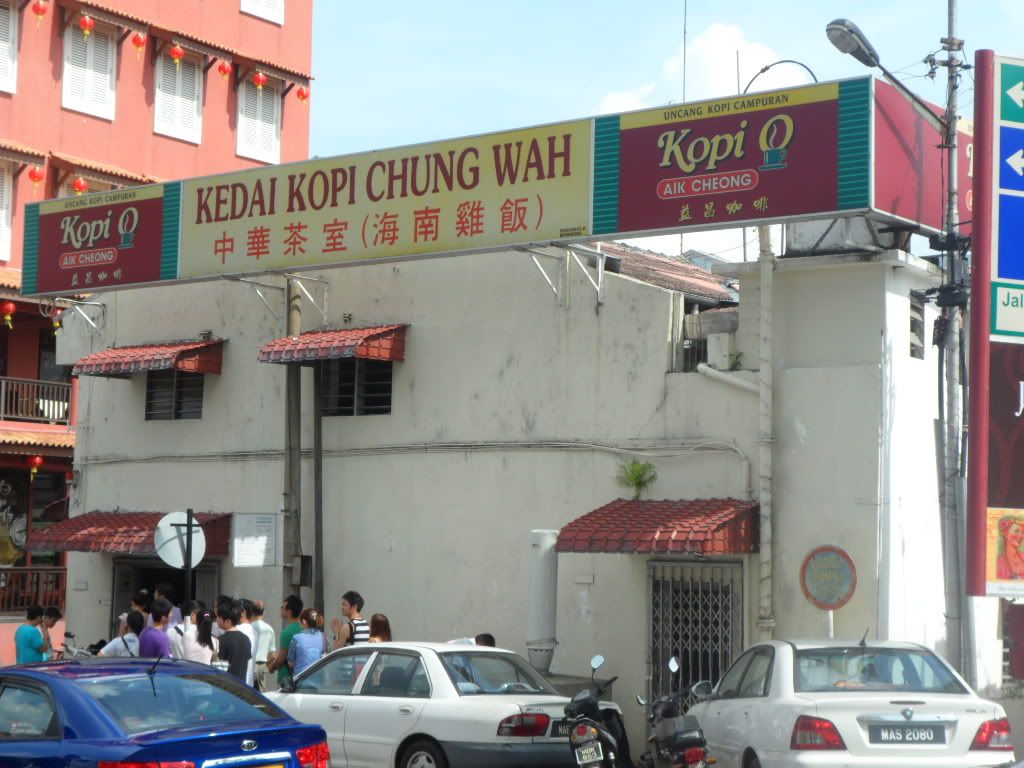 Chung Wah Chicken Rice @ Start of Jonker Street
Please recognise this picture. Although it says "Kedai Kopi Chung Wah", but it really is a coffee shop that sells only one thing, CHICKEN RICE! and drinks of course.
Plus, the chicken rice at Chung Wah usually sells out at about 3-4pm. Be there earlier to avoid disappointment. For us, we were there at about 3:30pm.
We were lucky.
Minutes after we sat down, the metal gates were closed (with the rest of the diners still inside of course, not that they're gonna kidnap us or something)
The next thing we realised was that the aunty immediately asked us if we wanted half a chicken and 1 set of rice balls each. HALF A CHICKEN FOR 2 PERSONS?! Being the first time there, we nodded.
This means that either:
1. Most people who went to Chung Wah were REALLY hungry. OR
2. After sizing Tom up, aunty decided that it has got to be half a chicken for us.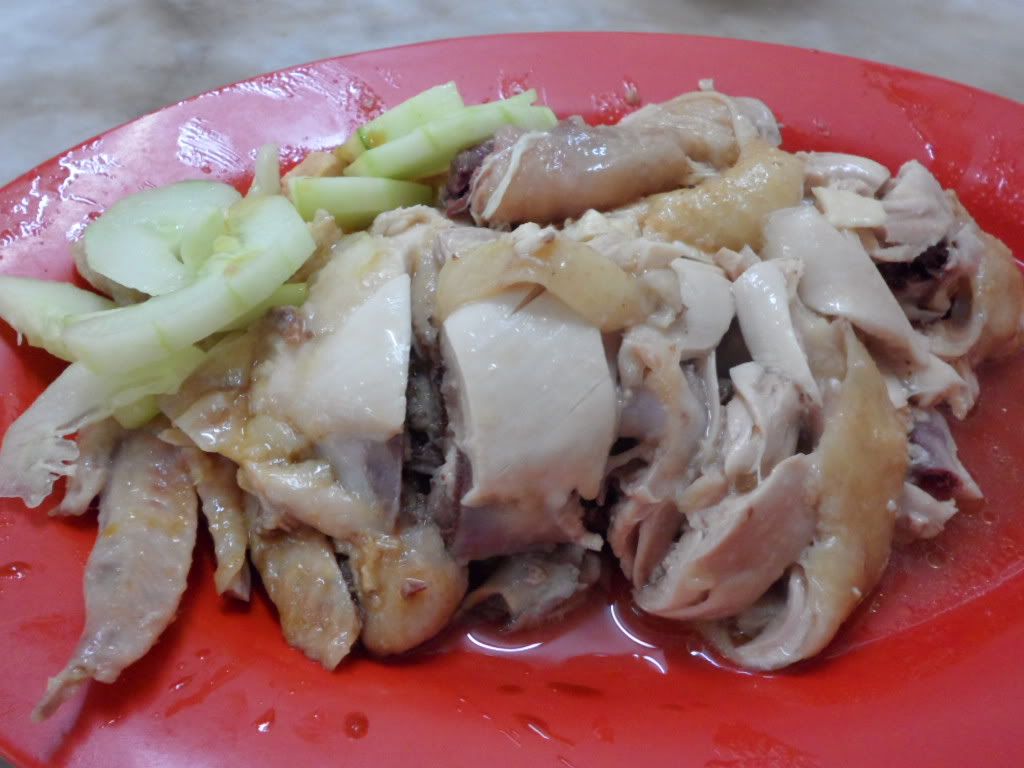 Half Chicken @ Chung Wah Chicken Rice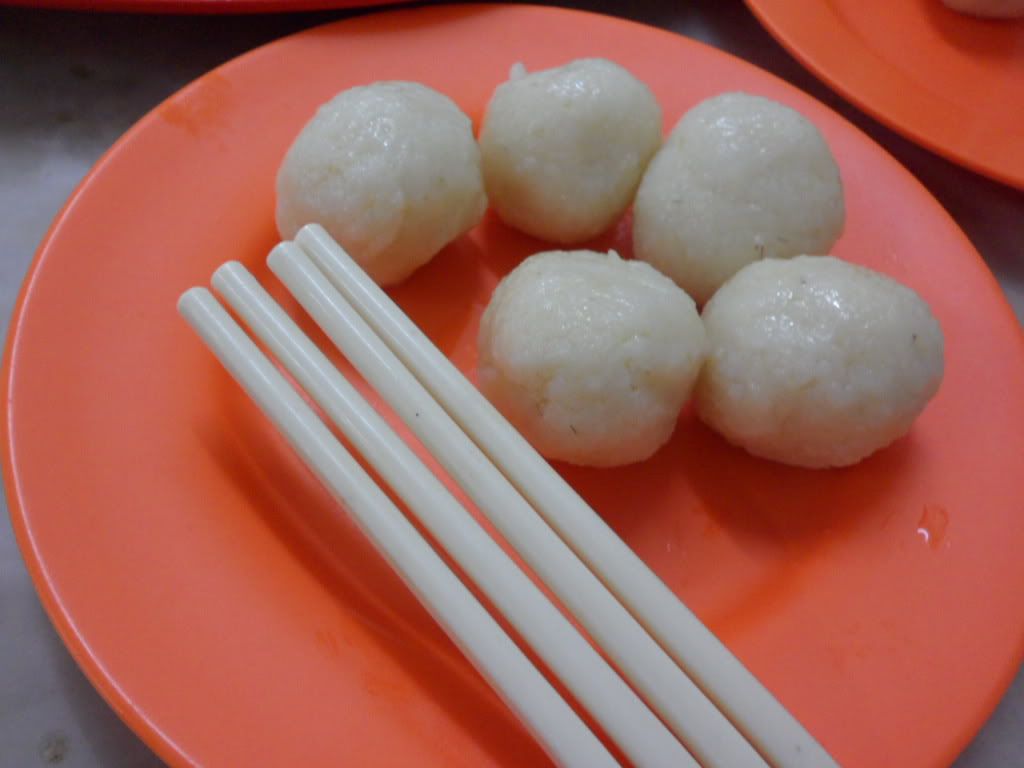 Chicken Rice Balls at Chung Wah
The portion of the half chicken was what we expected it to be. However, if the 2 of you are feeling really peckish, half a chicken is just right. Aunty was right after all.
Taste Test
The chicken at Chung Wah has a fragrance of sesame oil to it and when you try to decipher the sauce…you'll realise one voice in your head going
"Hey, I know this taste!" while the other voice in your head goes
"No, you dont!" This goes back and forth, forcing you to dip the sauce on your spoon to try it over and over again.
The thing is, the sauce is unique. It has some excellent proportion of spices, sesame oil and soya sauce to it that makes it special.
Next comes the chicken.
Tender and firm at the right places. Kinda oxymoron right? The texture of the chicken was good. Keeps you coming back for more.
So what about the rice?
The thing that we did not get quite used to about chicken rice ball is that, IT'S COLD!
Eating chicken rice cold…that's something really different. Guess they need to cool it or allow it to cool before the ball takes shape.
However, we did not really like the rice ball, simply because it lacked the fragrance that chicken rice ought to have. The saving grace was that, pairing with the chicken was a great combination…
The half chicken at Chung Wah (with 10 balls) costs RM19.70.
As for deco, it really was like a coffee shop but the old kind? Allows you to feel the ambience somewhat like that of the 70s.
Next, we headed off to Hoe Kee Chicken Rice (not immediately, but almost, because of our keen interest to solve the chicken rice ball mystery at Jonker street once and for all!!)
Hoe Kee Chicken Rice Ball @ Middle of Jonker Street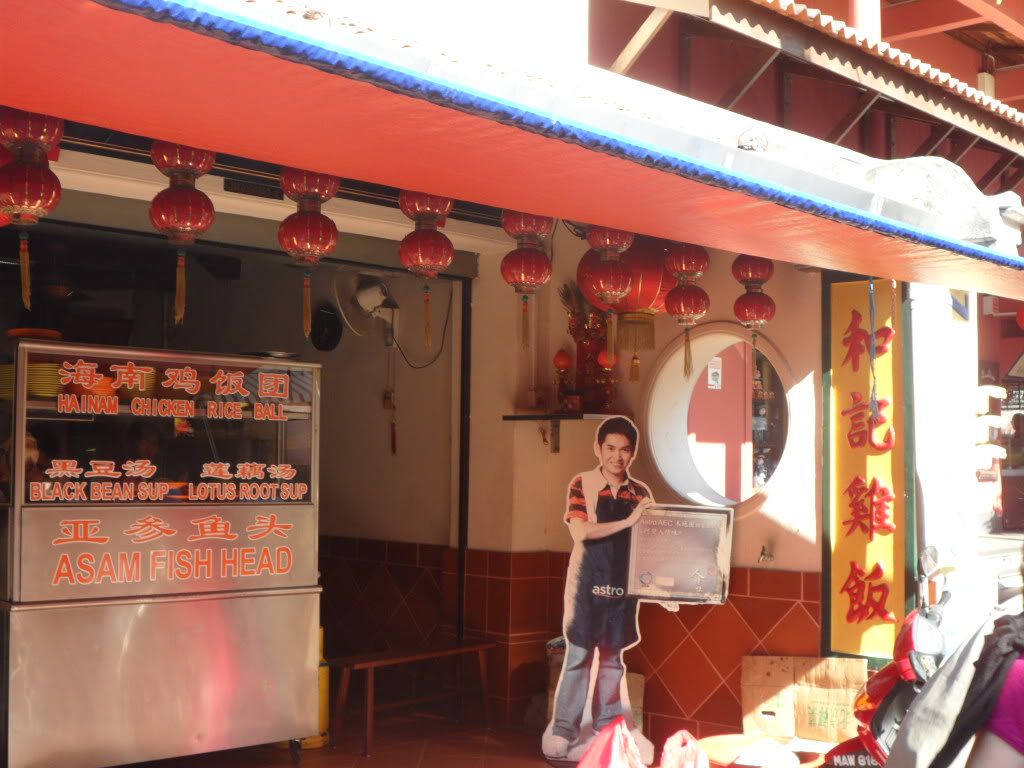 Outside of Hoe Kee Chicken Rice @ Middle of Jonker Street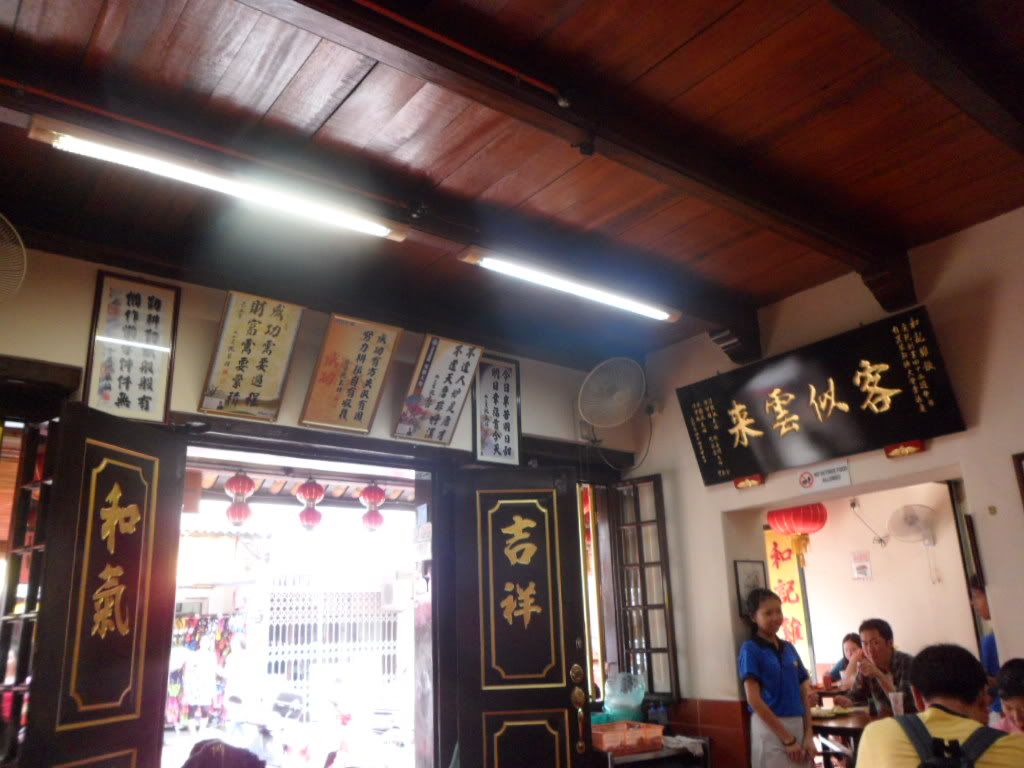 Interior of the entrance to Hoe Kee Chicken Rice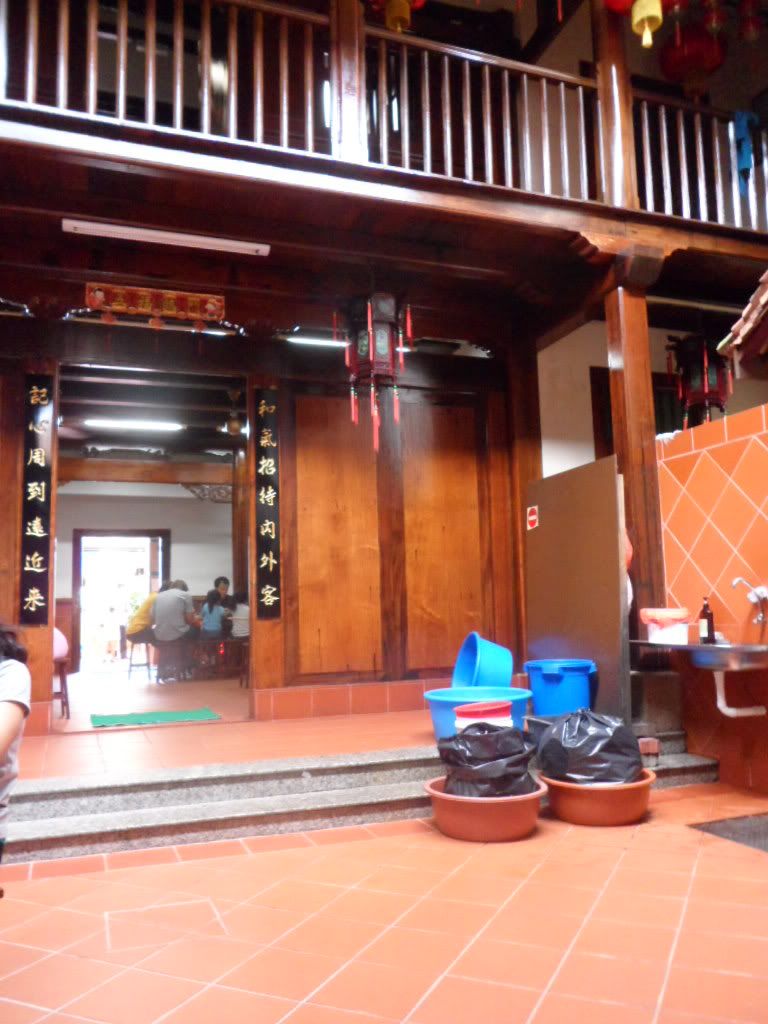 Courtyard of Hoe Kee Chicken Rice
The first impression of Hoe Kee was more of
"Wow, classy chinese interior design!"
This is definitely a great place to bring your friends to for a nice meal of local food. A great place to entertain and meet up with your guests as well.
"How about the food?" You might ask.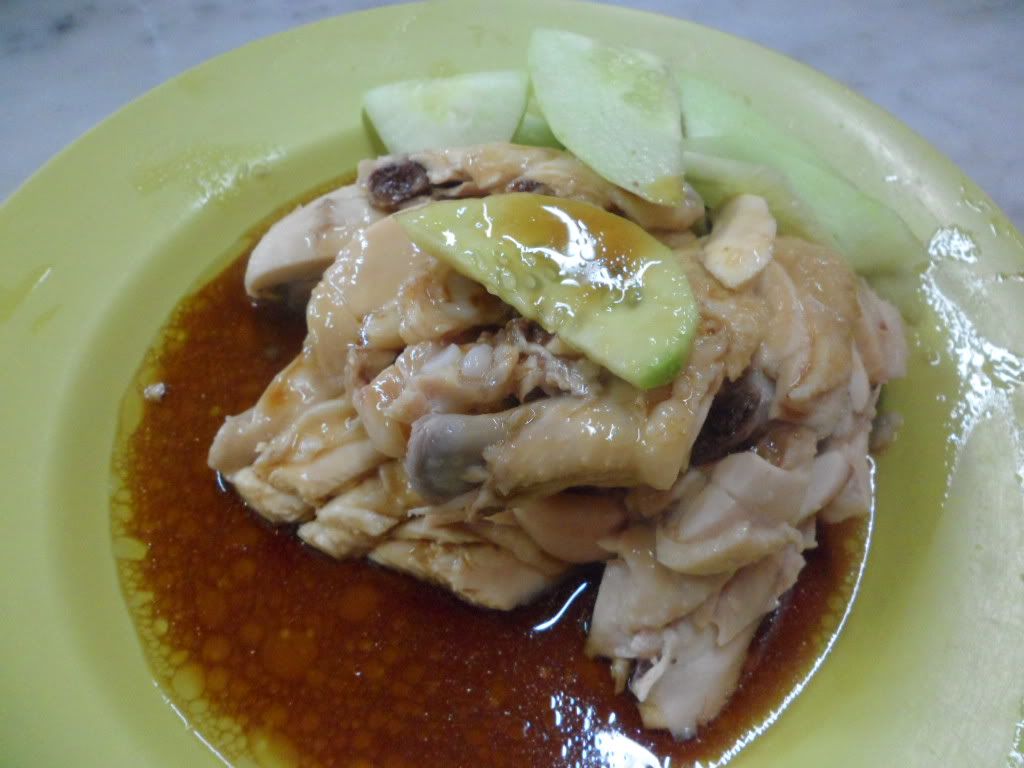 Quarter Chicken at Hoe Kee Chicken Rice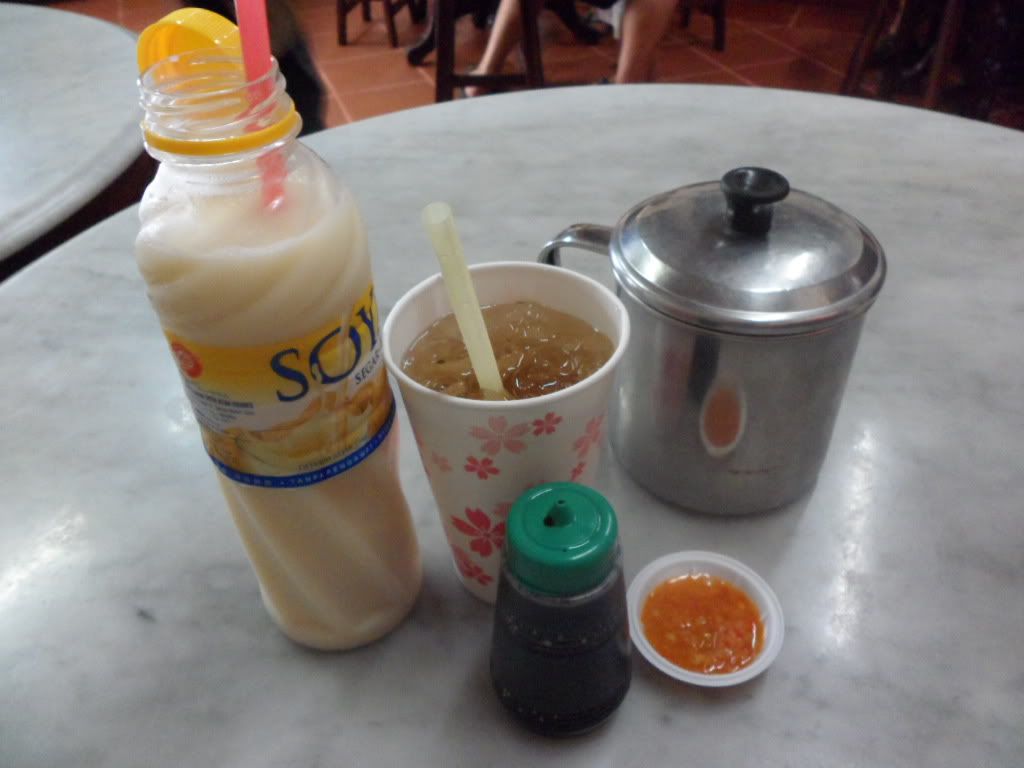 Condiments with Herbal Tea and Soya Bean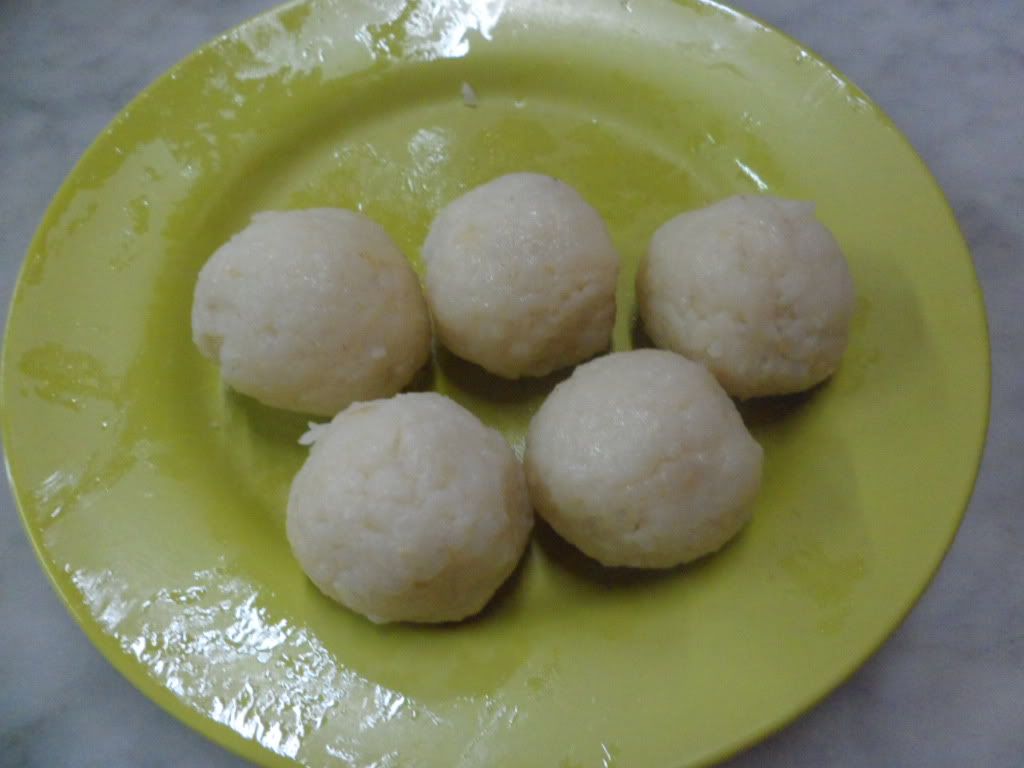 Hoe Kee Chicken Rice Balls
Taste Test
The chicken at Hoe Kee was normal. Really nothing much to shout about here. Dont guess us wrong, it was a decent plate of chicken. Meat was fresh but taste was not as memorable and lasting as that of Chung Wah.
However, the rice did trump Chung Wah's in that there was the chicken rice fragrance that one craved. The coldness was still there but the taste was much better.
The quarter chicken at Hoe Kee (with 5 balls, Soya Bean and Herbal Tea) costs RM14.20
Verdict
Now, to put the mystery of the Jonker Street Chicken Rice Ball Battle behind us…
2bearbear.com declares the winner of the "Battle of the Malacca Jonker Street Chicken Rice Ball" to be…(*Drumrolls*)
Chung Wah Chicken Rice Ball!
Well, the chicken basically won the war for Chung Wah. Although they lost in the chicken rice ball department, the unique sauce was more than able to make up for this loss.
And did we mention that the chilli packed a punch at Chung Wah's?
Nonetheless, in terms of ambience, Hoe Kee won hands down and if a gathering with friends and family is your focus, Hoe Kee is the place to go.
For great taste, you cant go wrong with Chung Wah.
We hope that with this post, we can finally put this age-old mystery of "which Jonker Street Chicken Rice Ball is better" to rest!
For your convenience, you can now check out the best hotel deals in Malacca right here!
Related posts
This post is part of our 3D2N travels in Malacca. Below, you can find other relevant posts covered during this trip!
Top 3 Things to do at Jonker Street aka Jonker Walk
Jonker 88 @ Jonker Street
Stadhuys Melaka aka Red Square or Dutch square
Best 5 stars hotel in Melaka : Hotel Equatorial Melaka
Battle of the Malacca (Melaka) Jonker Street Chicken Rice Balls : Which is better? Chung Wah Chicken Rice or Hoe Kee Chicken Rice?
Weekend Getaway and Staycation @ Philea Resort Melaka (Malacca)
Top Attractions and Things to do in Melaka : World Heritage City
A Leisure Stroll along the Melaka River
Trishaw Rides in Melaka : A Must-Do Activity!
Traffic Jams in Melaka : How bad is it really?
Restoran Ole Sayang – One of the most reputable Peranakan Restaurant in Malacca
Melaka Sultanate Palace Museum – Built without nails!
Melaka Maritime Museum – Museum within a Ship
A Famosa aka Porta De Santiago
St. Paul's Church
P.S. We also realised that traditional chicken rice beats rice balls hands down. It's just unique and fashionable but you just cant beat that old fashioned plate of chicken rice hot off the cooker.
If you enjoyed our content, "Like" us on Facebook Today!

Remember to leave your comments for 2bearbear Singapore Travel Blog in our comments section below!
Related posts: