Bohol is the home of the Tarsiers and Chocolate Hills. We definitely cannot visit Bohol without signing up for the Bohol Countryside Tour. We chose to book the tour with Peacock Garden even though it is slightly pricier (4,200 peso for 2 people) because we can trust the quality of the transport and the experience of the tour guide.
Bohol is known for its clear blue waters,beaches and fantastic snorkeling/dive spots. However, Bohol is also known for attractions on land. In fact, after we introduce the following attractions we saw during our Bohol countryside tour, you'll go "Orh…I know them!"

Attractions in Bohol Countryside Tour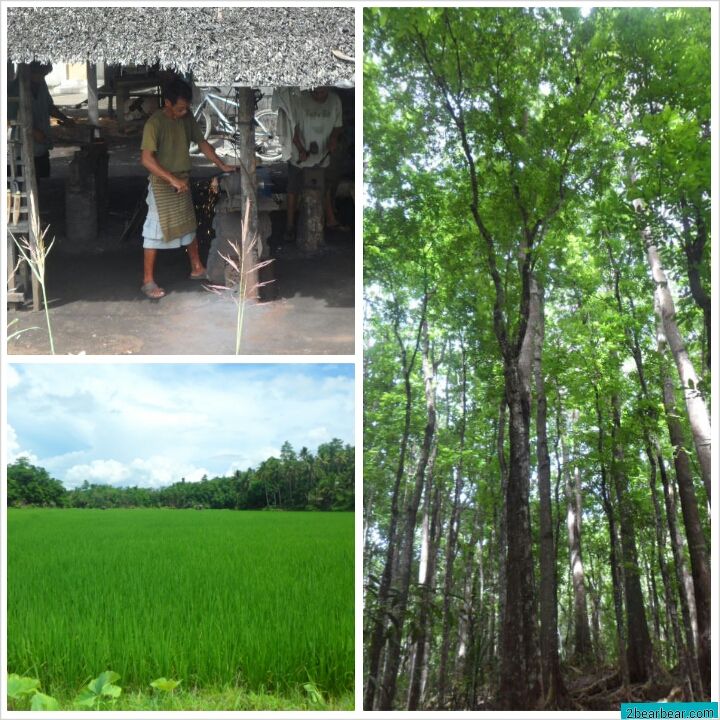 Bolo making, Beautiful Rice Field and the Manmade Mahogany Forest
Bolo is a traditional filipino knife or sword that is still being hand made today. This was one of the bolo making process that we saw during our Bohol Countryside Tour. In addition, we also came across this beautiful rice field that our guide insisted that we took a photo of…
One of the attractions that would make you go "Orh…" is this…the Manmade Mahogany Forest…
Manmade Mahogany Forest

Video of Manmade Mahogany Forest
Some scenic shots have been taken at this forest because of its peculiar growth (straight and high). It was initially an idea to re-forest the area to stabilise the soil (to prevent soil erosion). At first, the area was just "dead" in that there was only trees and no eco-system per se. So slowly, animals, insects and various plant species were introduced and the area sprung back to "life". Today, it is a picturesque area for locals to enjoy and tourist to take some iconic pictures!
Chocolate Hills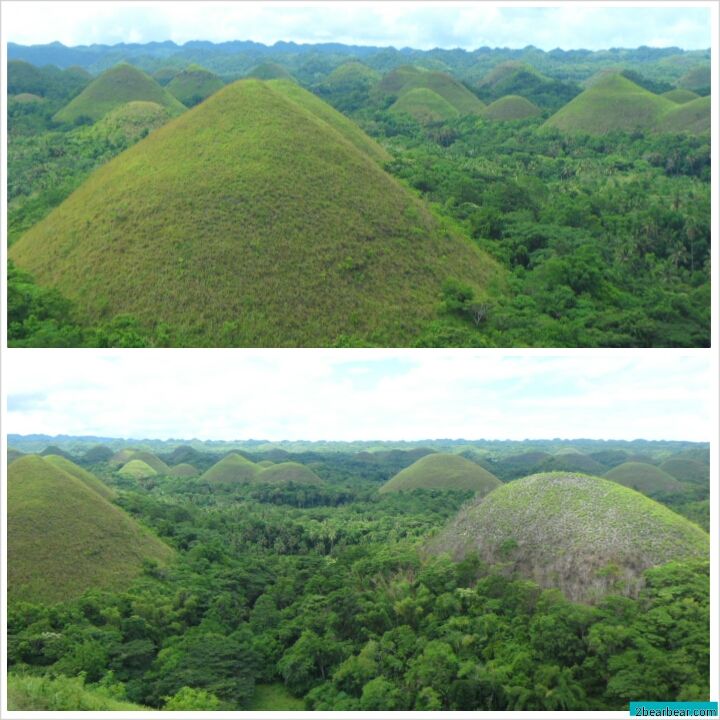 Chocolate Hills of Bohol
Chocolate Hills got its name because in the summer months (or dry months), the vegetation atop the hills would wither, revealing the soil or "brown" of the hills. With a sea of brown hills, the name Chocolate Hills was coined. As to the story of whether Chocolate Hills or Hershey's Chocolate (which is shaped like the Chocolate HIlls in Bohol) came first, we tend to believe that the former came first and inspired the latter. What do you think?

Video of the Chocolate Hills of Bohol
Oh and do remember, if you're bringing kids to the Chocolate Hills, remember to bring chocolate candies (Hershey's if possible). Our guide told us that many a times, kids would literally cry when they come to know that there's no actual chocolates at Chocolate Hills Bohol. So parents, go prepared!
Shiphaus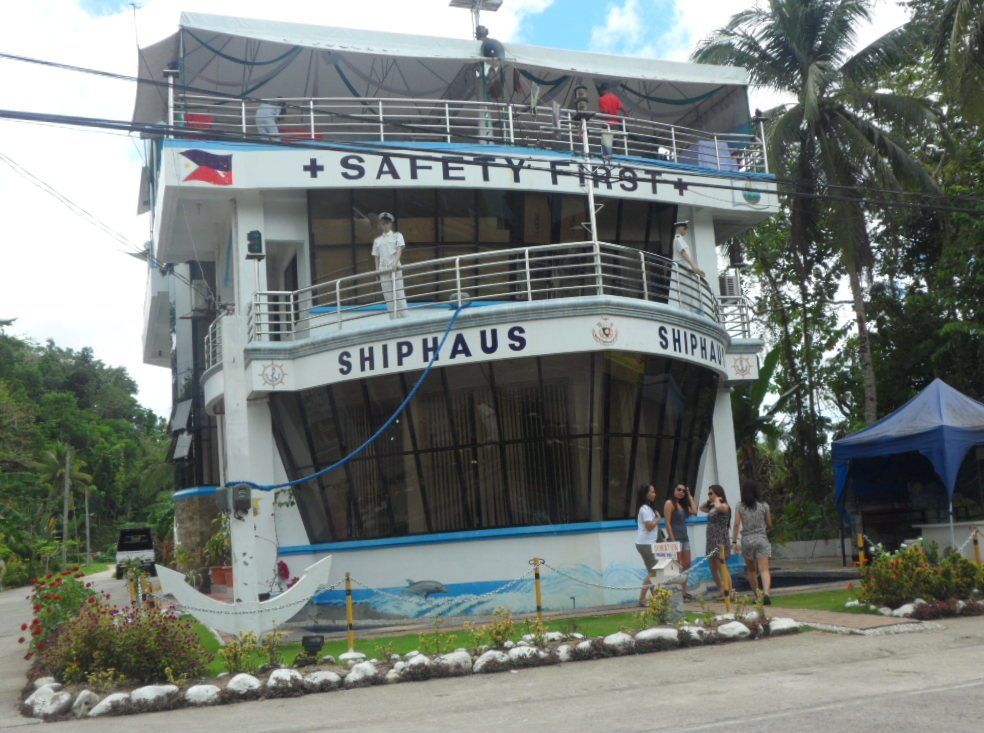 Shiphaus Bohol
The Shiphaus was originally built by a Filipino sailor (sailors used to earn alot more than locals in the past) and when he came back to Bohol, he decided to build himself a house that is shaped like a ship. We guess that it is named "Shiphaus" and not "Shiphouse", probably because he visited Germany during one of his many voyages.
Today, the Shiphaus is not only a tourist attractions (many visitors, including us, stop by the roadside to take a photo – remember to park safely and not disrupt traffic!) but also a hotel and restaurant all rolled into one!
Simply Butterfly Conservation Centre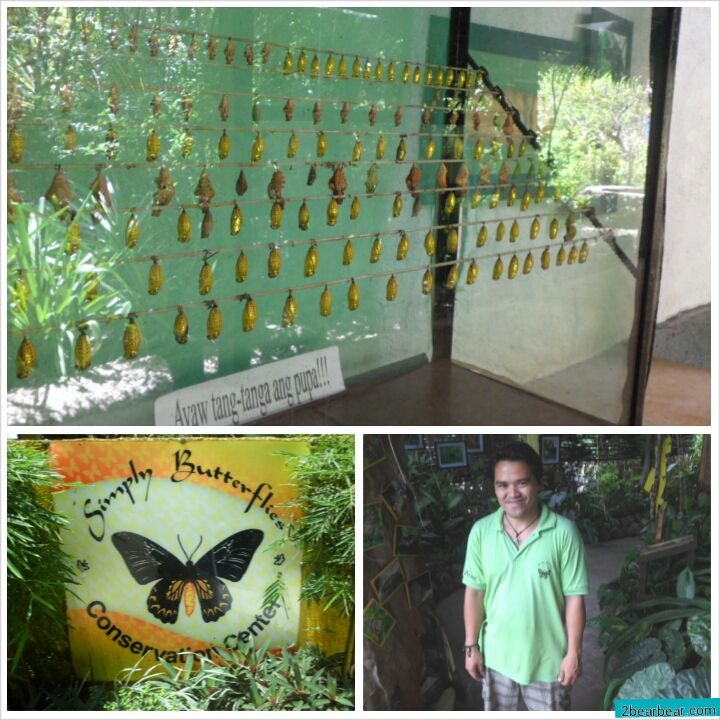 Simply Butterfly Conservation Centre and our very knowledgeable guide Peter
Thanks to Peter our guide for the day, he showed us many interesting things about Butterflies. For one, we realised that there's one easy way to differentiate between moths and butterflies. Moths usually have "feathery"-like antennae while butterflies do not. Of course, there are other ways as well. For instance, butterflies are USUALLY more vividly coloured (there are dull ones too) compared to the moths and they rest with their wings closed while moths rest flat with their wings open.
Peter also took pictures of us "in-flight". Think Tinkerbell. We stood a distance away from some butterfly specimen and were told to jump. As it turns out, he's excellent at it and it really seemed like we were flying! Remember to say "Hi" to Peter if you see him at the Simply Butterfly Conservation Centre!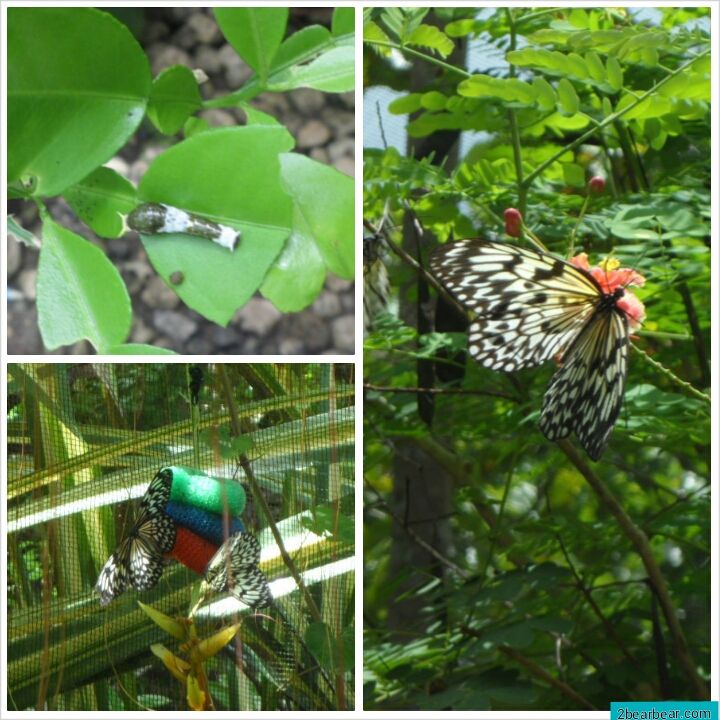 Caterpillar and more pretty butterflies
Tarsier Conservation Centre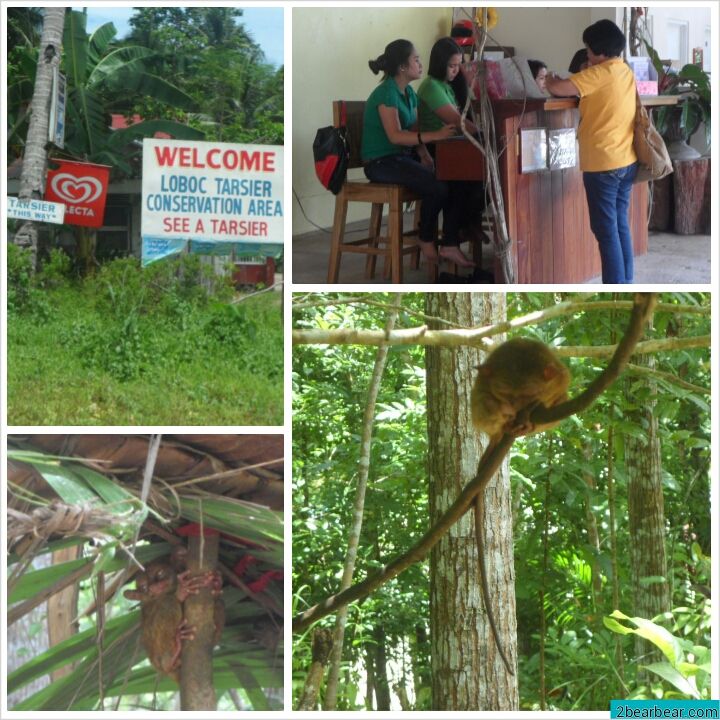 Our guide Alice paying for entry into the Tarsier Conservation Area – 60pesos per person
Tarsiers are just a badly mistaken species. Because of its long tail and body shape in general, they were mistaken in the past as rodents or rats. Which meant that they were frequently hunted and killed. The number of tarsiers quickly plummeted. So conservation efforts started. However, at first, people started by taking care of them at home. But they did not realise they are actually creatures that are pretty hard to take care of. Firstly, they are nocturnal and are pretty adverse to noise and sunlight. Noise especially. Hence, we were told to keep real quiet at the conservation area. There have been instances where high noise levels have driven tarsiers to be so stressed out that they take their own lives! The other thing is that they dont eat fruits. In fact, they are helpful to people in that they eat insects, live ones, as their main staple. So in the past, when fruits were fed, they did not take them readily and also started to die due to their diet.

Cute Tarsiers in Bohol soundly asleep
But with proper conservation techniques and extra care, tarsiers in Bohol are well taken care of. Look at how cute they are! It is also said that these are the creatures that gave inspiration to Steve Spielberg's movie, ET in 1982.
Loboc River Cruise
As part of the Bohol Countryside Tour, we were treated to a seafood meal, great music, marvelous scenery and fantastic performances by the natives on the Loboc River Cruise!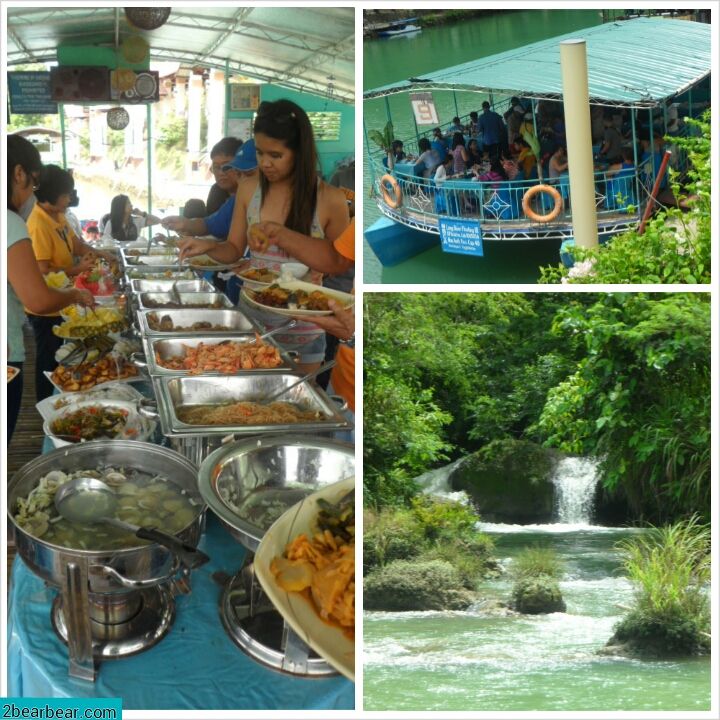 Loboc River Cruise and Buffet Lunch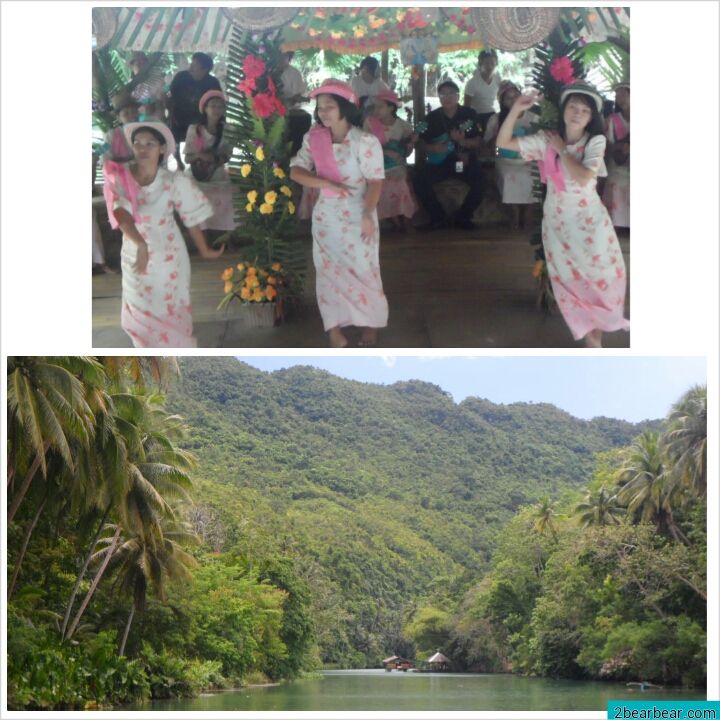 Performance by the Natives and Beautiful scenery enroute the Loboc River Cruise
We thoroughly enjoyed this leisurely cruise. The music was fantastic! Great voice and guitar playing! I think his singing really made the difference to an idyllic river cruise 🙂

Buffet with musical accompaniment onboard the Loboc River Cruise

Bamboo dance with the Natives

Singing performance by the Natives
Baclayon Church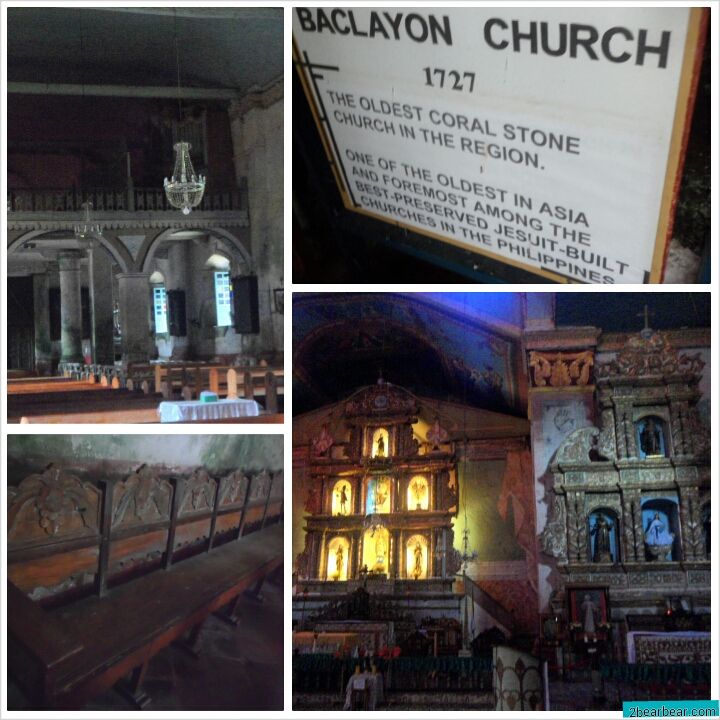 Baclayon Church – The Oldest Coral Stone Church in the Region of Bohol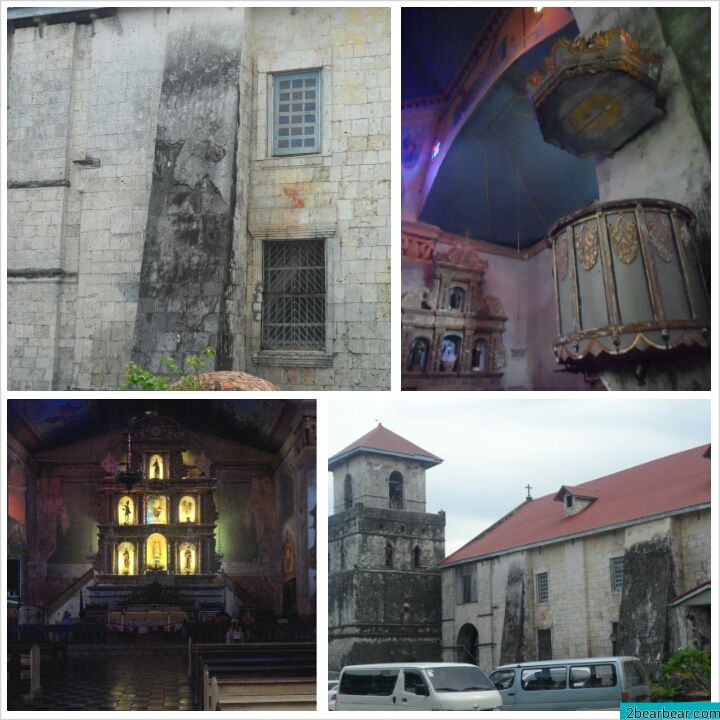 Interior of the Baclayon Church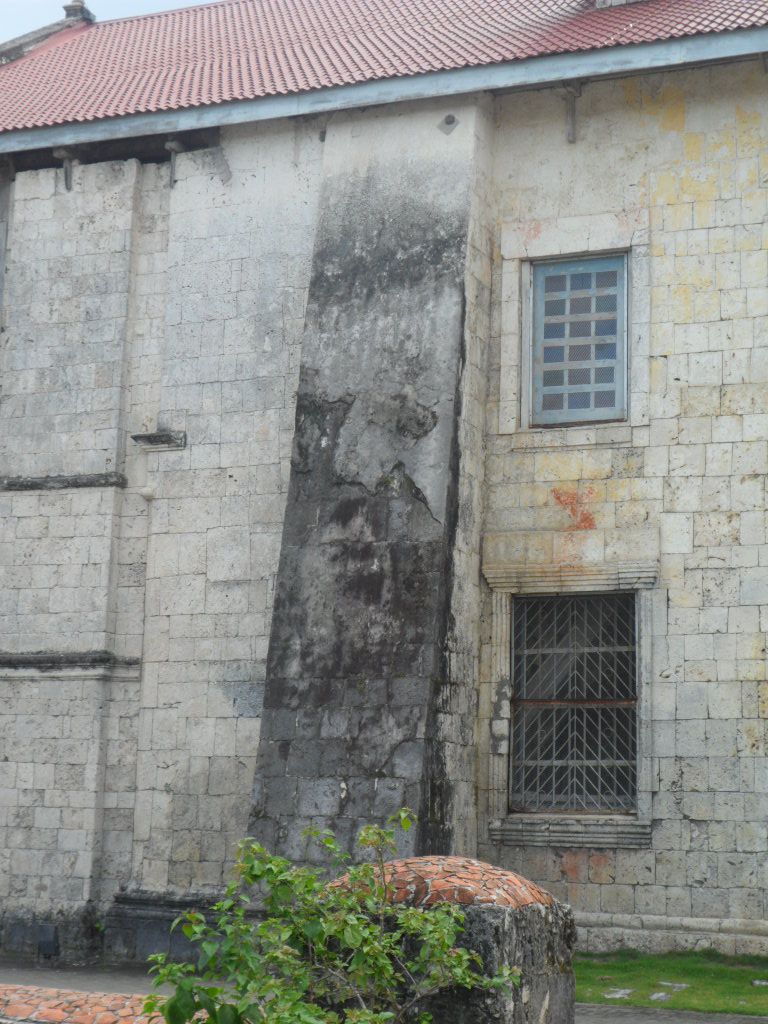 Picture of Saint Pio on the facade of church under weathering
The Baclayon Church is not only the oldest coral stone church in the region. It also has an uniqueness to the facade of the church. If you look closely enough at the wall in the picture above. You will notice that there is a man there. Locals see him as Saint Pio. Strangely enough, there was no paint work whatsoever. Simply weathering taking place. Miraculous eh?
Blood Compact Memorial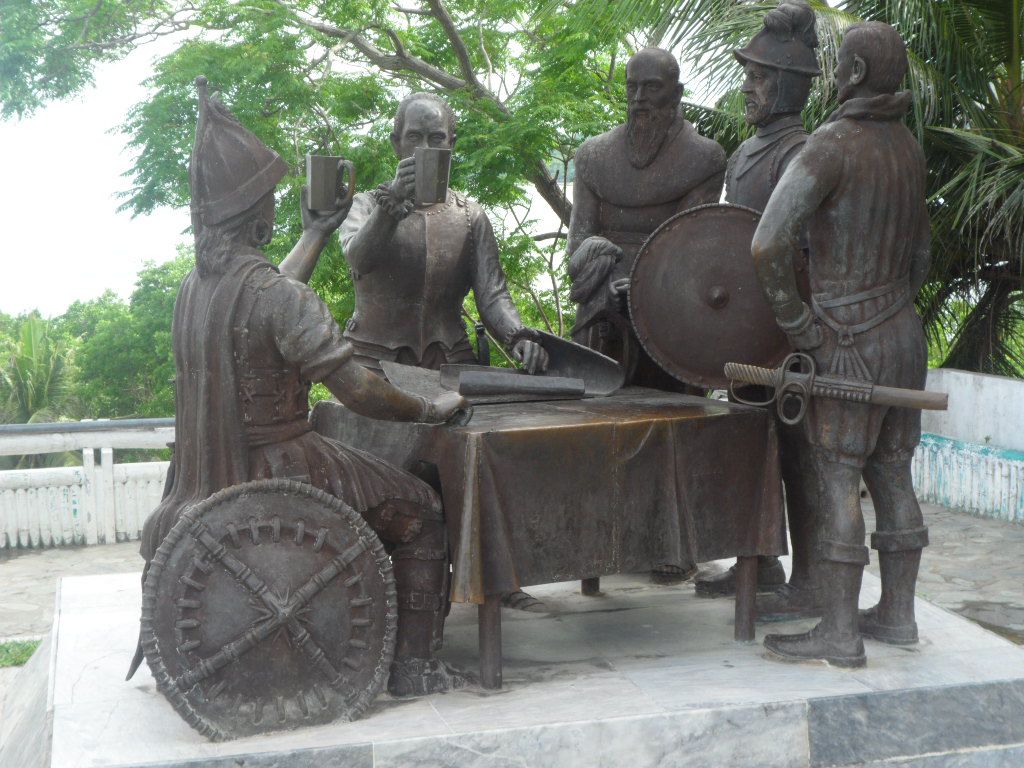 Blood Compact Memorial
The blood compact memorial was erected as a remembrance of the initial compact between the early spanish explorers and the chieftain of Bohol. It was said that "drinking of one blood" is a sign of friendship which was done at this blood compact.
The controversy that surrounds the Blood Compact Memorial itself is its location. Apparently, there are 2 places that resembled a picture that was painted when the compact took place. So the current location may be eventually shifted.
If you enjoyed our content, "Like" us on Facebook Today!

For your convenience, we have arranged for the best hotel deals in Bohol right here!
Related Posts
Cebu
8 Things to do and Attractions in Cebu Philippines!
How to get from Singapore to Cebu?
Oceanjet ferry from Cebu to Bohol: Fast and comfortable
CnT Lechon: The Best Lechon in Cebu?
Golden Cowrie Restaurant Cebu: For Authentic Filipino Food!
Eat, shop, eat, shop, till we drop in Cebu!
Filipino Breakfast at Alberto's Pizza Cebu!
Ayala Mall Cebu : Do What The Locals Do!
City Suites Ramos Tower: Good location with Great view!
Castle Peak Hotel, Cebu, Philippines: Good location, Low price!
Breakfast at Bo's Coffee: One of Philippines' top specialty homegrown coffee shop
Bohol
4 Top Attractions and Things to do in Bohol Philippines!
Peacock Garden Bohol : Awesome Premier Infinity Pool and Seaview Room!
Bohol Countryside Tour: Chocolate Hills, Tarsiers and More!
Amorita Resort Bohol: My little love…
Dolphin and Island Hopping Tour (Pamilacan, Balicasag, Virgin sandbar): A day of chasing dolphins and turtles
Related posts: