Kate noticed Bo's Coffee striking logo in the streets of Cebu and decided that we should try the coffee and food there. There is one branch near City Suites Ramos Tower so that was what we had for breakfast on our last day in Cebu. Established in Cebu in 1996, Bo's Coffee was founded by coffee enthusiast and entrepreneur Steve Benitez. The deco in Bo's Coffee is warm and inviting; and the selection of food was also fairly extensive. We took some time to decide what to have for breakfast. We were also tempted by the cakes and pastries but unfortunately we were too full after our mains 🙁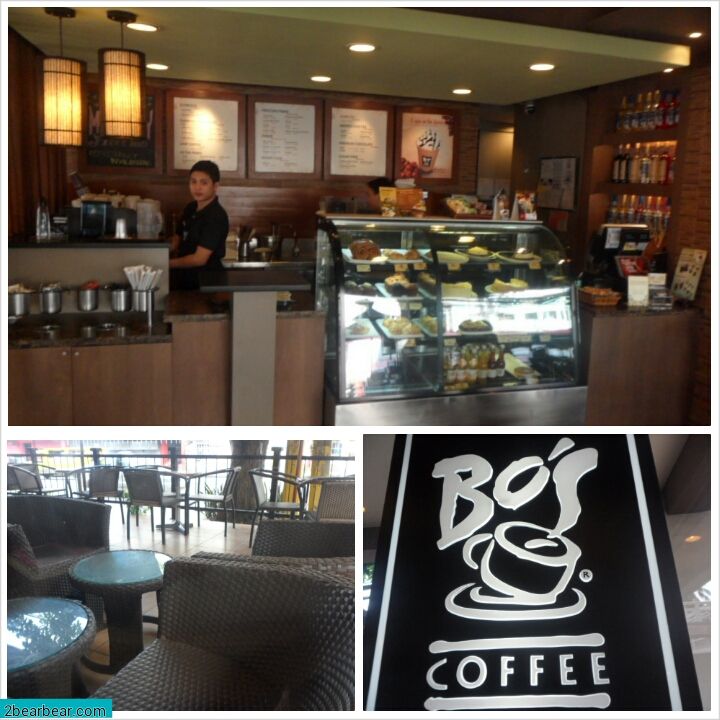 Inside Bo's Coffee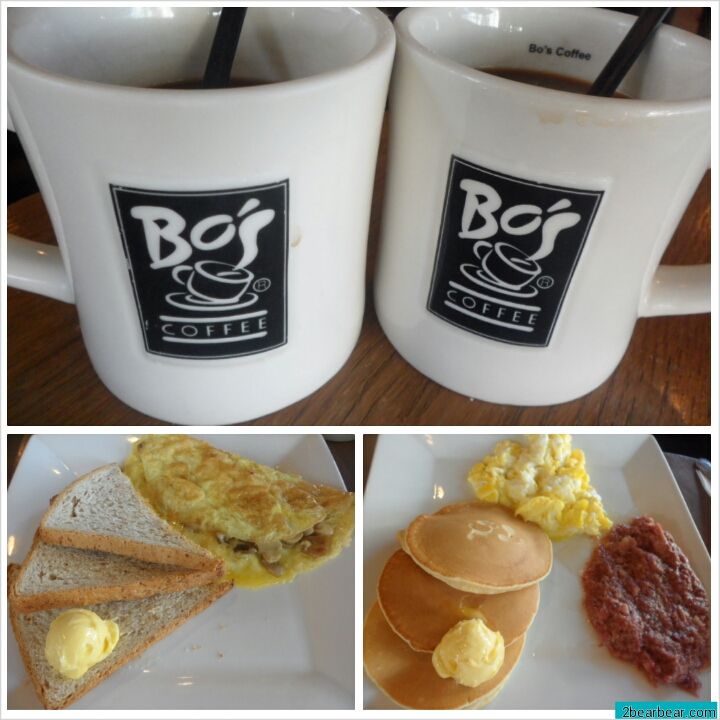 Drip Coffee (10 pesos with any order of mains), Mushroom and Cheese Omelette with Toast (150 pesos) & Corned beef with scrambled eggs and pancake (175 pesos)
It was definitely a great place to enjoy coffee and pastries while people-watch as the locals make their way to work and the students heading off to school.
If you enjoyed our content, "Like" us on Facebook Today!

For your convenience, we have arranged for the best hotel deals in Cebu right here!
So if you're in Cebu, don't just go for Starbucks, consider Bo's Coffee for a change. Plus, the price is definitely safer for your pockets! 🙂
Related Posts
Cebu
8 Things to do and Attractions in Cebu Philippines!
How to get from Singapore to Cebu?
Oceanjet ferry from Cebu to Bohol: Fast and comfortable
CnT Lechon: The Best Lechon in Cebu?
Golden Cowrie Restaurant Cebu: For Authentic Filipino Food!
Eat, shop, eat, shop, till we drop in Cebu!
Filipino Breakfast at Alberto's Pizza Cebu!
Ayala Mall Cebu : Do What The Locals Do!
City Suites Ramos Tower: Good location with Great view!
Castle Peak Hotel, Cebu, Philippines: Good location, Low price!
Breakfast at Bo's Coffee: One of Philippines' top specialty homegrown coffee shop
Bohol
4 Top Attractions and Things to do in Bohol Philippines!
Peacock Garden Bohol : Awesome Premier Infinity Pool and Seaview Room!
Bohol Countryside Tour: Chocolate Hills, Tarsiers and More!
Amorita Resort Bohol: My little love…
Dolphin and Island Hopping Tour (Pamilacan, Balicasag, Virgin sandbar): A day of chasing dolphins and turtles
Related posts: