Recently, we had a celebration at Serenity at VivoCity. It is a Spanish bar and restaurant, touted as having some of the best tapas (appetizers) in town. The fame of its suckling pigs and paella also preceded its name. Hence, we decided to have our small celebration there and also check out the food at this Spanish joint.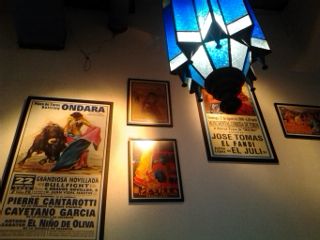 Decorations at Serenity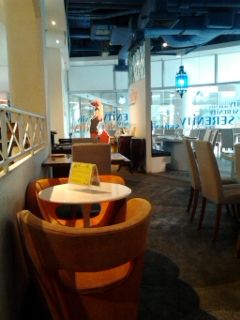 Ambience at Serenity VivoCity
With the posters depicting various parts of Spain as well as the decorations that contributes to a relaxing atmosphere, Serenity gave us quite a good first impression. With prompt service, we were quickly tucked to a cozy corner of the restaurant where we could have our mini celebration. (Do note that this is not an advertorial and we did not inform the management about the celebration)
What to drink at Serenity Spanish Bar and Restaurant
They say (or the menu says) that a visit to Serenity is never complete unless you have tried its Sangrias. So we believe and ordered 3 Sangrias…

Classic Red Sangria Serenity – (Red Wine, Gin, Brandy, Orange Liquor, Juices, Lemonade)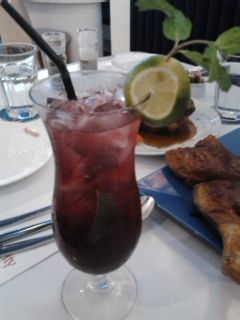 Sangria Pantera Rosa @ Serenity Spanish Bar and Restaurant – (Red Wine, Raspberry Schnapps, Mixed Berries, Mint, Tonic)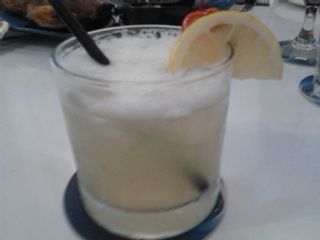 Sangria De Coco – (White Wine, Malibu, Pineapple Juice)
Well, the verdict was not conclusive. Everyone had their own favourites. I liked mum's Sangria De Coco while Kate loved the Classic Red. Bro enjoyed the Pantera Rosa. From another perspective, the conclusion is that there's really a sangria suited for everyone! 🙂
What to eat at Serenity Spanish Bar and Restaurant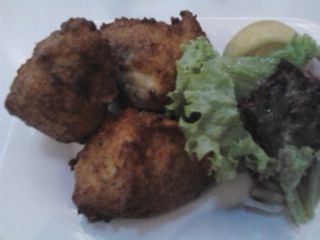 Deep Fried Spanish style cod fish cake
For tapas, we tried the cod fish cake. It was not that good. After our crab cakes lesson from USA, we should have avoided "seafood cakes" altogether. Though the crust was crispy, the insides did not do justice to the cod. Well, we'll leave it as that. Next came the mains…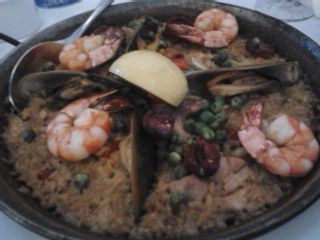 Paella Valenciana – (Saffron, chicken, Spanish chorizo, tiger prawns, squid, half shell mussels, rice)

1/2 Roasted Suckling Pig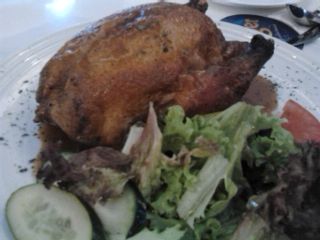 Pollo con samfaina – (Roasted spring chicken stuffed with Spanish style vegetable rice)
Do note that the Paella and Roasted Suckling Pig are hot favourites at Serenity and will take about 30 mins to 1 hour of preparation time (depending on the crowd). Hence, if you're ordering it, sit down, order these before looking at the rest of the mains or tapas.
Paella. Our favourite has got to be the Paella. Its said that the secret lies in the grains and Serenity uses the Boomba which is able to absorb flavours up to three times as much as normal grain. This move proved to be wise. The Paella was SOOOOOOOOOO flavourful. All the flavours of the ingredients were fused into the tiny grains and bursts forth as you take each mouthful of it. The only comment is that although the ingredients (prawns, mussels) were fresh, the manner of preparation dried them a little too much.
Roasted Suckling Pig. The roasted suckling pig proved to be a favourite as well. At $98++ it had better be good. And it was. The skin was light and crispy. The meat was tender, almost falling off the bones. The combination of the crispy skin and flavourful tender meat? Yummilicious!
In terms of flavour, the roasted chicken was ok. But the rice that went along with it was actually quite good. A little bit sticky but rich in flavours. Perhaps thats where all the flavours of the chicken went to…
Conclusion
The total bill came up to $300+ for 5 people. A little on the ex side. But the authentic Spanish taste did tilt the balance. I mean if you fly 5 people to Valencia to taste the Paella, it would have cost a few thousand bucks right? Hence, for the authentic taste and refreshingly good Sangrias, we give it a thumbs up.
But not too often, else it might just burn a hole in your pocket!
If you enjoyed our content, "Like" us on Facebook Today!

Remember to leave your comments for 2bearbear Singapore Travel Blog in our comments section below!
In our comments section below, tell us more about your visit to Serenity Bar and Restaurant at VivoCity!
Related posts: