Checkpoint Charlie in Berlin was the only point for foreigners to do border crossing into East Berlin during the Cold War. The most infamous incident that took place at Checkpoint Charlie was in October 1961 where there was a stand-off between 10 tanks from both American and Soviet troops. Today, Checkpoint Charlie is a major tourist attraction when visitors come to Berlin.
The name "Charlie" came from the letter "C" used in the military where "A" stands for "Alpha", "B" for "Bravo" & "C" for "Charlie" etc.
You would recognise Checkpoint Charlie easily because of the checkpoint itself, sandbags, guards as well as a large poster of a soldier (American or Soviet depending on which side you are at)
If you are on the Soviet side entering into the Allies (American) sector, you would see a picture of the American soldier at Checkpoint Charlie…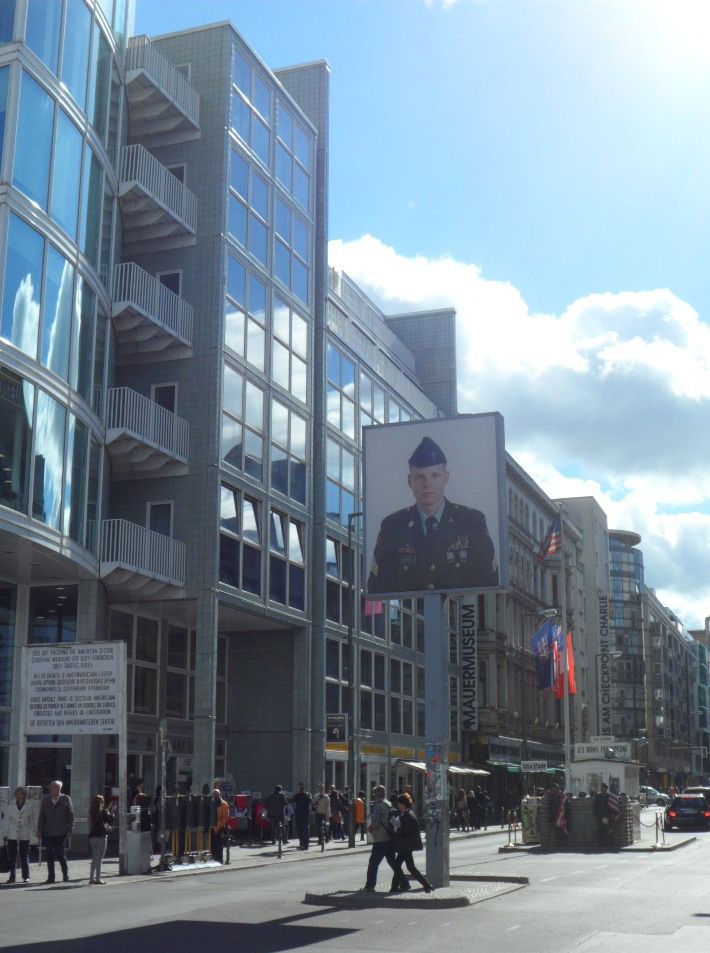 Checkpoint Charlie : American soldier as you enter the Allies American Sector
Conversely, if you are on the American sector, entering into the Soviet side, you would see a picture of the Soviet soldier as well as the famous words "YOU ARE LEAVING THE AMERICAN SECTOR"…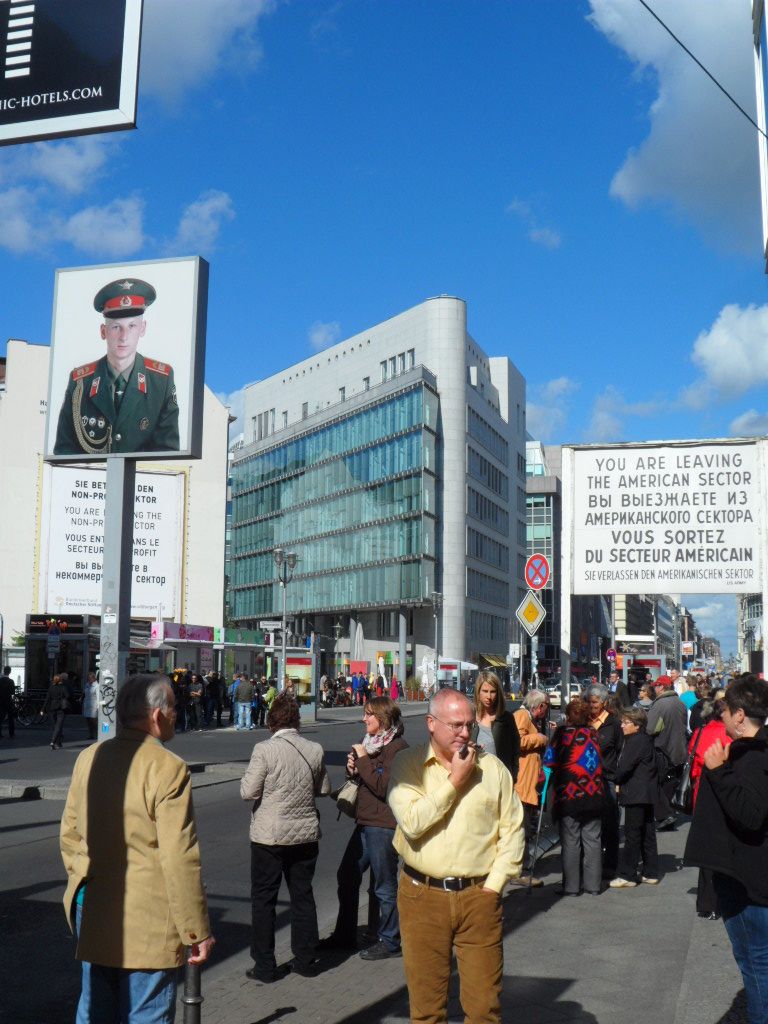 Checkpoint Charlie : Soviet Soldier as you enter the Soviet Sector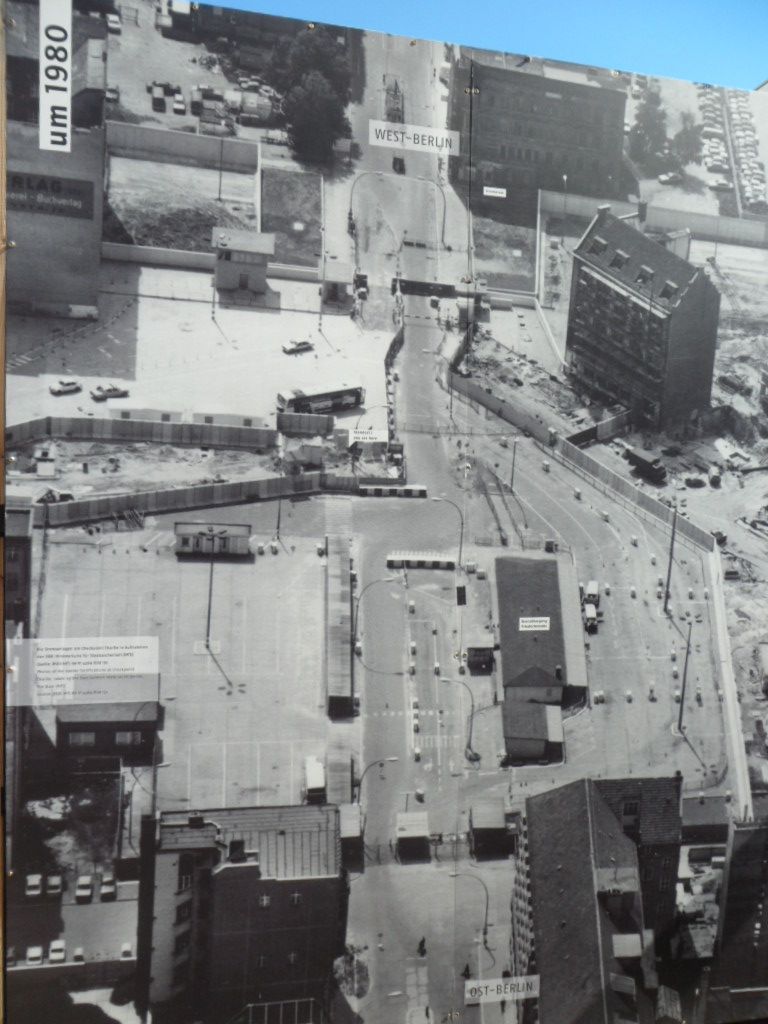 Aerial view of Checkpoint Charle : West Berlin at the top and East Berlin at the bottom
This picture shows the aerial view of Checkpoint Charlie during the Cold War era. Notice the many lanes after crossing Checkpoint Charlie and even an area set aside for checking of cars entering into East Berlin.
Today, Checkpoint Charlie is a huge tourist attraction where you can learn more about the Berlin Wall through the museums, have a bite at the nearby cafes or even take a photo with uniform guards and have your passport chopped by the Soviet and American border controls!

Exhibition about the Berlin Wall and Checkpoint Charlie

Thurmann Bakery @ Checkpoint Charlie : Coffee, Sandwich and Cake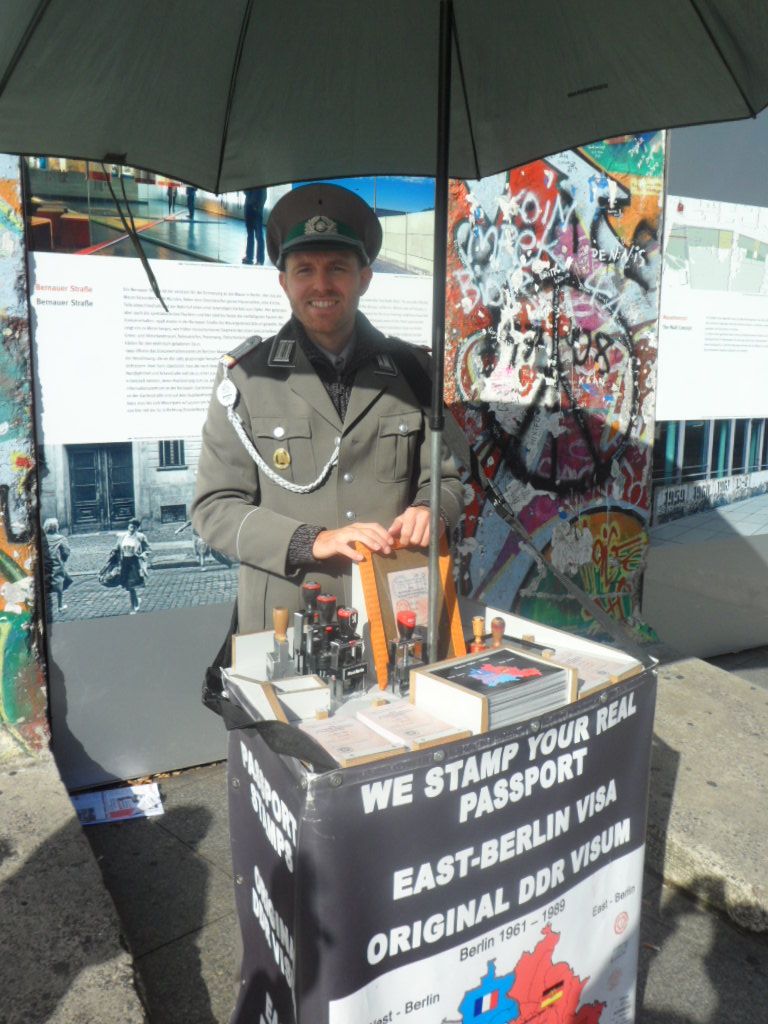 Uniformed Soldier guarding the Checkpoint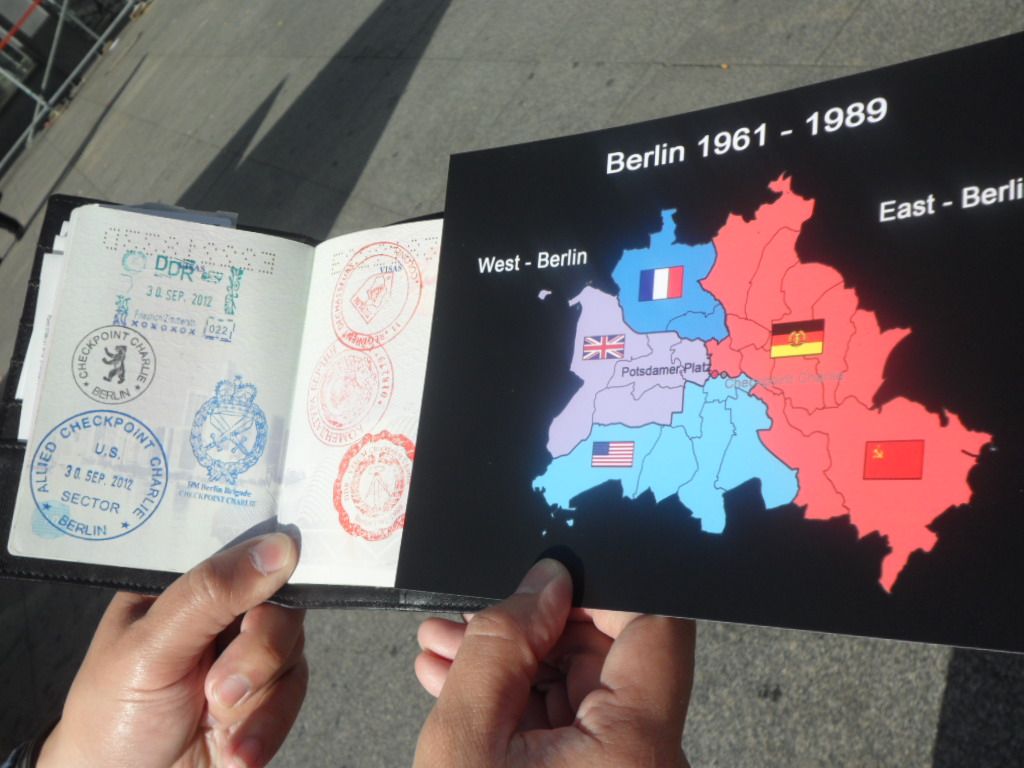 Getting your passport stamped for a small price of $5Euros
Ticket Prices & Opening Hours of Checkpoint Charlie
Checkpoint Charlie is always accessible but the uniformed guards will be there during normal working hours. If you would like to take a picture with the guards or have your passport stamped, a nominal fee of $5euros would apply.
How to get to Checkpoint Charlie in Berlin
Map of Checkpoint Charlie Berlin
Checkpoint Charlie is located at the intersection of Friedrichstrasse (Friedrich Street) and Niederkirchnerstrasse (Niederkirchner Street) and is just a short walk from the nearest U-Bahn – Koch Strasse Station.
Related Posts
You have just finished a post from our Berlin Travels. Below, you can find other relevant posts covered during this trip!
Top 8 Things to do and Attractions in Berlin Germany
Berliner Hof Hotel – A great base to explore Berlin
Berlin Hauptbahnhof : Futuristic Berlin Central Station
Alexanderplatz Berlin : A relaxed evening and a sumptuous steak dinner at Block House
Hotel Amelie Berlin : No frills budget stay
Berliner Currywurst : Is it really all that its hyped up to be?
Berlin Wall East Side Gallery : Iconic Artwork Awaits
Checkpoint Charlie Berlin : At Berlin Wall between East and West Berlin
Holocaust Memorial Berlin : Memorial to the Murdered Jews in Europe
Brandenburg Gate Berlin Germany aka Brandenburger Tor : A Must Visit Attraction
Berlin Zoo aka Hauptstadt Zoologischer Garten : Back to Nature…
Berlin Wall Documentation Centre : History Before Your Very Eyes
Der Reichstag Berlin : Home of the German Parliament (Bundestag)
If you enjoyed our content, "Like" us on Facebook Today!

For your convenience, we have arranged for the best hotel deals in Berlin right here!
Take your time to enjoy the sights and sounds at Checkpoint Charlie and learn more about the history of Berlin Wall!
Related posts: