After checking out the Things to do in Chiayi on day 3 of our Taiwan trip, we decided to visit the other Chiayi Attractions such as Lan Tan Lake / Reservoir (蘭潭水庫), Sun Shooting Tower (射日塔) and eating our way through Zhong Shan Lu (中山路) – Chiayi's main shopping street!
Chiayi Attractions Taiwan!
On day 4 of our trip, we actually started the day early at Duke Hotel. 4am early. Yes, it was the world cup and we caught match between Germany and Algeria. Germany managed to pull through in extra time and won the game 2-1!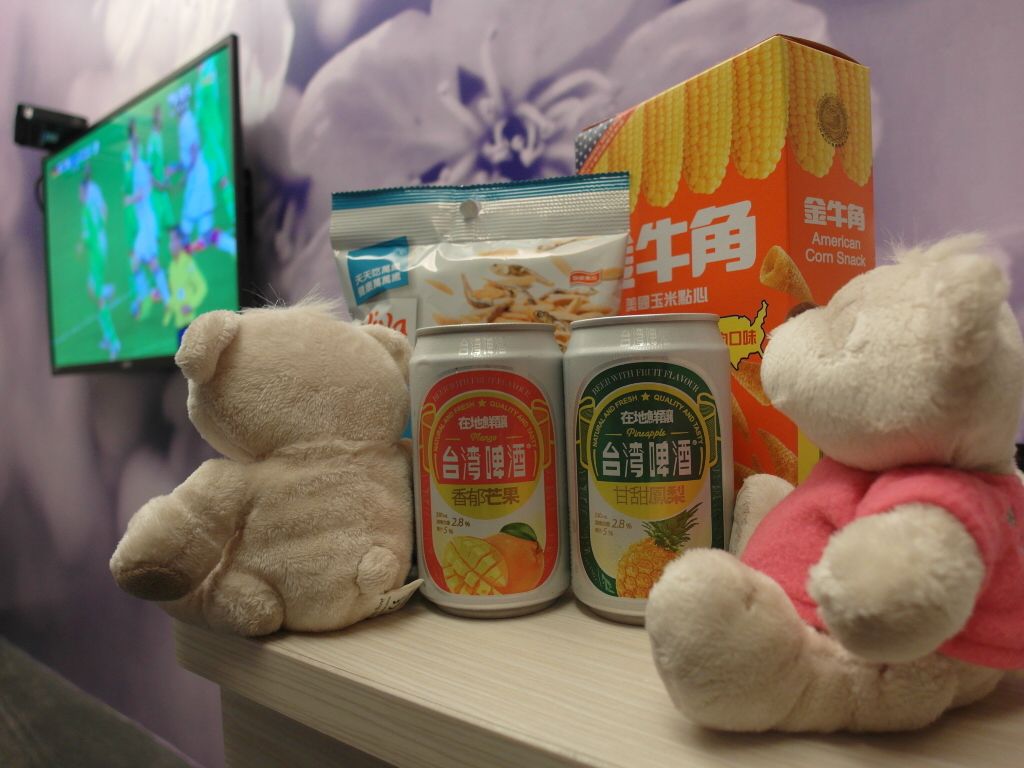 2bearbear watching Germany vs Algeria World Cup 2014! 4am in the morning!
Back to Chiayi Attractions… 😛
After collecting our breakfast at McDonald's we took the bus from Chiayi Terminal to Chiayi University for 18NT. If you're unsure, the friendly aunty at the ticketing counter will be able to advise you. The bus ride took about 20 minutes. Lan Tan aka 蘭潭水庫 is actually located very near Chiayi University. You'd probably see couples from the University, hanging out by the Lan Tan Lake or just enjoying views of the mountain ranges in the distance.
Now, the important information…HOW TO GET TO LAN TAN LAKE?
Lan Tan Chiayi / 蘭潭水庫
After arriving at Chiayi University, you'd realise that you may have entered into the University and may be erm…a little lost. Fret not! We have been lost in Chiayi University as well and here are the simplified steps for you to reach Lan Tan!
Step 1 : Head towards the entrance of Chiayi University, where you will see the office of the security guards.
Step 2 : On the right of the security guard house, you'll see a car park with lots of motorcycles, head towards it and turn right towards a flight of stairs.
Step 3 : You'd probably be pestered by mosquitoes (bring a repellant) and small crawling lizards by now. IGNORE THEM! Continue up this flight of stairs and you'd end up at the University's dormitories. Ironically, this path is known affectionately by the students as Ai Qing De Xiao Lu (爱情的小路 or Love's Little Path). Kate was "loved" by several mosquitoes here…
Step 4 : Continue walking on the only path and you'd arrive at another security guard house. Walk across the road and keep right and within 2 minutes, you'll arrive at Lan Tan! Yay! (After all that treacherous climb) OR You'd probably be lost like us and ask the security guards. He'd actually say the exact same thing to you – that's because we asked! We're trying to prevent uncles being asked the same question ("Where is Lan Tan?") over and over again. So be brave. Cross the road and keep right!
After reaching Lan Tan, we took a short stroll around the lake, taking shots at Rippling Moonlit Talk 月影潭心, San Xin Ting 三信亭 and of course the mountain ranges in the distance. We're actually not sure what those mountain ranges are. But we're secretly hoping that it's the Alishan (阿里山) Mountain Range (it is in the correct general direction!).

Views of Mountain Range from Lan Tan
The reason why we did not go to Alishan is because of the duration and probably, the "treacherous" journey. The trip takes about 3 hours from Chiayi, making it 6 hours for a return trip. Plus, mountainous roads are usually windy (thus evoking motion sickness). Last but not least, parts of the roads to Alishan have been blocked off for reconstruction due to landslides in 2010. Most locals we asked said that Lan Tan would be the best alternative in terms of cost and time.
After our visit to Lan Tan, we took the same bus (remember to refer to the bus timetable!) back towards Chiayi. Oh, you can also feed the ducks at the pond next to the bus stop and even send a post card back home as well!
Enroute, we alighted at the Chiayi Park…
Chiayi Park / 嘉義公园
The main reason why we stopped at Chiayi Park is because of the Sun Shooting Tower. However, we forgot to check out the opening hours before going. Apparently, it closes on Mondays and Tuesdays. But thank the Lord, there was an exhibition (Alessi) going on and it was open on the Tuesday that we visited 🙂
As you approach (and leave) the Sun Shooting Tower, be careful of the sudden LOUD sounds play through the PA system. We were startled TWICE as we entered and left the Chiayi Tower. However, views from the tower was simply amazing and there's even a nice alfresco chillax area at the top of the tower…
Zhong Shan Lu (中山路) Shopping Street
From Chiayi Park, our last itinerary of the day was to head back to Duke Hotel along Zhong Shan Lu – Chiayi's main shopping street…
Our first stop was at the Hong Jia Zhuang Beef and Pork Noodles Restaurant. What attracted us was its cute banner and of course the fact that it had pork noodles in addition to beef noodles at the restaurant. Yes, we tried the pork noodles.
It happened that the restaurant got famous because of the cute twins, grandchildren of the owner of the restaurant. The best part was that they happened to be visiting from Taipei (they have since grown up and shifted to Taipei for their education) and the cute twins served us our lunch! The noodles were quite tasty and the pork was very tender. However, we wouldn't say that it's superb. Just good. Perhaps, the "twins effect" bumped up the unique factor of the restaurant. They're still soooo cute at 10 years of age! 😛
Still on Zhong Shan Lu, we stumbled upon 恩典方塊酥 shop. A bakery that specialises in selling square shaped biscuits – hence the name. We bought a couple because even the prime minister of Taiwan visits this place. When we finally got to try it back in our room, we understood why. The texture was flaky and crumbly both at the same time (how is that even possible?!). Taste was the usual buttery taste but not too sweet. Definitely a great gift to bring back home.
As for the oyster mee sua? We're featuring it so that you wouldn't make the same mistake of visiting it. The flavour was bland and the intestines still had the funny smell that remains if you don't wash it clean. Bottom line, give this joint a miss.
Located at 中山路325号 (325 Zhong Shan Lu), the famous 嘉义喷水鸡肉饭 Chiayi Spurting Turkey Rice is a must try for foodies visiting Chiayi. We've tried 3 different versions of the turkey rice in Chiayi and the spurting chicken rice comes up top! This is because of the flavourful fried shallots and bits of turkey skin that are prepared so well that it had a gelatinous crunch along with the firm turkey meats. Wash down with Taiwan Beer? Yum! The garlic squid on the other hand managed only an "ok" rating from us. Somehow, it lacked the fresh crunch that a good plate of garlic squid should have.
If you enjoyed our content, "Like" us on Facebook Today!

Remember to leave your comments for 2bearbear Singapore Travel Blog in our comments section below!
Rounding off the evening, we decided to pamper ourselves to VIP screening of Transformers 4 : Age of Extinction. And yes, it was in English. The seats were actual sofa seats and even comes with "Transformers" cushions. Each VIP ticket (at the cost of 330NT about $13 SGD) comes with a choice of soft drink or popcorn. Since there were the 2 of us, we decided to go with 1 popcorn and 1 coke.
All in all, it was a fantastic day out, visiting all the attractions in Chiayi! We hope that our day 3 post on things to do in Chiayi and day 4 post of Chiayi attractions can be a good resource for you when you visit Chiayi Taiwan in the future!
Stay tuned for day 5 of our Taiwan trip, next!
You have just finished a post on our Taiwan Trip in 2014 which started here. Here is the full list of posts written about Taiwan Trip 2014…
Singapore to Tainan : Taiwan Trip Day 1
Things to do in Tainan Taiwan Trip Day 2
鹿早茶屋 Opposite 1967 Hotel Tainan
Things to do in Chiayi Taiwan Trip Day 3
Chiayi Attractions Taiwan Trip Day 4
Changhua Meatballs (彰化肉圓) : Which is the Best?
What to eat at Feng Jia Night Market (逢甲夜市)?
Changhua Taichung Taiwan Trip Day 5
Things to do in Taichung Taiwan Trip Day 6
Things to do in Miaoli Taiwan Trip Day 7
Kuo Tai Glass Park Zhunan Day Trip
Things to do in Taoyuan Taiwan Trip Day 8
Taoyuan Attractions Taiwan Trip Day 9
Things to do in Taipei Taiwan Trip Day 10
Related posts: