Saizeriya is a Japanese owned Italian-styled family restaurant.
No wonder it seemed so familiar when we first saw its sign from a distance away. The green and red colours of the logos immediately reminded us of the same chain of restaurants we saw in Japan…Now Saizeriya has hit our shores in Singapore as well!
The thing we love about Saizeriya is its price! It is truly a family oriented restaurant with budget of the family as its priority. Pastas, pizzas and dorias average about $8 and there are some that go as low as $4-5 bucks!
There are also lots of sides for the family to choose from, such as the chicken wings and escargots

Popular Saizeriya Chicken Wings
This Saizeriya we went to is located at Liang Court. It is usually crowded during meal times but the crowd clears very quickly because of its no frills eat-and-beat-it concept.
Saizeriya has recently installed a new system that allows customers to call for the waiter/waitress when they're ready to order…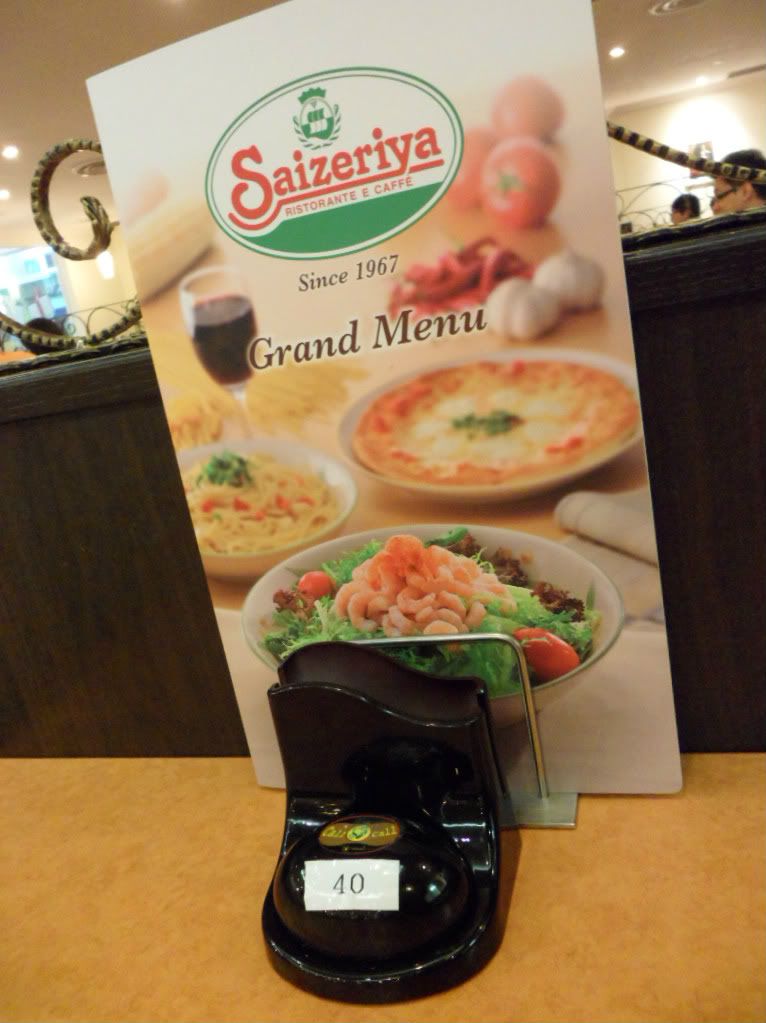 System to call for service
Much like the bell you use onboard planes or for that matter in hospitals, once you press the bell, a ring tone would be heard and your table number flashed on a board, informing the waiter that you are calling for them. This system of course makes it more efficient but it can get kind of irritating sometimes. But, the cheap and good food more than make up for any discomfort of this sort 🙂
A quick look at the menu…

Saizeriya Menu
We ordered the pork and beef meal as well as a spinach pizza ($7.90 nett for the pizza). We also ordered a pasta as well as the wings (we really cant remember the rest of the prices but rest assured they are competitively priced).

Pork and Beef Meal

Spinach Pizza

Pasta
We thoroughly enjoyed the meats, pasta and pizza. Though the pasta may look simple, it was full of flavour and the texture of the pasta was perfect! Not overcooked and still slightly springy (QQ as the chinese would say) in texture. Yum!
The pizza was also overlayed with generous portions of the spinach! The meats were again generous and juicy, not dried unlike some restaurants.
The highlight of eating at Saizeriya has got to be its drink bar where you can have coffee, milo, juice and other soft drinks, FREE FLOW for around $3! Hence, it is a good place for friends to have a meal and catch up over a cup of coffee (or many cups for that matter) without burning a hole in the pocket.

Drink Bar in Saizeriya
Overall, Saizeriya definitely rates highly for price and serving portions. The food at Saizeriya can be considered cheap for a restaurant, yet the portion and standard it delivers is comparable or much better than most other restaurants! Whats more, the price you see on the menu is the price you pay! Because there is no GST or Service Charge on top of the price you see on the menu, all prices are NETT prices!
The only setback would be that it could get rather noisy during peak hours. Other than that, Saizeriya is definitely a great place to hang out with friends or to have a no-frills meal with your loved ones!
For your convenience, you can now check out the best hotel deals in Singapore right here!
If you enjoyed our content, "Like" us on Facebook Today!

Related posts: