Eureka Inn was our next stop after our stay at Hilton Vancouver Washington. We decided to take the Oregon Scenic Drive via US Route 101 to Eureka before continuing our drive from there to San Francisco. The drive time from Vancouver, WA to San Francisco would have taken 10 hours but we decided to take a stop at Eureka so that we could enjoy the scenic drive and really just take in the sights. To give you an idea of what you can expect on the Oregon Scenic Drive, check this out…

Beautiful Ocean view on Oregon Scenic Drive via US 101
We set off at about 8am in the morning and finally reached Eureka at about 5pm. The original 7 hours drive became a 9 hours drive because of the breaks we took along the way. Well, with such views, you've got to stop somewhere and take it all in right?
Inside Eureka Inn California USA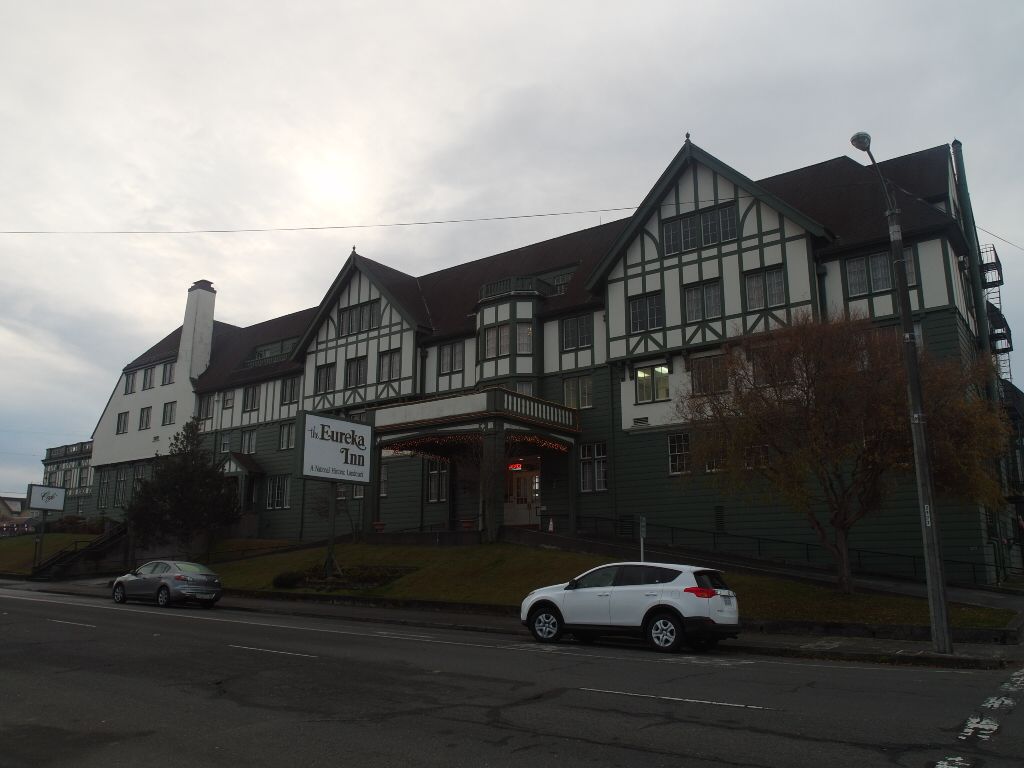 Facade of Eureka Inn
After parking the car in the carpark right behind the hotel (parking is complimentary for guests), we headed into the lobby of Eureka Inn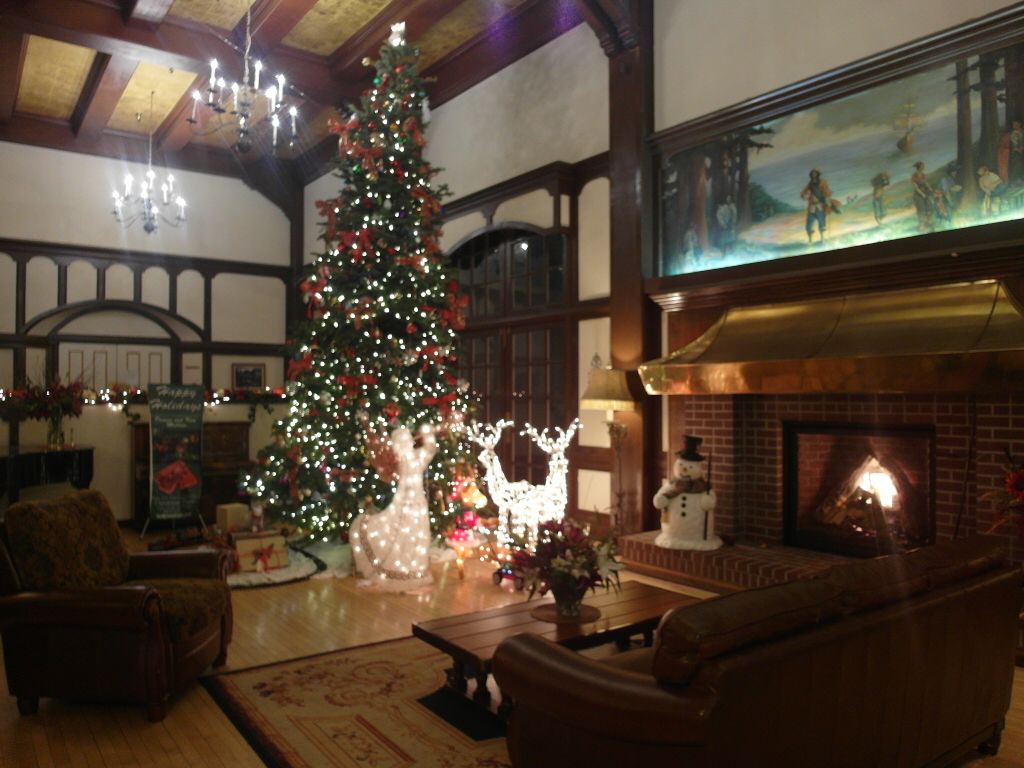 Christmas Tree and Fire Place of Eureka Inn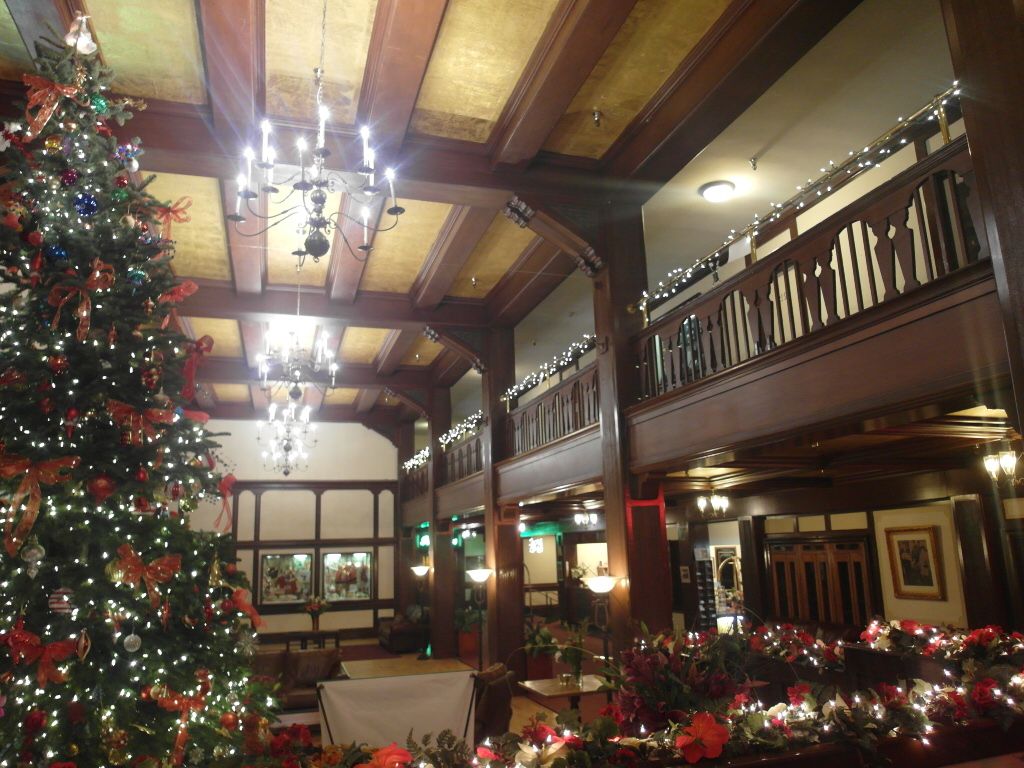 Lobby of Eureka Inn with view of the 2nd Floor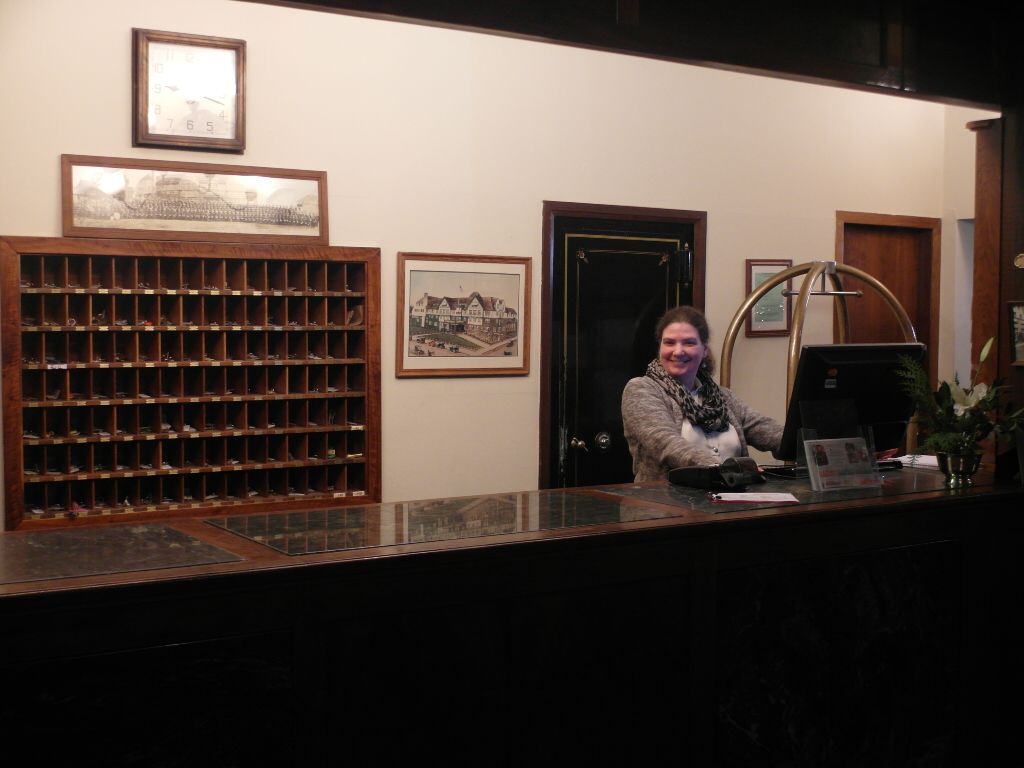 Lynette who was the receptionist upon our arrival
We were promptly greeted by Lynette who was on duty that evening. She warmly welcomed us and introduced us to the facilities of the hotel including drinks and live music at Palm Lounge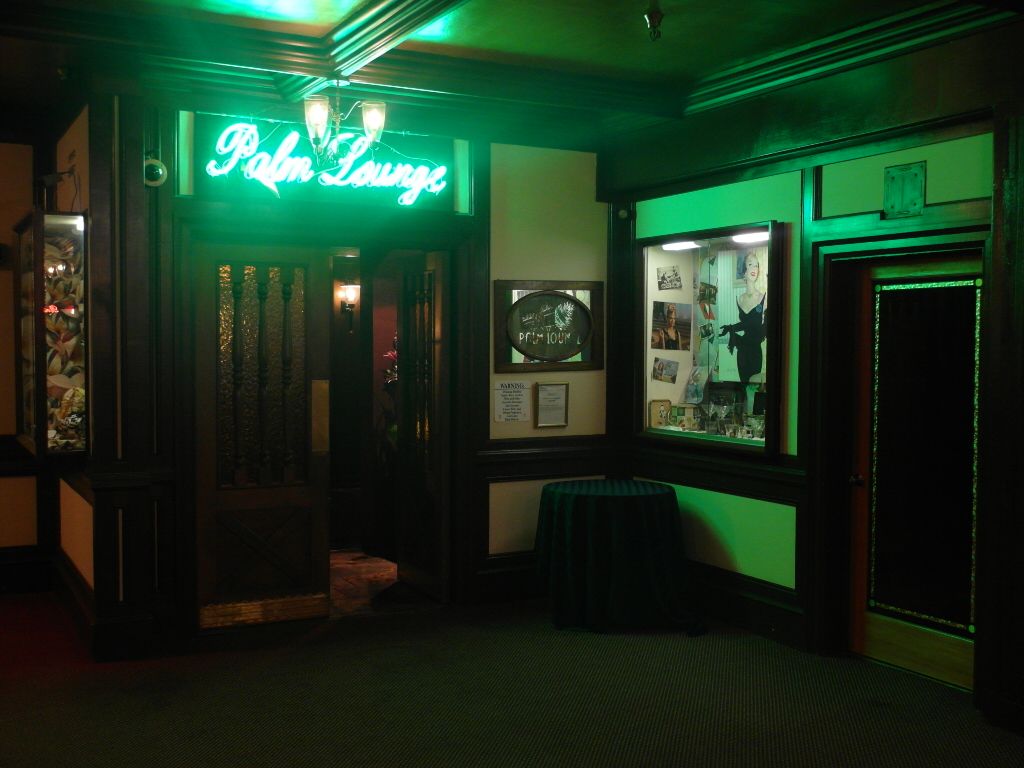 Palm Lounge with Jazz Music from 9pm onwards
Offers at the Bristol Rose Cafe (drinks for a penny! – with some orders of food of course)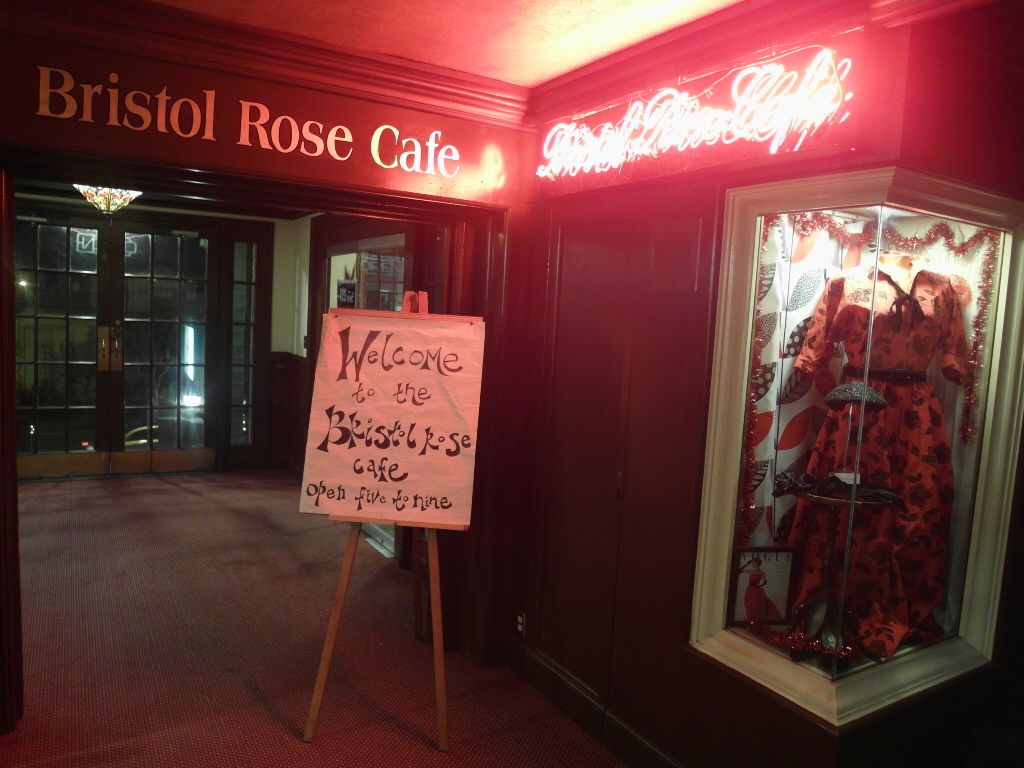 Bristol Rose Cafe Eureka Inn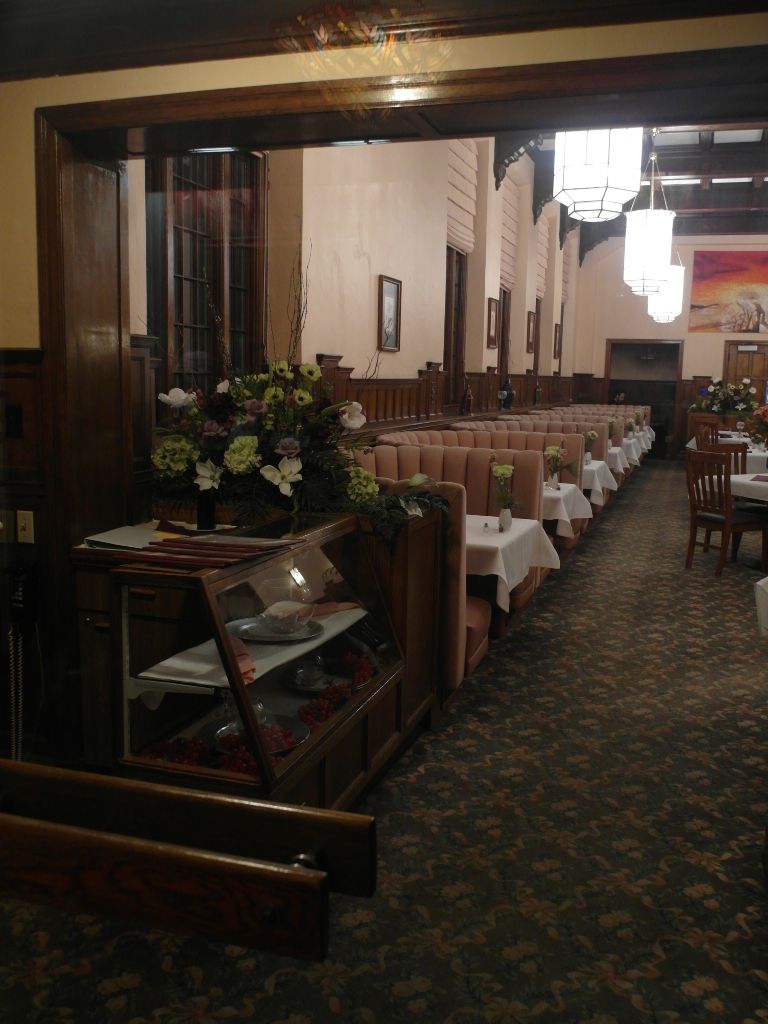 Inside Bristol Rose Cafe – notice its classy interior deco
And the ballroom which JF Kennedy once held a party…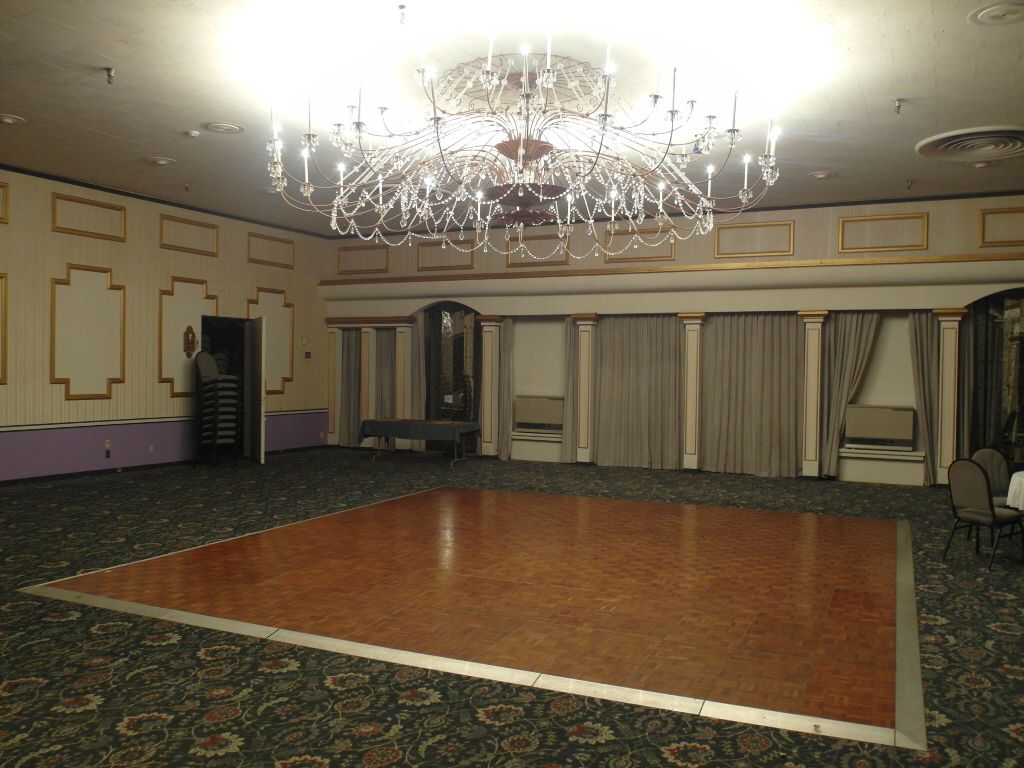 Actual Chandelier in Eureka Inn ballroom since 1952
Not to mention an outdoor swimming pool, which was too cold for us to swim at this time of the year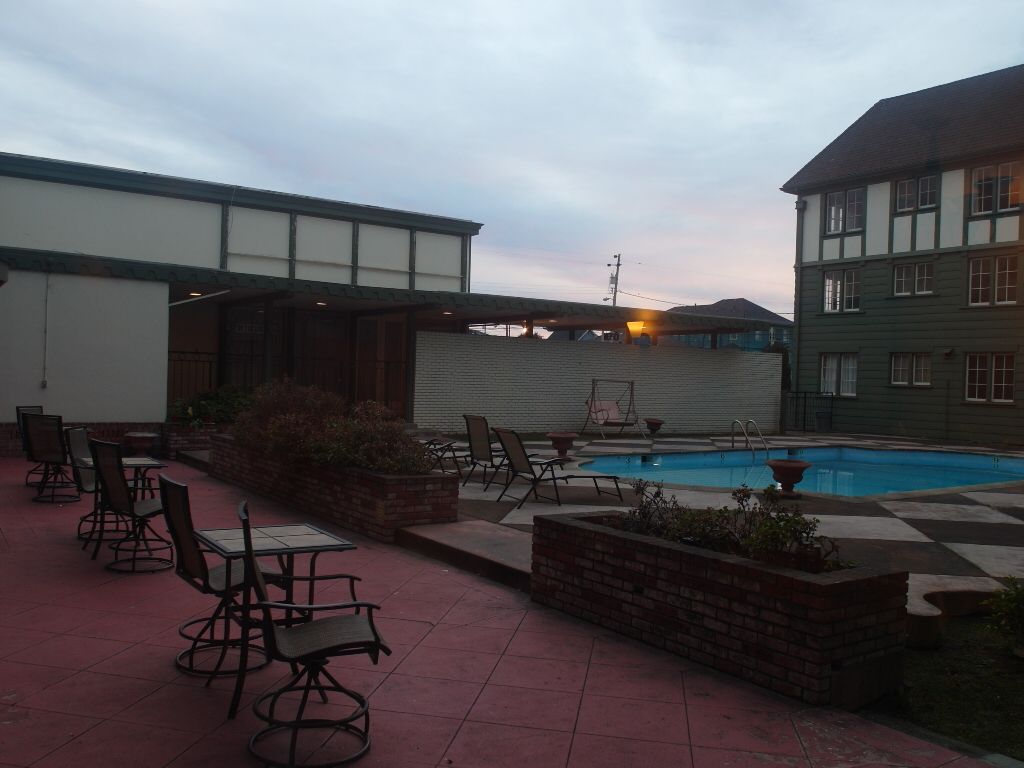 Outdoor pool area of Eureka Inn which must be really cool to hang out at during summer months
There's also alot of history that the hotel is famous for. In fact, when it opened in 1922, it was considered a very classy place, which is why it is now given the name "Grand old dame of Eureka". We also saw several interesting items scattered in the hotel…

Actual Telephone Switchboard used to connect calls between rooms
You literally "plug and play" to talk to the next room…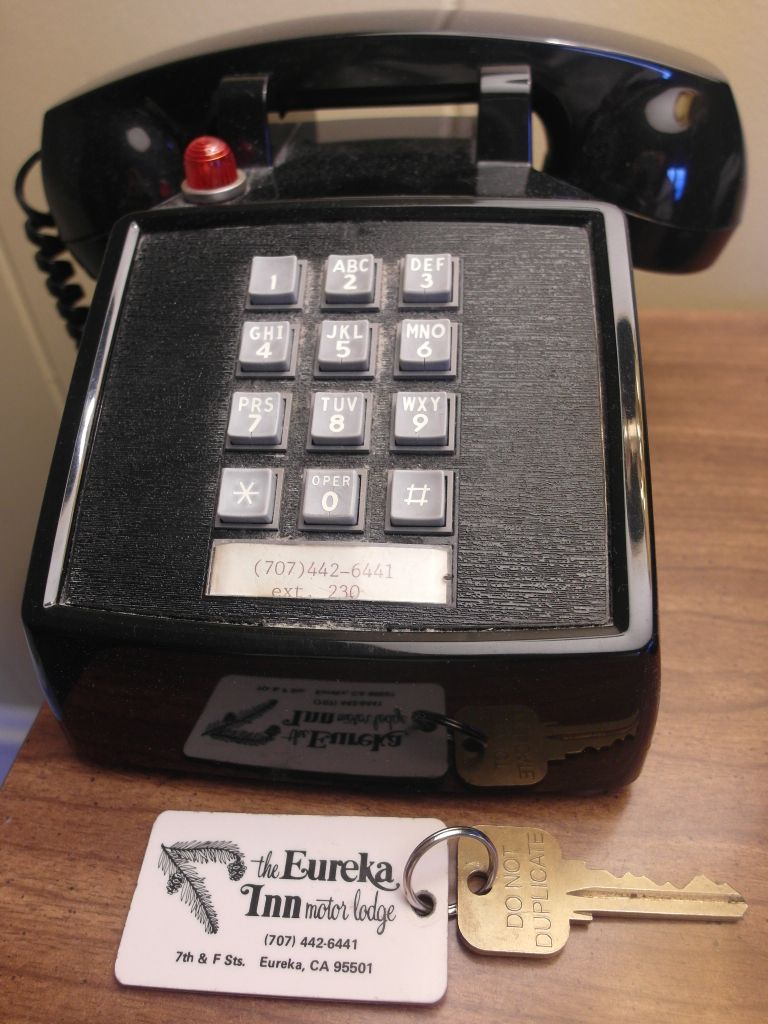 A really cool retro phone in our room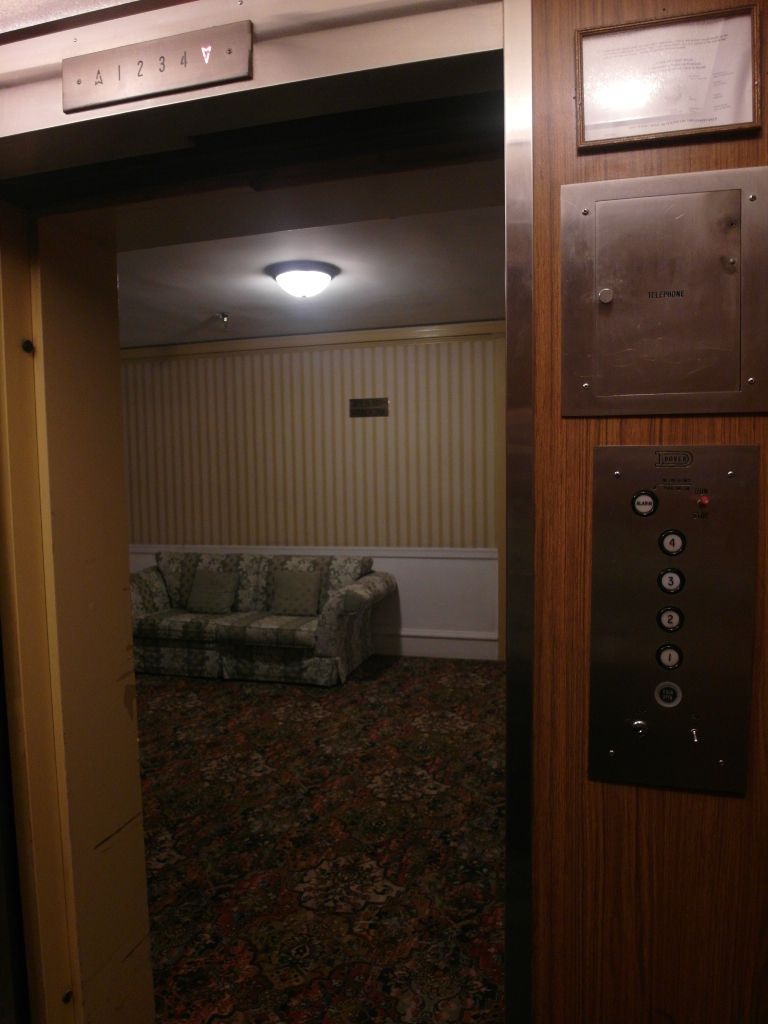 Old lift with hold buttons
Queen Bedroom of Eureka Inn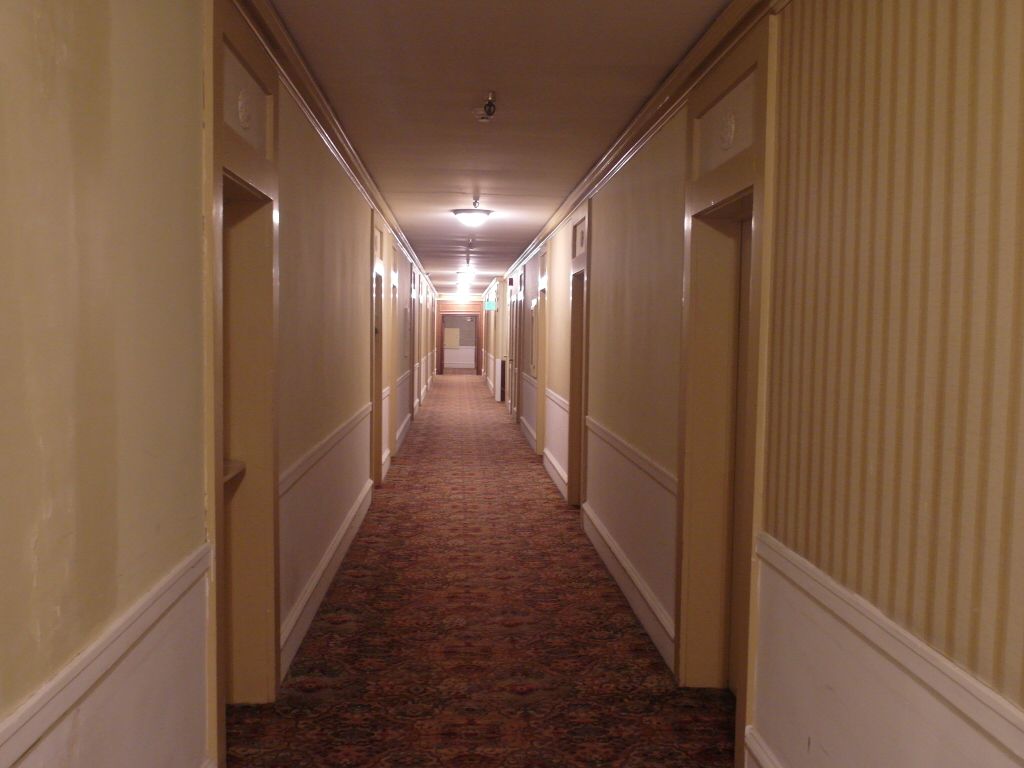 Corridor of Eureka Inn
When we were checking in, Lynette introduced us the newly refurnished room for an additional 30USD but we decided to stick to the "original". Though we saw many bad comments on Tripadvisor about the rooms, we did not see the "cracks" and "dirty bathtubs" that were described. The room and toilet looked fairly clean as well.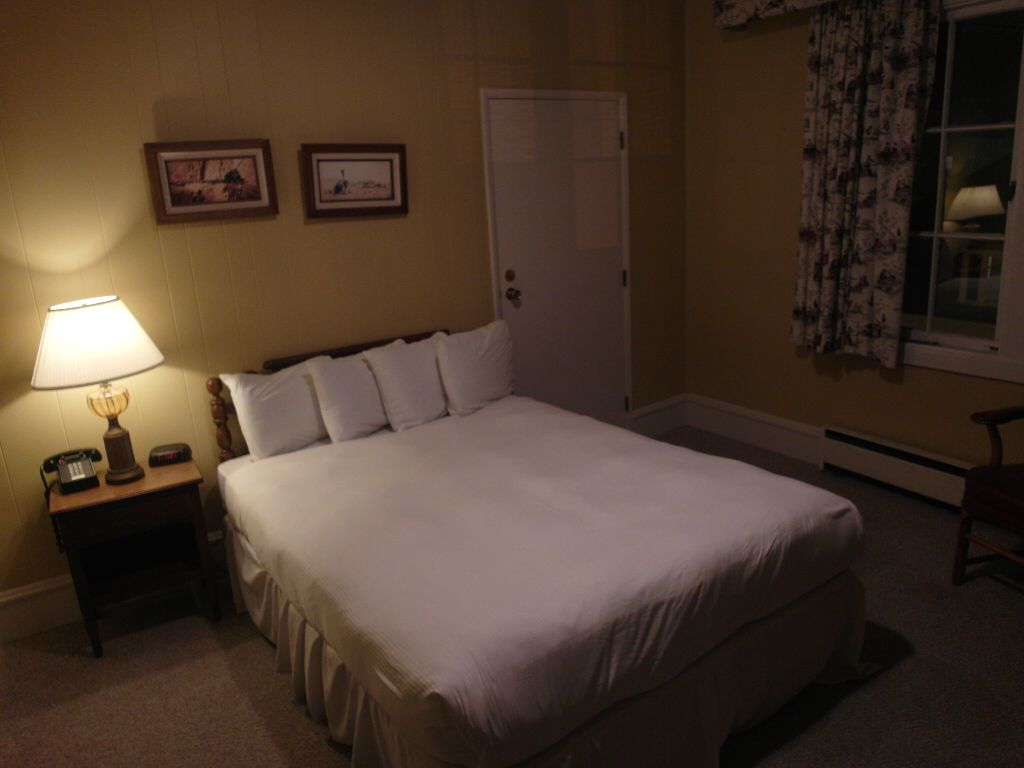 Queen size bedroom in Eureka Inn – Non renovated rooms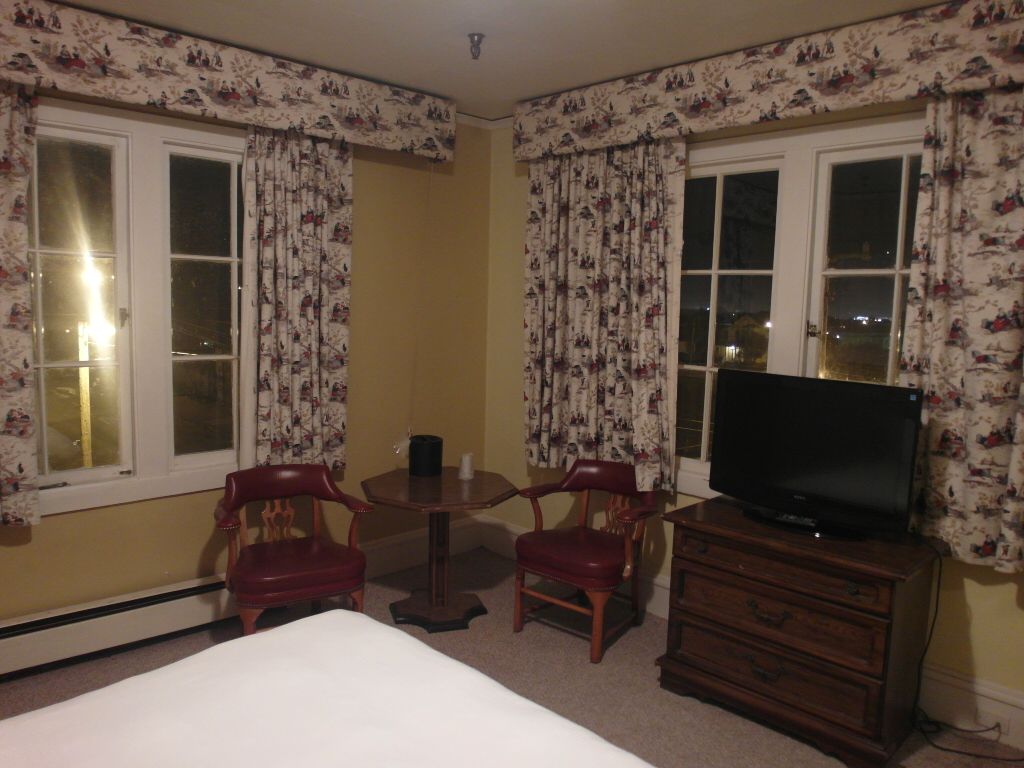 Vintage arm chairs and curtains with cable TV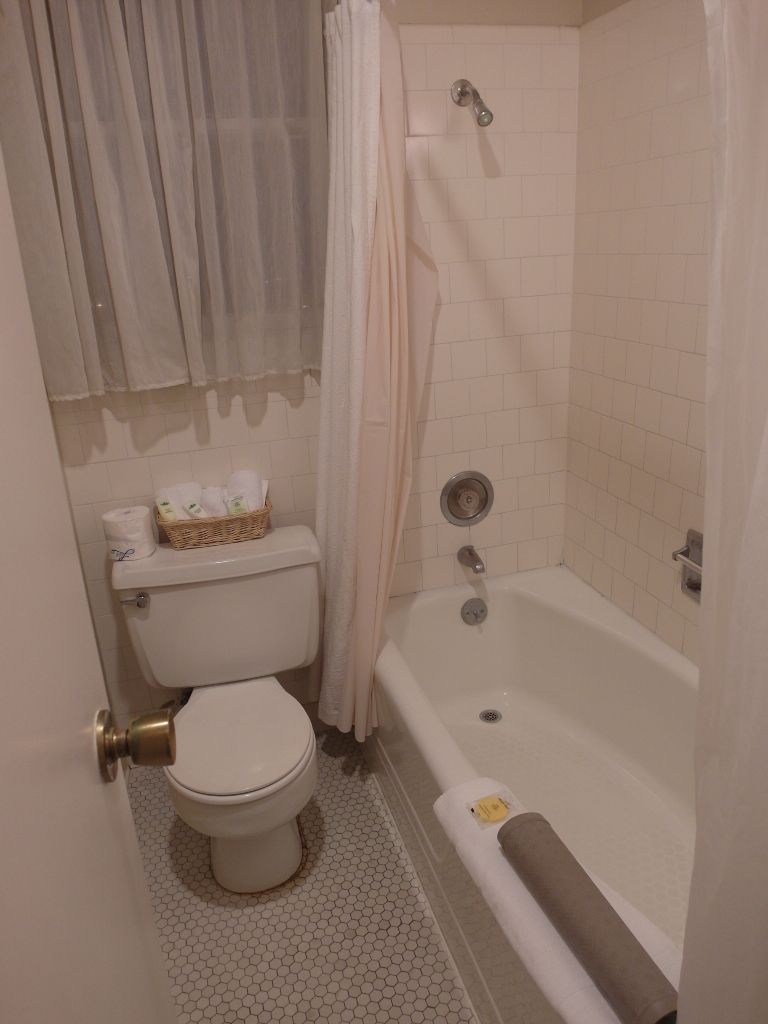 Clean bathroom and bathtub of Eureka Inn
Everything was above expectations, possibly because we lowered it due to what we saw on Tripadvisor. But there were some small things we noticed…
1. It took a REALLY LONG TIME before hot water came out of the taps.
2. If you look REALLY CLOSELY, there are indeed some parts that were old and needed to be changed (unless its intended to be there for the "rustic" feel which we do not think so)
3. The bed was too springy and whenever I rolled, Kate rolled too.
But nonetheless, for 90USD (including taxes), the room was really decent along with a great location. Within walking distance to the historic downtown and of course Lost Coast Brewery.
Why stay at Eureka Inn?
Historic Old Town of Eureka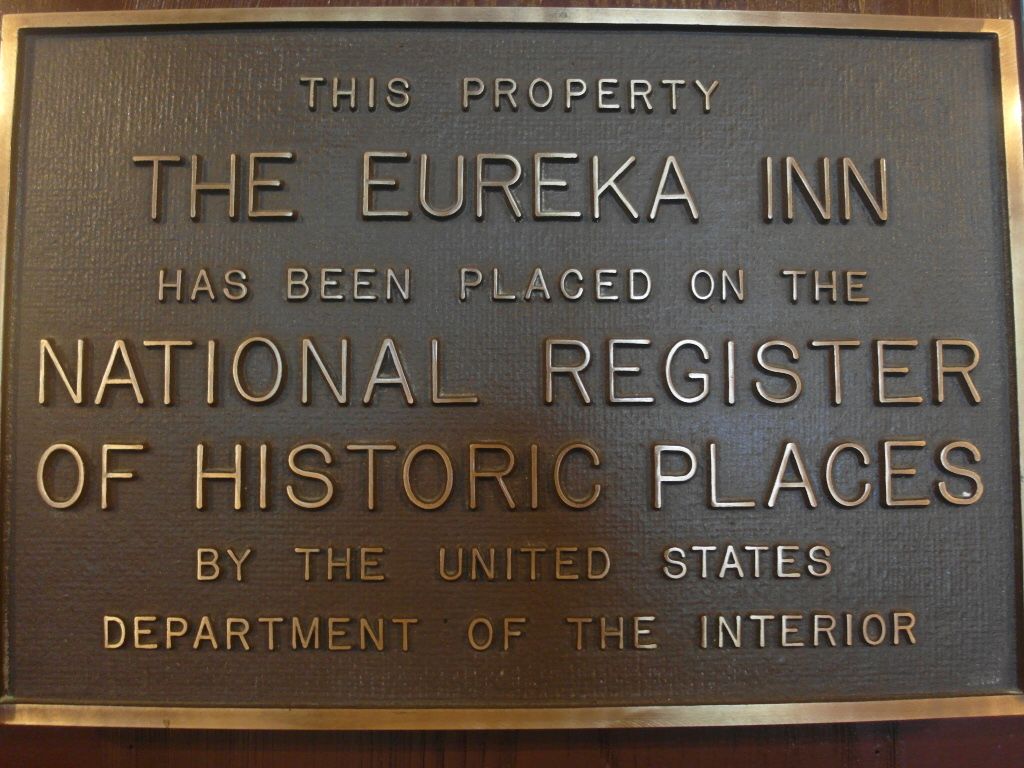 Eureka Inn on the National Register of Historic Places
Eureka Inn is placed on the National Register of Historic Places and from here, you can check out all the historic landmarks of the city…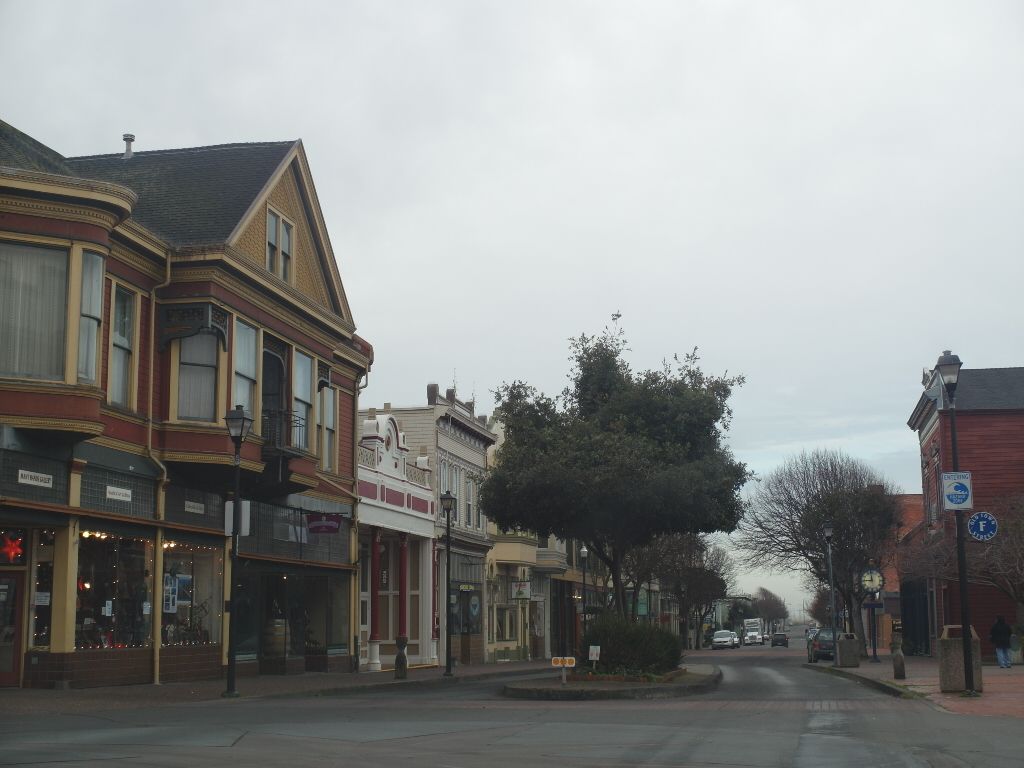 View of the Eureka Old Town – has the feel of the wild wild west doesnt it?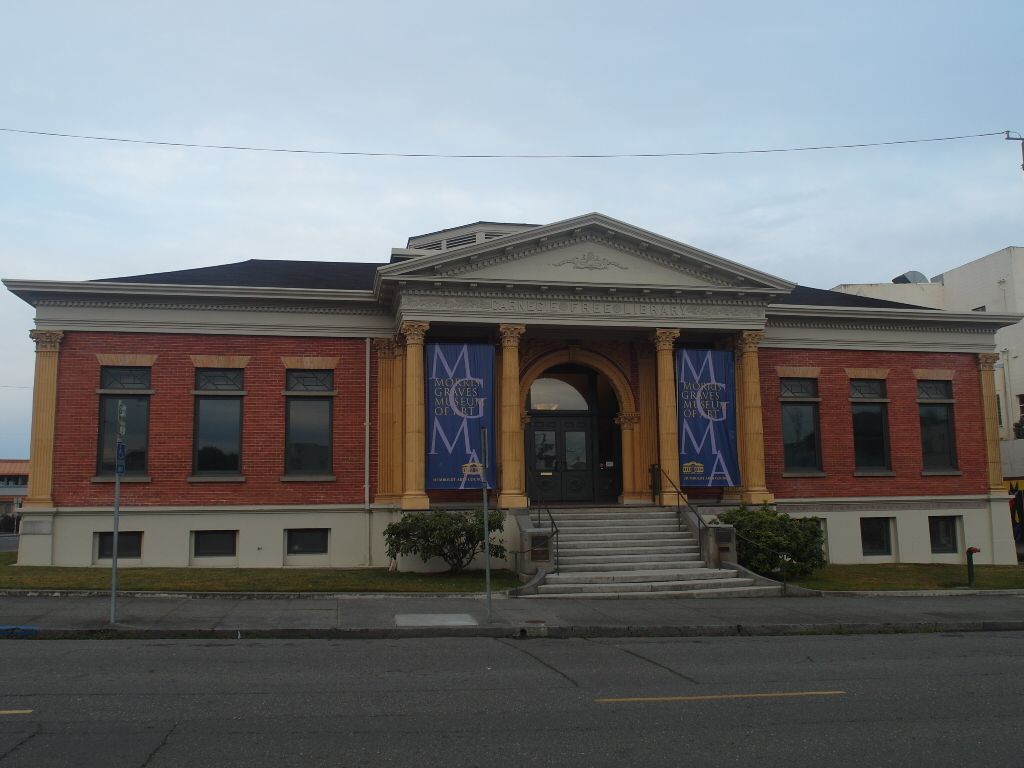 Museum of Art Eureka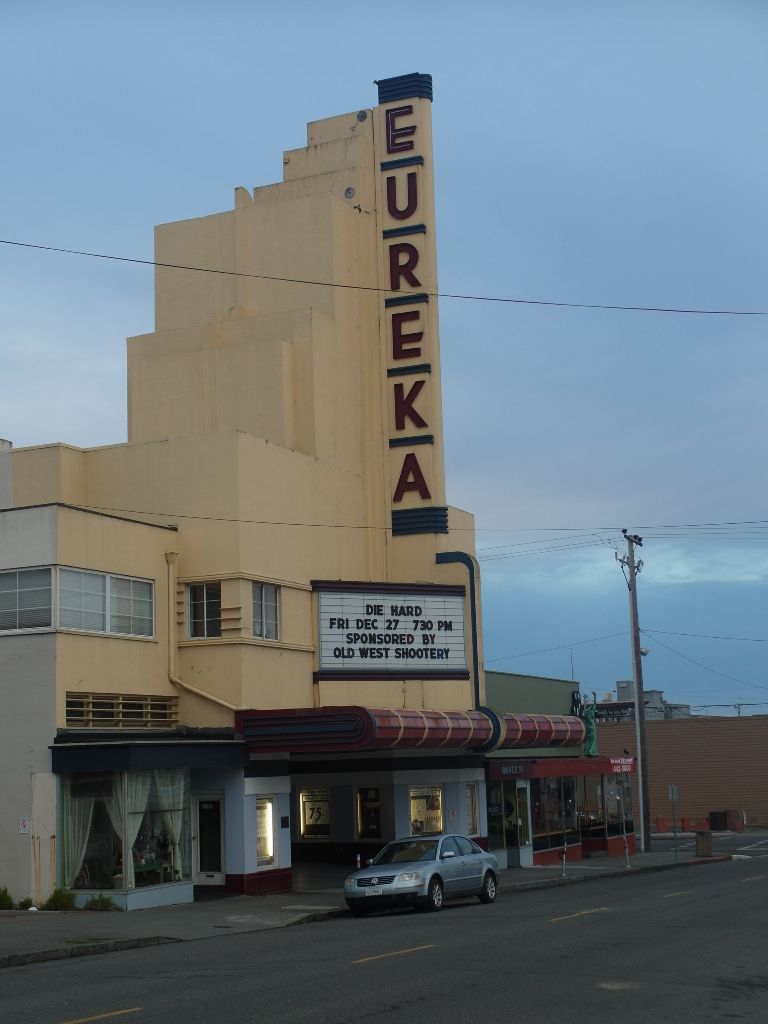 The Eureka Theatre – playing "Die Hard"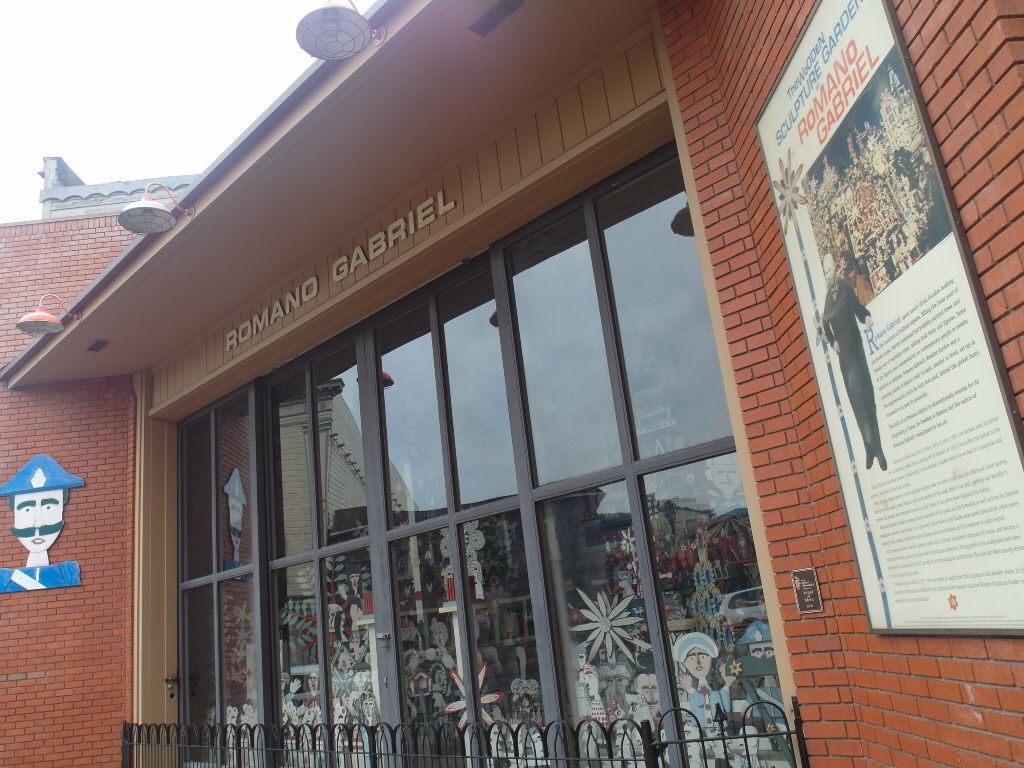 Romano Gabriel's Wood Sculpture Garden
Romano Gabriel was a carpenter from Italy who settled in Eureka after WW1 and built at least 6 houses in the town of Eureka. His greatest "marvel" was building wooden sculptures that covered the front yard of his Eureka home. As time went by, he built more little objects and visitors came by just to see his front yard. Being an introvert, he would peer from his home, happy to see these visitors enjoying his work of art.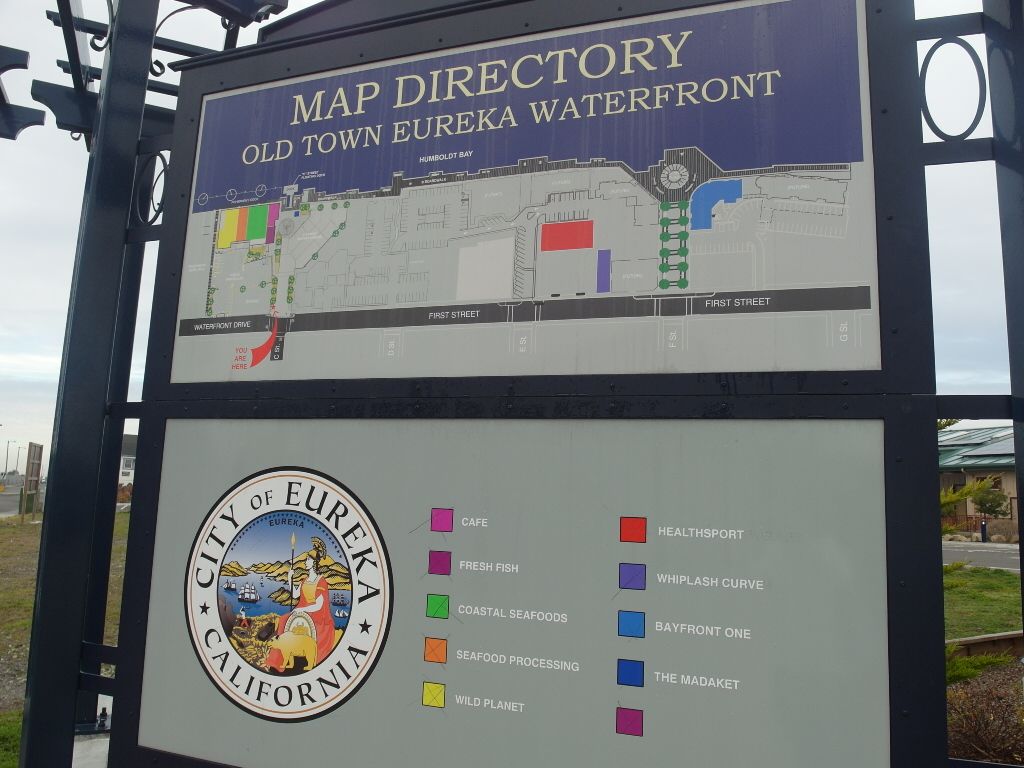 Map of Old Town Eureka and Waterfront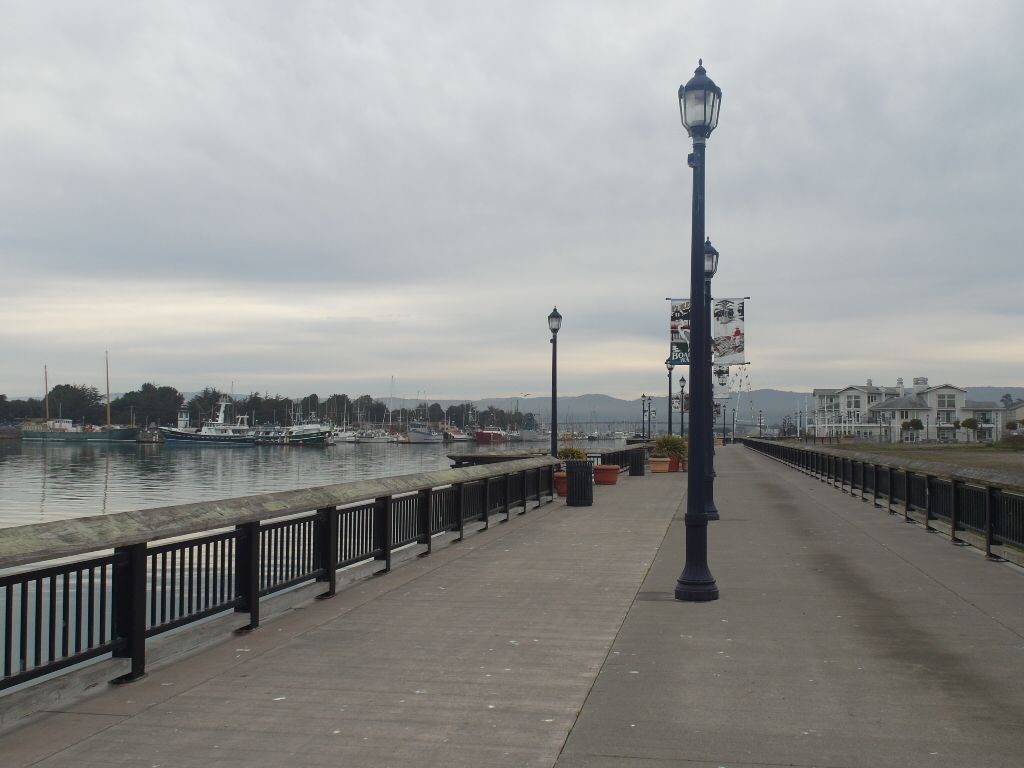 Eureka Waterfront
Lost Coast Restaurant and Brewery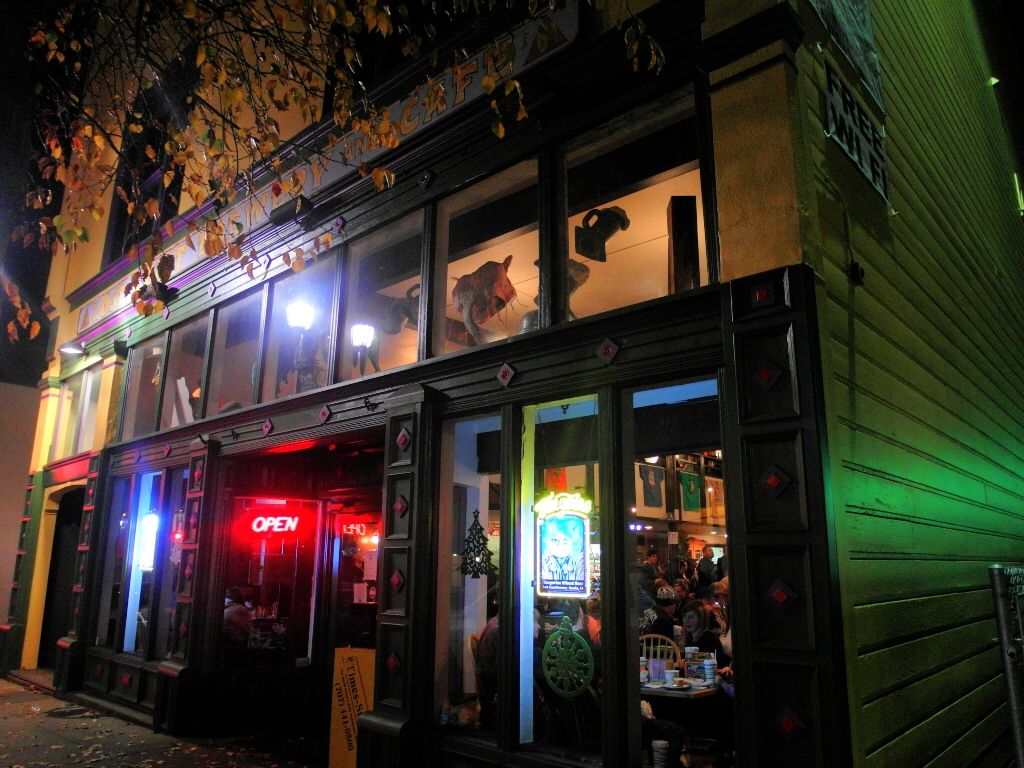 Seemingly quiet exterior of Lost Coast Brewery on 4th Street Eureka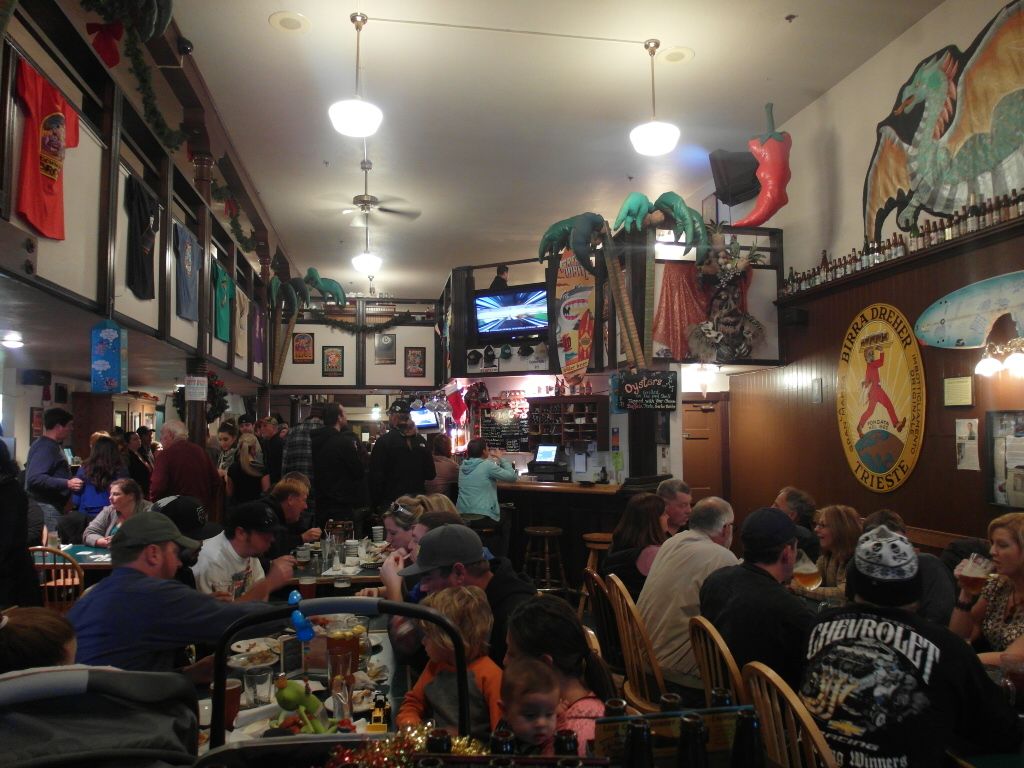 Noisy and boisterous crowd inside Lost Coast Brewery – Waited for about 8 other parties before we were seated
The other highlight of our stopover at Eureka was our visit to Lost Coast Restaurant. That evening, the restaurant was PACKED! We had to wait about 20 minutes (which is a long time considering the size of the town) before we were seated down. But the wait was well worth it. Let's first talk about the beers…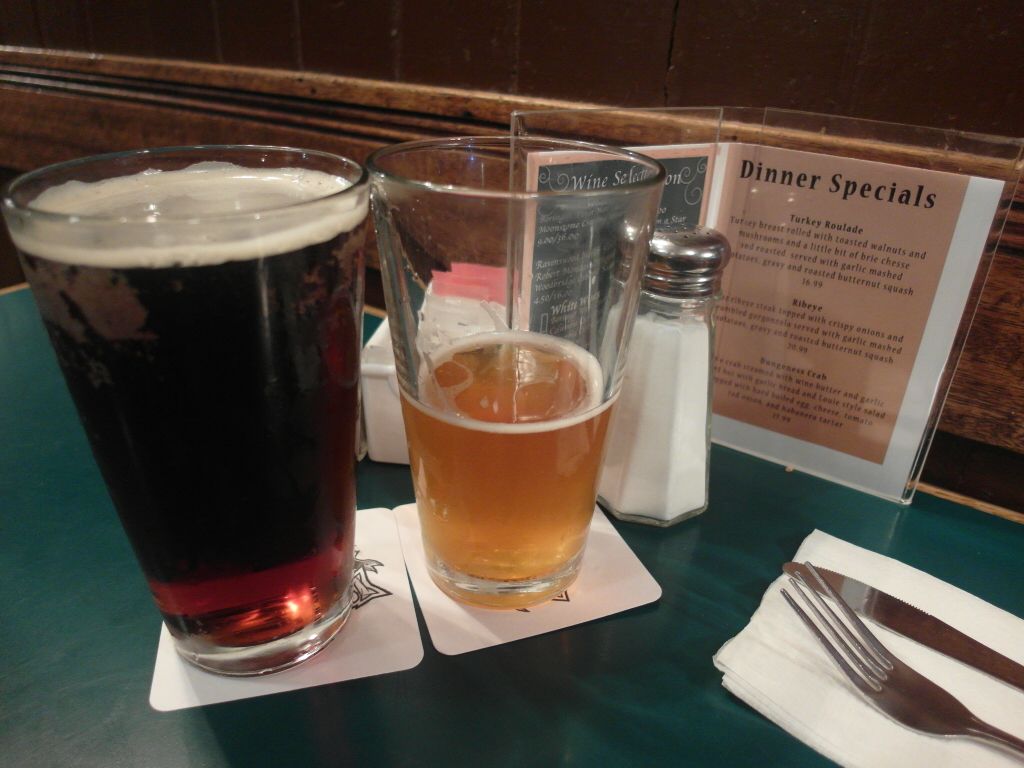 Tangerine Wheat Beer and Raspeberry Brown Beers at 3.75USD per pint
Unlike some brewery at some well-known microbreweries in Singapore, you can ACTUALLY taste the fruity flavours of the fruit beers here. The tangerine and raspberry tastes were very apparent, much to Kate's delight. But the highlight for us was the food…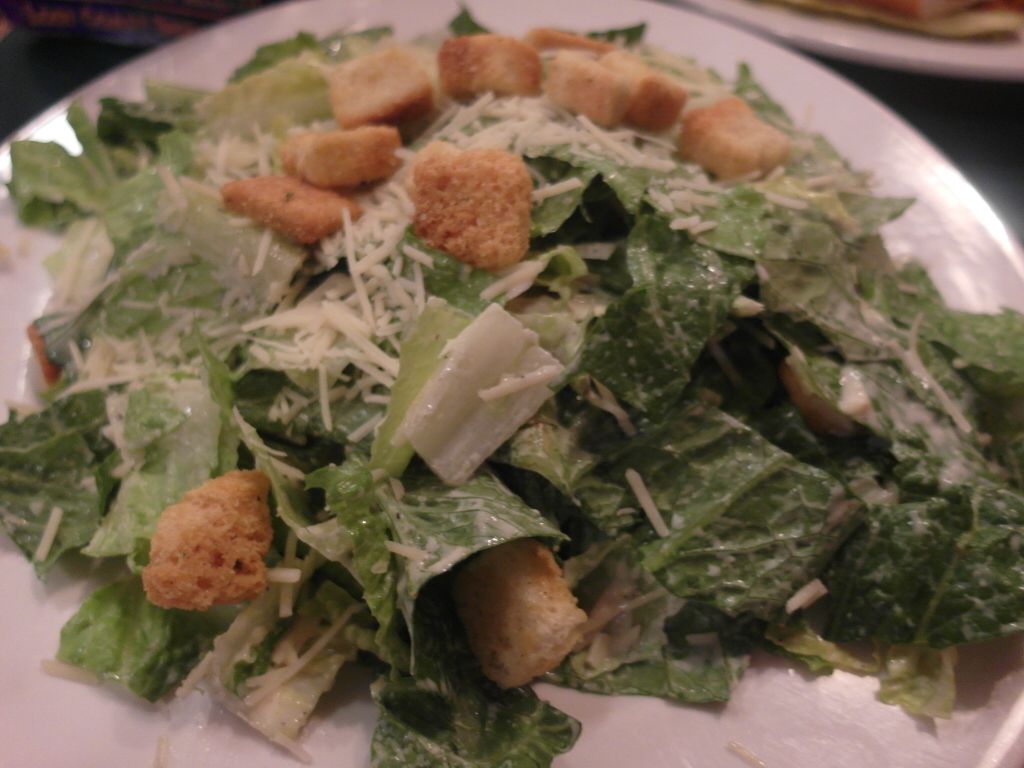 Caesar's Salad Lost Coast – 8.99USD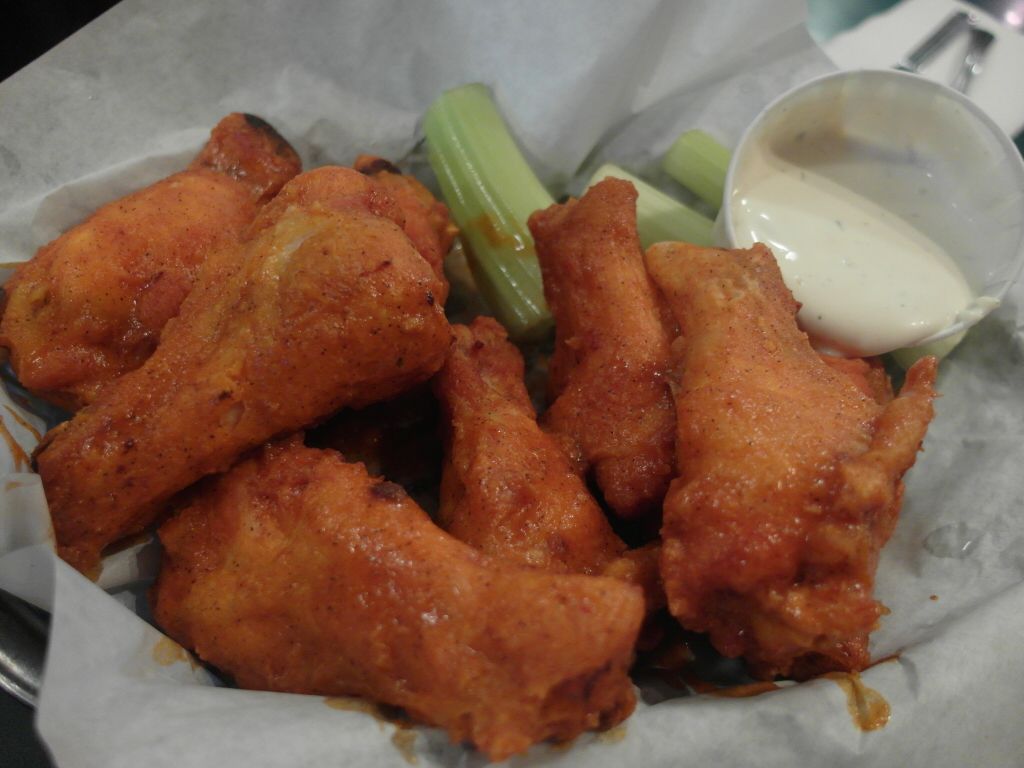 1 pound of Buffalo Wings Lost Coast at 10.99USD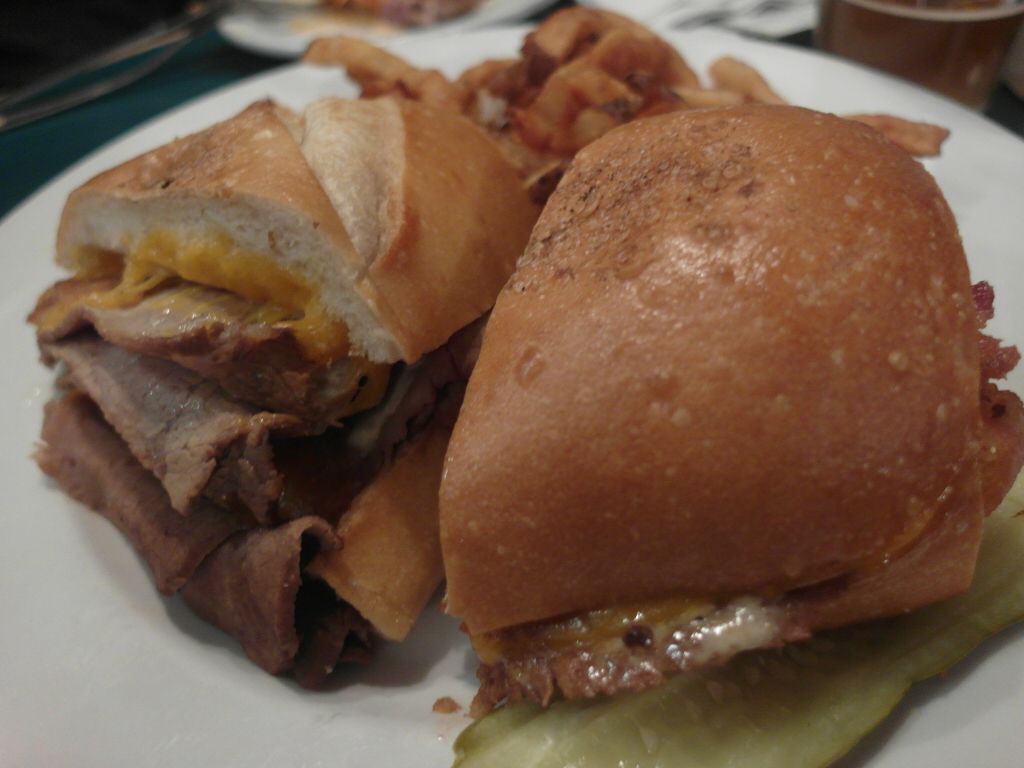 Famous Hot Brown at 11.99USD
We decided to have some vegetables to aid the "you know what" so we ordered the Caesars. Turns out that the portion was HUGE which really helped the "you know what", if you know what I mean…
But the highlight was the Buffalo Wings.
You may say, "Hey Tom, didn't you try out the original Buffalo Wings at Anchor Bar the last time you were in US?"
Well, that is true. But truth be told, this was MUCH BETTER! The meat was tender, chunky and juicy. The sauce on the other hand was tangy and appetising. When we told the waitress that it beats Anchor Bar's original Buffalo Wings hands down, she just replied a humble
"Yeah, our wings are pretty hard to beat!"
By the time we reached the hot brown, we were already very full. But the beef was really juicy and packed in so much flavour that we didnt mind bloating ourselves up that evening. The sourdough bread made the sandwich all that more unique.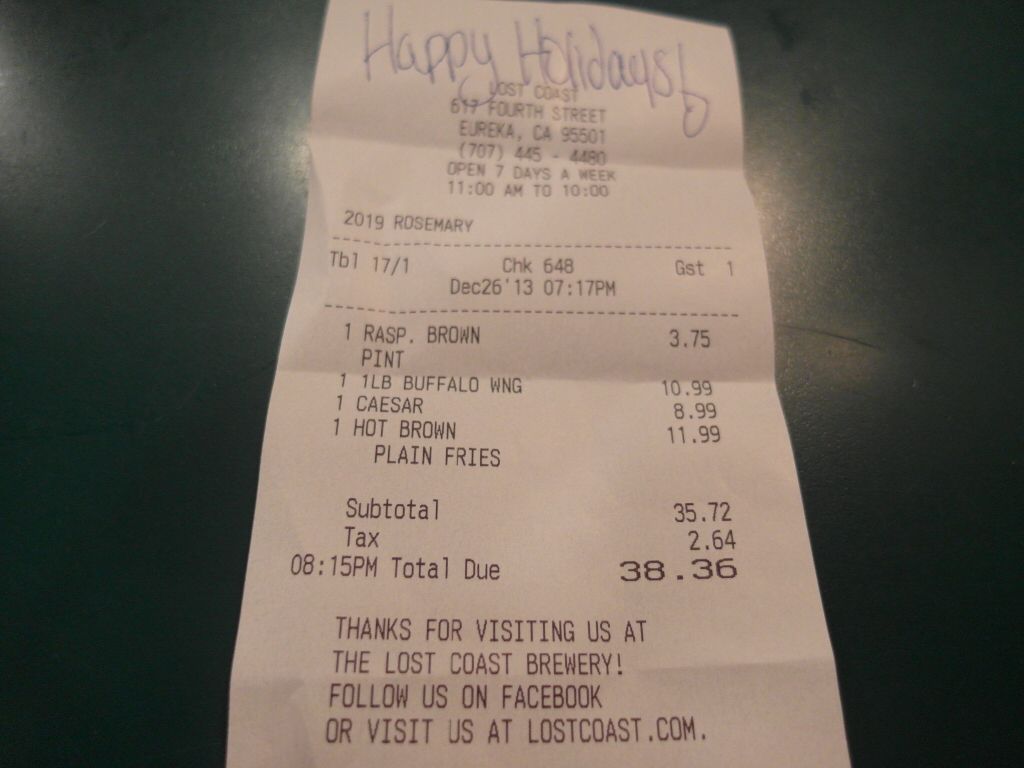 Total damage for dinner at Lost Coast Brewery
Well, the best part was that the total damage was less than 40USD (tips not included yet)! At this juncture, if you are vexed about how to tip in the USA, our rule of thumb is 10% + 1USD. This means that for this meal, we tipped 5USD. Do note however, that 10% means that you don't really like the service but is still ok. Which means that our general rule of thumb doesn't really please the waiter/waitress but don't piss them off as well. Which makes it a good balance 😉
Breakfast at Eureka Inn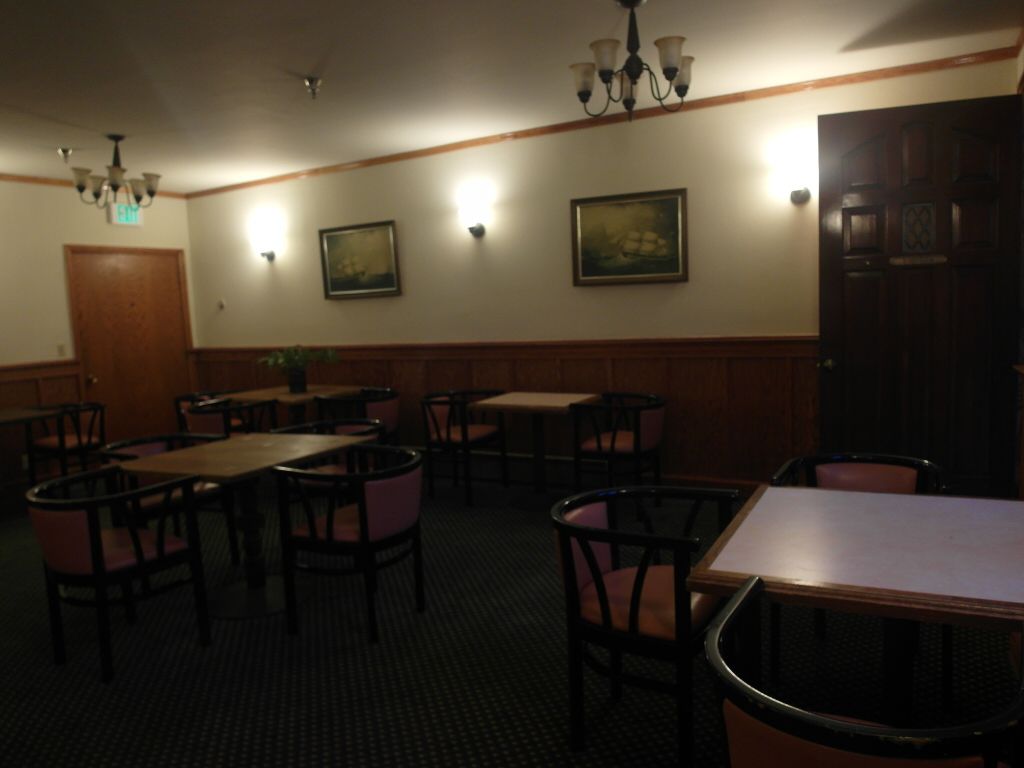 Inside small dining area of Eureka Inn for breakfast overlooking the pool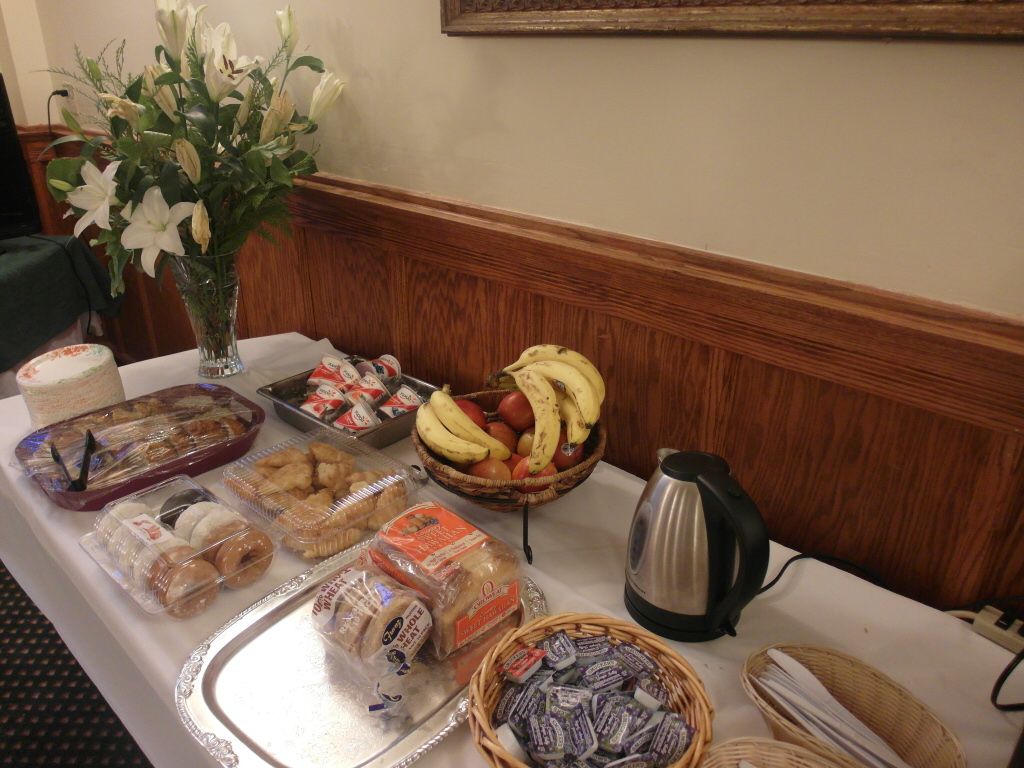 Breakfast at Eureka Inn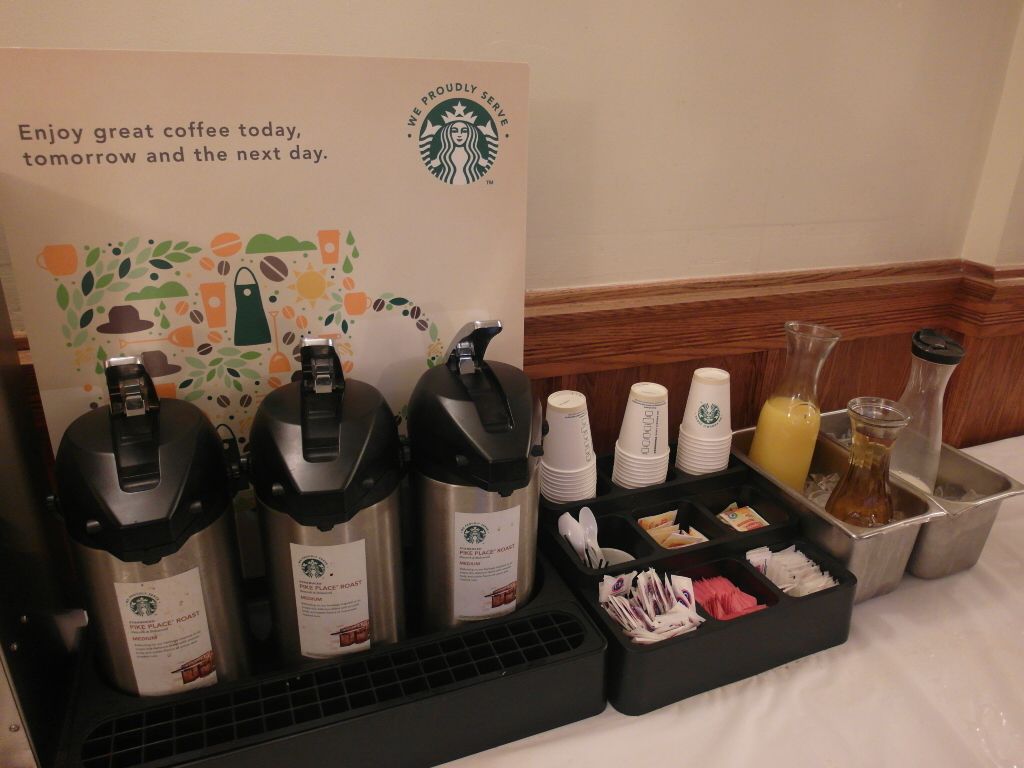 Coffee juices and milk
Nothing much to shout about for breakfast. It does keep you full and provides you with coffee to kick start the day. One gripe we had was that the microwave oven was not working and we were not able to warm up the cakes and croissant which would have made the breakfast more enjoyable.
If you enjoyed our content, "Like" us on Facebook Today!

For your convenience, we have arranged for the best hotel deals in Eureka right here!
All in all, we thoroughly enjoyed our stopover at Eureka during our Oregon scenic drive. It is afterall the largest city between Portland and San Francisco on the west coast. If you want to have a nice place for stopover during this drive, do check out Eureka Inn!
Related posts: