The Grauman's Chinese Theatre was built in 1927 and resides along Hollywood Boulevard. It is actually a movie theatre and today still holds premiere for many of Hollywood's most anticipated movies!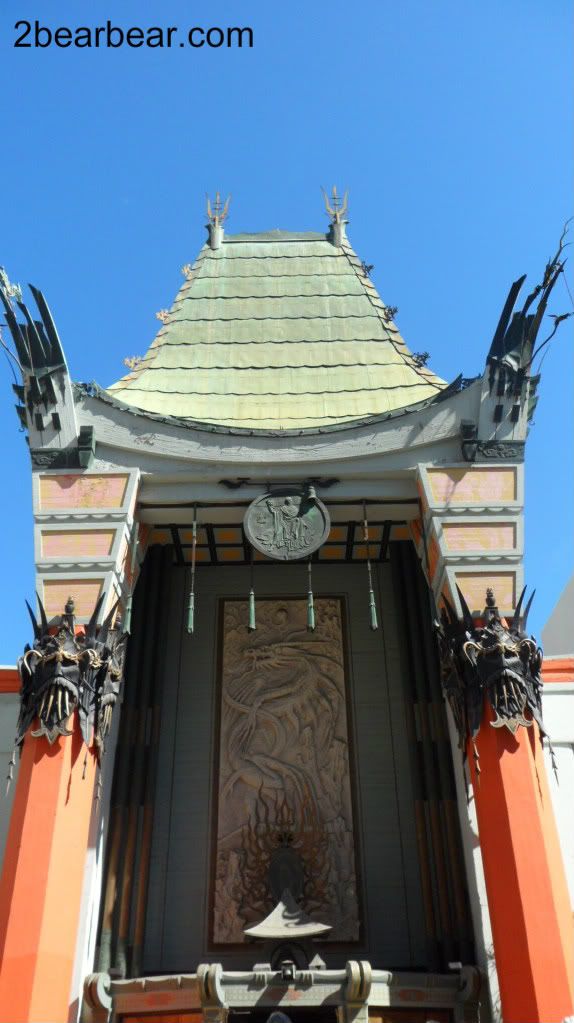 Grauman's Chinese Theatre Hollywood Boulevard
The Grauman's Chinese Theatre was built by none other than Sid Grauman. He is also credited with the building of the Grauman's Egyptian Theatre just further down the road.
The reason why the Chinese Theatre is alot of more famous and popular than its Egyptian counterpart is not only because of its uniquely classy traditional Chinese structure, but also because its fore court is home to the various handprints, footprints and signatures of artistes and celebrities.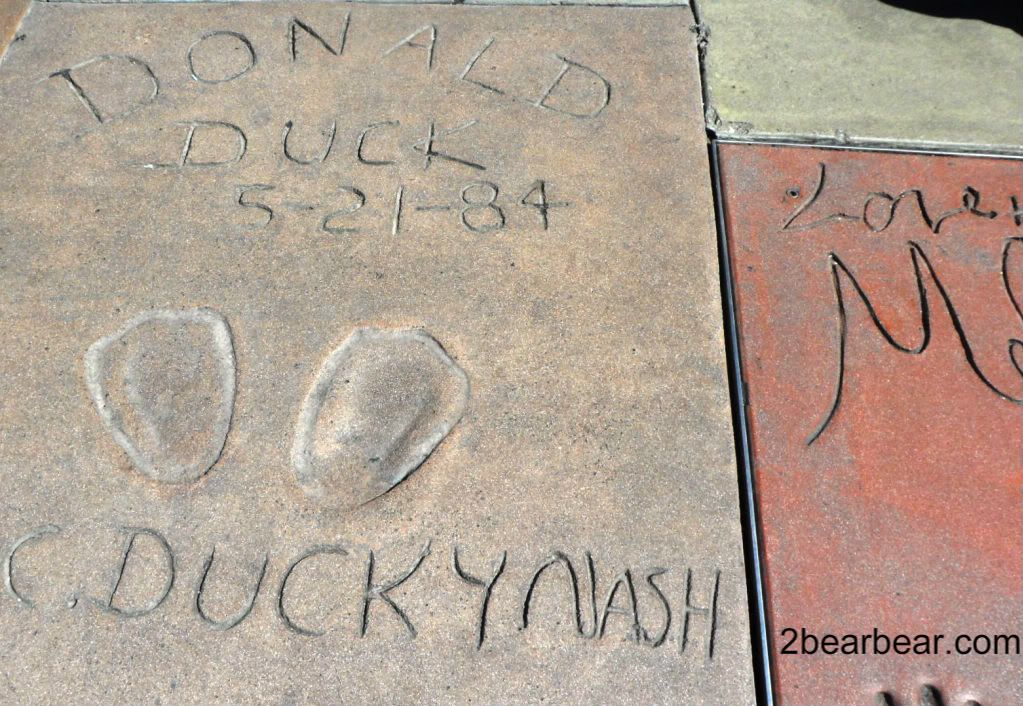 Donald Duck's Footprint at Grauman's Chinese Theatre
Famous characters such as Donald Duck also got their chance to leave their mark at the fore court of the Chinese Theatre. This means that now, not only real life celebrities get to imprint their mark on the fore court of the Chinese Theatre, as long as your're famous, you might have the chance to do so! *The Kind of Pop, Michael Jackson will also be immortalised on 26 Jan 2012.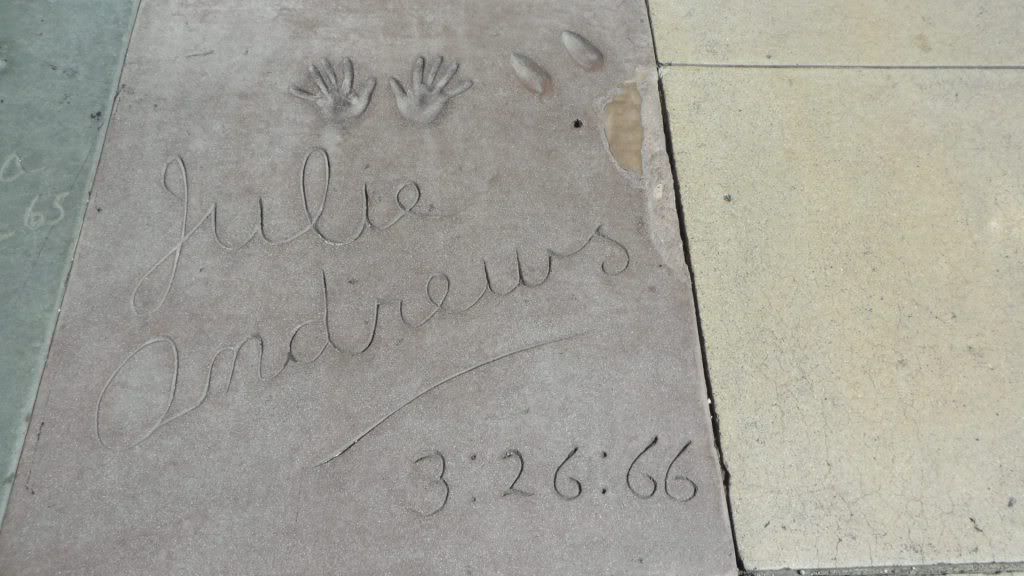 Not sure who this is at the fore court of Grauman's Chinese Theatre
Can somebody please tell us who this celebrity is? We cant seem to find her on the internet!
At the fore court of the Grauman's Chinese Theatre, there is usually a HUGE crowd gathered there. Most are trying to take a photo with the imprints of their favourite celebrities while others are on tours of the Chinese Theatre, listening intently to the stories of their tour guides.
There are several stories as to how this tradition of immortalising handprints/footprints/signatures of celebrities/famous people started. The more common one often refer to a female celebrity who happened to step on the cement of the Grauman's Chinese Theatre during construction. Sid Grauman thought that this was a good idea for famous people to leave their mark, then started this tradition.
The other version says that Sid himself made the mark and started the tradition. Whatever the story, today, it is a well loved tourist attractions for fans and tourists alike to get "close" to their beloved celebrities.
The huge crowd also presented a problem for Kate as she went about to take the photos. People were everywhere! Hence, this Harry Potter imprint had other avid potter fans in it as well…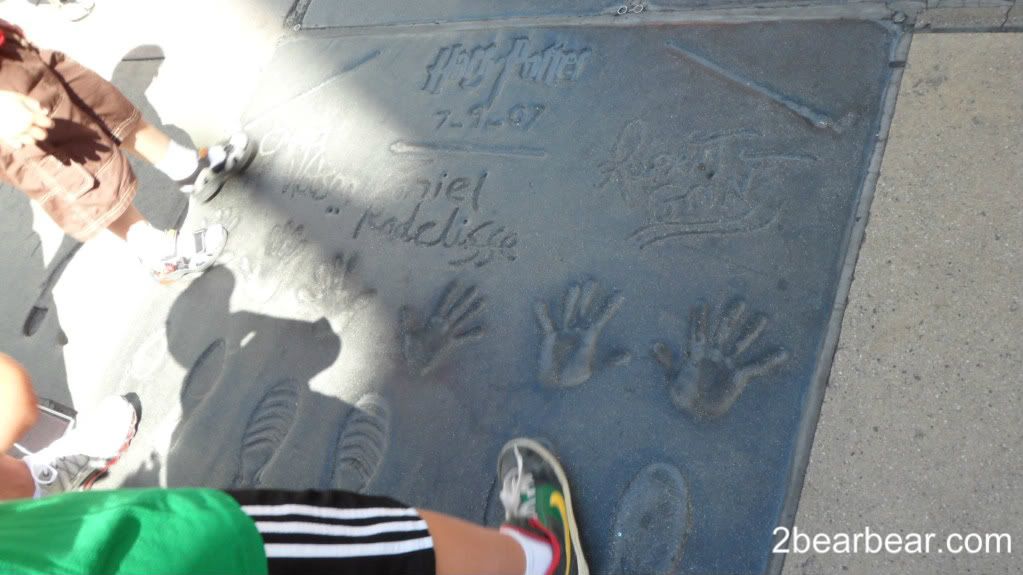 Main Casts of Harry Potter Imprints at Grauman's Chinese Theatre
Besides trying to haunt and hound your favourite celebrities in Hollywood, you might like to try catching them at the movie premieres at Grauman's Chinese Theatre. An easy way to do so is to look up the dates of upcoming premieres at the Chinese Theatre's website and be there really early to get a good spot. Premieres are usually star studded events and fans will not be disappointed.
If you enjoyed our content, "Like" us on Facebook Today!

Related posts: