One of the best restaurants in the Philippines is the Golden Cowrie Restaurant. Known officially as the Golden Cowrie Native Restaurant, it serves up authentic Filipino food at a very reasonable price in a restaurant setting…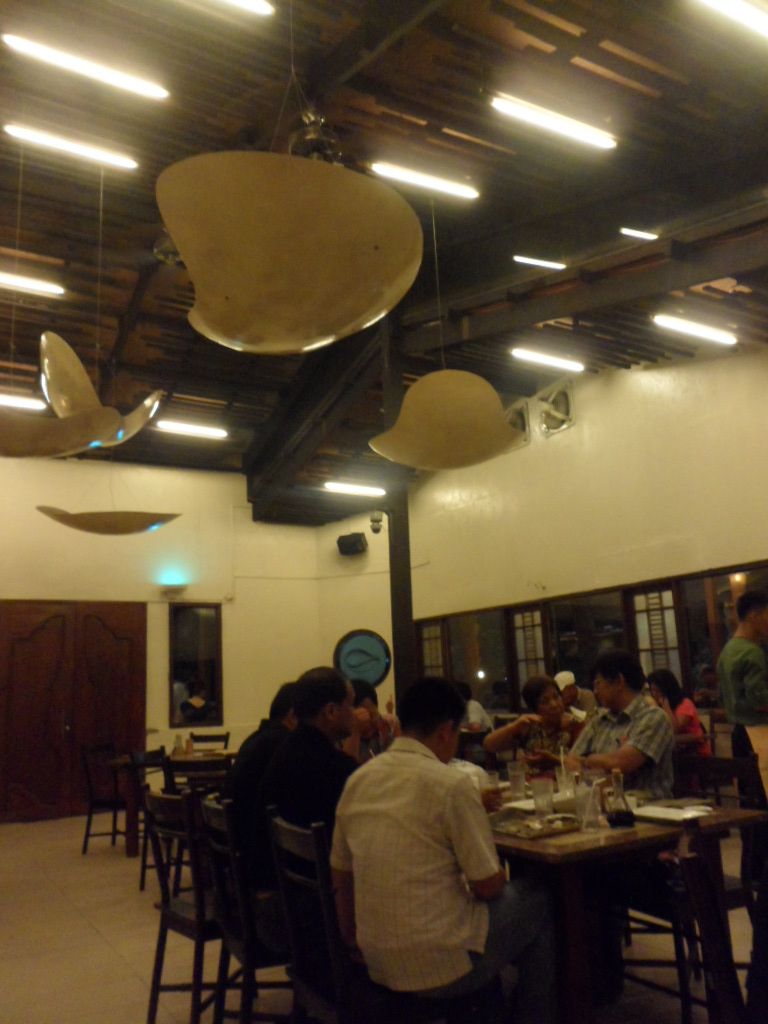 Inside Golden Cowrie Restaurant
Golden Cowrie Restaurant – Best Filipino Restaurant Cebu
Touted as the best Filipino restaurant in Cebu, Golden Cowrie Native Restaurant embodies the pride in filipino cuisine and is one of our must-try when you visit Cebu (pronounced as SEE BOO). The funny thing was that although there was a Golden Cowrie Restaurant at Ayala Mall, we did not know about it at that time (so near and yet so far)! Therefore, we took a 10 minutes taxi ride from Ayala Mall to the Golden Cowrie Lahug @ Salinas Drive…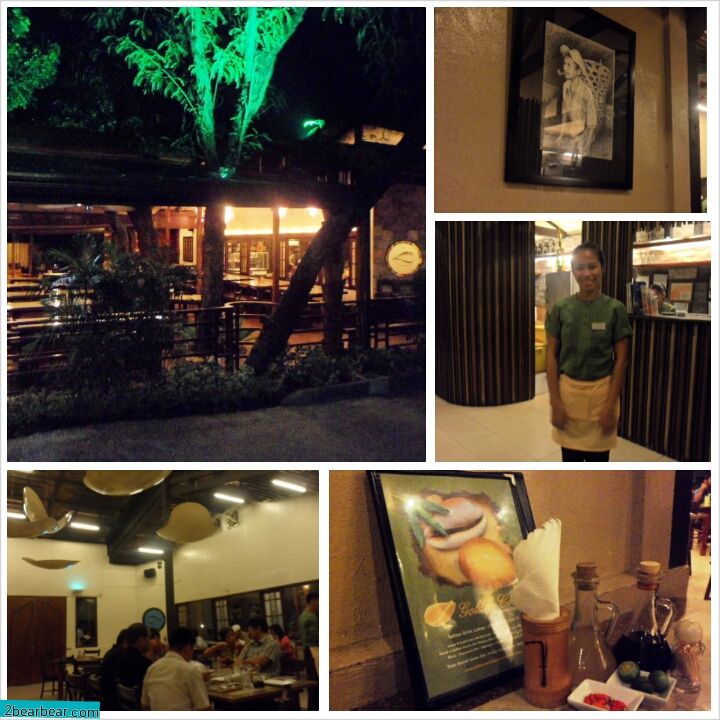 Golden Cowrie Restaurant Lahug Cebu City
As we pulled up at Golden Cowrie, we were ushered by a security guard (meaning its a decent joint) who opened these big wooden doors for us to enter into the restaurant. The deco was nice, warm and inviting. Much like coming home. It has an alfresco dining area outside as well.
After being seated, our server Precious (see inset above), asked us politely if it was our first time here. She was friendly and patient in explaining the various local dishes (some of the dishes had Filipino names) while recommending some of the best sellers. Good service is always a great start to a meal isnt it?
What to eat at Golden Cowrie Restaurant
Precious then recommended for us to have the crispy pata (pork knuckle!!), squid in coco sauce, kang kong and shrimps with garlic. This was accompanied by garlic rice and free flow white rice! Oh, every order of normal rice is free flow. And you know what? We don't usually eat that much white rice, but surprisingly, the rice was especially fragrant while the texture of grains full of goodness! No wonder even ladies pile up on the rice while eating at Golden Cowrie Restaurant! Yes, even Kate!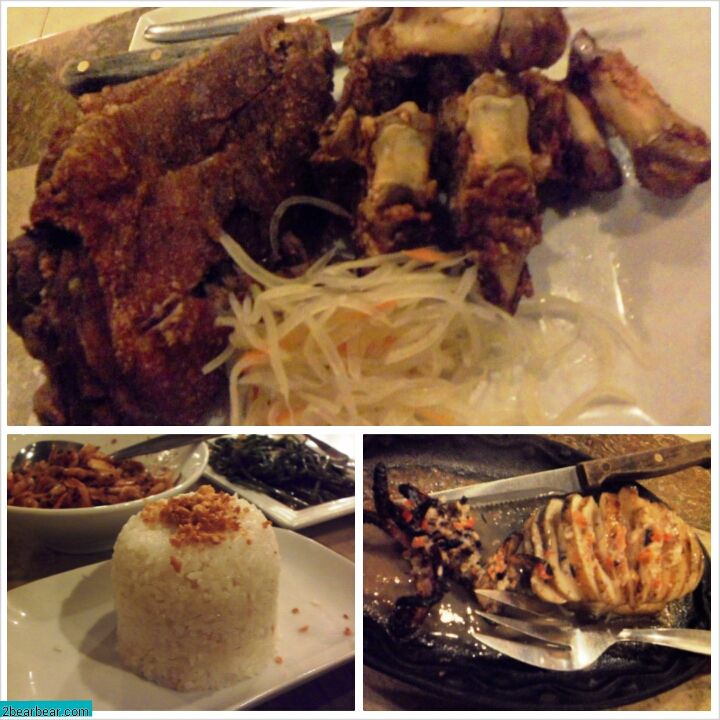 Crispy pata and Squid in coco sauce – Must try from Golden Cowrie Restaurant!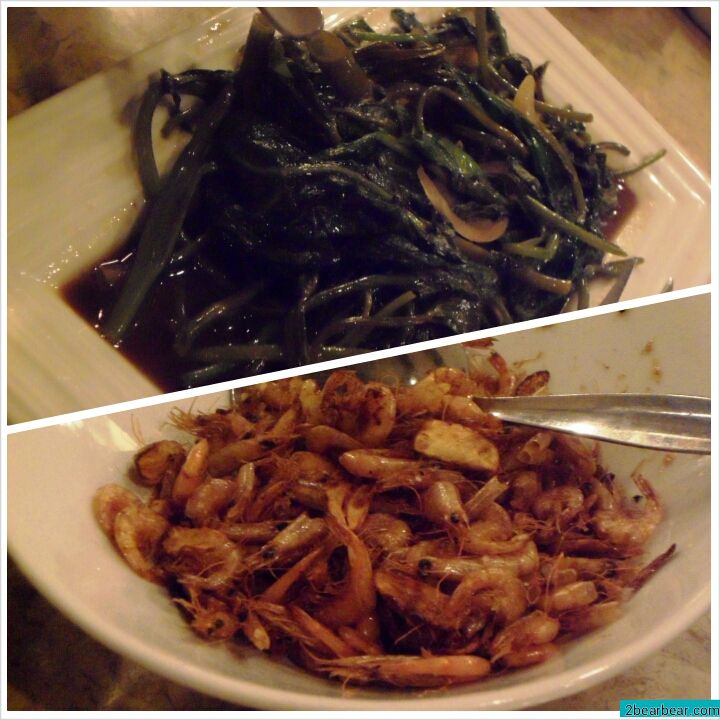 Kang Kong and Shrimps with garlic Golden Cowrie Native Restaurant
Guess what? EVERY DISH WAS GOOD!! The serving of the crispy pata was HUGE and when you take in a piece of meat together with the crispy skin, accompanied by the garlic rice? Simply SHIOK! Now we understand why many Filipinos enjoy garlic rice. It's not only the fried garlicky taste that attracts you. When mixed in, it gives a different mild crunchy texture with every mouth. Yum!
Served sizzling hot, the squid in coco sauce was fresh and succulent, not the rubbery kind but the Q type with a refreshing taste of spices and charred taste. With a little chili on the side (not too much cause their version is actually quite spicy), it was just a perfect combination with the fragrant white rice.
The kang kong and shrimps with garlic also accompanied the rice really well. After typing for the last few paragraphs, we're starting to wonder if dishes revolve around the rice? Because they complemented each other oh oh oh so well! Haven't had this much rice in such a long time – SERIOUSLY!
Okok, here comes the best part. Our total damage? Only 824 pesos (including drinks) which is about $25 SGD!! This is less than a third of what you would have paid at a zi char stall in Singapore!
Where to find a Golden Cowrie Restaurant in Cebu
Here is a list of Golden Cowrie Restaurants in Cebu.
Ayala Terraces
Cebu Business Park, Biliran Road
Cebu City
Golden Cowrie Lahug (The one that we went to!)
Salinas Drive, Lahug
Cebu City
6000
Parkmall
Ouano Ave. North Reclamation Area
Mandaue City
Cebu, Central Visayas
Golden Cowrie A.S. Fortuna
A. S. Fortuna St
Mandaue City
Cebu, Central Visayas
Golden Cowrie SM Cebu
Lower Ground Floor, SM City
Cebu
Golden Cowrie Cybergate
Robinsons Cybergate, Fuente
Cebu City
Cebu, Central Visayas
Mactan Marina Mall
Lapu-Lapu City
Cebu
Golden Cowrie Restaurant is opened at lunch from 11am to 2pm and for dinner from 6pm to 10pm.
If you enjoyed our content, "Like" us on Facebook Today!

For your convenience, we have arranged for the best hotel deals in Cebu right here!
For the most authentic pinoy taste, head right down to Golden Cowrie Restaurant!
Related Posts
Cebu
8 Things to do and Attractions in Cebu Philippines!
How to get from Singapore to Cebu?
Oceanjet ferry from Cebu to Bohol: Fast and comfortable
CnT Lechon: The Best Lechon in Cebu?
Golden Cowrie Restaurant Cebu: For Authentic Filipino Food!
Eat, shop, eat, shop, till we drop in Cebu!
Filipino Breakfast at Alberto's Pizza Cebu!
Ayala Mall Cebu : Do What The Locals Do!
City Suites Ramos Tower: Good location with Great view!
Castle Peak Hotel, Cebu, Philippines: Good location, Low price!
Breakfast at Bo's Coffee: One of Philippines' top specialty homegrown coffee shop
Bohol
4 Top Attractions and Things to do in Bohol Philippines!
Peacock Garden Bohol : Awesome Premier Infinity Pool and Seaview Room!
Bohol Countryside Tour: Chocolate Hills, Tarsiers and More!
Amorita Resort Bohol: My little love…
Dolphin and Island Hopping Tour (Pamilacan, Balicasag, Virgin sandbar): A day of chasing dolphins and turtles
Related posts: