Reasons why we love street markets:
1. Variety of stalls
2. Cheap local food
3. Free tasting of local produce
4. Practicing of bargaining skills
5. Finding rare gems
6. Getting lost in the crowd (or maybe not)
As we arrived in Amsterdam on an early Saturday morning, we made the most out of our day by exploring Amsterdam Centraal and planned a leisure stroll towards the south to ensure that we reach Albert Cupymarkt by 2pm. To take in the sights of the city, we ditched the tram and chose to walk from from our hotel on Damrak. It was a fairly easy walk, peppered with shopping breaks. From Damrak, we continued on to Rokin, made a short stop at the flower market along Singel, and resumed our walk down south on Vijzelgracht. We then make a left turn onto Stadhouderskade (almost got distracted by The Heineken Experience!), a right turn onto Van Woustraat, and finally after walking close to 3km, we arrived at Albert Cuypmarkt!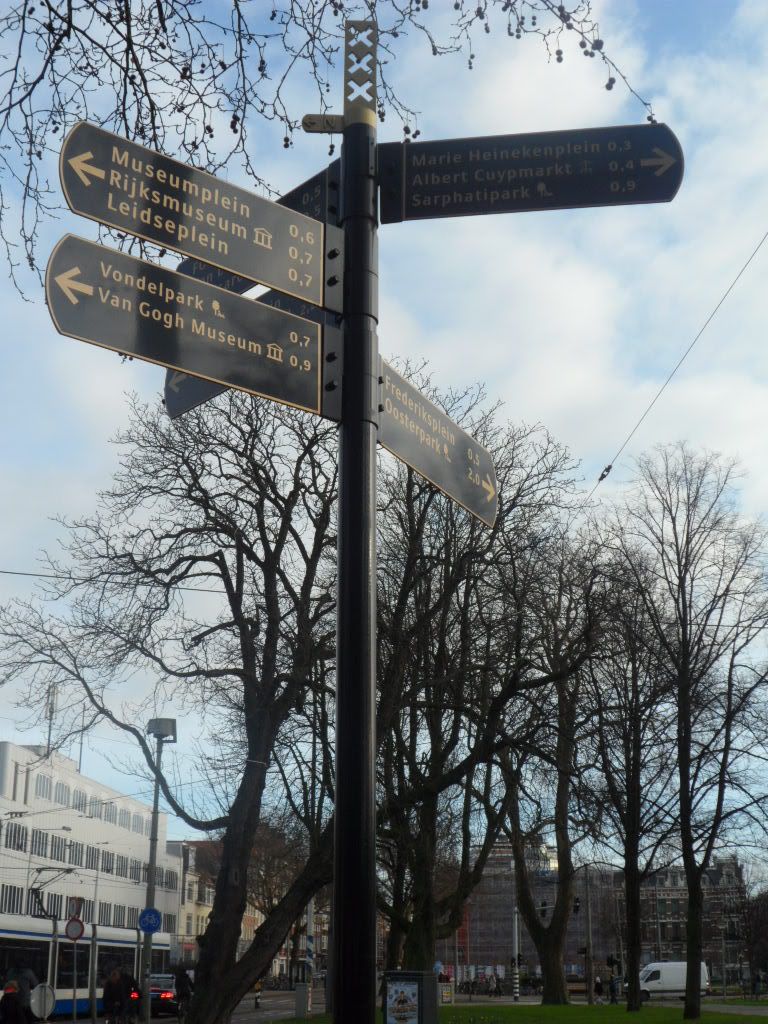 Directional signs pointing to Albert Cuypmarkt Amsterdam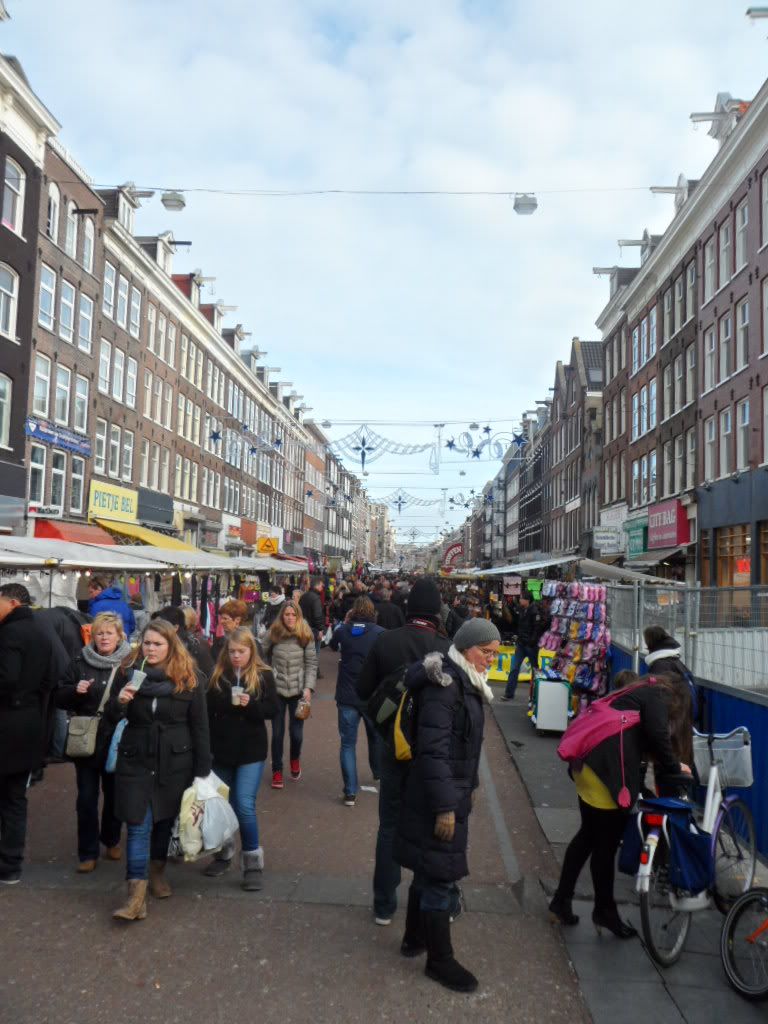 Arriving at Albert Cuyp Market Amsterdam!
Albert Cuypmarkt aka Albert Cuyp Market is located on Albert Cuypstraat (turn right from Van Woustraat). It stretches about 600m, and has 300 stalls ranging from food to fashion to antiques. The market is open from Monday to Saturday, 9am to 6pm.
I loved the scarves, boots and jackets that were on sale but I had to stop myself from buying them as I know I wouldn't have much opportunities to wear them in the hot humid weather of Singapore. We did splurge at the market though! Check out the piping hot, sweet, sticky Stroopwafel.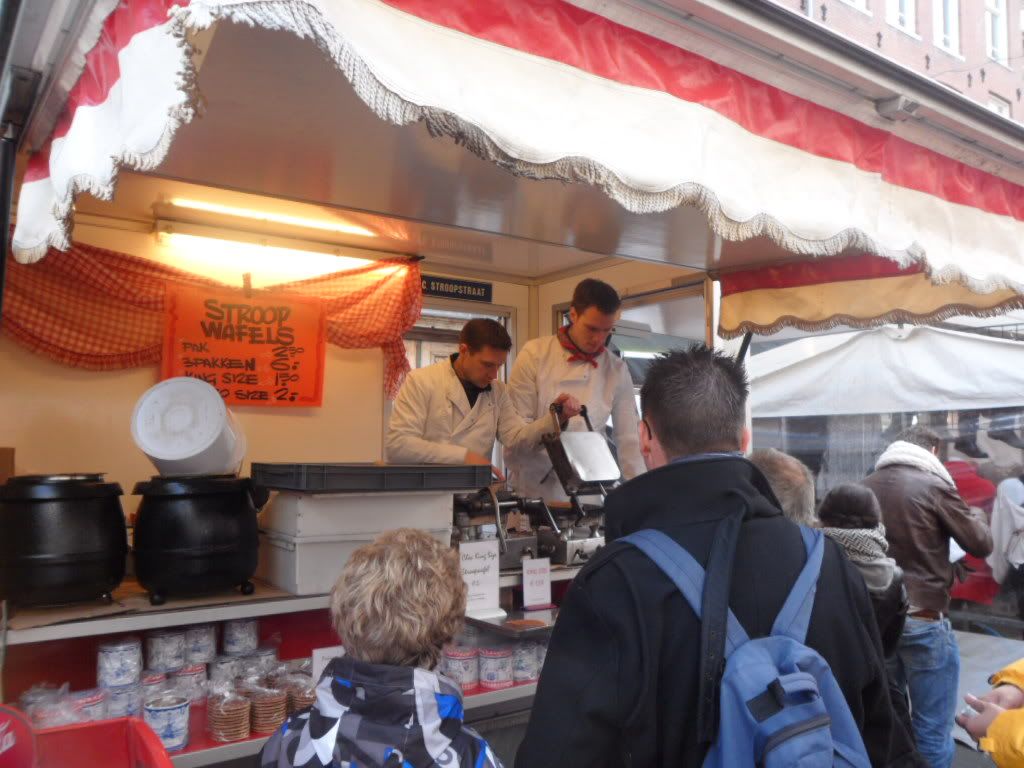 Queuing up for freshly made Stroopwafels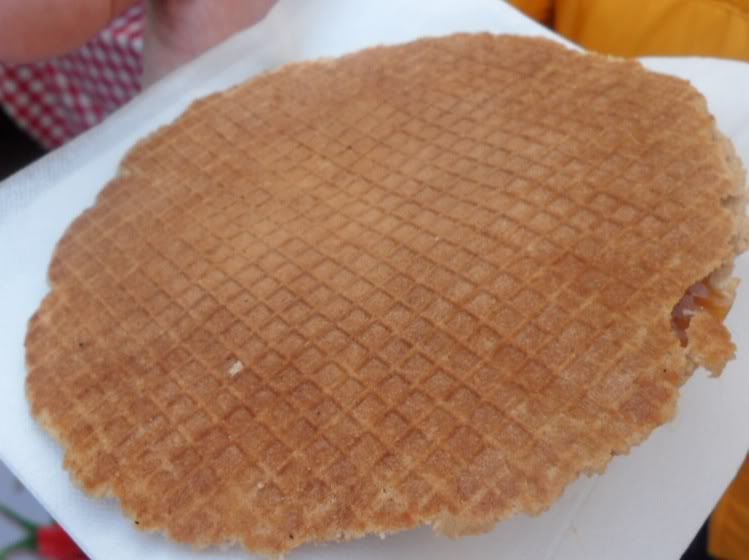 Piping Hot Stroopwafel – 1.5Euro
Although the price of one freshly made Stroopwafle can pay for a packet of ten at Hema, the aroma of the waffle and the taste of the warm caramel is definitely worth it! There were also plenty of cheese stalls (Holland is famous for its cheeses!) as well as odd shaped chocolates ("odd" is an understatement if you know what we are referring to…)
When we reached the end of the street, we decided to treat ourselves to another popular food in Holland – frites! (Check out the bottom of this post!). Tom waited patiently in the long queue and got us a large serving with the special sauce. Well, the sauce didn't taste any special but the freshly fried fries kept us warm in the cold weather.
With our stomachs full of hot fries, we made our way back by walking on the opposite side of the market. It is easy to lose track of time as we stop at stalls to check out the items for sale. Thank goodness we made it back in time for our movie (yup, after walking that 3km).
Next time when you are heading to Amsterdam, remember to plan some time for Albert Cuypmarkt!
Before we end off, enjoy this clip of Albert Cuypmarkt courtesy of the "brilliant" videography of Tom!
For your convenience, we have arranged for the best hotel deals in Amsterdam right here!
If you enjoyed our content, "Like" us on Facebook Today!

Related posts: