The Markt is one of the 2 squares in Maastricht. The other being Vrijthof square.
The Markt is of course where our hotel was – The Hotel De La Bourse. There are some interesting structures and buildings which we want to bring to your attention…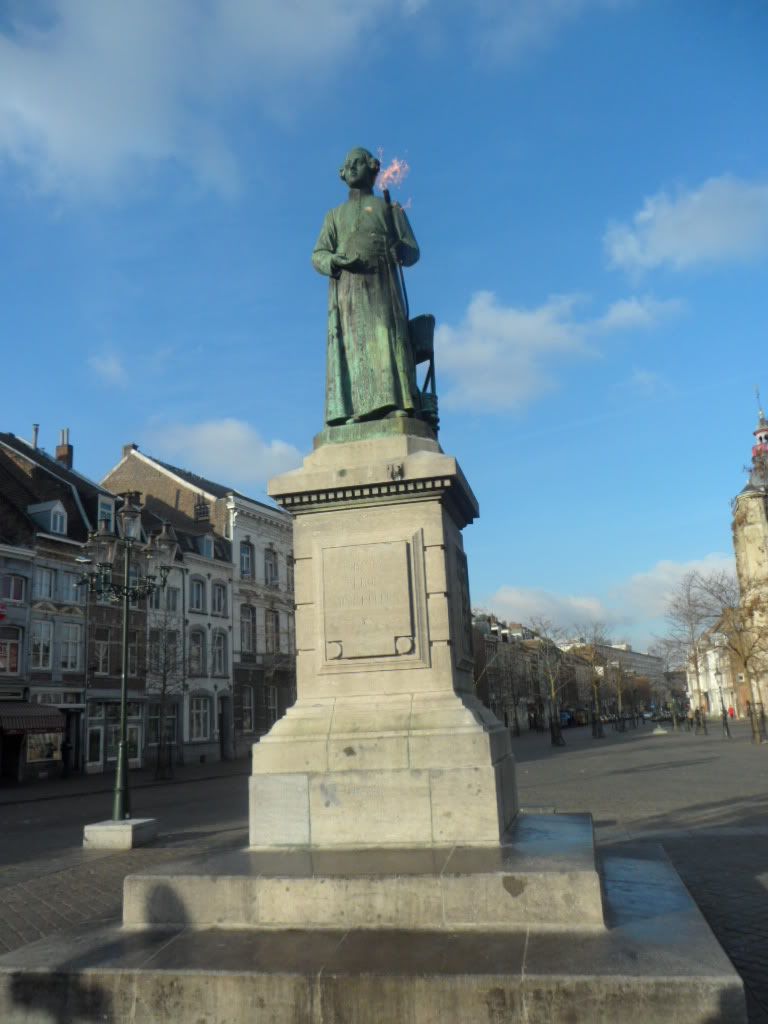 Statue of Johannes Petrus Minckelers aka Jean-Pierre Minckelers inventor of gas light otherwise known as illuminating gas
The "Eternal Burning Flame" is a statue in the middle of Markt Square in Maastricht that remembers Johannes Petrus Minckelers (aka Jean-Pierre Minckelers) as the inventor of illuminating gas. It shows him holding a torch that is lighted with fire. You can actually feel the heat when you stand close to it.

City Hall at the Markt in Maastricht
The other noteworthy structure has got to be the City Hall aka Stadhuis. The bells of the city hall chimes on the hour and we managed to catch the last bit of it here…

Bell chimes from the City Hall in Maastricht

Statue at the Markt Square in Maastricht
There's another statue of an old lady here in the Markt. Anyone knows who she is and what she stands for? There are also trucks that park at the side of the Markt and sell sandwiches and fish, somewhat like a mini market. The sides of the square are also lined with shops ranging from restaurants to boutiques.
We will now leave you with a video that covers the entire Markt Square. Hope it brings you the feel and vibe of the Markt in Maastricht!
For your convenience, we have arranged for the best hotel deals in Maastricht right here!

In and around Markt Square Maastricht
If you enjoyed our content, "Like" us on Facebook Today!

Related posts: