One of the most prominent structure along the Melaka River is this…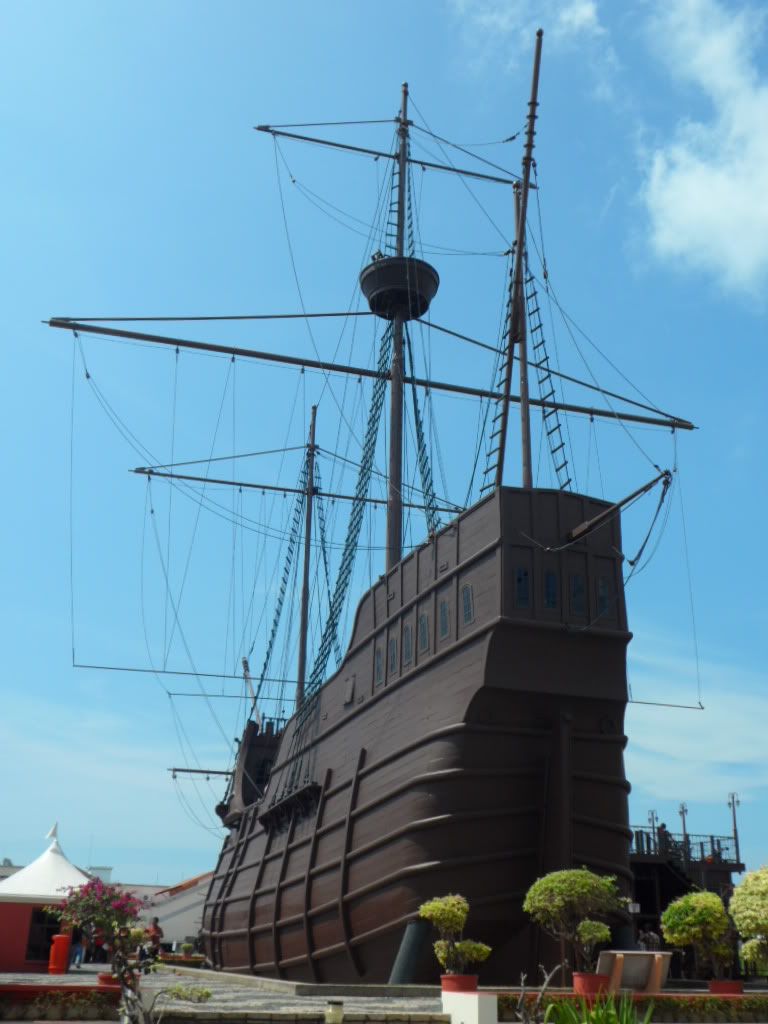 Melaka Maritime Museum
This structure shaped like that of an olden day vessel is actually the maritime museum in Melaka!
From atop of the hill at St. Paul's Church, you can actually see this structure. Intrigued by what we saw, Kate and I ventured towards that general direction (from where we saw the ship) and visited the maritime museum.
There are plenty of photo opportunities around the maritime museum, we were amazed at the sheer size of the ship and how well maintained it was.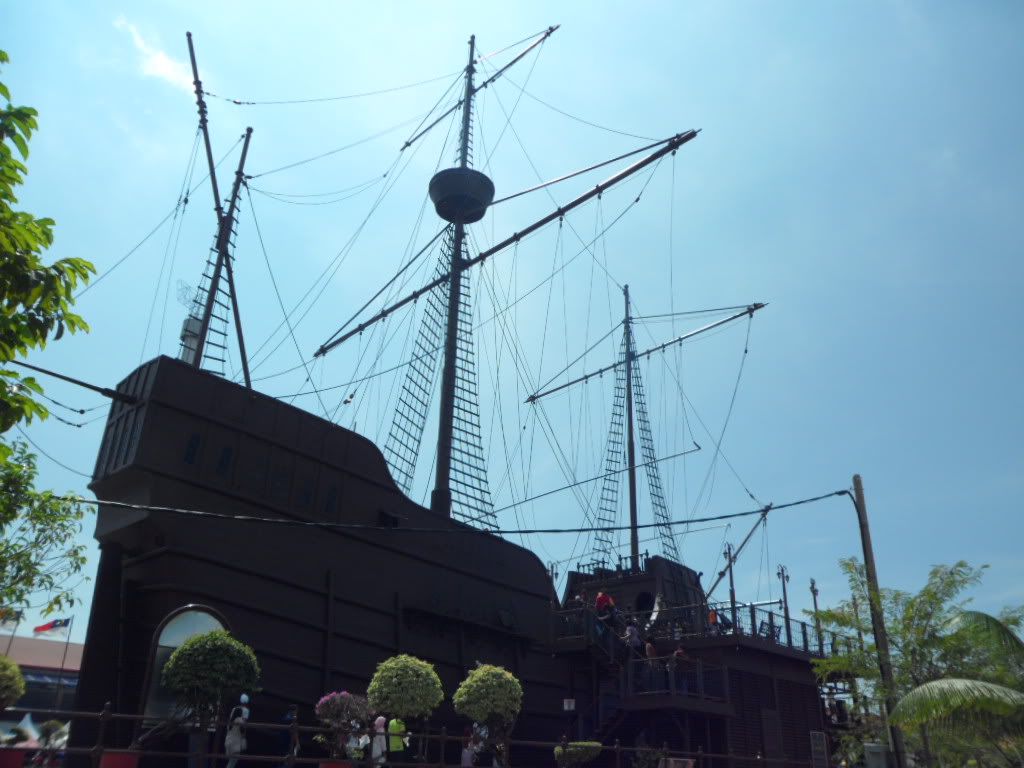 Another view of the Maritime Museum Melaka
The entrance fee to the Melaka maritime museum is actually quite cheap at 3RM. We would definitely recommend going in and have a visit because of the wealth of knowledge that the museum offers. Of course it is also a cheap price to get out of the sun if it is a sunny day…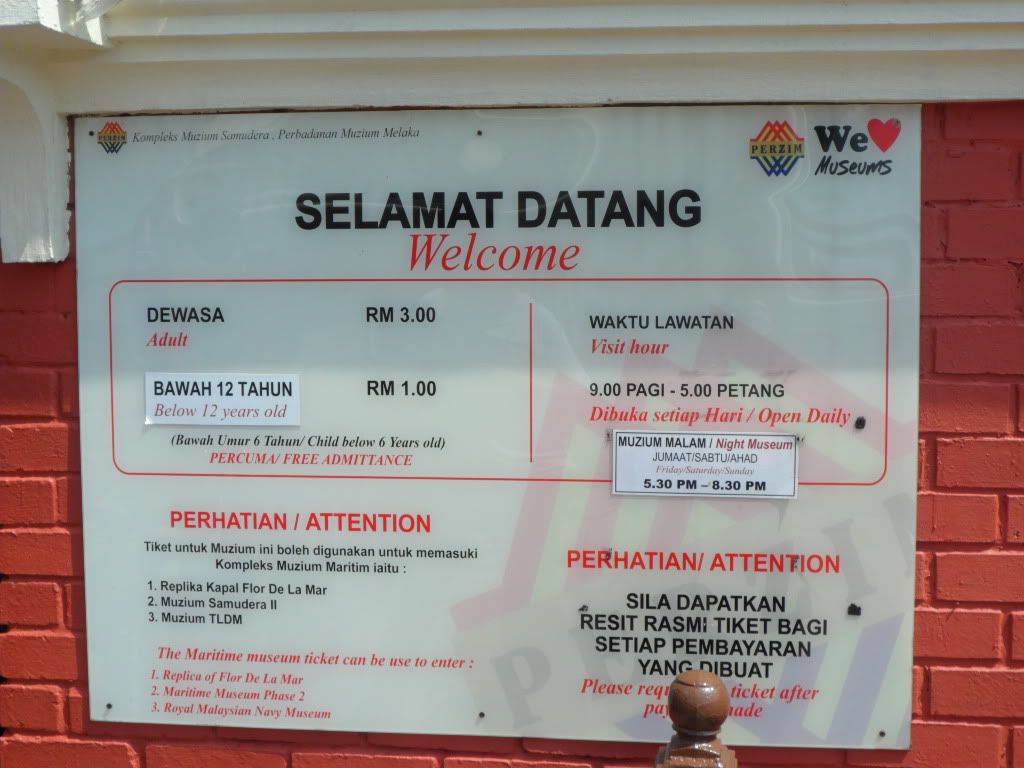 Price of entry into Melaka Maritime Museum
At the ticketing counter, you would be given a plastic bag. Dont be surprised. It is actually used to keep your shoes as the museum itself requires you to remove your shoes before entering into its premise. After crossing the gangway, on the main area, shoes are fine. However, entering into the air-conditioned area, shoes have to be removed…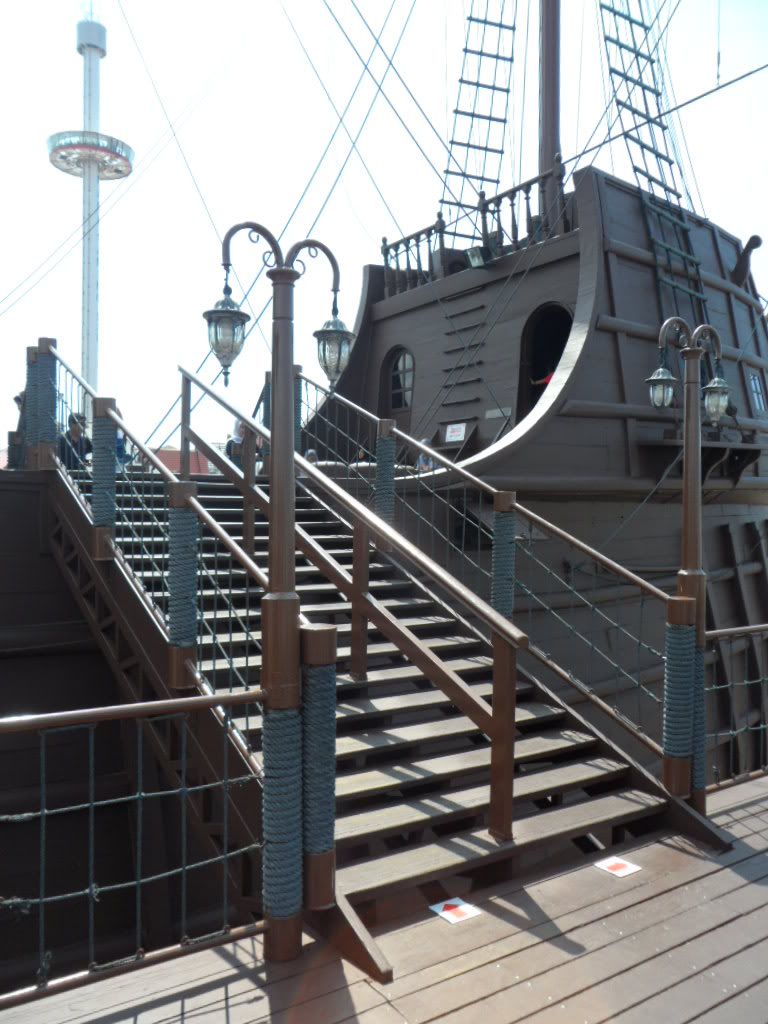 Gangway to the Melaka Maritime Museum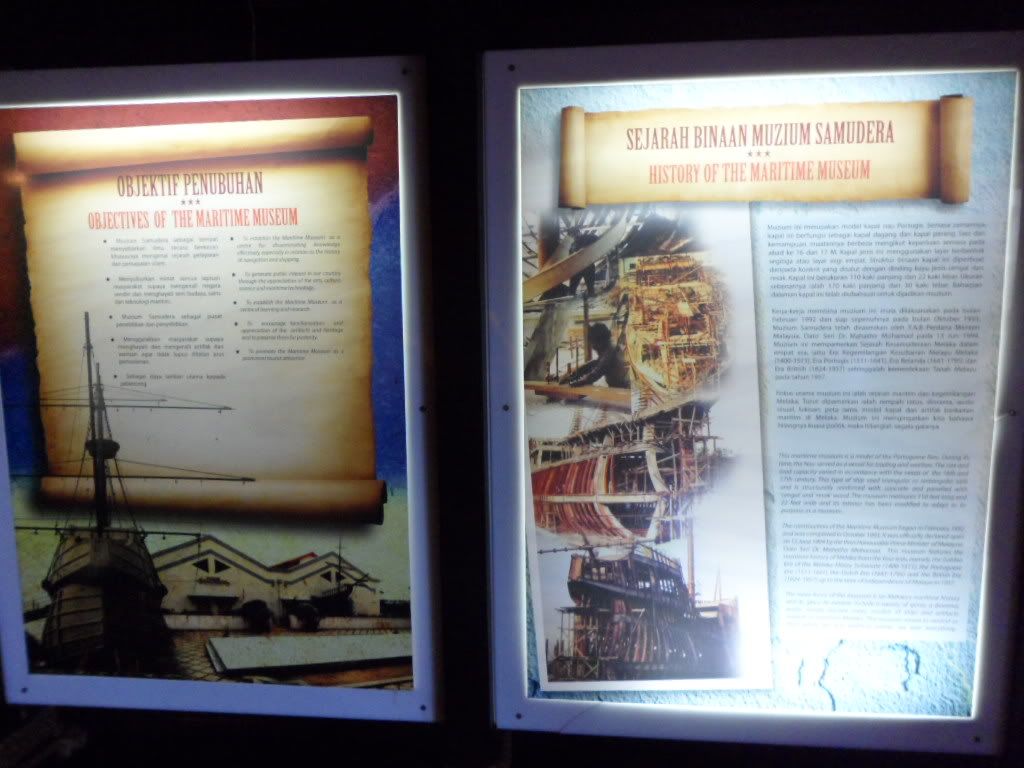 History of the Melaka Maritime Museum
Entering into the museum, you would find the exhibits quite interesting. It depicts how the port of Melaka at that time came to be and how it was a place where traders came to find trading opportunities. The history was also well recorded of how the Dutch,Portuguese and English came to power here…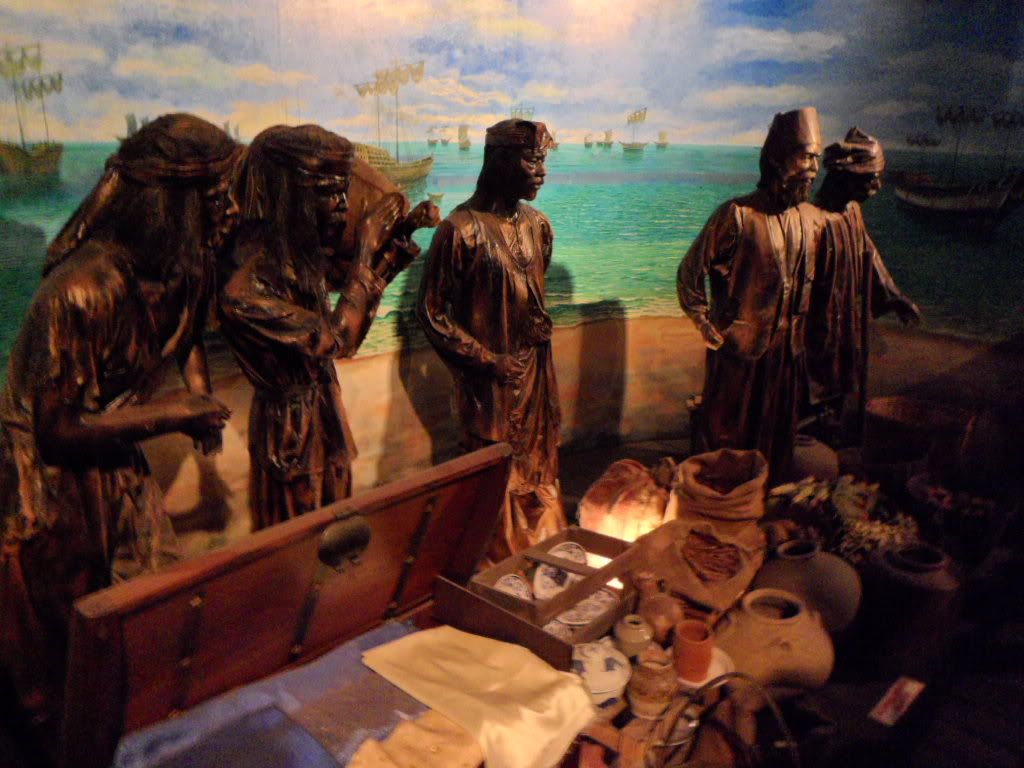 Traders from over the world with their goods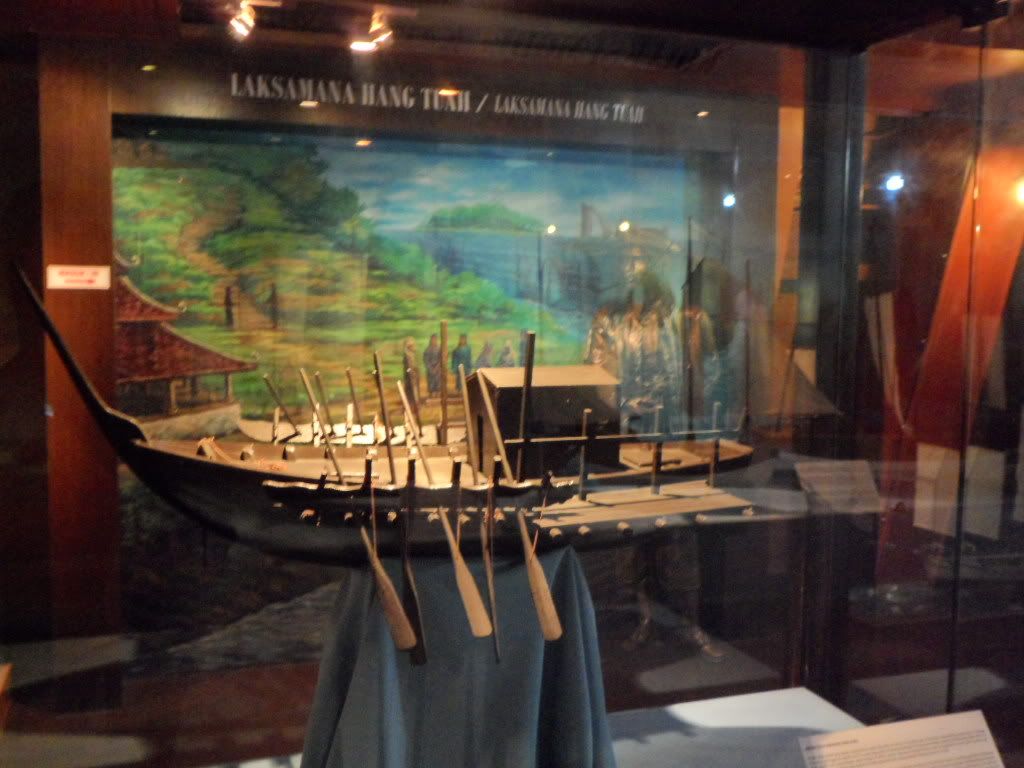 Model of an olden day ship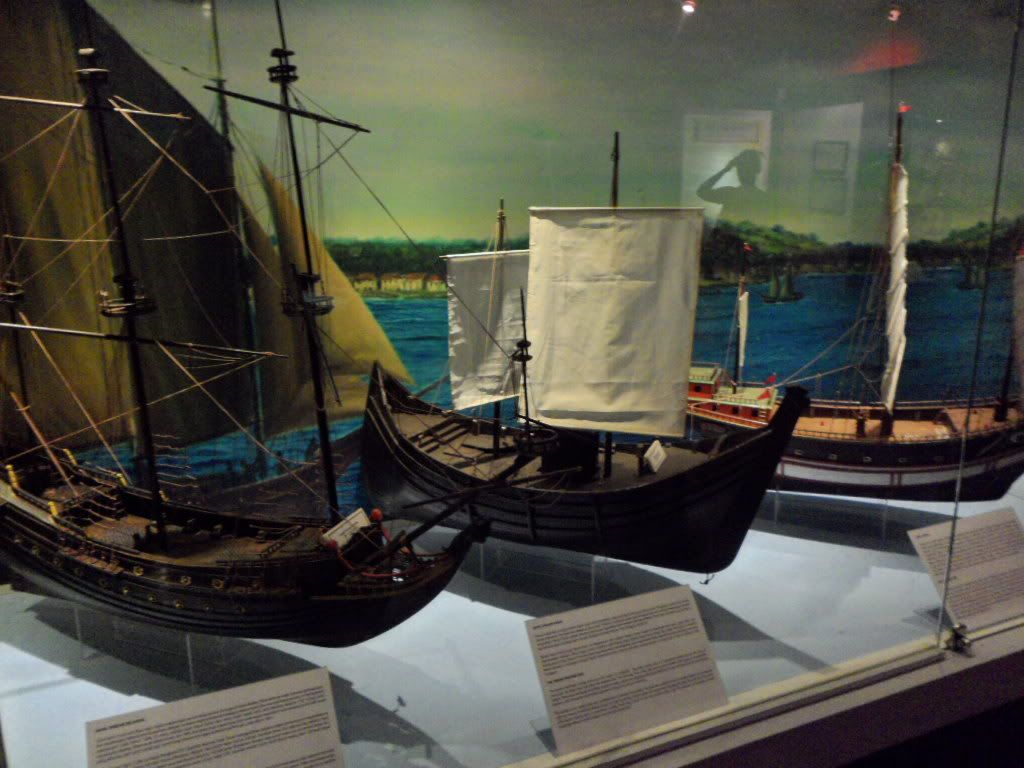 Ships from various countries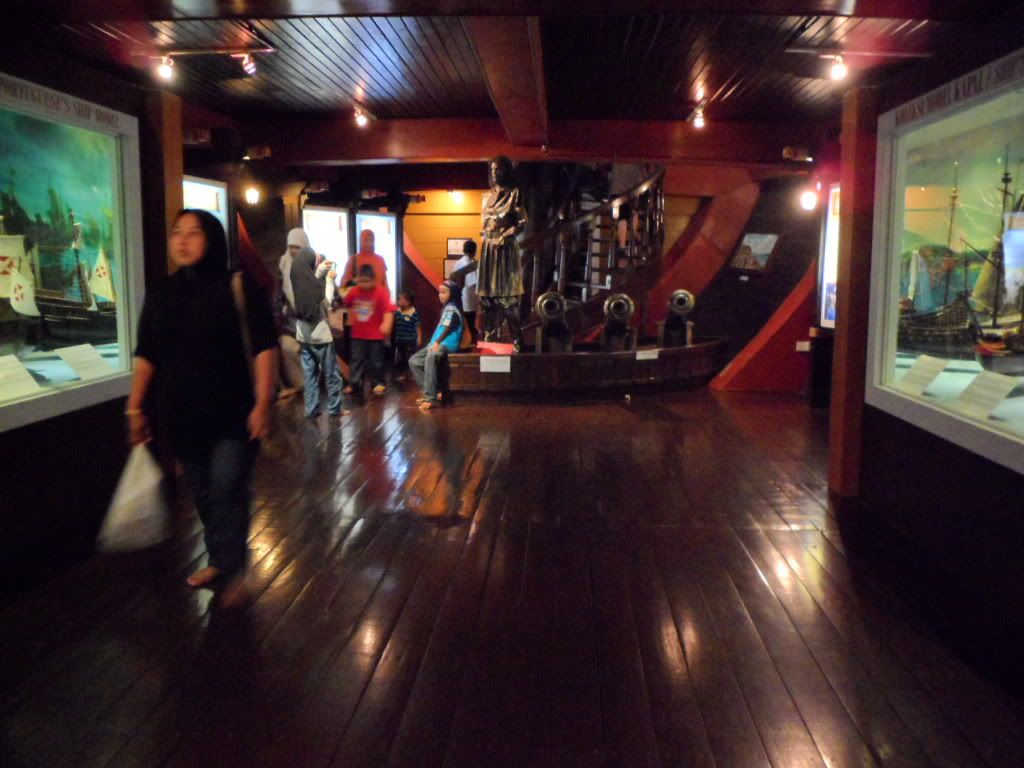 Lower deck of the Melaka Maritime Museum
Overall, the Melaka Maritime Museum is a must visit attraction in Malacca and is definitely worth a trip. This is not only because of the excellent photo opportunities with the ship itself but also the wealth of information that the museum offers about maritime powers and history.
If you are a history junkie, the Melaka Maritime Museum is the place for you!
For your convenience, you can now check out the best hotel deals in Malacca right here!
Related posts
This post is part of our 3D2N travels in Malacca. Below, you can find other relevant posts covered during this trip!
Top 3 Things to do at Jonker Street aka Jonker Walk
Jonker 88 @ Jonker Street
Stadhuys Melaka aka Red Square or Dutch square
Best 5 stars hotel in Melaka : Hotel Equatorial Melaka
Battle of the Malacca (Melaka) Jonker Street Chicken Rice Balls : Which is better? Chung Wah Chicken Rice or Hoe Kee Chicken Rice?
Weekend Getaway and Staycation @ Philea Resort Melaka (Malacca)
Top Attractions and Things to do in Melaka : World Heritage City
A Leisure Stroll along the Melaka River
Trishaw Rides in Melaka : A Must-Do Activity!
Traffic Jams in Melaka : How bad is it really?
Restoran Ole Sayang – One of the most reputable Peranakan Restaurant in Malacca
Melaka Sultanate Palace Museum – Built without nails!
Melaka Maritime Museum – Museum within a Ship
A Famosa aka Porta De Santiago
St. Paul's Church
If you enjoyed our content, "Like" us on Facebook Today!

Related posts: