The location of the Municipal House Prague used to be the seat of Bohemian Kings in the 14th and 15th Century. It was then demolished at the end of the 19th century. In its place, the current Municipal House was built between 1906 and 1912.
What to do at Municipal House Prague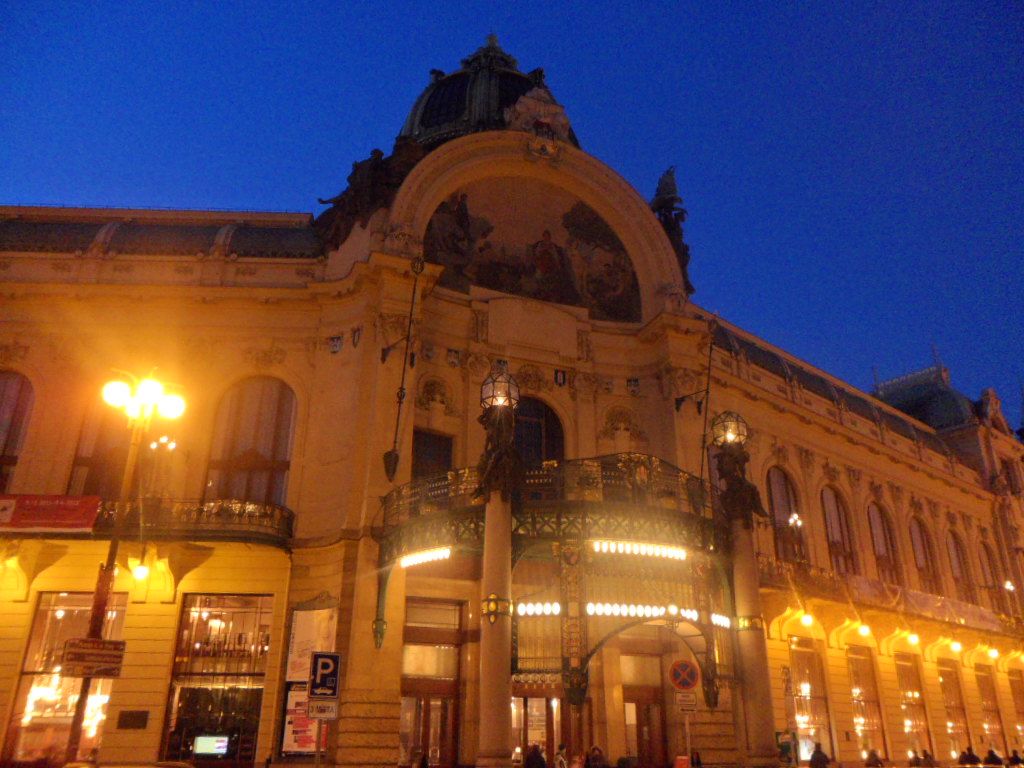 Municipal House
If you observe carefully, the mosaic above the entrance is actually a homage to Prague. It is set between sculptures that represent the oppression upon the Czech people. Other sculptures at the top represents various areas of the arts such as history, literature, painting, music and architecture.
The real reason why we're here is actually to enjoy a leisurely afternoon tea at the Kavárna obecní Dům, commonly known as the Municipal House Cafe. Here, you can enjoy the lavish setting , live piano accompaniment in the background, excellent service as well as the opportunity to just immerse yourself in the history and art nouveau designs exuberated by the Municipal House.

Menu of Kavárna obecní Dům / Municipal House Cafe
We ordered the Menu 1 and Menu 3 (approximately 8 euros each) and we had the apple strudel with vanilla ice cream, the traditional "sachers" cake with whipped cream, tea as well as some liquer.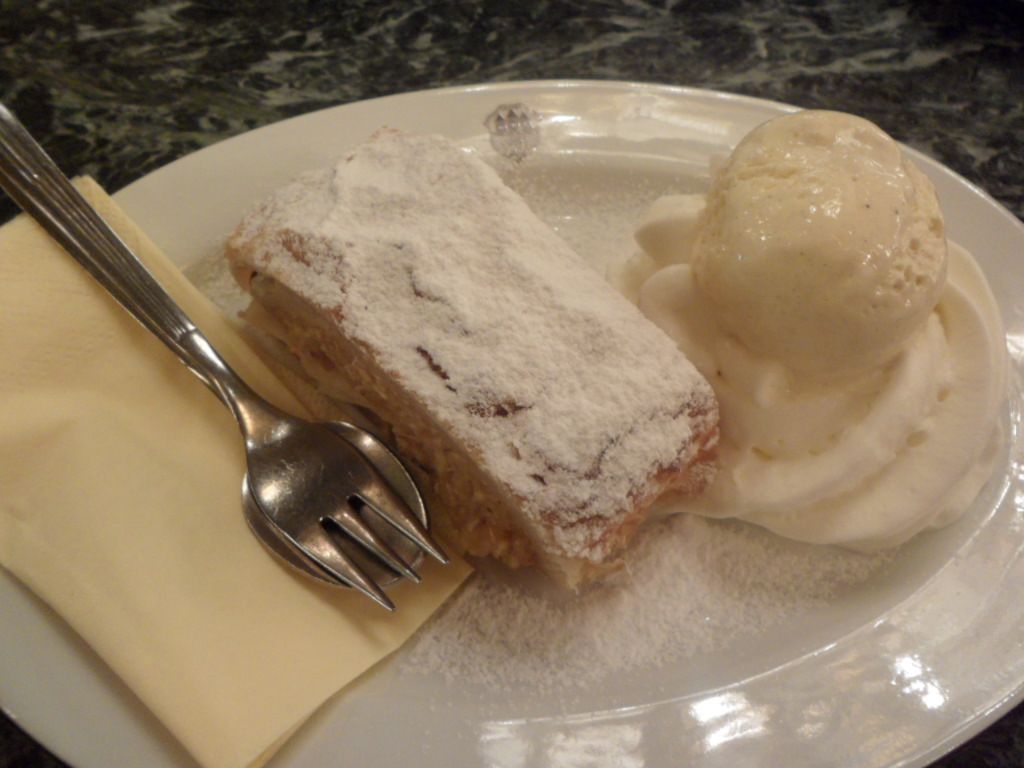 Apple Strudel with Vanilla ice cream

Traditional sachers cake with whipped cream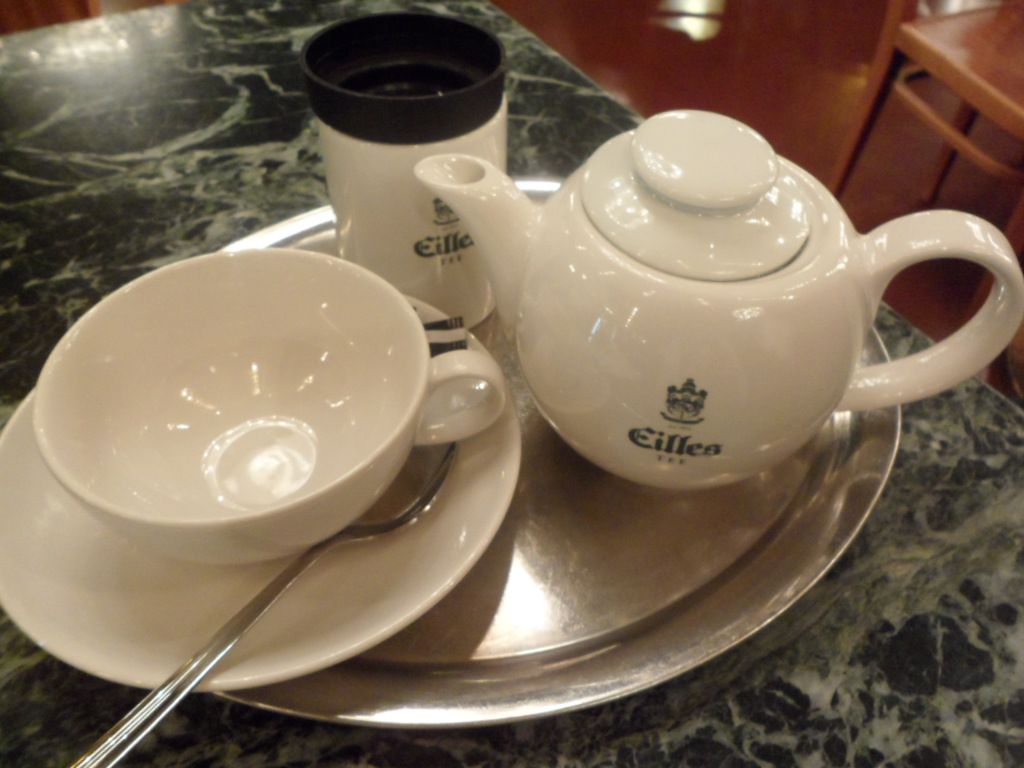 A tea set up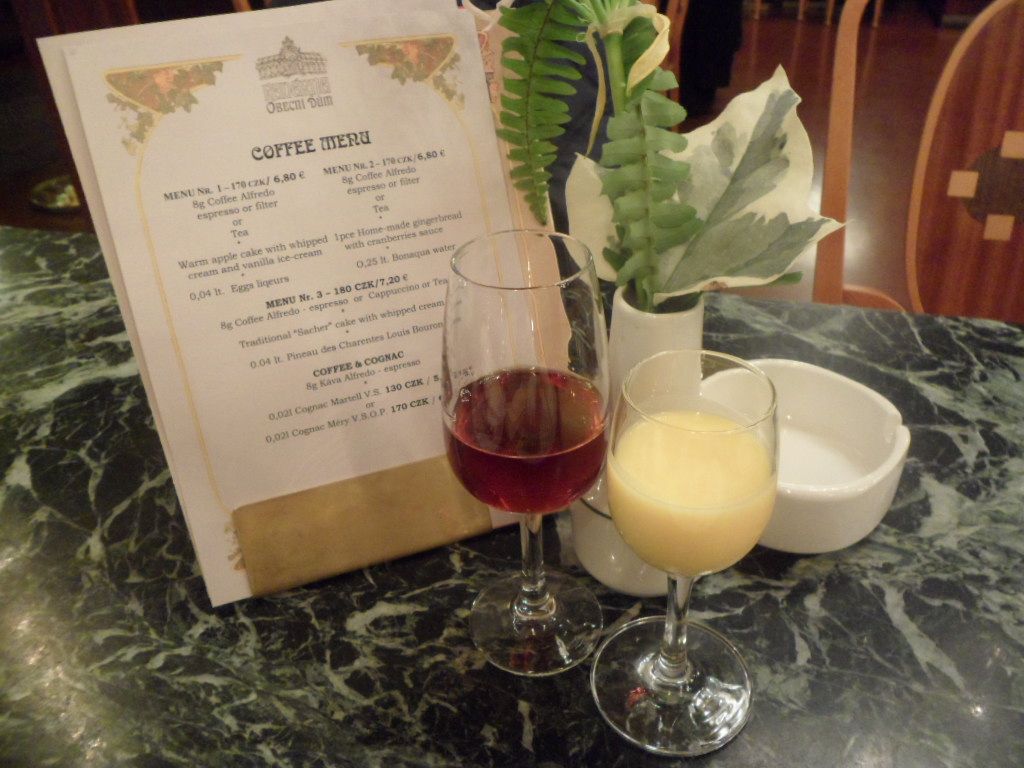 Egg liquer and pineau des charentes louis bouron
We were pleasantly surprised at the set up of the tea set. Simple yet classy. The cake and strudel was good as well. The whipped cream was the kind that you know is freshly made, not too sweet, just nice. Lastly, we ended off the meal with liquer. We have never tried egg liquer EVER, so it was interesting to have tasted the egg liquer. Quite nice actually. Sweet alcohol with a tinge of egginess to it.
We'll now leave you with a video of the interior of the Municipal House Cafe. Enjoy the atmosphere (albeit a short one)!

Inside the Kavárna obecní Dům / Municipal House Cafe
Hotel Deals
For your convenience, we have arranged for the best hotel deals in Prague right here!
If you enjoyed our content, "Like" us on Facebook Today!

Posts related to Prague Czech Republic
Top 6 Things to do in Prague and Attractions in Prague Czech Republic
Attractions and Things to do in Prague : Day 4-6 of Europe Trip
Attractions in Prague
Prague Castle – The most iconic architecture in Prague
Petrin Hill via the Funicular – Amazing View of Prague and Hall of Mirrors Awaits
Municipal House Prague – Enjoy a cuppa at Kavárna obecní Dům while reveling in the arts
Wenceslas Square Prague – Shopping , Dining , Cinemas and more
Charles Bridge Prague – Beautiful Architecture with Stories and Legends to Tell
Old Town Square Prague – History, Astrological Clock and more
Astronomical Clock Prague – Work of A Genius
Hotel that we stayed in Prague
Hotel Roma Prague Czech Republic – Great room at an excellent price
Related posts: