Oktoberfest in Germany, Munich is touted as the biggest beer festival in the world! But this annual festival is not merely about beers, it is actually fun for the entire family as well! Spanning an area of about 40 hectares at Theriesen Wiese (next to the U-bahn), the Oktoberfest area has 14 major beer tents, 21 smaller ones, food stalls, games stalls and many thrill rides! So join us as we uncover Oktoberfest in Munich Germany!

Welcome to Oktoberfest at Theriesen Wiese, Munich!
Stowing your luggage / baggage at Munich Hauptbahnhof (train station)
If you have not made reservations and want to visit the beer tents, it is always wise to visit Oktoberfest early in the day 10am or so (the first person gets drunk at that time as well). The seats in the evening are usually reserved a year in advance and you'll probably have no seats in the beer tents after 5pm. After checking out and leaving our luggage at the Munich Hauptbahnhof (main train station), we took a short walk to the Theriesen Wiese Festival Grounds about 500 metres away from the train station.

Squeezed 4 pieces of bags into this locker at Munich Hauptbahnhof for 5 Euros
There are MANY lockers at the train station, so it should not be a problem to stow your luggage there while you have a good time at Oktoberfest. The lockers cost 5 Euros. Just remember to bring everything you need (we left our day pass train tickets in the locker – eliminating our option of taking the U-Bahn from Theriesen Wiese station)! There's also a concierge kind of baggage storage which is slightly more expensive but you will certainly be able to stow your stuff away before visiting the festival!
Things to do at Oktoberfest Munich
From the Munich train station, there are signs pointing you to the direction of Oktoberfest. You can also follow the crowd. At 10am in the morning, throngs of people were already making their way there! 2 ways to identify them. Firstly, many were in traditional bavarian costume of Lederhosen (for the men) or Dirndl (for the ladies). Secondly, there are too many people walking in one general direction and it has got to be it! After about 10 minutes, we finally arrived at Oktoberfest!

First view of Oktoberfest (Notice that people have their backs facing us as they've just entered the festival as well)

Feel the festivities in the air at Oktoberfest!
Beer Tents at Oktoberfest
As we were early, we've decided to visit the beer tents first. Here are some of the tents we visited…
Hippodrum Beer Tent

Hippodrum Beer Tent @ Oktoberfest Munich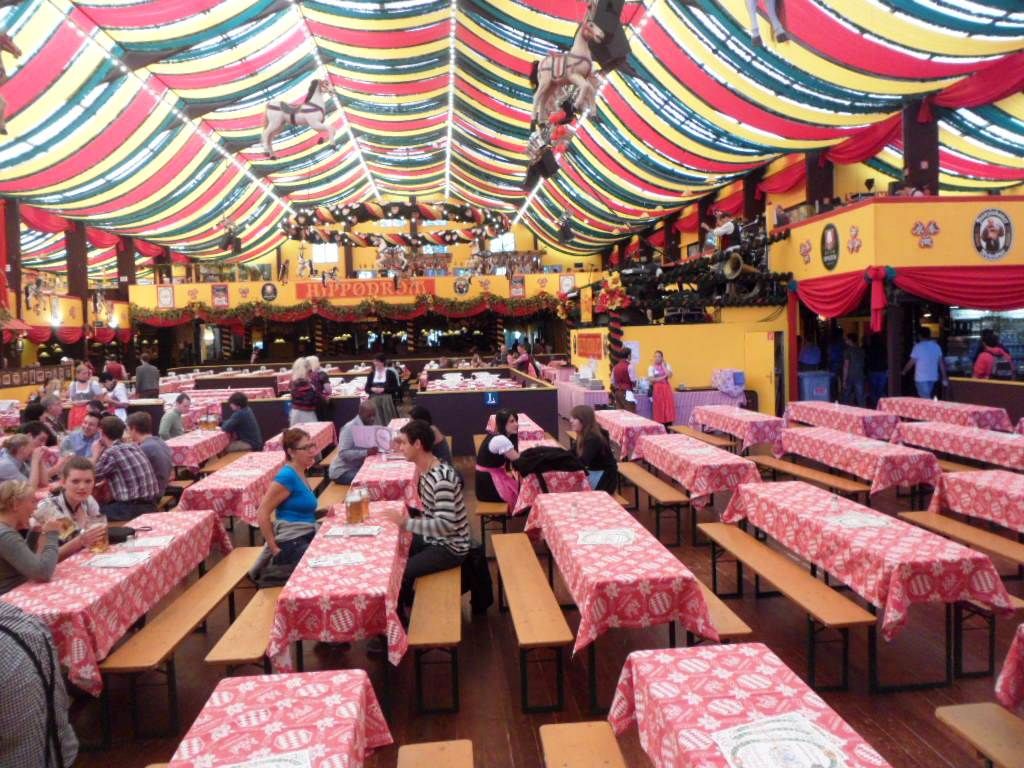 Inside Hippodrum Beer Tent at 11am – not so many people yet
Paulaner Beer Tent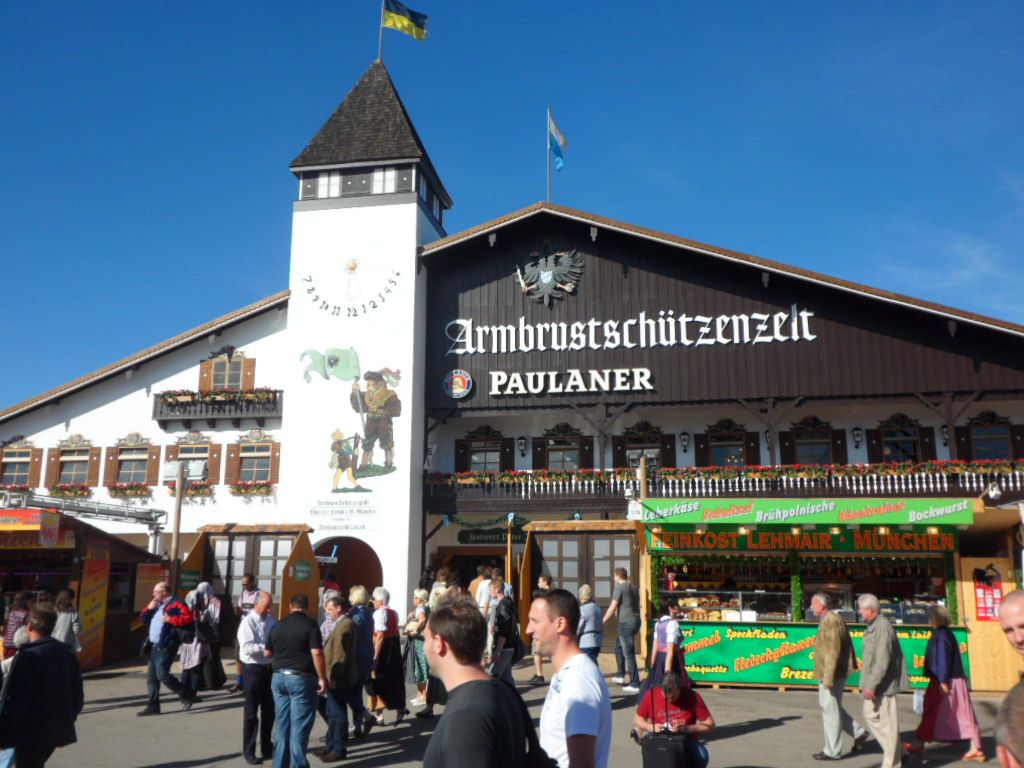 Paulaner Beer Tent @ Oktoberfest Germany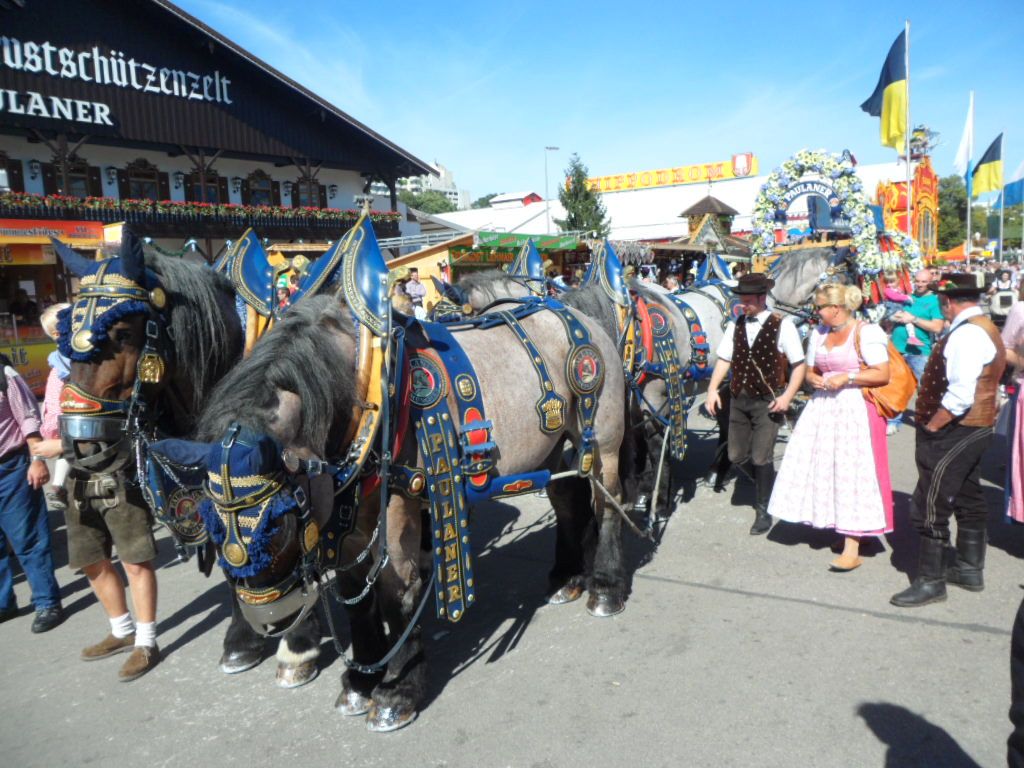 Paulaner Horses and Beer Barrels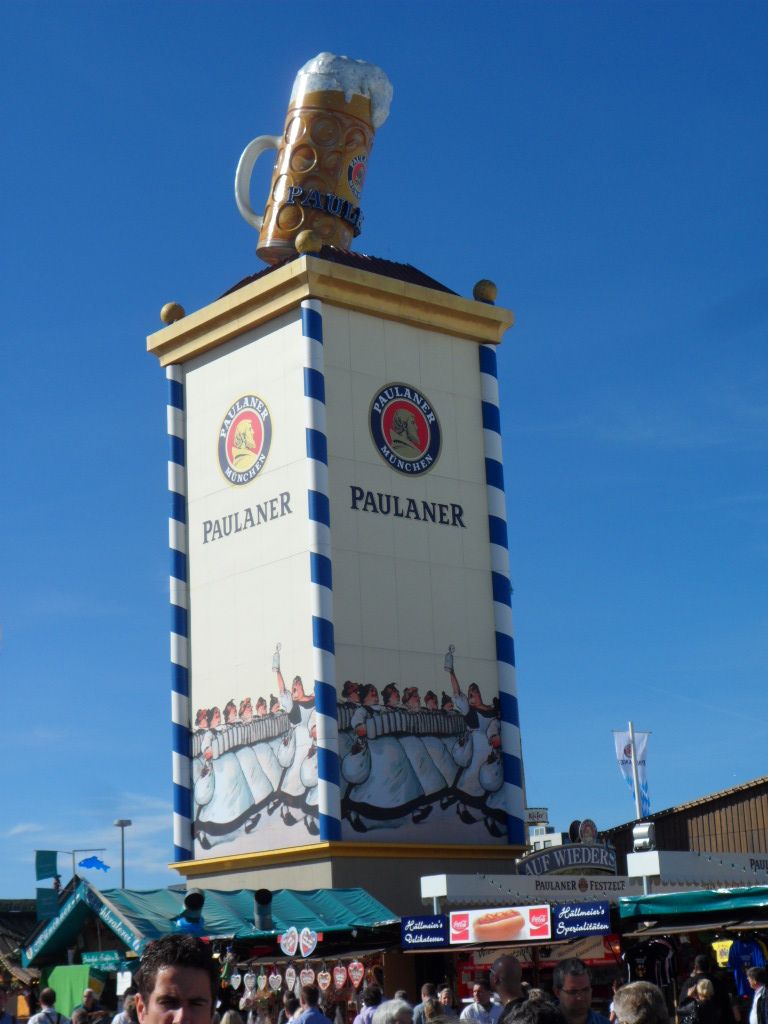 Tower of Paulaner

Area outside Paulaner Brauhaus
Spatenbrau Beer Tent

Spatenbrau Oktoberfest

Atmosphere outside Spatenbrau Oktoberfest

Inside Spaten Brau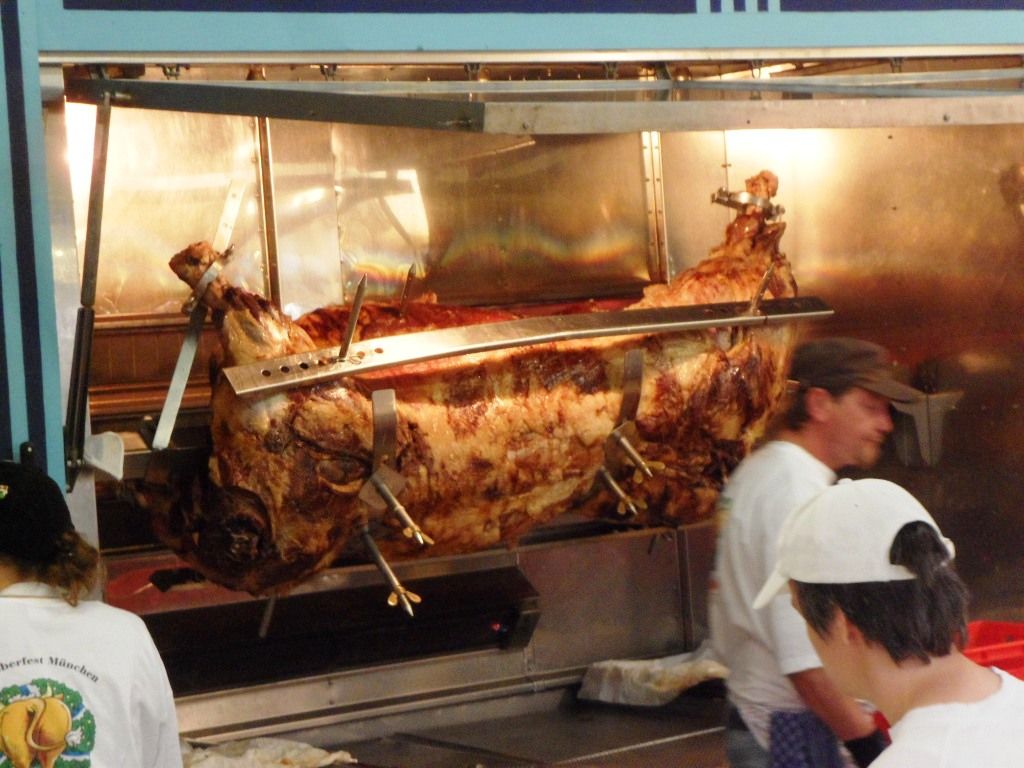 Look at the size of this HUGE PIG!
Schottenhamel Beer Tent

Schottenhamel Oktoberfest Deutschland

Inside Schottenhamel Beer Tent with location of Band such that everyone can see them
Hacker Festzelt Beer Tent

Hacker Festzeit Beer Tent
Lowenbrau Beer Tent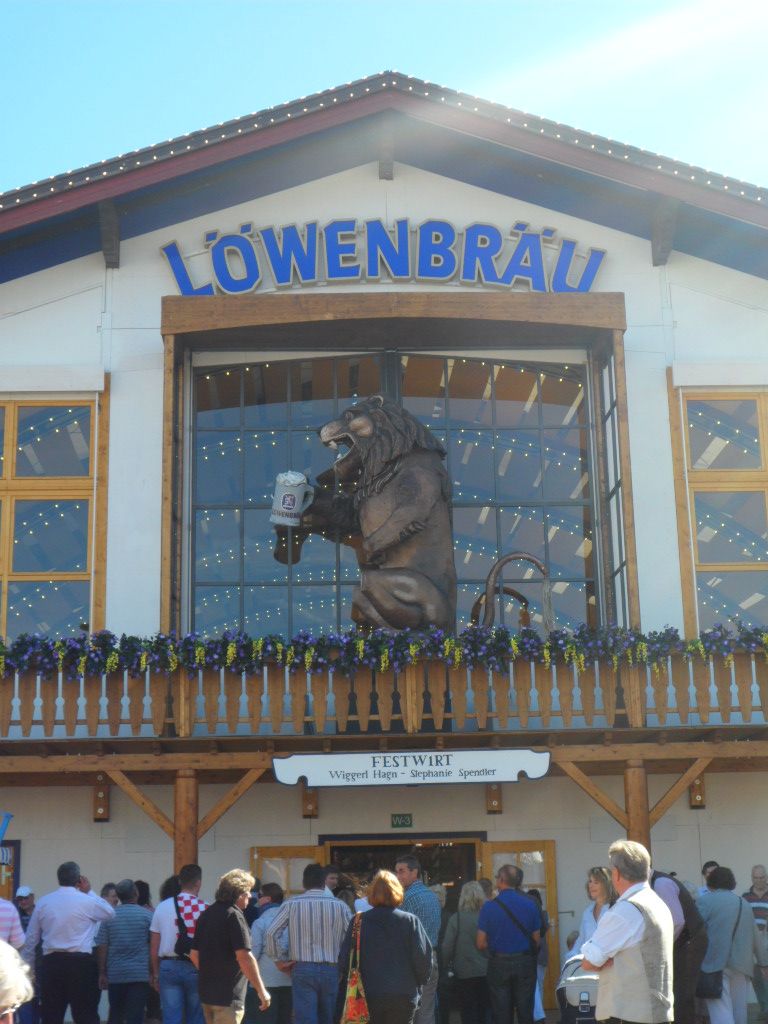 Lowenbrau with its lion that roars "Lowen Brauuuu"
The beer tents usually serve Hefe (or unfiltered wheat beer). A good example would be Erdinger. Besides serving their own brew, some tents also brew beers specially for Oktoberfest each year. Prices of beers at Oktoberfest range from 9 euros to 11 euros per litre. Oh remember, hold the beer mugs like the locals do…your palm through the handle of the beer mug…
Authentic German Bavarian Food @ Oktoberfest
Experienced Oktoberfest-goers will tell you that you will need to "line your stomach" with fatty foods so as to "absorb" alcohol, allowing you to last through the night. Well, not too sure of whether that's true (any medical students who can verify this?) but there's definitely lots of food to try at Oktoberfest!
Pork Knuckle Sandwich

Sausage / Pork Knuckle Sandwich Stall Oktoberfest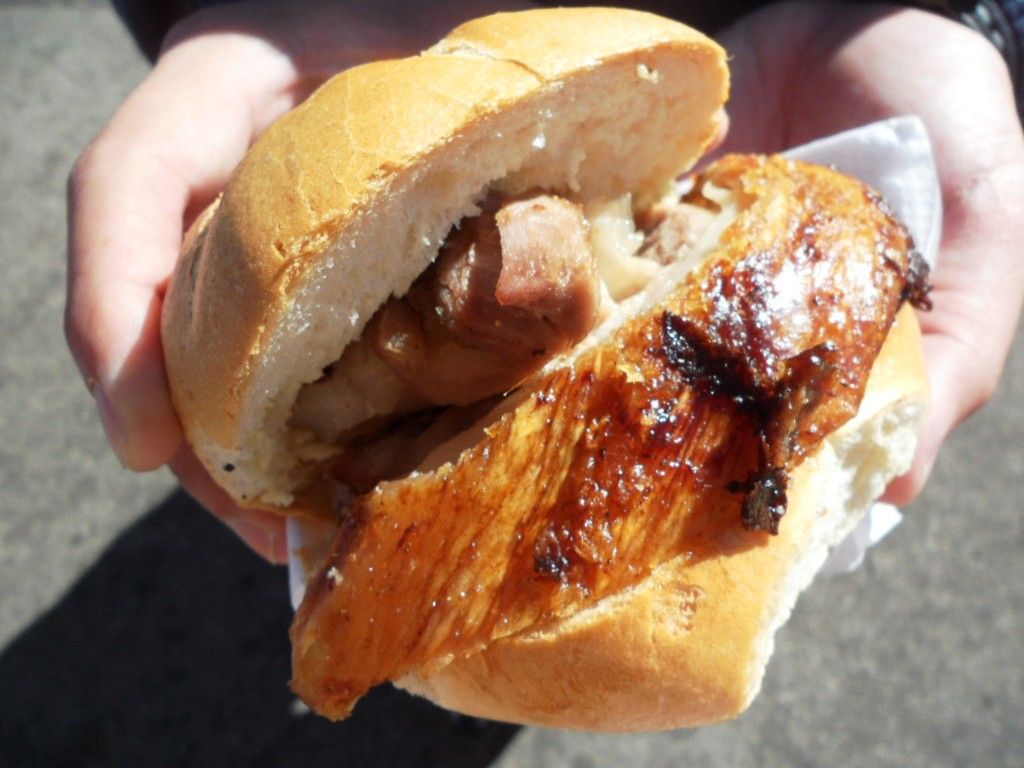 Pork Knuckle Sandwich @ German Oktoberfest – 4Euros
The pork knuckle sandwich is a must-try at Oktoberfest. All fest-goers will go for the fatty meats of the pork knuckle to "assist" them at the festival. Some of the buns may be too hard for our liking but the meat is Ooo lala! Tender, smoky and fatty! Yum!
Schnitzel Sandwich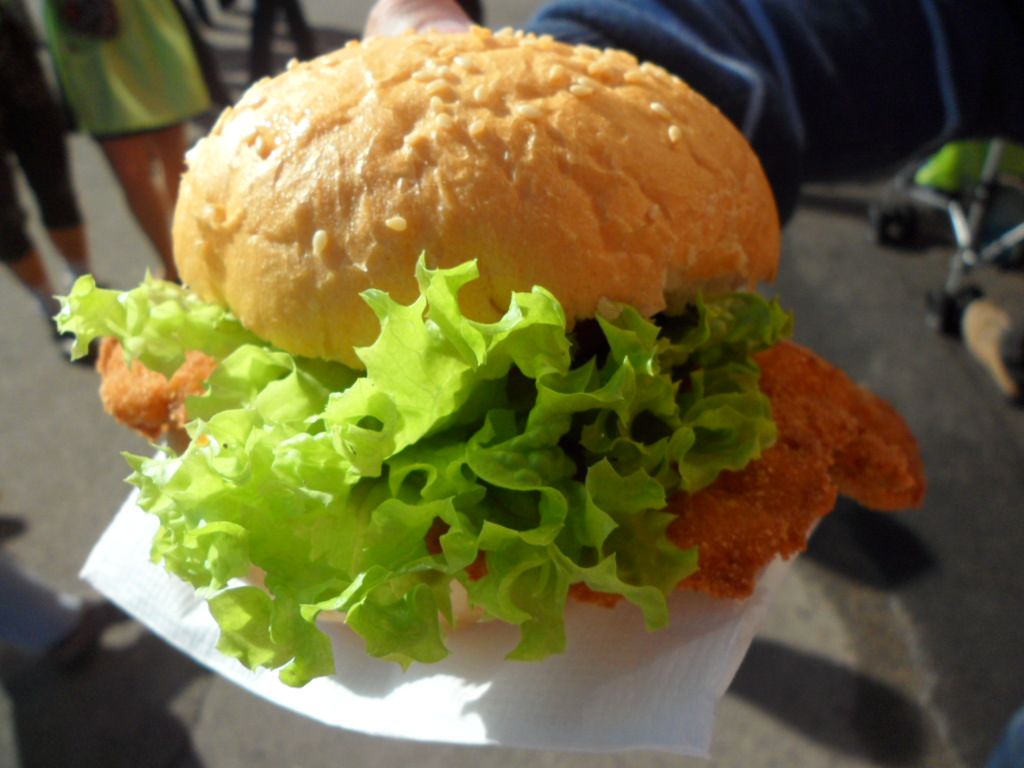 The Schnitzel Burger – 4.90Euros
Schnitzel simply means fried meat. Usually the meat is tenderised (by pounding) and placed into a batter before frying to golden brown. Needless to say, the outer layer is crispy, inside it's moist and tender. Look at the size of that schnitzel!
Roasted Chicken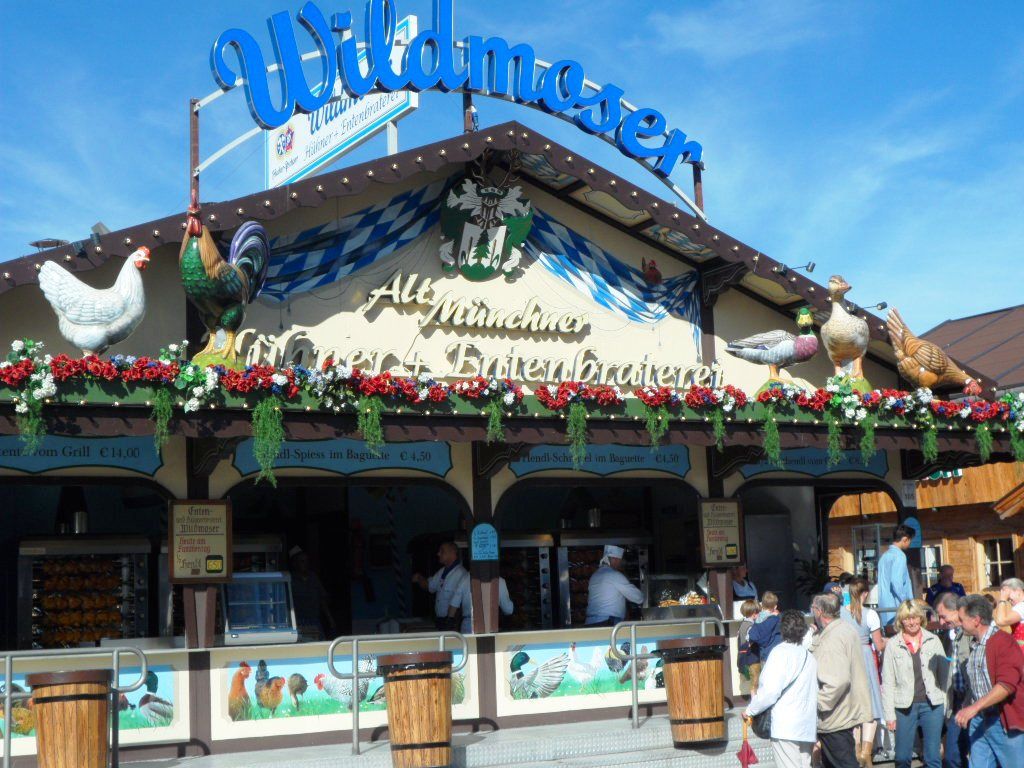 Look at the number of roasted chickens!!

Bought our roasted Chicken from Ammer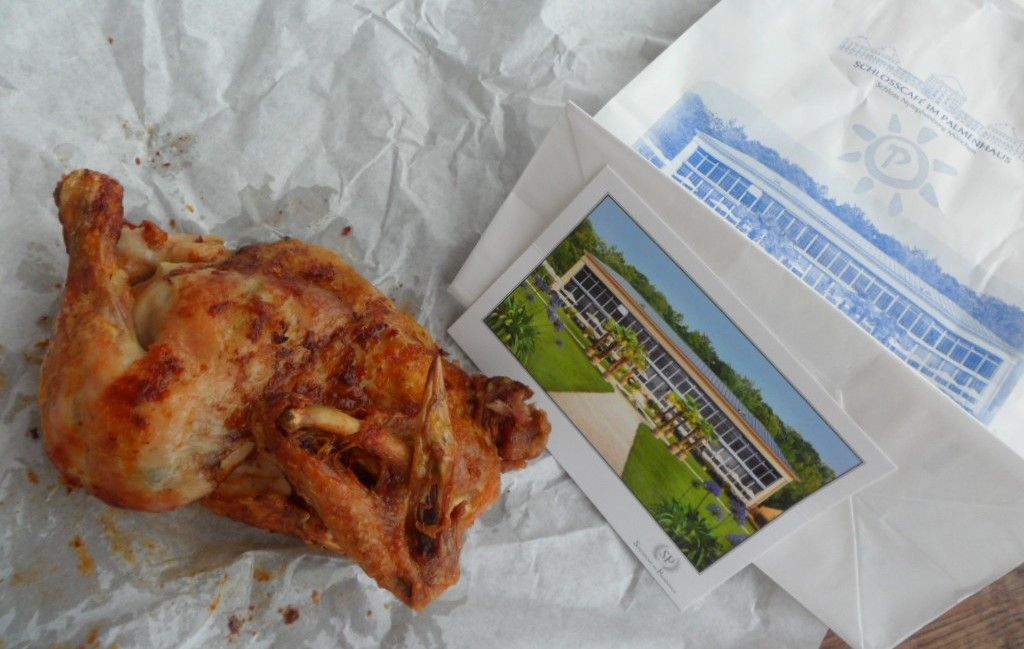 Half Roasted Chicken for 8Euros
The humble roasted chicken is a main fare at Oktoberfest. You can probably judge its popularity by the rows of chickens in the ovens. Although it is relatively expensive at Oktoberfest (8Euros for half a chicken), the taste is absolutely fabulous. The meat was fully flavoured and if you notice, the oil drips from the chicken on top to the one below. Guess it's that motion over and over again that gives the roasted chicken that much depth in flavour. Skin may be a little salty for some…beware!
Roasted Fish Anyone?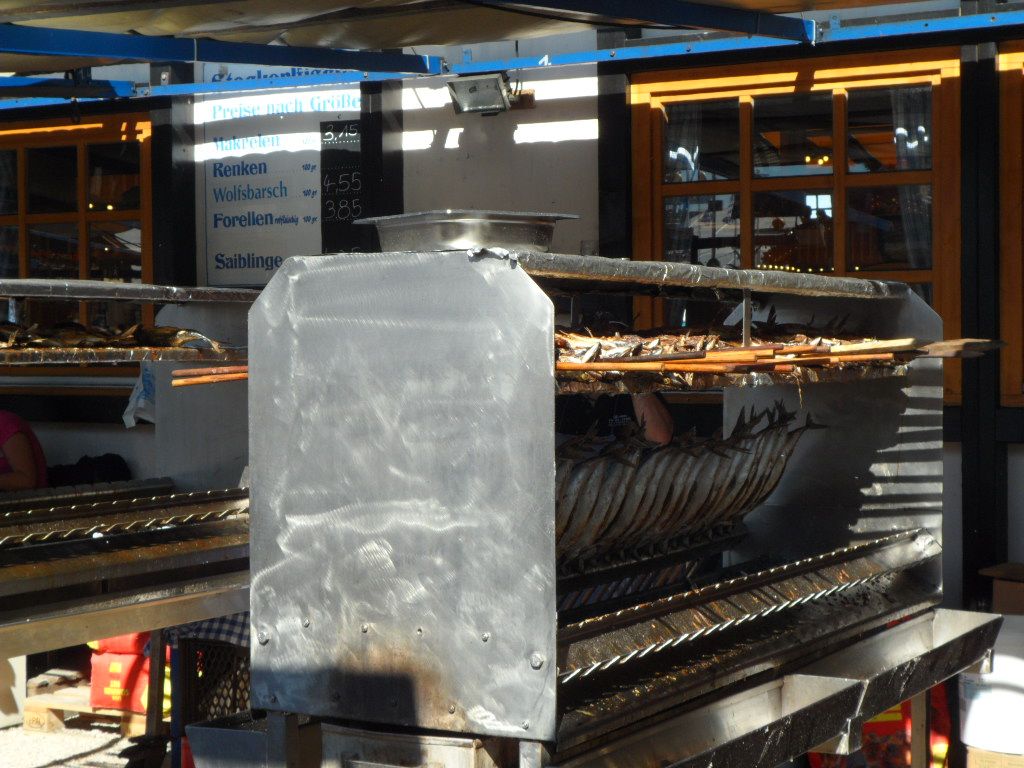 Roasting fish in the open air
Desserts

Freshly baked waffles at $1.50Euros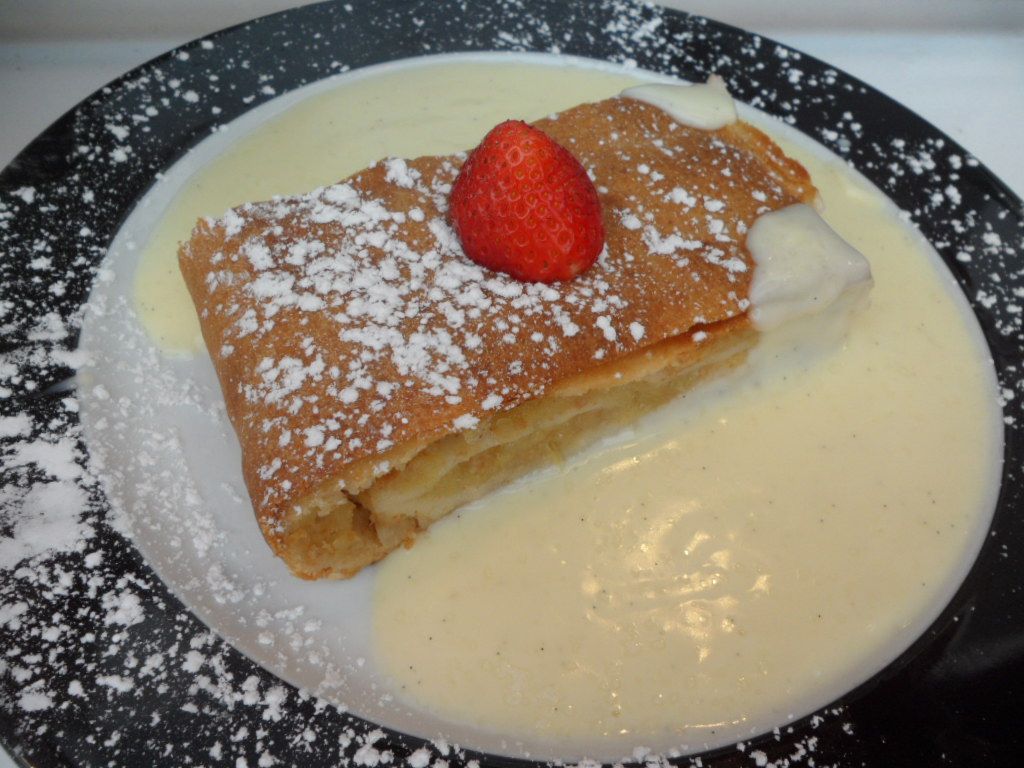 Apple Strudel for 5.5Euros. 2 additional Euros can be refunded after you return the plate
Oktoberfest is not merely about the meats and beers. The desserts were very enticing as well. Check out the freshly baked waffles with sugar icing. Appealing isnt it? It is REALLY, FOR REAL, CONFIRM PLUS CHOP, crispy on the outside and fluffy on the inside. Between the both of us, it took less than 2 minutes to finish it all up, eventhough it was piping hot!
The strudel was a little bit expensive but tasted good as well. Traditional bavarian style. Yummy.
Other things to do at Oktoberfest
Oktoberfest is really not just a beer festival. It caters to the young and the young at heart as well. Besides the usual stall games (throwing stuff to win stuff), thrill seekers can find solace in knowing that there are MANY exciting rides at Oktoberfest as well!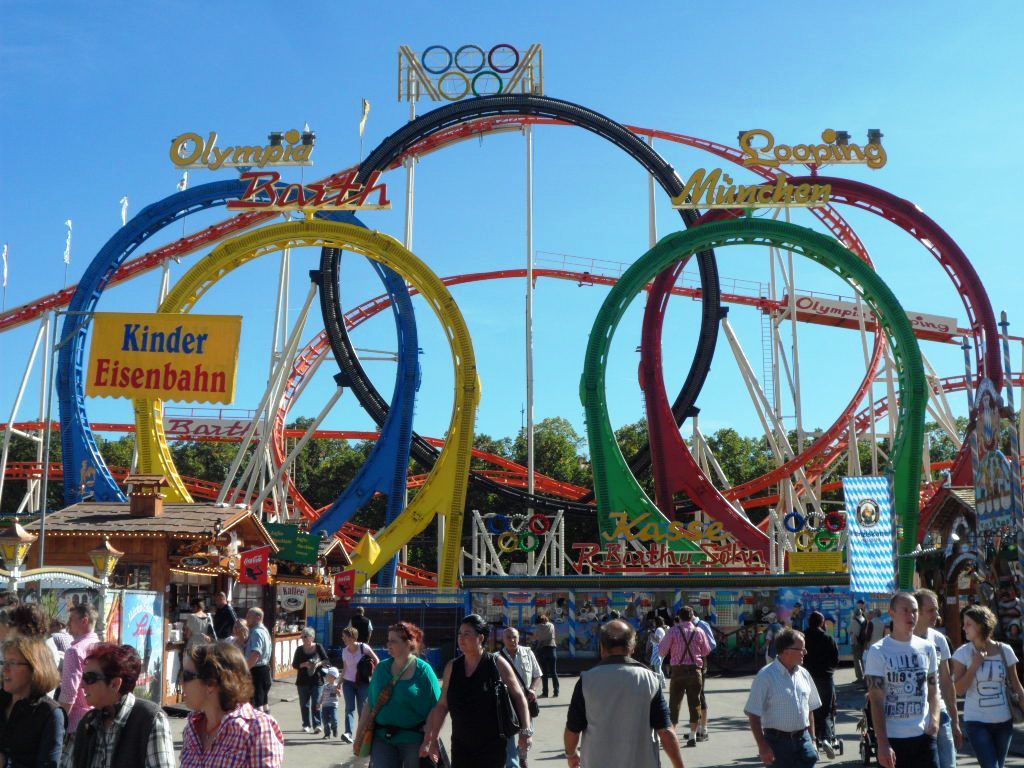 Olympia Roller Coaster Ride

Hollenblitz – Another roller coaster with effects and characters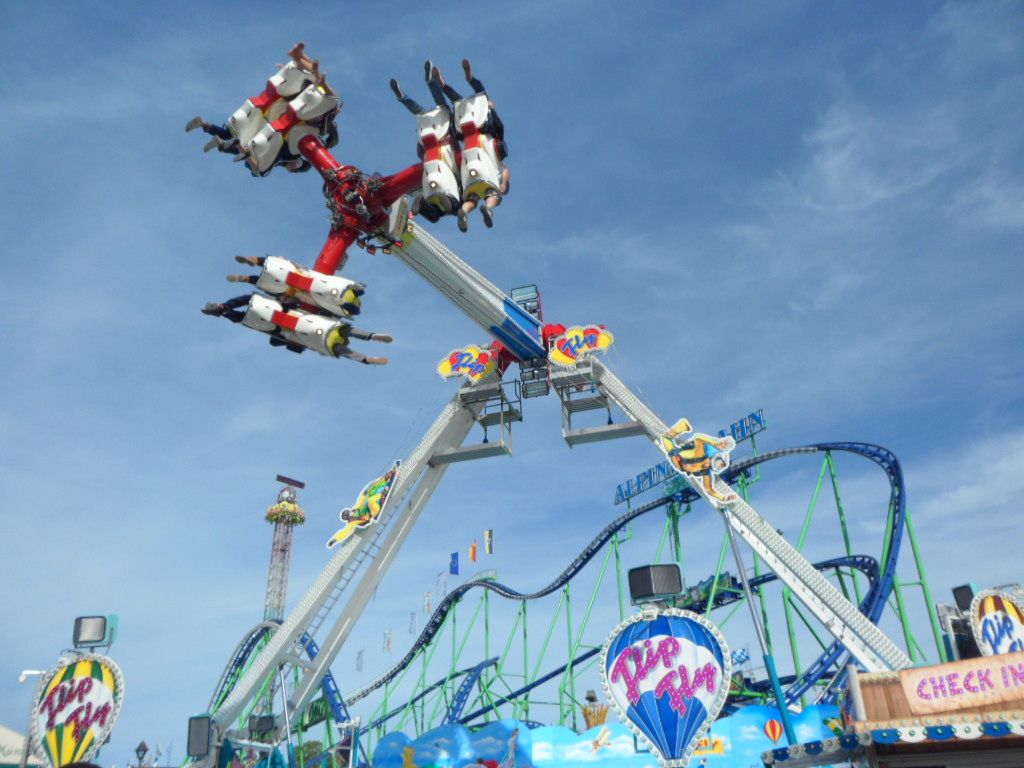 Crazy Ride 1 at Oktoberfest
If Tom says this is a crazy ride, this is a CRAZY ride. Having conquered bungee jump, giant drop (Dream World Australia) and Human vs Cylon (Universal Studios Singapore), Tom says this is the most challenging of them all! Check out the video…
It may look like a Viking but it most definitely is not. Not only can the main axis go 360 degrees, your own capsule can go 360 degrees PLUS the merry go round (another axis of rotation). Suffice to say, this ride is OUT TO MAKE YOU PUKE! Before Tom went on the ride, the attendants had to wash away the puke left behind by the previous riders. Think twice before trying this seemingly easy ride…

Video of another crazy ride at Oktoberfest
Again, this ride seems like nothing. But you'll firstly feel the centrifugal force, then contend with the height PLUS the capsule rotates 360degrees. Well, the one that Tom took was crazier but this is no chicken feet either.
Ok, enough with the crazy rides. There are also rides for the kids as well…

Gnome train ride for kids
There's an area in the festival ground that caters to the young ones. Train rides such as this gnome train and other kid rides are designed with the kids in mind. Adults can also hug their kids for this traditional slide…

Traditional Slide at Oktoberfest
You'll first need to go up an inclined travelator (kids can be assisted by the attendance, adults too if you need to). Climb up a few flight of stairs and enjoy this long but slow slide down.
Oktoberfest is really a festival for the entire family and not merely a beer festival. One of the days at Oktoberfest is actually called "family day" where some rides and food are discounted for the family to enjoy a day out at the fest!
Our Oktoberfest Experience at Augustiner Beer Tent
Well, it's finally time to tell of our experience in the beer tents of Oktoberfest. This time, we chose to go to Augustiner Brau where it was said that the beers are simply delicious (you dont often use that word to describe beers right?)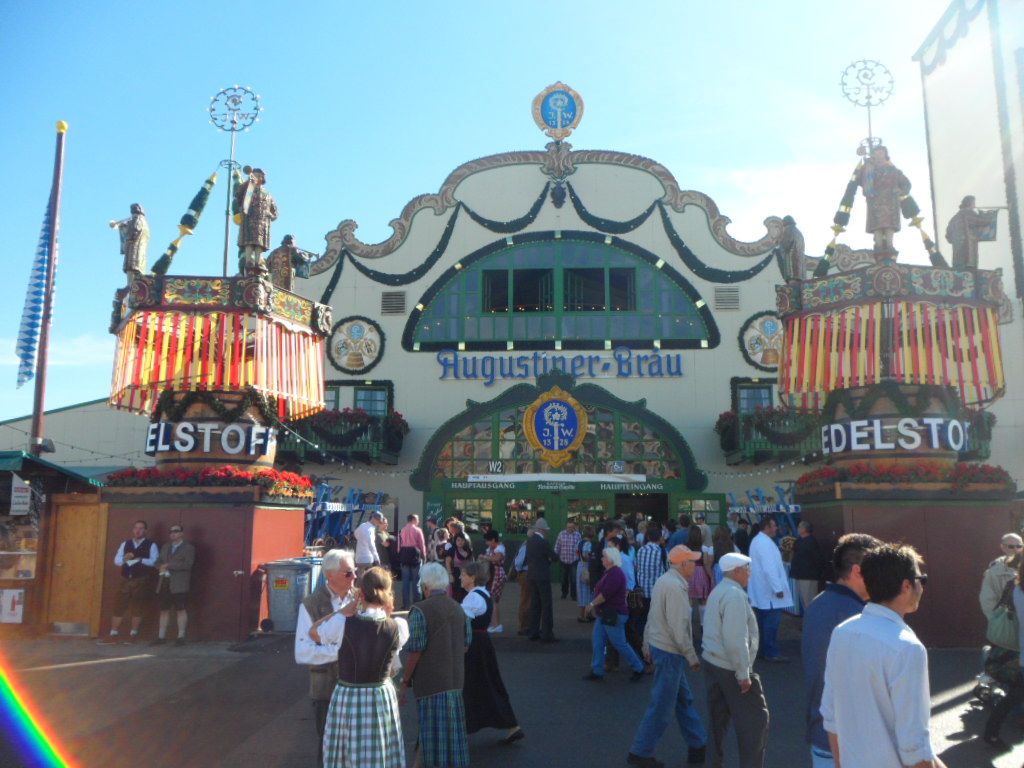 Outside Augustiner Brau @ Oktoberfest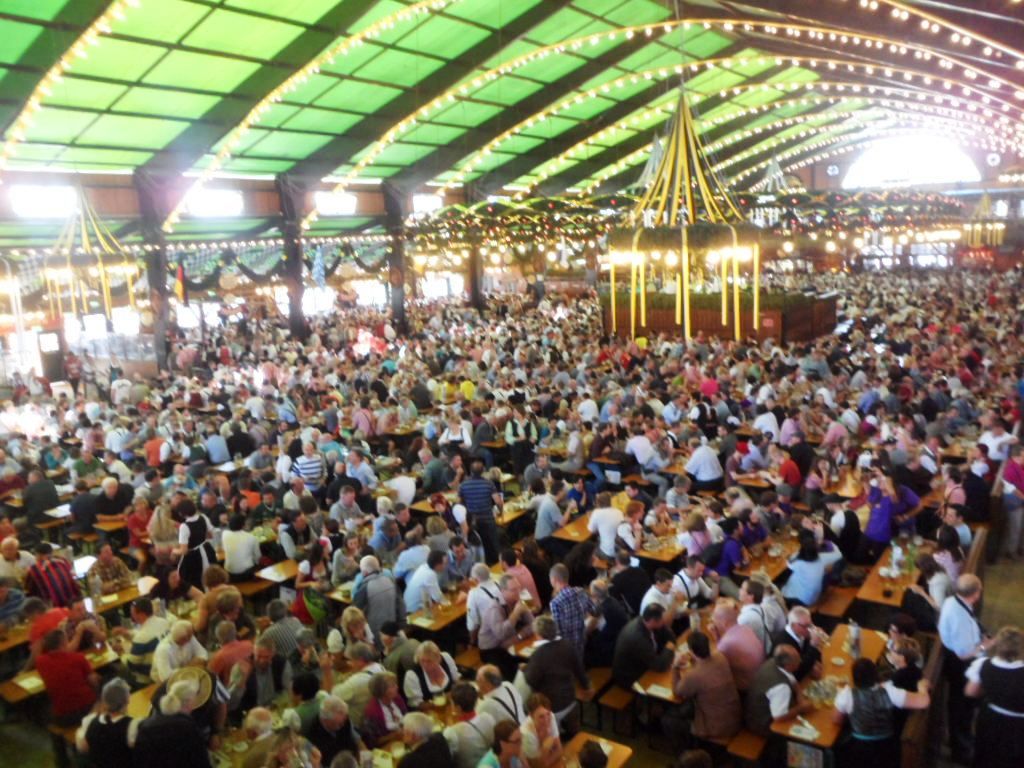 Crowds at Augustiner Beer Tent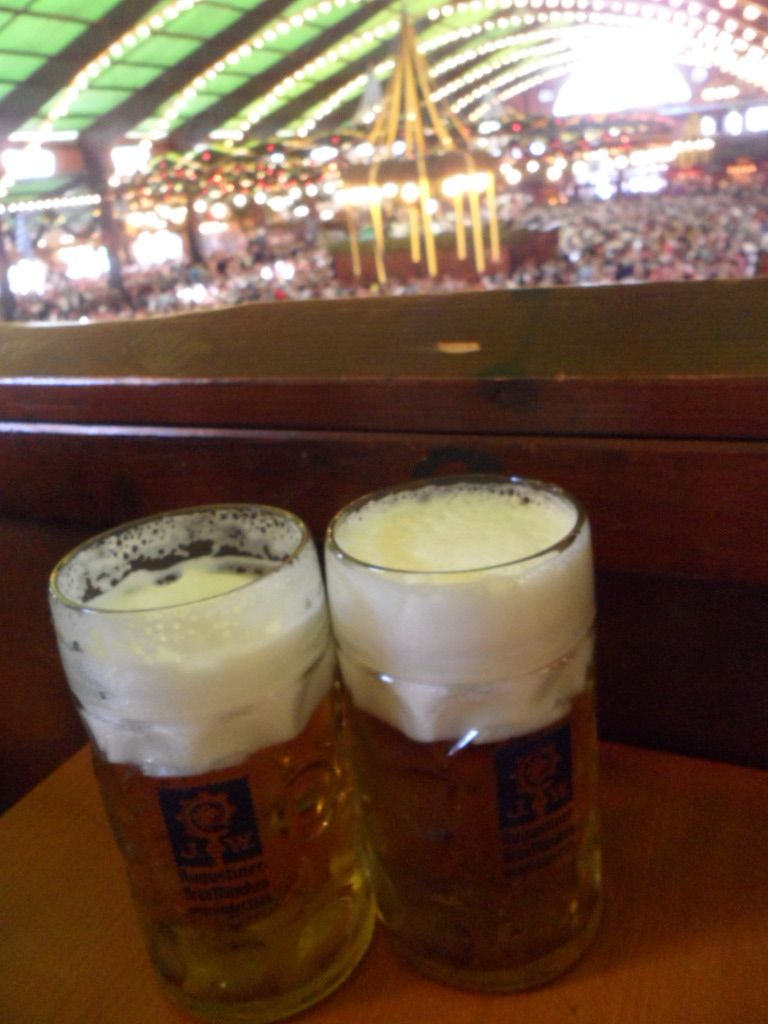 9.30 for a litre of beer but we gave 9.50 – small tip for our beer lady
The beer was absolutely delicious. Full bodied and full of flavour. But do drink it slowly as they're quite strong as well. Speaking of the price of beers, we later read an article on Oktoberfest stating that the beer ladies are earning less these days. In the past, beers were priced at 7.50 or 8.50. Some would give 8,9 or 10 euros. These days, the beers are at 9.30euros and we still gave only 9.50euros. Even if there are those who gave 10euros, their tip would not have been as much as compared to the last few years. We're just glad that they did not scold us for our miserly 20cent euros tip! :p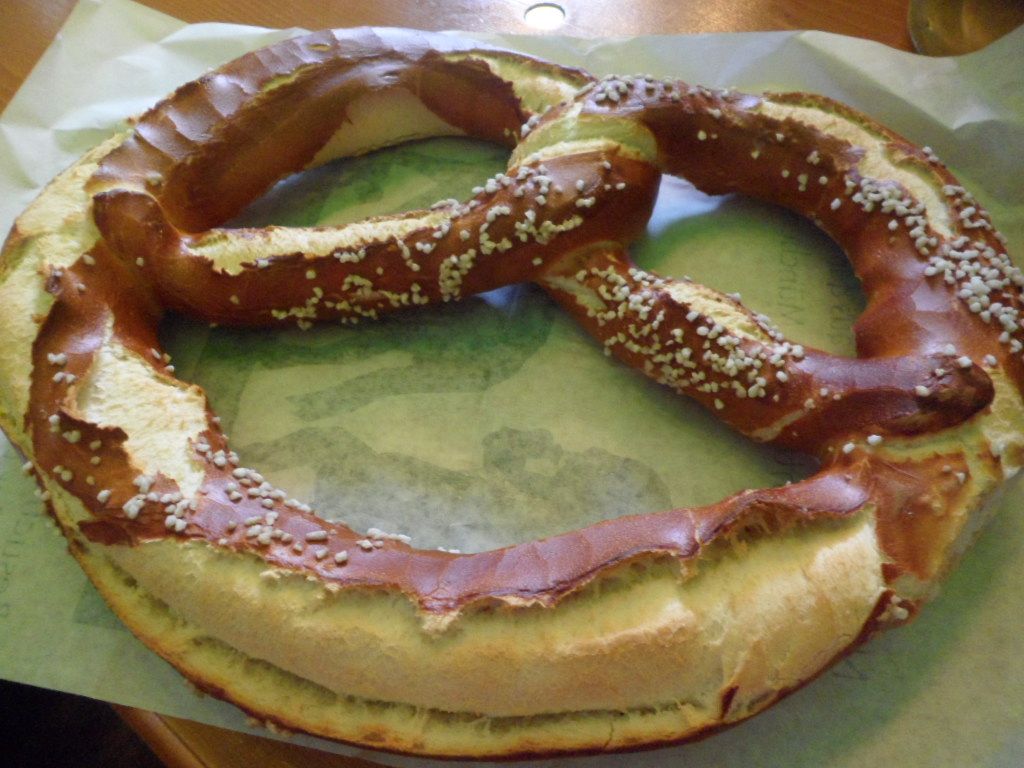 Pretzels for 4.60Euro
As it was totally full on the ground level, we went upstairs and sat at a spot with a view. Not too bad actually. We then bought 2 pretzels, one for us to share and the other for another german couple on the same table as us, to share. Turns out that they were also from out of town and stopped by for the Oktoberfest!
Before we leave, we would like to introduce the official "cheers song" at Oktoberfest – Ein Prosit…

Oktoberfest Cheers Song – Ein Prosit
The lyrics of Ein Prosit (A Toast) is…
Ein Prosit, ein Prosit
Der Gemütlichkeit
Ein Prosit, ein Prosit
Der Gemütlichkeit.
It basically translates to "A toast at your own liking for good cheer and good times!"
Last but not least…
If you're going there with your loved ones, remember to get a lebkuchen!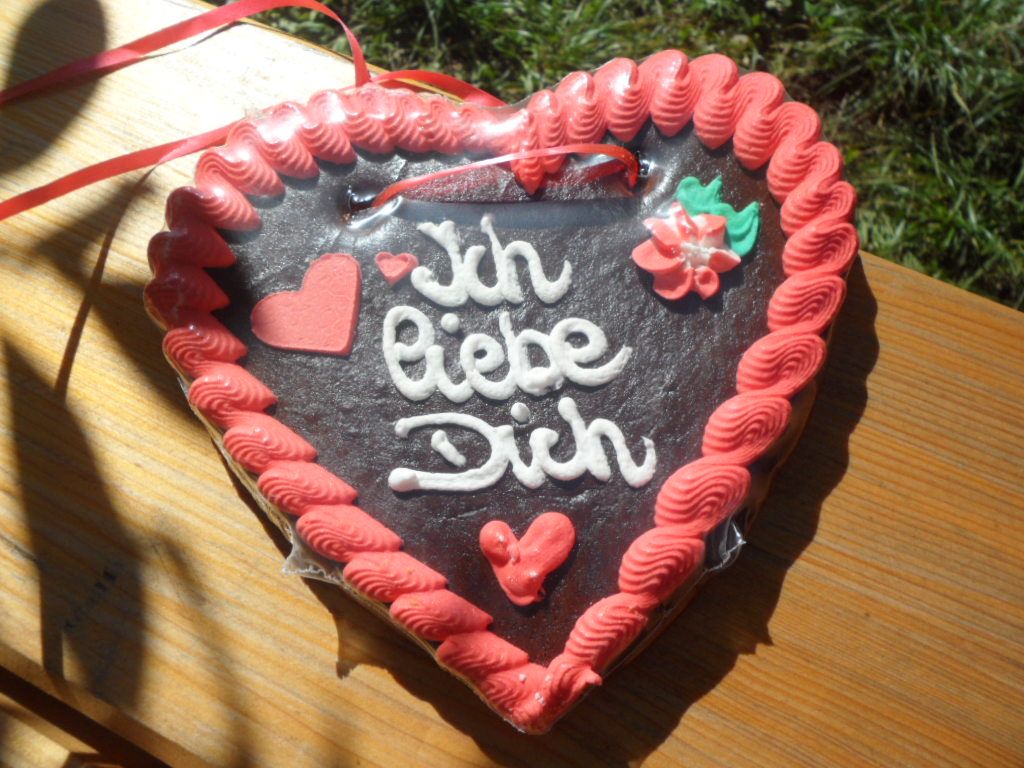 Lebkuchen that says "I Love You" in german
Lebkuchen is a sort of gingerbread and at Oktoberfest, it is fashioned into a heart-shaped with many different messages written on it. Remember, the guy will buy for the girl, puts it over her neck while the girl repays with a kiss! Well, at least that's what the stall owner taught us!

Aufwidersehen Oktoberfest "See you again!"
Related Posts
You have just finished a post in this series of our travels in Munich. Find out more about Munich in these related posts!
Top 7 Things to do and Attractions in Munich Germany
Englischer Garten Munich : A surfer's paradise?
Viktualienmarkt Munich : A Market in Munich City Centre
Marienplatz Munich : Old Town Square of Munich
Glockenspiel Munich : Top 10 Clock Towers in the World
Hofbrauhaus Brewery Munich : Fresh Beers and the Best Pork Knuckle Ever!
Oktoberfest Germany Munich : The Biggest Beer Festival in the World!
Oktoberfest Munich, Germany: Things to do and Attractions (Besides Beer that is…)
If you enjoyed our content, "Like" us on Facebook Today!

For your convenience, we have arranged for the best hotel deals in Munich right here!
How to get to Oktoberfest in Munich Germany
There are basically 2 ways to get to Oktoberfest. You can either
1. Take a train to Munich Hauptbahnhof (main train station) and take a 10 minutes walk from there to Theriesen Wiese festival grounds OR
2. Take the U-bahn to the train station of the same name (Theriesen Wiese), you would be right outside the festival grounds.
It is recommended to go to the hauptbahnhof actually because the Theriesen Wiese station can be quite packed during peak hours.
For some interesting facts about Oktoberfest, you can visit this post.
We hope you have enjoyed our post! Do note that Oktoberfest is held annually during the last week of September and first week of October! Dont blur blur go there in mid October thinking that you can go to Oktoberfest! Comment below to tell us of your trip to Oktoberfest in Munich Germany!
Related posts: