Quincy Hotel's Qool Weekend Staycation is back! Thanks to the folks at FEH and BM, we were hosted to a 1 night staycation at Quincy Hotel Singapore and just as it's radio ads say, "It's DIFFERENT!". It certainly was!
Our stay at Quincy Hotel Qool Weekend Staycation could possibly be Singapore's first ALL-INCLUSIVE Staycation!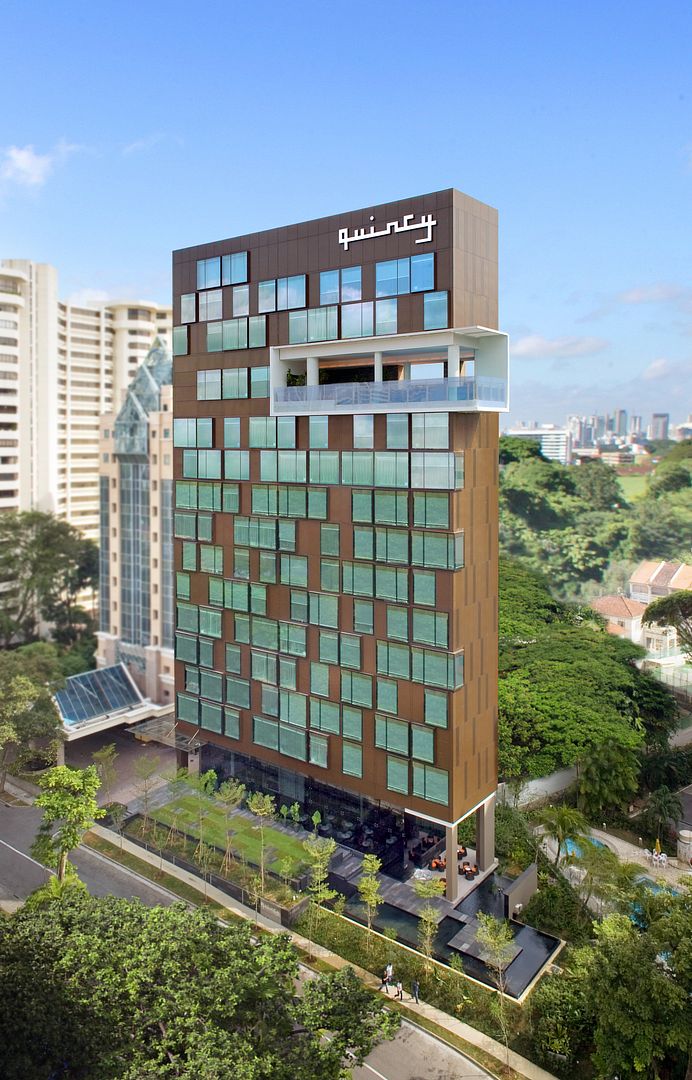 Facade of the Quincy Hotel Singapore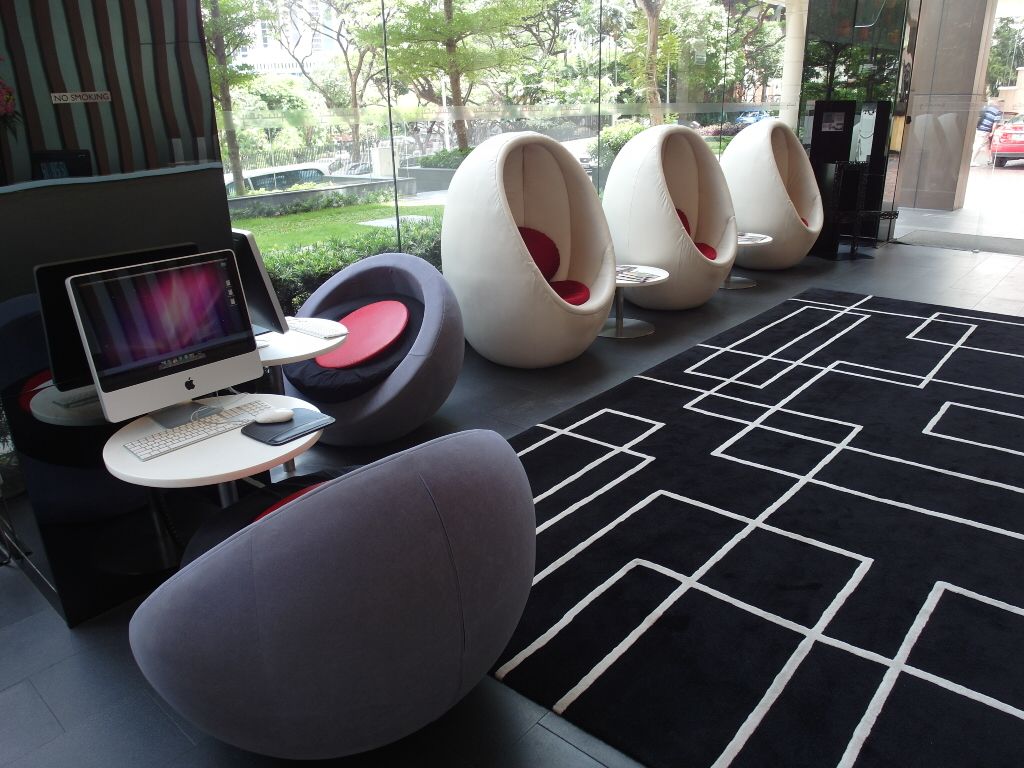 Lobby of Quincy Hotel
Quincy Hotel Qool Weekend Staycation Singapore
At the reception, we were warmly welcomed by Madeleine and Zydney who promptly checked us in and served up our welcome drinks – ginger ale with fruit punch ice. Yes, fruit punch that was freezed and use as ice! :O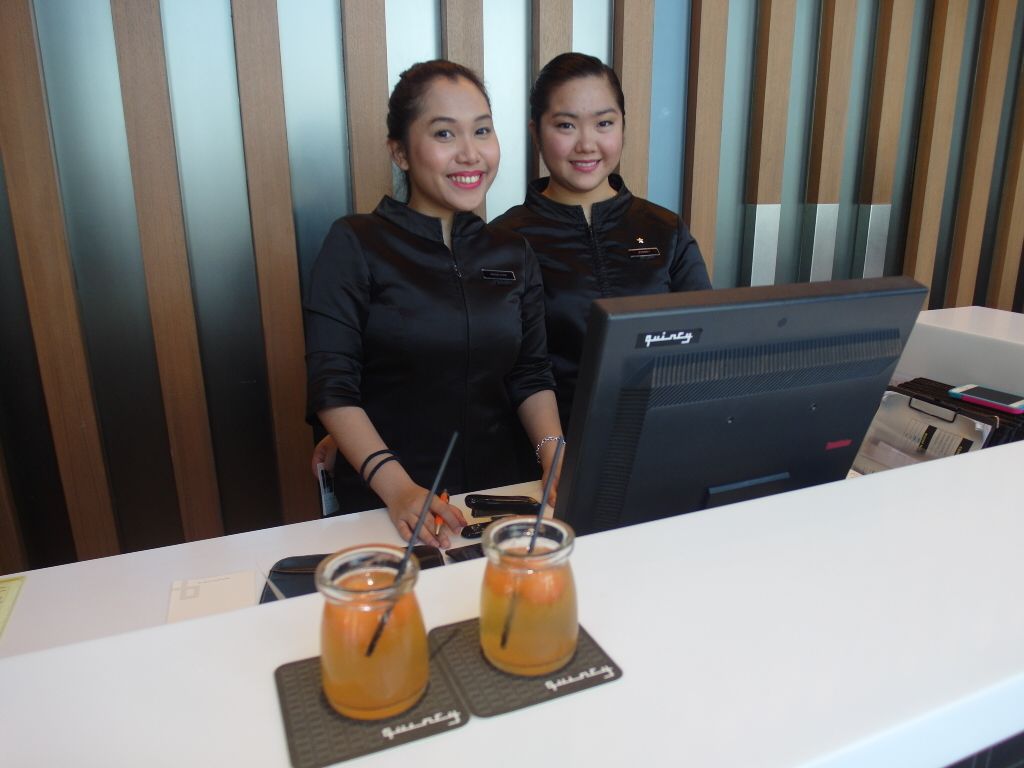 Madeleine and Zydney with our welcome drinks – Great start to a Quincy Hotel Staycation!
We were then introduced to the Quincy Hotel Qool Weekend Staycation benefits that we'd be enjoying during our stay…
– One night stay at The Quincy Hotel's Studio Room (twin-sharing)
– All-day light refreshments by Dean & DeLuca and Modesto's
– Unlimited Wi-Fi access
– Evening cocktails
– In-room mini-bar
– Late check-out till 3pm (subject to availability)
– Local calls
– PLUS one bottle of red wine
– Art Jamming (Saturdays) or Cupcake Baking (Sundays) at 3pm
– Saturday Night Movie Screening by the Pool at 9pm
What we really love about cruises is that programmes and food are planned for you. You just have to appear! It seems that Far East Hospitality has taken this concept and implemented it right here at Quincy Hotel, in the heart of Singapore's Shopping Belt – Orchard Road!
Besides the welcome drinks, good service was also shown when Zydney personally showed us to our room – the Studio Room at Quincy Hotel…
Studio Room at Quincy's Qool Weekend Staycation
From the video tour, you would have noticed the large window (which extends to the ceiling), offering a splendid view of the skyline around the hotel. In addition, the sexy glass window between the bedroom and the bathroom, allows you to enjoy the cable TV (mio stadium included!) while taking a relaxing bath in the bathtub!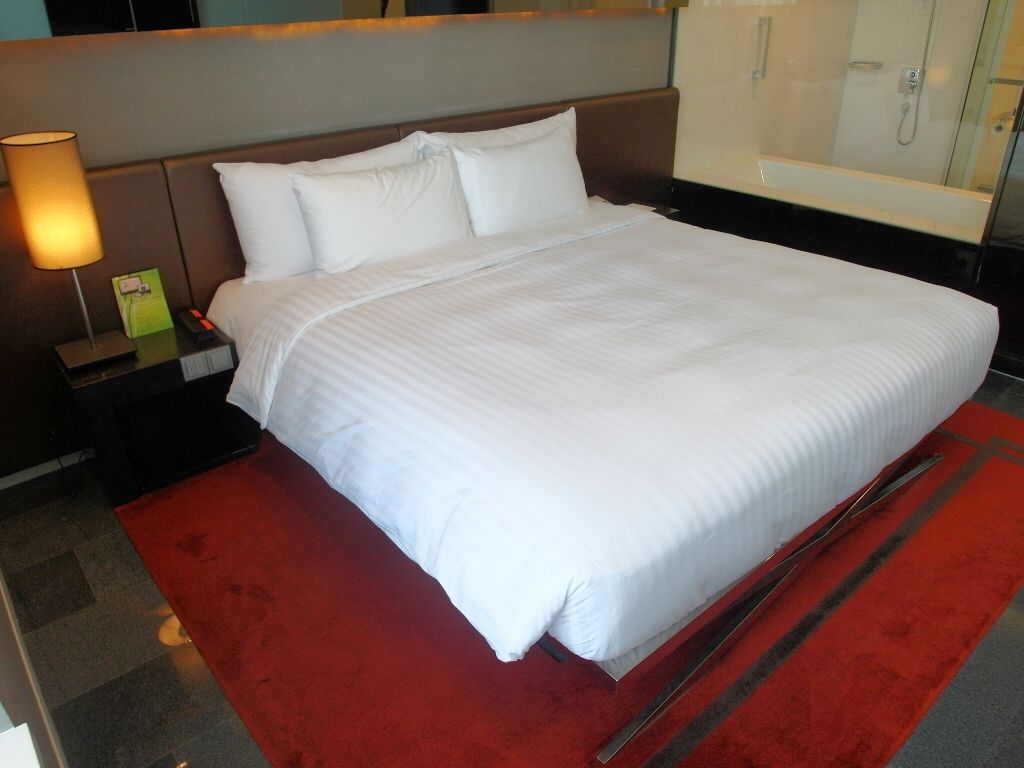 Large king-sized bed and the sexy bathroom in the Studio Room of Quincy Hotel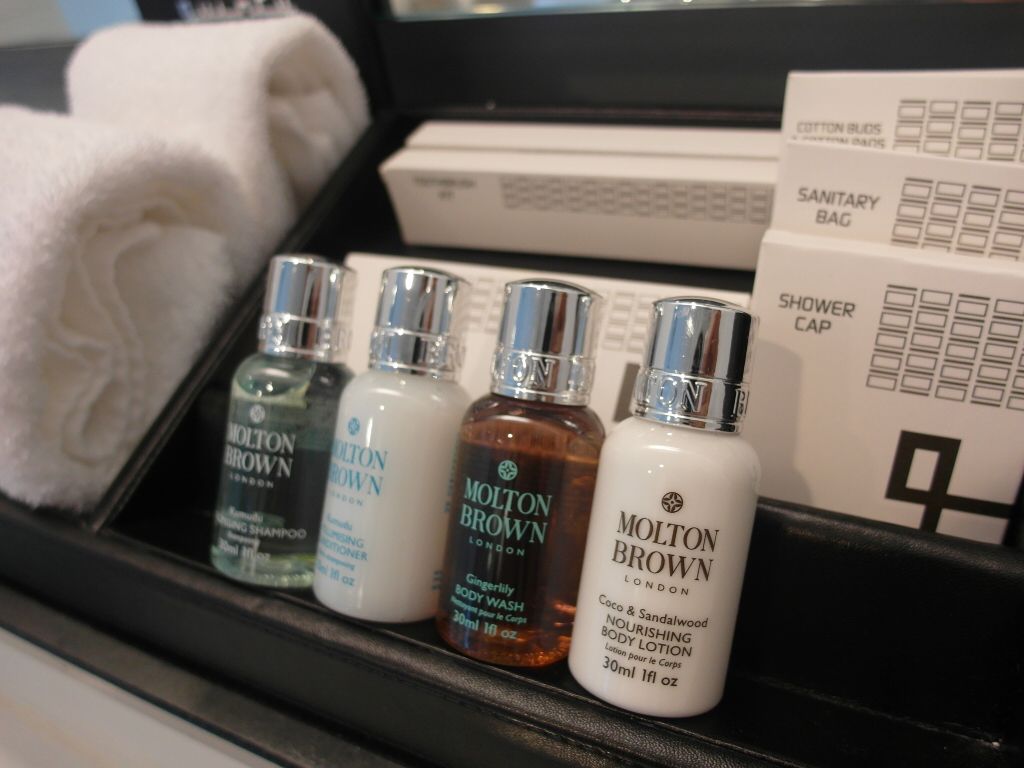 Toiletries courtesy of Molton Brown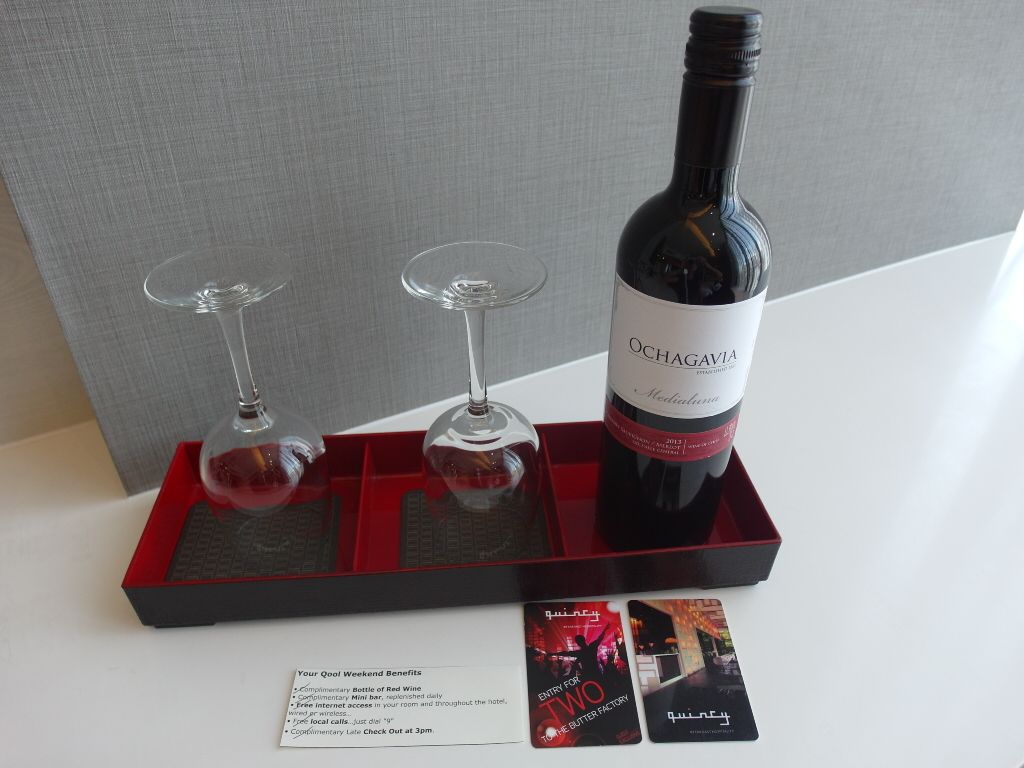 Complimentary bottle of red wine, room key card, entrance to Butter Factory and more benefits for Quincy Qool Staycation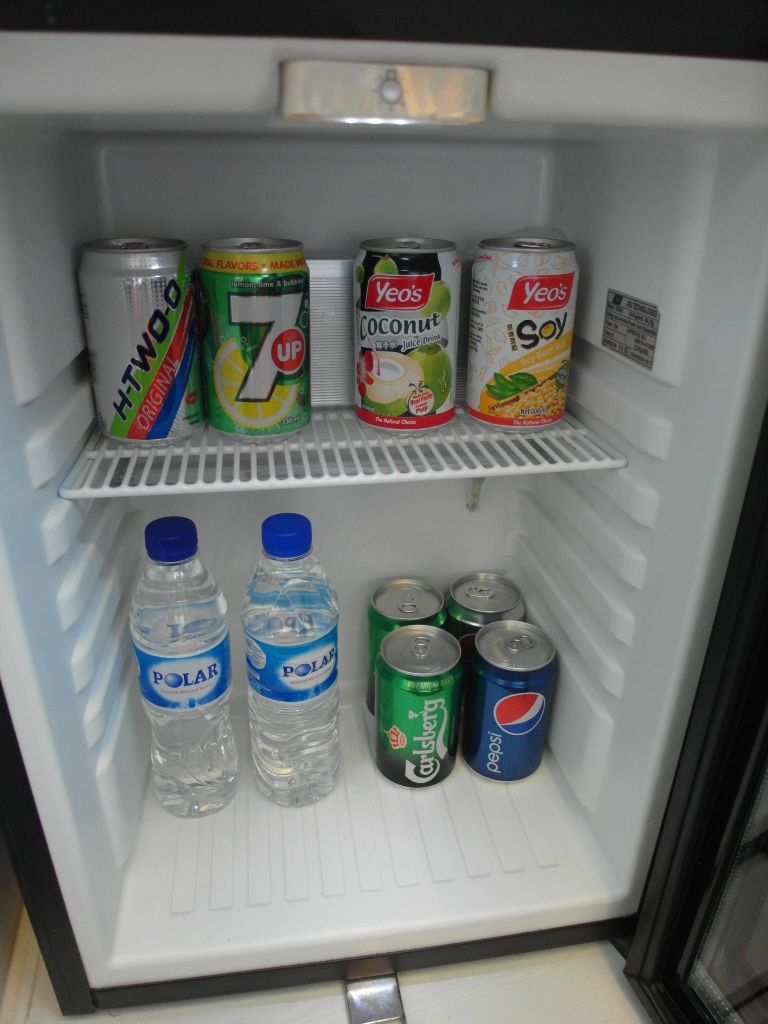 Drinks are complimentary as well!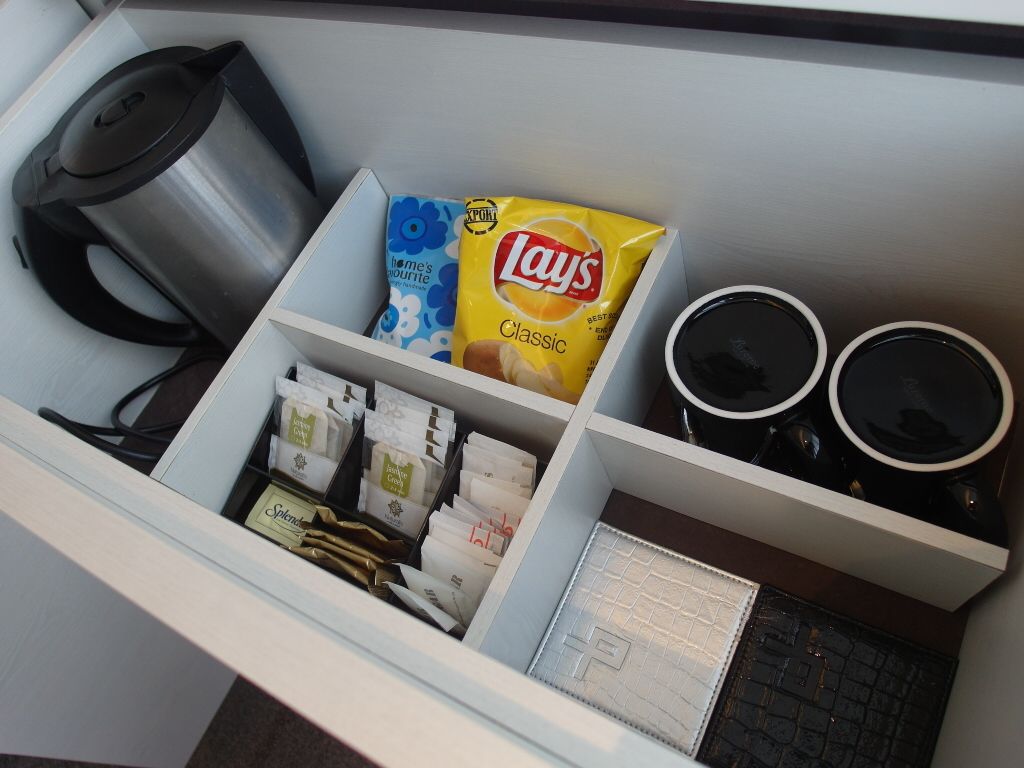 And snacks! Kate especially enjoyed the butter cookies (see the enticing blue packaging!)
The blinds of the window can be controlled by a press of a button and therefore you do not have to do "flag raising" at the sides. In addition, the other cool feature we noticed were the cable inlets just below the TV! No more turning and searching around the TV for the socket inlets!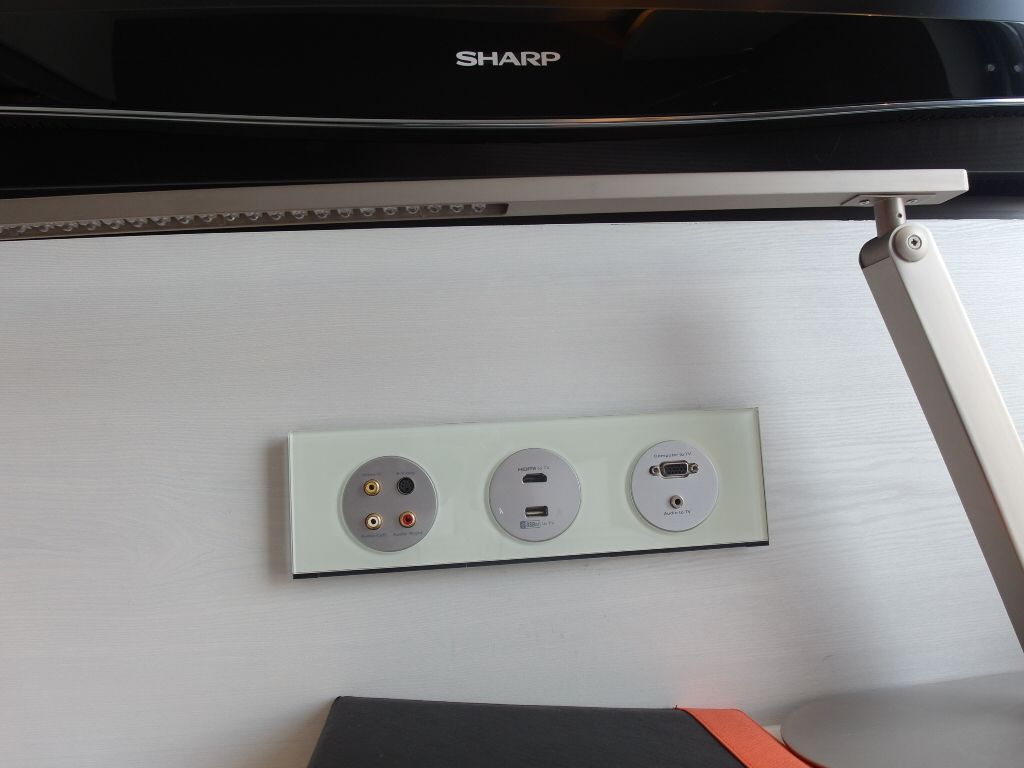 Inlets to the TV
Facilities @ Quincy Hotel's Qool Weekend Staycation
Here's a quick snapshot of the facilities that Quincy Hotel offers…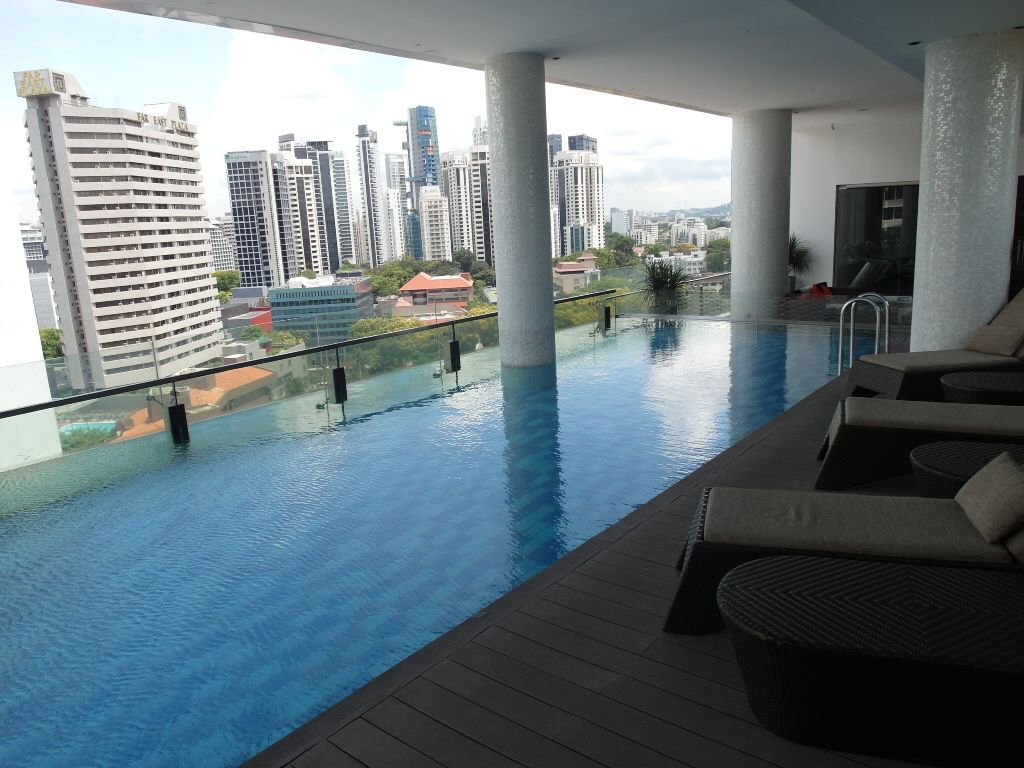 Infinity Pool at level 12 – splendid views from the pool!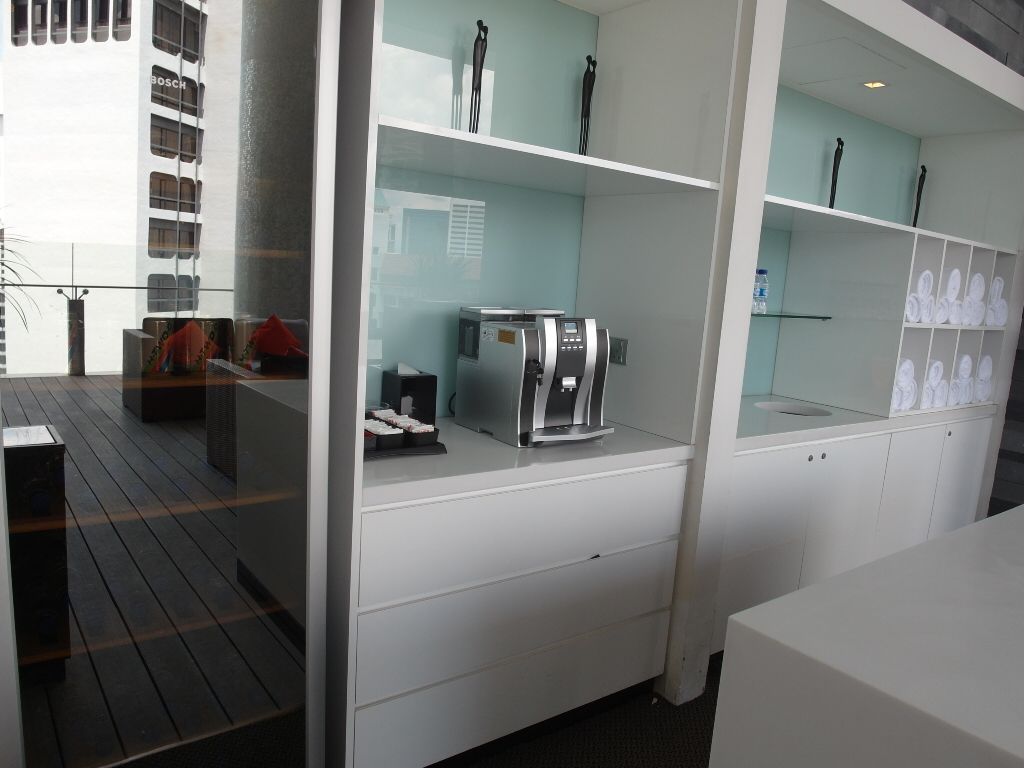 Complimentary water, H2O and coffee. Pool towels available as well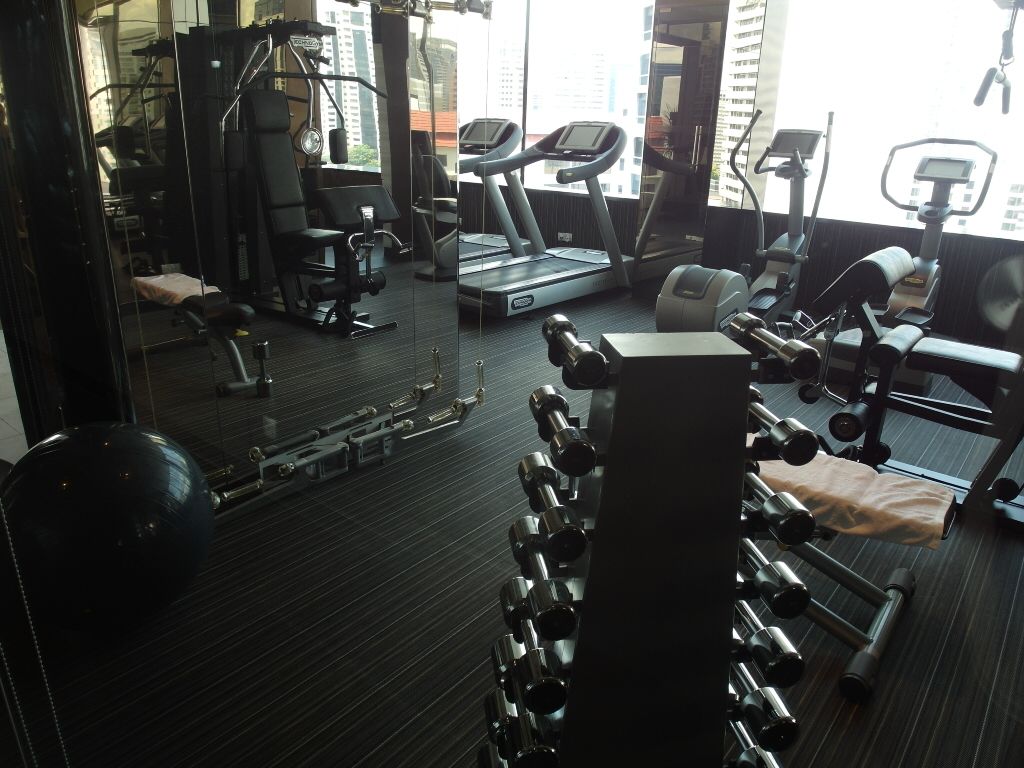 Gym (also located at level 12) with access to the bathrooms, sauna and steam room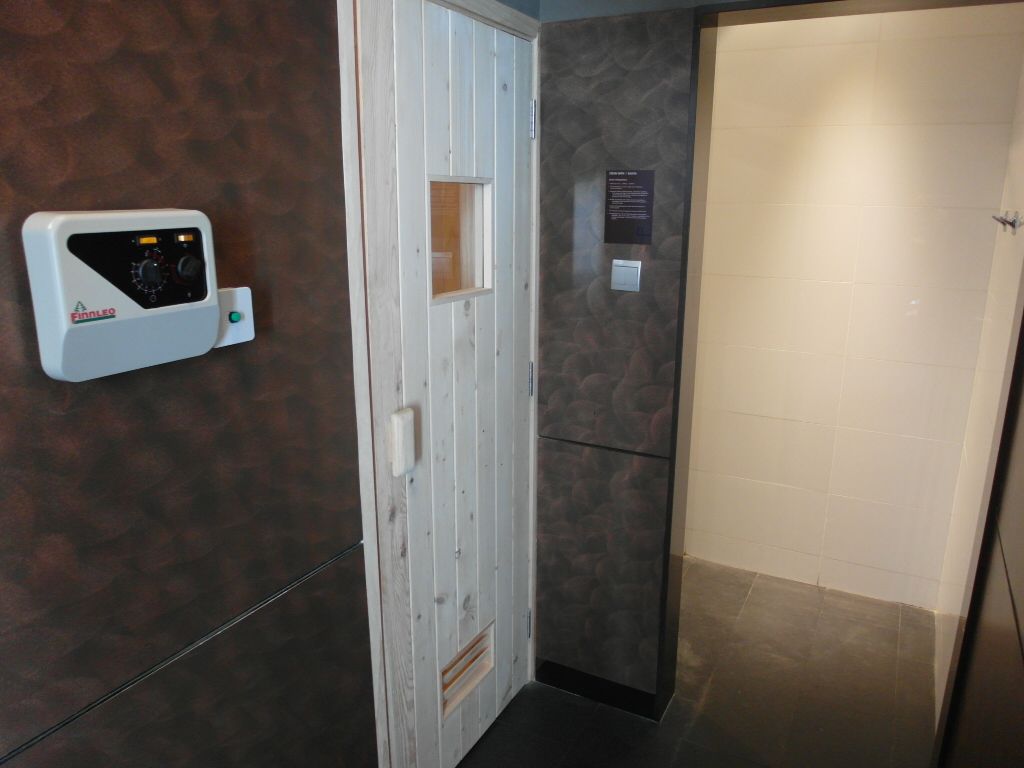 Sauna and Steam Bath of Quincy Hotel
What we did at Quincy Hotel Qool Weekend Staycation
After briefly checking out the cable network, we headed first to the all day dining at the hotel's in-house lobby restaurant, located at level 1…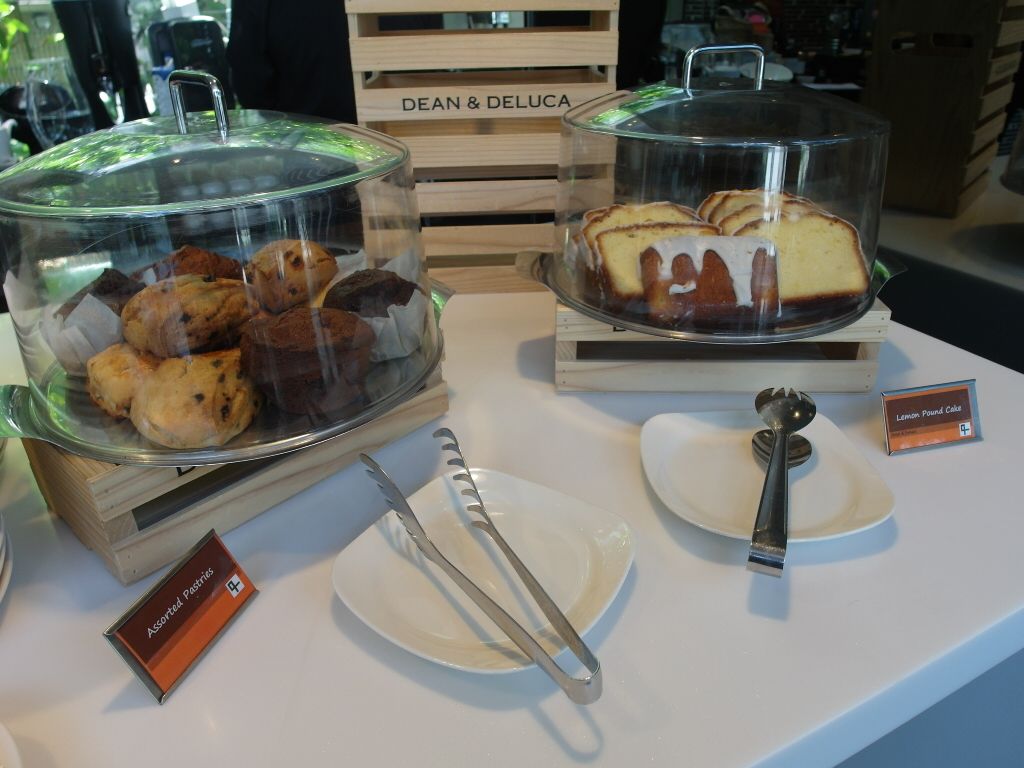 Desserts by Dean and Deluca – the Lemon Pound Cake is a MUST TRY!

Light spread during lunch hours (12 to 2pm) including sandwiches, noodles, salads and drinks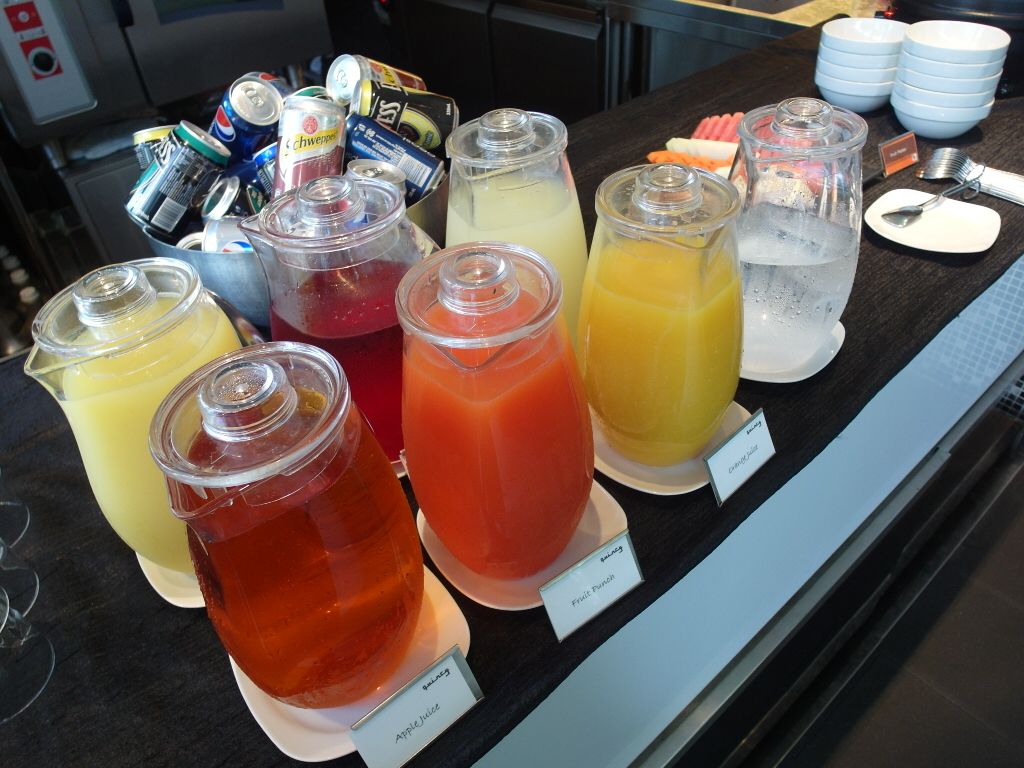 Choice of drinks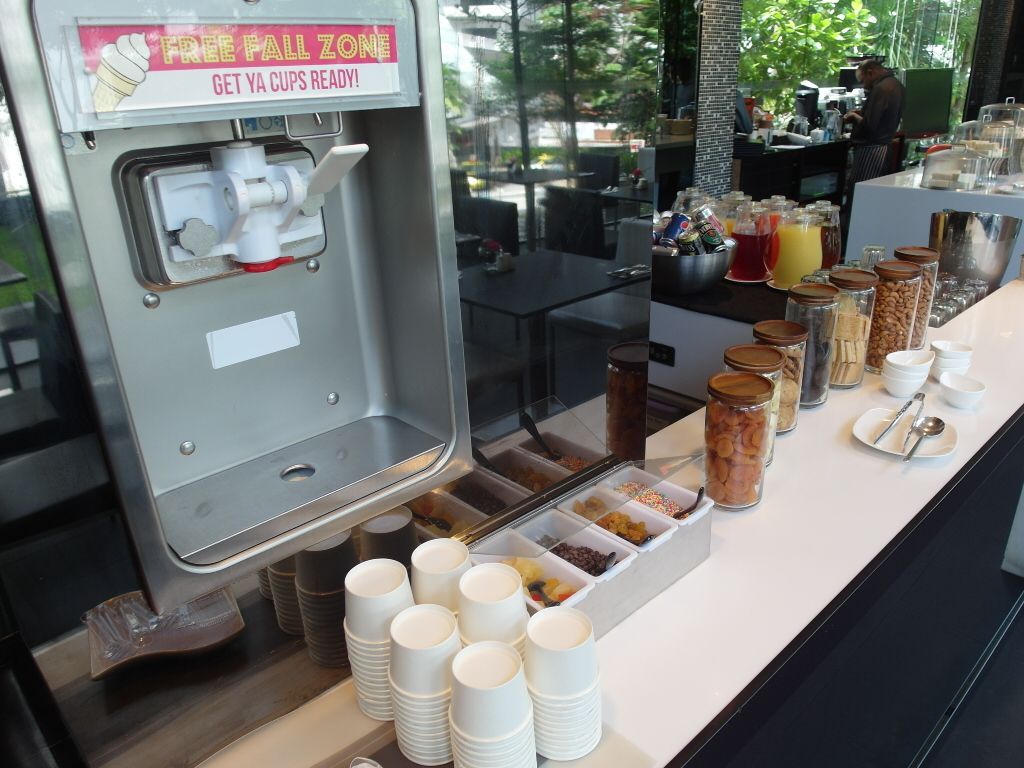 Soft serve ice cream with selection of toppings and even a few cookie choices!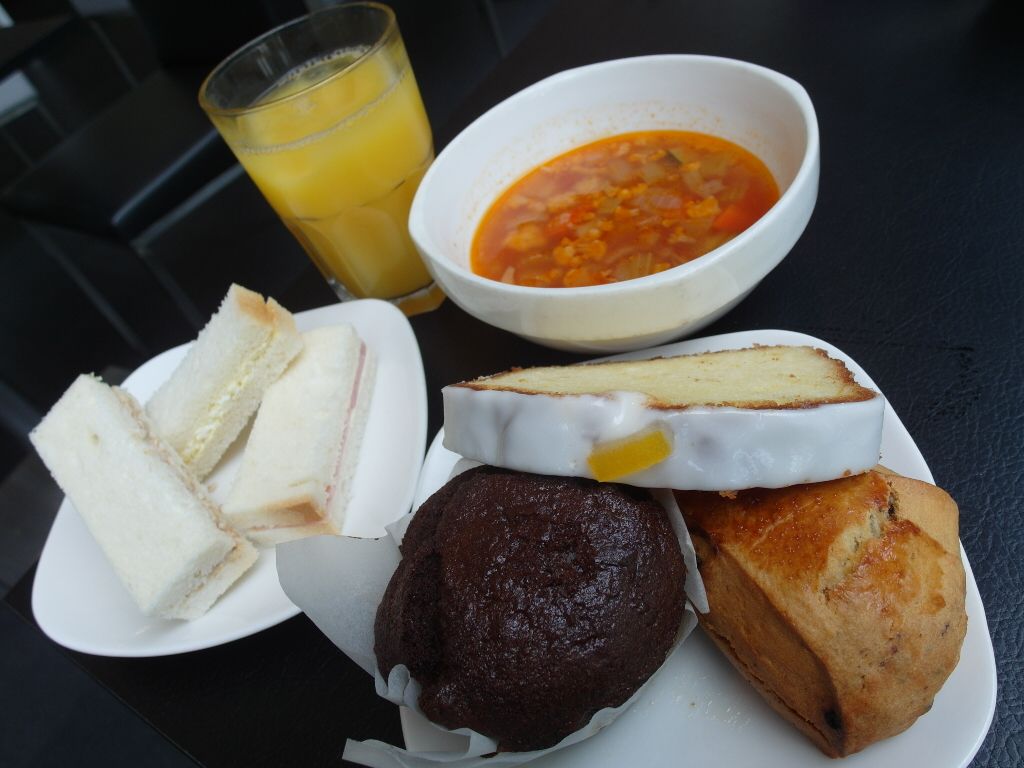 The spread we had at the "All Day Dining" – Remember to be here at lunch hours to enjoy a different spread!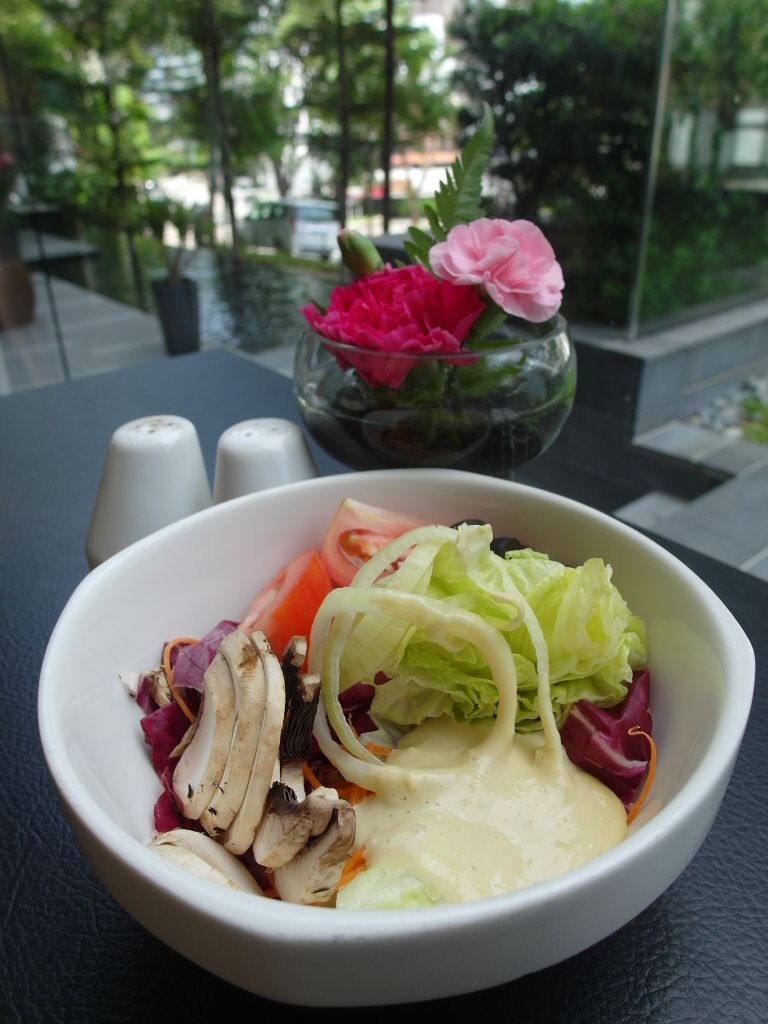 Salad with caesar dressing
At 3pm, we headed to level 12 for…you've guessed it…ART JAMMING SESSION!
Art Jamming Session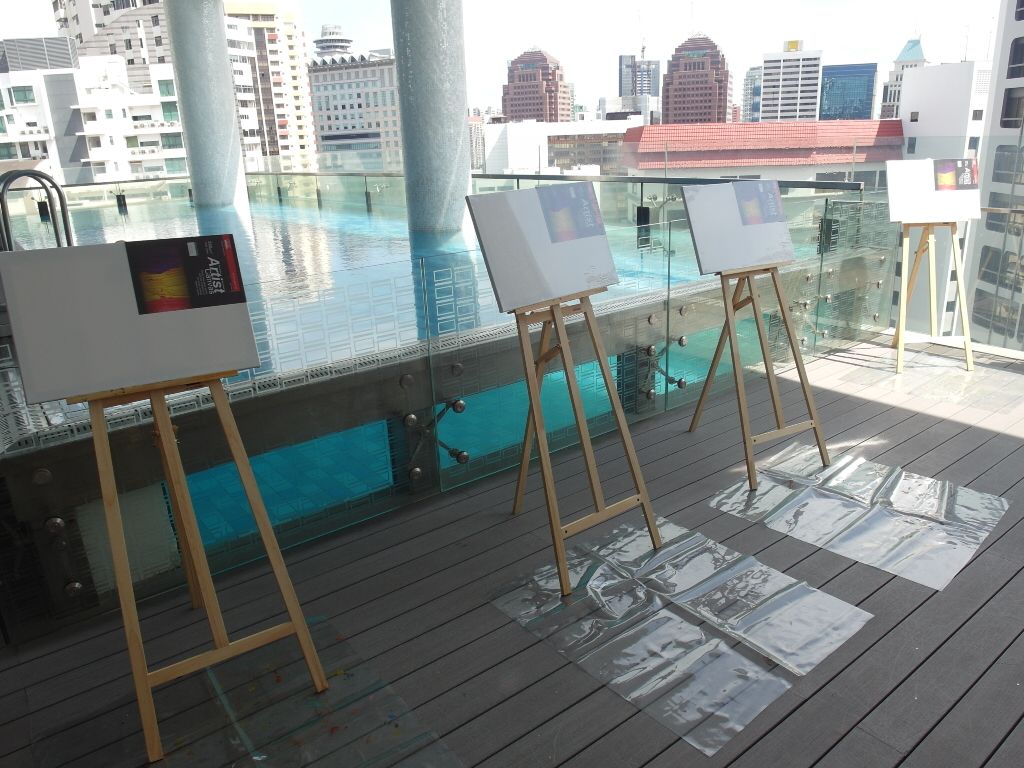 The setup for Art Jamming at Quincy Hotel's Qool Staycation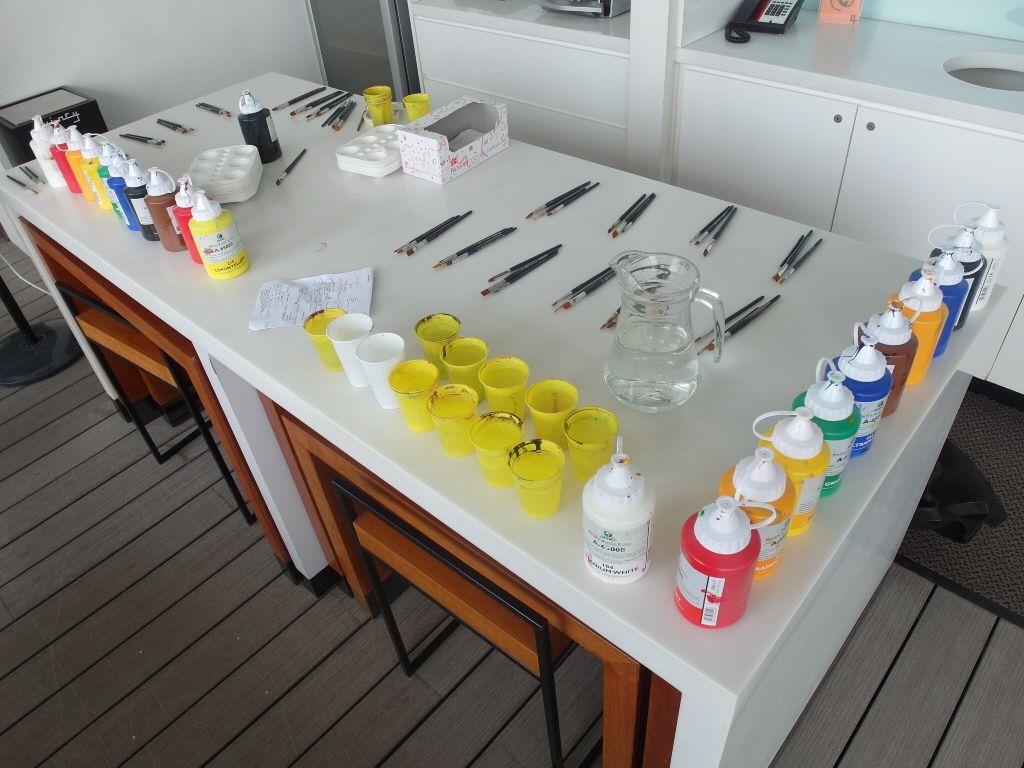 Choice of colours and different sizes of paint brushes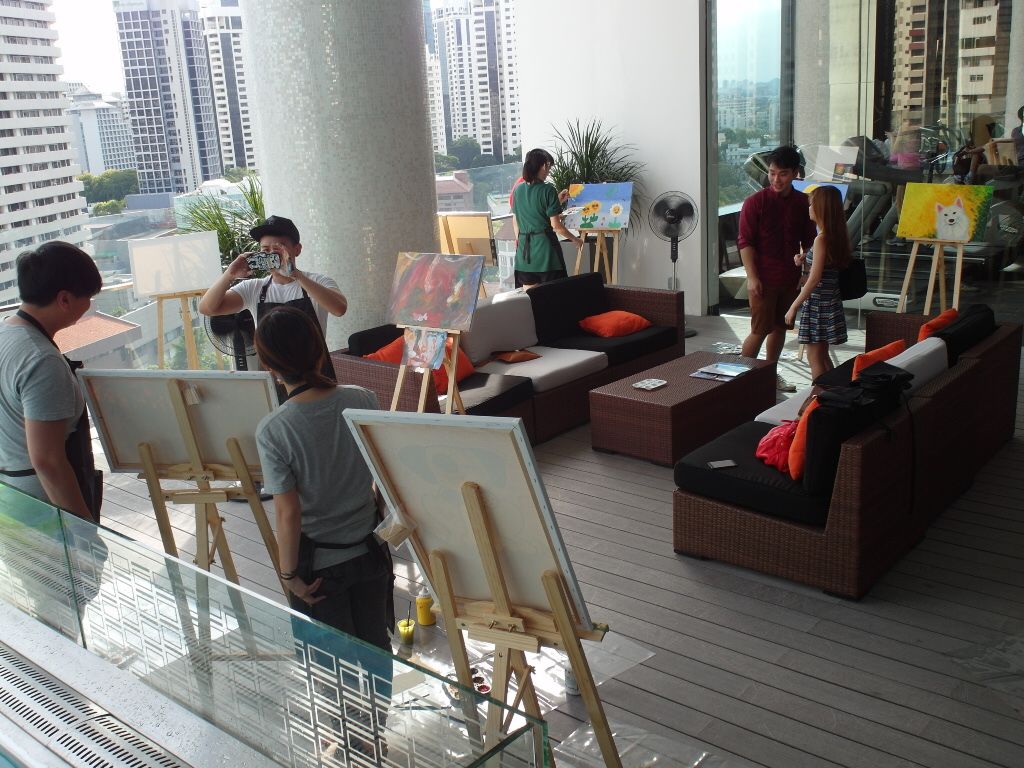 Painting of fellow Art Jammers
According to our instructor – Damien (holding the camera in the picture above), he says that everyone comes and says that they're not artistically inclined. But after 2 minutes, everyone would just start drawing the picture that they have googled and colour it with the acrylic paint provided (no mixing with water required – just apply the thick layers of paint directly!). The same happened for us! We chose a picture from Romero Britto and started to work on it.
As the soothing lounge music played in the background, our hands got to work and soon, the "Surfer Dog" was completed! Not that soon actually, we started at about 3:10pm and ended at 4:30pm. But still, it was quite an accomplishment!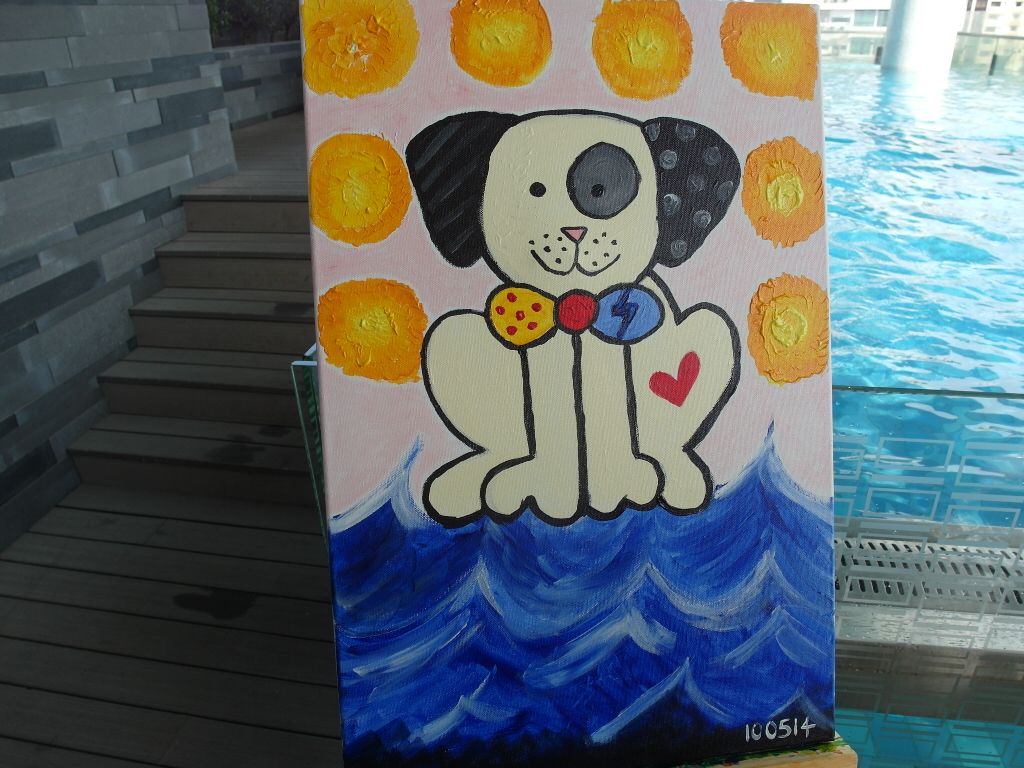 Surfer Dog by 2bearbear.com – Isnt he cute?! It is actually for sale at a ridiculous price – contact us to find out more!
After you're done, just leave it there to dry and the painting will be ready at the reception when you check out!
Totally enjoyed the art jamming session! Everyone should try it!
Evening Cocktails
After a quick energising nap, we headed back to the lobby restaurant for the cocktail at 6pm…(eat sleep eat!)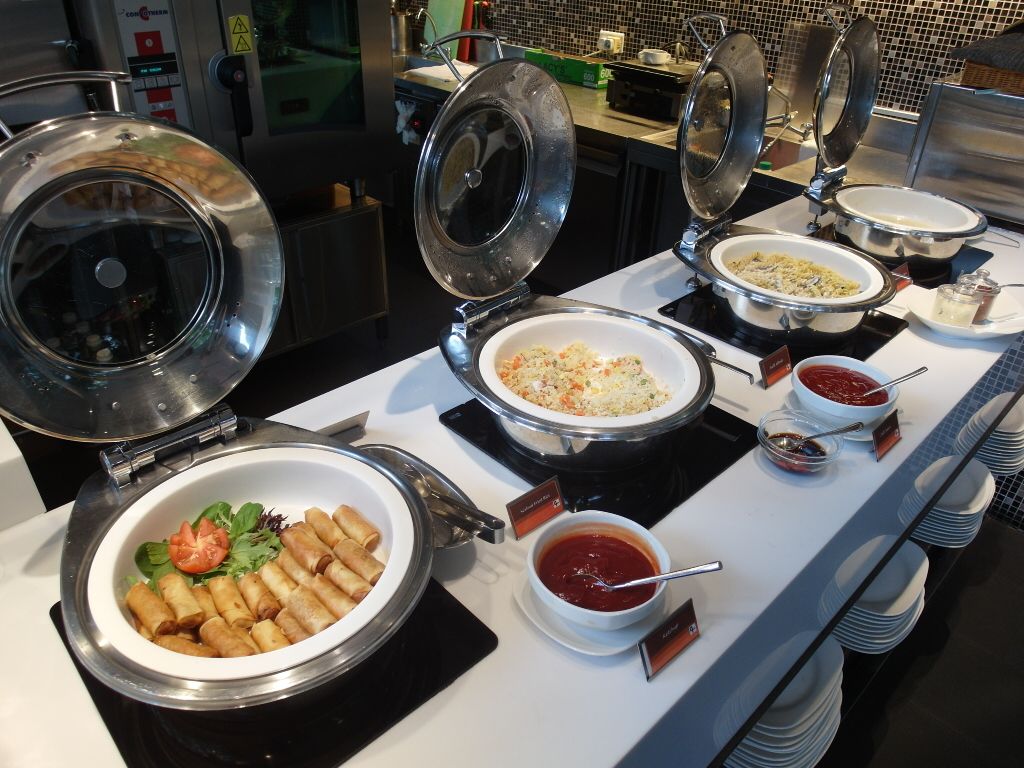 Mains and warm food for evening cocktails at Quincy Hotel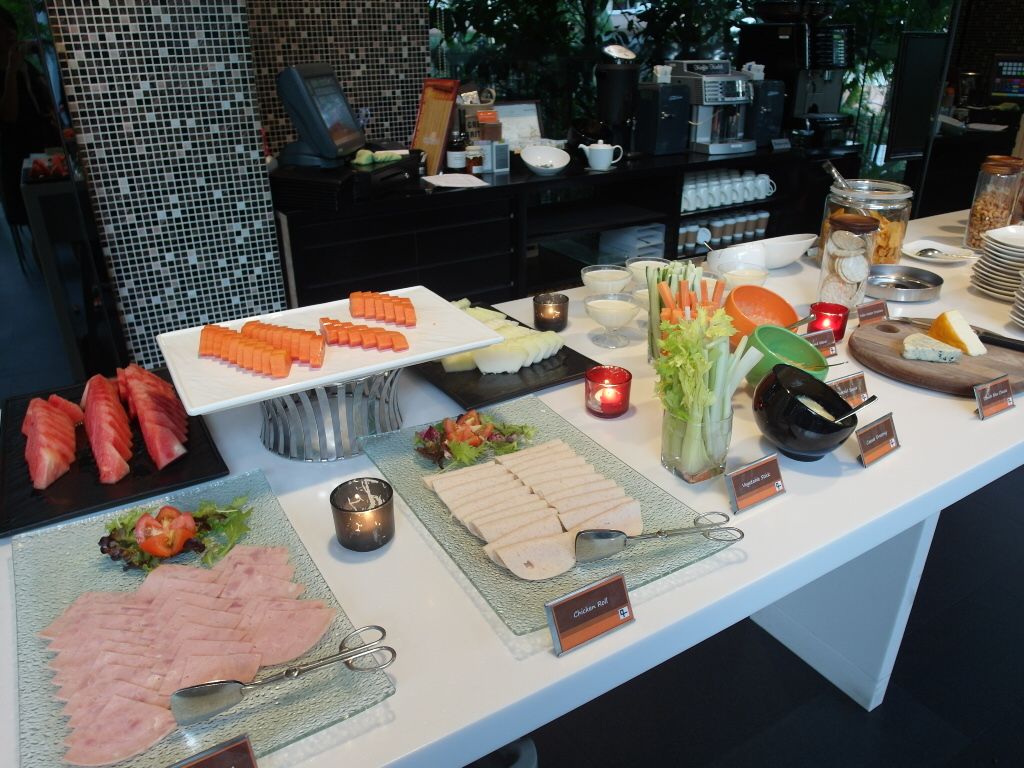 Cold cuts, vegetables (real sweet carrots!) and cheeses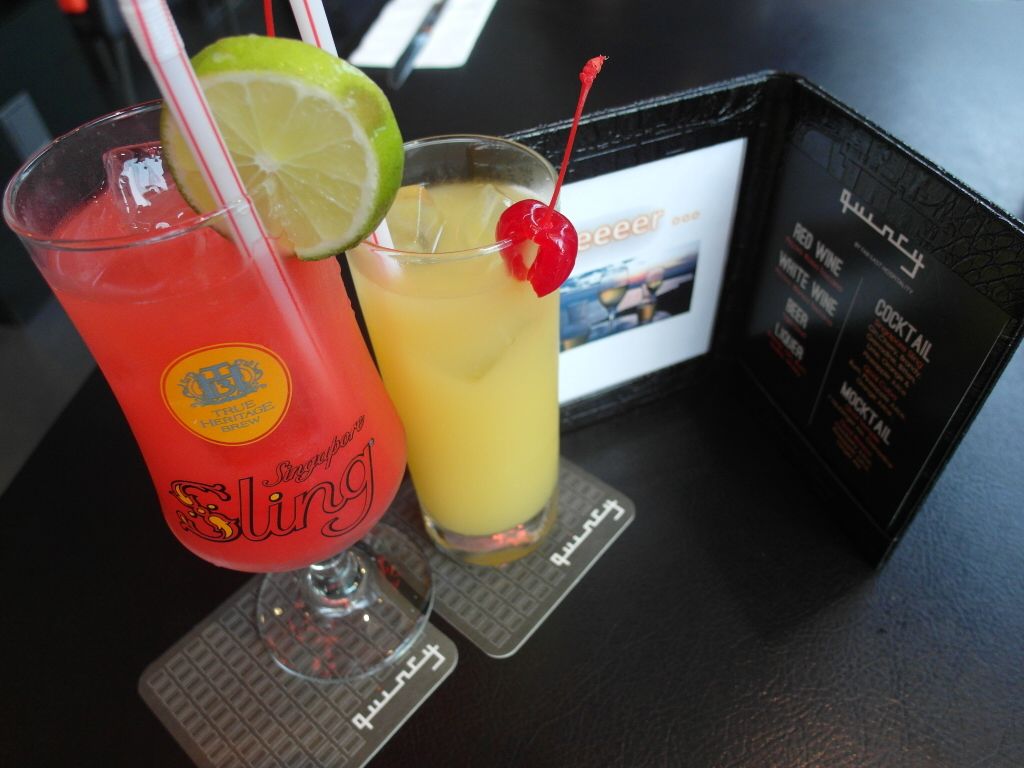 Choice of tiger draft, cocktails (we had the Singapore Sling and Qool Cocktail), wines and mocktails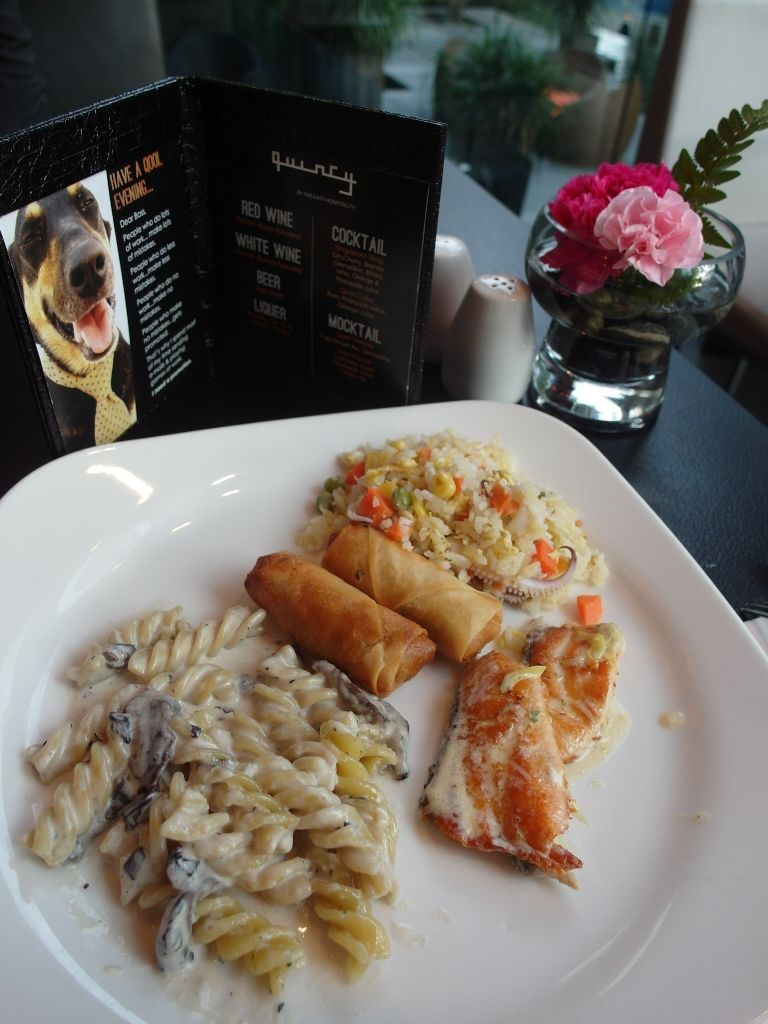 We had fried rice, fettuccine, spring rolls and salmon
Although the variety of warm food was small, the quality more than made up for it! In fact, the fettuccine was so good that we had seconds and thirds! Rich and cheesy cream sauce with just the right texture for the fettuccine…yum!
Shopping at Orchard Road
After the cocktail session, we headed to Orchard Road and Far East Plaza to do some shopping! There's actually a short cut from Quincy Hotel to Far East Plaza via York Hotel. What you will need to do is cross the road from Quincy Hotel and enter the lobby of York Hotel. Walk past it and exit from the open carpark area. Take a short walk down the slope and you will arrive at Goodwood Park Hotel on the right and Far East Plaza on the left.
From there, you're open to a world of shopping at Orchard!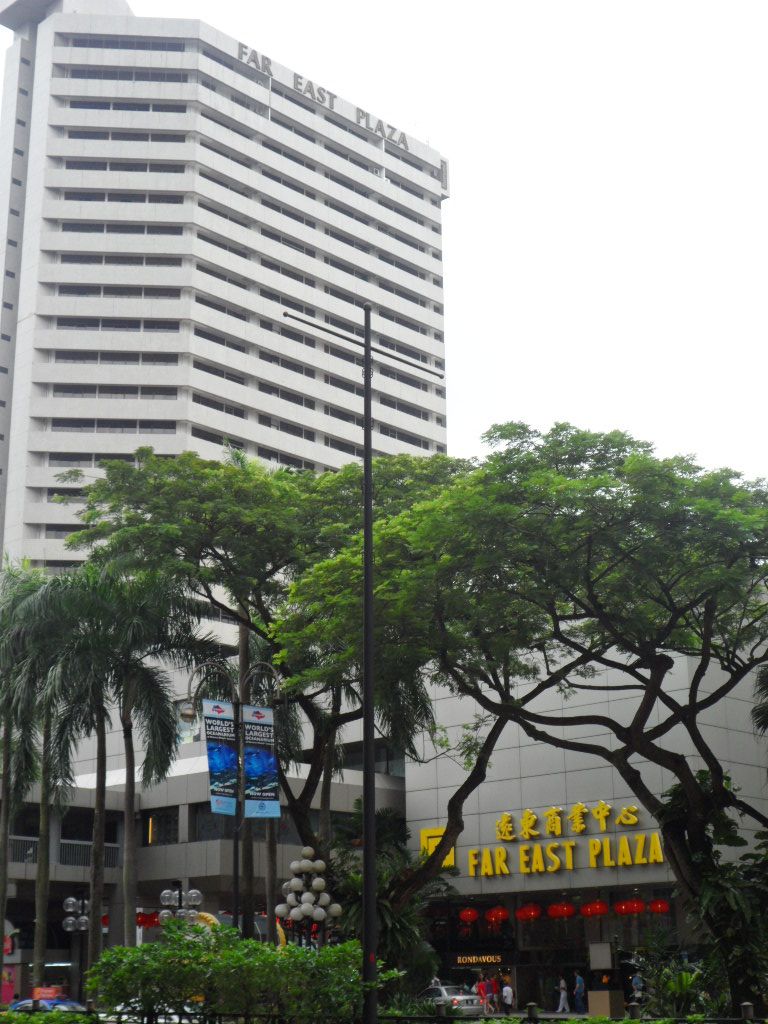 Far East Plaza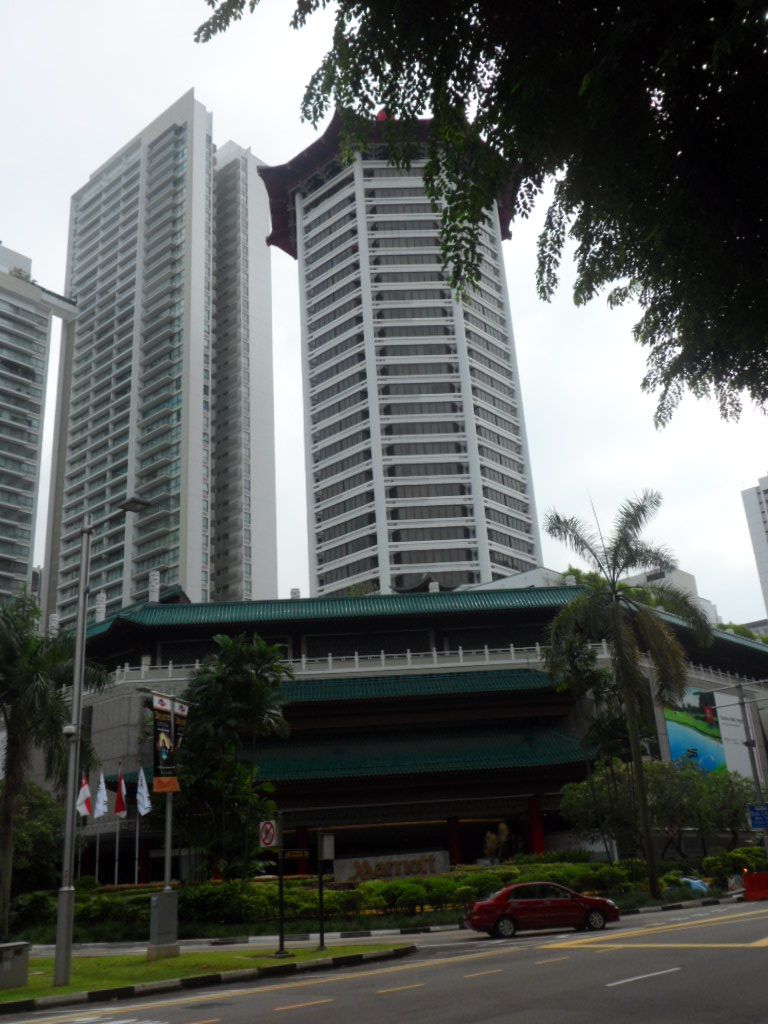 Tangs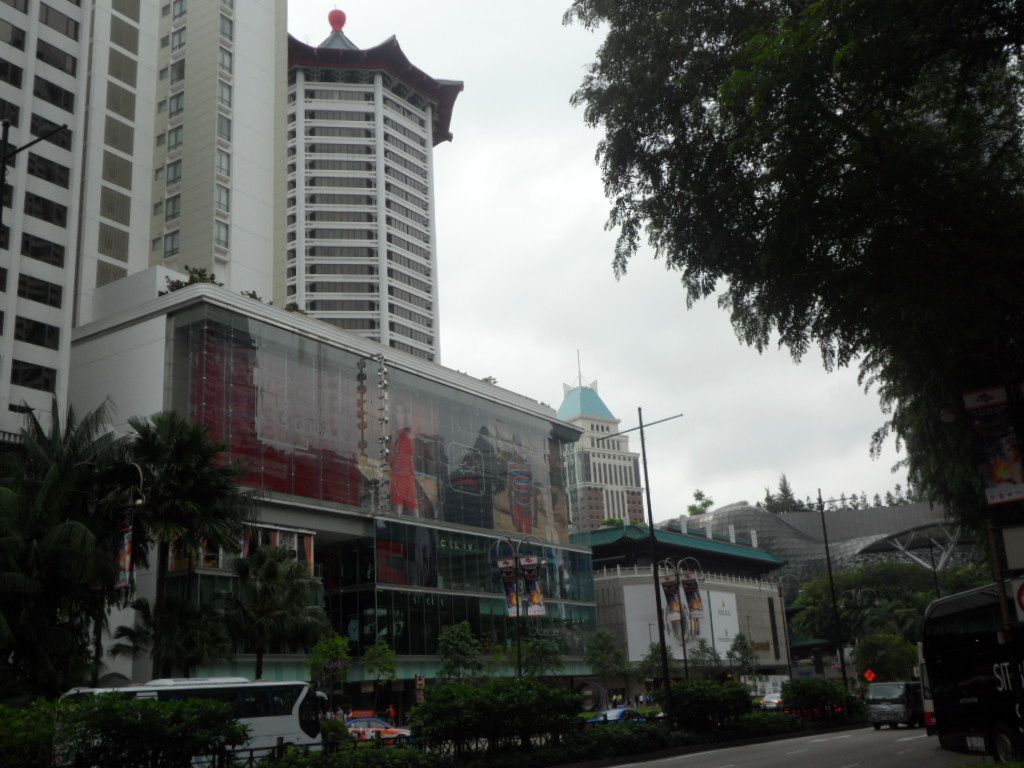 Scotts Square
Saturday Night Movie by the Pool @ 9pm
Heading back to Quincy, you can enjoy movies by the pool on Saturday nights. This evening "Hercules" was screening. You can also opt to lie on one of the floats while watching the movie. Check out this video by Far East Hospitality.
Breakfast at Lobby Restaurant
After a restful sleep in our room for the night, we had a light breakfast at Lobby Restaurant…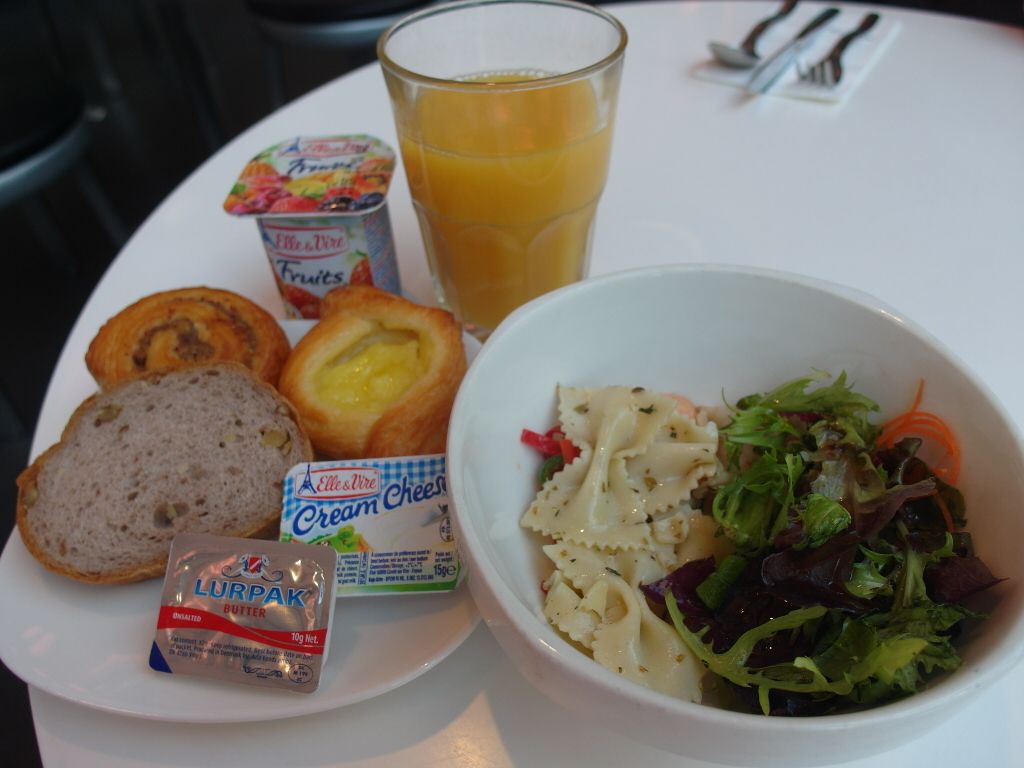 Pastries, juice and salads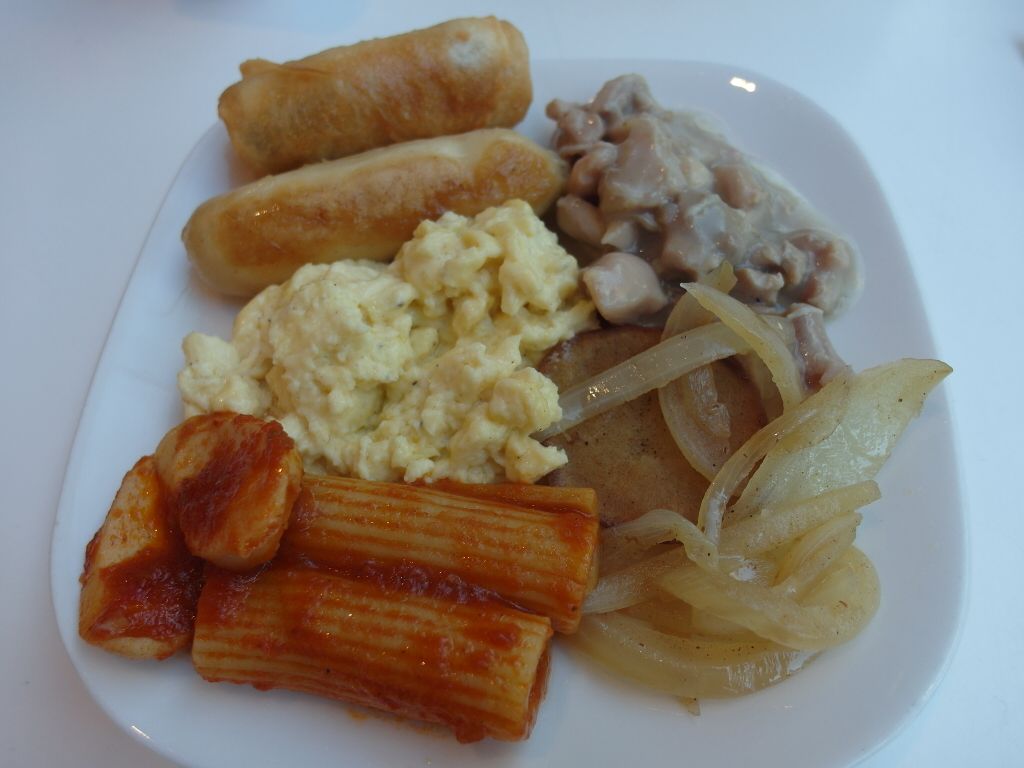 Warm food selection – chicken ragout was particularly tasty!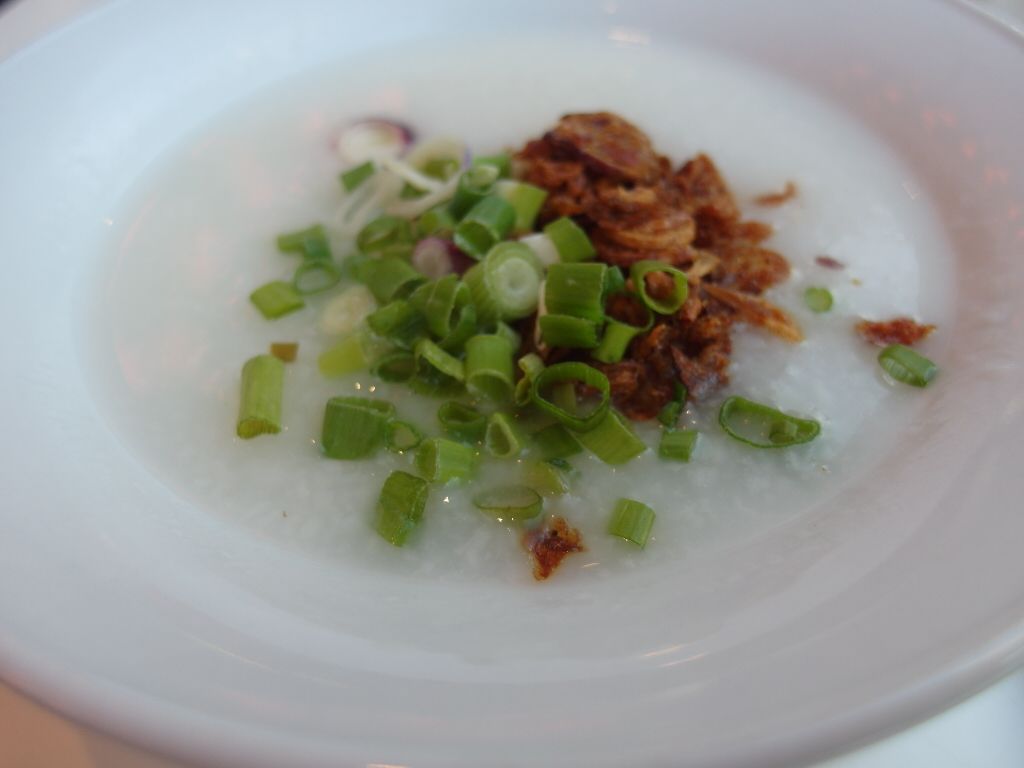 Fish porridge
Cupcake Baking on Sundays
The cool thing about doing the Quincy Qool Staycation on a Saturday is that you're able to enjoy both afternoon programmes offered by the hotel! After we checked out, we headed for the Sunday cupcake baking session! Do remember to put down your names in advance if you're interested to join as there are limited slots for the sessions…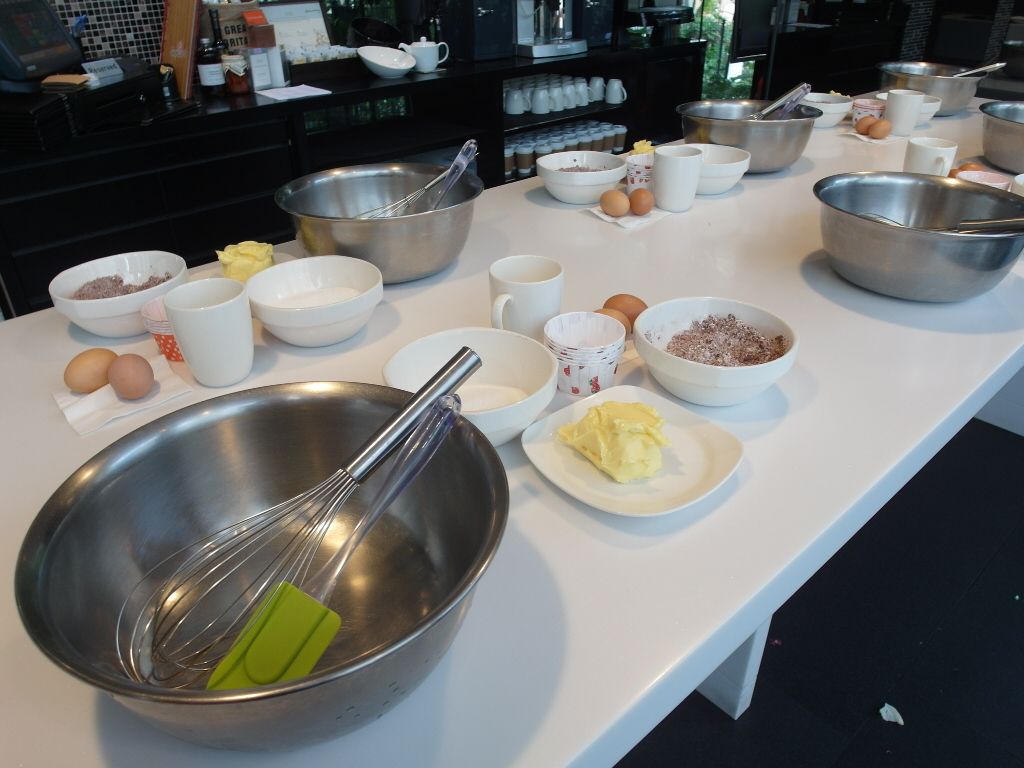 Ingredients of the chocolate cup cake – Butter,sugar,cocoa flour,milk and eggs
Now you know how much butter goes into your cupcakes… :O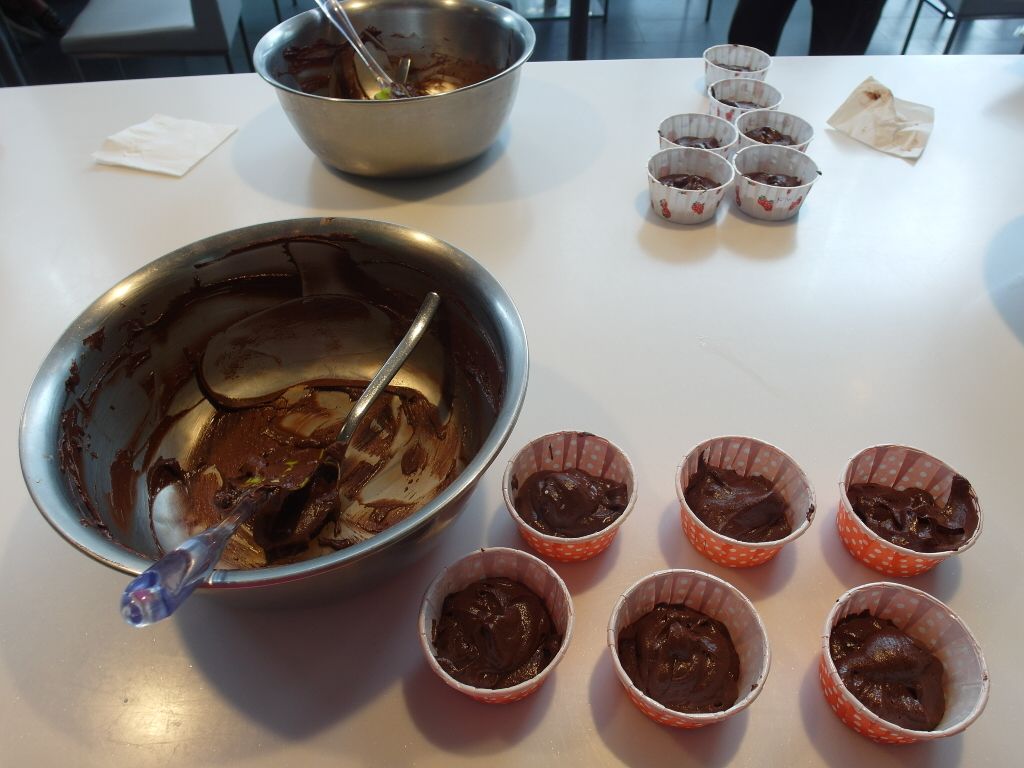 After mixing all the ingredients in, place the mixture into the cups at half its level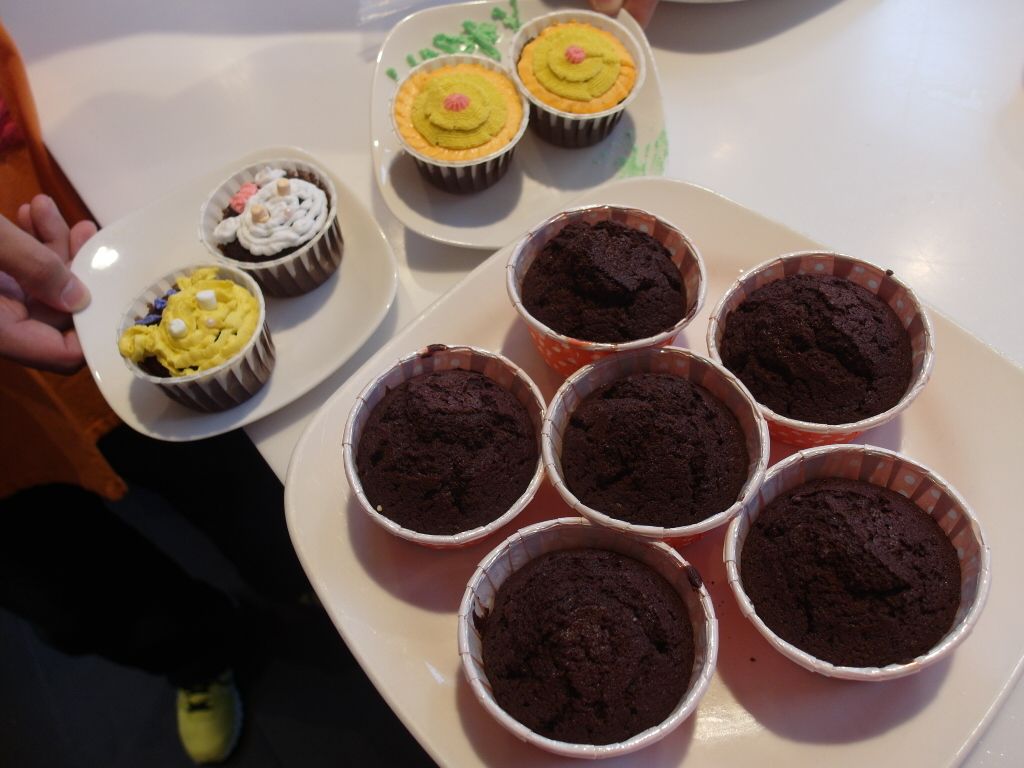 After baking for 30 minutes at 170degrees celsius, the cupcakes are done!
Separately, we were given cupcakes to decorate and we drew sunflowers and the 2bearbears! There's even a mini competition to see which cupcake was the best decorated one!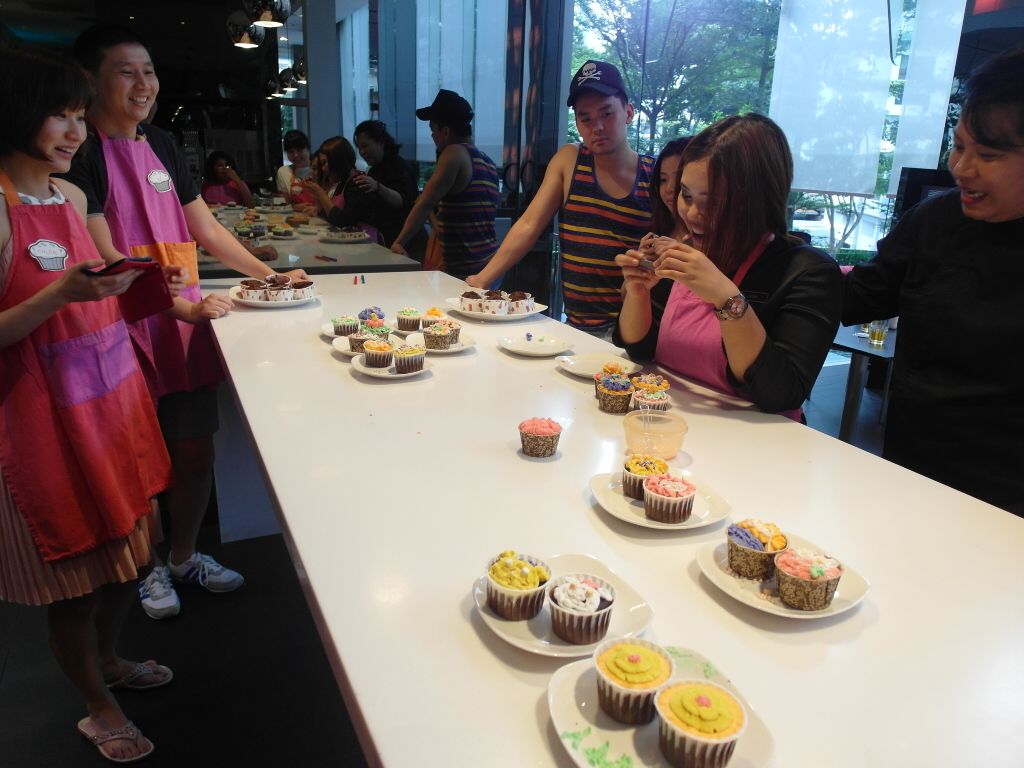 Taking photos of the beautifully decorated cupcakes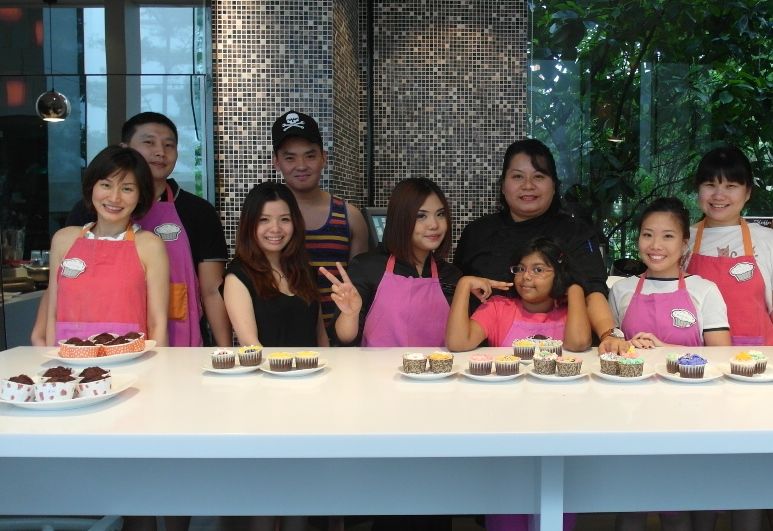 Participants with their cupcakes for a final group picture
Map and Location of Quincy Hotel Qool Weekend Staycation
Quincy Hotel is located at 22 Mt Elizabeth Singapore 228517, next to the Elizabeth Hotel. In fact, they share the same parking facility (or rather Quincy uses Elizabeth Hotel's parking for its guests). After parking at the Elizabeth Hotel, you can exit via its main entrance, take a left turn and enter into Quincy Hotel!
To sum up, we take a look at our BASIC FACTOR and the score for Quincy Hotel's Qool Weekend Staycation is a qool 4!
B – 1. Bathroom comes equipped with a bathtub.
A – 0.5. Inviting room and general atmosphere at the hotel.
S – 1. Service was great at Quincy Hotel! Thanks Madeleine and Zydney for the hospitality!
I – 1. Cool infinity pool with great views of the skyline.
C – 0.5. Bed was comfortable.
Conclusion
In conclusion, here are 3 reasons why we thoroughly enjoyed our staycation at Quincy Hotel's Qool Weekend
1. All-Inclusive Staycation. Quincy Hotel Qool Weekend Staycation could probably be the first all-inclusive staycation in Singapore. If you enjoy the programmes (and food) planned for you aboard cruise ships, you'd certainly enjoy the staycation at Quincy Hotel where food and programmes are planned out for you throughout the day (think art jamming, movies by the pool, cupcake baking, swimming, working out at the gym and all-day dining!)
2. Art Jamming. Before we did Art Jamming, it sounded more like an abstract kind of arty programme than an activity that we'd really enjoy. But after creating "Surfer Dog" (see above), it sought of rekindled our confidence in art and for those of you who have not tried it, you'd might be surprised at what you can do as well!
3. Good quality food. Eventhough the VARIETY was small, food QUALITY was actually quite good. During lunch hours, the chicken pho and curry noodle were really good as well. Not the kind that "clock" a noodle on a menu but was surprisingly tasty. The fettuccine? Guess we've said enough above (go for seconds and thirds!).
All in all, it was indeed a really Qool staycation at the Quincy Hotel!
If you enjoyed our content, "Like" us on Facebook Today!

Remember to leave your comments for 2bearbear Singapore Travel Blog in our comments section below!
Click here for the best rates at Quincy Hotel NOW!
**Special thanks to Mike, Zydney and Madeleine for hosting us at the Quincy Hotel!
Click on the following posts to see all our Singapore Staycation Reviews!
Top 10 Singapore Staycation Ideas!
Grand Mercure Roxy Singapore Staycation : The Studio Suite!
Uniquely Singapore Staycation at Village Hotel Katong!
Ritz Carlton Singapore Staycation: Simply Shiok!
5 Reasons Why You Should Do a Staycation at Hotel Jen Tanglin Singapore's Newly Refurbished Club Room!
Pan Pacific Singapore Hotel Harbour Studio Staycation!
Rendezvous Hotel Singapore : Staycation in the Heart of the Art District!
Quincy Hotel Qool Weekend Staycation : Singapore's ALL-IN Staycation!
National Day Staycation at the Regent Singapore – A Four Seasons Hotel!
Village Hotel Changi Staycation : Rediscover the gems of Singapore!
Awesome Staycation at the Grand Mercure Roxy Singapore!
Raffles Hotel Staycation Singapore : Relax & Rejuvenate!
Amara Sanctuary Resort Staycation Singapore Sentosa 2 Bedroom (BR) Villa with plunge (private) pool
D'Resort @ Downtown East : A Perfect Staycation for the Entire Family!
Swissotel Merchant Court Executive Room Staycation : Right in the heart of Clarke Quay!

A Letter to Jen (Hotel Jen Orchardgateway Staycation)…
Oasia Hotel Staycation Review!
AMOY Hotel Singapore : Why you should stay here during your next visit
The Ultimate Family Staycation at Shangri-La's Rasa Sentosa Resort & Spa!
3 Singapore Staycation Ideas for 2017!
Related posts: