River Safari is a new attraction that has recently opened at the Singapore Zoo. This means that visitors can now visit 3 attractions in the Mandai area, namely the Singapore Zoo, Night Safari and the new River Safari…

Ticketing Counters for the Singapore Zoo, Night Safari and River Safari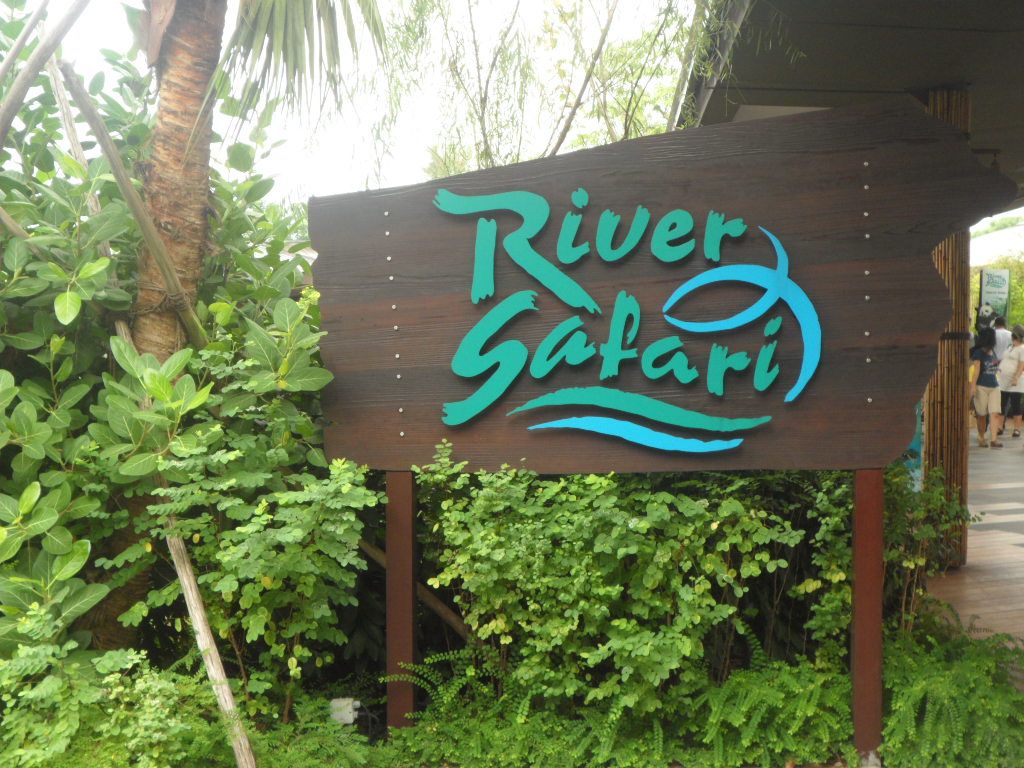 Entrance to the River Safari

Our cute River Safari Ticket

Map of the River Safari in Singapore
Things to see and do at the River Safari
As you can see from the map, there is actually only 1 general path that you can take to tour the entire River Safari. The River Safari is themed after major rivers of the world and features the various marine life that lives along these rivers. The rivers featured at the River Safari (in order) are
1. Mississippi River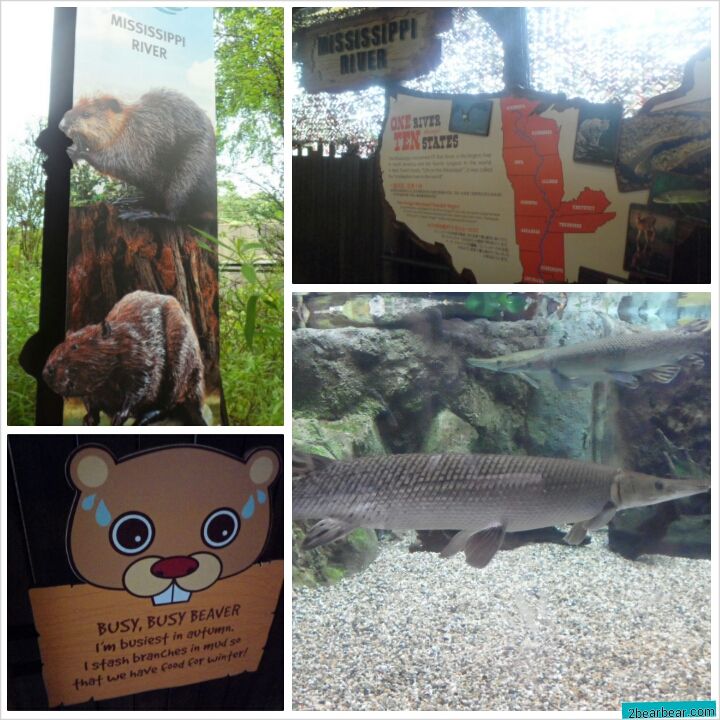 Mississippi River at the River Safari Singapore
The Mississippi River featuring the American Beaver and the Mississippi Paddlefish.
2. Congo River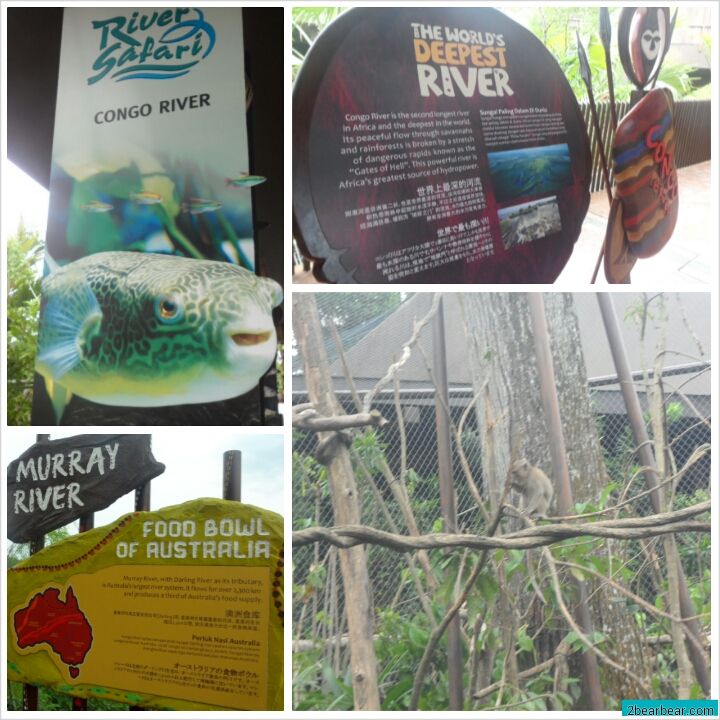 Congo River & Murray River
Congo River featuring the African Dwarf Crocodile!
3. River Nile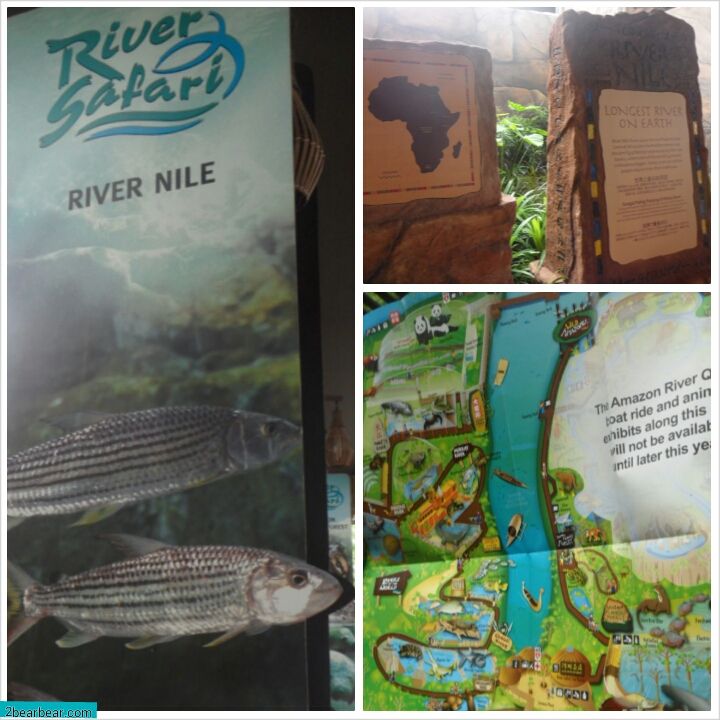 River Nile @ the River Safari
River Nile featuring the Tigerfish!
4. Ganges River

Ganges River, River Safari Singapore
Ganges River featuring the Indian Gharial – Kate actually thought it was a statue! It was actually just lying very still…and enjoying a "jacuzzi massage" under the waterfall!
5. Murray River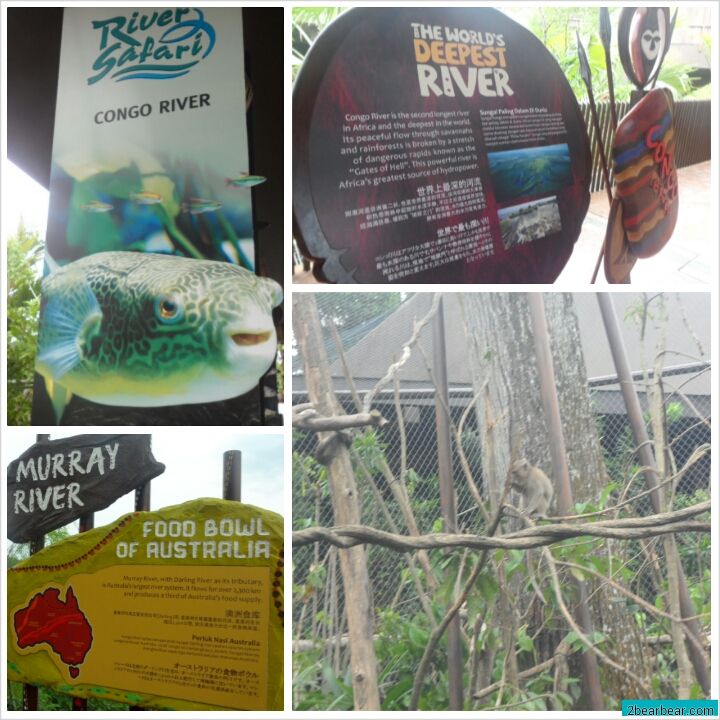 Murray and Congo River at the River Safari
Murray River featuring the Barramundi, Murray Cod and Australian Lungfish
6. Mekong River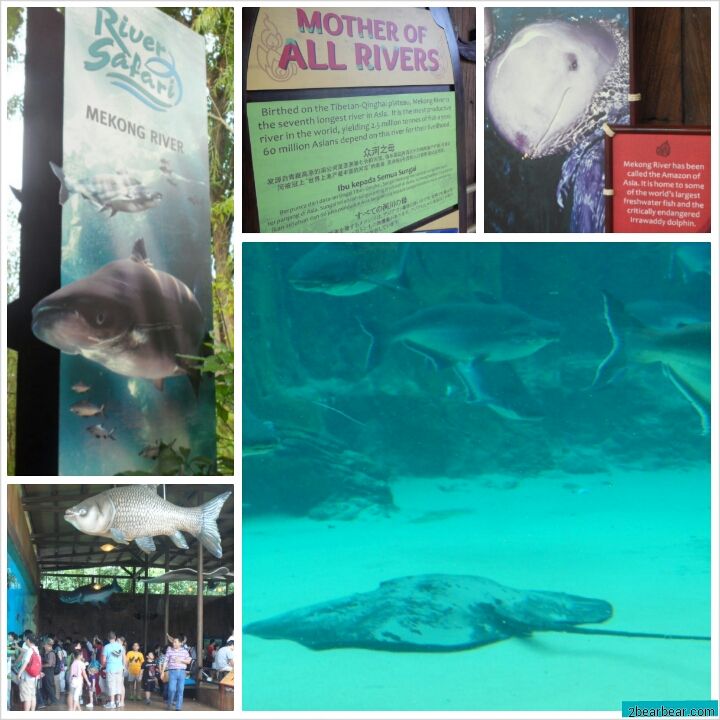 Mekong River at the River Safari
Mekong River featuring the Mekong Giant Catfish – these guys are HUGE!!
7. Yangtze River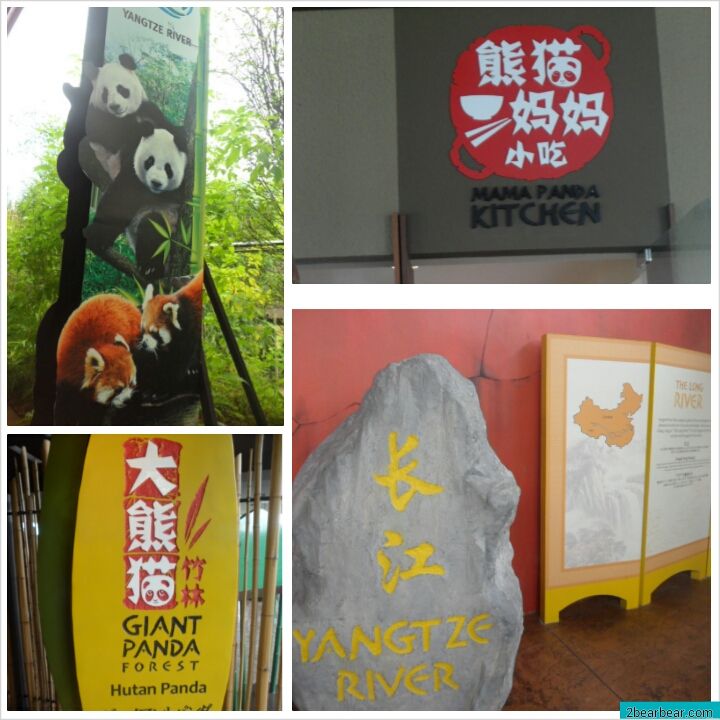 Yangtze River at the Singapore River Safari
Yangtze River featuring the Yangtze Alligator, Chinese Giant Salamander and the Sturgeon (almost mispelt as Surgeon… :p)
8. Giant Panda Forest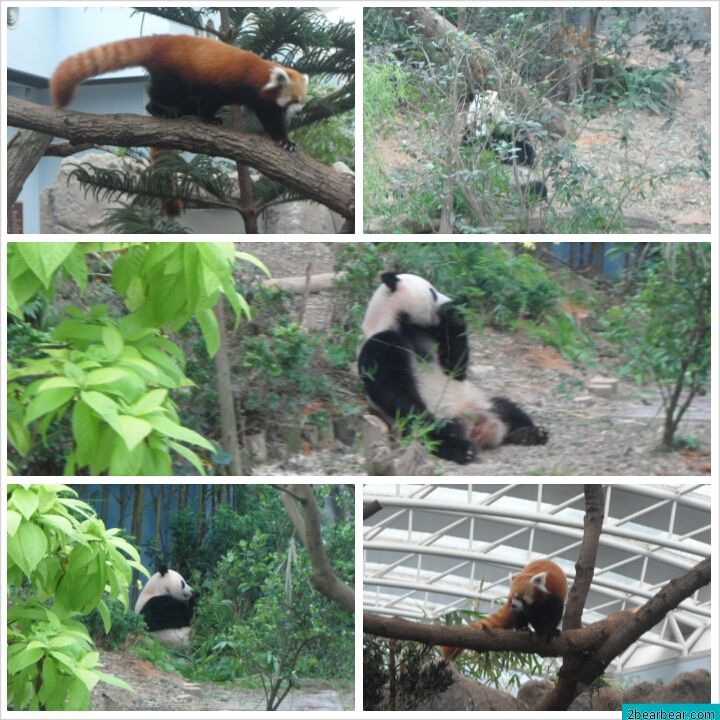 Giant Panda Forest – Home of Jia Jia and Kai Kai
The Giant Panda Forest is the highlight of the River Safari (hm…that sentence sounded strange)…
It is the home to a pair of Giant Pandas – Kai Kai (凯凯) and Jia Jia (嘉嘉). Visitors literally flock to this viewing gallery to have glimpse of the pair of pandas. Taller visitors have an advantage in viewing them…
In addition, the Red Panda (VERY CUTE AND FURRY!) and Golden Pheasant (did not know pheasants can be so beautiful) are also featured in this area.
After the Giant Panda Forest, you will have to cross the viewing deck to the Amazon Flooded Forest. Kate was also able to take some arty farty shots…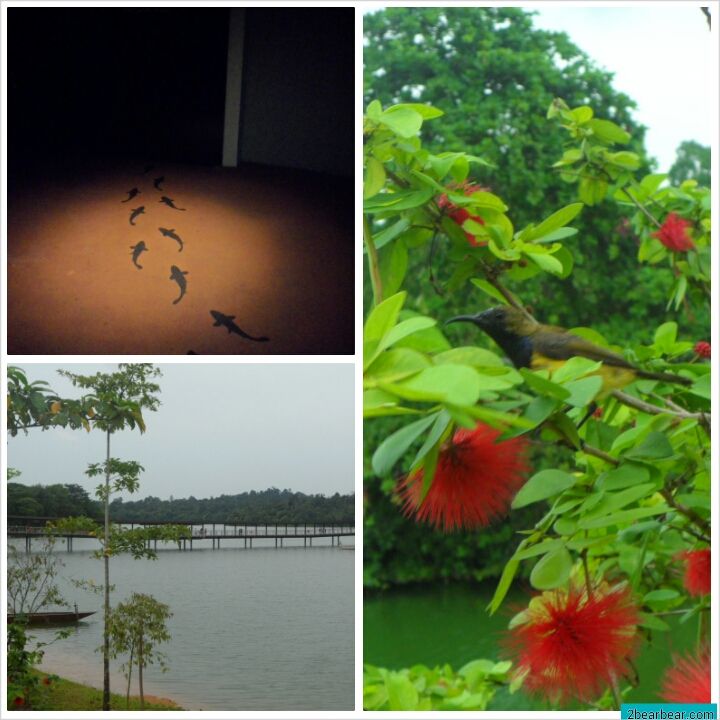 Kate's arty farty shots
9. Amazon Flooded Forest
Amazon Flooded Forest – River Safari
To us, the Amazon Flooded Forest was the most interesting part of the safari. It is like a giant aquarium featuring the giant river otter, electric eel, freshwater stingray, pacu, red-bellied piranha, red-tailed catfish, arapaima and of course the cute Manatee!

Video at the Amazon Flooded Forest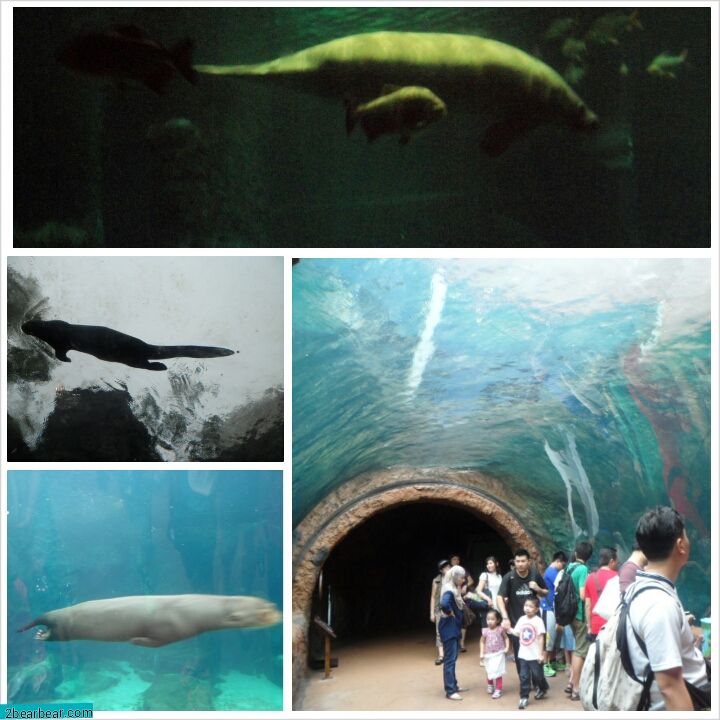 Giant River Otter and Manatee
Our Thoughts about the River Safari
The River Safari can actually be covered in about 2 hours and it was more like a walk through of the various segments. The Amazon River Quest Boat Ride and Animal exhibits was also not opened when we visited (slated to open at the end of the year).
The Amazon flooded forest was indeed quite an experience. Seeing these large marine creatures moving freely in the waters before you seemed quite surreal. The pandas were of course an attraction by itself.
If you enjoyed our content, "Like" us on Facebook Today!

If you have taken the Amazon River Quest boat ride and seen the animal visits along this ride, do share with our readers in the comments section below!
Related posts: