Sheraton Bandung Hotel Indonesia has undergone a complete face-lift over the last couple of months and have since opened its doors, welcoming guests to a newly-reinvigorated and modern garden sanctuary…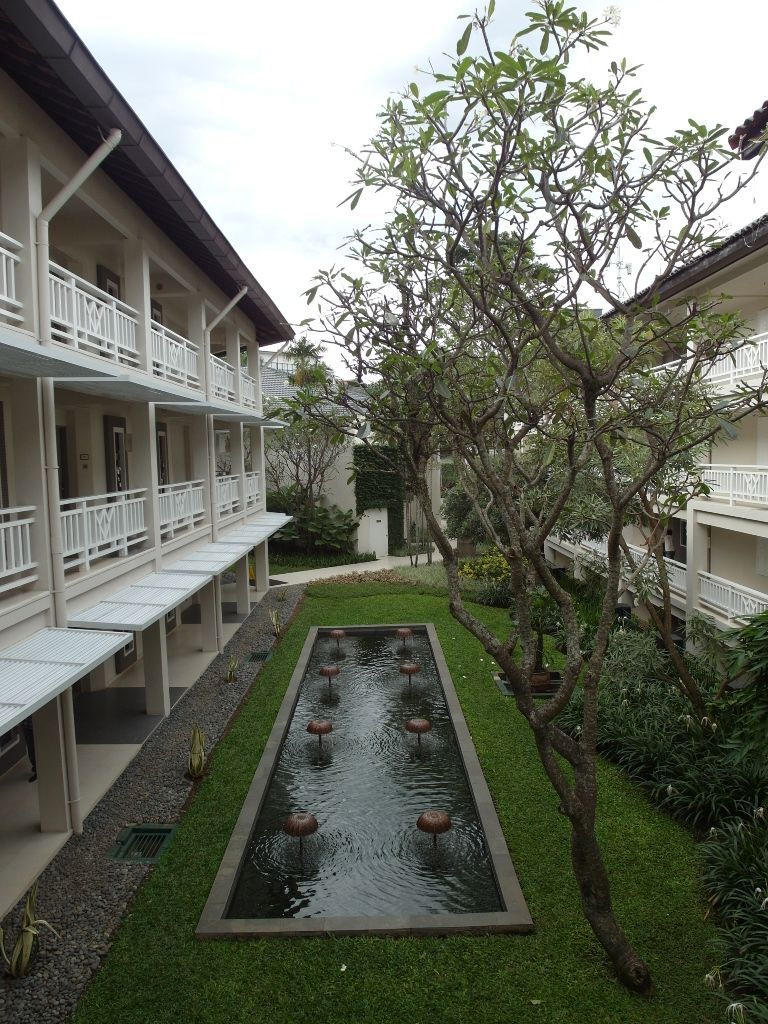 The newly renovated Sheraton Bandung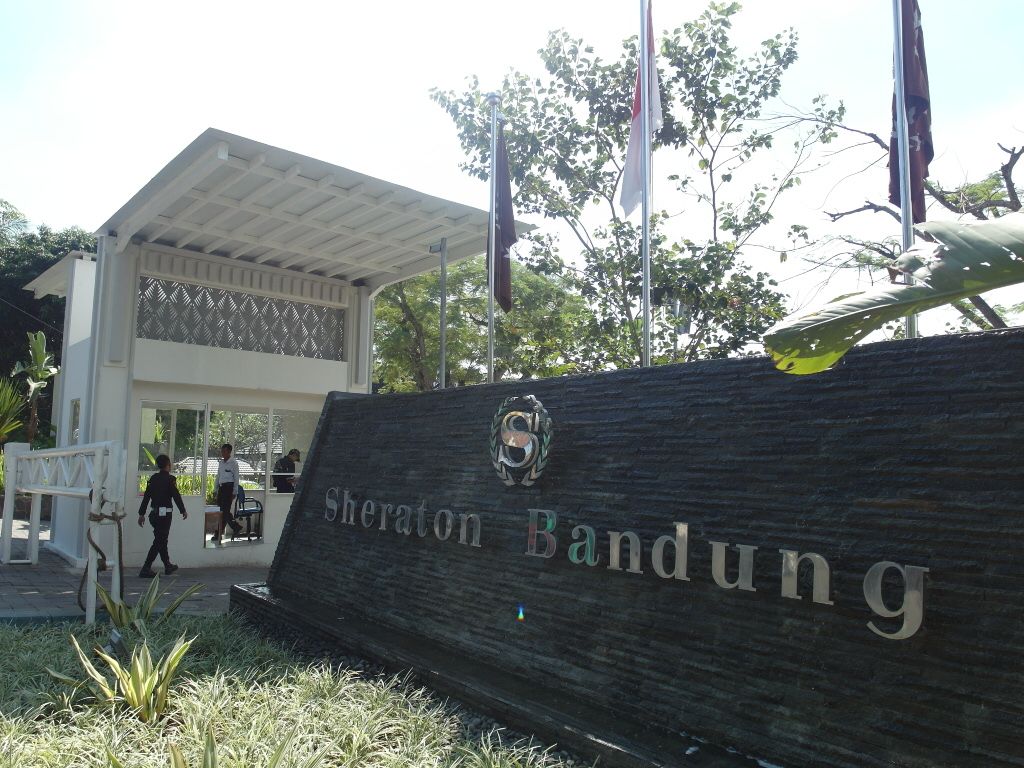 Entrance of Sheraton Bandung
Thanks to the good folks at Sheraton Bandung, we were hosted to a 3D2N stay and before long, we found ourselves being whisked away from the Husein Sastranegara International Airport to the hotel premise via the hotel's own express transfer service.
Lobby of Sheraton Bandung
As we entered into the lobby of Sheraton Bandung, we could feel an air of elegance defined by the high ceilings, classy touches of tiffany blues as well as the brightly-lit spaces…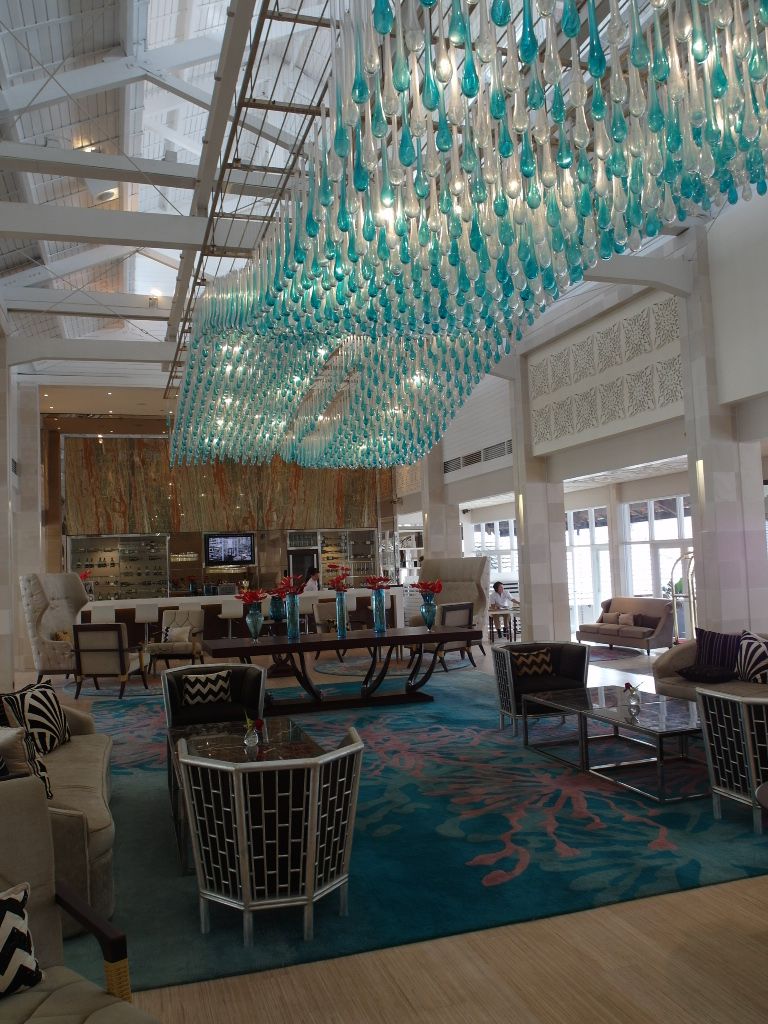 Welcoming Lobby of Sheraton Bandung

Brightly-lit spaces with a touch of elegance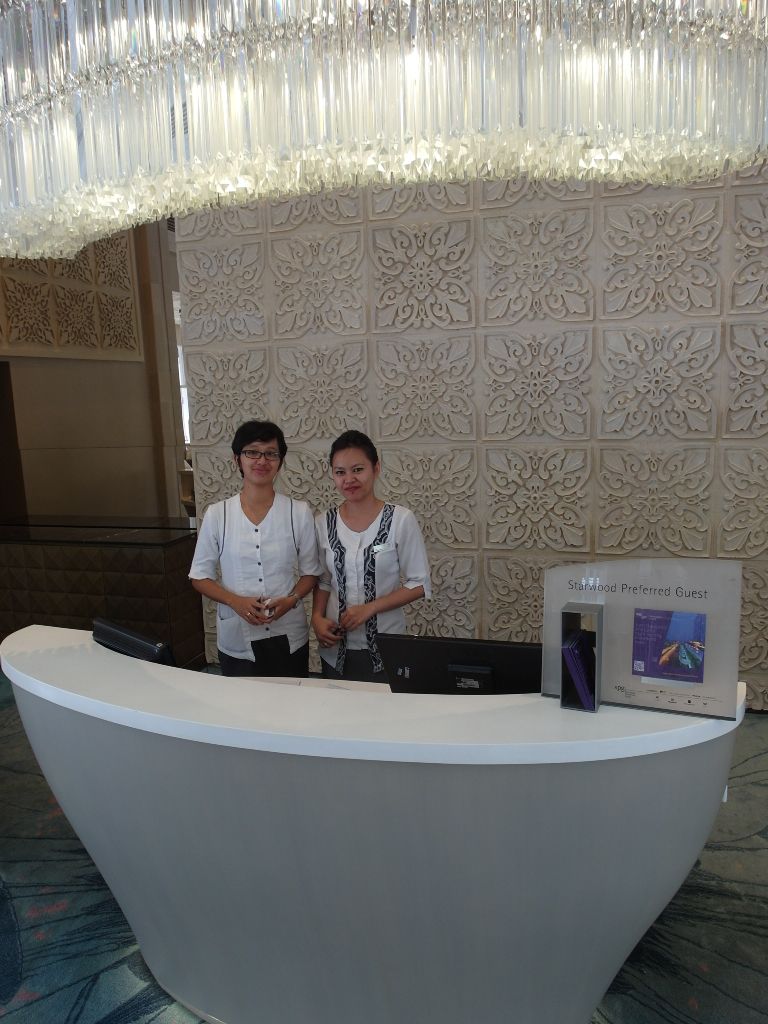 Warm welcome by Ms Ari and her team at the reception! Thanks!
After settling into our room (newly-renovated Towers Room!), we went on a quick tour of the hotel's premise and if you wish to, you can consider these various room options…
Room options available at Sheraton Bandung
Deluxe Room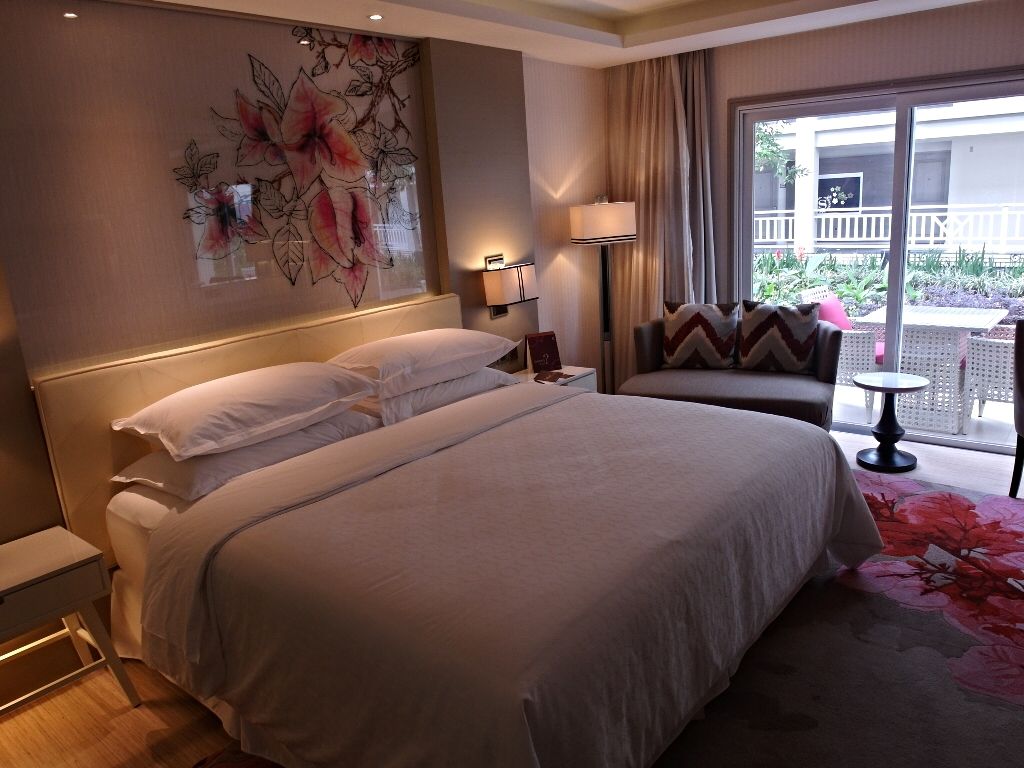 Deluxe Room Sheraton Bandung

Bathroom of the Deluxe Room
What we liked about the Deluxe Room was the neat artistic features. Notice the flowery design at the head board which also matches the design of the carpet! Alot of thought must have been placed into the design of the rooms during the renovation. The balcony also overlooks the gardens of Sheraton Bandung providing a resort-styled sanctuary on the outside and a chic modern feel on the inside. The only thing that you may want to take note is that there's NO bath tub in the Deluxe Room. But have no fear, you can always check out the Towers Room for that small touch of luxury…
Towers Room

Towers Room Sheraton Bandung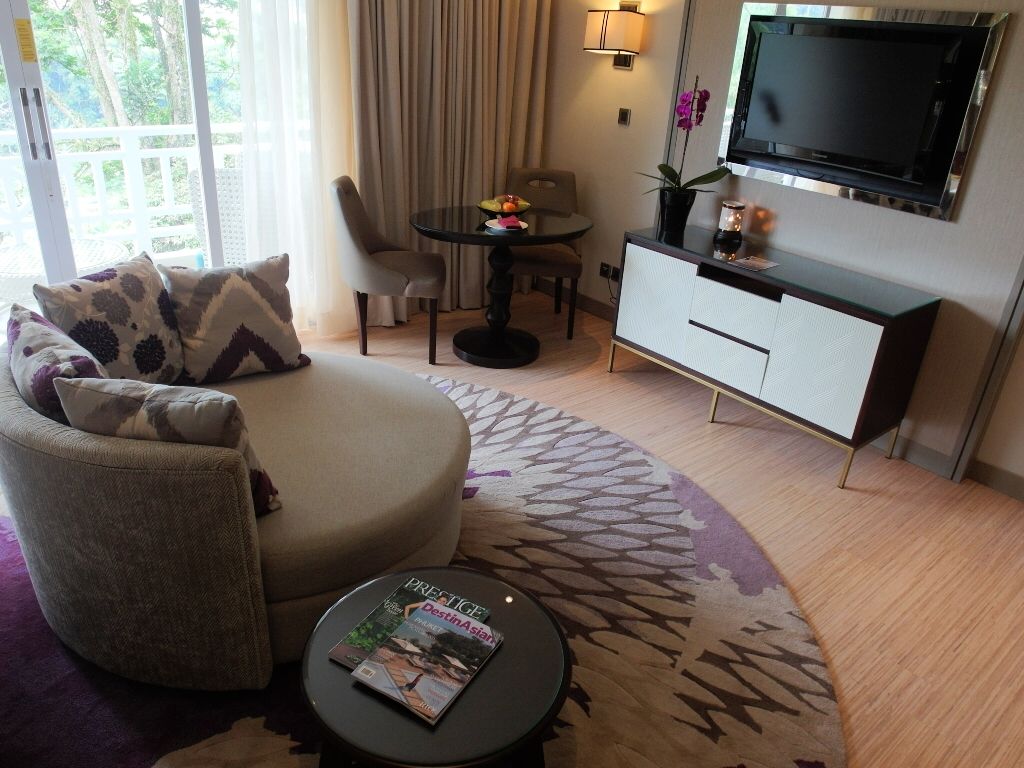 Large comfy couch – perfect for lazing in

LARGE / HUGE Bathtub – definitely one of the largest we've been in!

Spacious bathroom of Towers Room Sheraton Bandung

Modern showering facilities including the rain shower head – SHIOK!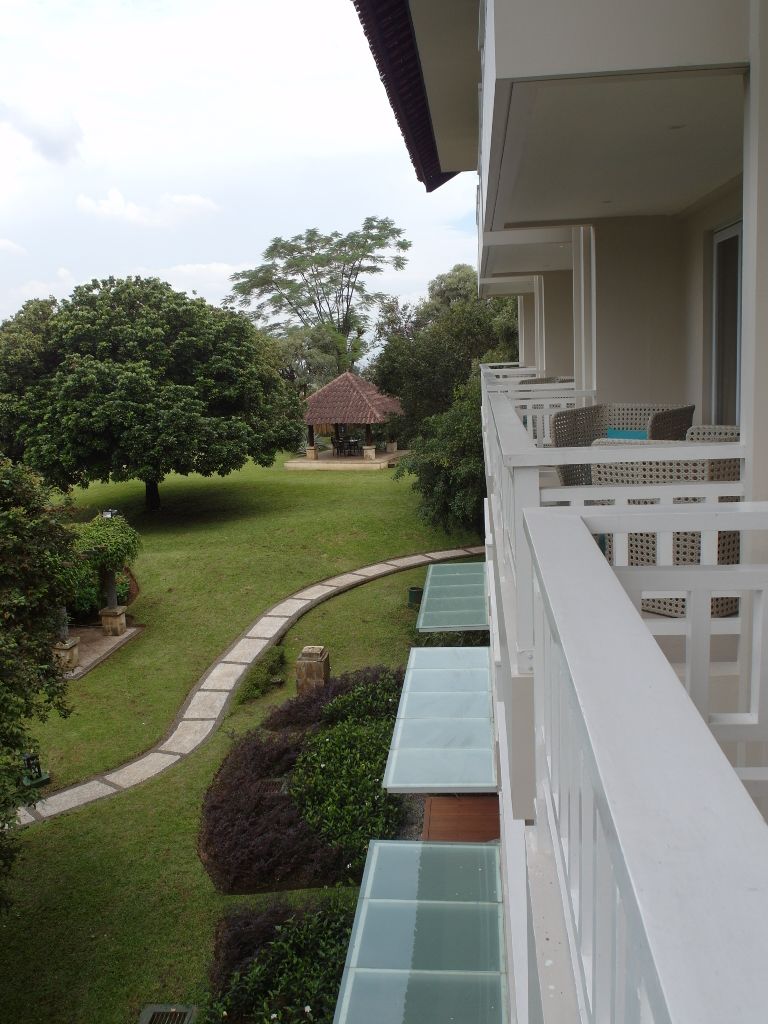 Greenery as seen from the Towers Room Balcony
We were hosted to 2 nights at the Towers Room of Sheraton Bandung and here's why we thoroughly enjoyed the room…
1. Spacious. The room was really spacious with a huge couch for lazing in and of course a large flat screen TV. The spacious concept also extends to the bathroom, offering users ample space for personal care. The balcony was also huge by these standards, offering yet another view of the garden sanctuary of Sheraton Bandung.
2. HUGE Bathtub! We cannot say this enough, the bath tub was really HUGE! Definitely one of the biggest ones we've been to. Perfect for honeymooners and staycationers alike!
3. Comfy Bed. The bed was really inviting and when you snooze, you really didn't feel like getting up. It was also here on this huge comfy bed that we got our in-room traditional massage. Blissful luxury!
Junior Suite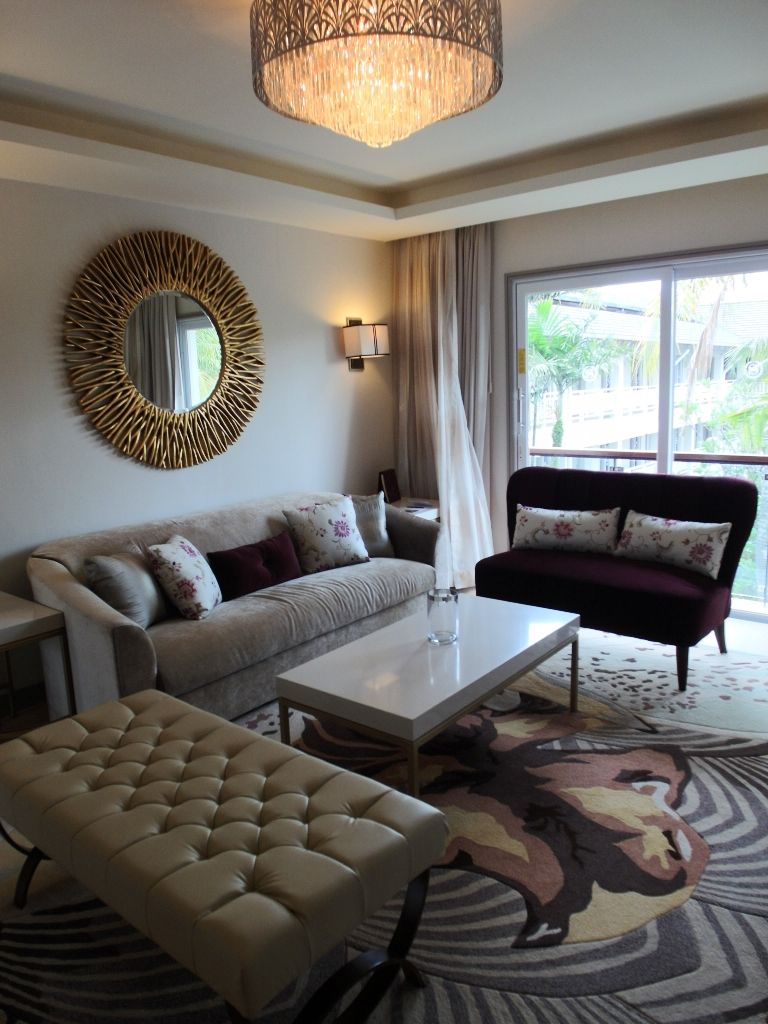 Living Space of Junior Suite Sheraton Bandung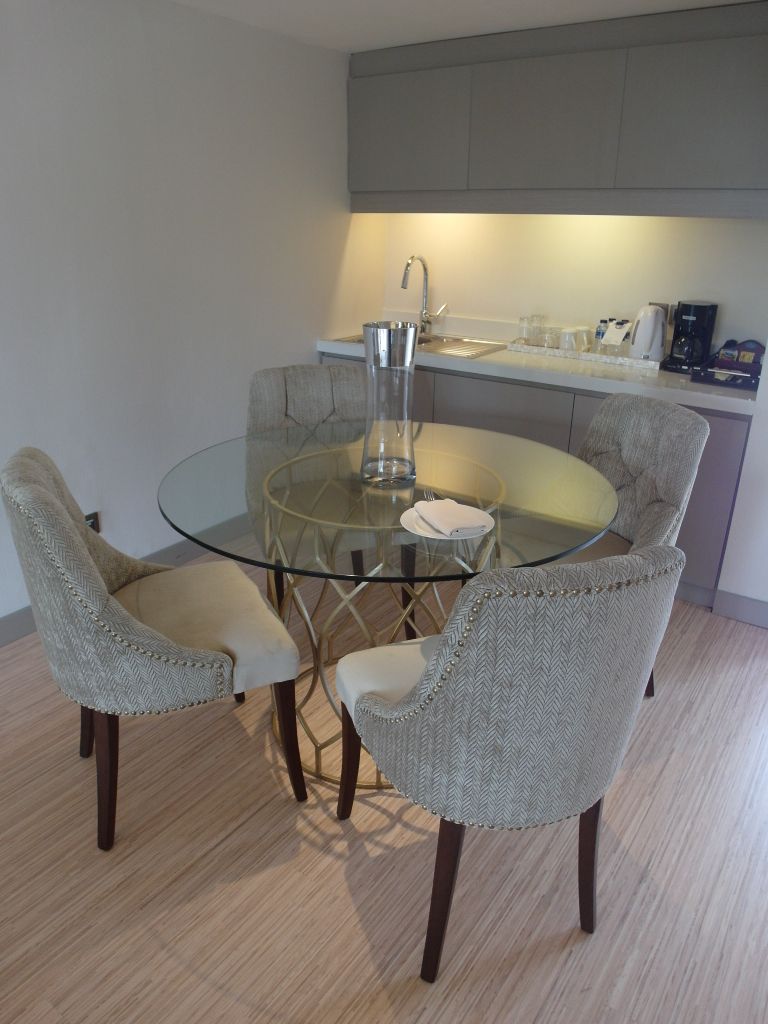 Pantry area of the Junior Suite

Again, the HUGE bath tub

Bedroom overlooking the pool
As you step into the Junior Suite, you'll realise that you have actually stepped into the next class of opulence and luxury. In this 64spm suite, you'll find a living space and bedroom (both overlooking the pool area). Attached comes the pantry area, perfect for in-room dining options and of course the modern bathroom.
Presidential Suite

Chandelier at the entrance of Presidential Suite Sheraton Bandung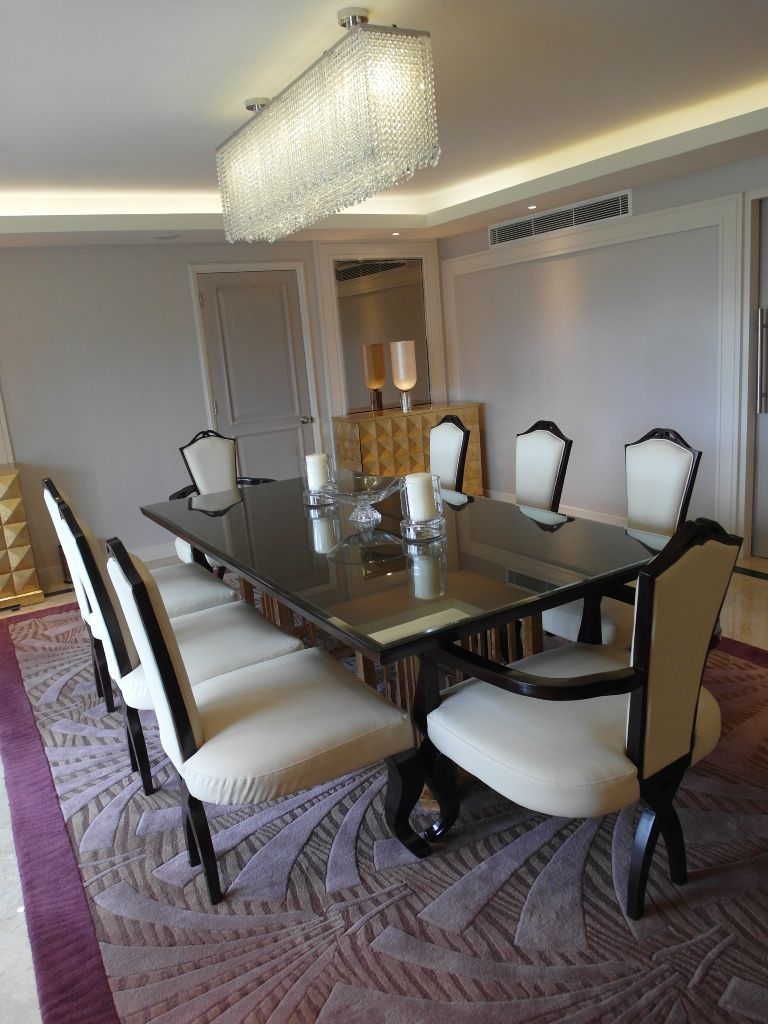 Large dining area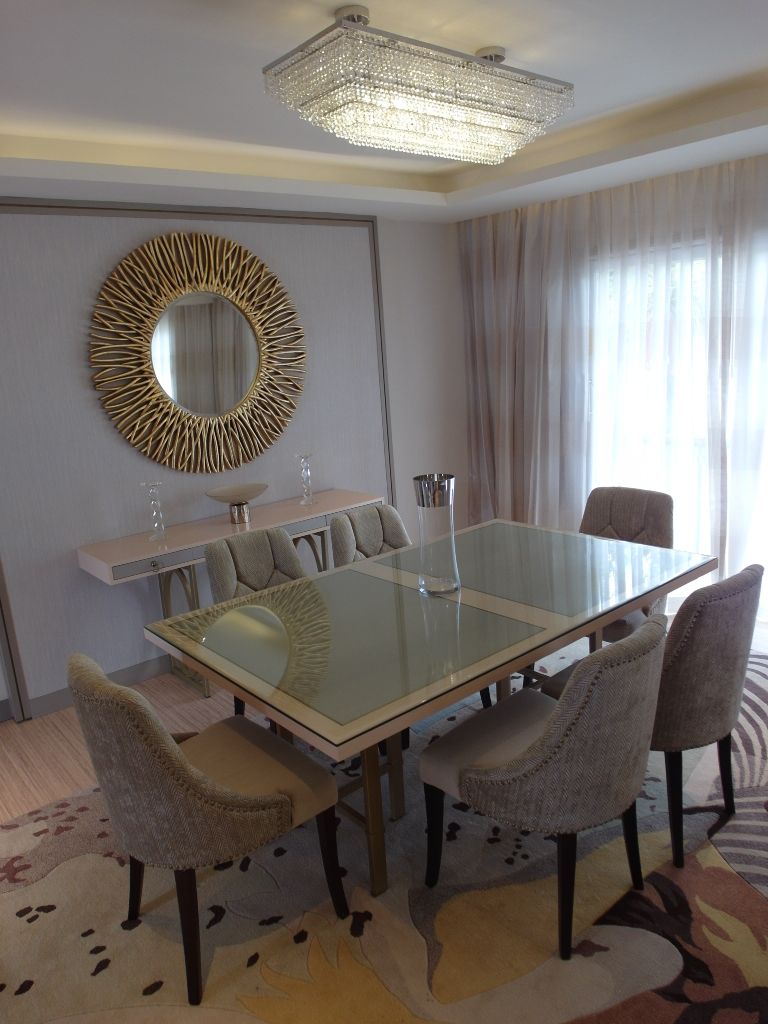 A waiting area

HUGE living area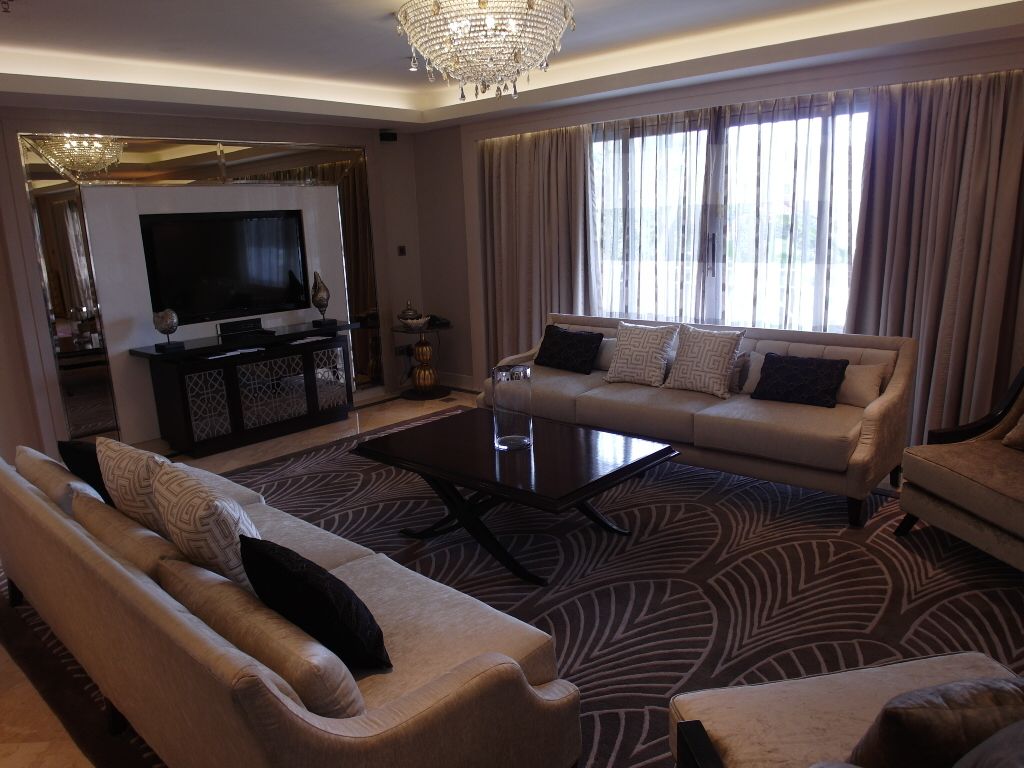 So spacious that it extends here…

Overview of the living space of the Presidential Suite at Sheraton Bandung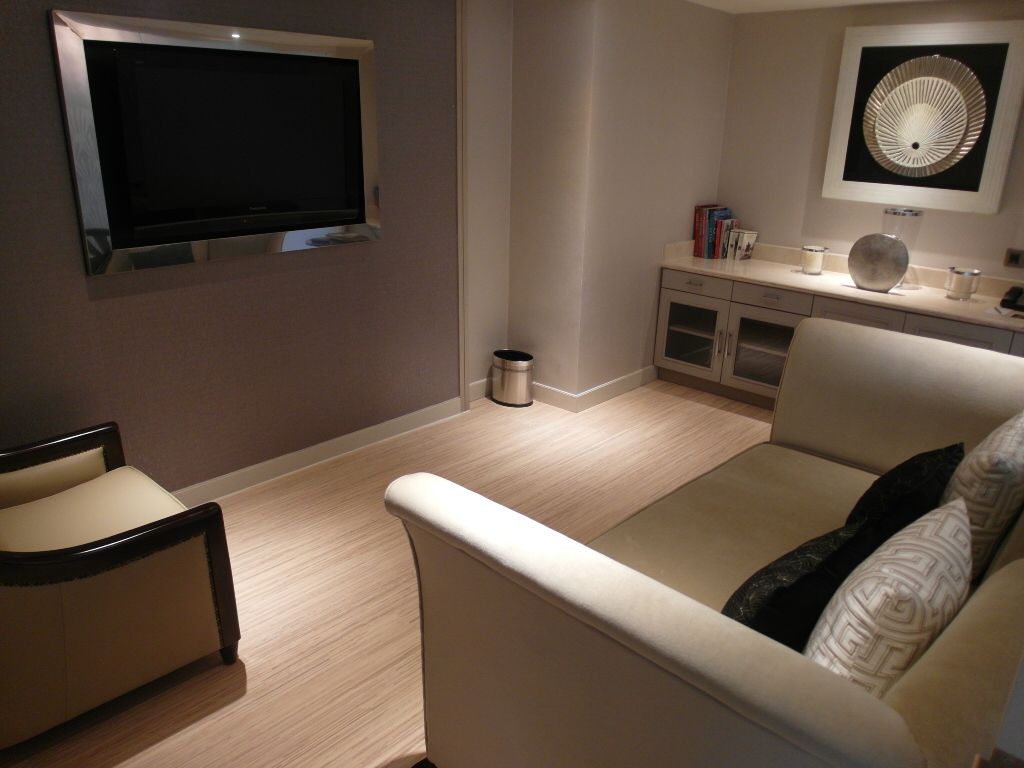 Home entertainment area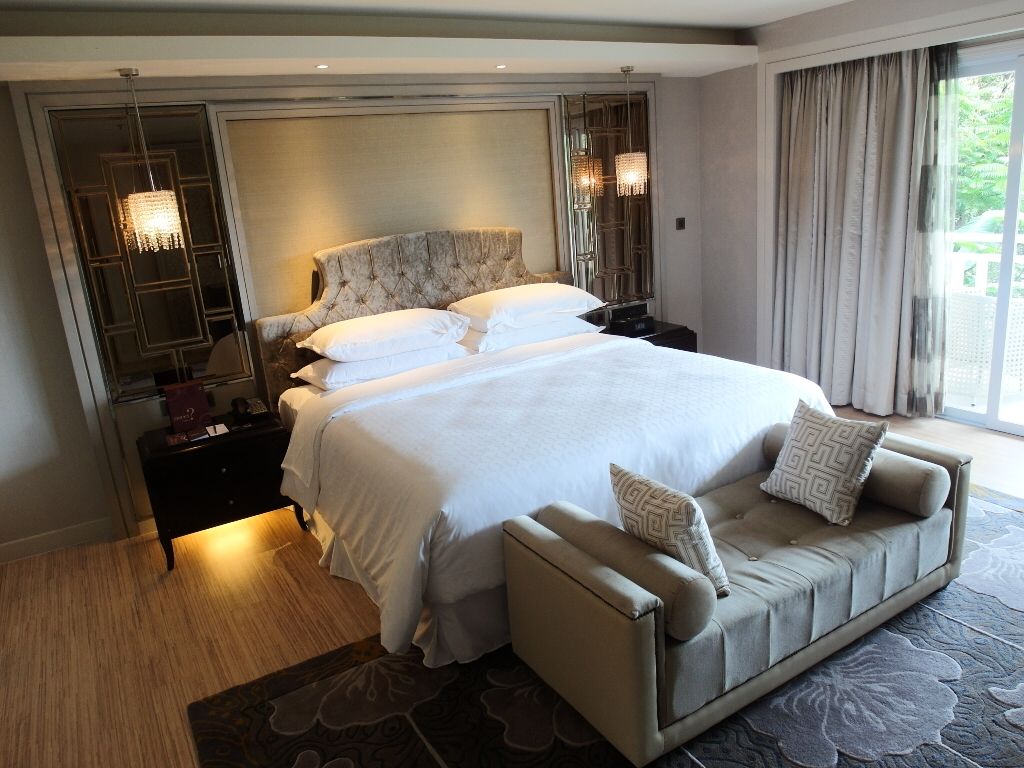 Classy and inviting bedroom of the Presidential Suite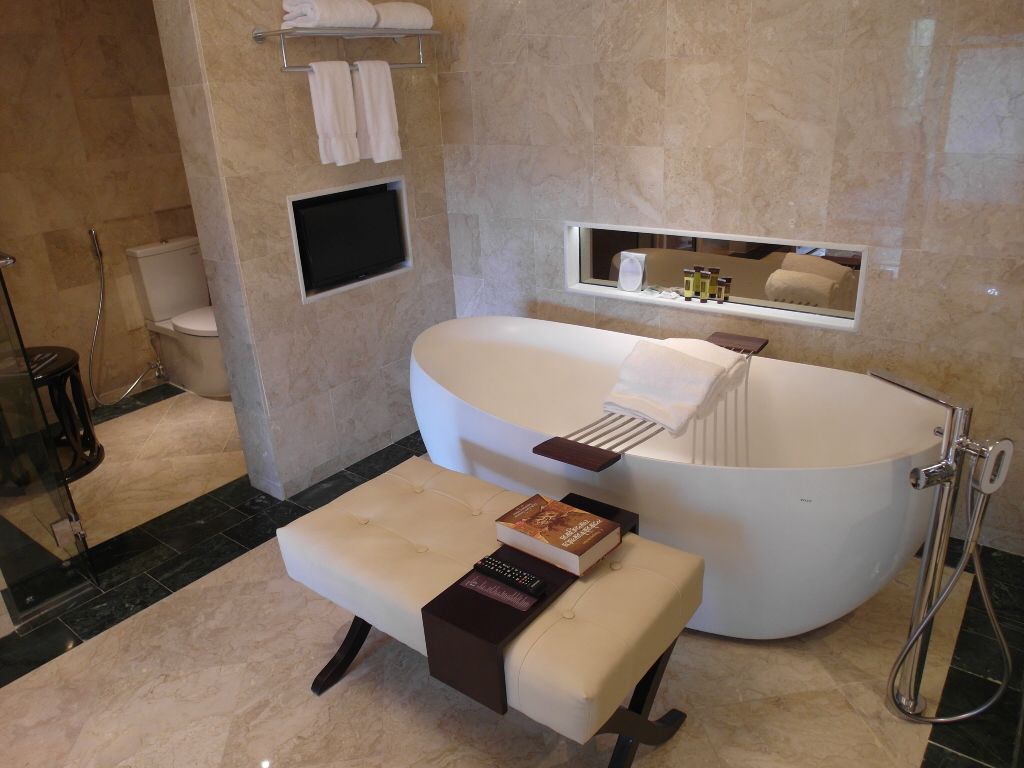 HUGE BATHROOM!
What we really liked about the Presidential Suite was its space. At 135sqm, there's really no lack of space for work, dining, living, entertainment and relaxation. Surely the pinnacle of luxury at Sheraton Bandung. The only thing which we found strange was that given the huge space, there should have been a smaller guest room to house additional guests if required. Nonetheless, we found out that there's an a room attached to the Presidential Suite that can be booked for additional guests if required. Combining the room rooms would yield a combined space of 177sqm! Now that's HUGE!
Facilities of Sheraton Bandung
At the time of arrival, the gym and feast restaurant was still under construction. Nonetheless, we hope this video we've created (for the first time! So please pardon the standards) will be able to give you a quick overview of the hotel…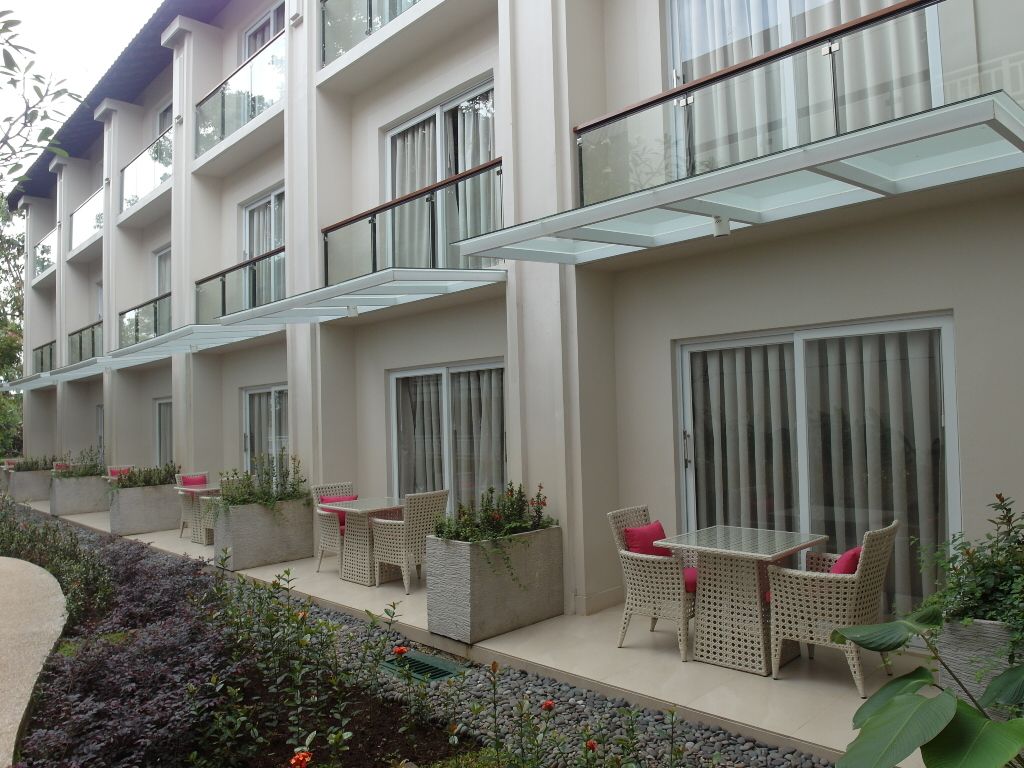 Resort-styled facade of Sheraton Bandung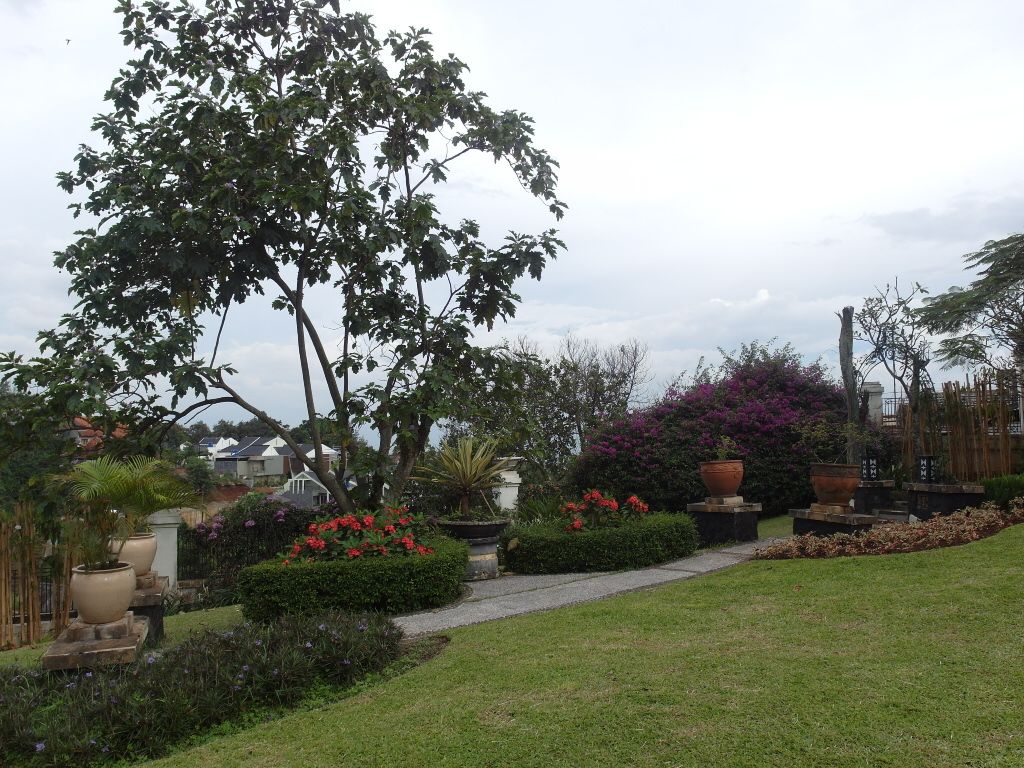 Large garden area – perfect for weddings and outdoor events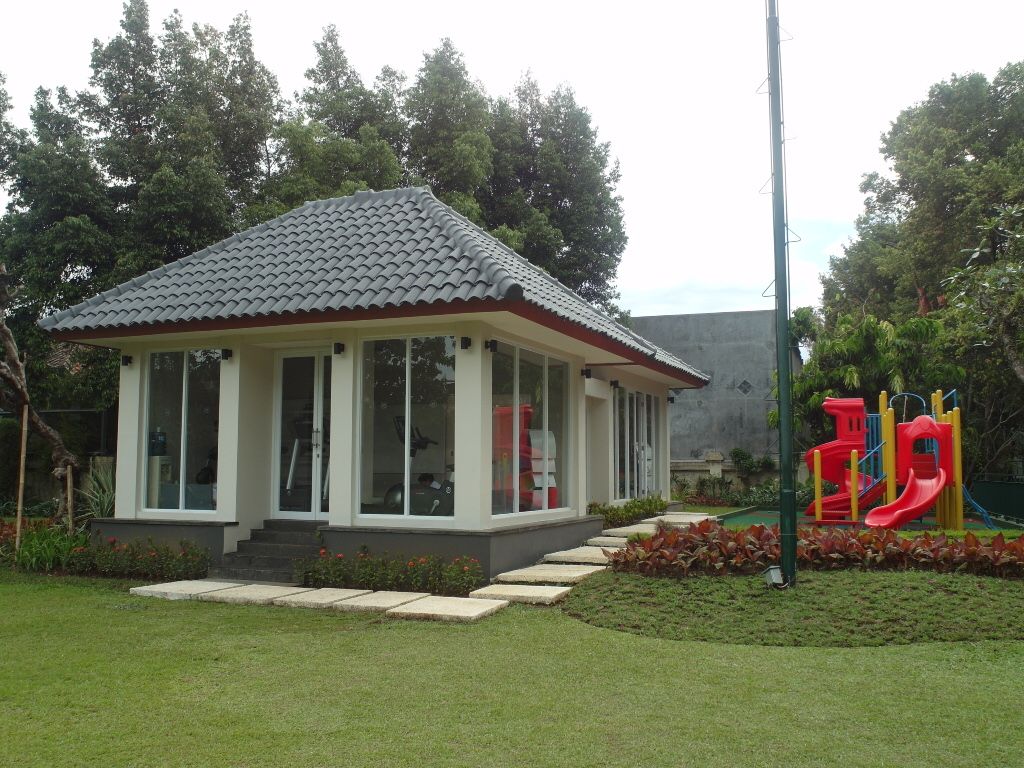 Day care area with a make-shift gym (till the renovations are fully completed)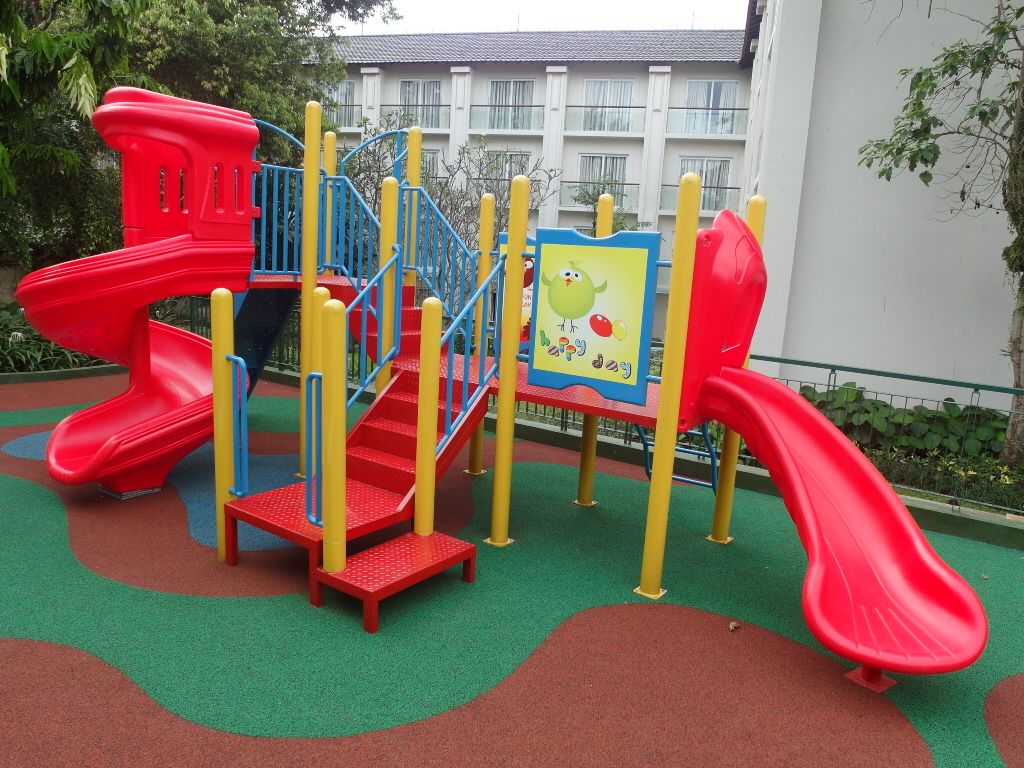 Playground for the kids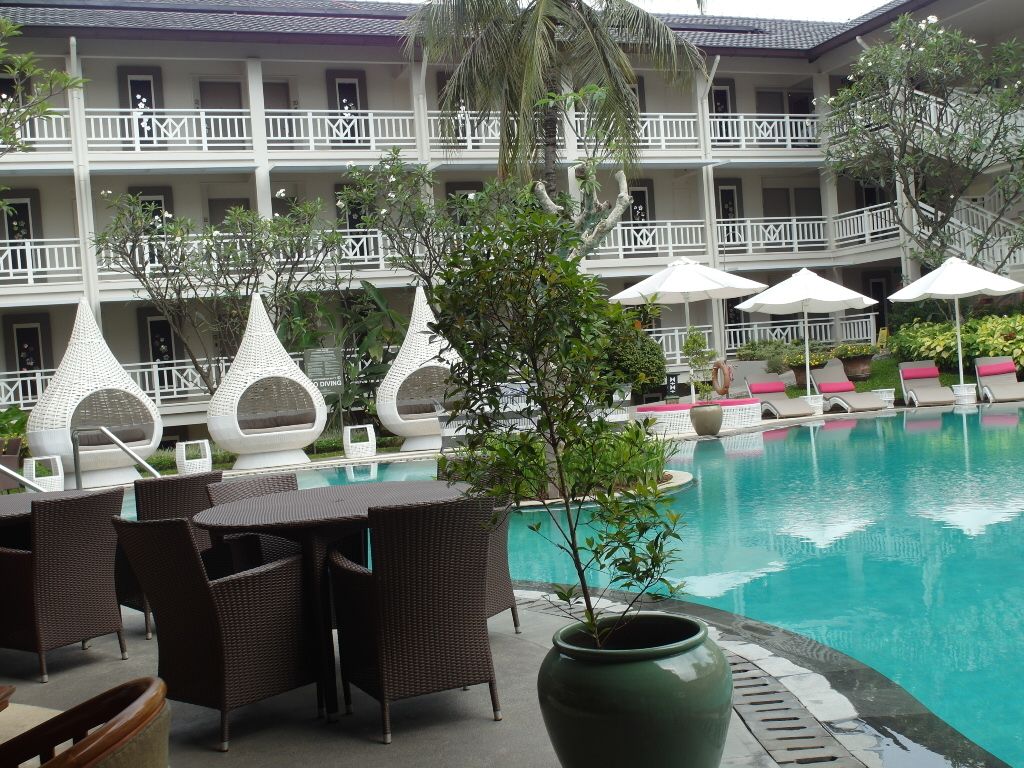 The pool of Sheraton Bandung definitely exudes a luxury resort feel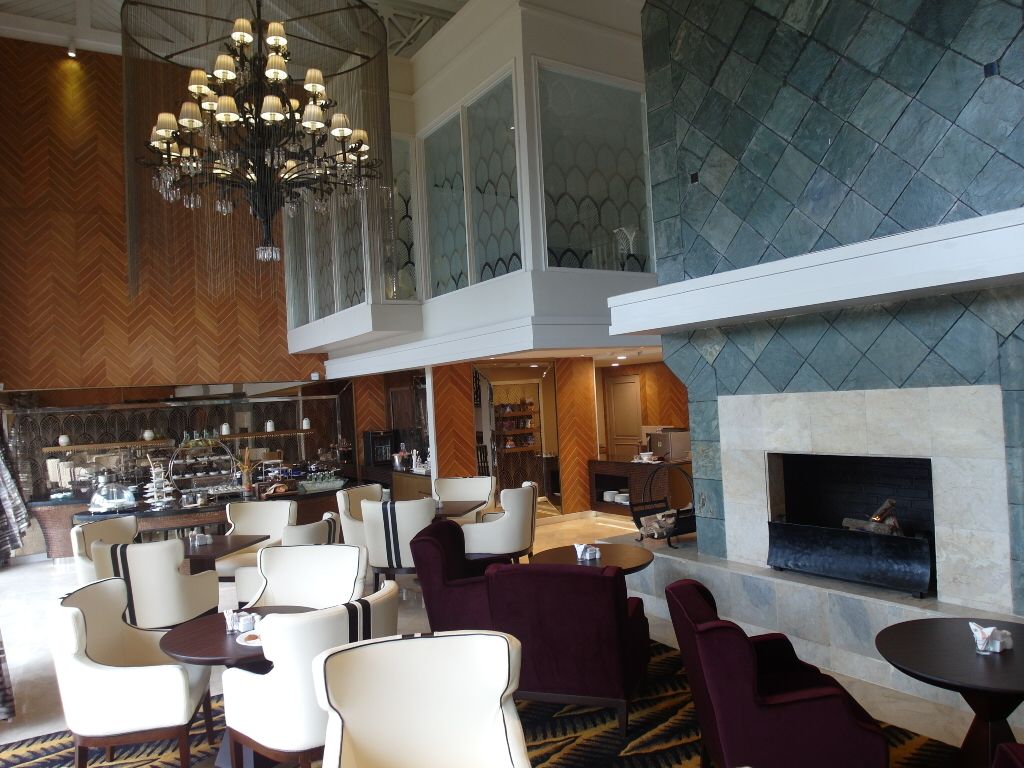 Tower Lounge Sheraton Bandung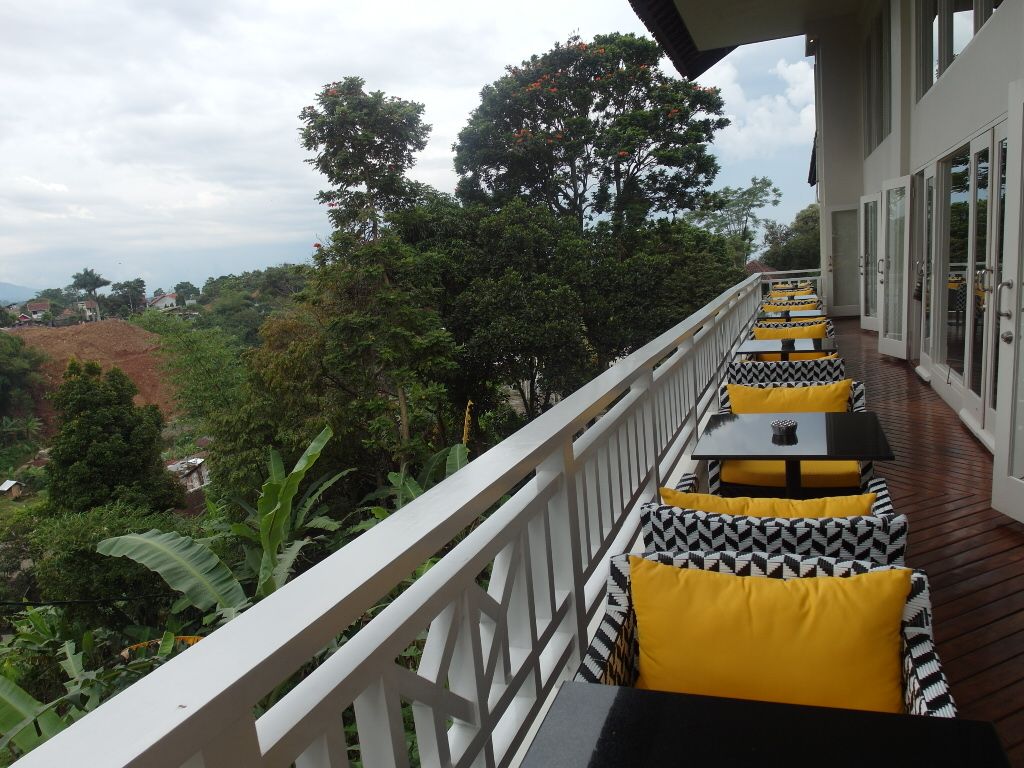 Outdoor seating of the Tower Lounge
There's also an in-house spa facility which we enjoyed.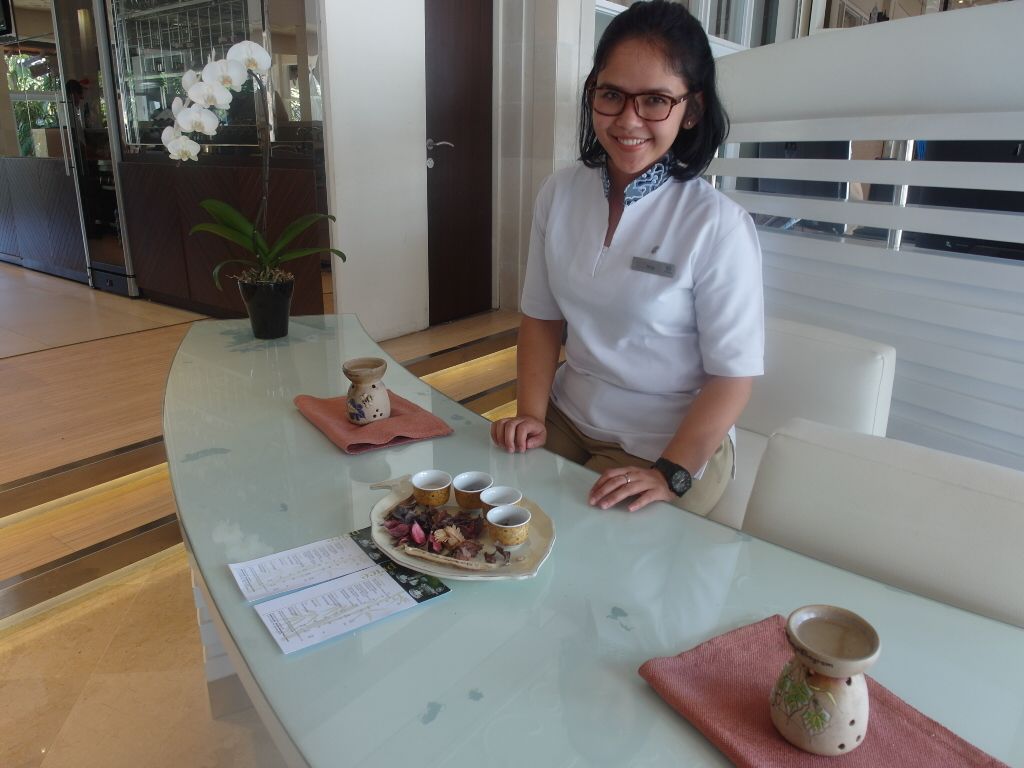 Spa facilities at Sheraton Bandung
The traditional massage was professional and skilfully done. At one point in time, both Kate and I fell asleep! That was how relaxing the massage really was. And to let everyone in on a little secret, the massage packages at this 5 star hotel is actually very affordable! The 1 hour traditional massage was only 185,000 ruppiah or approximately 20SGD! :O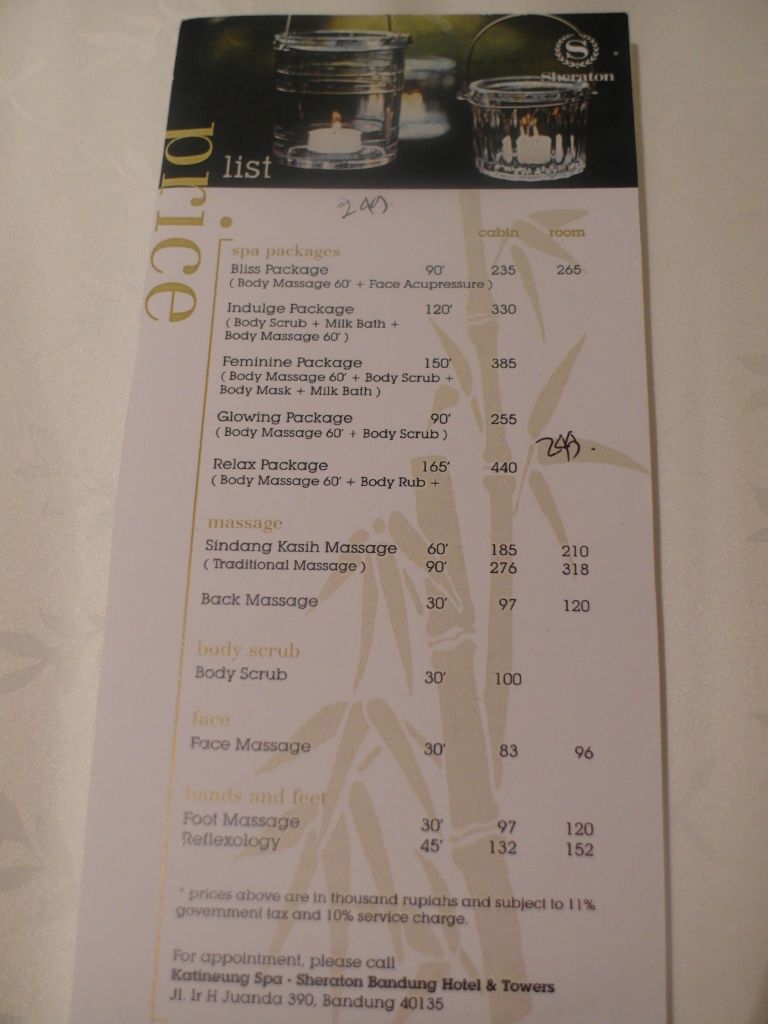 Spa menu of Sheraton Bandung
Throughout the hotel, you can enjoy the luscious greenery and the serene vibe of this luxury resort. What we really like after the renovation was that pastel colours brings about a calm and soothing feel. Perfect for a short weekend getaway for city dwellers from Jakarta and Singapore. As a 5 star hotel, Sheraton Bandung offers not only the full facilities of gym, swimming pool and lounge, it also offers an excellent selection of food…
Gastronomical Bliss at Sheraton Bandung
To top off the entire experience, we were pleasantly surprised that Sheraton Bandung also offers a high standard of food selection at its premise. Both western and asian selections were yummilicious and here are some of our top picks…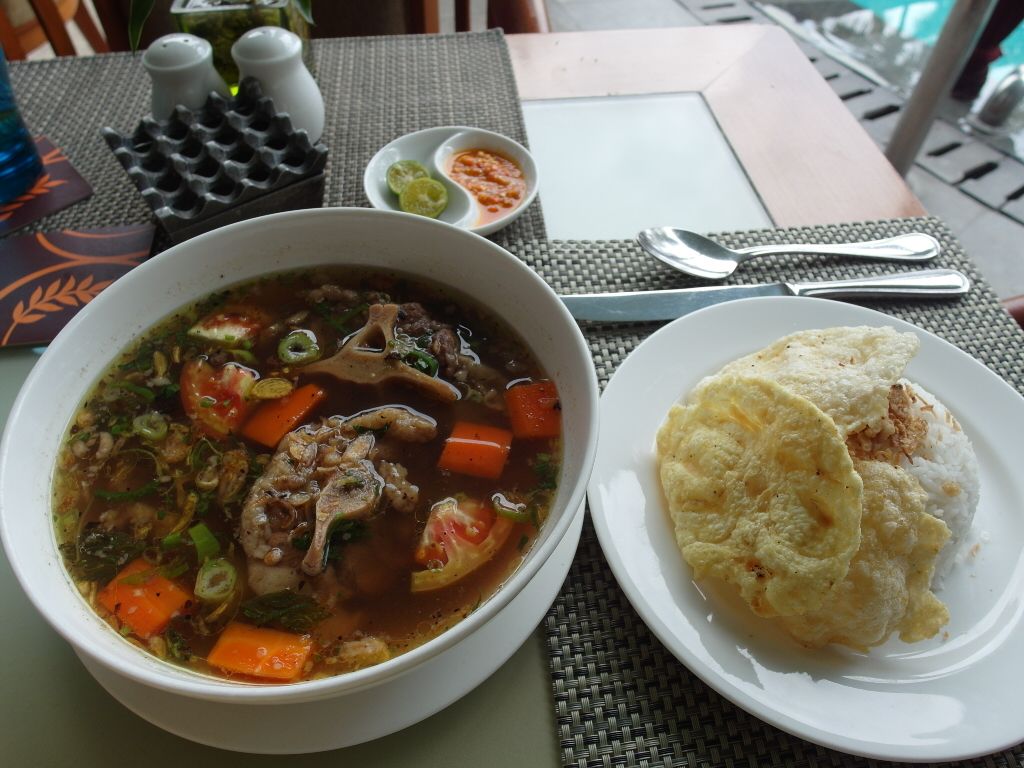 Soup Buntut – with ridiculously tender meat!

Nasi Goreng Kampung – fried rice with an assortment of small dishes in it

Hawaiian Pizza (the ones with thin crust!) with a glass of chilled Mojito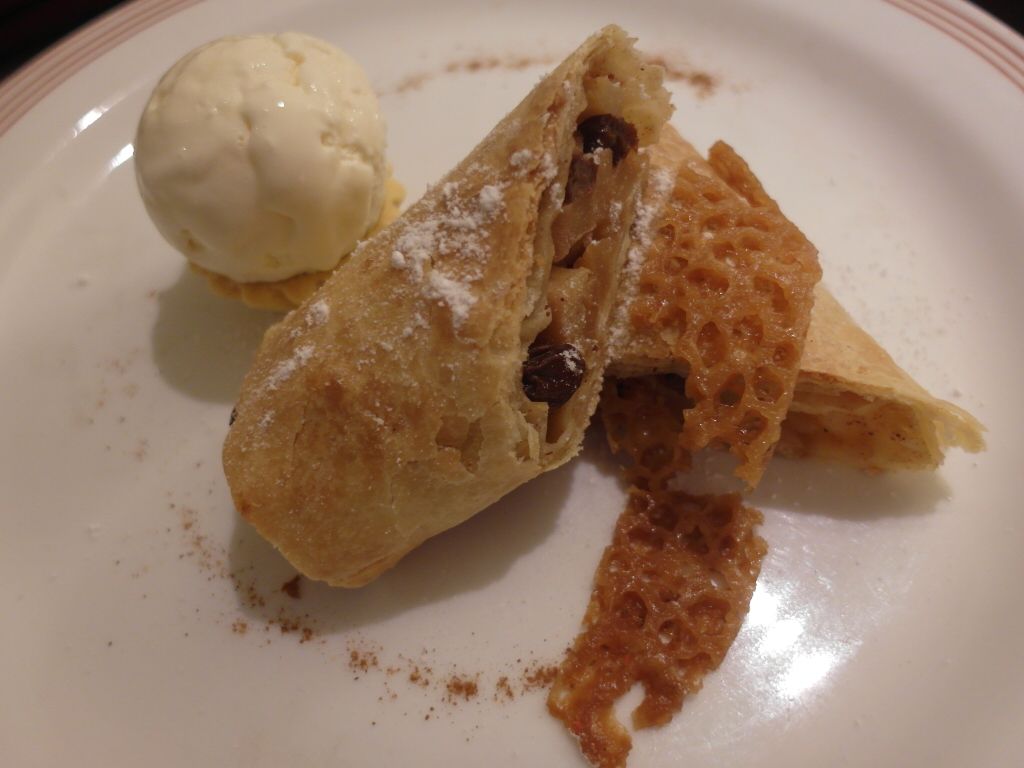 Apple strudel with ice cream to round up with desserts
Daily Cocktails at Tower Lounge Sheraton Bandung
From 4pm to 7pm daily, there's a cocktail session for guests at the Tower Lounge. At some hotels, this is also called the afternoon hors d'oeuvre, characterised by drinks and bite-sized finger foods…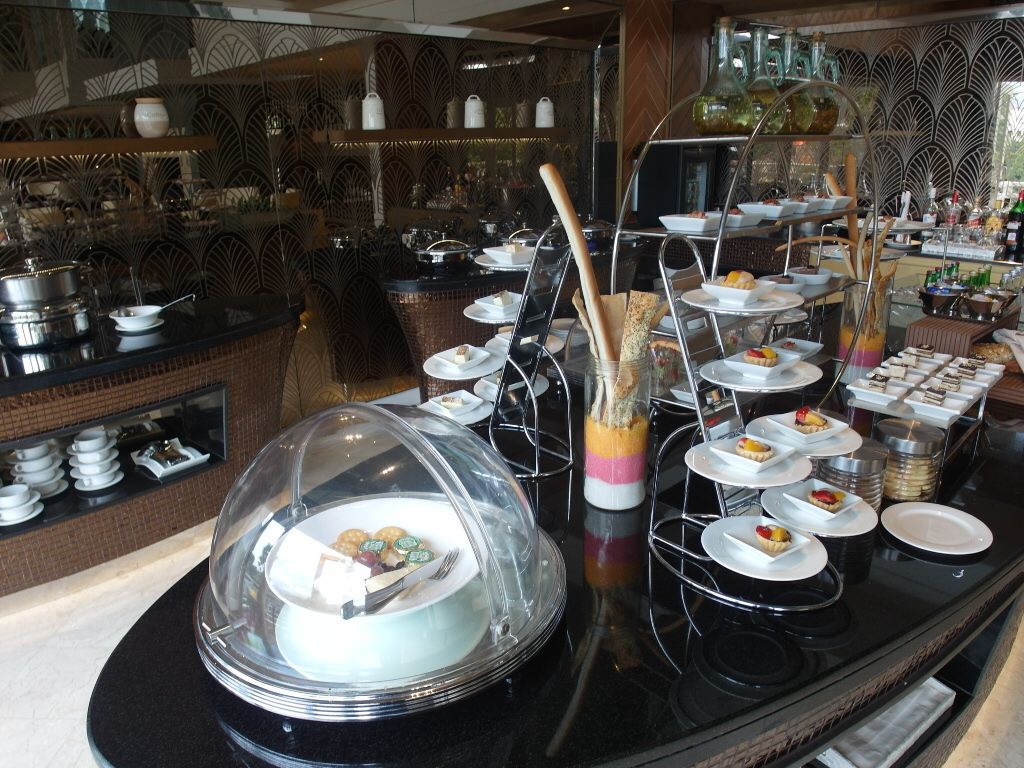 Selection of afternoon treats at the daily cocktail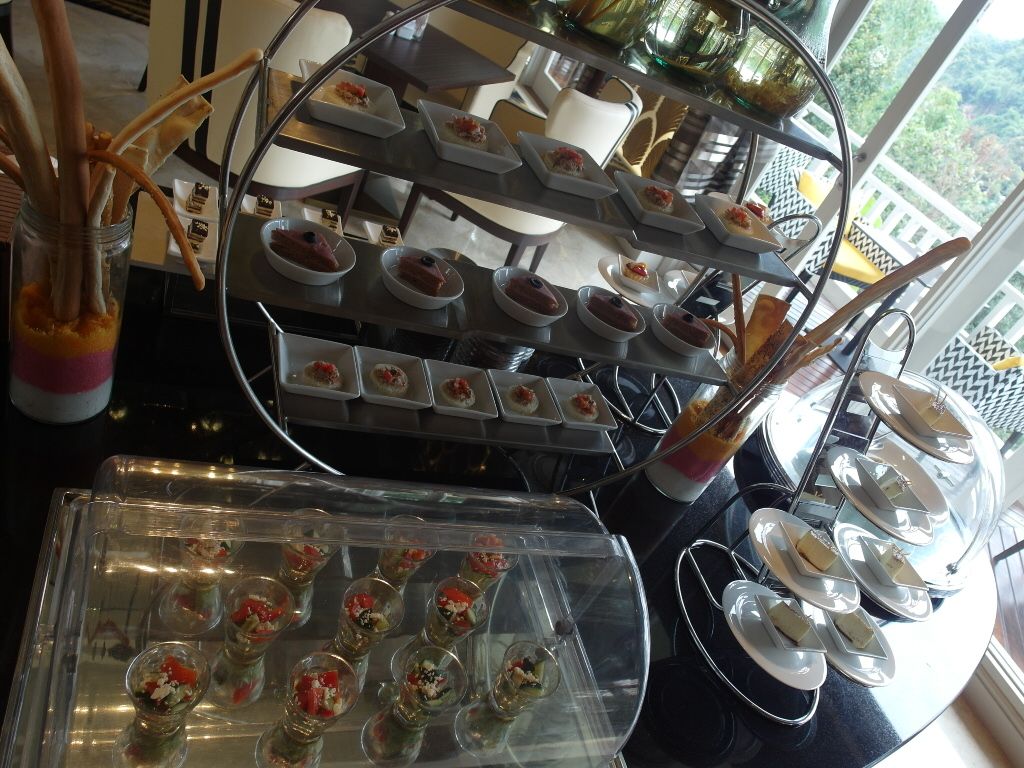 Including pastries, cakes and finger foods

A small selection of hot foods

A selection of alcoholic and non-alcoholic beverages

Chilled selection including Bintang Beer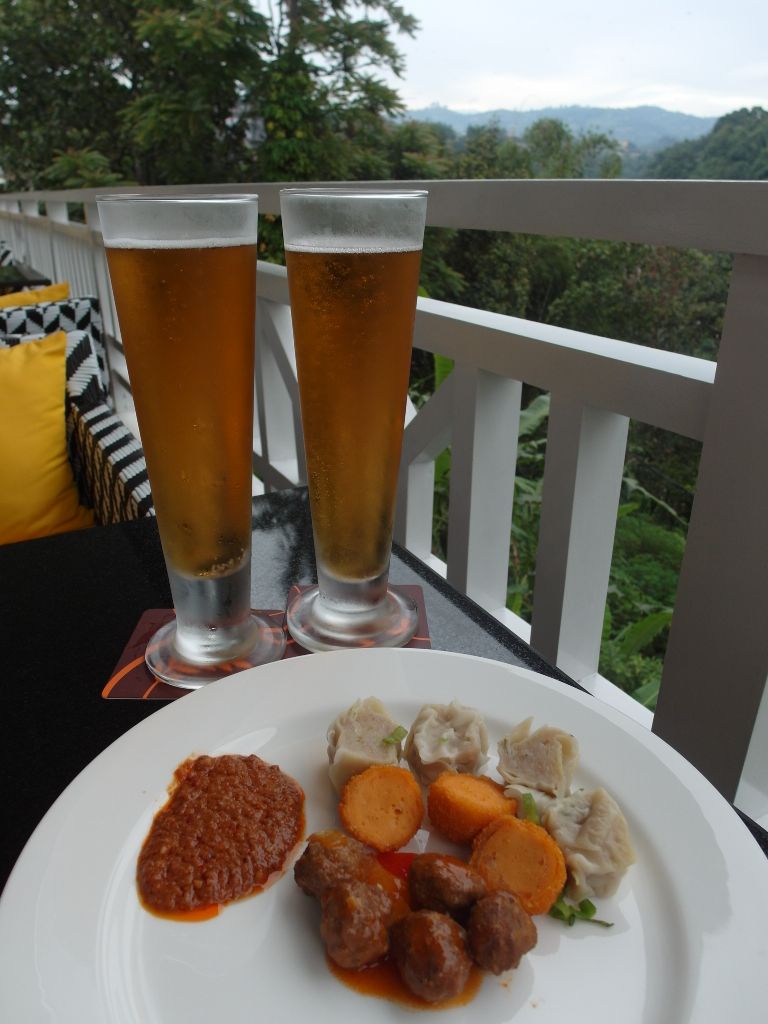 Ice cold beers, finger foods and marvelous views – Ah…

Hors d'oeuvre we had
To enhance the experience, we suggest adding to this menu, buffalo wings. Coupled with drinks and idyllic views? Ingredients for a perfect evening ahead! 🙂
Breakfast at Sheraton Bandung
As for breakfasts at the Sheraton Bandung, these pictures certainly don't do enough justice to the wide selection available. You can have hot asian dishes, western pastries, traditional noodles, omelettes (at an omelette station) and desserts (including ice cream!). When the Feast restaurant completes its renovation, it will definitely offer a fantastic start to a day at Sheraton Bandung…

Selection of breads and pastries

Asian selection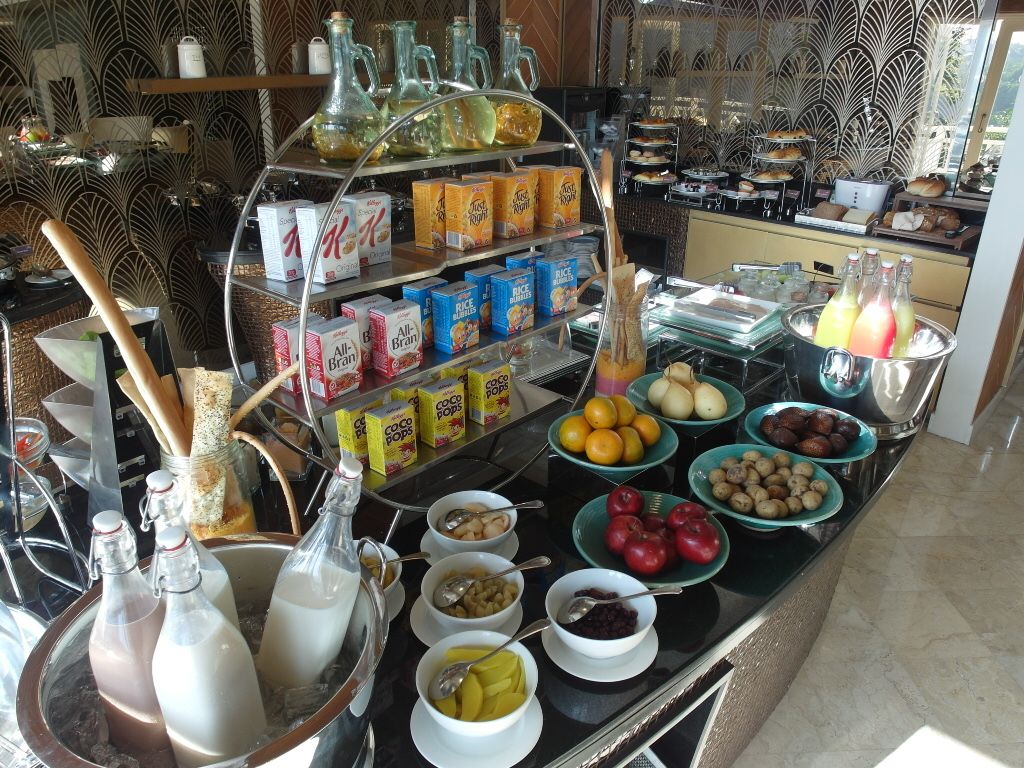 Fruits and cereals for the kids
*Update* Featuring the new Feast Restaurant!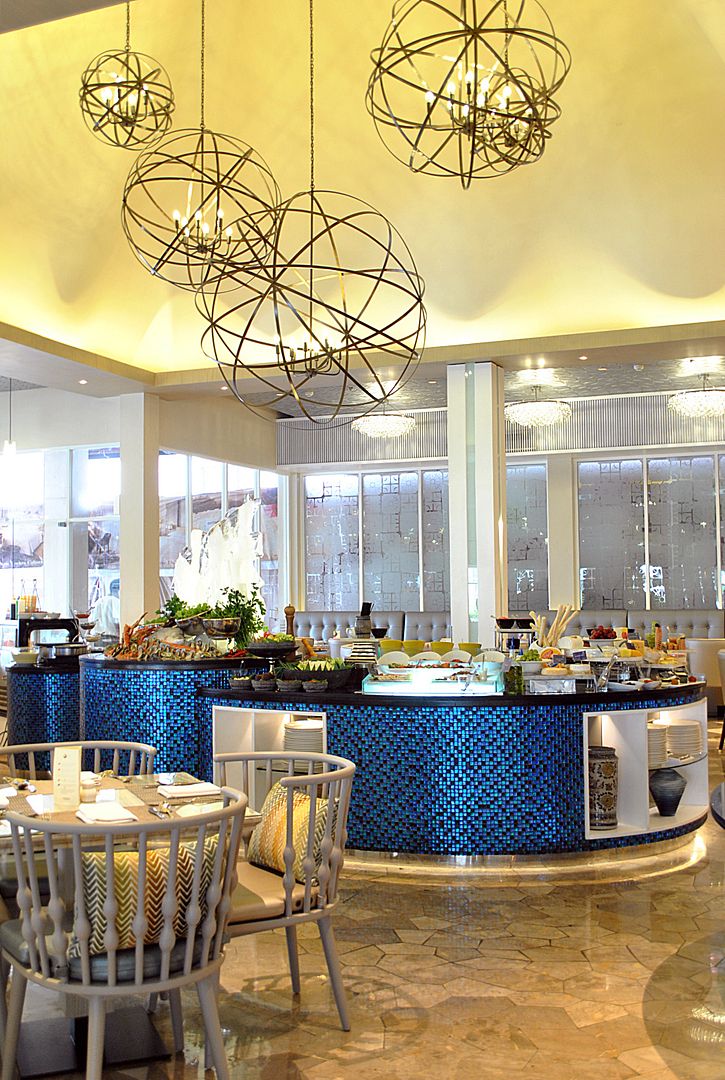 Inside Feast Restaurant Sheraton Bandung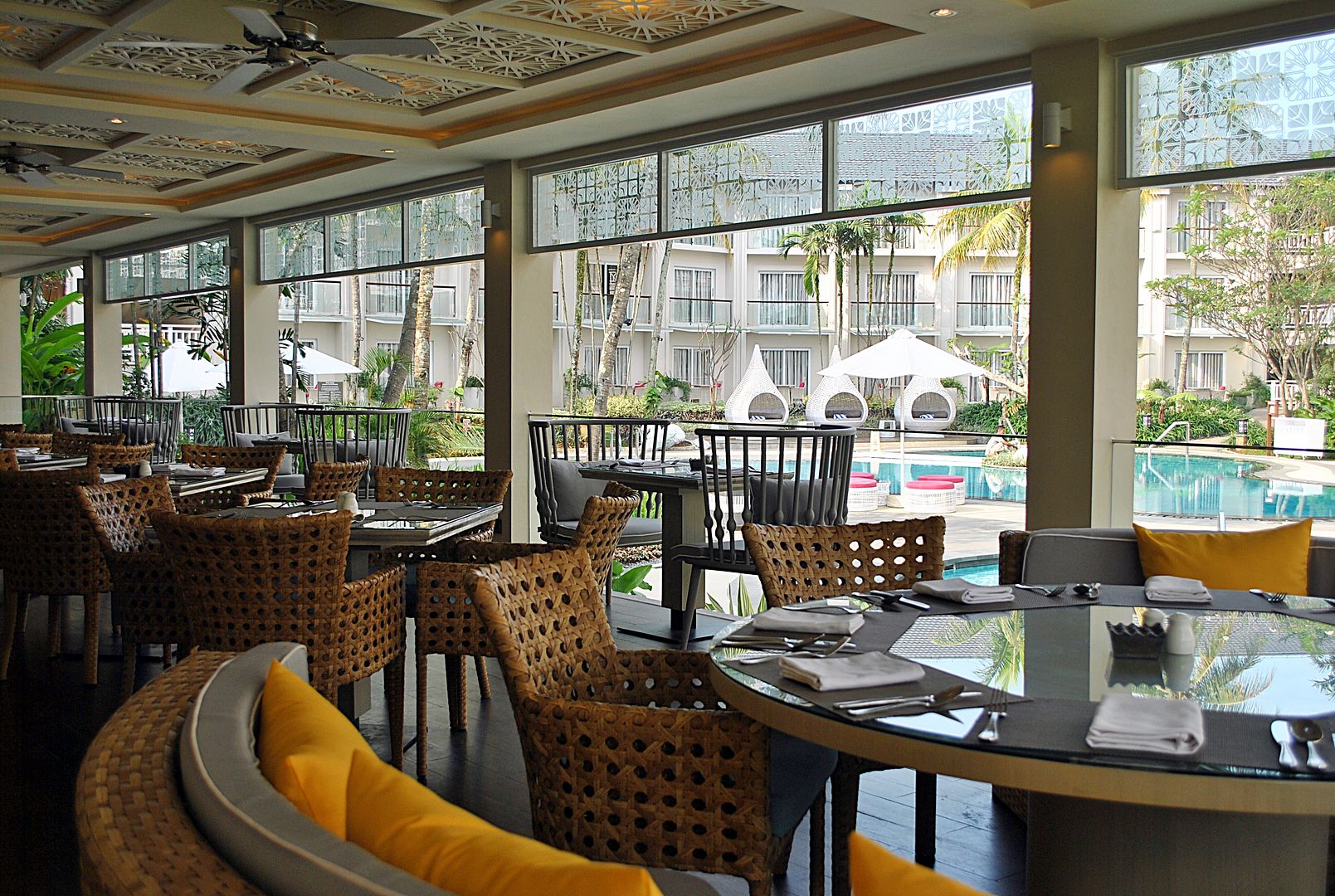 View of the pool from Feast Restaurant Sheraton Bandung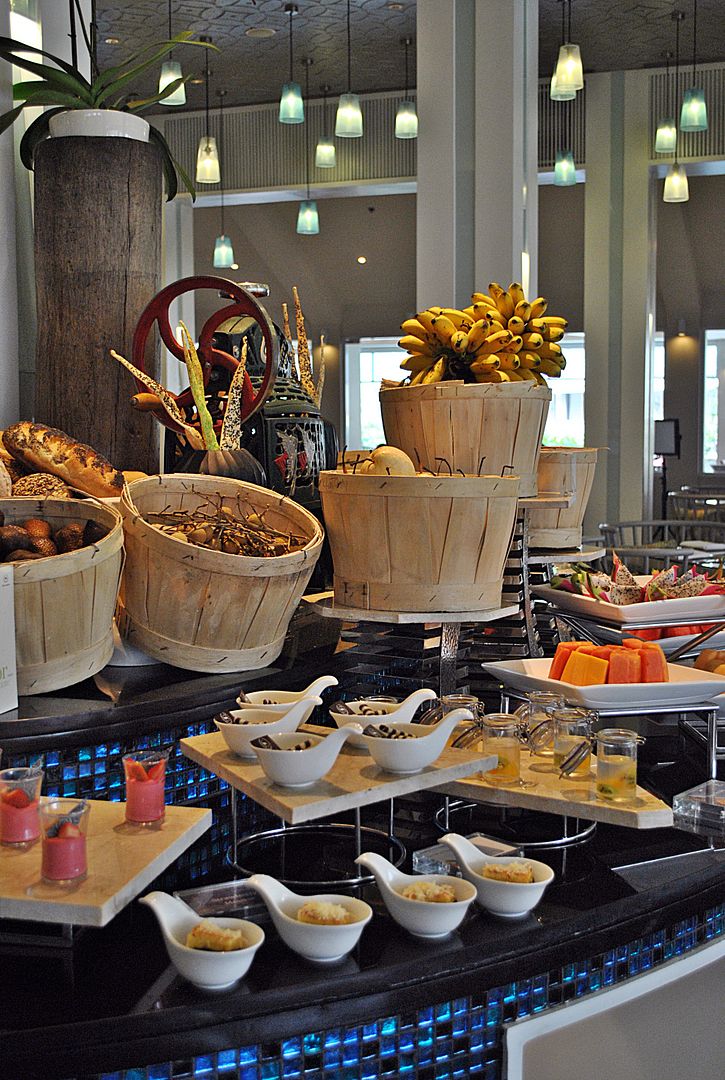 Selection at Feast Restaurant Sheraton Bandung
In and around Sheraton Bandung
Besides the hotel premise itself, we were also introduced to some of the places that you can visit around the hotel. These places are a mere 10 minutes drive away and you can easily arrange for these day trips through the hotel's concierge.
Djuanda Forest Park Bandung
The Djuanda Forest Park is a nature reserve and for a small fee, you can enter its premise to visit waterfalls, the famed (or infamous) Japanese caves or just take a relaxing stroll through the forest…

One of the waterfalls of Djuanda Forest Park

Lush greenery at the nature reserve

Entrance to the Japanese Caves
This day, our guide to Djuanda reserve was Intan and she took really good care of us throughout this day trip. She was really professional and hardworking in the sense that eventhough she was dressed in a pretty uniform with heels and all, she still offered to take the 1km stroll with us through uneven surfaces to visit the Japanese caves! Thanks Intan!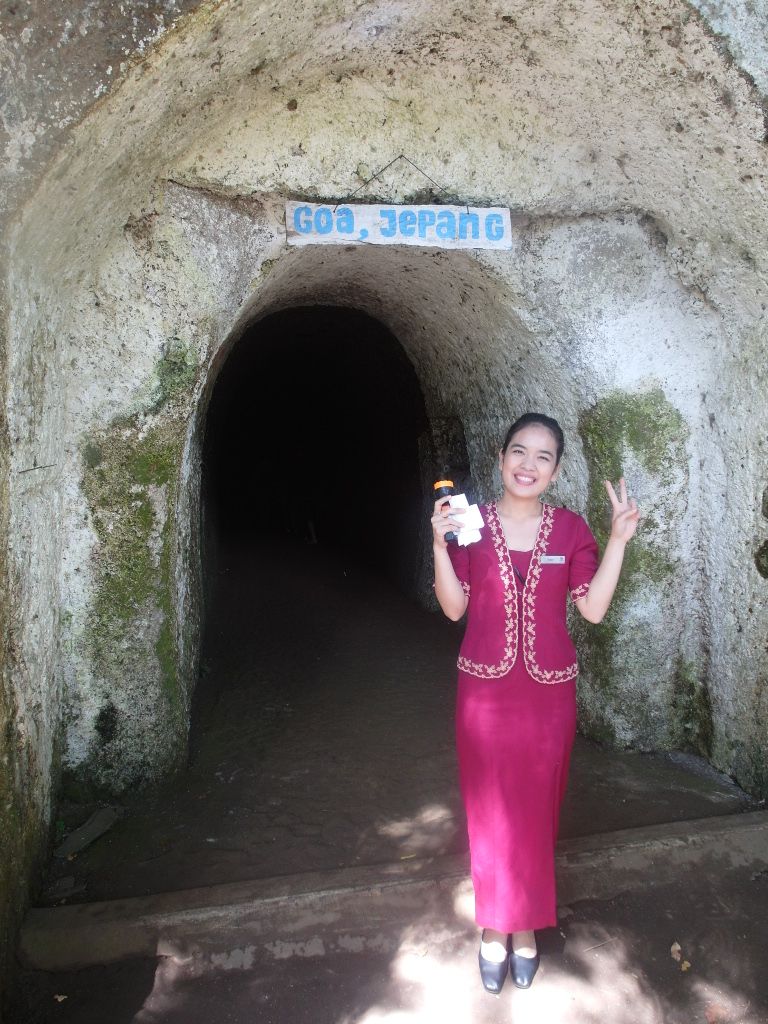 Intan at the entrance of Japanese Caves at Djuanda Forest Park

Intan translating the introduction of the Japanese caves to us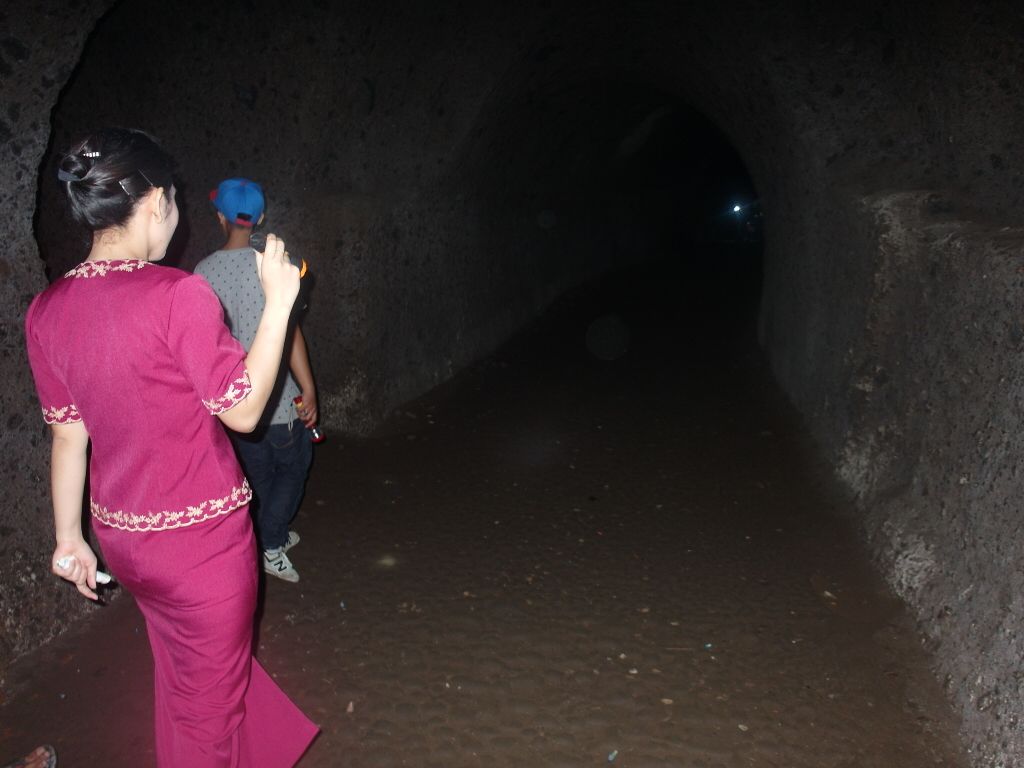 Entrance into the caves – Intan continues to translate what the local guide says about the caves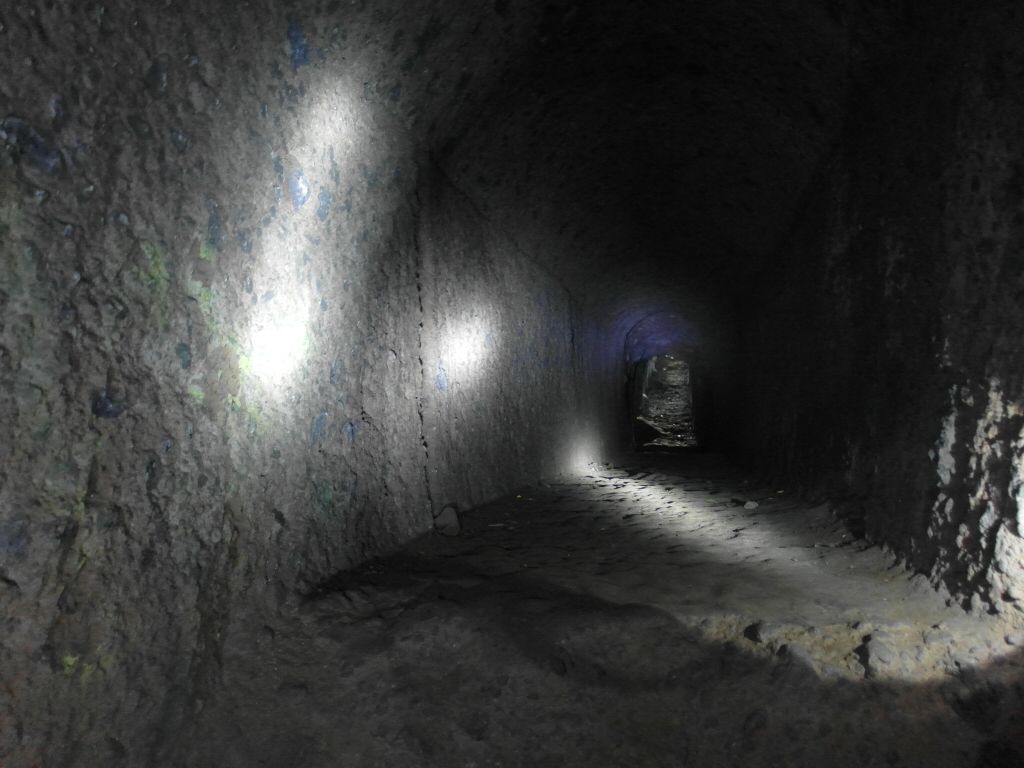 Ventilation shafts built within the caves

Exiting the caves – local guides renting torches for a small fee
Art Galleries
Atop Bukit Pakar, just a mere 10 minutes drive from the hotel, there are a few art galleries where you can visit for locally produced pieces of art…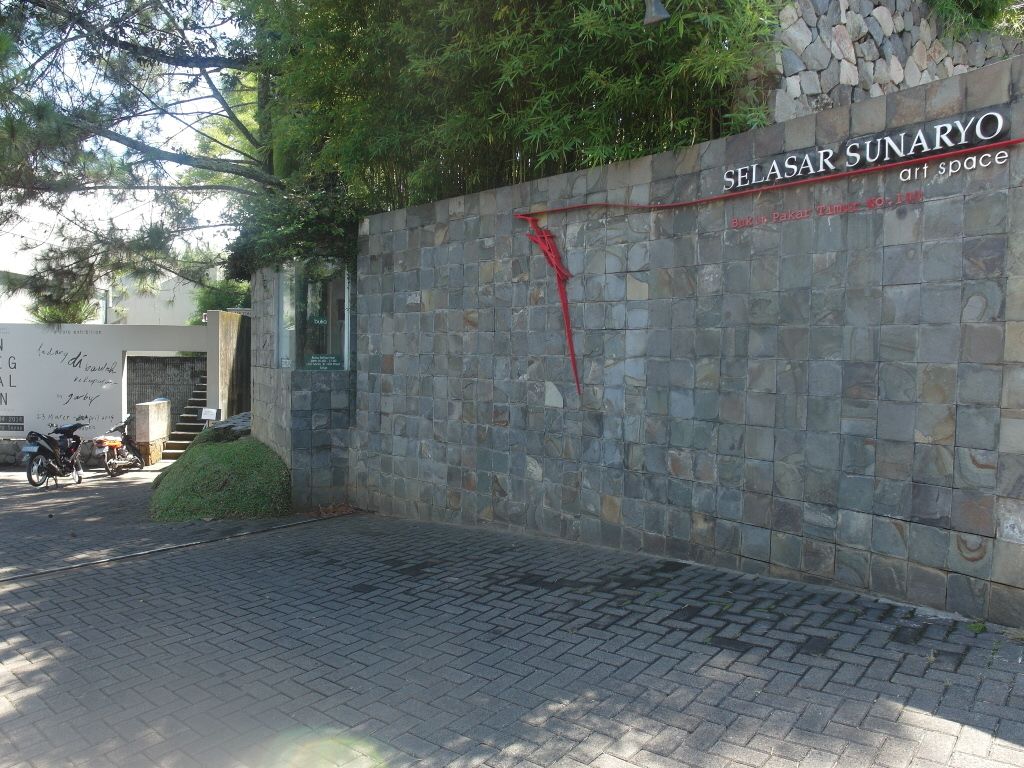 Selasar Sunaryo Art Space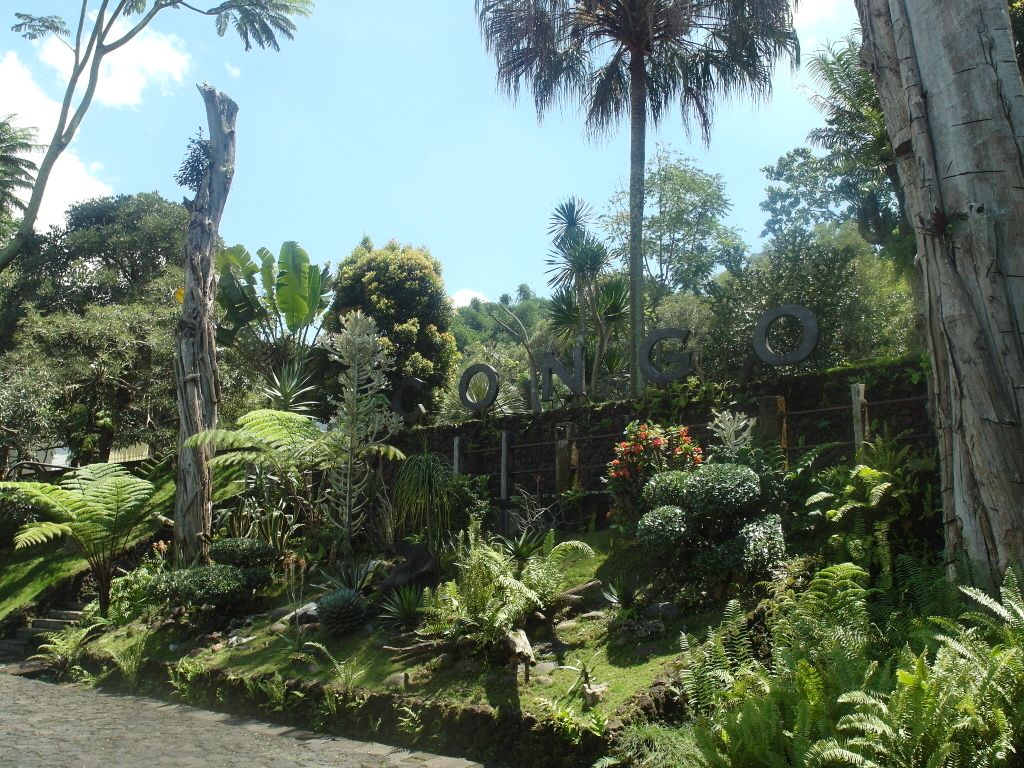 Congo Art Gallery
Particularly at Congo (primarily a wooden sculpture art gallery), we stumbled upon this art…

Pencil-coloured art work at Congo
Can you believe that this piece of art is entirely done out of colour pencils?! The detail and realistic drawing achieve is simply unbelievable! Also, you can chill at the cafe of Congo and enjoy splendid views over Bandung City…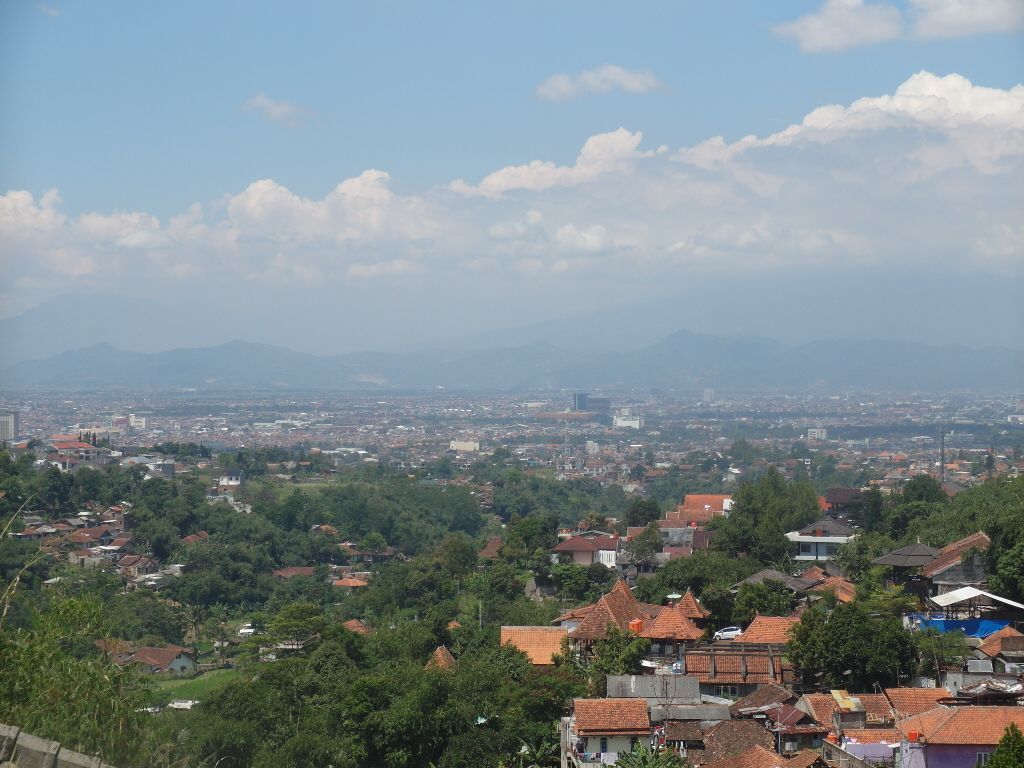 Views overlooking Bandung City
Golf anyone?
At Mountain View Golf Club, you not only can enjoy a great game of golf, the views are just as awesome too…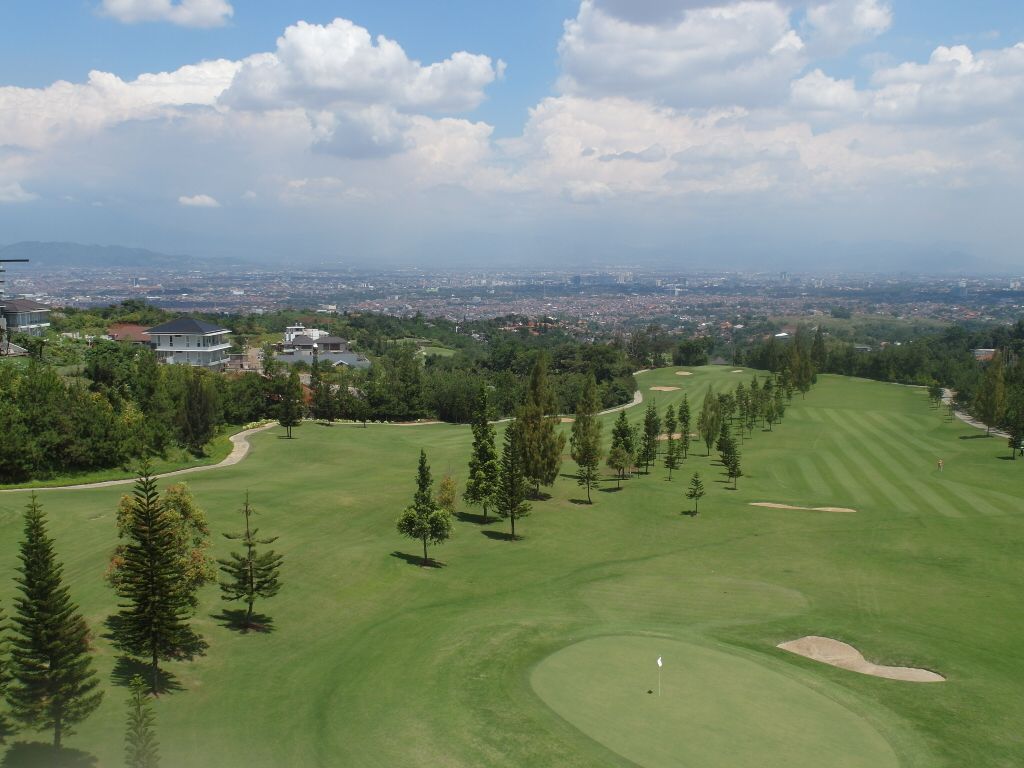 Views from Mountain View Golf Club Bandung Indonesia
We understand from our guide that many Singaporeans visit this golf club over the weekends as well! Sheraton Bandung can thus offer a great base for these leisure activities within Bandung. For a place to unwind at night, head to the Valley for great food and splendid views…
The Valley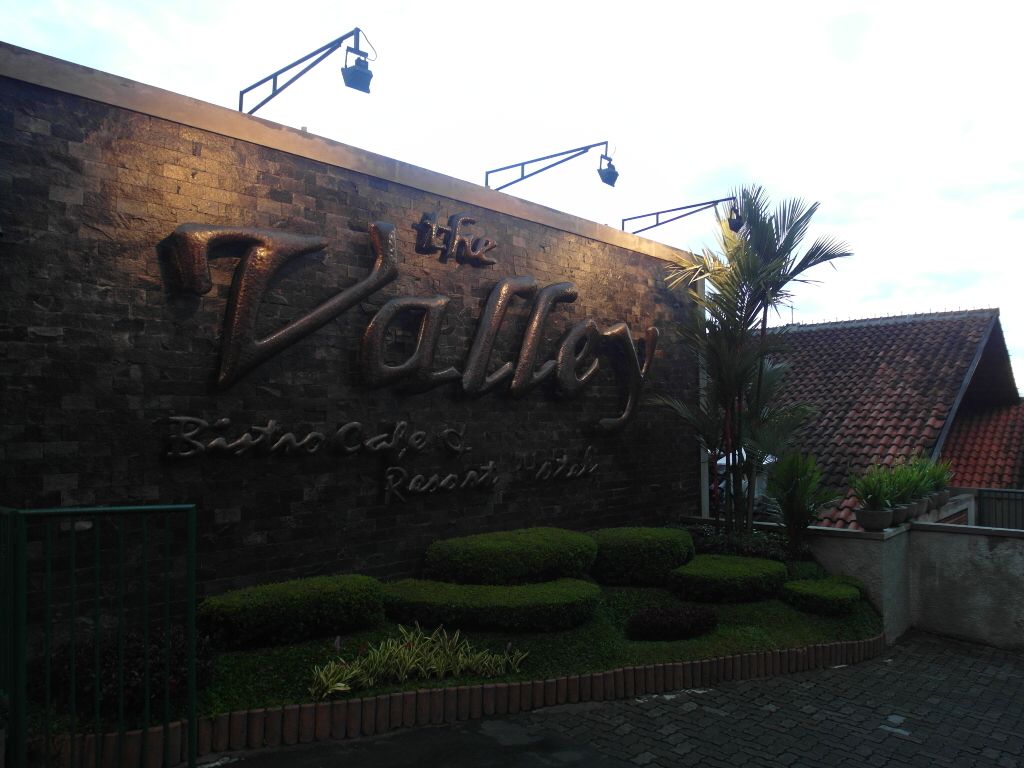 The Valley Bistro Cafe and Resort Hotel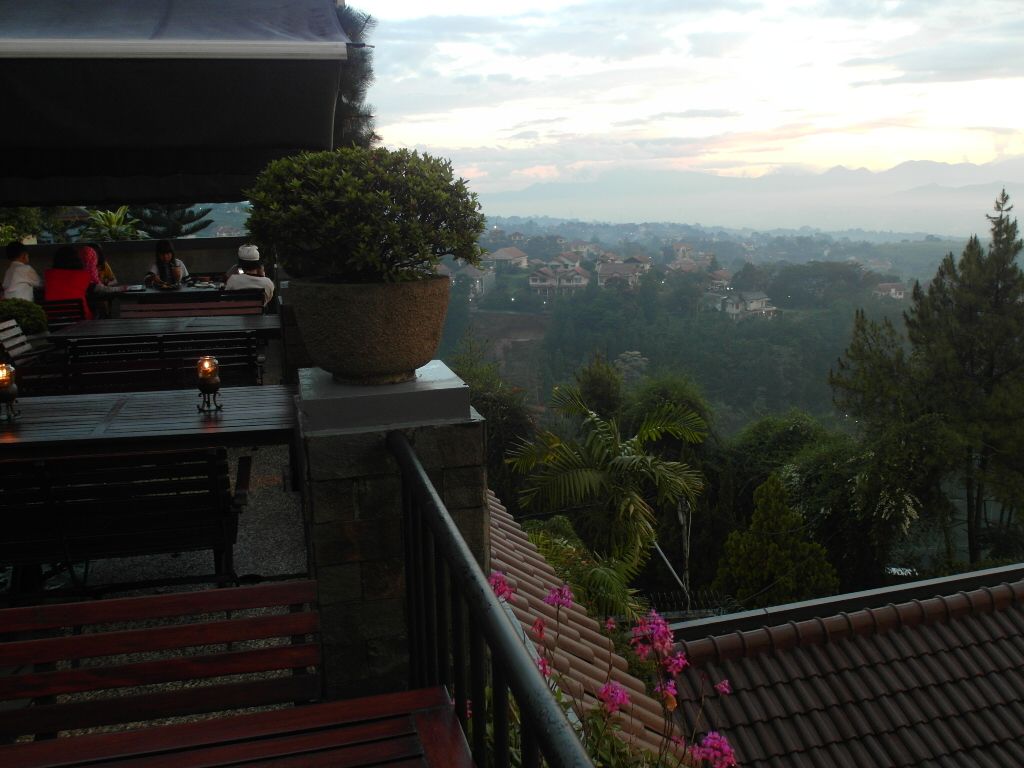 Al fresco dining with splendid views over Bandung
Having been to attractions in and around Sheraton Bandung, you can also opt to go to the city for more things to do and attractions in Bandung. There, you can have dining options, shopping (outlets), entertainment and attractions such as Trans Studio. All within a 20 to 30 minutes drive from Sheraton Bandung (yes, we have included the time stuck in traffic jams :p)
In and around Sheraton Bandung

Location of Sheraton Bandung Indonesia
Sheraton Bandung is located at Jalan Ir. H. Juanda No. 390 · Bandung, IDWJ 40135· Indonesia and is a mere 20 minutes drive from the Husein Sastranegara International Airport.
If you enjoyed our content, "Like" us on Facebook Today!

Remember to leave your comments for 2bearbear Singapore Travel Blog in our comments section below!
For your convenience, we have arranged for the best hotel deals at Sheraton Bandung Indonesia right here!
We thoroughly enjoyed our stay at the Sheraton Hotel Bandung. Service was top notch (smiles from staff all around the hotel), ambience was relaxing, room was spacious and the food was awesome! We hope you have enjoyed our coverage of Sheraton Bandung and do let us know how you found the newly renovated Feast restaurant, Shine Spa and Gym as well!
**Special thanks to Ari and the team at Sheraton Bandung for hosting us for this fantastic stay!
Related posts: