During our recent trip to Taiwan, we decided to do a whole of WEST COAST trip which included Tainan, Chiayi, Changhua (because Tom wanted to eat the Changhua meatballs after watching 食尚玩家), Taichung, Tongxiao, Miaoli, Taoyuan and Taipei. The plan was to first fly into Taoyuan International Airport and take the HSR (High Speed Rail) all the way down to Tainan before journeying back up north again. We also realised during the trip that the rail transportation network is really well developed and with the HSR, it was just a 1.5 hours ride from Taoyuan to Tainan!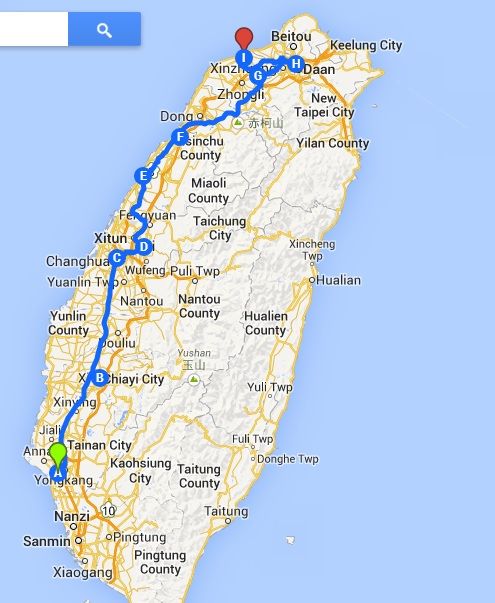 Map of Taiwan Trip 2014
We started the trip with a complimentary airport transfer and a visit to the Dnata SkyView Lounge. Both are perks of joining the ANZ Travel Card. Just by joining the card, there are 3 immediate perks that you can enjoy.
1. Complimentary to more than 80 airport lounges world wide. ANZ did a tie-up with Veloce.
2. Complimentary Airport transfer (if you spend a cumulative amount of $1500). Air tickets plus hotel bookings will typically hit the amount.
3. Complimentary travel insurance if you pay for tickets using the card.
From Taoyuan International Airport, you will need to first find the Ubus 705 that takes you from Taoyuan International Airport to the HSR station (signs are easily recognisable once you exit the customs check). The tickets costs only NT30 ($1.20). From there, we took the HSR from Taoyuan Station to Tainan Station for NT1305 ($52) which took 1hr and 24 minutes (from 1921 to 2045)…
During the ride, the top speed of the HSR hit approximately 300km/h which was why in no time at all, we reached Tainan Station. From there, we had to change to the local line (TRA – Taiwan Railways Administration) on the 區間車 to Tainan TRA station. This ride was NT25 which took about 25 minutes…
1967 City Central Hotel Tainan was just a short 5 minutes walk away from the station. As it was already close to 10pm at night, we were feeling quite hungry and decided to stop at a local beef noodles stall to have a quick bite. Turns out that this beef noodles was going to be one of the best beef noodles during this Taiwan trip, just minutes away from 1967 Hotel!
As we had already informed the hotel in advance that we would be late that evening, the receptionist was already expecting us and promptly showed us around the hotel. After taking a few shots of the room and hotel, it was time for us to turn in early for the start of our Taiwan trip tomorrow!
If you enjoyed our content, "Like" us on Facebook Today!

Remember to leave your comments for 2bearbear Singapore Travel Blog in our comments section below!
On day 2 of our Taiwan trip, we'll be checking out all the good food and attractions that Tainan has to offer! So stay tuned!
You have just finished a post on our Taiwan Trip in 2014 which started here. Here is the full list of posts written about Taiwan Trip 2014…
Singapore to Tainan : Taiwan Trip Day 1
Things to do in Tainan Taiwan Trip Day 2
鹿早茶屋 Opposite 1967 Hotel Tainan
Things to do in Chiayi Taiwan Trip Day 3
Chiayi Attractions Taiwan Trip Day 4
Changhua Meatballs (彰化肉圓) : Which is the Best?
What to eat at Feng Jia Night Market (逢甲夜市)?
Changhua Taichung Taiwan Trip Day 5
Things to do in Taichung Taiwan Trip Day 6
Things to do in Miaoli Taiwan Trip Day 7
Kuo Tai Glass Park Zhunan Day Trip
Things to do in Taoyuan Taiwan Trip Day 8
Taoyuan Attractions Taiwan Trip Day 9
Things to do in Taipei Taiwan Trip Day 10
Related posts: