Singapura 700 Years is the latest Singapore history exhibition at the National Museum of Singapore. In the meantime, the "resident" Singapore History Gallery will be closed for renovation and will be slated to reopen in 2015. The gallery will therefore get a new lease of life in time for Singapore's Golden Jubilee celebration!

Singapura 700 Years National Museum of Singapore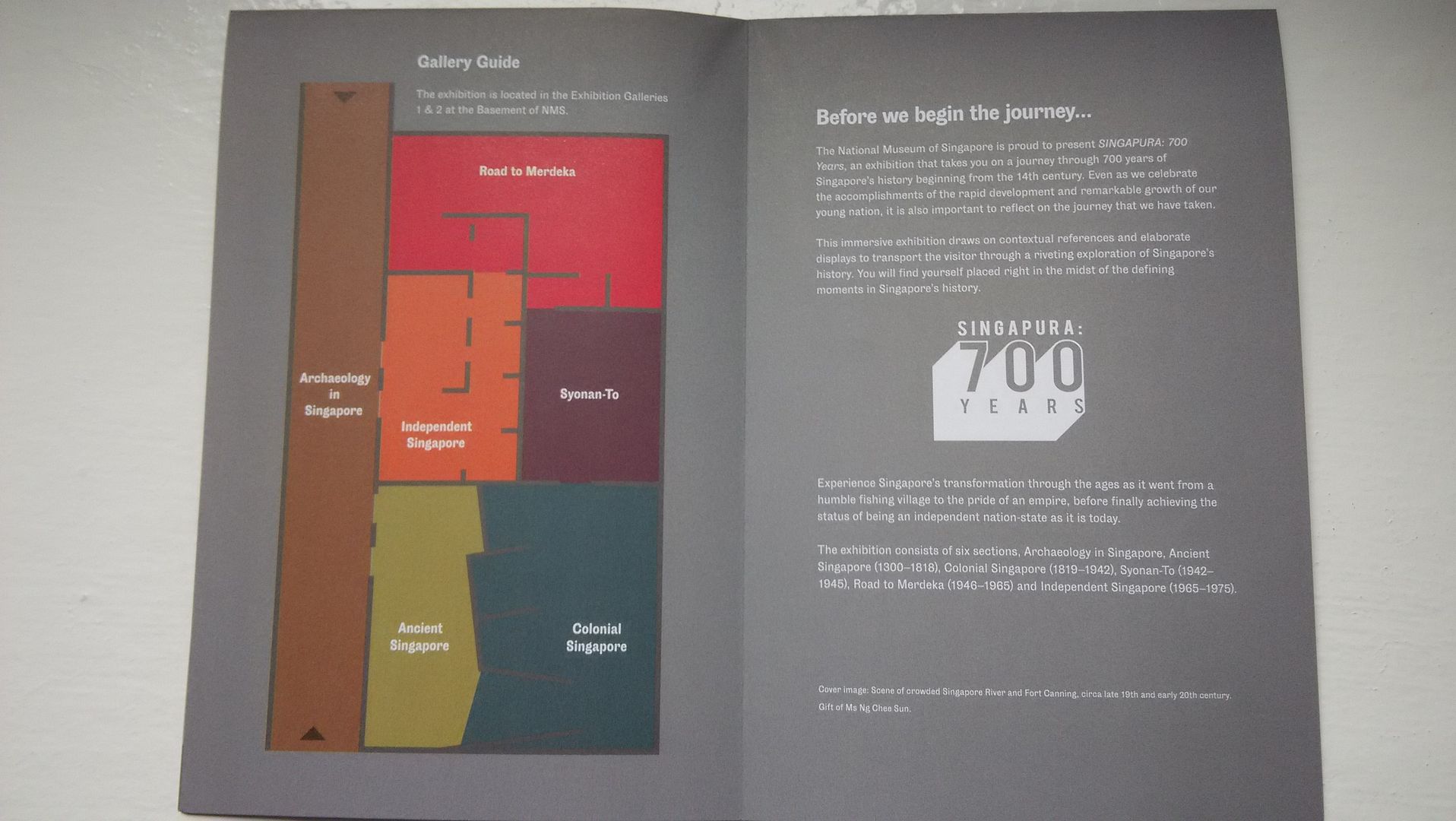 Map of Singapura : 700 Years exhibition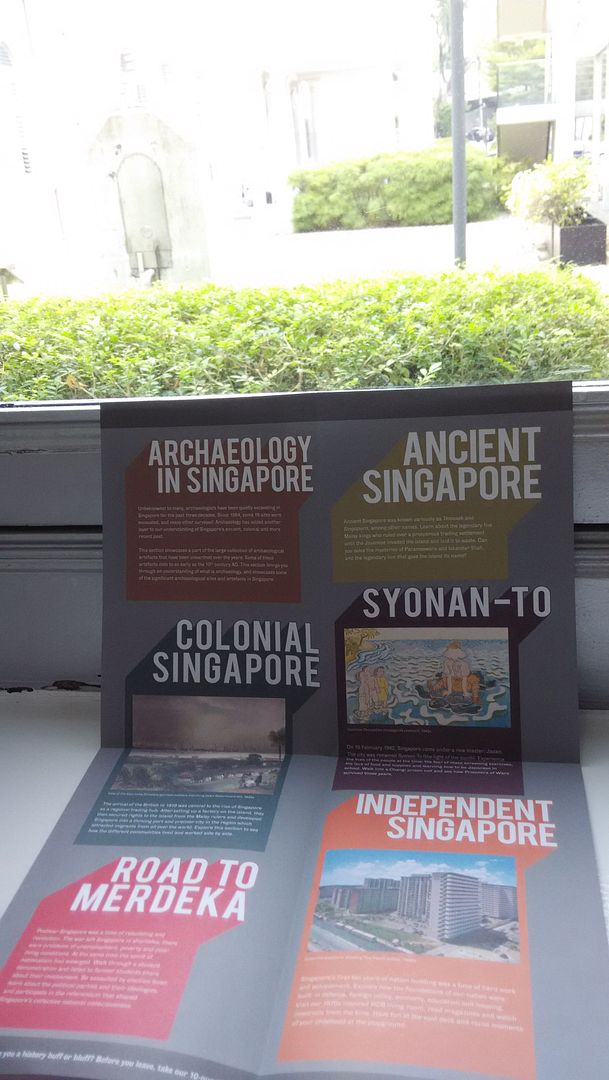 Exhibits at the Singapura : 700 Years exhibition
Singapura : 700 Years has 6 sections including Archaeology in Singapore, Ancient Singapore (1300–1818), Colonial Singapore (1819–1942), Syonan-To (1942–1945), Road to Merdeka (1946–1965) and Independent Singapore (1965–1975).
Archaeology in Singapore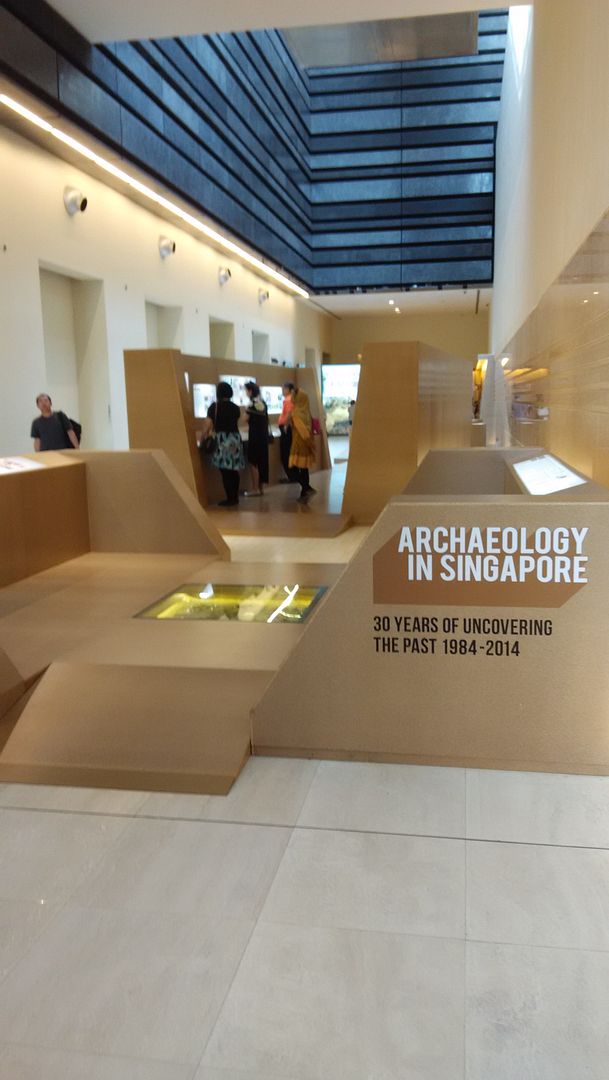 Archaeology in Singapore : 30 years of uncovering the past from 1984 to 2014
Over the last 30 years, excavation works have been secretly but carefully carried out. This section unearths some of the findings that confirms the historical, colonial and modern past of Singapore. Find out some of the techniques that are used so that historical evidences are well documented for future generations of Singaporeans!
Ancient Singapore

Ancient Singapore with Dragon's Teeth Gate on the left

Singapore Stone as explained by our guide Mike
The Ancient Singapore section tells of Singapore's history before the founding of Singapore. This includes records of the Dragon's Teeth Gate (see above) which formerly stood at the gateway to today's Keppel Harbour, the Singapore Stone with inscriptions that up to this day no one knows and how Singapore got its name – Singapura (Lion City – did Singapore really have indigenous lions?).
Colonial Singapore : 1819 to 1942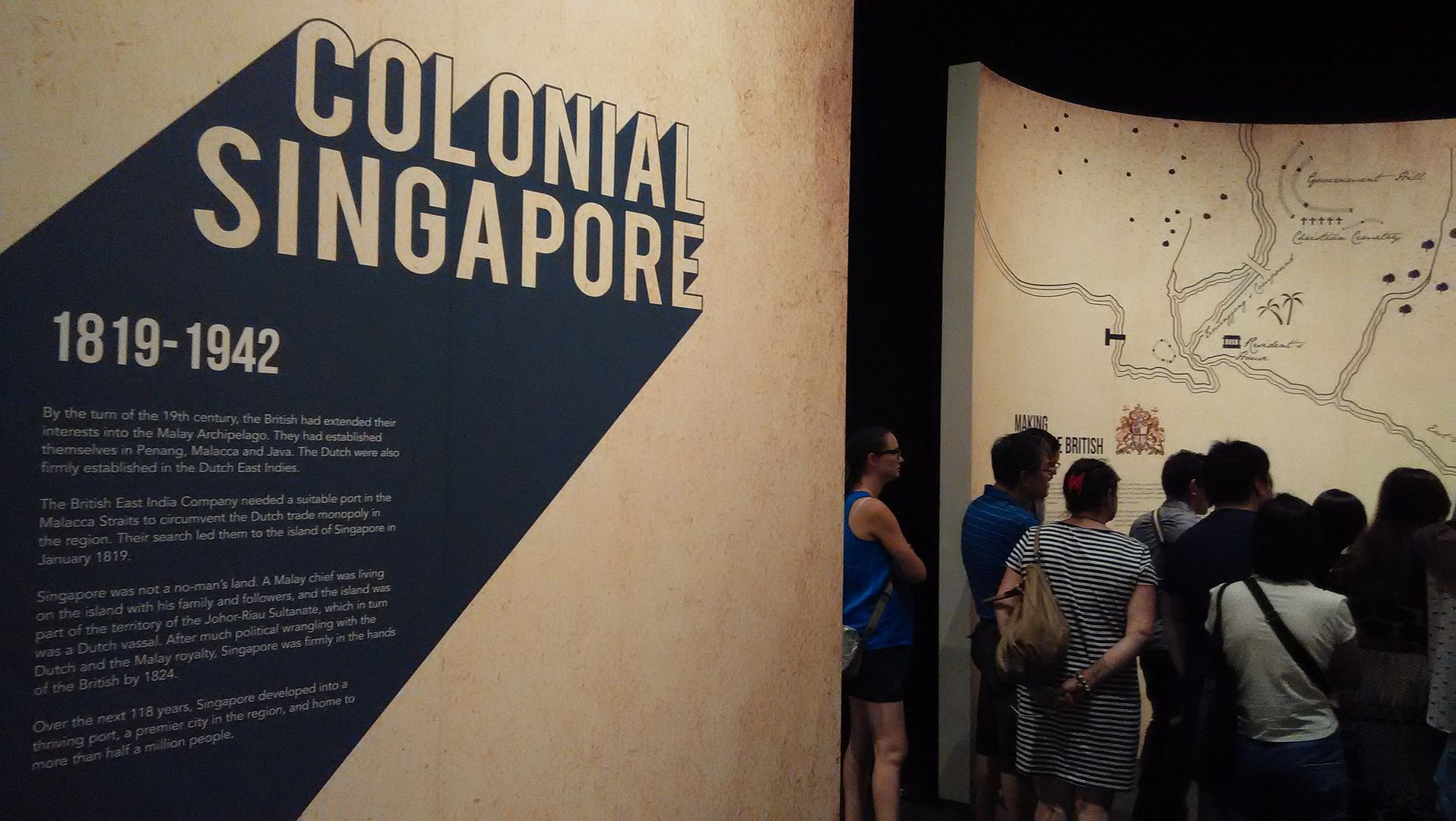 Colonial Singapore – Singapura : 700 Years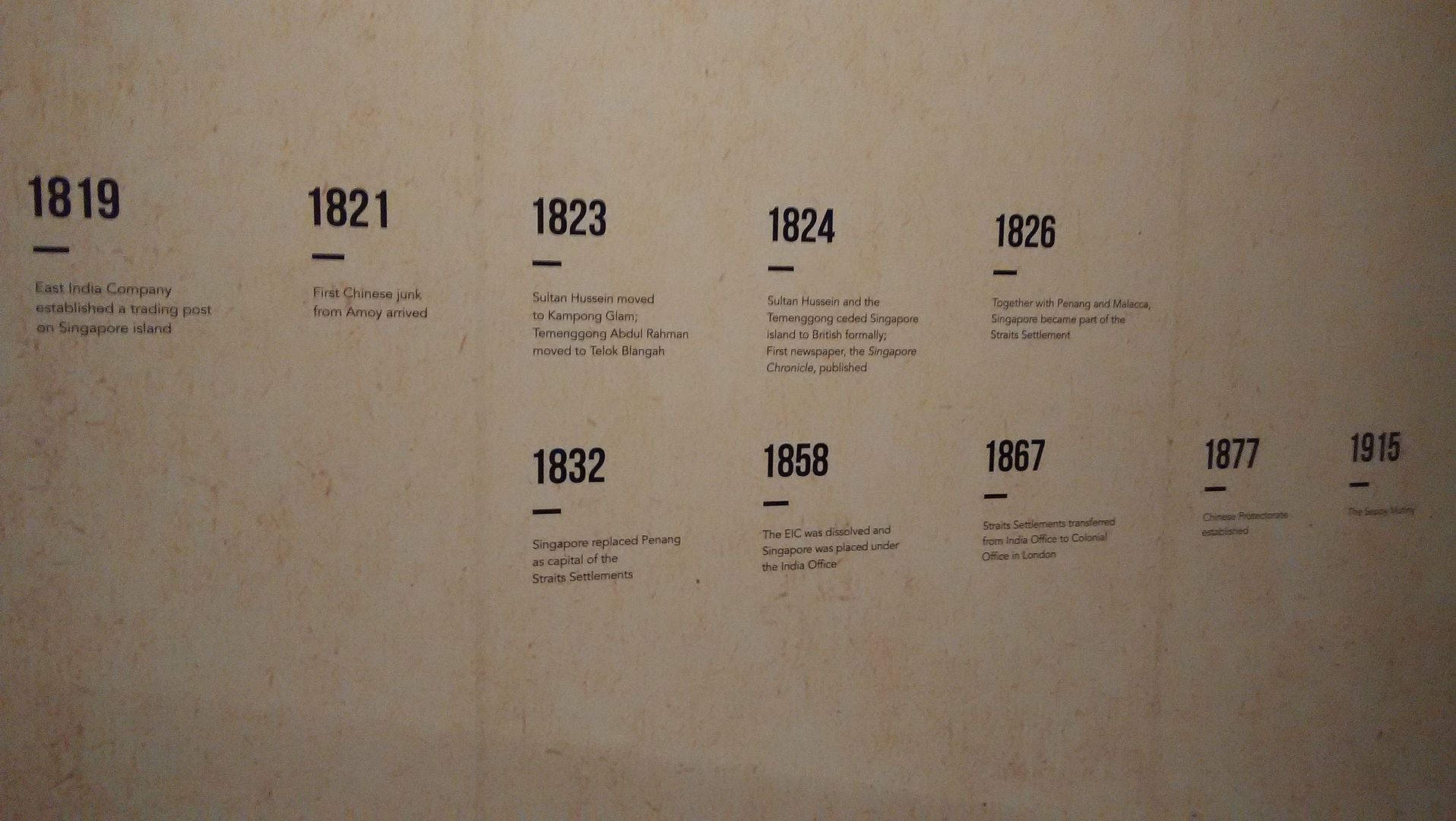 Milestones of Colonial Singapore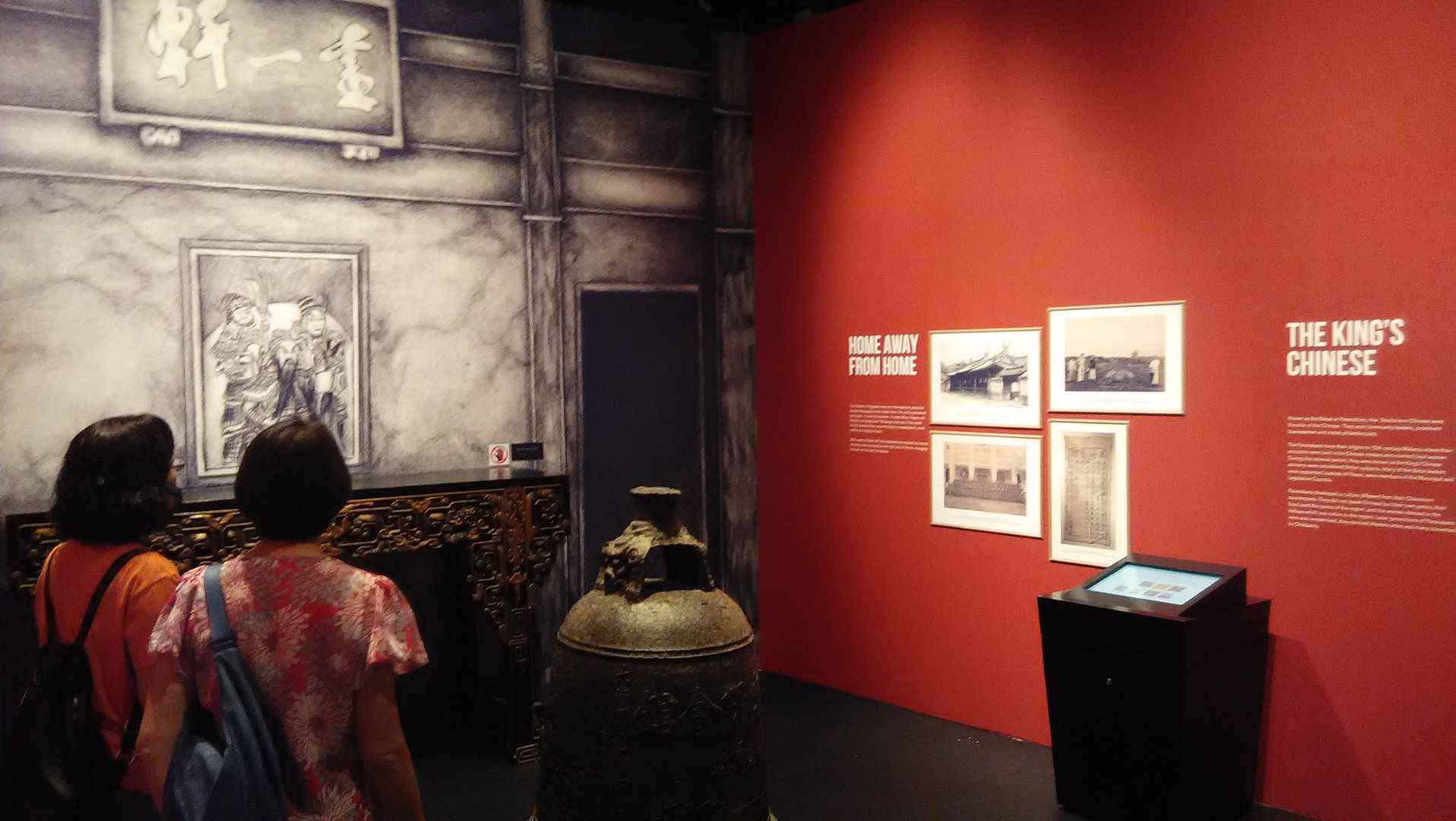 Chinese in Singapore during colonial times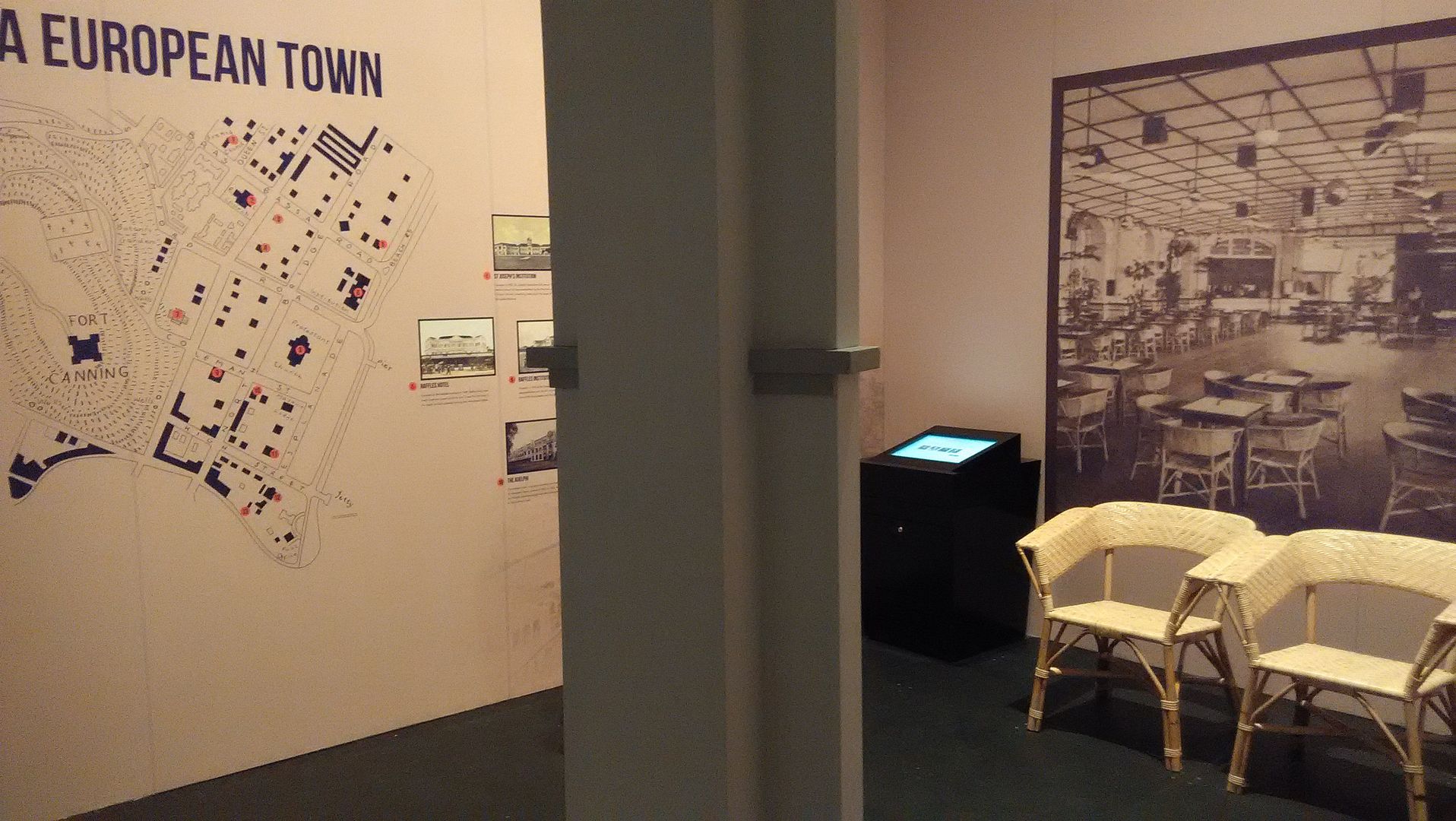 European settlements in Singapore
Colonial Singapore was a time where British firmly had rule over Singapore. Unknown to most Singaporeans, Sir Stamford Raffles only established a trading port in 1819 and it was in 1824 that Singapore was formerly ceded to the British. This section also depicted the life of the rich (mostly Europeans) as well as the poor during those times. The rich Europeans would spend their days horse riding, socialising and enjoying parties (Literally! take a look at the 24 hour schedule of a typical European at the exhibition!) while the poor had to work long and hard hours as rickshaw riders or coolies.
Syonan-To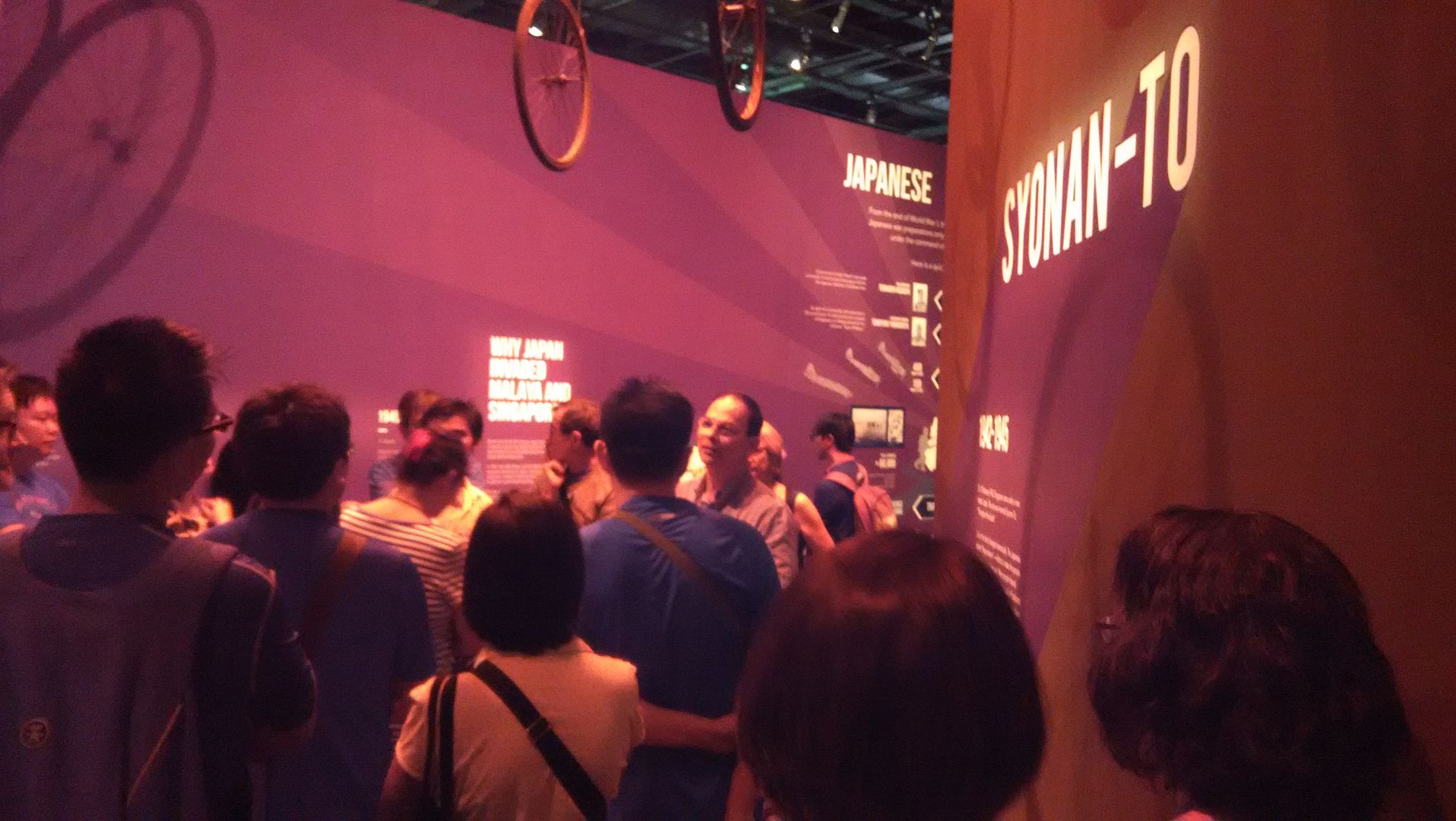 Syonan-To means "Light of the South"
This section tells of how the Japanese had a grand plan to conquer Southeast Asia which included Singapore. In fact, General Yamashita had a plan to take down Singapore in 100 days which he eventually only took 70 days. During the Japanese Occupation, it was grim and dark times for Singapore. Food was scarce, men suspected of supporting China were executed and locals had to adapt to a new language and a new colonial master.
Road to Merdeka : 1945 to 1965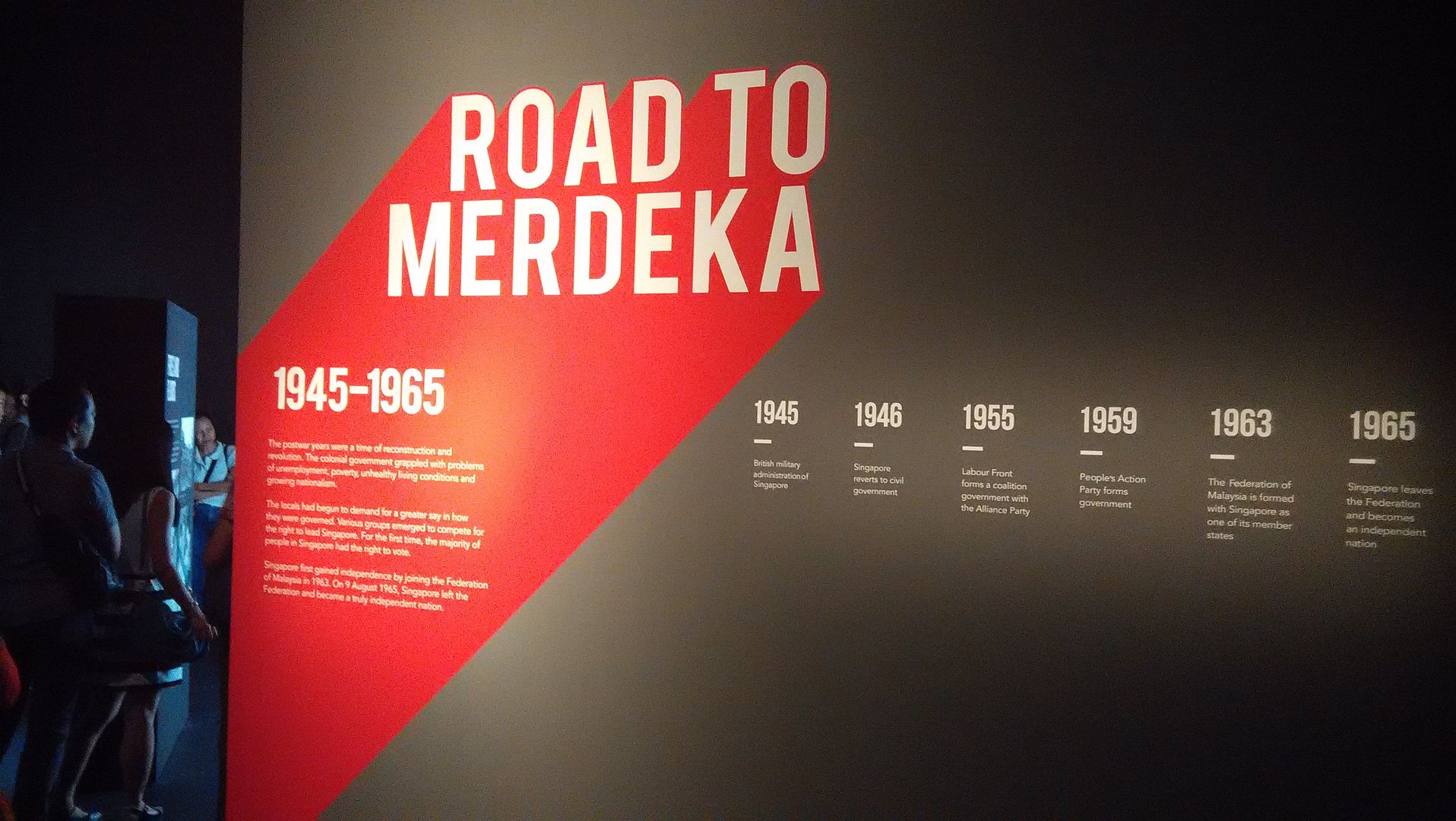 Road to Merdeka (Independence)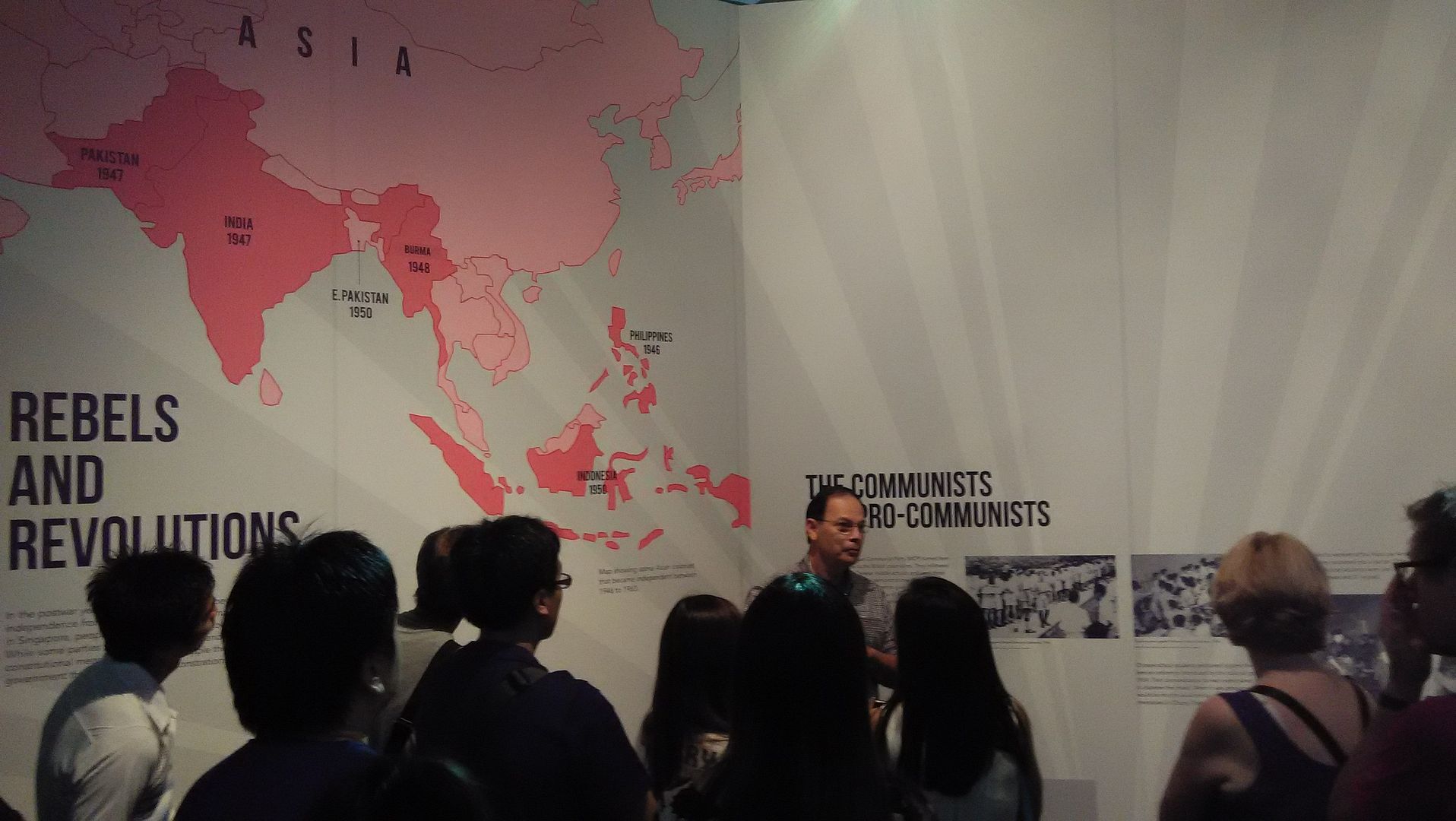 Countries gaining independence after World War 2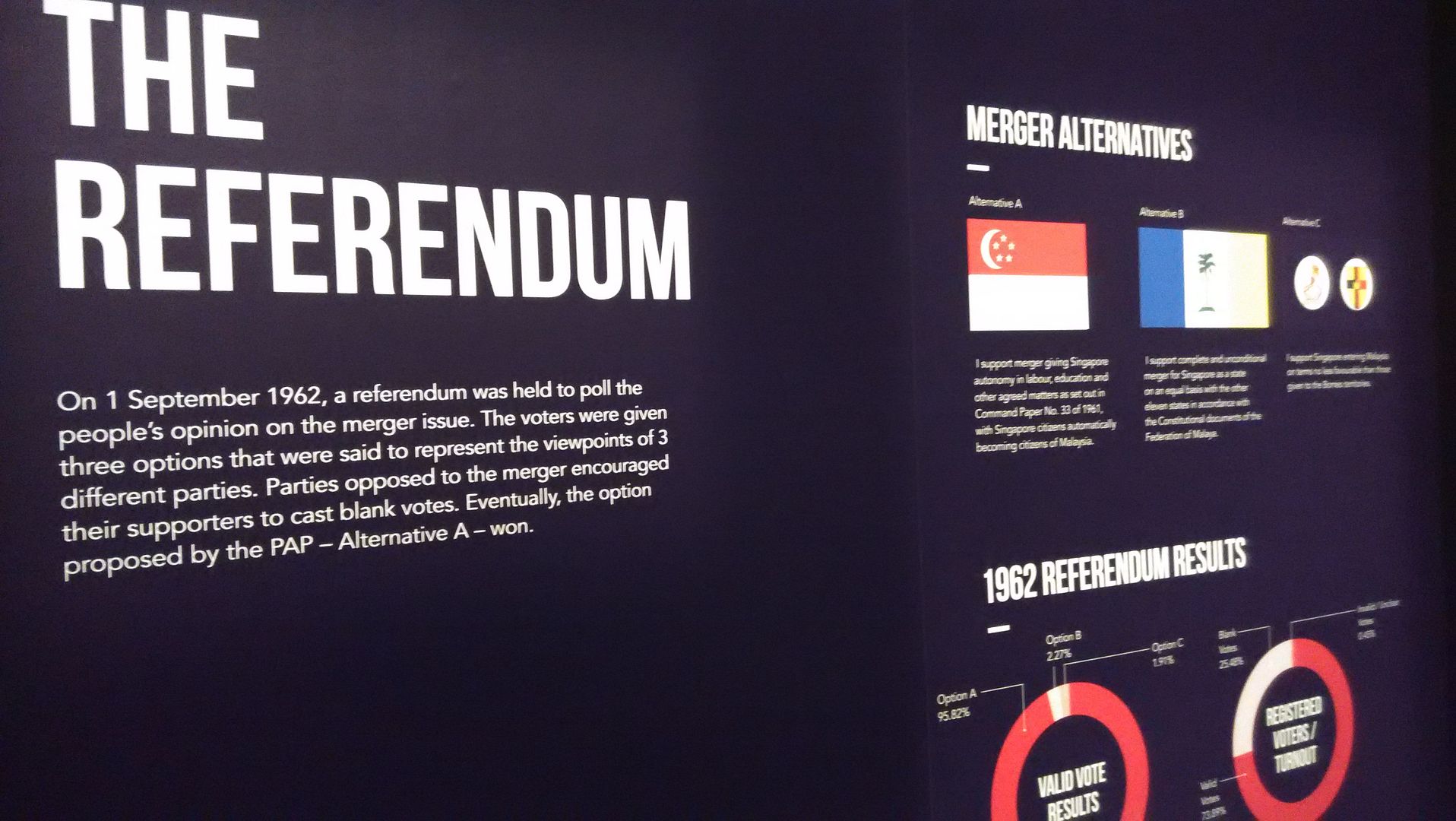 Referendum held on 1 September 1962 to decide on the options for merger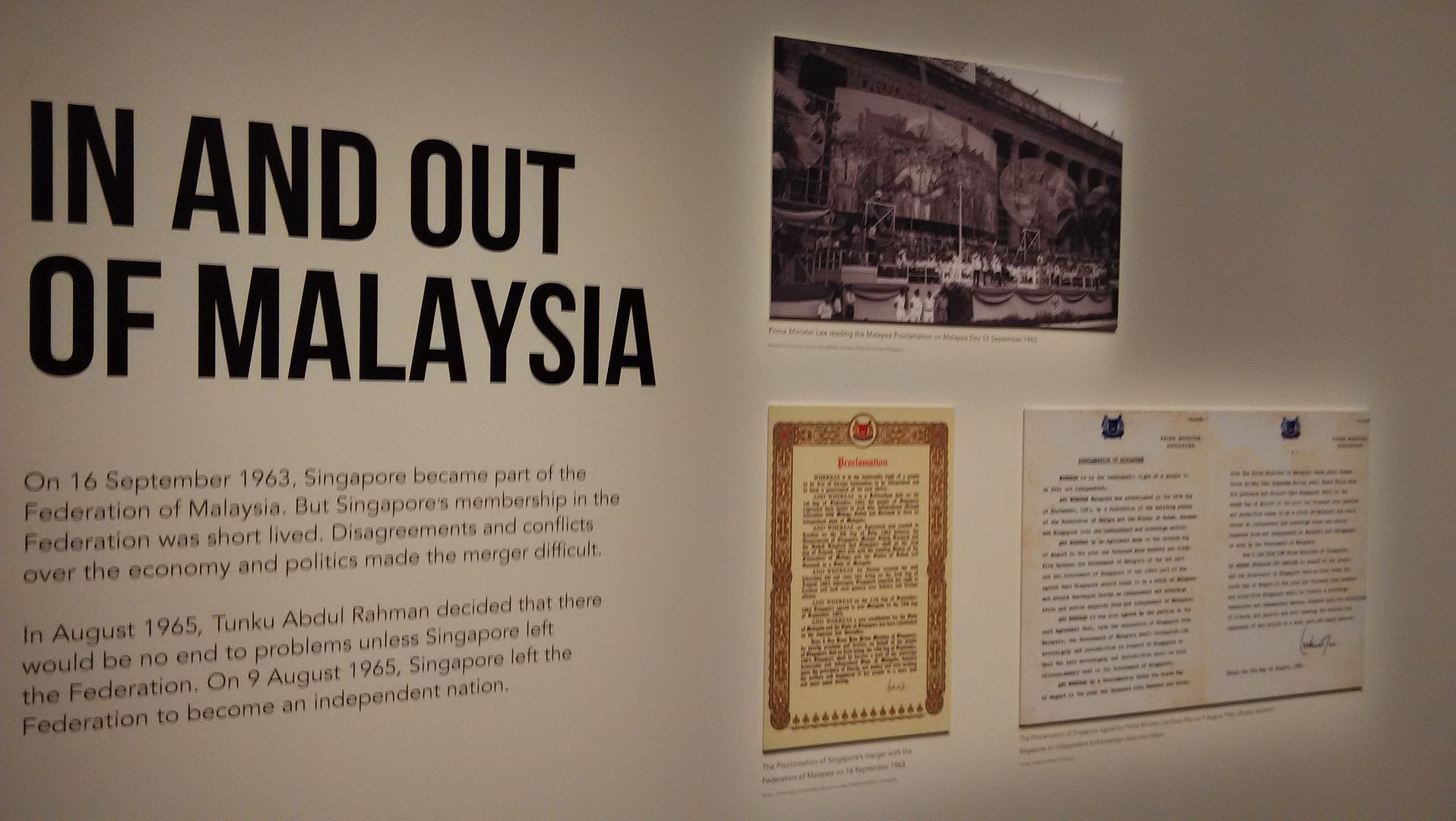 Singapore was part of Malaya from 16 September 1963 to 9 August 1965 (approximately 2 years)
After the war, both Singapore and Malaya knew that the days of the British as a colonial power were numbered. This triggered Singapore's march towards independent. In 1959, Singapore obtained self governance with Singapore Flag and National Anthem introduced the same year. On 16 September 1963, Singapore and Malaya obtained independence from the British and because of political differences, Singapore was forced to be an independent state on 9th August 1965.
Independent Singapore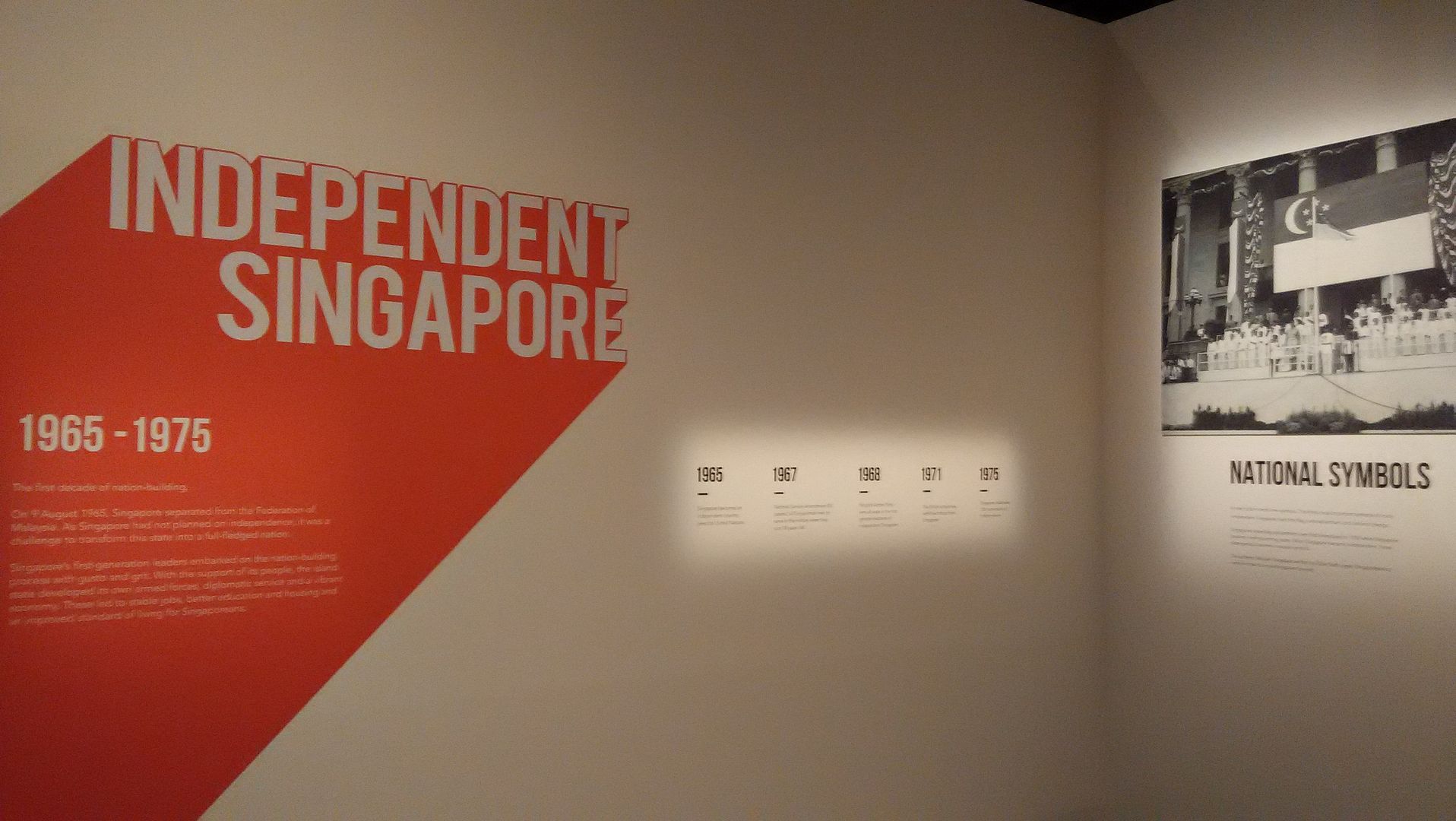 Independent Singapore : Post 1965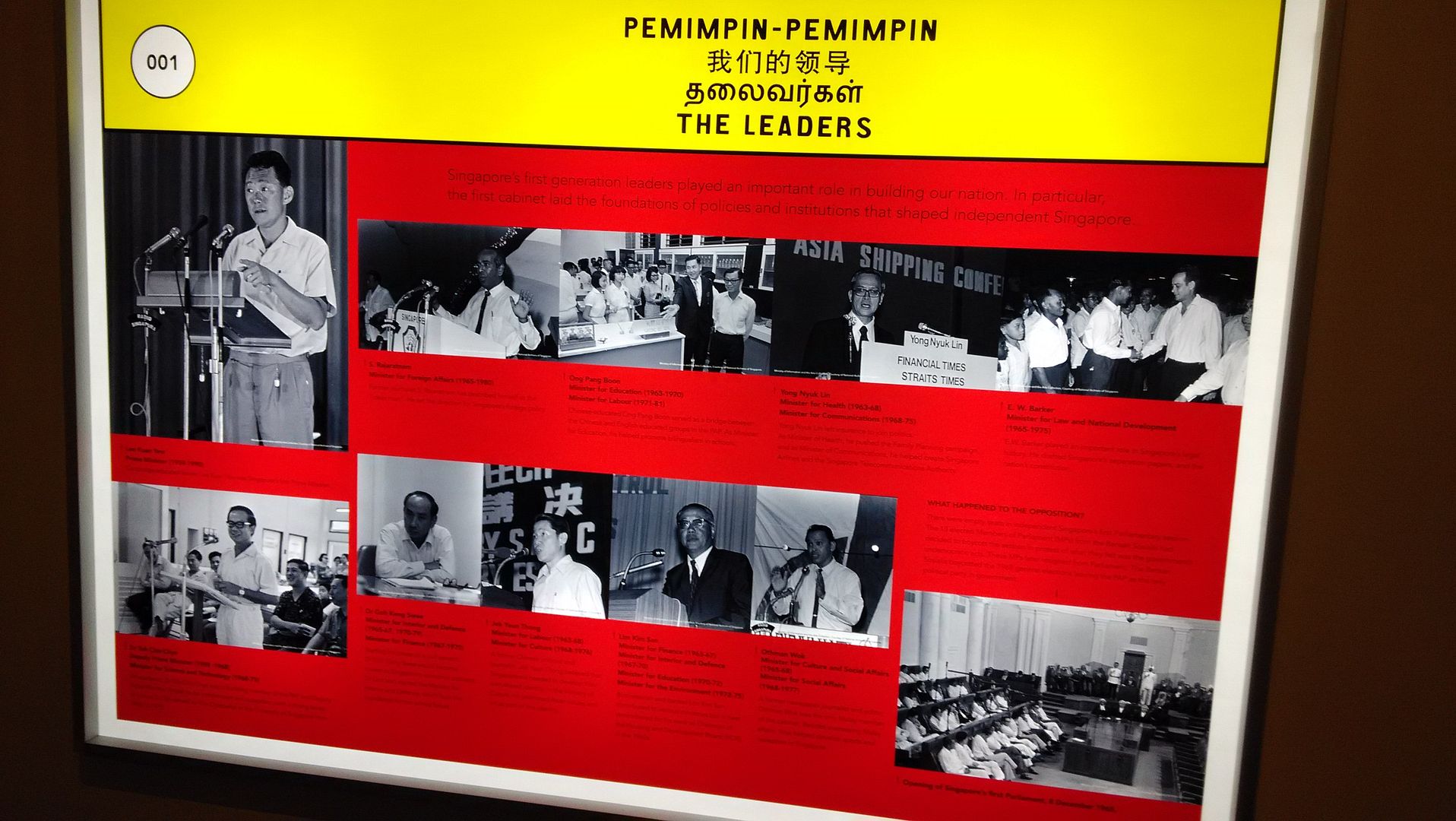 Singapore's Leaders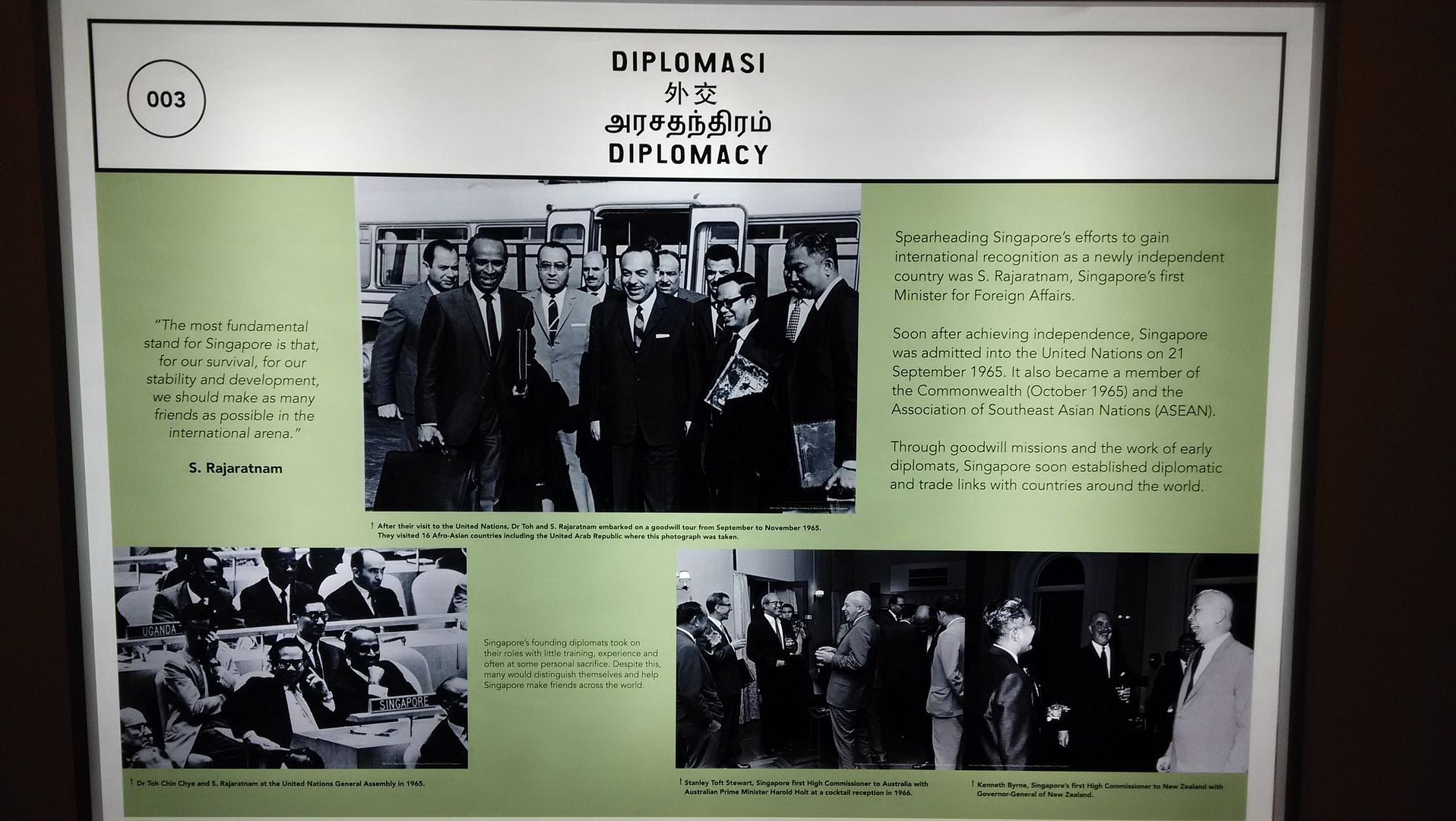 Developing Singapore in key areas of defence, diplomacy, economy and education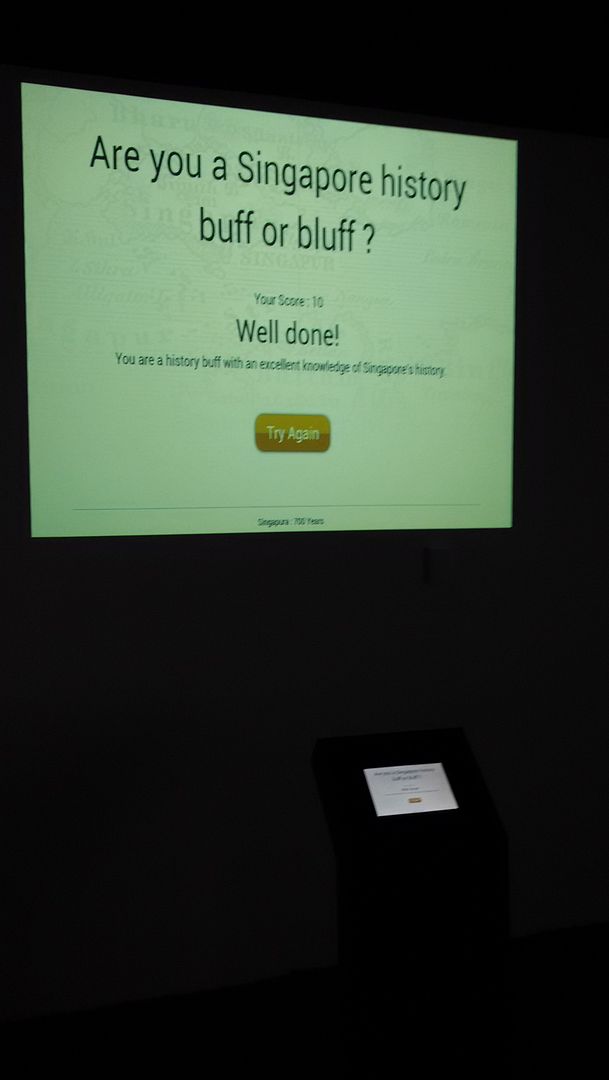 Full marks for being a Singapore Buff!
When Singapore gained independence in 1965, leaders of Singapore went straight to work, developing Singapore in areas of defence, diplomacy, economy and education. With the development of public housing, Singaporeans were well taken care of for the first time. Proper sanitation also came along with these public housing. Our guide, Mike also made a joke about the huge contributions Dr Goh Keng Swee made. When Singapore needed to be developed in a certain area, he would be the minister. Hence, he was the minister for finance, defence and education where he played key roles in developing Singapore into what it is today.
If you enjoyed our content, "Like" us on Facebook Today!

Guided Tours are also available at the following hours. Just gather outside the entrance at the stipulated times!
From 1 to 10 November
English
Mon – Fri 11am
Sat & Sun 11:30am, 2pm and 3:30pm
Mandarin
Mon 1:30pm
Sat & Sun 11am & 1:30pm
From 3 November onwards
Japanese
Mon – Fri 10.30am
Every 1st Sat of the Month 1:30pm
From 11 November onwards
English
Mon – Fri 11am & 2pm
Sat & Sun 11:30am, 1pm, 2pm, 2:30pm (from 11 Nov to 31 Dec only) & 3:30pm
Mandarin
Mon 1:30pm
Sat & Sun 11am, 1:30pm
From 1 December onwards
French
Every 1st Thu of the Month 12pm
We hope you have enjoyed our coverage of the latest Singapore history exhibition – Singapura : 700 Years. If you have visited the exhibition, let us know what you think in the comments section below!
Related posts: