Sunway Lagoon actually has 5 parks in itself. All these while, we thought that it's just another water themed park. We were wrong.
Sunway Lagoon consists of the Amusement Park, Water Park, Extreme Park, Wildlife Park (Zoo) and even a horror-themed Scream Park! We shall now take you through our trip to Sunway Lagoon!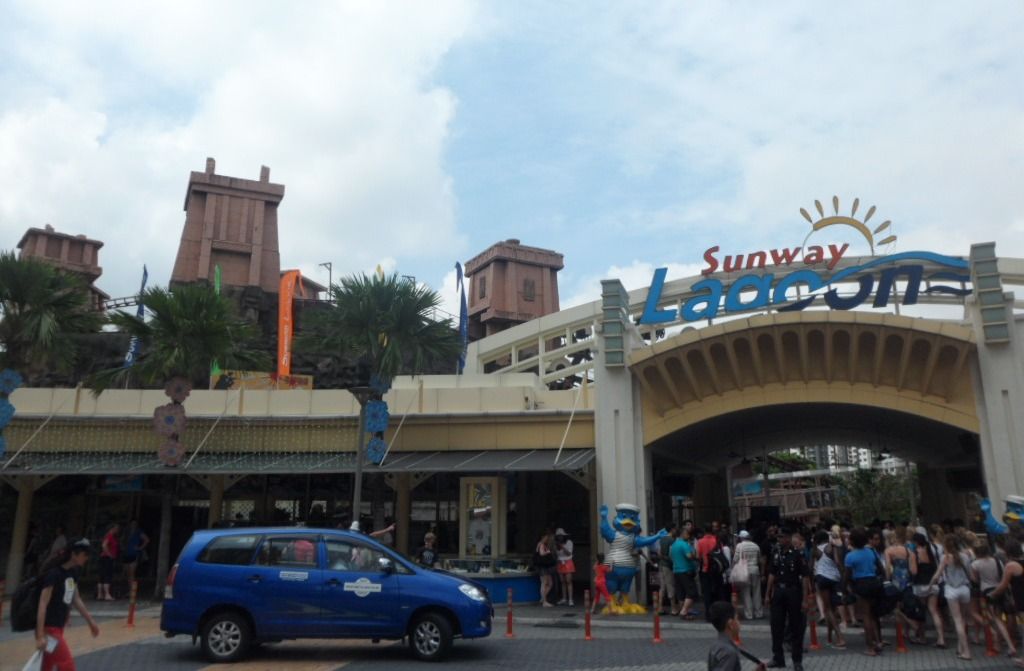 Entrance of Sunway Lagoon
Sunway Lagoon is opened daily from 10am to 6pm. They're closed on Tuesdays, perhaps for maintenance on the lowest traffic day of the week? We were there on a weekday and surprisingly there was ALOT of people at the queue line at 10am!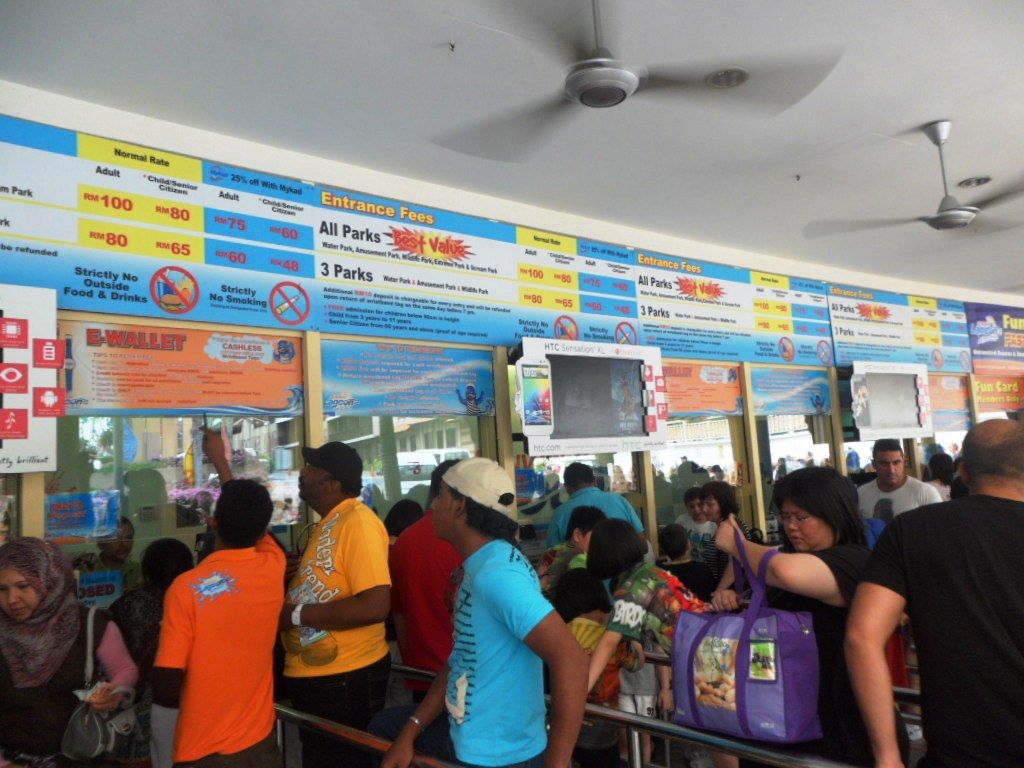 Long Queues @ Sunway Lagoon
The rates of Sunway Lagoon for adults is 100RM for all 5 parks OR 80RM for 3 parks (does not include scream and extreme parks). There are usually some ongoing discounts with certain credit cards. Malaysians get 25% off as well.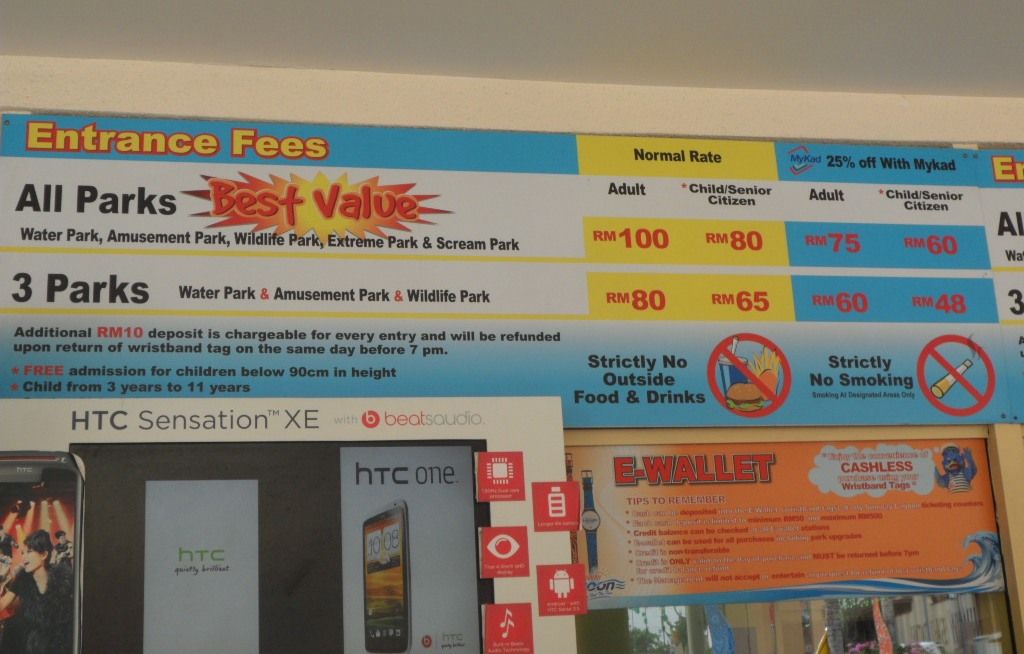 Rates at Sunway Lagoon Malaysia
Attractions at Sunway Lagoon
Amusement Park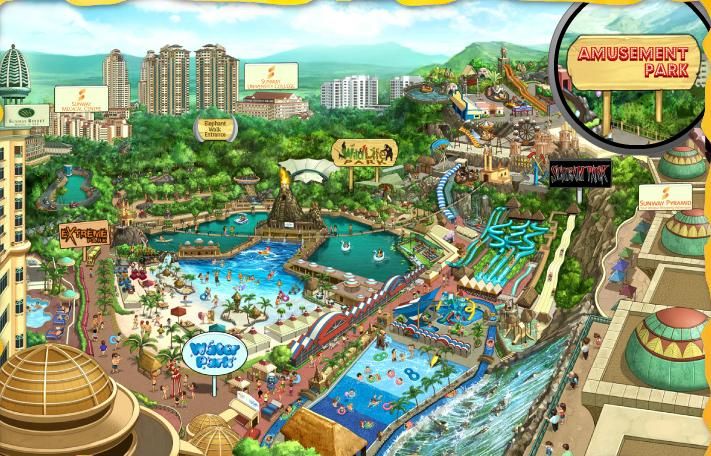 Map of Sunway Lagoon – Location of Amusement Park
We headed first to the Amusement park and we conquered several rides including the Lost City and a water slide.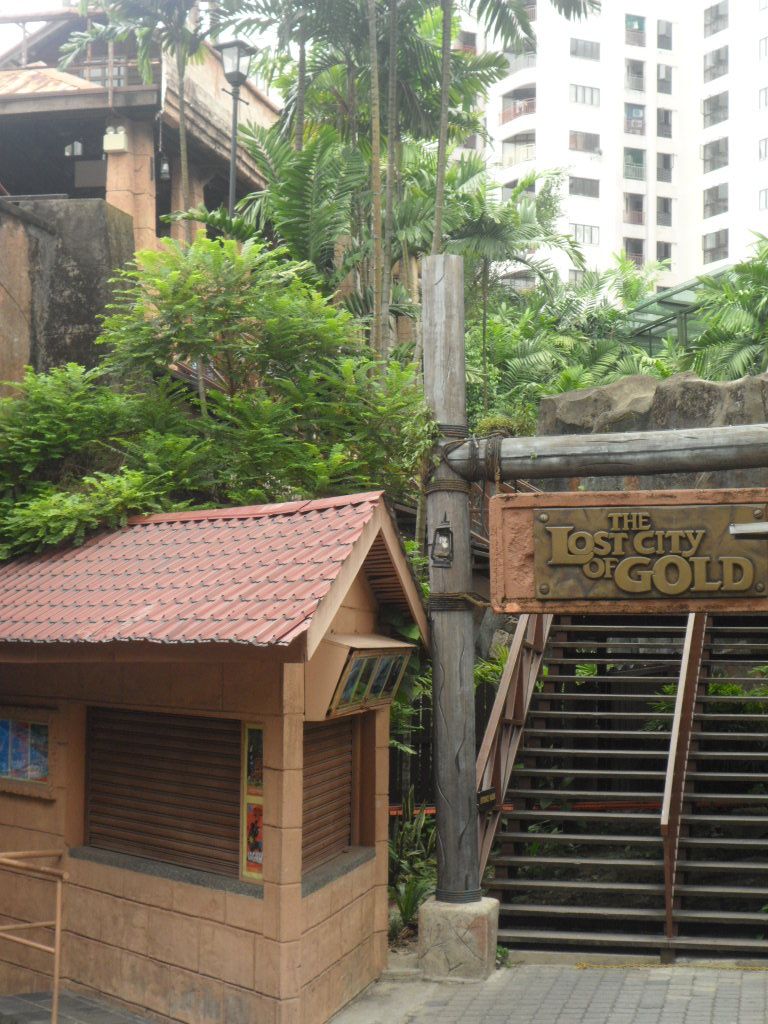 Lost City of Gold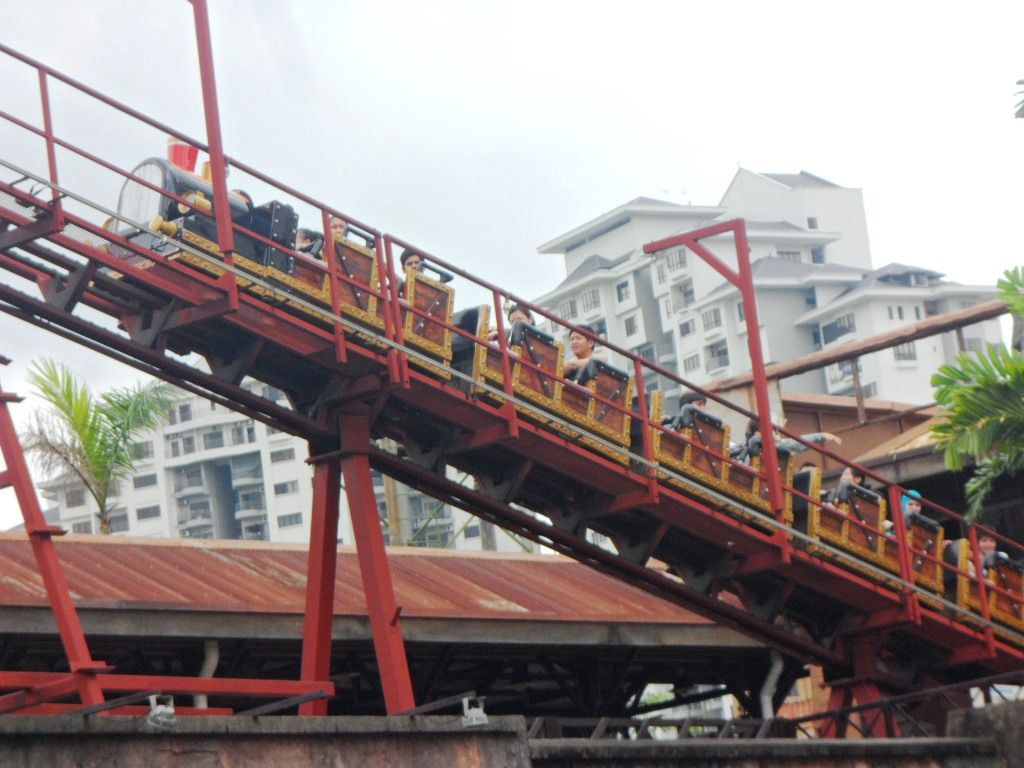 Roller Coaster Ride
We must say that the rides here are not really that exciting. For real extreme roller coaster rides, you can visit Universal Studios Singapore OR Busch Gardens. That is what we call a real roller coaster ride! There are also rides at wild wild west section for the kids to enjoy.
One ride that caught our eyes was the Viking. This one's quite scary. Usually, you'd think that the Viking would just go back and forth right? WRONG! This Viking goes 360 degrees! One whole loop! 😮 You may even "hear" the screams from the following pictures!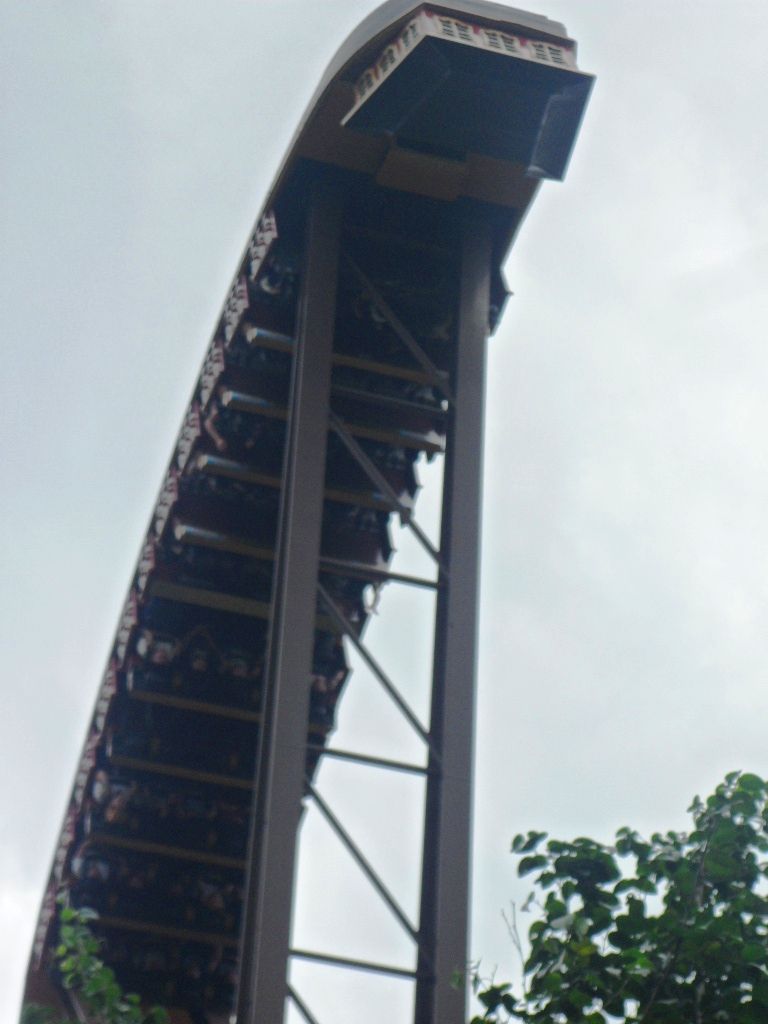 Viking approaching the top almost inverting!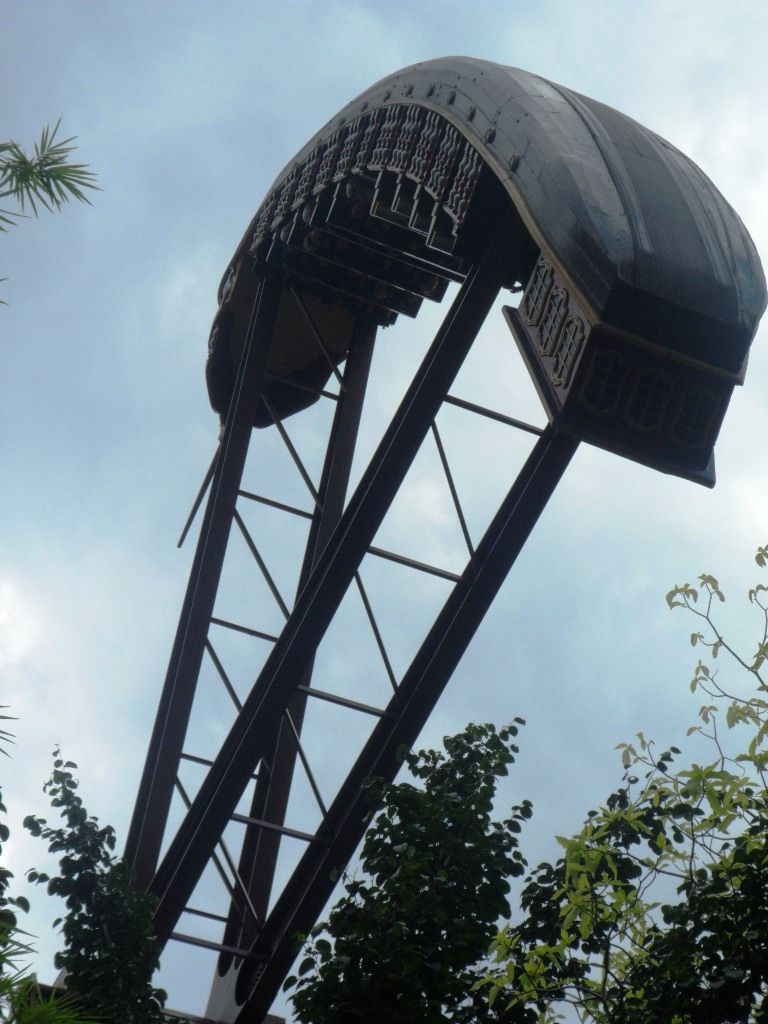 Viking reaches the top and goes over to the other side!
Wildlife Park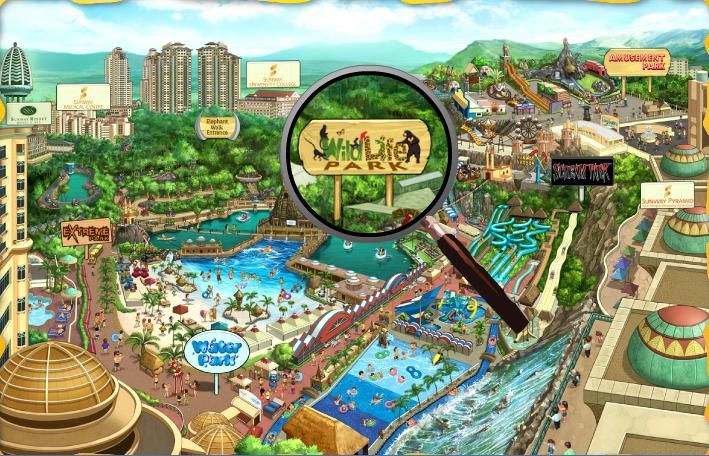 Map of Sunway Lagoon – Location of Wildlife Park
Next we headed to the Wildlife Park. It's actually quite a cool place with close encounters with the birds, huge crocodiles that look like that can leap out of the sanctuary and touch interaction with rabbits.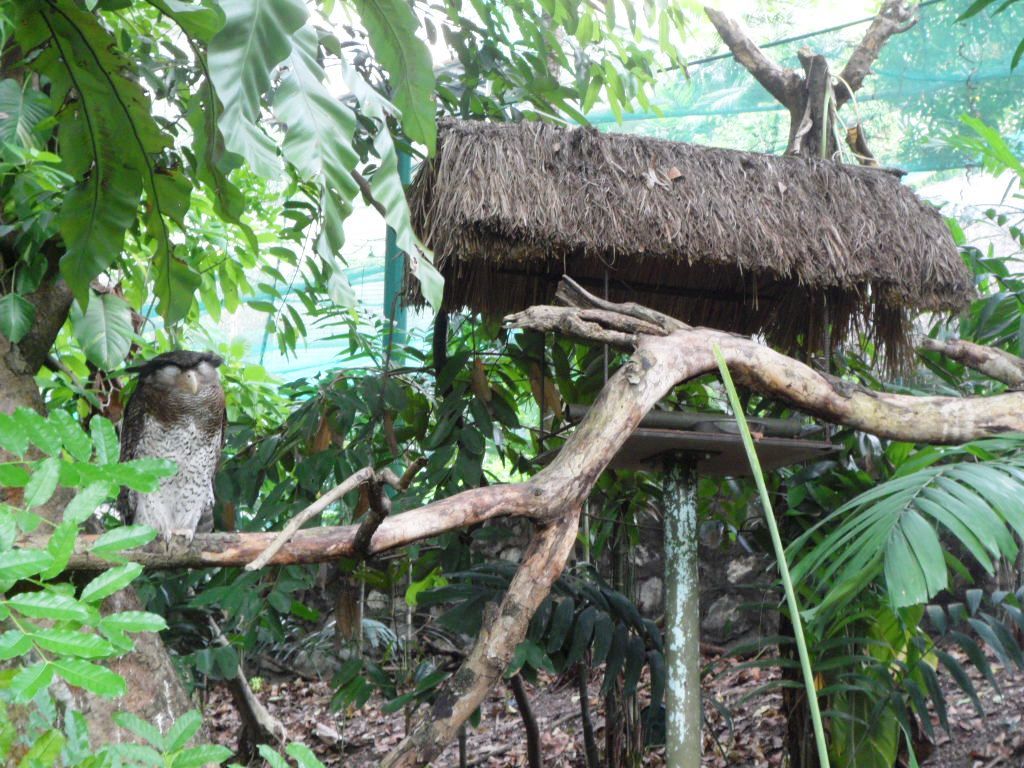 Can you spot the Owl sleeping?

An eagle at the spot where it ought to be
As we walked past the birds sanctuary, we noticed that the birds were at the position that they're supposed to be! No chains could be seen. We were speculating whether the birds have been clipped at its wings. Else we really cant understand how every bird was in its place as we walked past. Maybe we were lucky?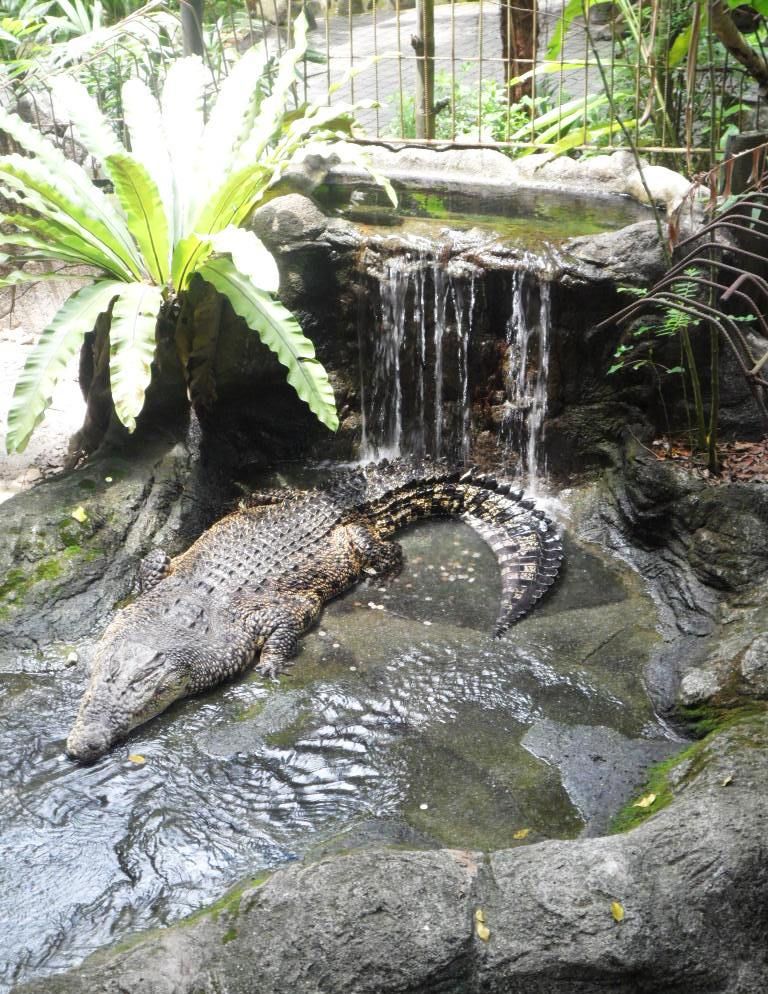 Huge Crocodiles @ Wildlife Park Sunway Lagoon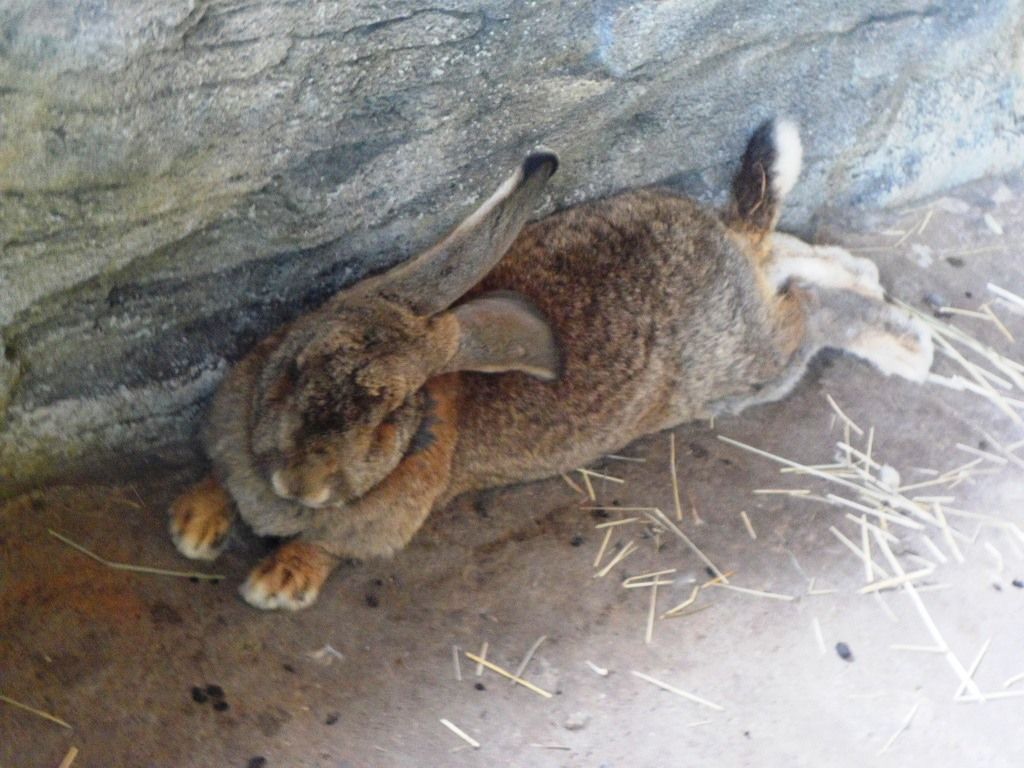 Rabbits that you could pat at the touch section of the Wildlife Park
Scream Park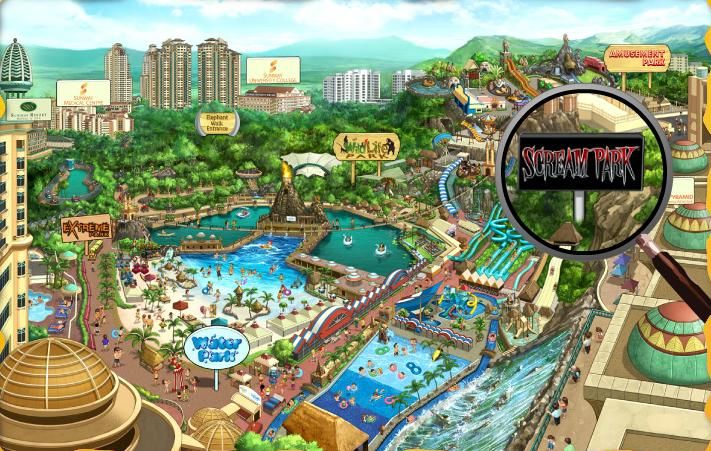 Map of Sunway Lagoon – Location of Scream Park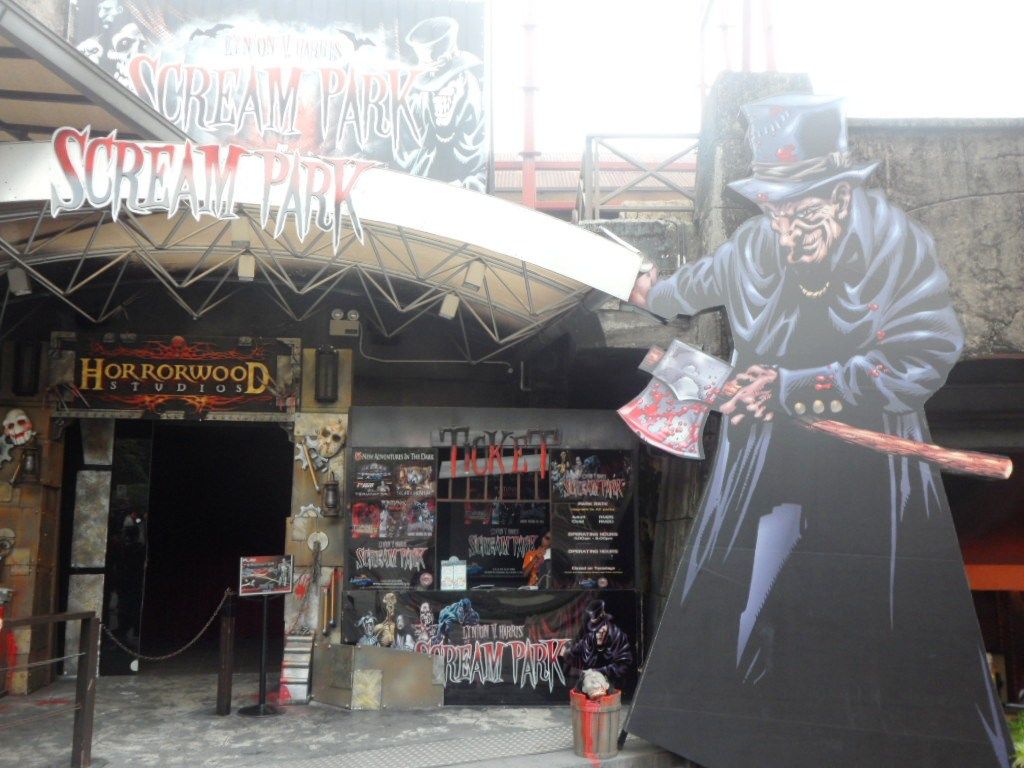 Entrance to Scream Park
The Scream Park at Sunway Lagoon was scary. Not as scary as the Halloween Horror Nights at Universal Studios Singapore. Still, it was scary enough for people to drop out at the entrance of the park. What happened was after all the safety brief, a man just rushed out from behind the doors! Some girls cried and some (even guys) left. As with all horror-themed parks, no touching is allowed. That is to say that visitors are not allowed to touch the scare actors and the scare actors are not allowed to touch the visitors.
At the start of the park, visitors are led to view a video clip. The video sets the background of the theme park. It's about a couple who ventured into Sunway Lagoon when it's closed (never a good sign). Somehow some pontianaks started to appear and scare them. Thinking that they've found a good hiding place in a run-down shack entrance (wassup man? just run out of the park already!), they went inside. And that's where the guy who saws people up stores his corpses! And thats where the visitors are going.
Inside the park, there are scare actors, scary art and dungeon like settings. After the initial scares, you'll get used to it. But beware of the final scare towards the end…
Extreme Park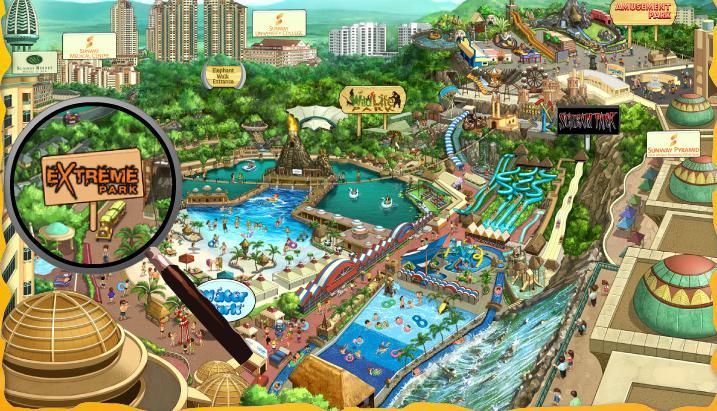 Map of Sunway Lagoon – Location of Extreme Park
Next we headed to the Extreme Park to try out some of the activities there. Do note that not all of the activities are free. We tried out the air gun (10 pellets), ATV (All Terrain Vehicle) as well as Archery (5 arrows). The rest of the activities such as bungy jumping, flying fox, paint ball and go-kart needs a little bit of top up.
We thoroughly enjoyed the ATV. Though it was a short ride, the slopes were quite steep. This made climbing and descending these slopes a little bit challenging. Some of the instructors had to get out of their own ATV and ride on the ATVs of those who were stuck.
Water Park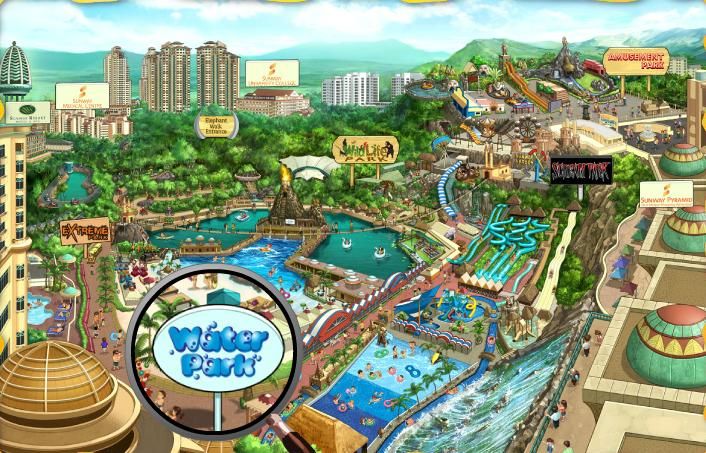 Map of Sunway Lagoon – Location of Water Park
Last but not least, we arrived at the most desired destination of Sunway Lagoon – The Water Park!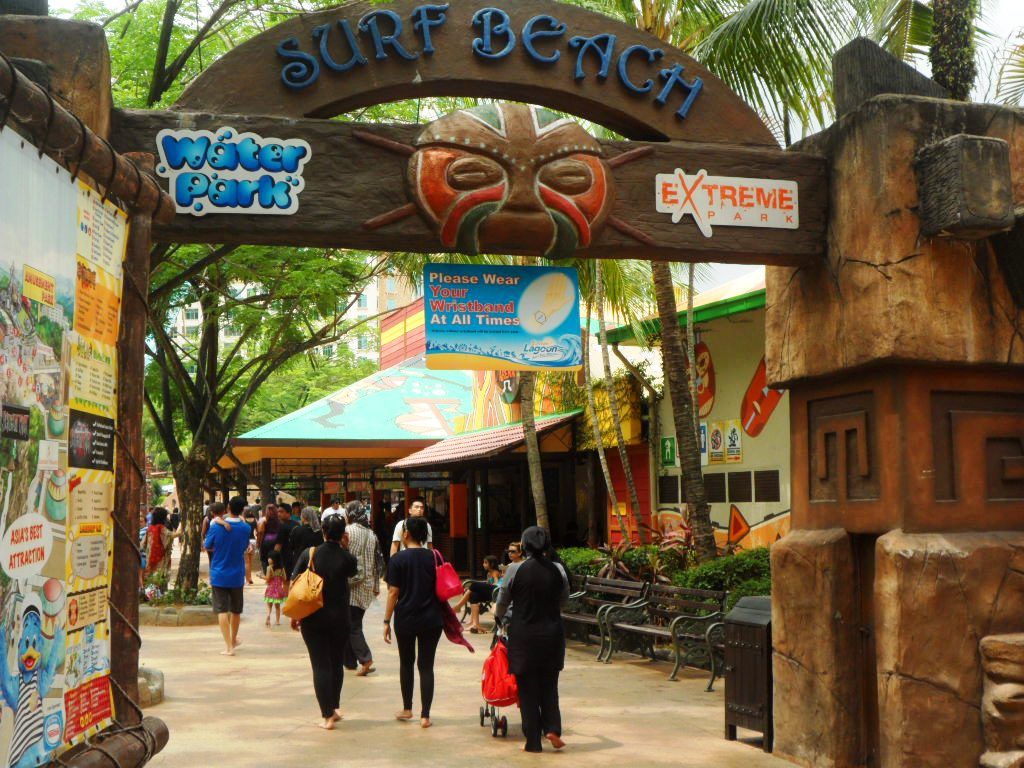 Entrance to the Water Park @ Sunway Lagoon
The coolest part of the Water Park was the slides. Some slides required a map and some floats. And all of them were exciting! Just that you may have to wait about 10 minutes (sometimes) for your turn on the ride due to the large crowds. There could be a longer waiting time during the weekends.
If you are not the kind that enjoy extreme rides, you can always chill out at the wave pool as well. There are also water playgrounds for kids to enjoy.
Recommended Hotels near Sunway Lagoon Water Park
There are essentially 3 recommended hotels if you want to have easy access to Sunway Lagoon Water Park. They are…
Last Words
Sunway Lagoon in Malaysia is definitely a visit well worth it. There are tonnes of entertainment for the young and old alike. Do check out ongoing promotions to get the best deal at Sunway Lagoon!
Click on the following link on
How to get to Sunway Lagoon Malaysia
Click here for the best rates at Sunway Pyramid Hotel NOW!
If you enjoyed our content, "Like" us on Facebook Today!

Remember to leave your comments for 2bearbear Singapore Travel Blog in our comments section below!
Enjoy your visit to Sunway Lagoon!
Related posts: