The TOP Must Visit Attractions and Things to Do in Singapore
Click on Things to do in Singapore to check out a comprehensive list of what you can do right here in Singapore!
There are so many things to do and attractions in Singapore! However, if you only have a few days since you booked a cheap hotel in Singapore online, these are the attractions and things you MUST do!
1. Marina Bay
The Marina Bay has completely transformed over the years. Here, you can marvel at amazing structures such as the Marina Bay Sands (Integrated Resort), Art Science Museum, Helix Bridge, The Esplanade, Fullerton Hotel, The Singapore Flyer, Marina Bay Floating Platform, The Merlion and the upcoming gardens by the Bay. The bay also boasts of the world's largest floating platform where in recent years has become a feature of the National Day Parade.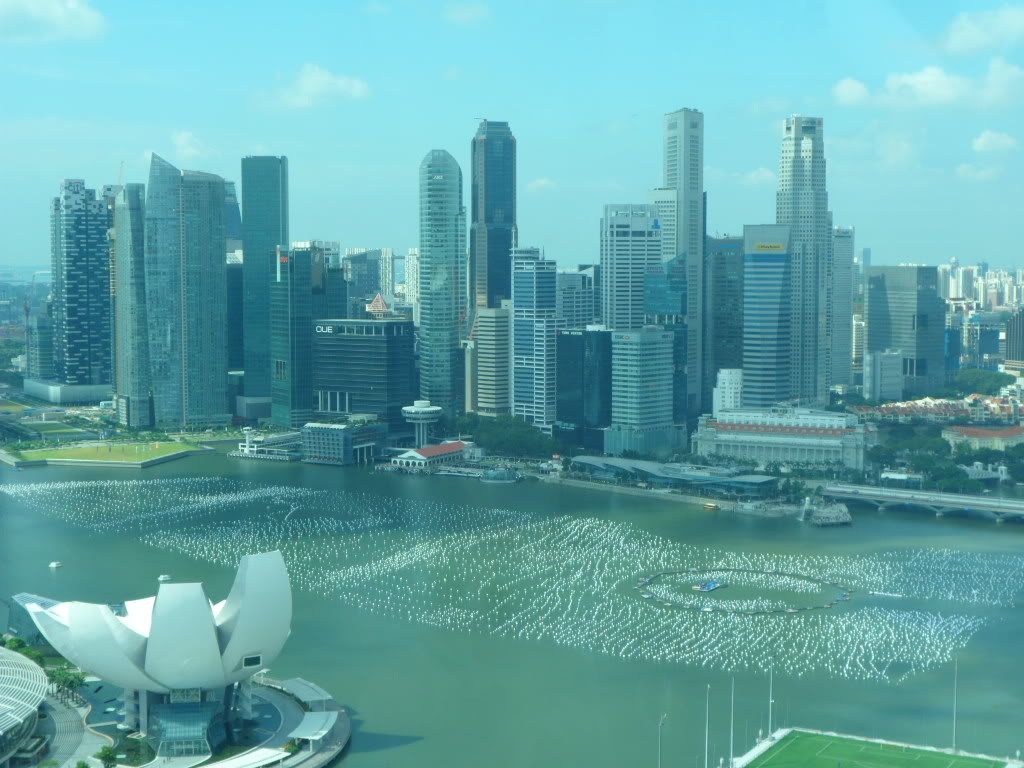 Marina Bay Singapore
If you are a shopaholic, rest assured that you can have tons of shopping opportunities at the Marina Shopping Centre as well as Suntec City which is also in the vicinity.
2. Marina Barrage
But where can you get the best views of the Singapore City Skyline? It is here at the Marina Barrage. This once hidden getaway is now an open secret to the locals and expats where one can enjoy the marvellous view of the city and enjoy a picnic. For kite flying enthusiasts, the open field can provide an excellent spot for this activity.

View from Marina Barrage
The Marina Barrage is actually a water catchment area and with the series of gates to keep sea water out, the Marina Barrage is the 15th reservoir in Singapore. In addition, the Marina Barrage also has another function for flood control purposes.
Of course, it is also now a life-style attraction where you can enjoy water activities such as kayaking, canoeing and also to just enjoy the view of the city with your loved ones.
3. Sentosa / Resorts World Sentosa
There are so many things to do and see right here at Asia's premier playground – Sentosa! At the Resorts World Sentosa, you can enjoy the animatronic crane dance, lots of dining and shopping opportunities and not to mention, the Universal Studios Singapore!

View of Universal Studios Singapore
Besides the integrated Resorts, there are other attractions on the island. In fact, there are so many attractions on the island! Attractions include, the iFly Singapore, Sky Tower, Megazip, 4D and 3D cinemas, Segway Fun Rides, Images of Singapore and whole lot more!
For more information about what you can do and the attractions at Sentosa , read about it on our separate post here!
4. Orchard Shopping Belt
The world-renowned Orchard Shopping Belt (often compared with Champs Elysees – Paris and Oxford Street – London) has recently re-invented itself and has added several modern structures with new dining and shopping concept here in the heart of the city.
New buildings include Orchard Central (OC), 313@Somerset as well as the Orchard Ion which is conveniently located beside the Orchard MRT Station. For shopaholics at heart, the Orchard Shopping Belt will definitely not disappoint. The stretch is in fact covered by 3 MRT stations – Orchard, Somerset as well as Dhoby Ghaut.
The Orchard Shopping Belt will be able to provide endless hours of shopping and cover luxury goods (Orchard Ion) to cheap finds (Far East). There are 3 cinemas along this stretch and many many many dining choices.
5. Singapore River – Clarke Quay, Boat Quay, CBD
In the olden days (even before Singapore was founded), the Singapore River was the life line of Singapore's entrepot trade. It was where ships from the surrounding regions unload and pick up goods for trade. Hence, there were once many shop houses, warehouses and even accomodation around the river. This of course led to pollution of river, so much so that the stench could be smelt even without seeing the river.
In the 1970s, the cleaning of the river was initiated. Today, the Singapore River is home to many fine dining establishments as well as clubs and chill out places (Clarke Quay, Boat Quay).

Singapore's Tourism Icon – The Merlion along the Singapore River
One can also enjoy a relaxing walk (in the evenings) along the river and just take in the sights and the sounds. There is also shopping opportunity (or air con/toilet opportunity) at the Central Mall, conveniently located along the river. Following the river, you can walk (past the Asian Civilisation Museum) right into the heart of the Central Business District where the economic life line flows even today.
6. Singapore Local Delights
At 2bearbear.com, we would say that you have not visited Singapore if you have not tasted our local delights! Singapore is a multi-cultural society and therefore its food is multi-faceted as well. Here, you can enjoy all, i mean ALL types of cuisines from all around the world. However, the best foods are often found in the local food centres (commonly known as hawker centres with the locals).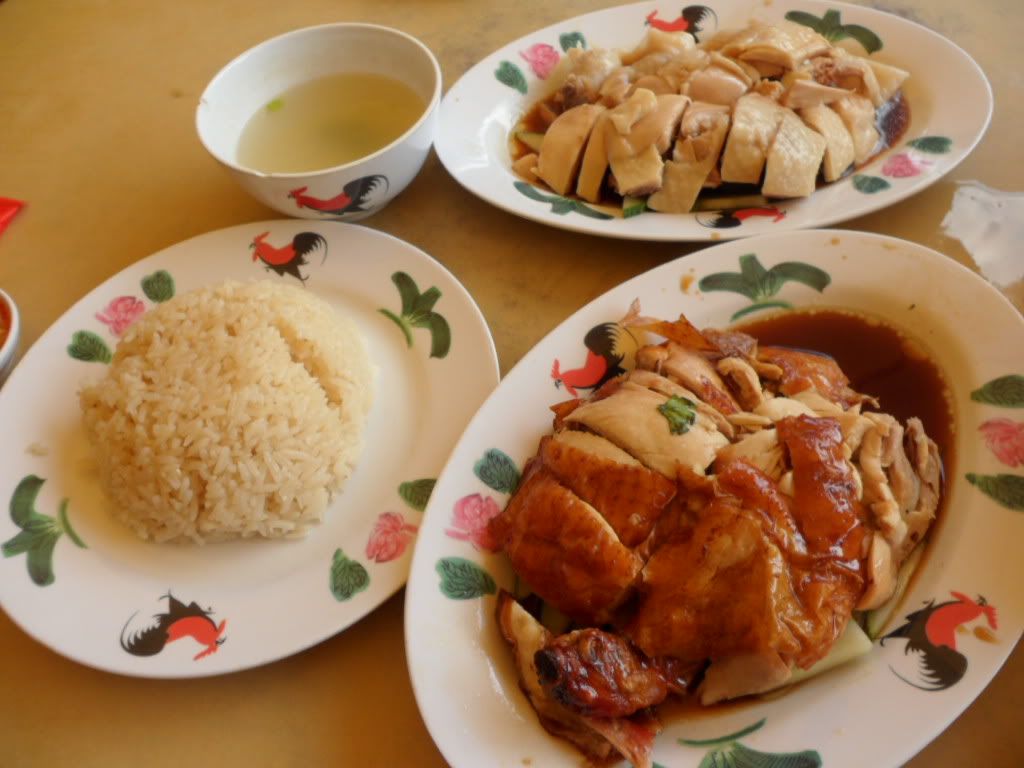 You wont go wrong with a fragrant plate of Hainanese Chicken Rice!
As they say, follow where the locals eat right? At the hawker centres, you will be able to have foods such as nasi padang (malay), roti prata (indian) as well as local hawker fares such as hokkien mee (stir fried prawn noodles), char kway teow (fried flat noodles), chye tow kway (fried carrot cake), chicken rice, duck rice! Just thinking of it, makes us hungry now…remember to go try them!
7. Cultural Heritage (Chinatown, Little India, Kampong Glam)
Singapore is a multi-racial and multi-cultural society. In the old days, communities were set up in different parts of Singapore. Today, these communities live on and you will be able to find interesting snippets of different cultures at Chinatown, Little India as well as Kampong Glam (Malay).
8. Zoo / Night Safari / Bird Park
Singapore boasts of the world's first night safari where visitors can get up close to these animals of the dark. In the day time, the night safari is also the Singapore Zoological Gardens (or Zoo) where children and adults alike can have endless learning and bonding opportunities.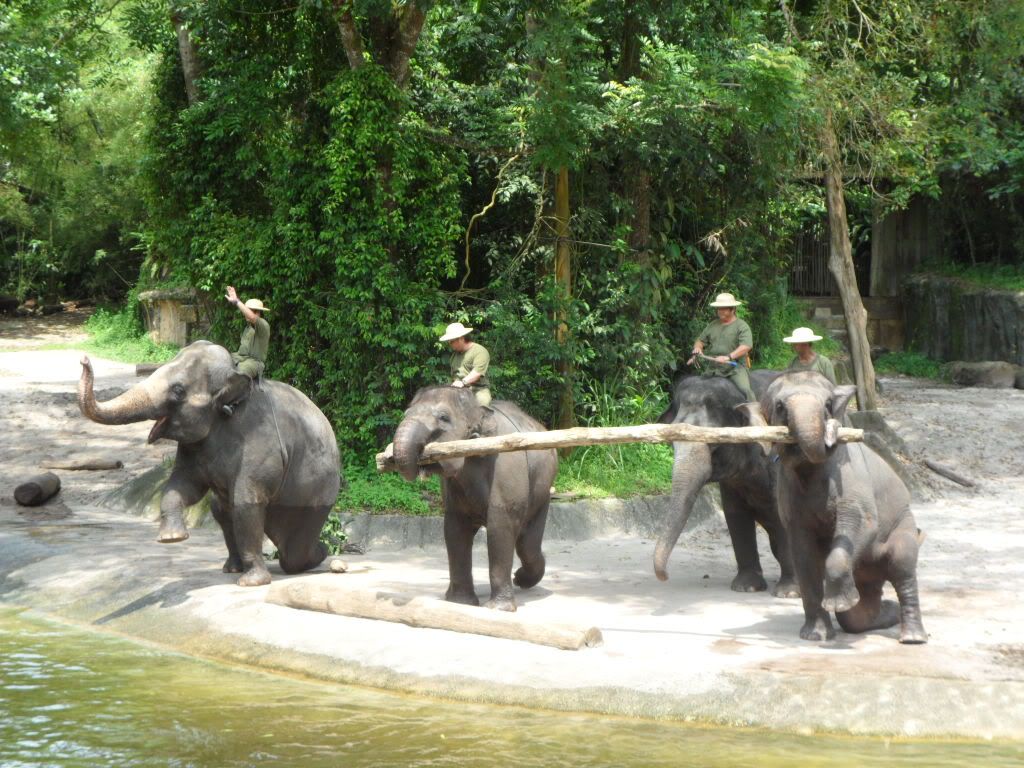 Elephants lifting logs at the Singapore Zoo
For the bird watchers, you will be amazed at the species of birds that the Jurong Bird Park has to offer. It also has the tallest man-made waterfall in Southeast Asia.
9. Singapore Botanical Gardens
For nature lovers, this is the place for you. It boasts of 1000 species and 2000 hybrids of the Orchid. Not surprisingly, Singapore's National Flower is the Orchid -Vanda Miss Joaquim. In addition to the many species of plants and flowers (as well as heritage trees), many locals and expats alike, enjoy the outdoor picnics right here at the Singapore Botanical Gardens.
10. Festivals and Events on the Singapore Calendar
There are so many festivals and events on the Singapore Calendar. Some of the more prominent events include
– Formula One Grand Prix Race
– Great Singapore Sale
– Chingay Parade and Festival
– River Hongbao during Chinese New Year
– Singapore Food Festival
– Singapore River Festival
– Singapore Gourmet Summit
– National Day Parade
– Street displays at Chinatown , Little India, Kampong Glam during festivities
– PC Show / IT Show
– Travel Shows
11. St. James Power Station / Vivo City / Sentosa Board Walk
Orginally a power station (literally), the St. James Power Station is now a hip establishment of clubs and pubs where you can enjoy live music and the company of your rest over some drinks.
If you would like more choices of food and shopping, hop right over next door to Vivo City. Vivo City is right across Sentosa and with the new board walk, you can access and enjoy the views over at Sentosa as well.

View of Sentosa from the Boardwalk
With so many attractions and things to do right here in Singapore, what are you waiting for? Come on over today!
Here are our posts of Things to do in Singapore at a glance!
Attractions in Singapore
Top 101 Things to Do in Singapore!
Top 10 Things to Do in Singapore this Weekend!
Gardens by the Bay : Singapore's Latest Attraction!
Ducktours Amphibious Fun! – See Singapore on land and on water!
The Marina Barrage – Singapore's most well kept secret
Singapore Flyer – The World's Largest Giant Observation Wheel!
Things to do in Singapore : Weekend at the Singapore Zoo – World's Best Rainforest Zoo
Things to do in Singapore – Catch the sunrise at Mount Faber!
Festivals and Events in Singapore
Chingay Parade and Festival Singapore – Street Parade Culmination and Melting Pot of Cultures, Street Performances and Displays
Formula One (F1) Grand Prix Night Race Singapore
Singtel Formula One F1 Grand Prix Singapore Night Race Street Circuit with Performances by Rick Astley and Shakira
Halloween Horror Nights @ Universal Studios Singapore RWS
20th World Orchid Conference (WOC) at Marina Bay Sands with Preview of Gardens by the Bay
Voyage De La Vie @ RWS Resorts World Sentosa : So How Does It Compare to Cirque du Soleil?
Where to watch F1 for free in Singapore?
Fort Siloso Sentosa : Sentosa Spooktacular 2012 (Halloween) | Things to do in Singapore
Halloween Horror Nights 2 @ Universal Studios Singapore! | Resorts World Sentosa
Red Bull Flugtag Singapore : 1st Ever Red Bull Flugtag @ Siloso Beach Sentosa!
Staycation in Singapore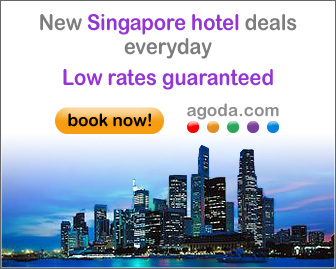 Staycation / Holiday / Vacation at Sentosa Singapore – Things to do and attractions at Sentosa Island Singapore
Staycation Singapore – Amara Sanctuary Resort Sentosa 2 Bedroom (BR) Villa with plunge (private) pool
Cruises from Singapore
Starcruise – 4D3N Superstar Virgo Cruise from Singapore to Phuket, Langkawi in Balcony Class
Royal Caribbean Cruise – 8D7N Semarang, Bali (Kuta Nusa Dua), Lombok onboard Legend of the Seas
Royalty Fine Dining onboard the Royal Caribbean Cruise – Legend of the Seas
Food in Singapore
The Handburger Review – 313@Somerset Orchard Road
Review of "Slice – The Pizza Reform"
Local Hawker Fare – Hokkien Mee aka Fried Prawn Noodles
Local Hawker Fare – Char Kway Teow aka Fried Kway Teow (Flat noodles)
Local Hawker Fare – Chai Tow Kway aka Fried Carrot Cake
Day Out at Saizeriya Japanese Italian Restaurant Singapore
Great View and Great Taste at Prima Tower Revolving Restaurant Keppel Road
Malaysian Food Street @ Resorts World Sentosa (RWS) : Is The Food Really Good?
Watami Japanese Casual Restaurant @ Central
Wee Nam Kee Hainanese Chicken Rice Restaurant : Best Chicken Rice in Singapore?
Malaysian Food Street Resorts World Sentosa RWS 马来西亚美食街圣淘沙名胜世界 Part 2 – Things to do in Singapore on Weekends
Afterthoughts on Fatty Cheong's Roast Pork, Roast Duck and Char Siew @ ABC Brickworks Market and Food Centre
TODAI International and Seafood Buffet at Marina Bay Sands (MBS) : Best Buffet Restaurant in Singapore?
Golden Mile Food Centre – Whats there to eat here?
Hotel Deals
You can also check out the best hotel deals in Singapore right here!