In May 1804, Captain Meriwether Lewis and his good friend Second Lieutenant William Clark started an expedition, commissioned by then President Thomas Jefferson. Today, this trail is known to us as the Lewis and Clerk expedition (not to be confused with Clark Kent and Lois Lane of Superman).
Essentially these chaps were brave enough to cross the vast continent, not knowing what to expect and encountering perils (such as grizzly bears) along the way. Nonetheless, the journey was finally completed in 1806 and the expedition team not only opened up a route from Eastern USA to Western USA, but also discovered many economic opportunities (think natural resources) and most importantly, the Western side to the Pacific Ocean.
It was also on this journey that the original Vancouver (Vancouver Washington, not Vancouver Canada) was discovered and subsequently established several years later. With this long history, it is little wonder that the entire Vancouver Washington is sprinkled with many historic monuments, still maintained in excellent condition, to be shared with visitors like you and me!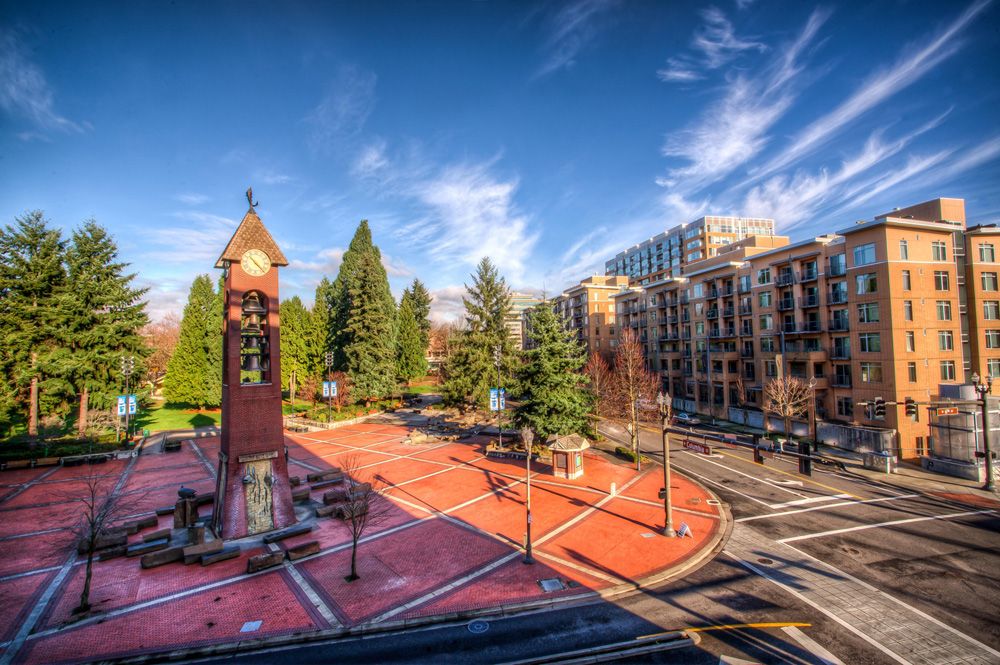 Clock Tower at Esther Short Park Downtown Vancouver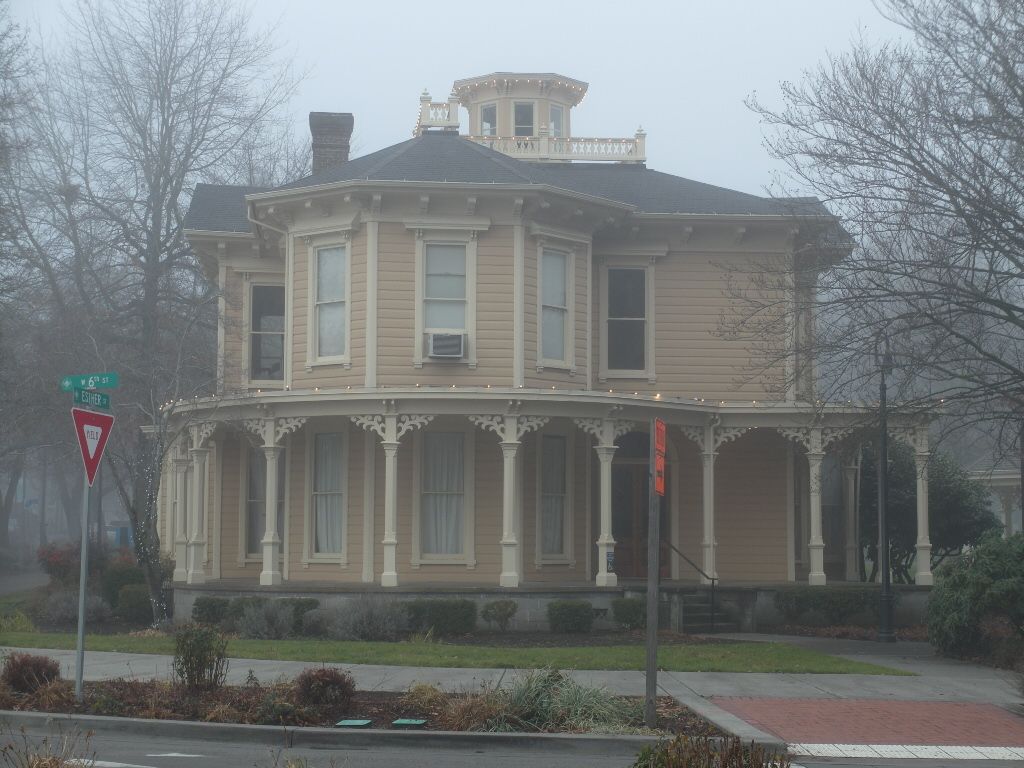 Slocum House – Yes it was an ULTRA MISTY DAY!
Once considered the most elegant homes in Vancouver, this Italianate villa's ornate details including a cupola, elaborate cornice, scrolled brackets, and a widow's walk on the roof. Built by Charles and Laura Slocum, it was nearly lost to development in the 1960s. Activists saved the home from demolition by moving it a block north. Today the building is home to the Old Slocum House Theatre Company, which stages a number of theatrical productions annually at this historic site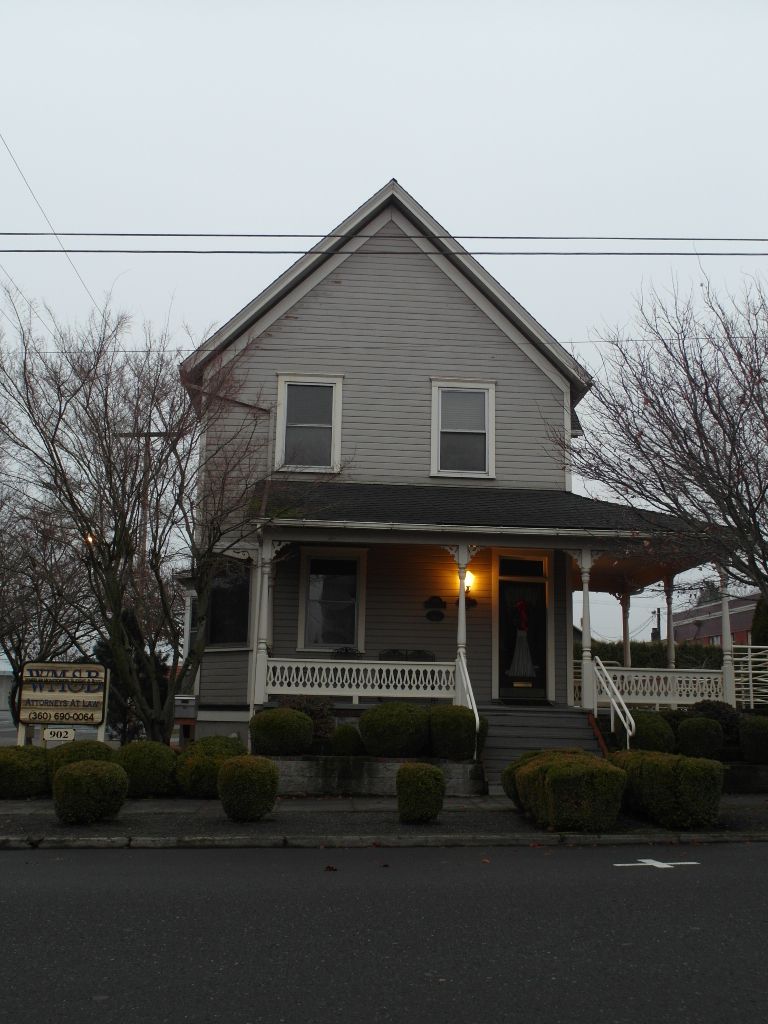 Lloyd Dubois House
This Queen Anne-style home, originally owned by the editor and publisher of the city's newspaper, features a broad, wrap-around porch supported by turned posts, jigsaw brackets and a balustrade.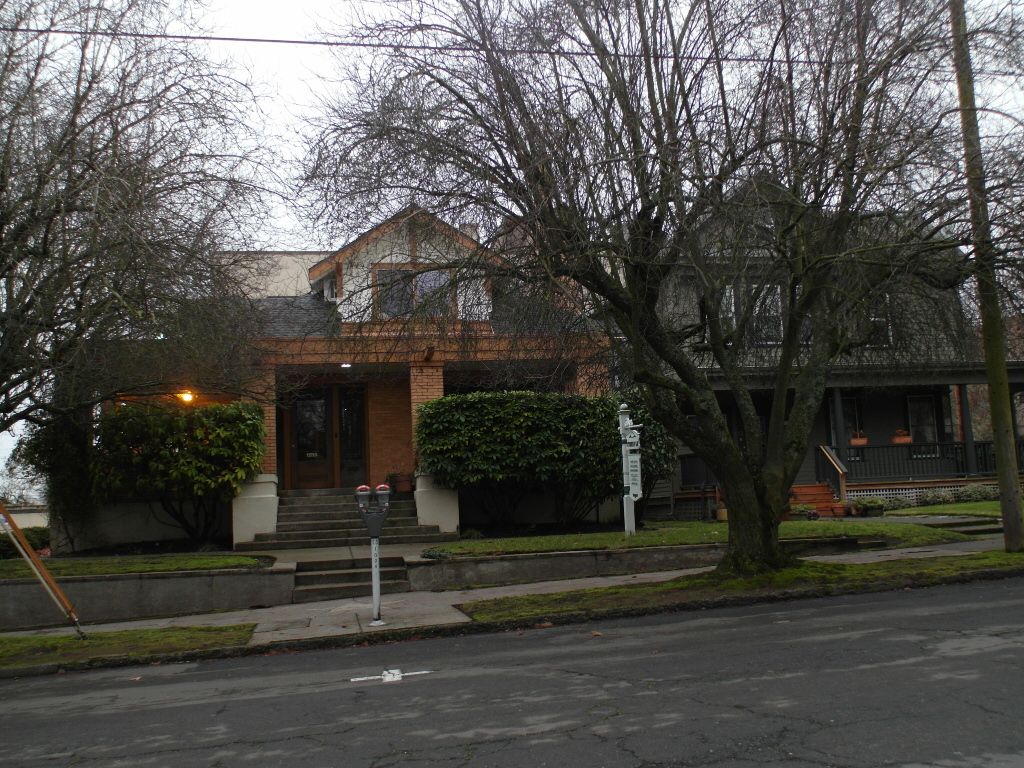 Langsdorf House
This Craftsman Bungalow with its flat wall planes of brick, low pitched hip roof, and unusual porch is influenced by the Midwestern Prairie style rarely seen in Clark County.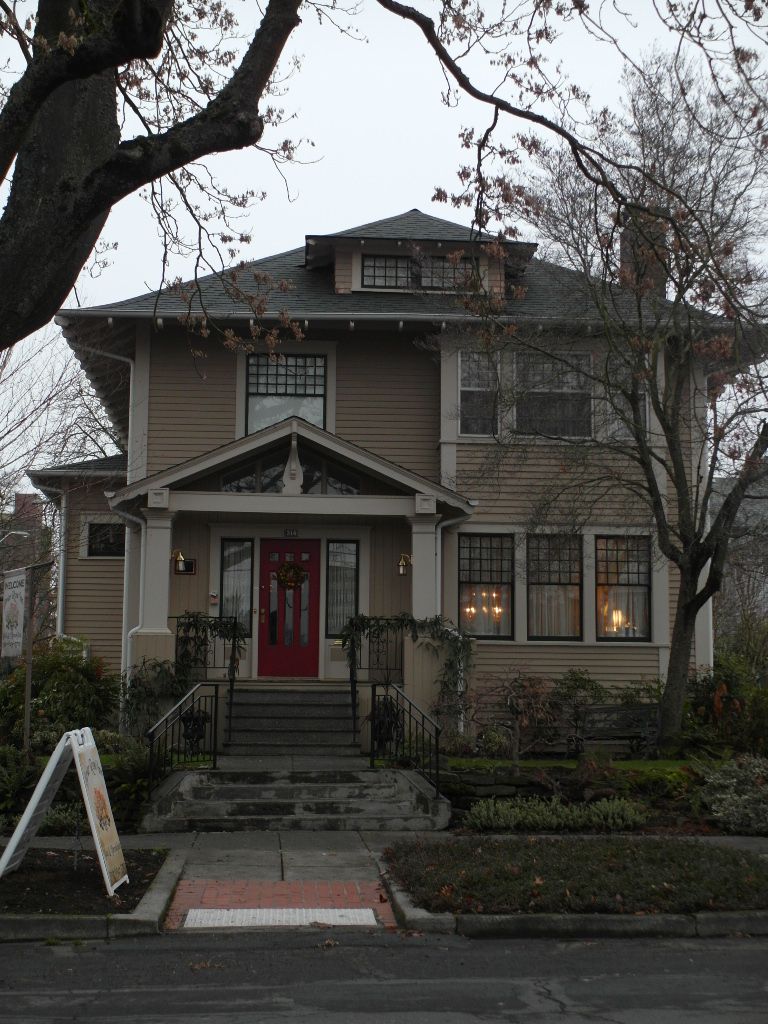 Kettenring House
This residence is characterised as an American Foursquare with classic Craftsman elements and ornamentation and retains the original multi-paired windows and curved rafter ends. Fred Kettenring moved to Vancouver in 1901 to take charge of the Great Northern Railroad's construction and later became the City Engineer.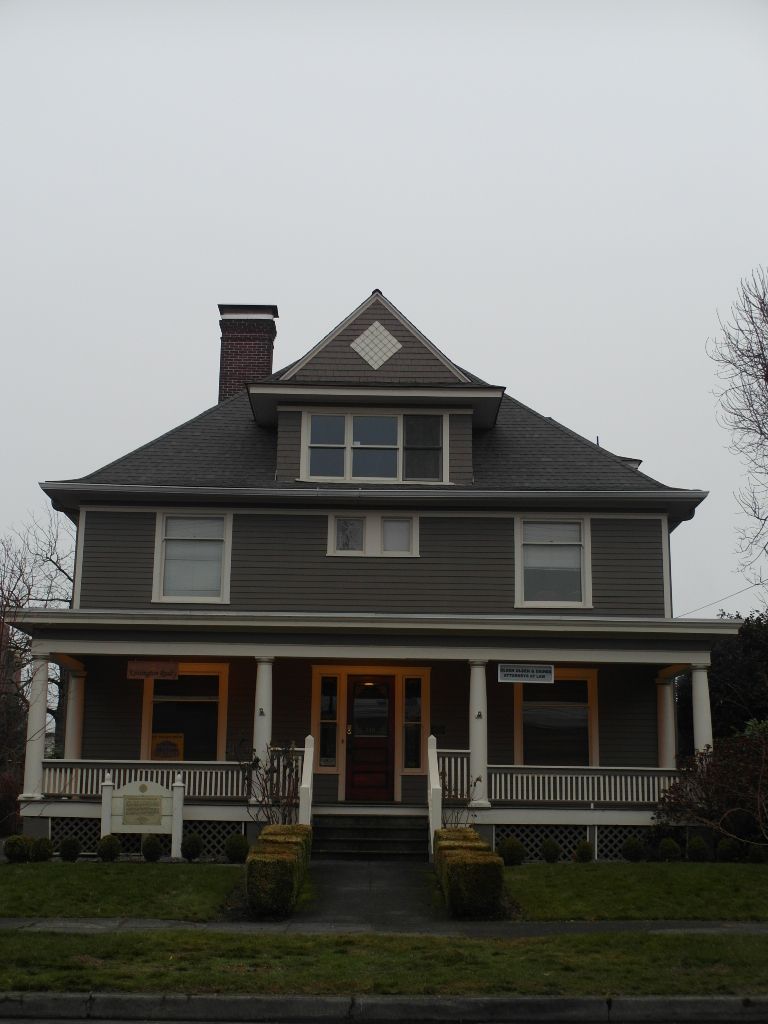 Chumasero-Smith House
This American Foursquare is the oldest known home in Washington to be built by a Filipino-American. The structure features classic columns supporting the heavy cornice on the porch, diamond shingles on the front dormer and a steeply pitched, hipped roof.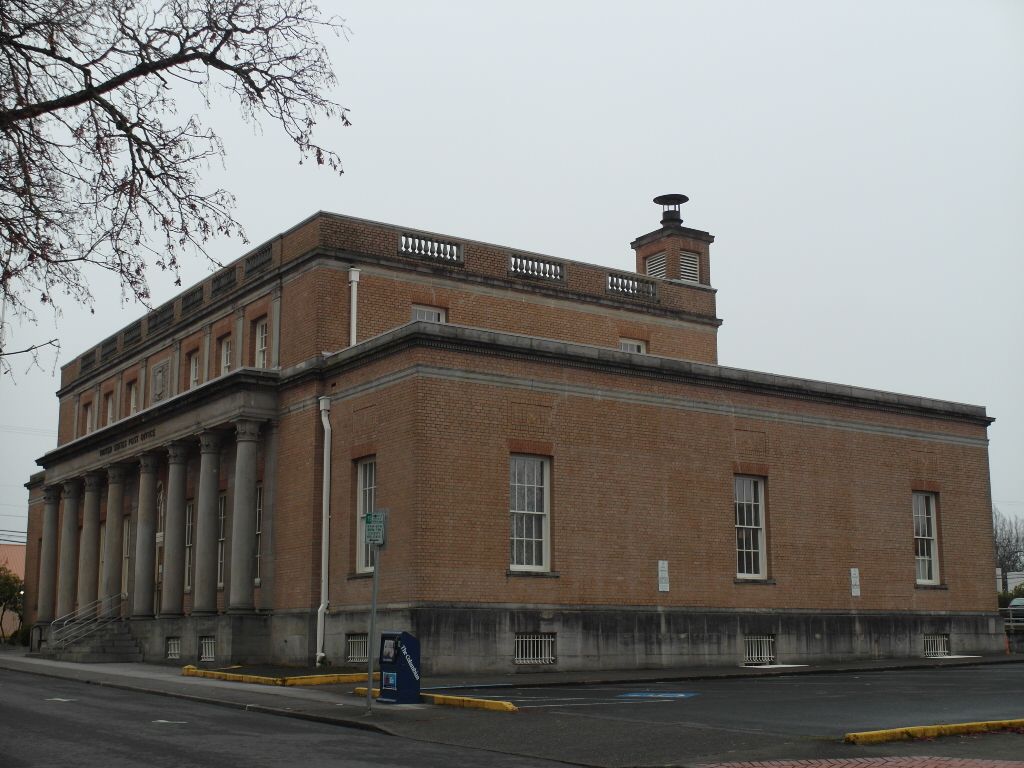 Post Office Vancouver Main
This brick post office with front columns is representative of Classical Revival architectural style.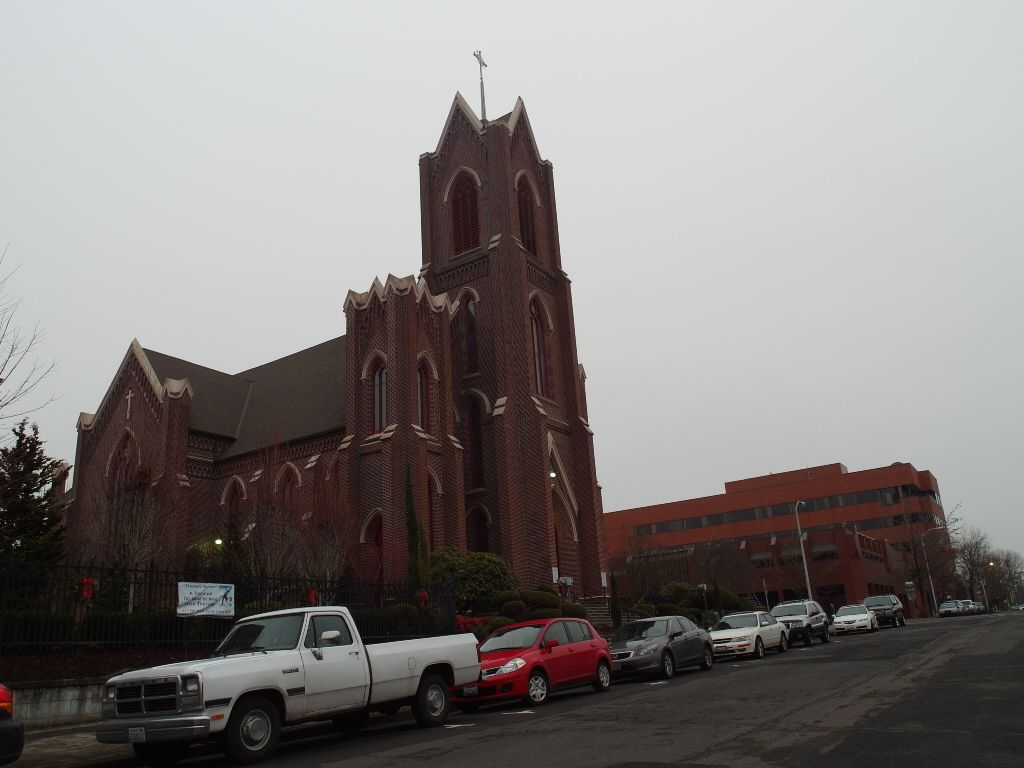 St James Catholic Church Vancouver Washington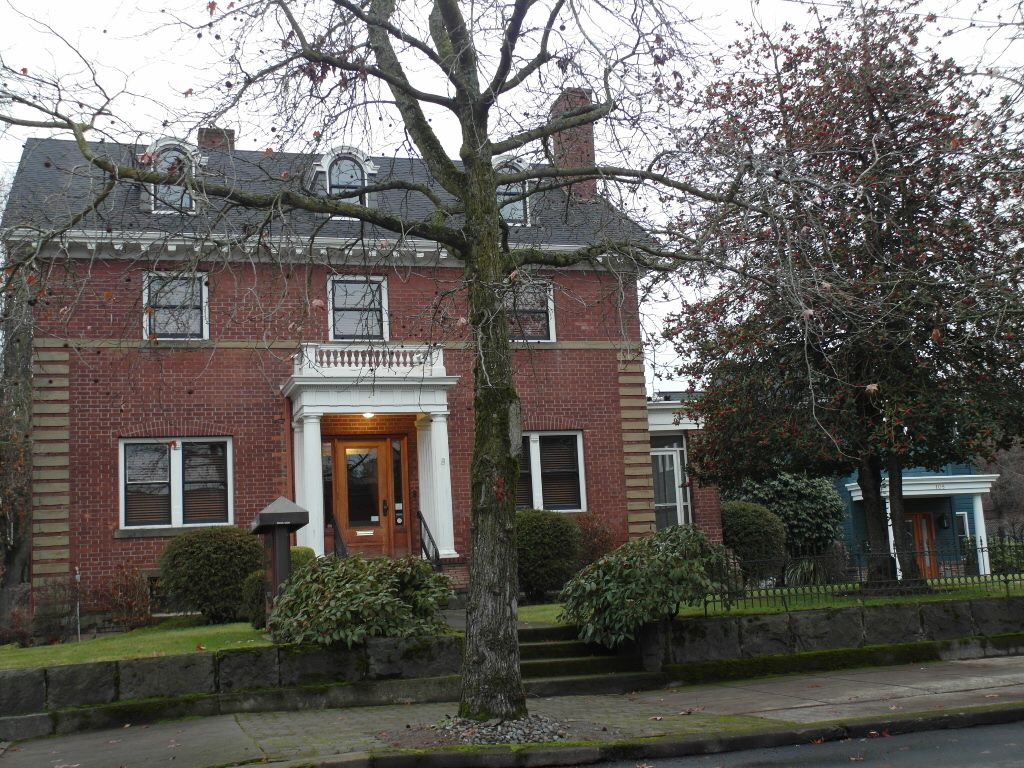 W. Foster Hidden House
Lowell Hidden's son, Foster, built this two-story Colonial Revival home with Flemish bond brickwork, a columned portico, heavy corner quoins and an elaborate cornice with block modillions.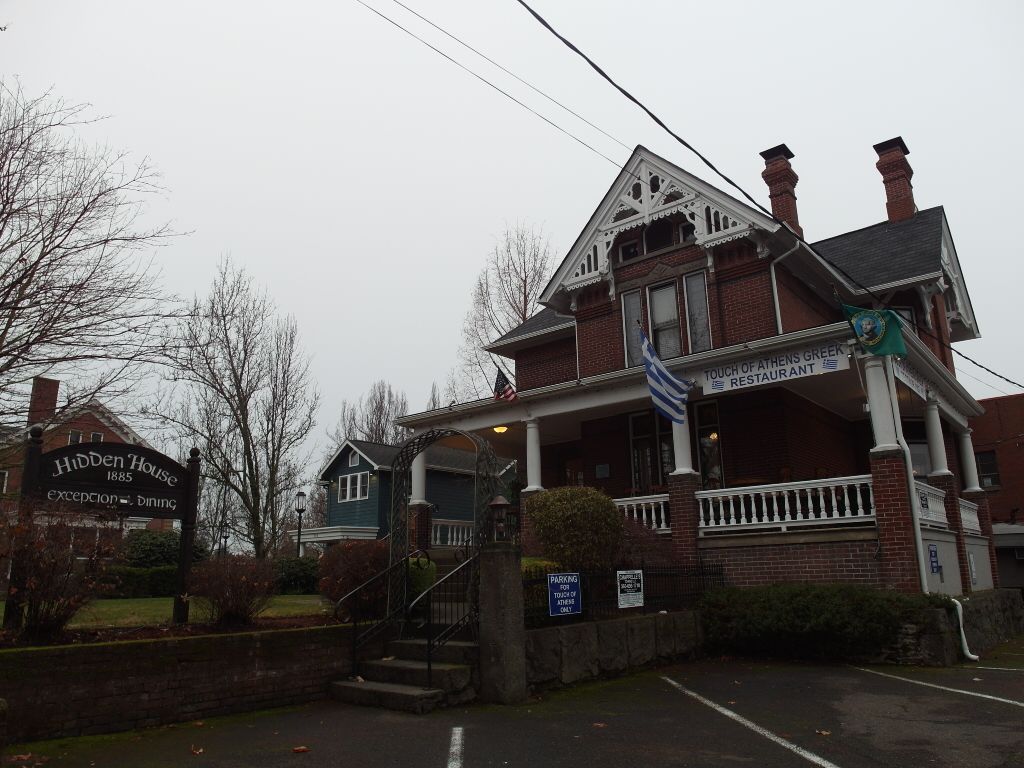 Lowell M Hidden House
Lowell Hidden, owner of the Hidden Brick Company, built this two-story Queen Anne-style home with ornamental brick patterns, stained glass windows and a corbeled chimney.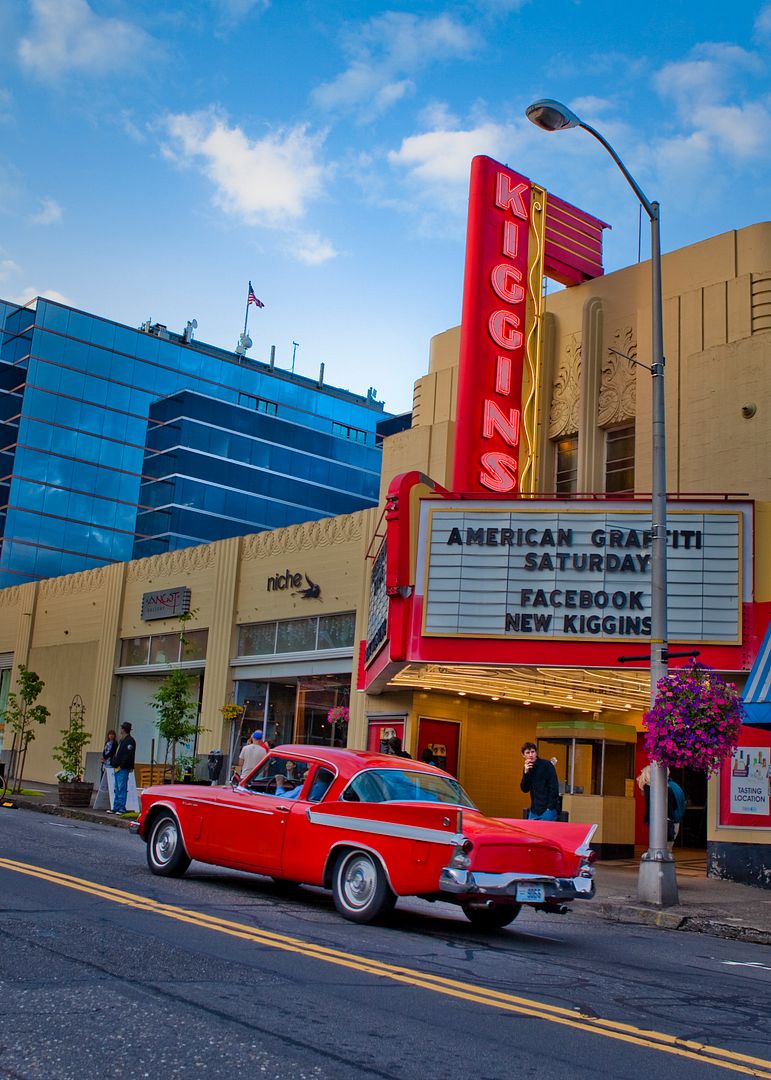 Kiggins Theatre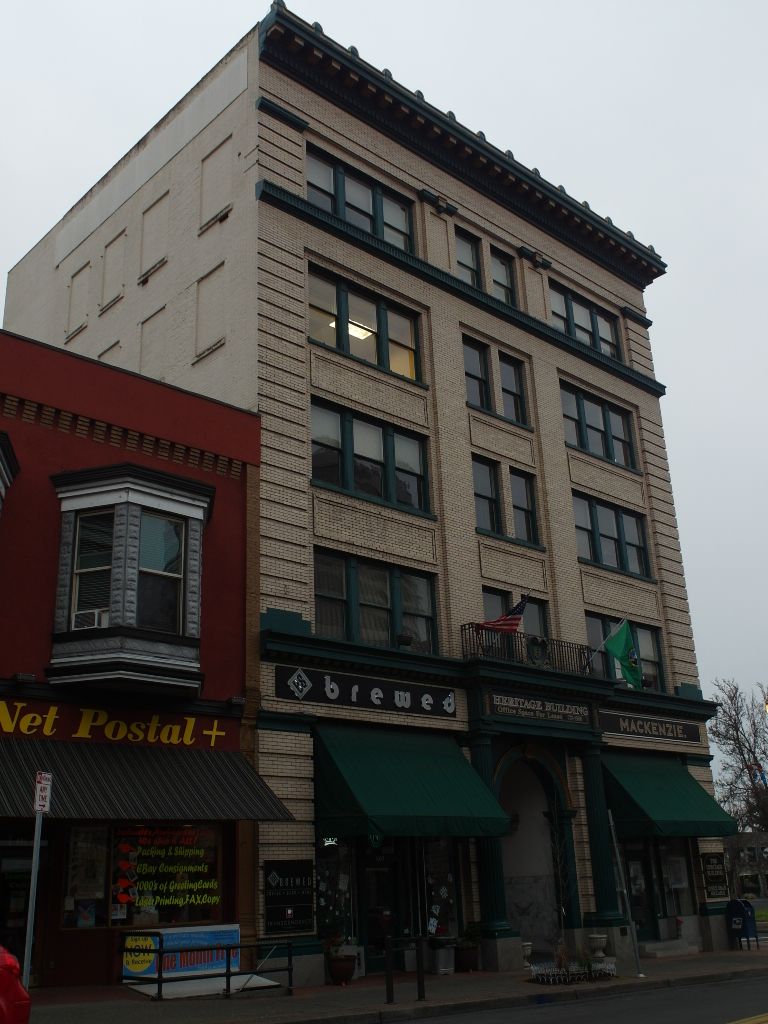 US National Bank Building
Tall, fluted columns on projecting plinths frame an arched entrace to this five-story building that is an example of early 20th century Commercial style.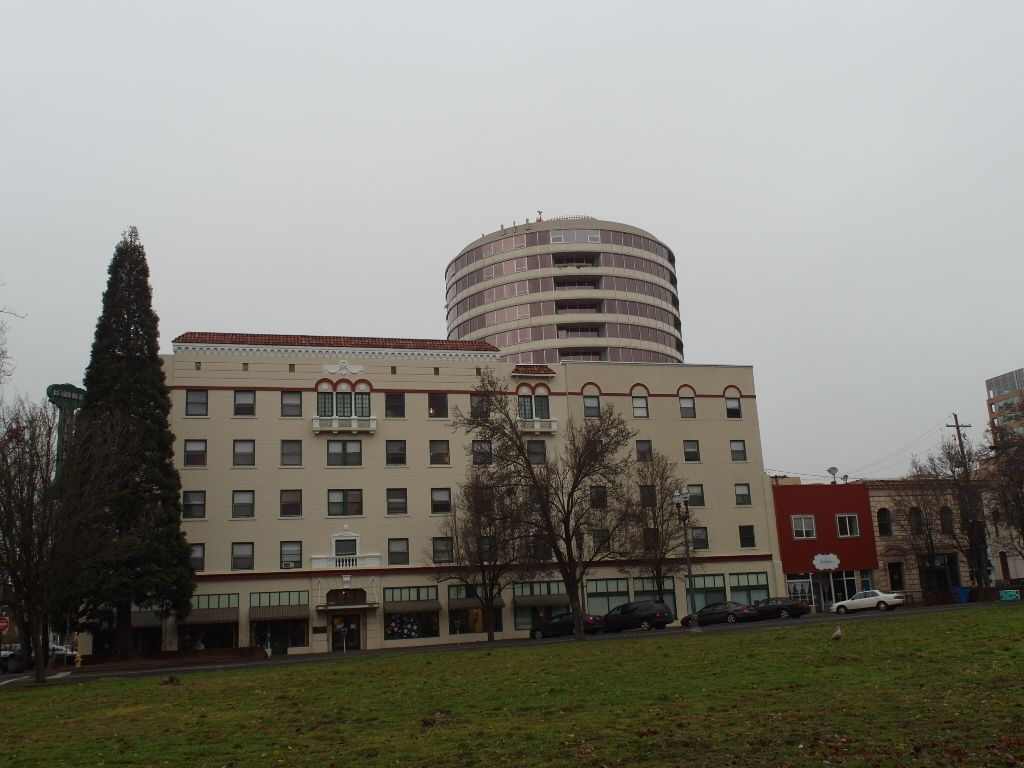 Evergreen Hotel

Vancouver National Bank Building
Originally made of molded stone construction the facade of this building was covered with the current terra cotta design in 1926.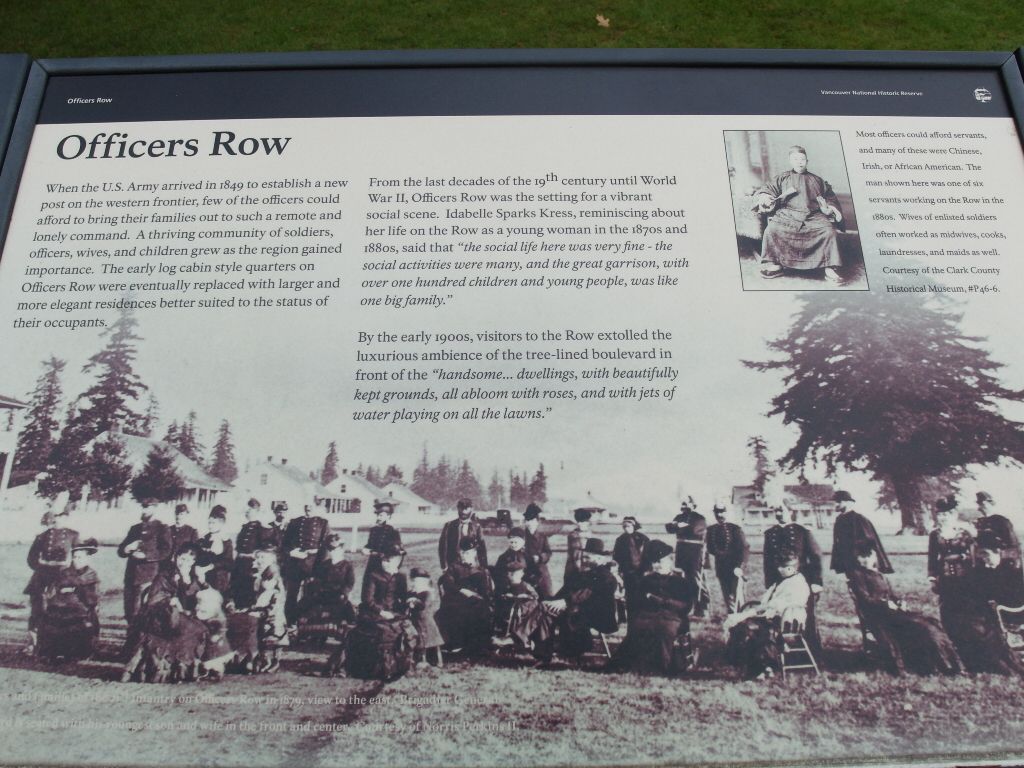 History of Officers Row Vancouver Washington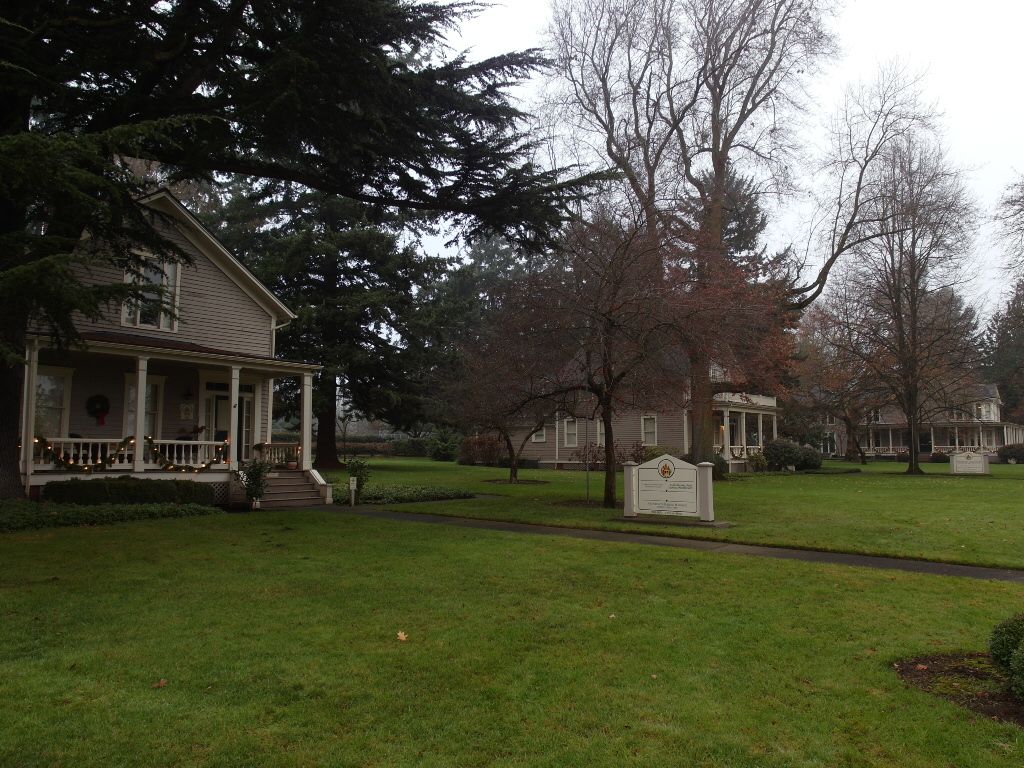 Officer's Row Vancouver Washington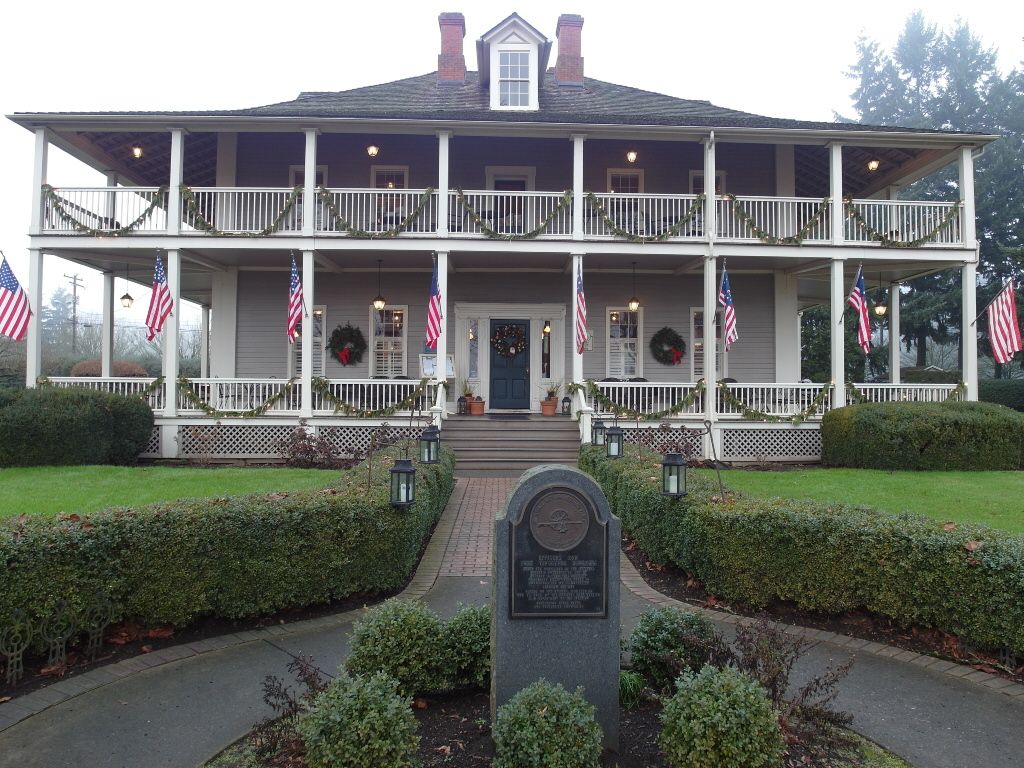 Grant House along Officer's Row – Now a restaurant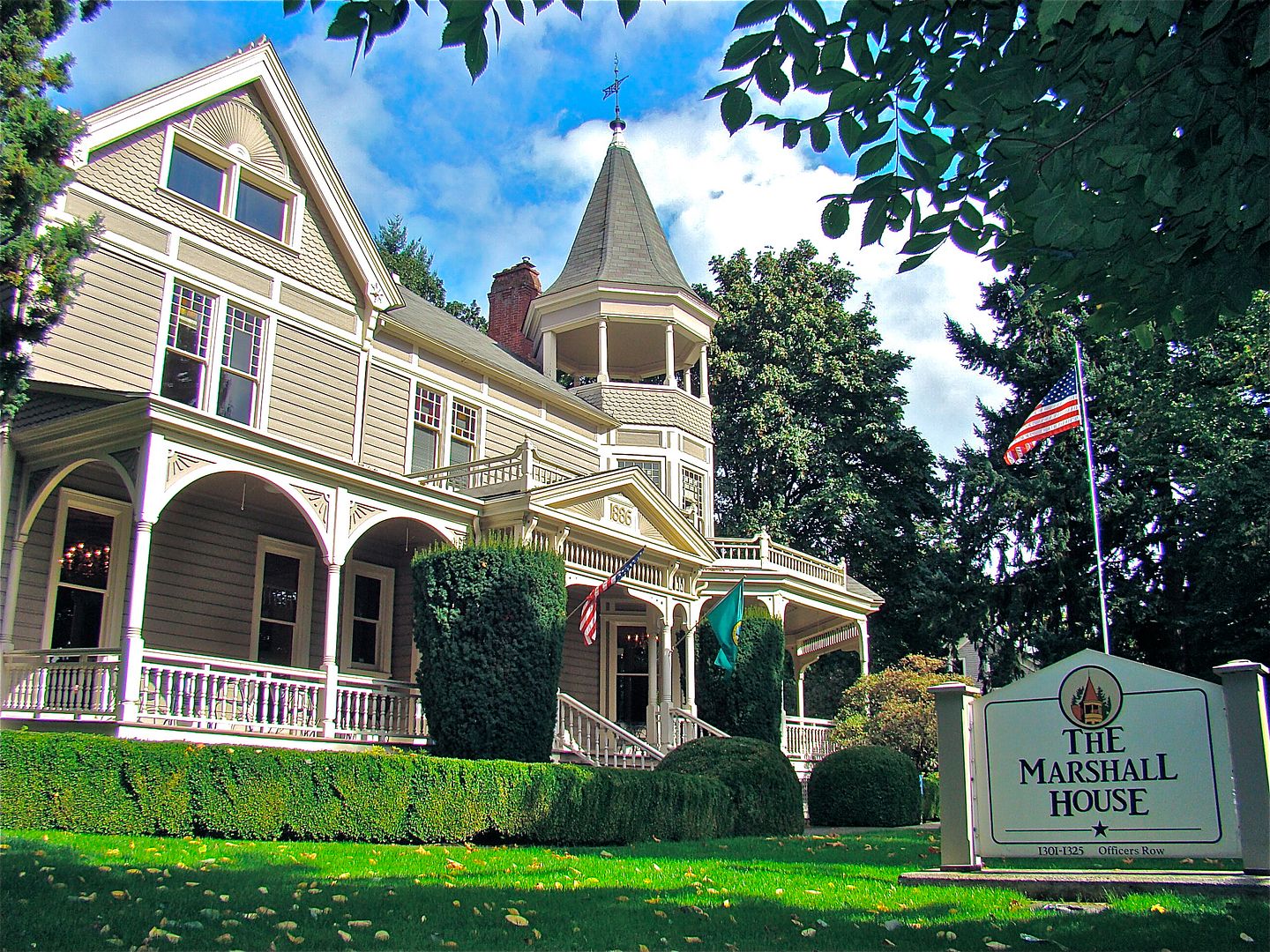 Marshall House Officer's Row
For more than a century, the 21 buildings along the north side of Evergreen Blvd housed soldiers, officers and military families stationed at Vancouver Barracks. Three of the more notable properties are the Grand House, built in 1849, the General O.O. Howard House, constructed in 1879 and the Marshall House built in 1886. The homes are characterised by high ceilings, large foyers, sweeping staircases, bay windows, multiple fireplaces and numerous rooms which housed company or field grade officers.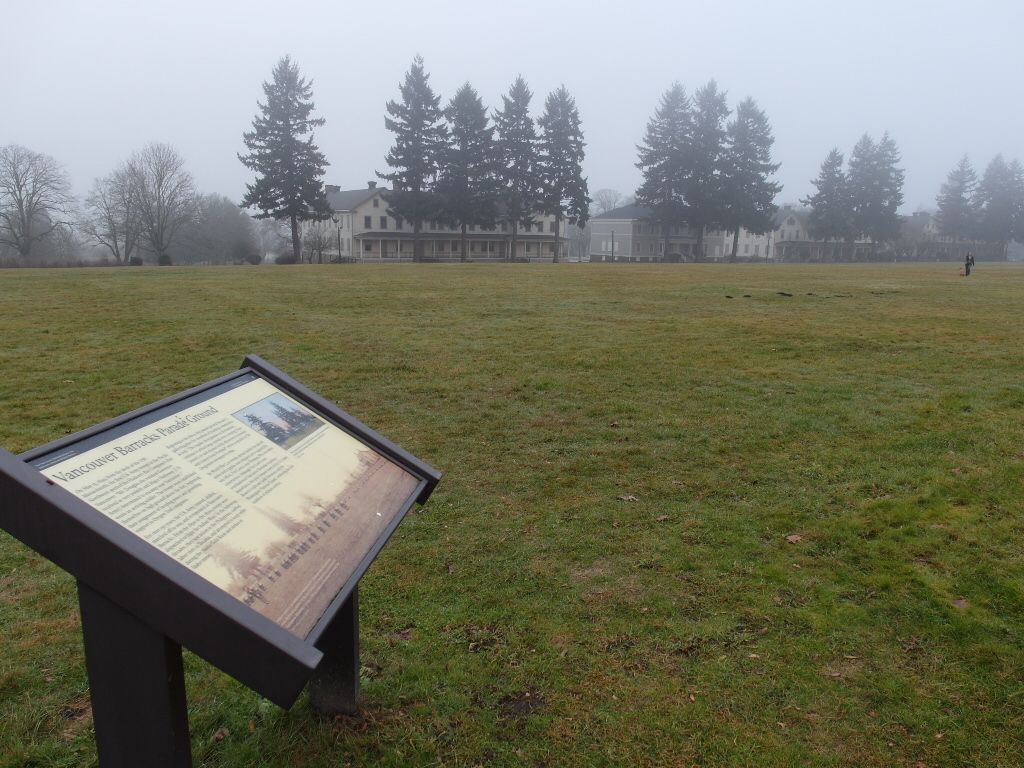 Vancouver Barracks in front of Officer's Row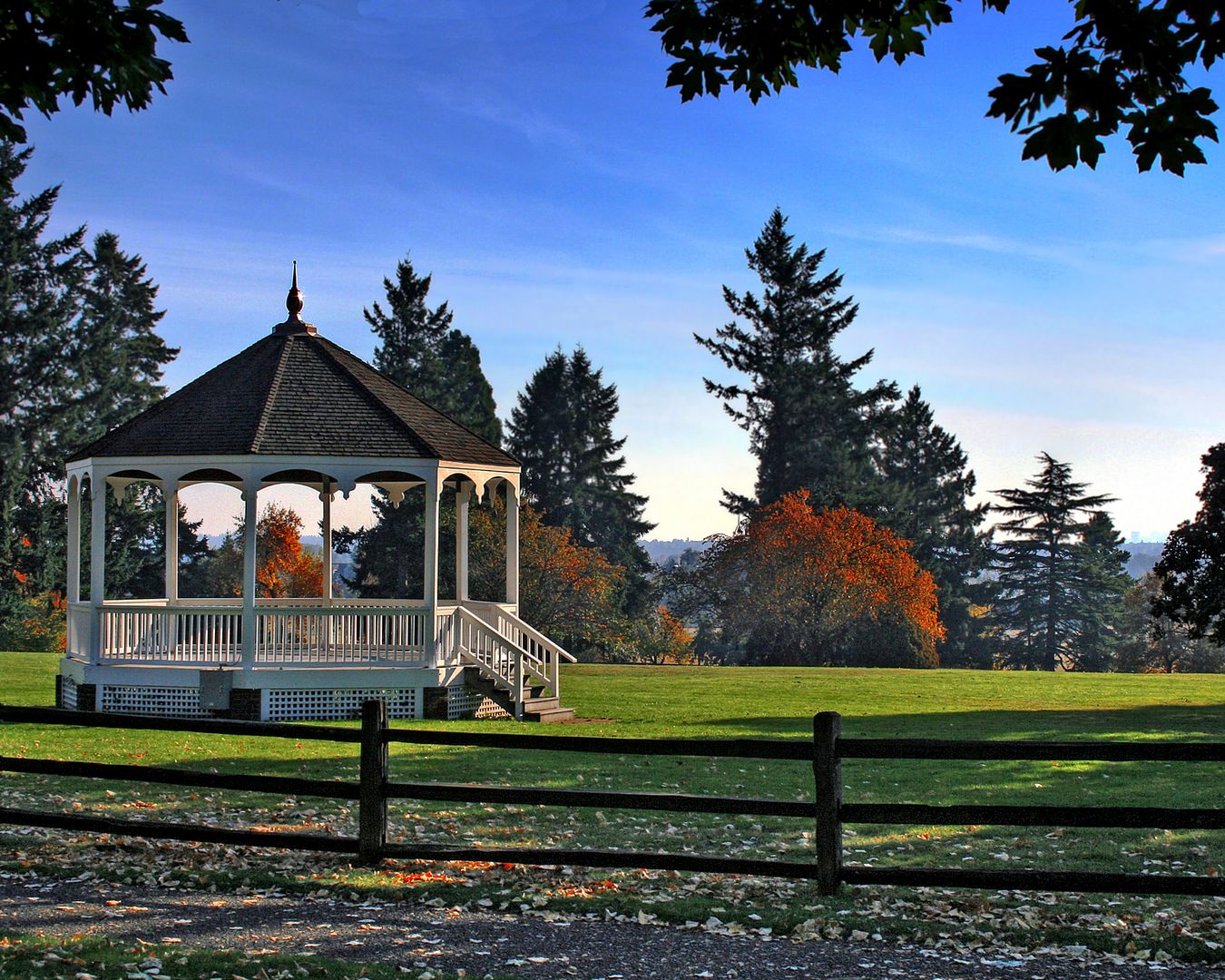 Fort Gazebo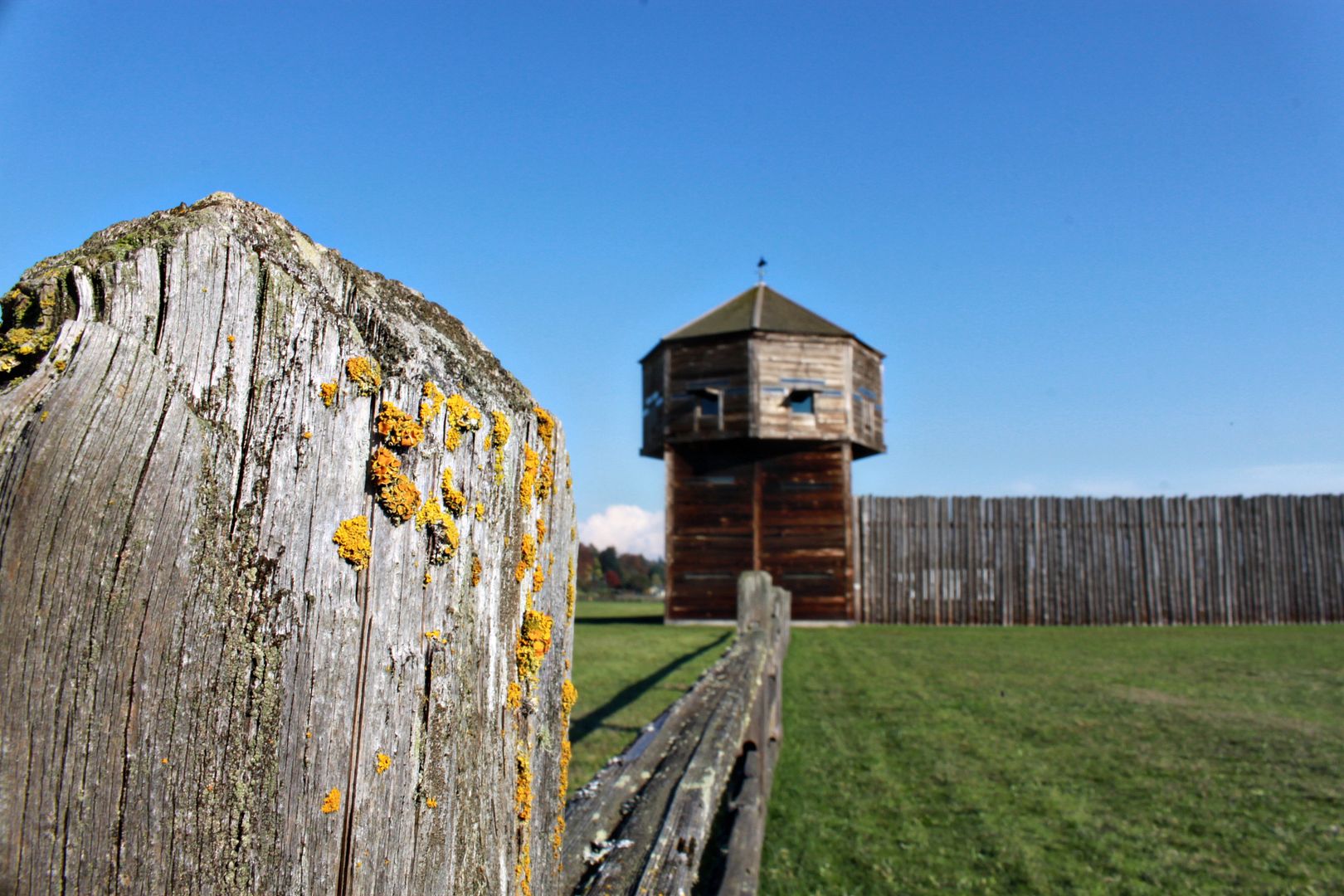 Fort Bastion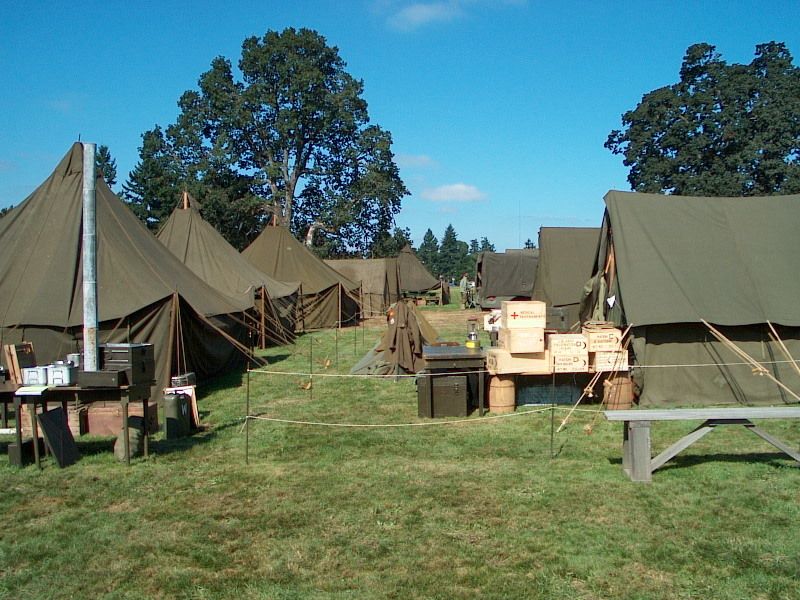 WW2 encampment at Fort Vancouver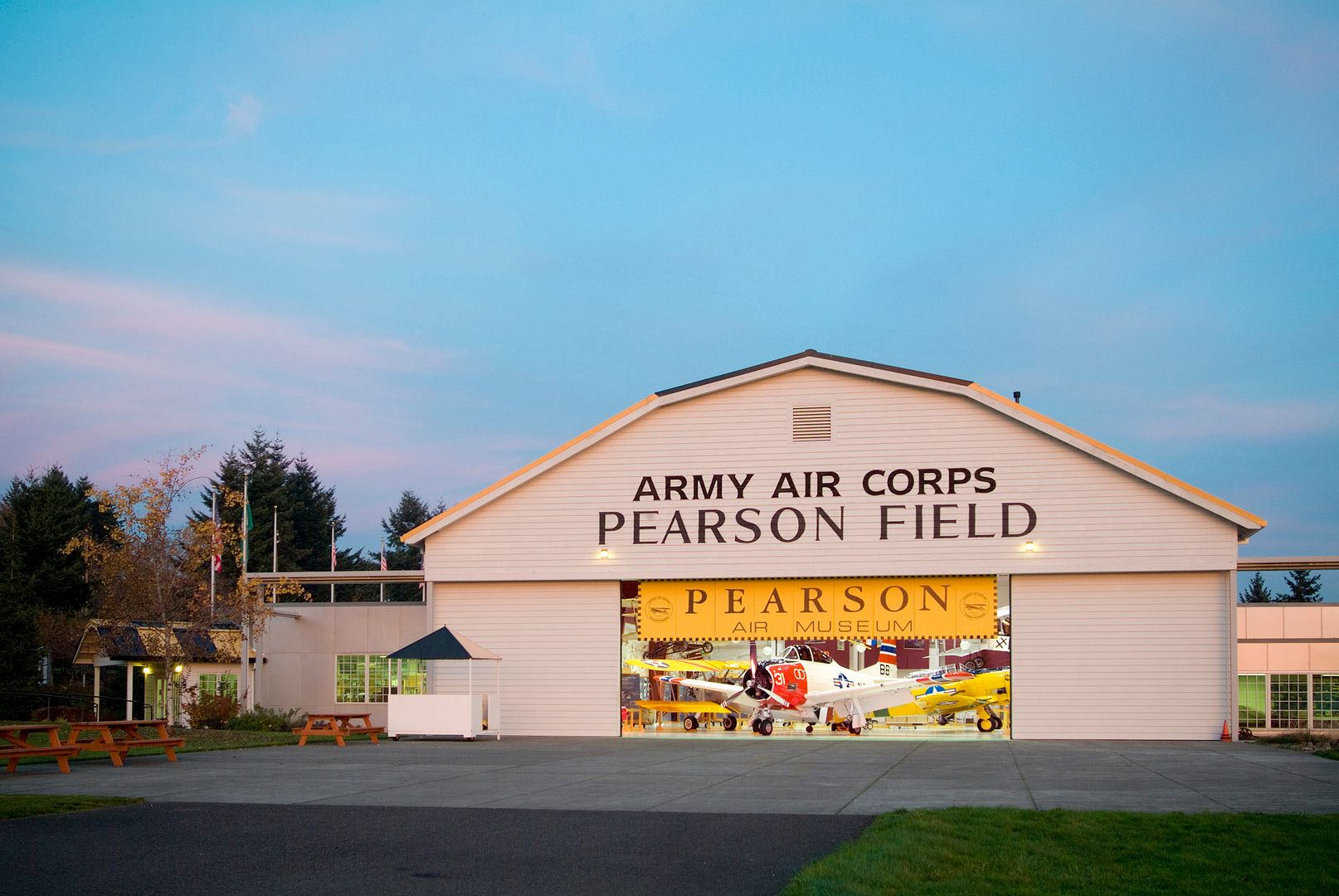 Pearson Air Museum
If you enjoyed our content, "Like" us on Facebook Today!

Related Posts
This is part of our coverage of San Francisco, Seattle and Vancouver USA. Check out these posts if you're visiting the West Coast of USA!
Top 5 Things to do and Attractions in Vancouver Washington USA!
Top 11 Things to do and Attractions in San Francisco USA
Top 8 Things to do and Attractions in Seattle USA!
Things to do and Attractions in Eureka California!
Metropolitan Grill Seattle : Are the steaks worth it?
Seattle Underground Tour by Bill Speidel : A tour not to be missed!
Seattle Space Needle , Chihuly Garden and Glass and the Monorail to Westlake Center
World's first Starbucks in Seattle – Do not be confused!
The Crab Pot Sea Feast : A Seattle MUST TRY!
Pike Place Market : (Possibly) Seattle's Top Tourist Attraction!
What's YOU MUST DO at San Francisco's Fisherman's Wharf!
Pizza and beers at Umbria San Francisco!
Great Eastern Restaurant Chinatown San Francisco : Even Obama visits it!
The steep slopes of San Francisco : A Pictorial Post
San Francisco's "Crookedest Street" at Lombard Street!
Scenic Oregon Drive from Vancouver to San Francisco!
Travel Through Time with Historic Monuments at Vancouver Washington!
Vancouver Washington's Natural Wonders!
Catching Portland Winterhawks in action after Burgerville Meal!
Why You should eat at Beaches Restaurant than McMenamins in Vancouver Washington
Red Lobster….FINALLY!
Inn at the Market Seattle : All about Location Location Location!
San Remo San Francisco : Hotel with a PRIME location!
Palace Hotel San Francisco : A great mix of History, Class and Luxury!
Heathman Lodge Vancouver Washington : One of our best hotel stays EVER!
Hilton Vancouver Washington : Classy Stay & Room with a View!
Remember, Vancouver Washington was named "Vancouver" before Vancouver Canada. This also means that for a travel destination that is rich in heritage, history and monuments, Vancouver Washington would be a great place for you to explore. There's also great natural formations in Vancouver Washington too!
Related posts: