Village Hotel Katong Staycation. Singapore Staycations have grown in popularity among Singaporeans in recent times and this can actually be proven by asking your friends a simple question – "Do you know what is a 'staycation'?". These days, they may just give you a wierd look and think to themselves "Where have you been man? Staycation is a word play of the words "vacation" and "stay" – meaning a holiday while staying in locally". But if you posed the same question 5 years ago, you may still be greeted with a wierd look but a totally different thought of "Whaaaaat??"
Thanks to the great people at Far East Hospitality, we were invited to a staycation at the newly refurbished Village Hotel Katong (formerly known as East Village Hotel and Paramount Hotel before that). The best thing about staying in the Katong enclave is that there are so many things to do in Katong that are so easily within reach! All within walking distance from Village Hotel Katong!
For those who do not already know, the Katong/Joo Chiat area is an idyllic enclave in the eastern part of Singapore that is rich in colonial history and Peranakan culture and Village Hotel Katong is right in the middle of all of that, allowing you to indulge in a staycation while reveling in the history and culture of an Uniquely Singapore experience!
But first, let's check out the club room that the hotel has kindly arranged for us…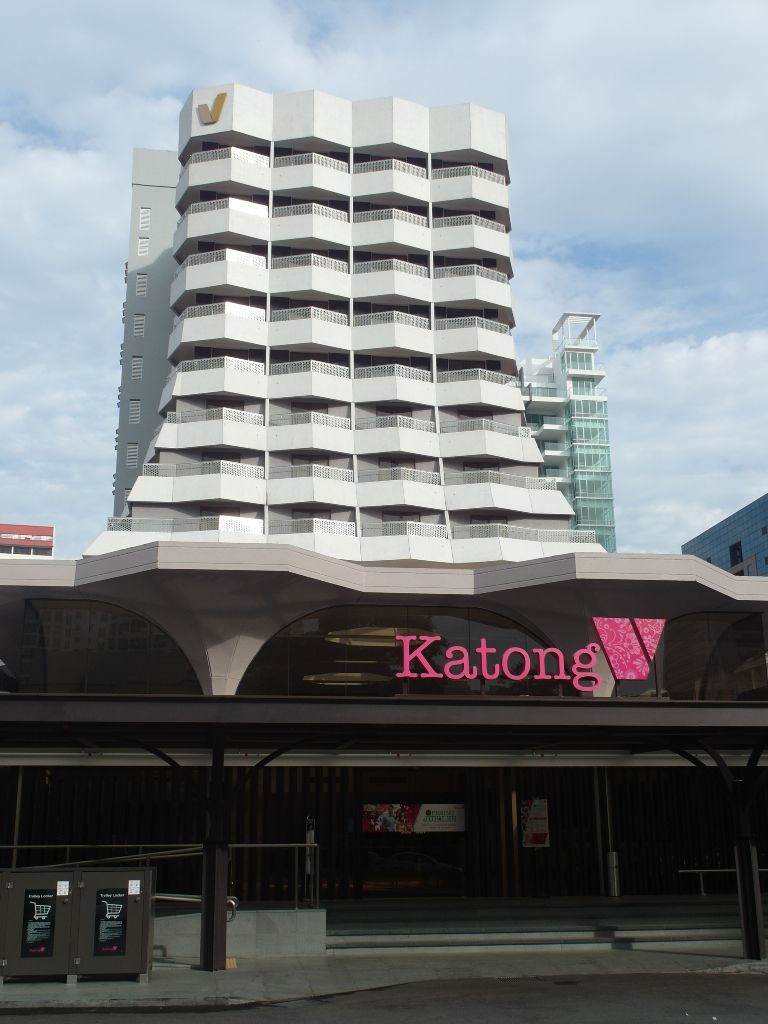 Village Hotel Katong Staycation – Notice the pyramid-shaped tower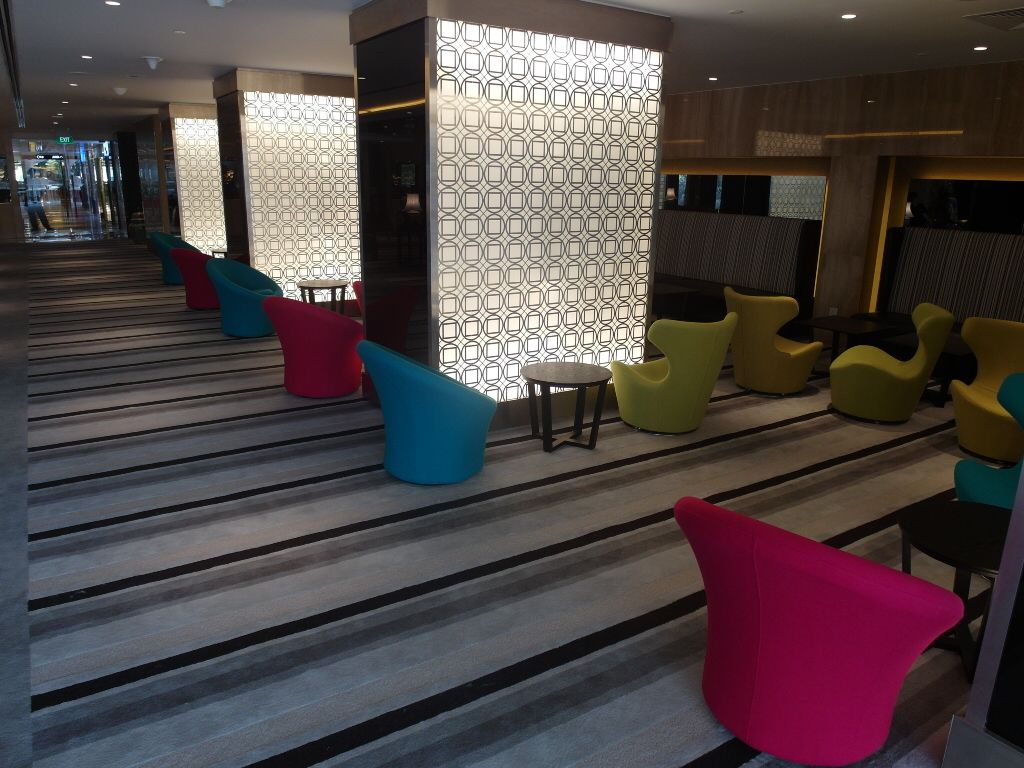 Lobby of Village Hotel Katong – accessible via level 2 or 3 of Katong V Retail Mall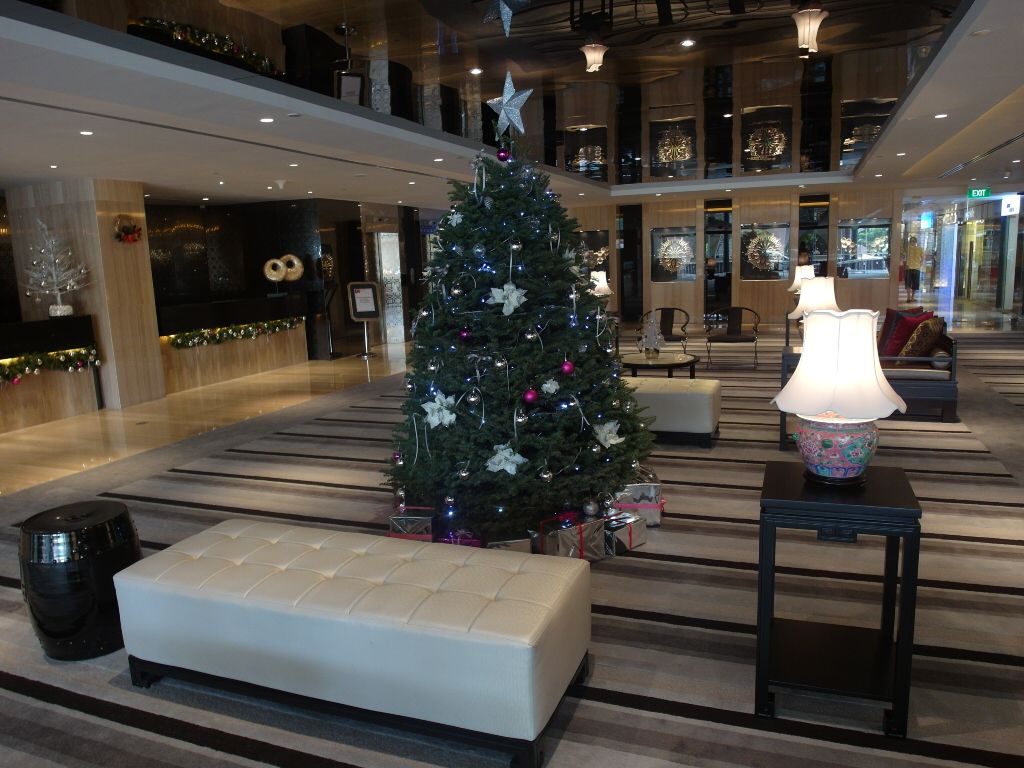 Reception of Village Hotel Katong
Club Room with Peranakan Lounge Access at Village Hotel Katong
Let's take a look at the video tour of the Club Room of Village Hotel Katong first shall we?

Video Tour of Club Room Village Hotel Katong
For us, one of the biggest draw of the room has got to be the Peranakan feel that the room exuberates. The hotel spares no effort in bringing out the rich heritage of Katong right in your own room…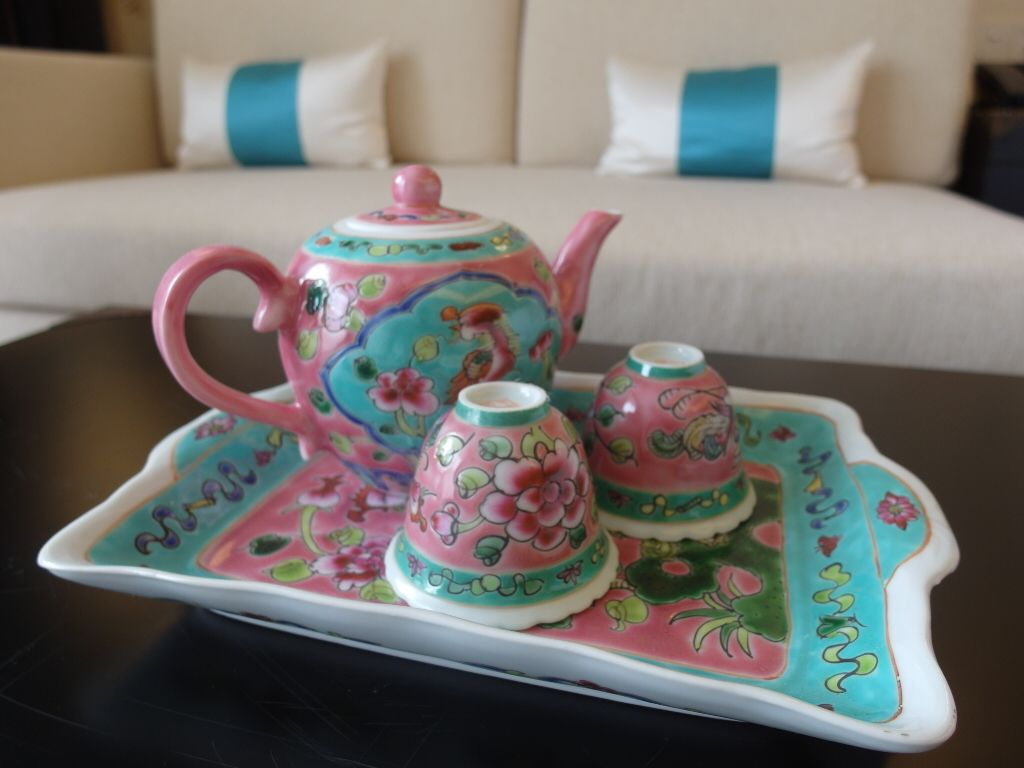 Peranakan tea pot in Village Hotel Katong Club Room

Painting of Peranakan kitchen wares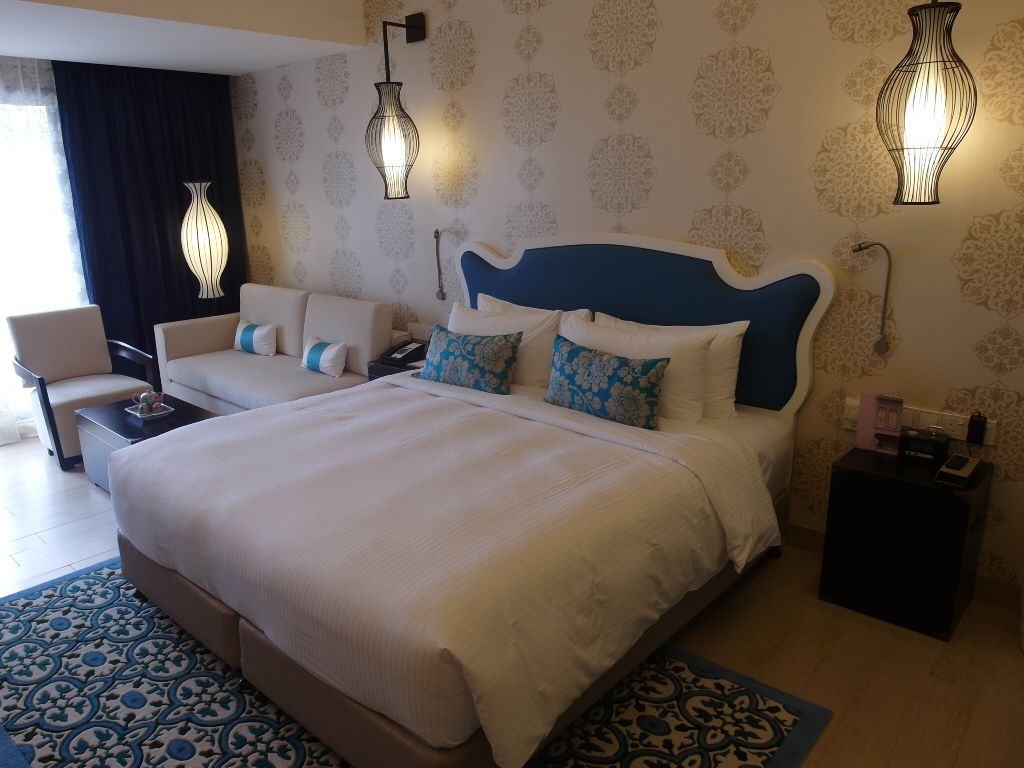 Elegant blue and inviting bed of Club Room Village Hotel Katong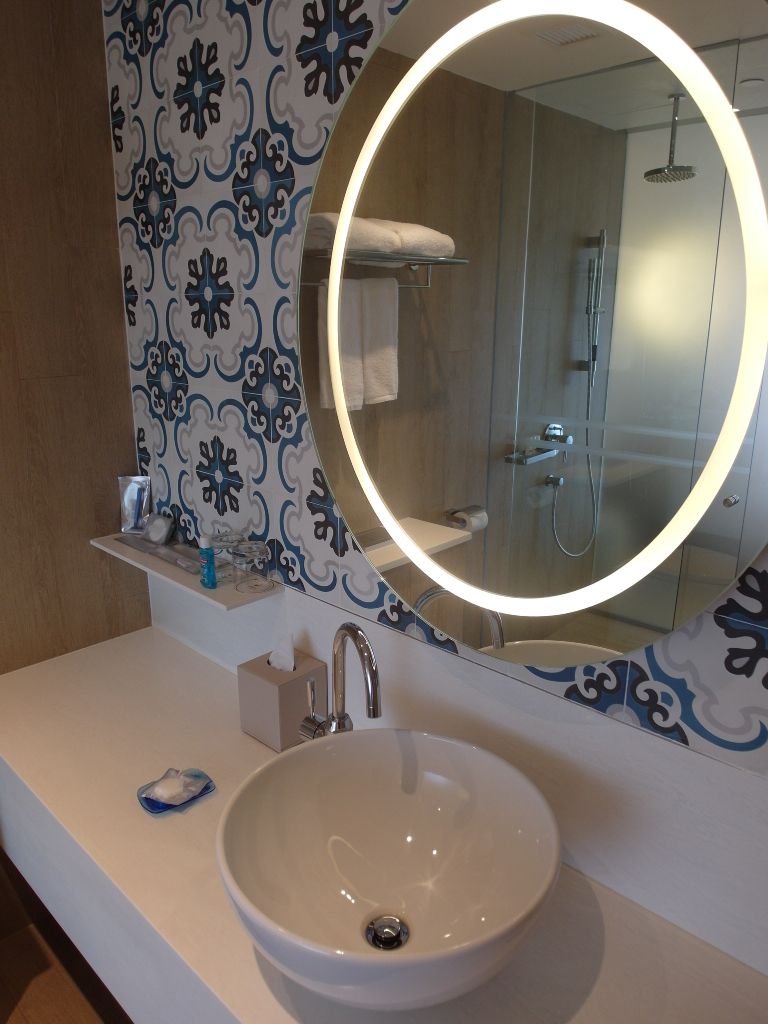 Peranakan-inspired prints on the walls in the bathroom
The bathroom also comes with a standing rain shower. It really revitalised us after a day spent out exploring what Katong has to offer…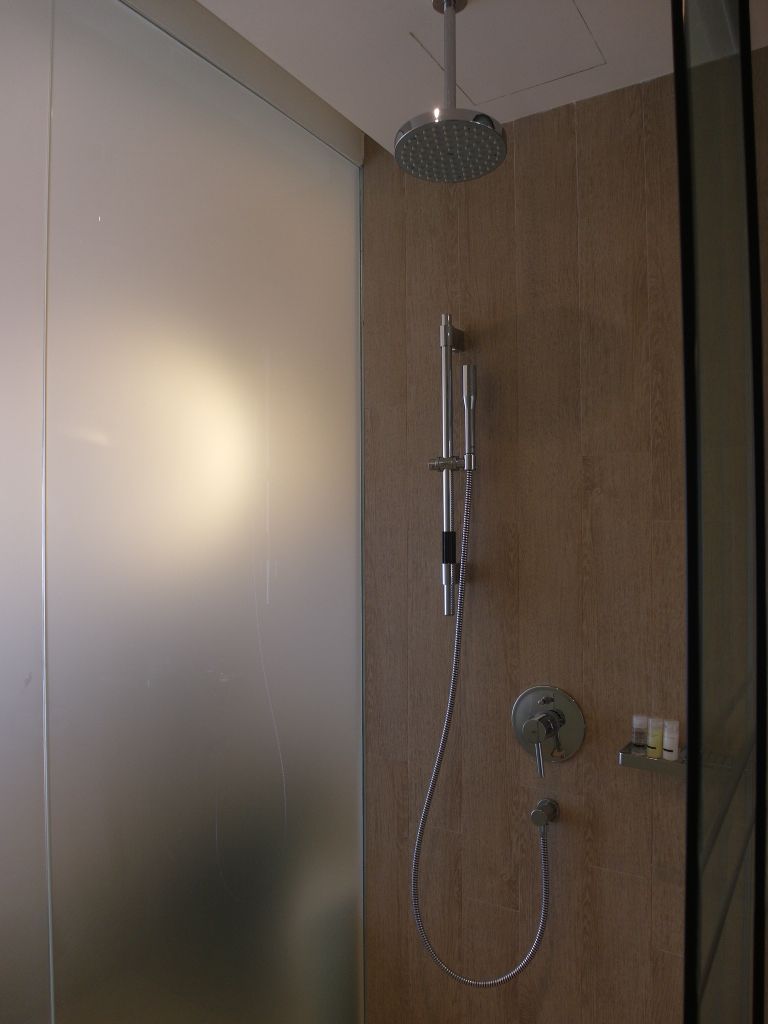 Standing rain shower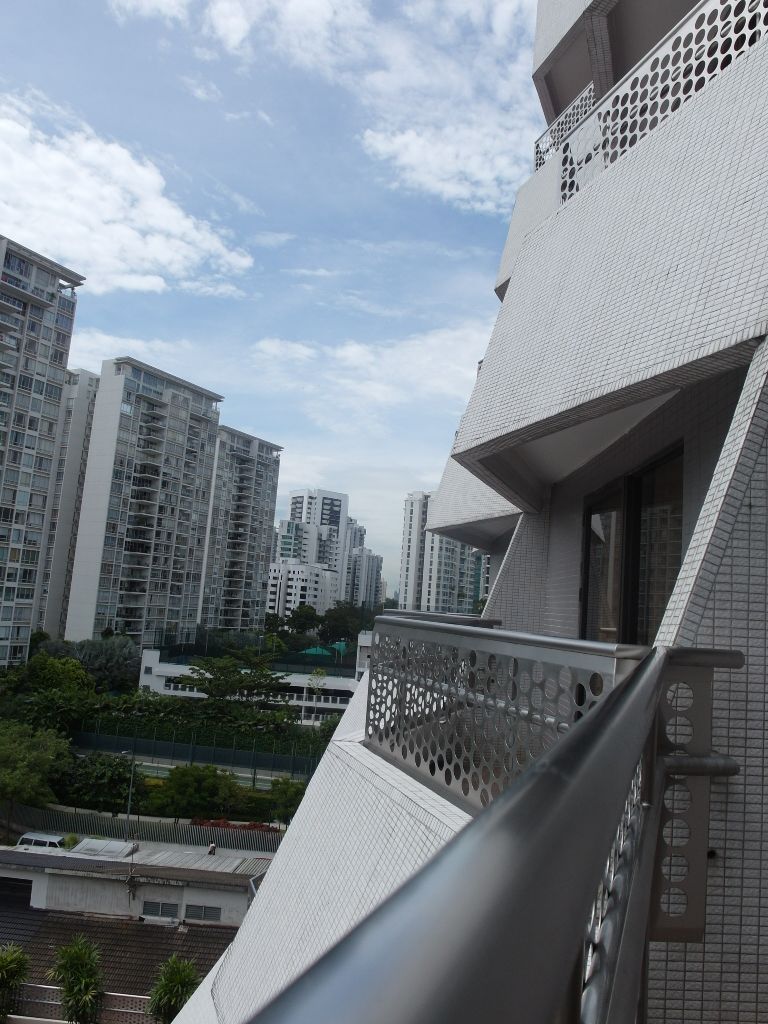 View from the balcony of Club Room at Village Hotel Katong
There's also a balcony that gives you a view of the surroundings (as you've seen from the video). The thing that you will have to note is that because of the "Pyramid" shape of the hotel, the larger rooms are below (club rooms are at level 5 and 6) while the deluxe and superior rooms are located at the higher levels. But at higher levels, you may actually have views of the sea! That's the trade-off that you will have to decide on…size or view, size or view??
Facilities at Village Hotel Katong
Located beneath the hotel is the Katong V retail mall. It's quite small really but it is anchored by Fairprice Finest allowing you to get your necessities – a stone's throw away.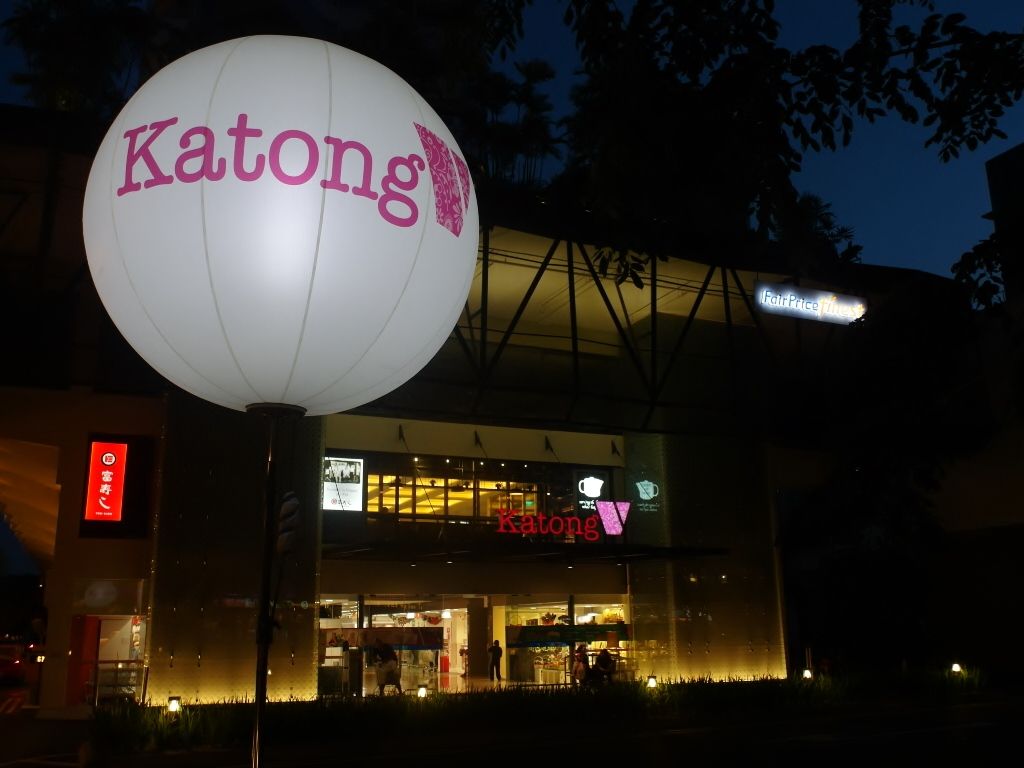 Katong V retail mall beneath Village Hotel Katong
As with all 4-stars hotel, Village Hotel Katong has facilities that include a swimming pool, gym, restaurant (Katong Kitchen) as well as a club lounge known as the Peranakan Lounge…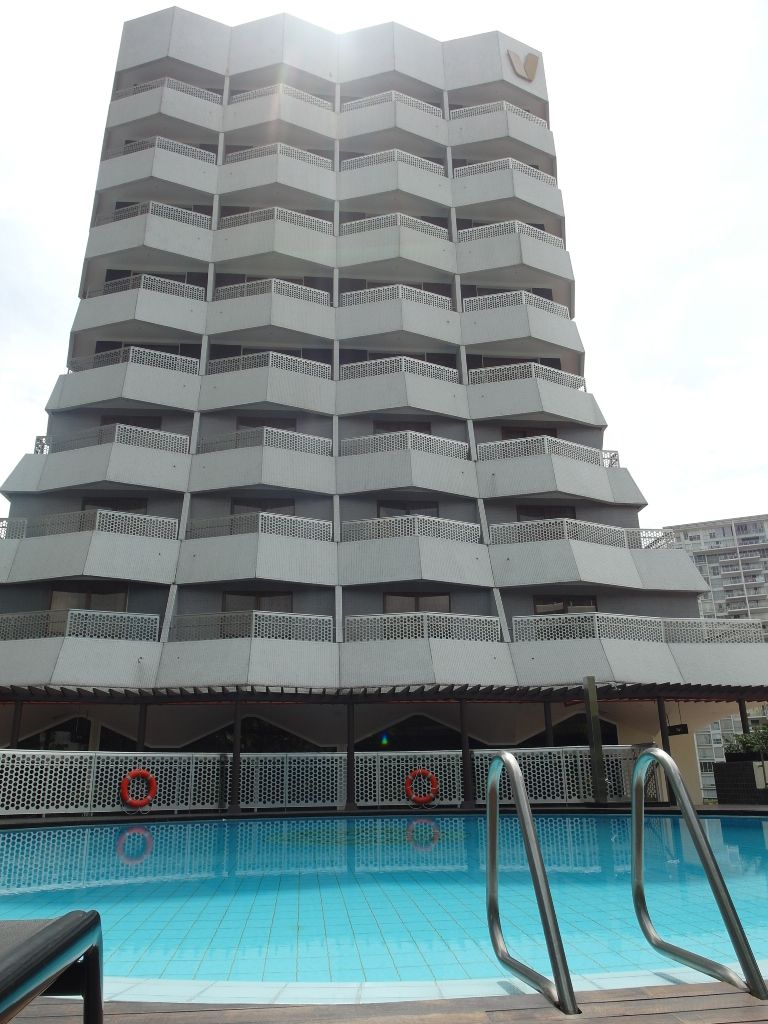 Swimming pool with Village Hotel Katong Tower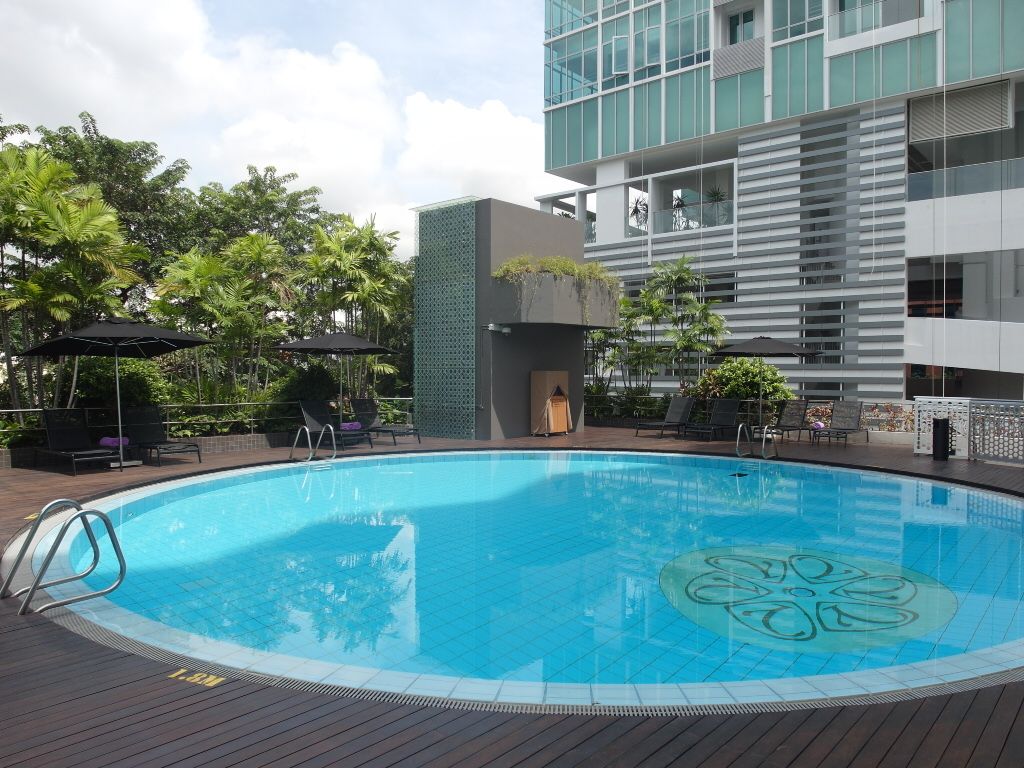 Swimming pool of Village Hotel Katong
We thoroughly enjoyed our swim at Village Hotel Katong. It was a hot and sunny day and that gave us a good tan! Moreover, the depth of the pool varies (from 1.2m to 1.8m), allowing tall swimmers like us to enjoy a relaxing afternoon swim. There are also deck chairs for you to just laze and take things down a notch.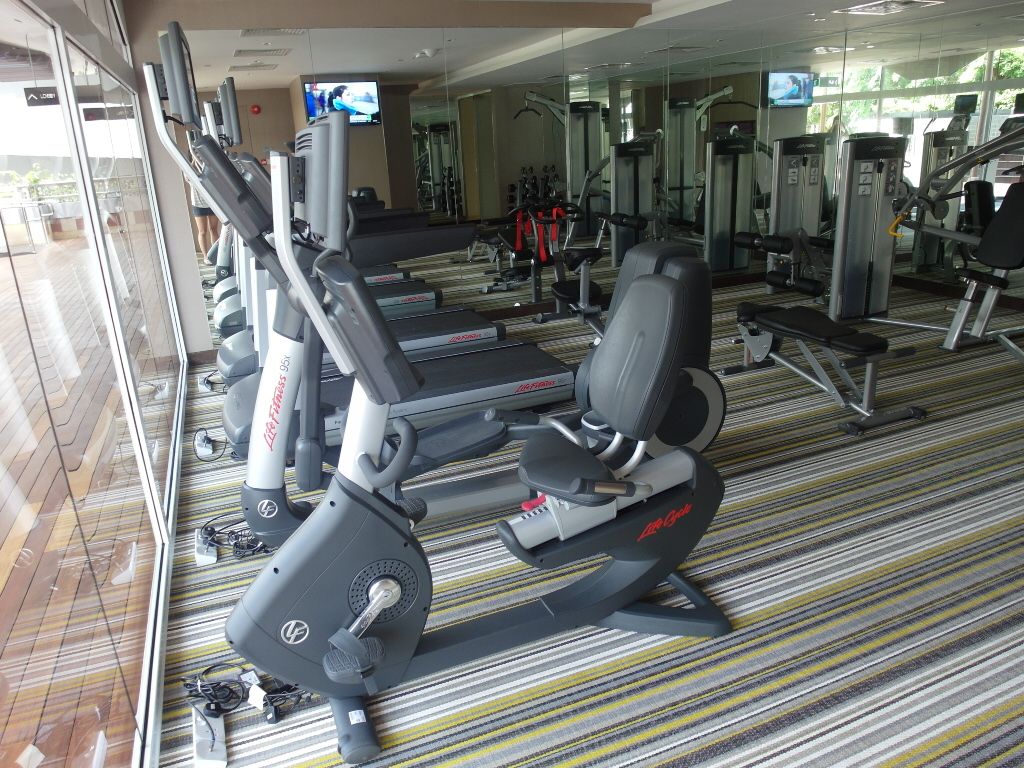 Gym of Village Hotel Katong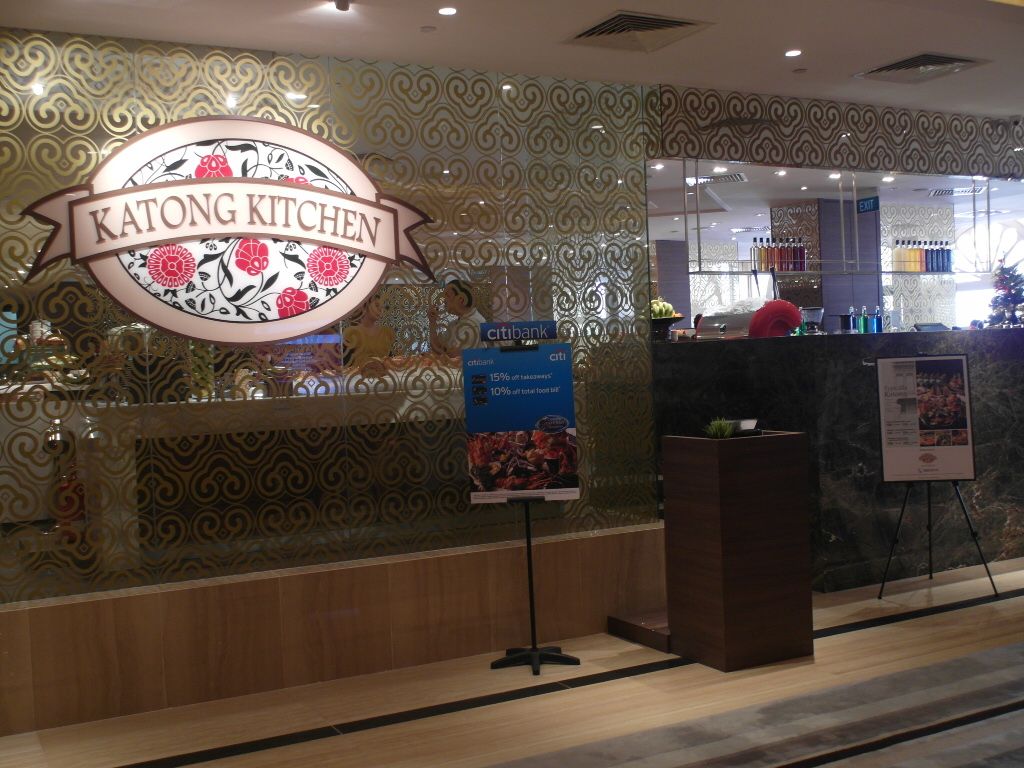 Katong Kitchen – serves up peranakan dishes with international buffet spread
Katong Kitchen is the place where you'll head to for breakfast. Surprisingly, the food was actually quite good for breakfast standards. Tasted much better than some 4 stars hotel breakfast that we've been to.
Breakfast at Village Hotel Katong
The breakfast at Village Hotel Katong was surprisingly good and the choice was quite extensive as well. Take a look!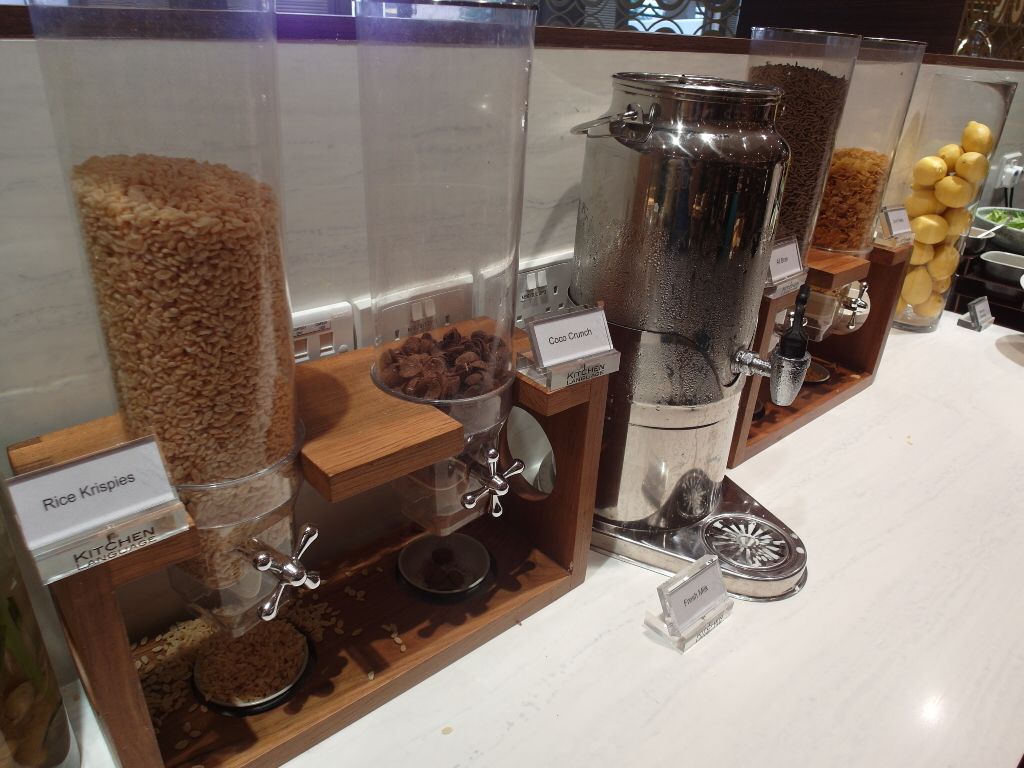 Cereals and milk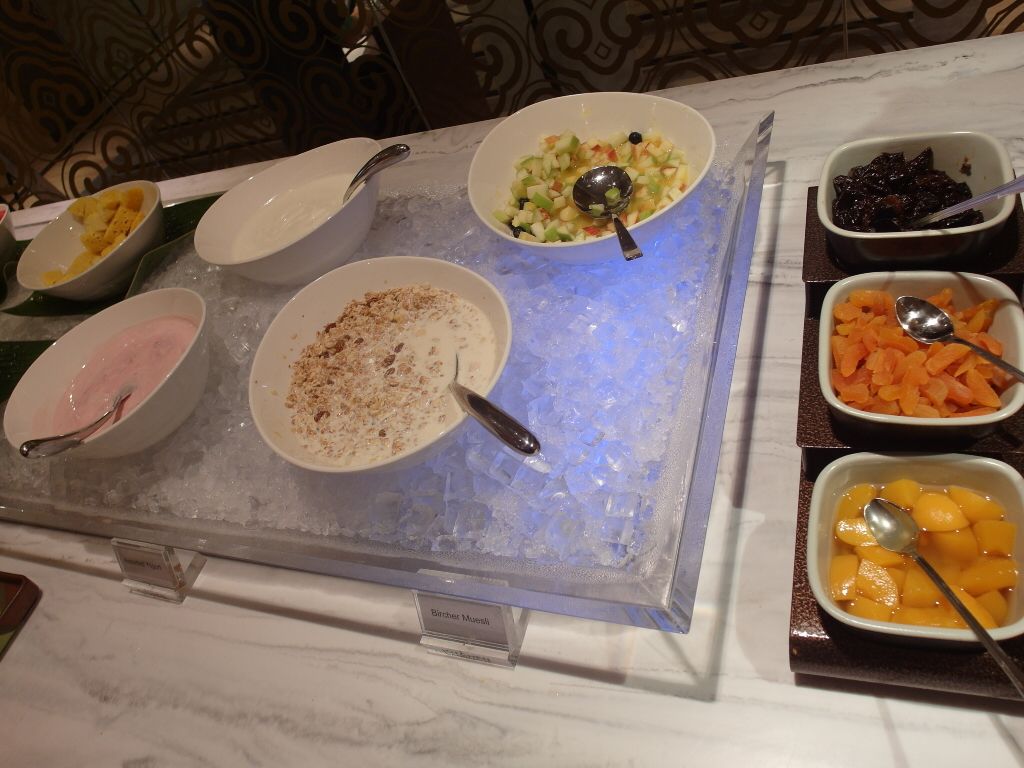 Yoghurt and fruit bits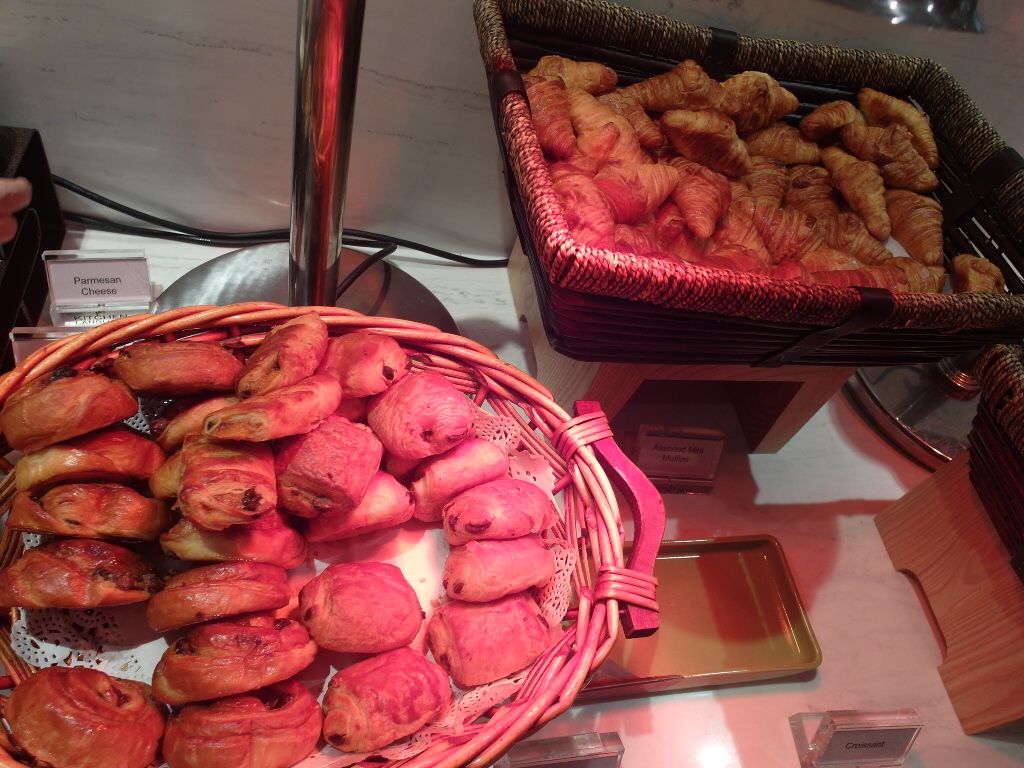 Pastries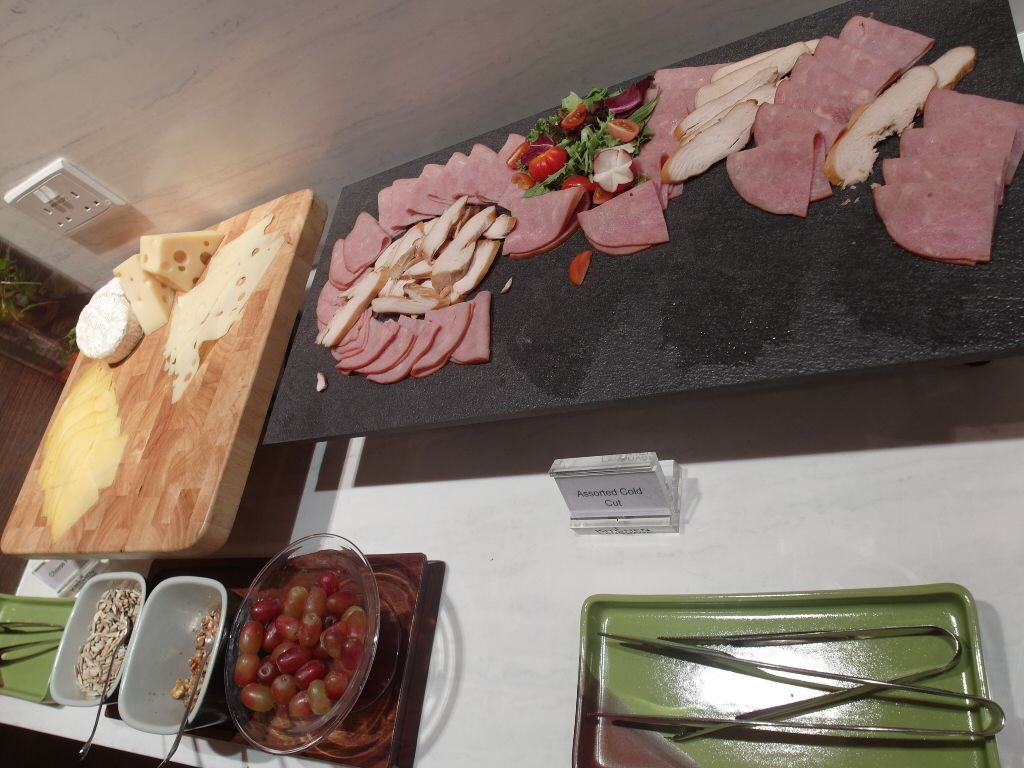 Cold cuts and cheeses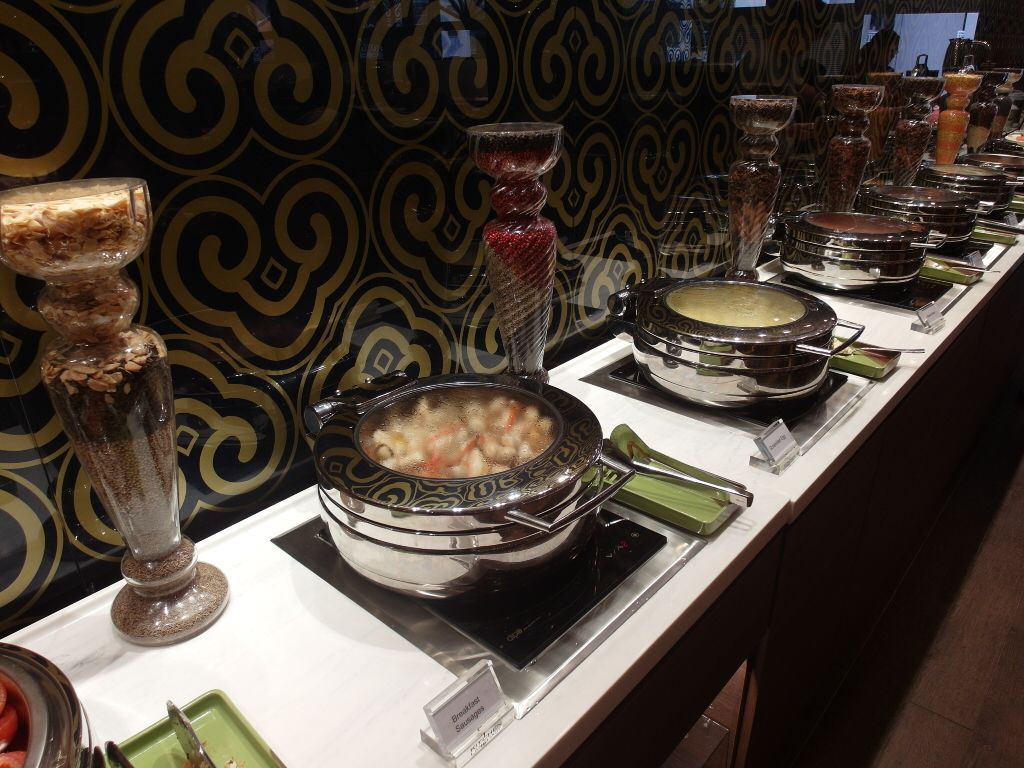 Hot dishes Village Hotel Katong Breakfast – including fried kuay teow, scrambled eggs, tomatoes, sausages, prata and curry chicken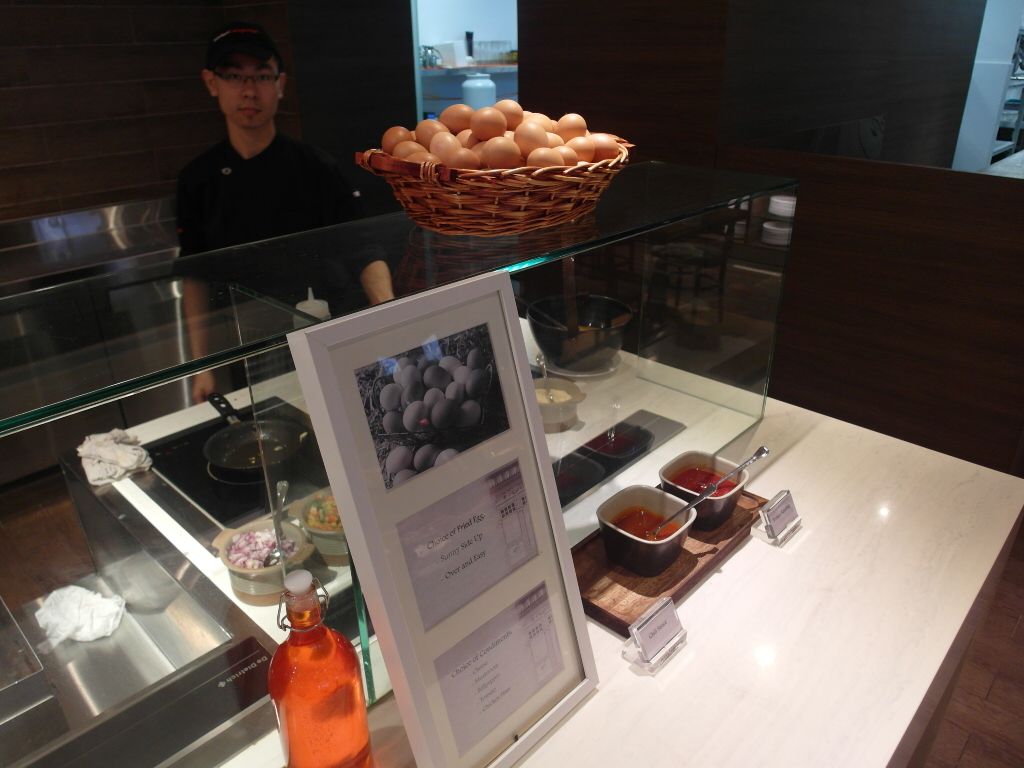 Egg station – for sunny side up and omelettes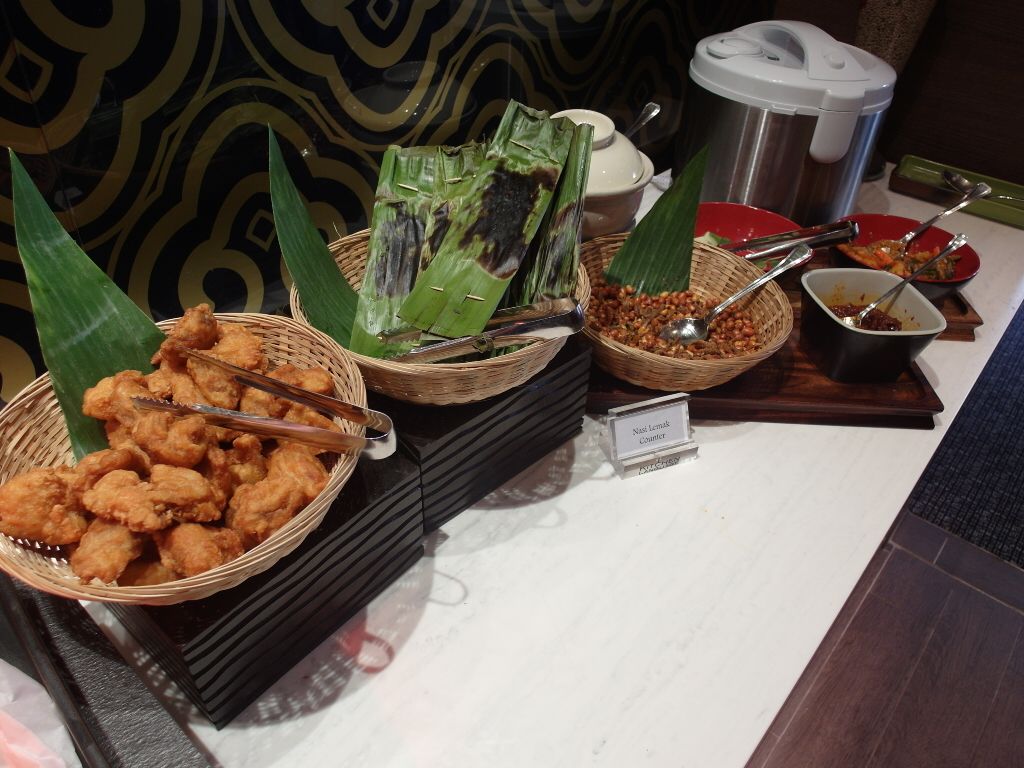 Nasi Lemak – A highlight of breakfast at Katong Kitchen Village Hotel Katong!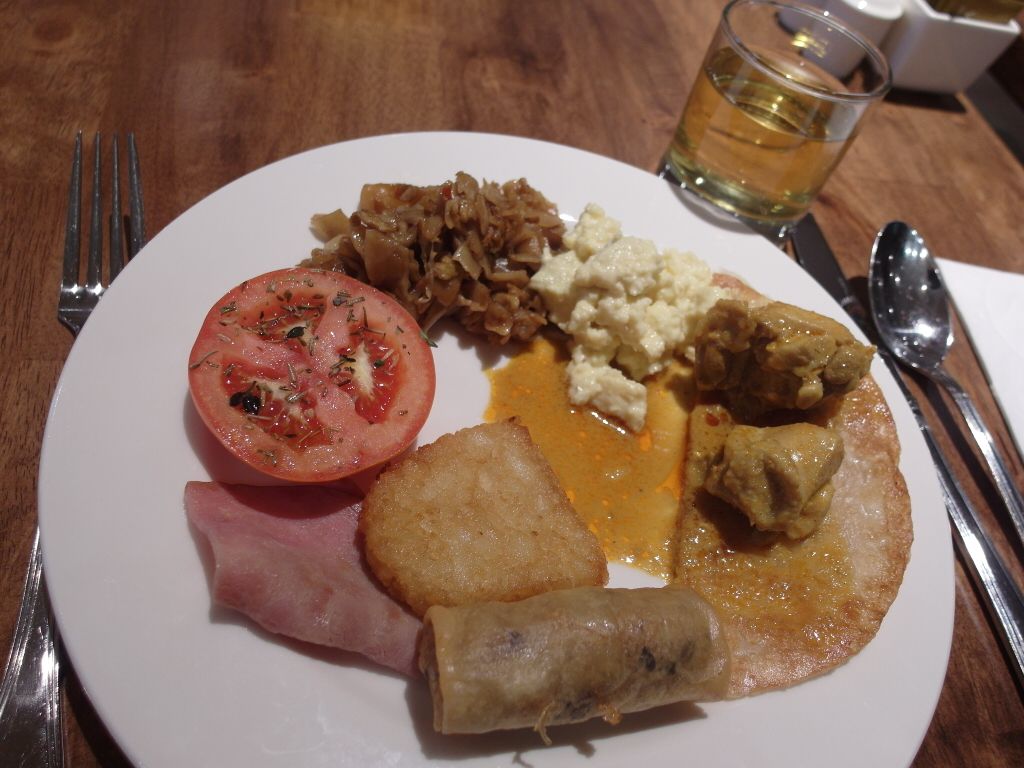 Our 1st round of food at Katong Kitchen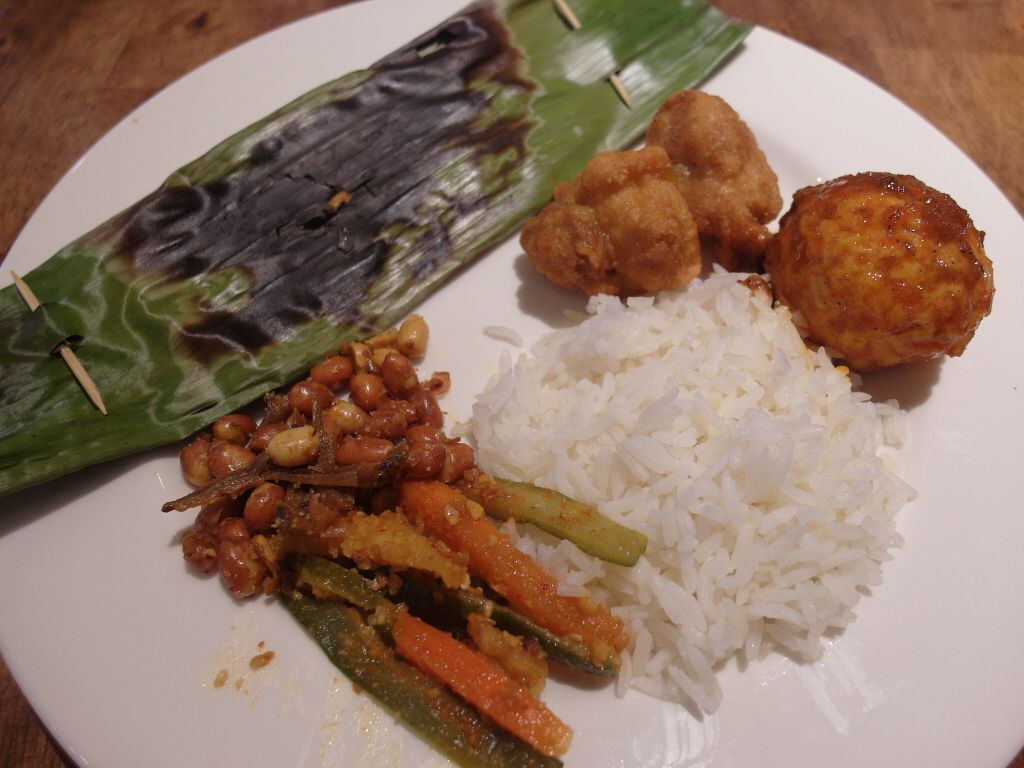 Nasi Lemak Katong Kitchen
If you only have room for 1 dish, you have got to try the Nasi Lemak. Rice was especially fragrant and we realised that it was cooked not only with pandan leaves but also lemon grass – giving it that unique taste. The condiments of ikan bilis,peanuts,belachan egg, chicken chunks (there was chicken wings as well) plus the nonya achar, made the dish all that special. There's also a noodles station, porridge and dim sum (har gau / chicken pau) for those who yearns for alternatives.
All in all, Katong Kitchen's breakfast offered great taste and an excellent variety of choices. Yum!
Peranakan Lounge Village Hotel Katong
To truly enjoy a staycation at Village Hotel Katong, you MUST opt for the Club Room with access to the Peranakan Lounge. Drinks (including soft drinks/coffee/tea) and snacks are served at the lounge throughout the day…

Peranakan Lounge at Level 6 of Village Hotel Katong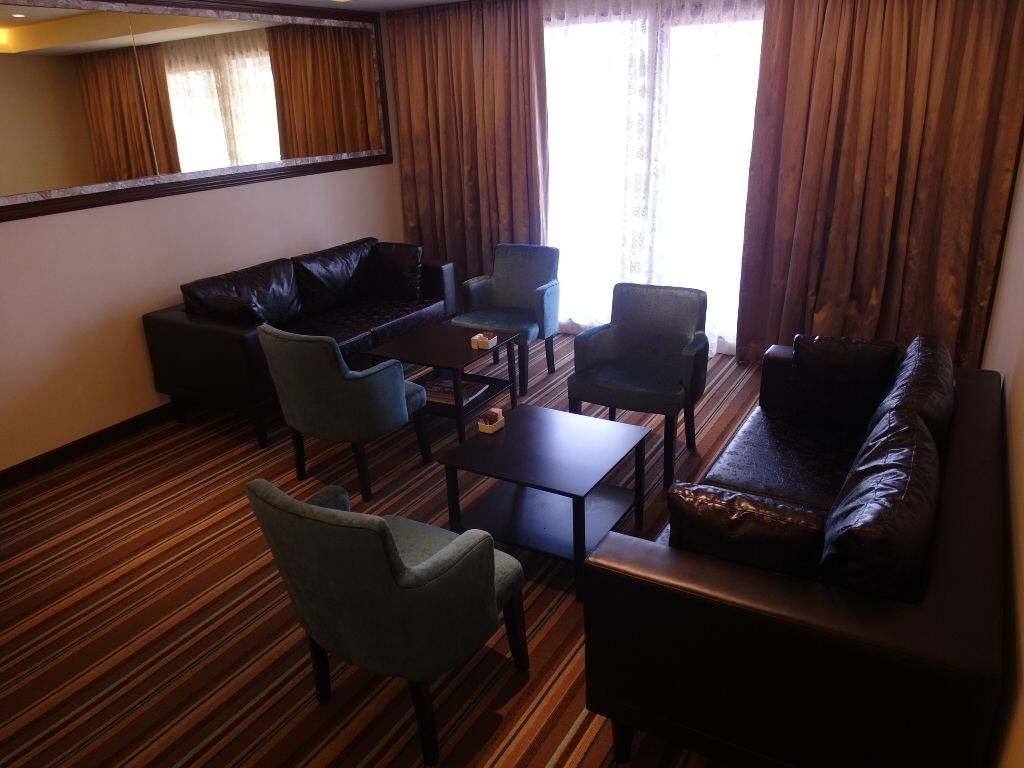 Seating areas in Peranakan Lounge – suitable for meetings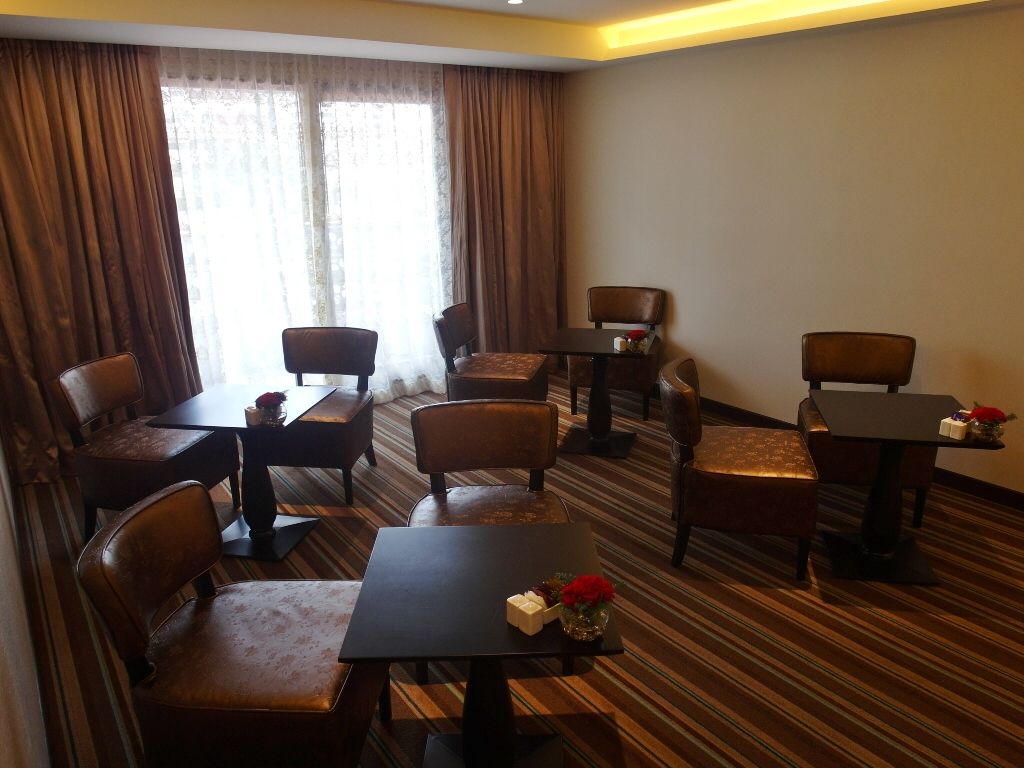 More seating areas – notice how each table only has 2 chairs? They're actually facing a TV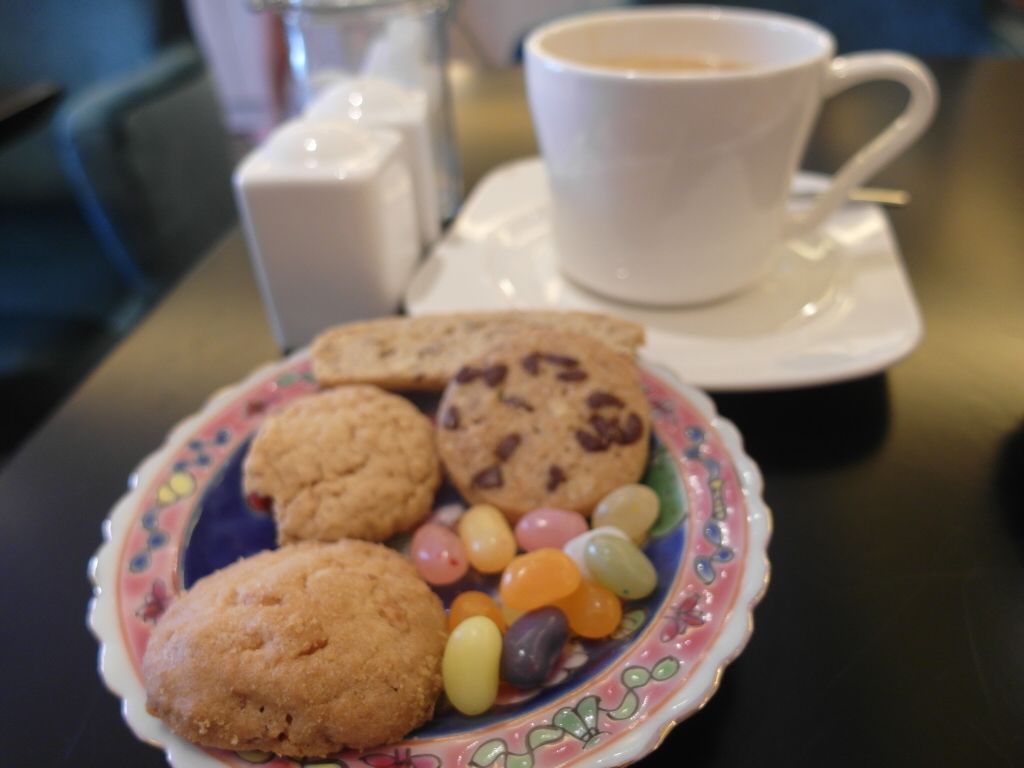 Snacks includes cookies and jelly beans/marshmallows for the kids!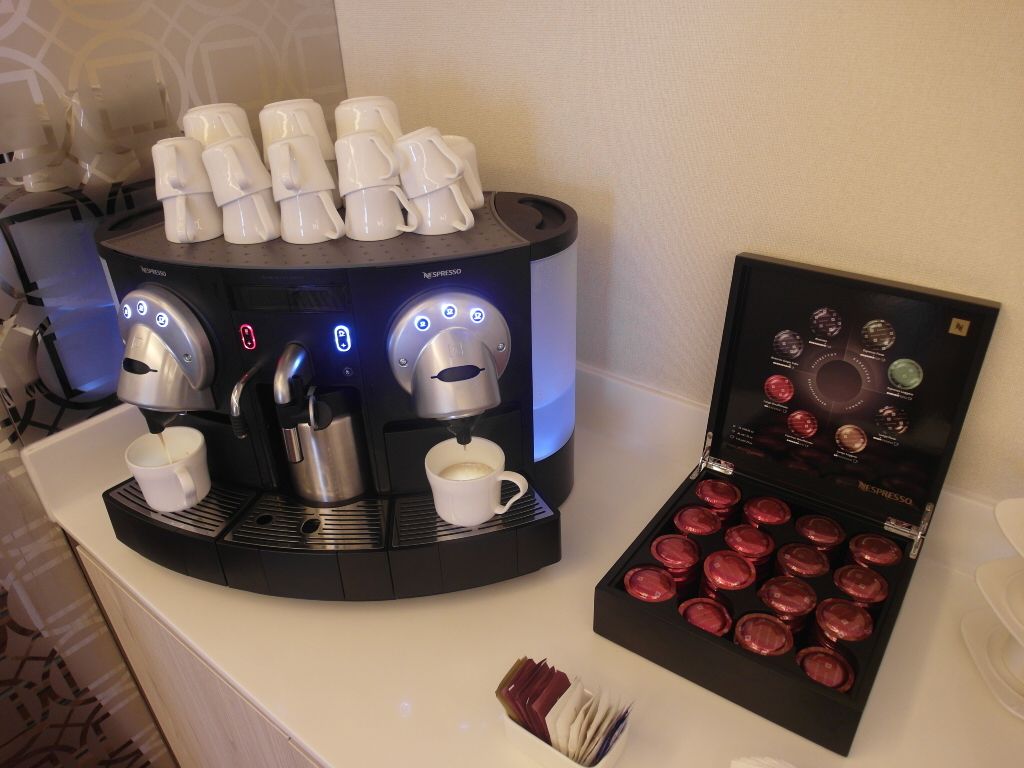 Peranakan Lounge's Coffee making machine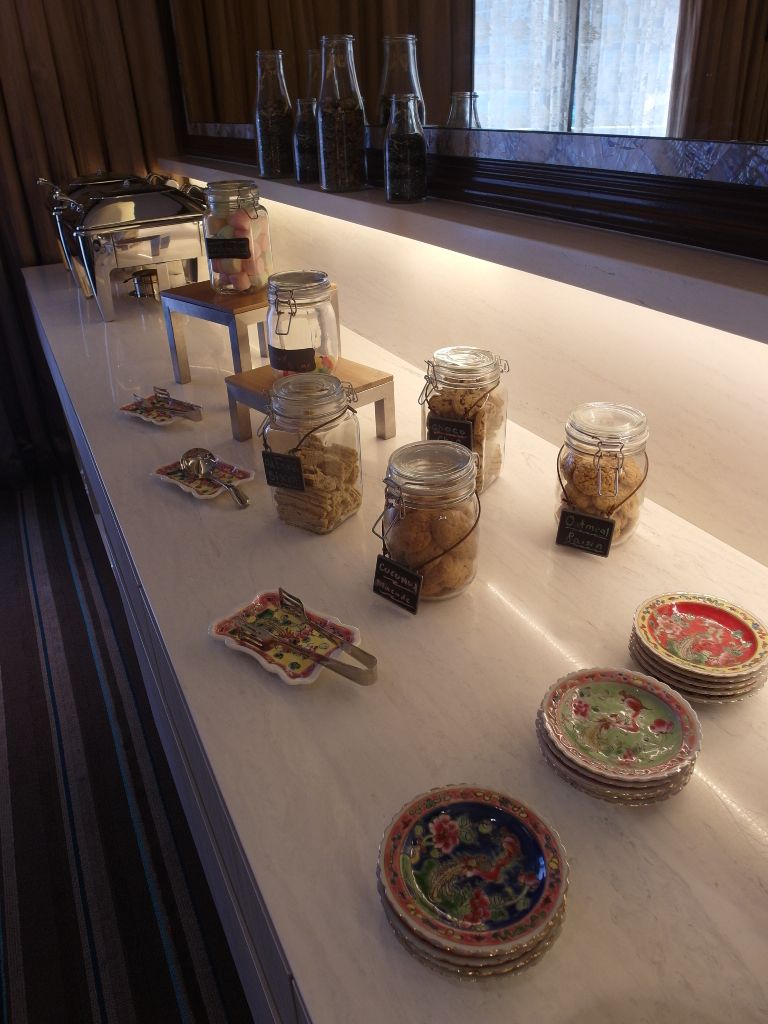 Look at the exquisite arrangements of the snacks and those intricate peranakan serving dish!
The REAL reason why the Peranakan Lounge access makes your staycation all that more wonderful is because of the evening cocktails from 6pm to 8pm! You'll get free flow, FREE-FLOW of beers, liquors and wine and finger food to go along as well!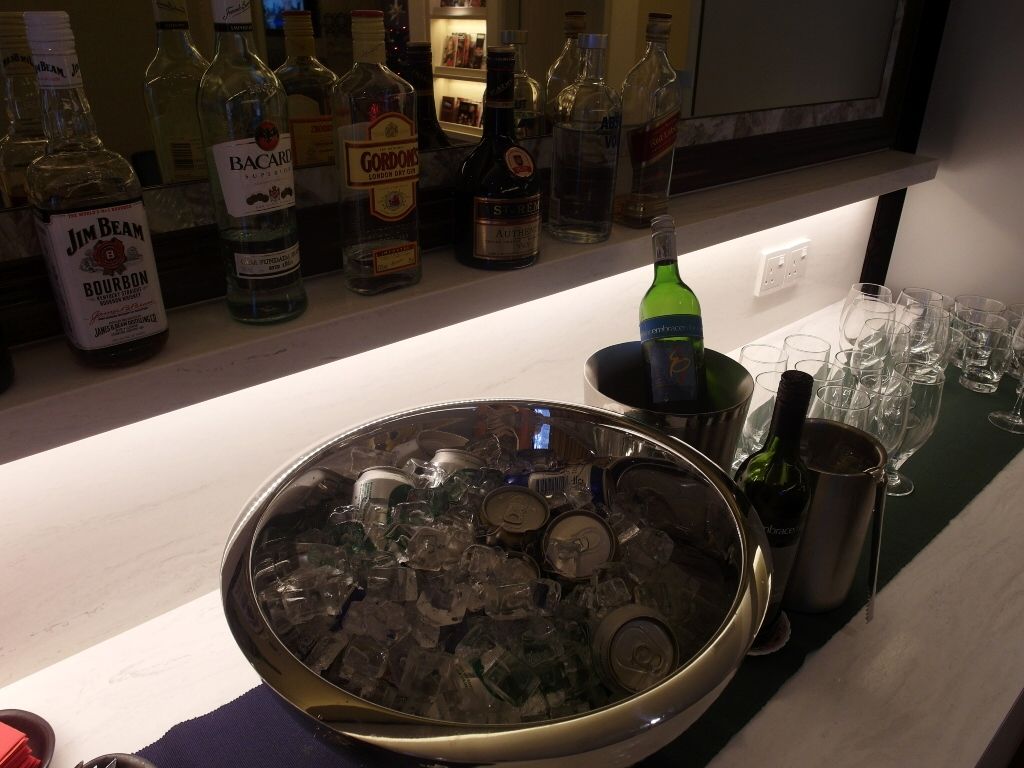 Free flow of alcoholic beverages during cocktails at Village Hotel Katong Peranakan Lounge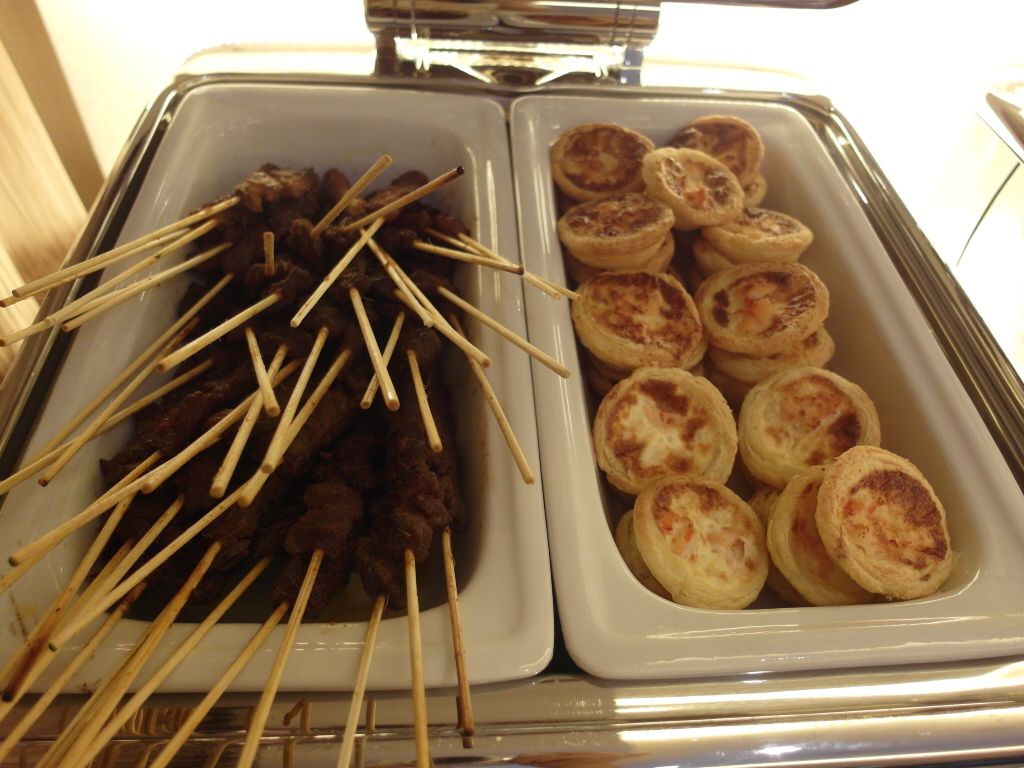 Satay and quiche

Fish and chicken chunks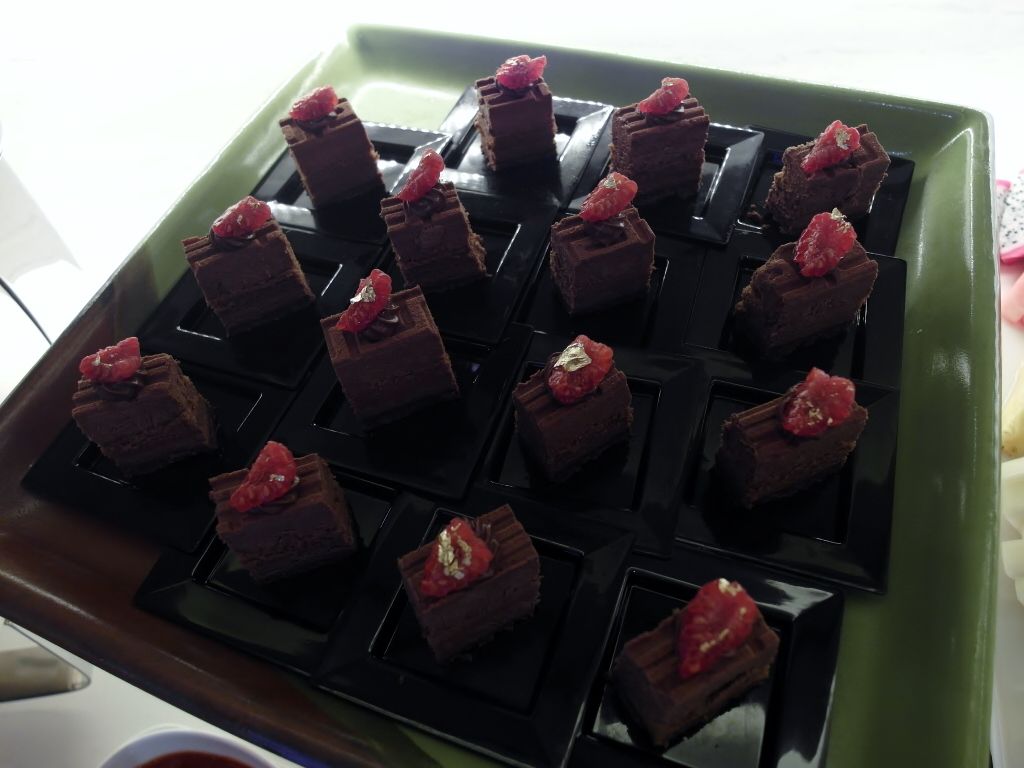 Rich smooth chocolate cake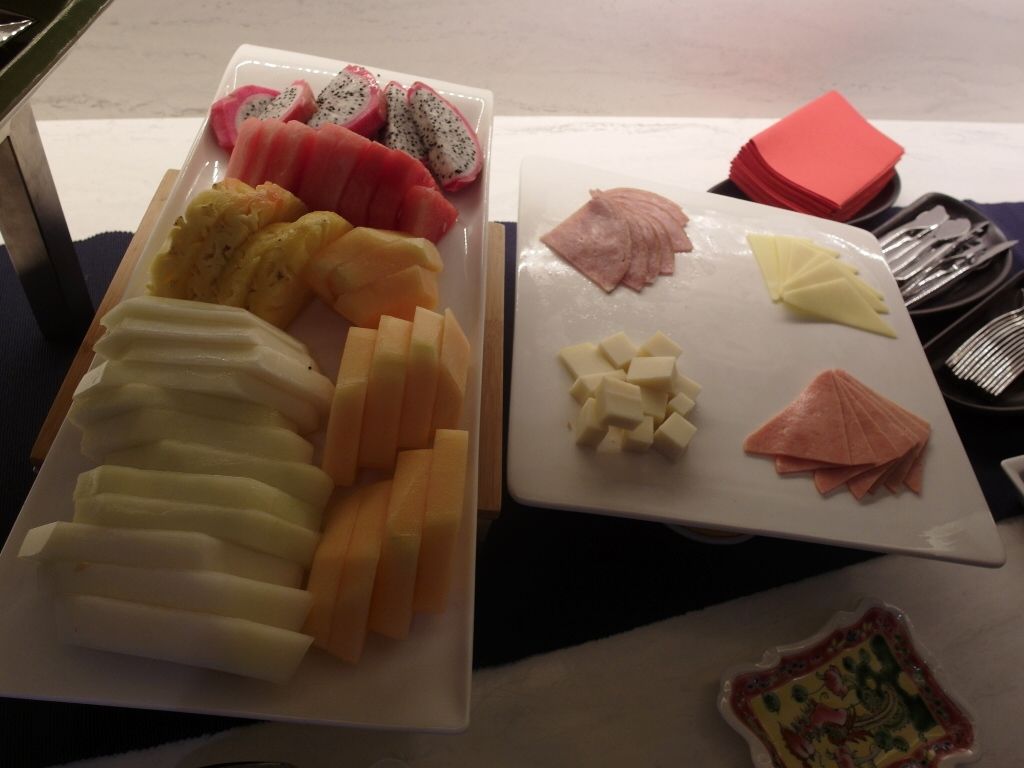 Cold cut and fruits

Our first round (of many) at the Peranakan Lounge Village Hotel Katong
The other cool thing is that you'll be served at the lounge! We just went in, sat down and were promptly served by the staff of the Peranakan Lounge. All you have to do is choose a comfortable spot. While you chill at the lounge, you can choose to watch some TV or read the newspapers (something that Tom enjoys) and magazines.
Why do a Singapore Staycation at Village Hotel Katong?
Besides enjoying a comfortable, relaxing and rejuvenating stay at the Village Hotel Katong, the main draw of the staycation here is the proximity to the attractions at the Katong enclave. The great people of Far East Hospitality has even done up a booklet that tells you the things to do in Katong while you're staying at Village Hotel Katong…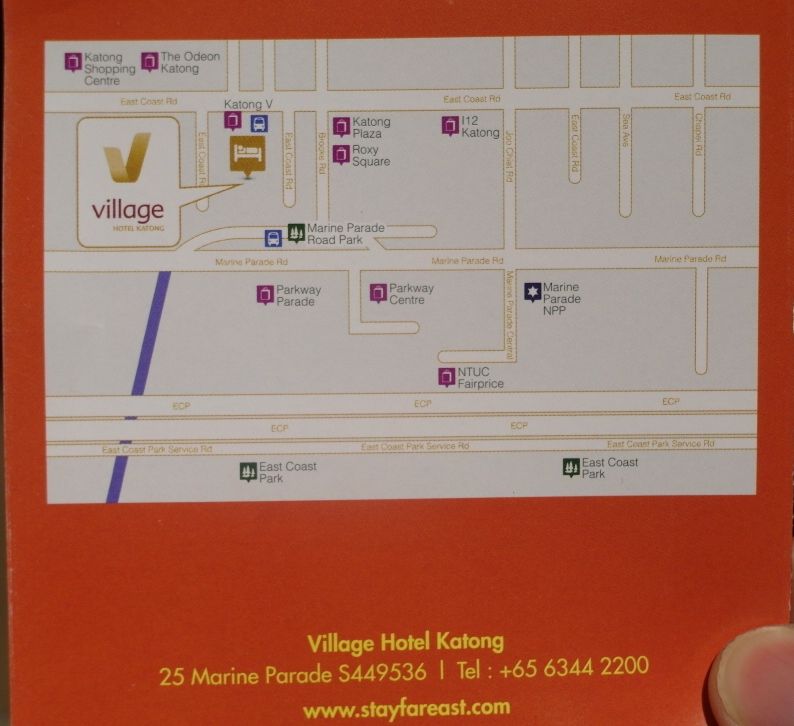 Attractions in and around Village Hotel Katong
There are really many things to do and attractions in Katong. You may also be wondering what are the things to eat in Katong? Well, we'll talk more about that in our next post. But to be sure, there are tons of shopping options at I12 Katong (not 112), Parkway Parade Shopping Centre and Roxy Square. Food options abound at Marine Parade Food Centre and the famous joints (such as 328 Katong Laksa, Ampang Niang Tou Fu, Chin Mee Chin Confectionery and Yong's Teochew Kueh).
How to get to Village Hotel Katong
Village Hotel Katong is located at 25 Marine Parade S449536. If you're driving like us (parking is complimentary), you can enter into the carpark of Village Hotel Katong via Marine Parade or East Coast Road.
If you go by public transport, the buses 15,31,36,43,48,76,135,196,196e,197,853C and 966 stops opposite Parkway Parade Shopping Centre. Buses 10,10e,12,14,14e,32 and 40 stops at Roxy Square. Both bus stops are 2 minutes walk from Village Hotel Katong.
If you enjoyed our content, "Like" us on Facebook Today!

For your convenience, we have arranged for the best hotel deal at Village Hotel Katong right here!
We thoroughly enjoyed our staycation at Village Hotel Katong and we think that Far East Hospitality has got the Singapore Staycation formula right on. Just like our Village Hotel Changi staycation, both hotels offers an excellent base to rediscover the gems and unique attractions that Singapore offers. The formula is right in that staycations are no longer about luxuries of a hotel (that is a must-have) but also what one can discover around the precinct of the hotel.
*Special thanks once again to Far East Hospitality for inviting us for this staycation and kudos to the staff of Village Hotel Katong for excellent service rendered to us during our stay!
P.S. To Jennesa and Josephine, thanks for making our stay extra special by tending to our request and addressing our queries with such excellent service. Was particularly impressed with Josephine's starting line of "Sorry to keep you waiting" eventhough we merely stood in line for 5 seconds. Great service overall, kudos to the team at VH Katong!
Click on the following posts to see all our Singapore Staycation Reviews!
Top 10 Singapore Staycation Ideas!
Grand Mercure Roxy Singapore Staycation : The Studio Suite!
Uniquely Singapore Staycation at Village Hotel Katong!
Ritz Carlton Singapore Staycation: Simply Shiok!
5 Reasons Why You Should Do a Staycation at Hotel Jen Tanglin Singapore's Newly Refurbished Club Room!
Pan Pacific Singapore Hotel Harbour Studio Staycation!
Rendezvous Hotel Singapore : Staycation in the Heart of the Art District!
Quincy Hotel Qool Weekend Staycation : Singapore's ALL-IN Staycation!
National Day Staycation at the Regent Singapore – A Four Seasons Hotel!
Village Hotel Changi Staycation : Rediscover the gems of Singapore!
Awesome Staycation at the Grand Mercure Roxy Singapore!
Raffles Hotel Staycation Singapore : Relax & Rejuvenate!
Amara Sanctuary Resort Staycation Singapore Sentosa 2 Bedroom (BR) Villa with plunge (private) pool
D'Resort @ Downtown East : A Perfect Staycation for the Entire Family!
Swissotel Merchant Court Executive Room Staycation : Right in the heart of Clarke Quay!

A Letter to Jen (Hotel Jen Orchardgateway Staycation)…
Oasia Hotel Staycation Review!
AMOY Hotel Singapore : Why you should stay here during your next visit
The Ultimate Family Staycation at Shangri-La's Rasa Sentosa Resort & Spa!
3 Singapore Staycation Ideas for 2017!
Related posts: