Ah ha! Thought we will be revealing all we did in Vegas didnt you? Well…as they say, "what happens in Vegas, stays in Vegas" or does it really?
Well first, let us give you the low down of how you can arrange your own trip to Las Vegas!
Planning
As we have mentioned in our post about "How to successfully plan your own holiday and vacation", it is always important to plan early and plan ahead!
As usual, Kate did ALL the planning! But it is important to note these few points as they can really help you stretch your buck…
Hotels
Did you know that the price differs ALOT if you stay in the same hotel on weekdays compared to weekends? Prices can differ by as much as up to 50%! Usually, hotel rates are cheaper from Sundays to Thursdays (mondays to thursdays for some hotels) and the prices sky rocket over the weekends (for obvious reasons – weekend getaways!)
Also, there are many fabulous hotels that do not cost a bomb. Try searching for hotels in Vegas and list them according to price. You will realise that cheap hotels that have excellent hotel facilities do exist in Vegas. This is because they usually attract tourists with low priced stays and free tickets to headline shows so that you will spend at their "you know what". So try to snatch those good deals but dont fall prey to "you know what"!
Car Rental
It is advisable to rent a car in Las Vegas, simply because walking in the hot Nevada sun is not what you want to do, especially in the summer months.
In addition, with the mobility of a transport, you can visit hotels and restaurants outside of the strip which Kate and I were able to do.
Plus, parking is usually free at the hotels!
You can do so by visiting the car rental companies online and look for cheapest rate available. Also, you can just pop by the car rental booths when you land at the airport. Booking online could be cheaper given that there are deals going on every now and then. You could also save the hassle of wondering whether there are cars in the cheaper categories available.
Btw, it would be good to download USA maps to your GPS so that you would travel easy as well.
Tour Packages
If you are visiting Vegas for the first time (and probably the last time if you are from a distant land), make sure you sign up for the visit to Grand Canyon/Hoover Dam! The prices are relatively acceptable and they offer you a hassle free option to visit these world-renowned locations!
Having given some tips before hand, this is the low down of where we visited…
The Lowdown
Kate and I landed at the McCarran International Airport and got the keys to our car at the car rental booth. It's a breeze if you have booked it online in advance.
We tried several hotels this time round and spent our first night at Hooters Hotel…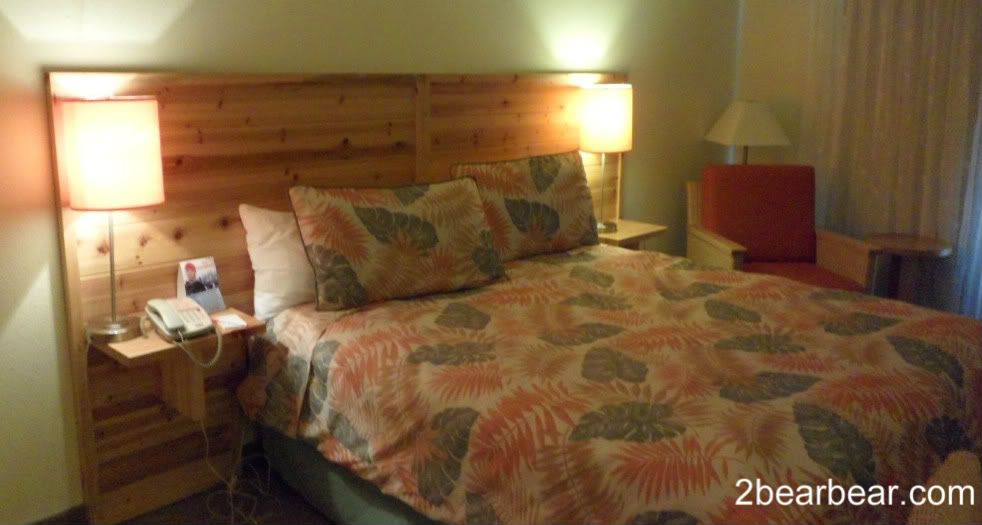 Room @ Hooters Hotel
The view from our room was awesome as well…
View of New York New York and Excalibur from Hooters Hotel
As it was the summer season, the water in the pool was exceptionally cold! We think it was purposely chilled to make sure that the guests were not chao ta (smelly dry or burnt in hokkien) under the hot sun…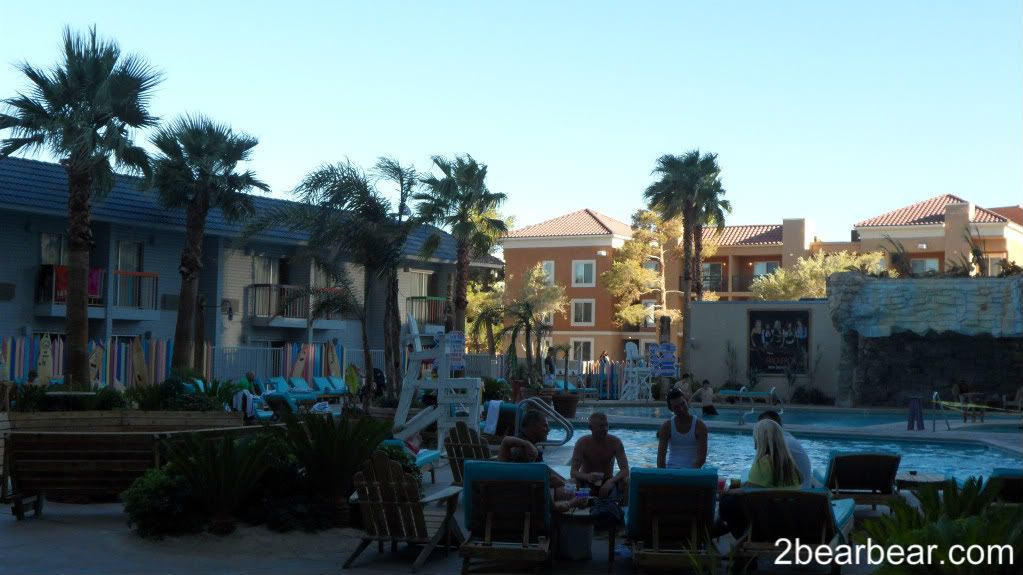 Swimming pool of Hooters Hotel
After a nice refreshing swim and some drinks by the pool, we headed out to see the sights on the Strip…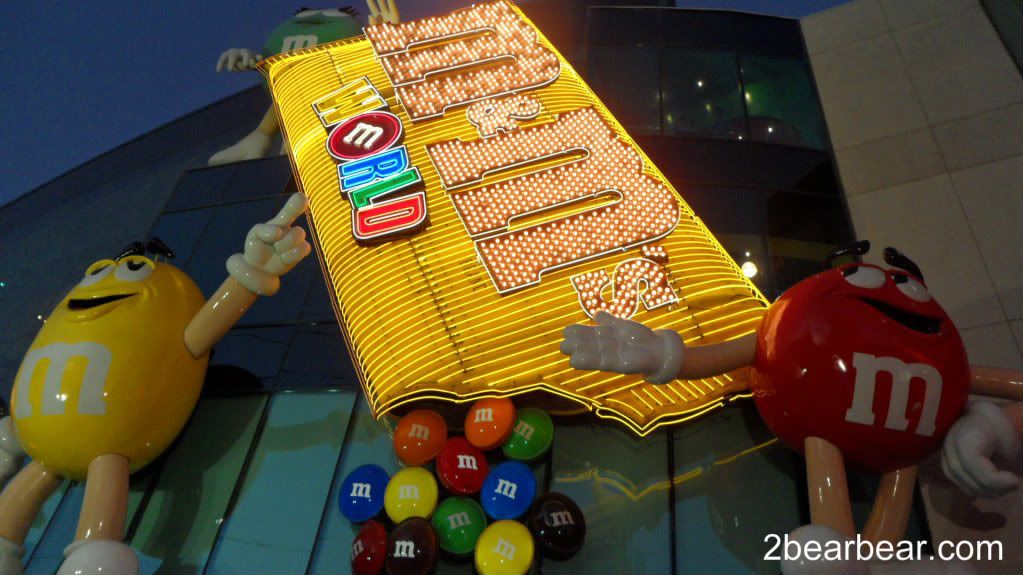 M&Ms World Las Vegas
Harley Davidson Cafe Las Vegas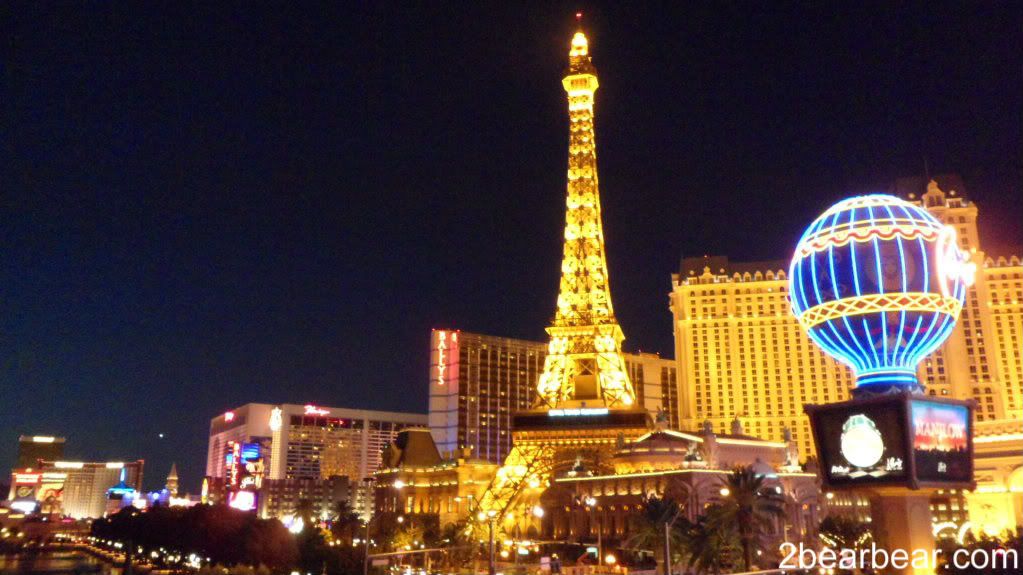 View of the Strip – Paris and Planet Hollywood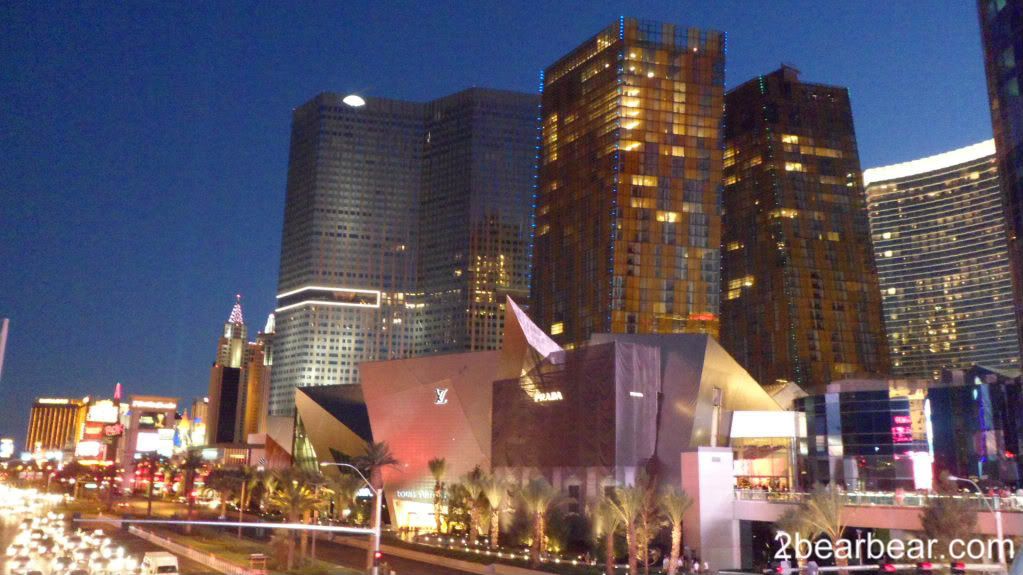 Another View of the Las Vegas Strip

Exterior of the Hooters Hotel at night
We returned back and enjoyed the famous hot wings from Hooters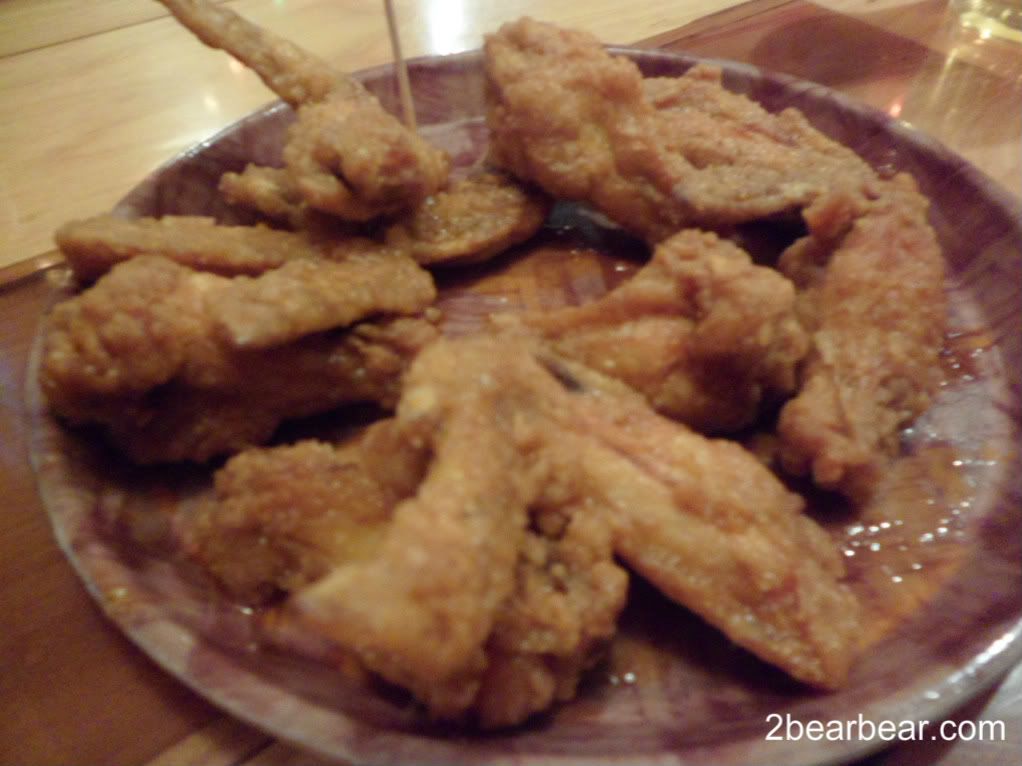 Yummy wings with Hot Sauce
**After the first night in Vegas, we actually drove to California before returning back to spend a few more nights in Vegas. We will talk about LA,Hollywood and Santa Monica in another post…
The next day, we headed out to Hash House a Go Go to check out this restaurant as introduced by Man vs Food on travel channel.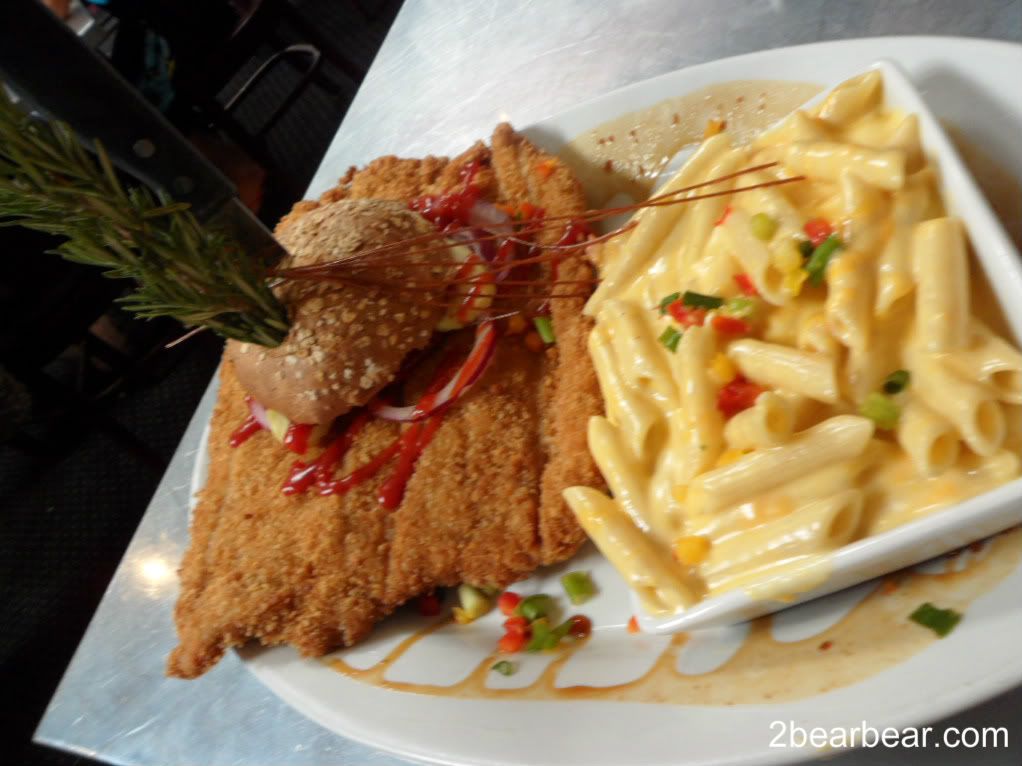 Big O'crispy hand hammered pork tenderlion sandwich with Macaroni and Cheese on the side @ Hash House a Go Go
For more about the whole experience, check out the entire post here.
The following day, we checked into the Excalibur (increasingly better hotel each day; and thus the cost)…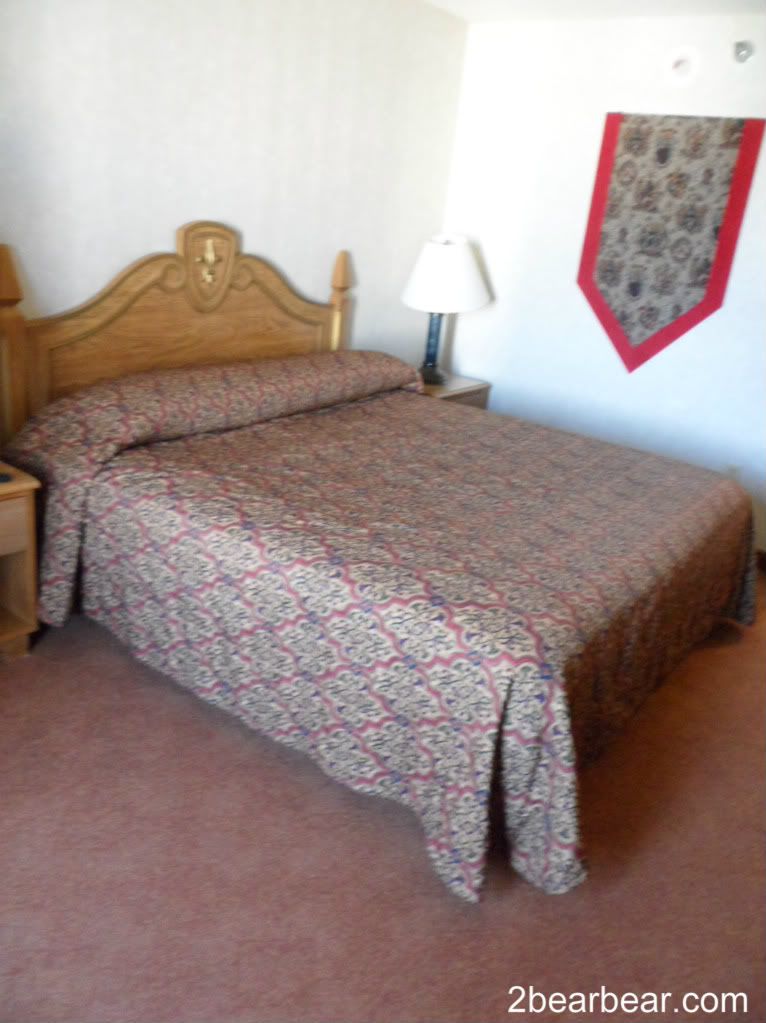 Room of the Excalibur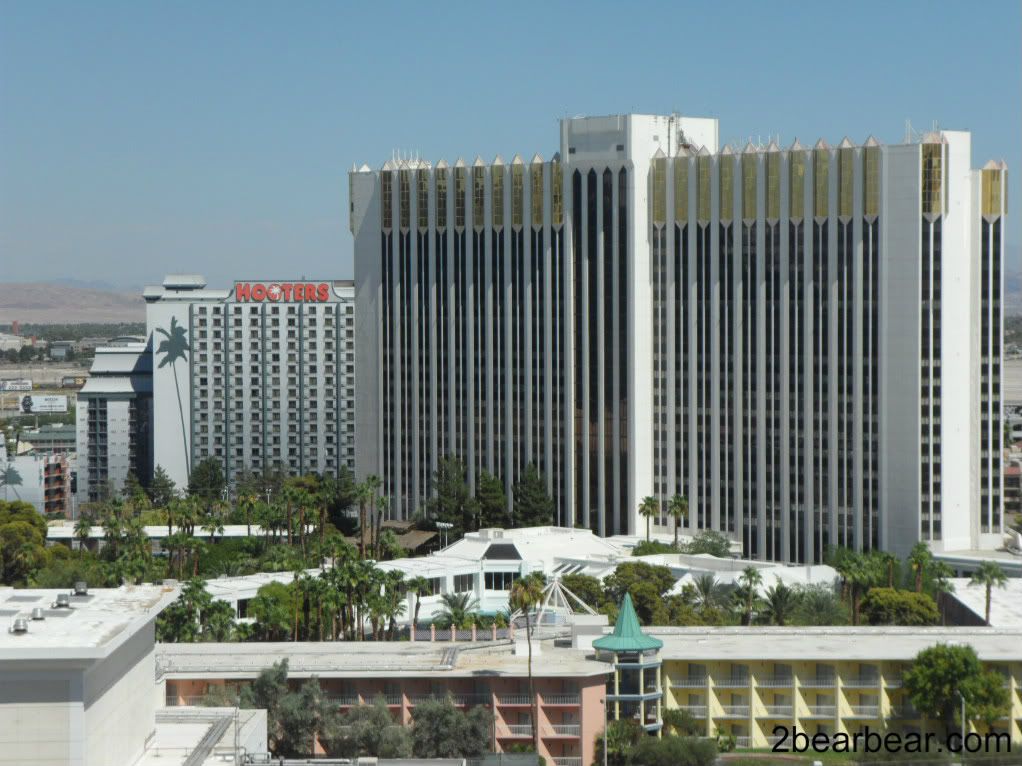 View from the room of the Excalibur
At this juncture, we should remind our readers to always try to "negotiate" with the receptionist for a better/higher room with a good view of the strip. They are almost always able to do so on weekdays and off peak periods when occupancy is low.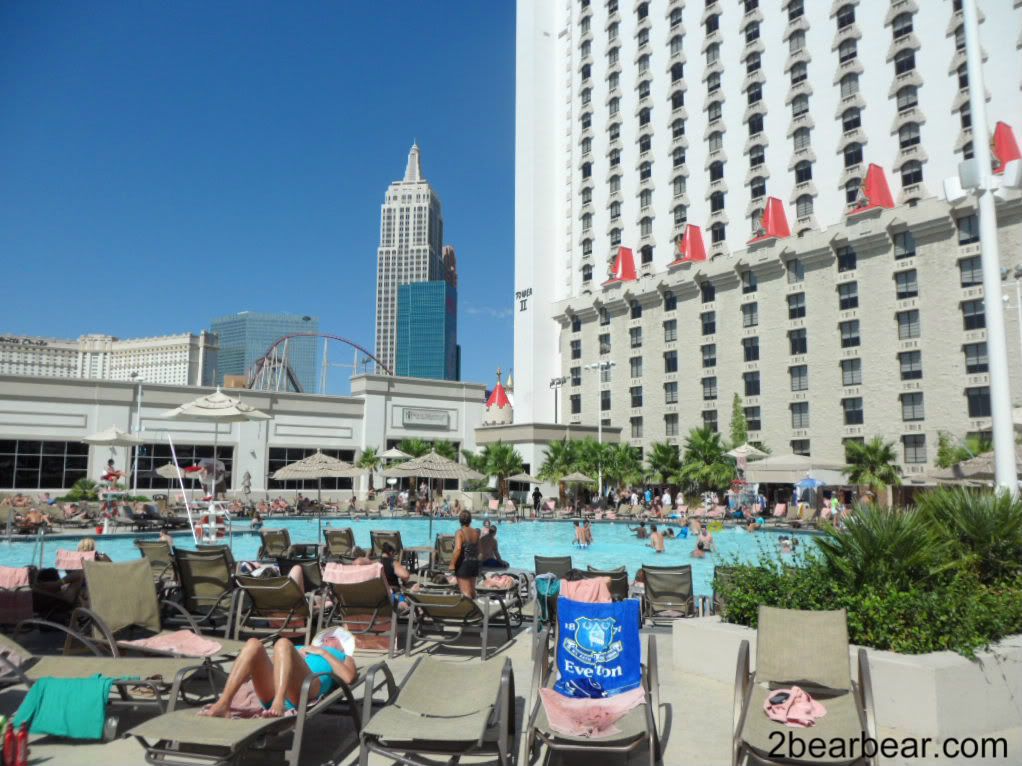 View of the pool of the Excalibur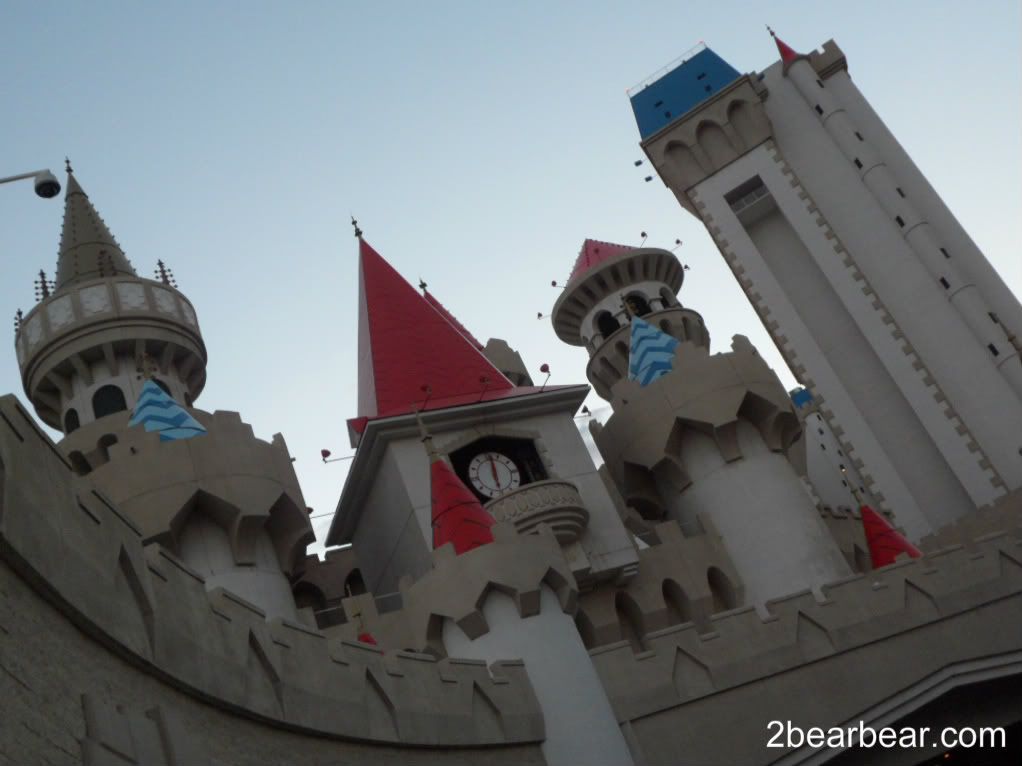 External View of the Excalibur
At various hotels, they have various affliation with shows about town. At the Excalibur, we were able to get half priced deals for the stand up comedy "Defending the Caveman"…it was pretty much enjoyable although we dont really recall much about the show today…really one of those shows where you want to have a good laugh and let your hair down…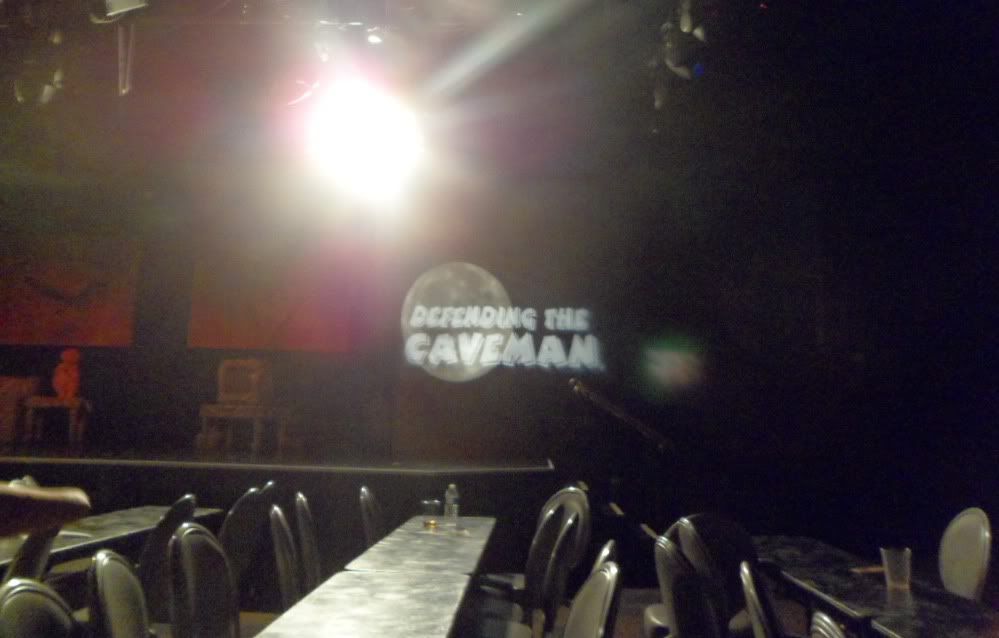 Defending the Caveman by Kevin Burke
The next day, we took the option of going to visit the South Rim of the Grand Canyon. Along the way, there was an opportunity to visit the Hoover Dam as well…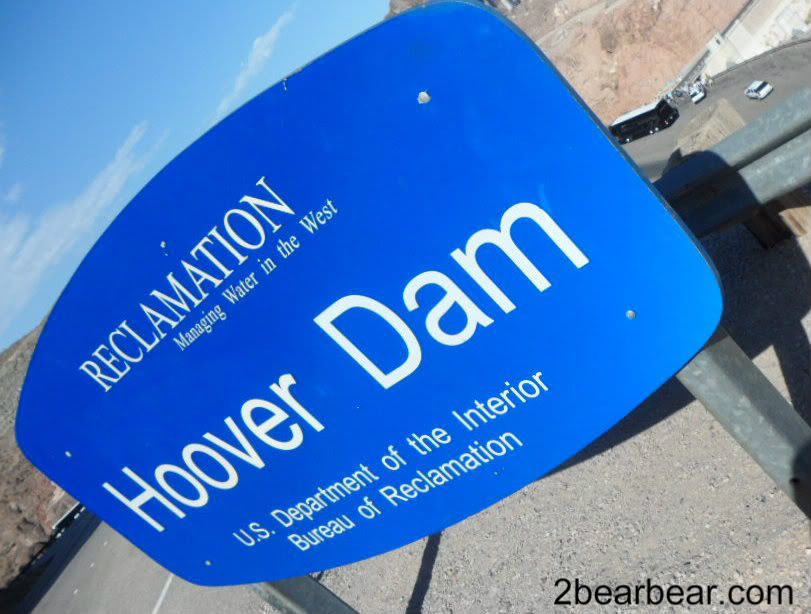 Hoover Dam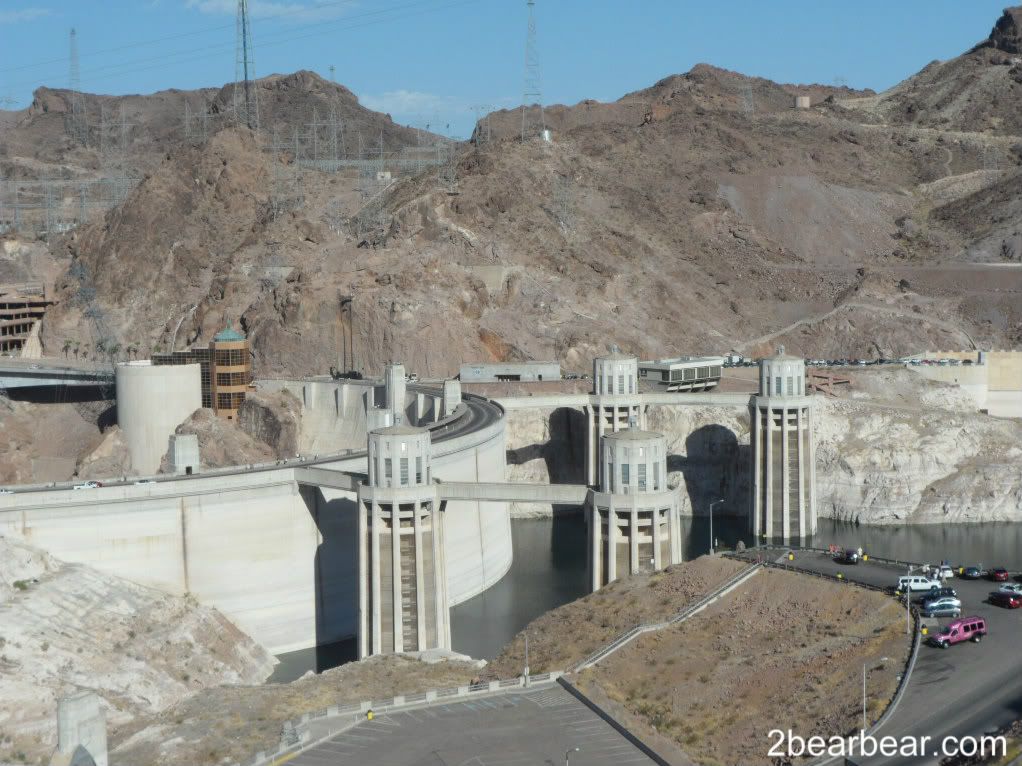 View of the Hoover Dam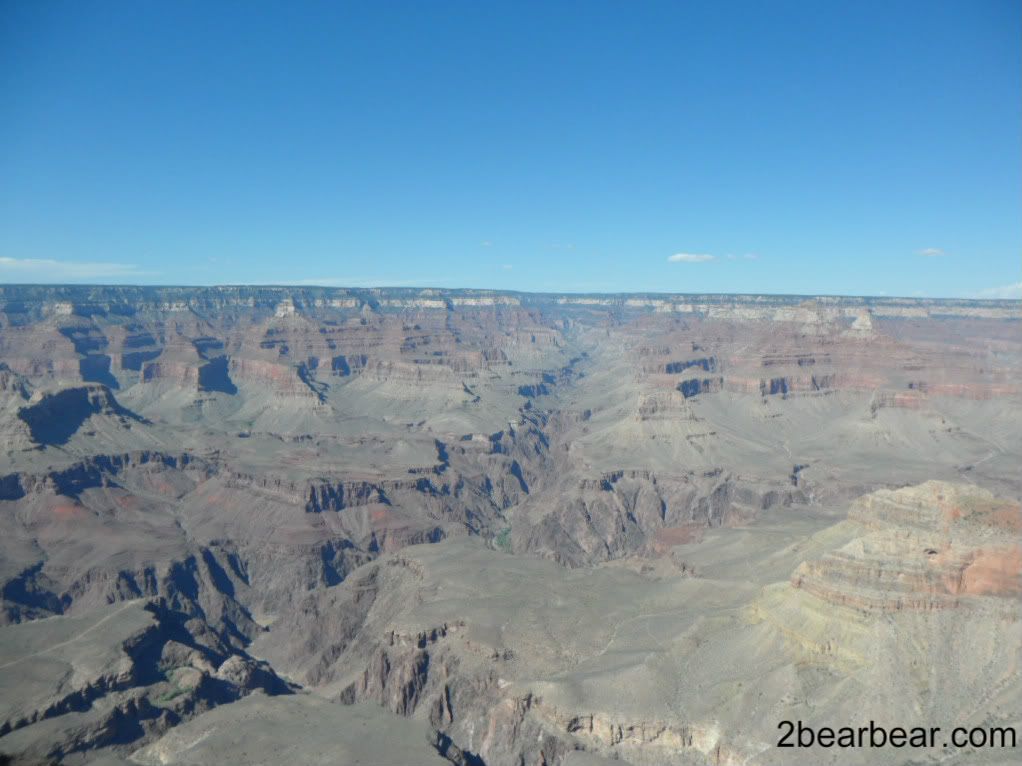 Grand Canyon – South Rim's Widest and Deepest
For more about what we did at the Grand Canyon tour, click here.
The last hotel we visited was the MGM. The best of the 3 hotels on our list this time round…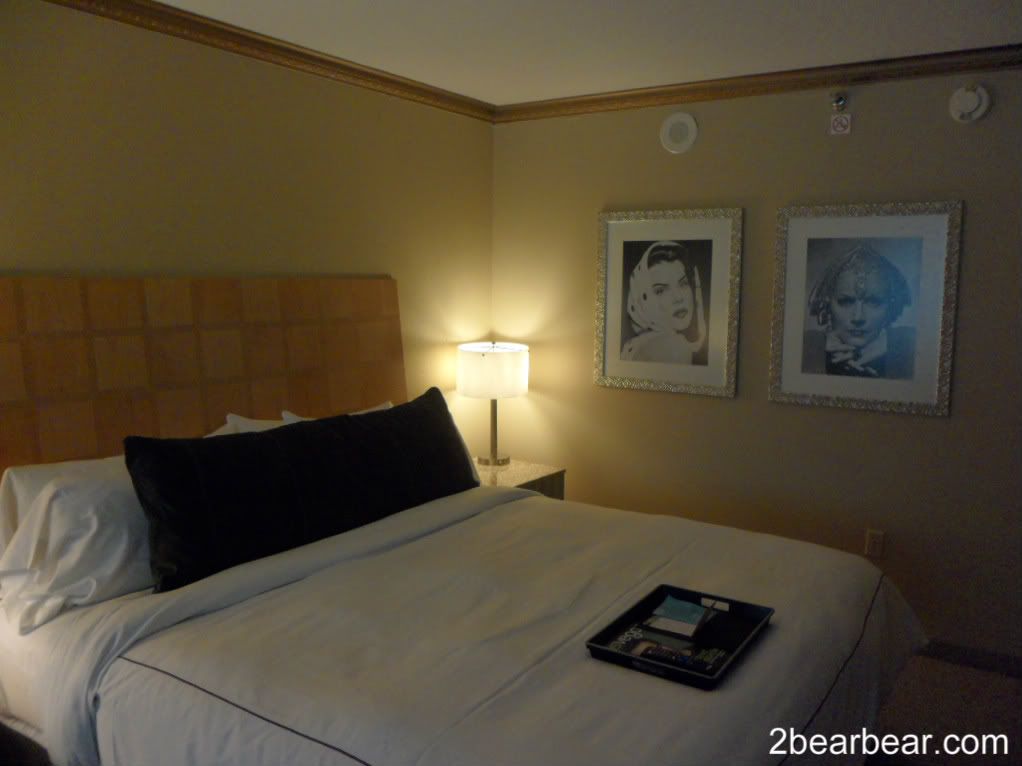 Room of MGM Hotel
There was even a day bed in the room which added to the chic factor…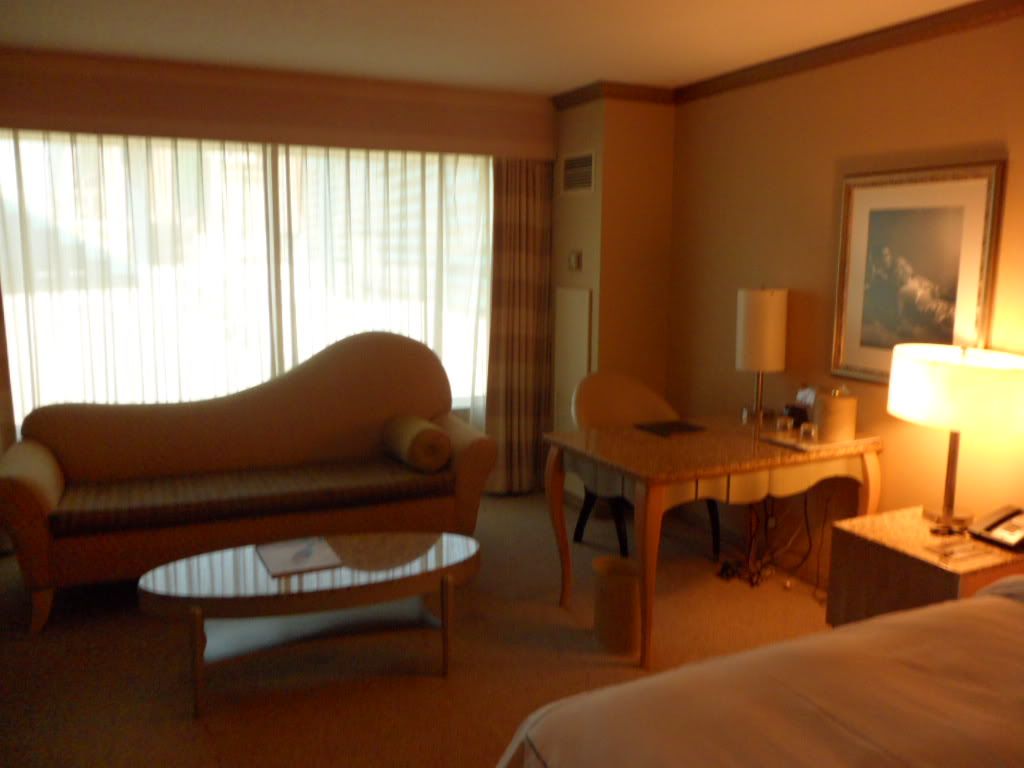 Spacious living space at MGM Hotel
MGM Hotel has the best swimming pool on this trip to Vegas. It boasts of a 6.6 acre swimming area!! That is about 6-7 football fields!! We had an enjoyable time in the lazy pool and visiting different themed pools which was really cool…
On the way back, we were invited to rate an upcoming TV serial and vouchers were given to us in return. So we set down and were greeted by this…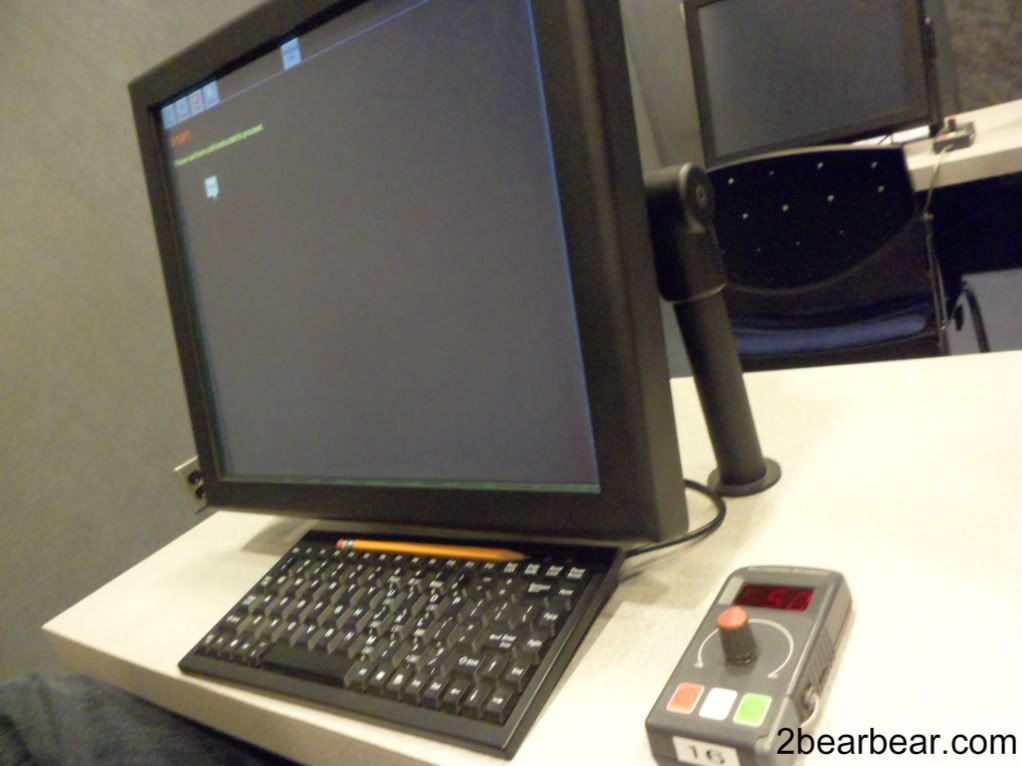 Device to rate TV serials
It was really quite simple, all of us would watch the show (this time it was Hawaii Five O!) and rate it by turning the knob according the how good each part of the show was.
We recalled that the show was quite raw in that not all the special effects and sound effects had been added in. There were some parts that were quite boring as well (that was when we turned the knob to 0). However, the show eventually screened and is into its second season! 😮
Remember at the start of every MGM movie, there was a lion bursting unto the scene? These are his grandchildren at MGM!

Grandchildren of the original MGM Lion
We understand that they do not reside there but at a nearby facility and brought over to the hotel…
In the evening, we caught a magic show by Nathan Burton…it combined magic with comedy and was pretty much enjoyable.

Magic Show by Nathan Burton
On our last night, we enjoyed the famous fountain show at Bellagio…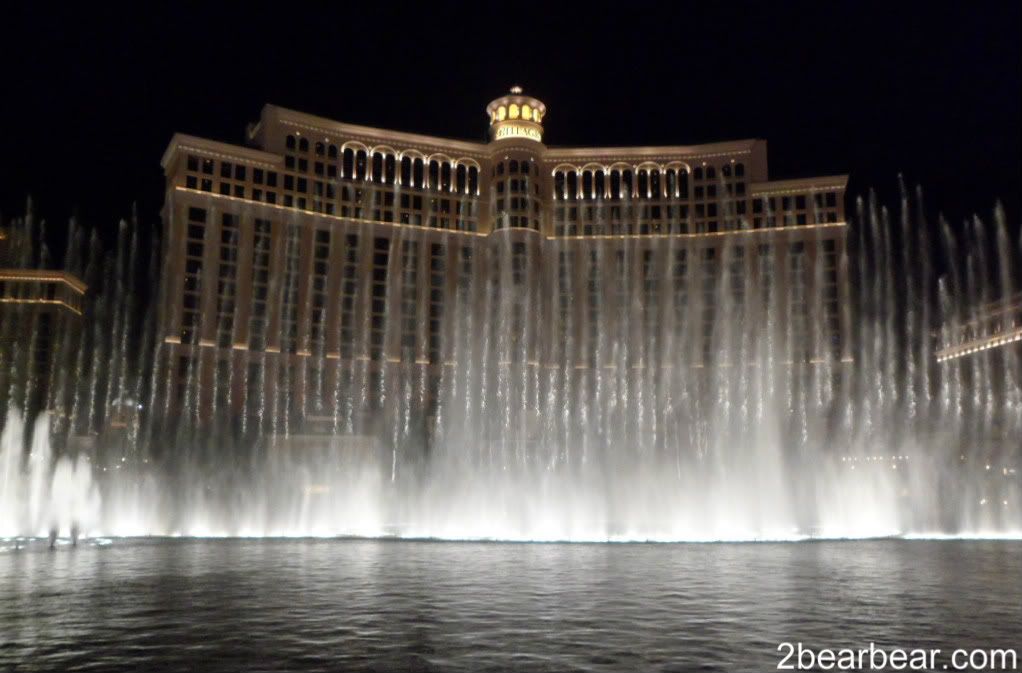 Fountains of Bellagio
For more details of the Fountains of Bellagio, click here.
Overall, Las Vegas is a great place to spend your holidays. Food and stays are relatively cheap and plenty of international shows and musicals abound. Just make sure that you limit your time at the tables and you'd surely enjoy the holidays at Vegas!
If you enjoyed our content, "Like" us on Facebook Today!

Related posts: